The Nintendo Switch is best known for its ability to switch between handheld and console use. The word "switch" is in the name! This has a huge number of benefits. For one thing, you can enjoy 1080p video on a TV, while taking 720p video with you on the road. You can also play most of the same games in both configurations. So when you go on vacation, you can bring your saved games and your gear along with you. You can even use the controllers in different modes. They can be attached to a handheld controller mount, or directly to the sides of the Switch console.
That said, the Switch's modular design also comes with some drawbacks. Issues with cooling, particularly when some accessories are in use, have created a market for external Nintendo Switch cooling fans. Similarly, you have to be careful about what accessories you permanently attach to the handheld unit. With an ordinary handheld system, like a 3DS, an aftermarket case can be any shape or size. But to work with the Switch, a case has to be sized to fit within the dock. Otherwise, you'd have to take the case off every time you wanted to play in docked mode! Similarly, a good case should allow you to easily attach and detach the Joy-Con controllers.
Today, we'll be reviewing three of the best dockable Nintendo Switch cases that money can buy. First, we'll be looking at the Mumba [Blade Series] TPU Grip Protective Cover Case. This is a rugged, beefy case with fat, textured grips. Next, we'll examine the FYOUNG Dockable Case. This is a lightweight, minimalist case constructed from semi-transparent vinyl. Finally, we'll review the Cybcamo Protective Case Cover. This is a sleek case that looks like a seamless part of the unit. Which one is right for you? Let's take a closer look, and see what we discover!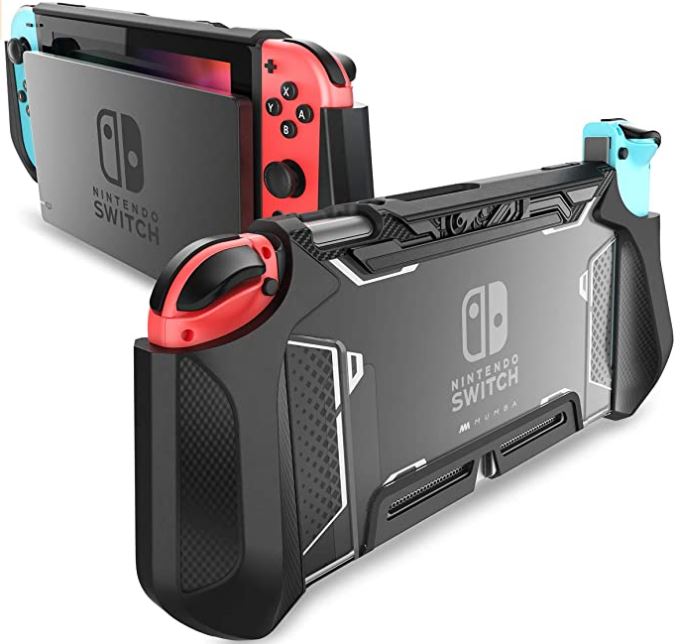 Mumba [Blade Series] TPU Grip Protective Cover Case
The Mumba [Blade Series] TPU Grip Protective Cover Case is a rugged case that's designed to take a beating. Instead of a cheaper plastic, it's constructed from durable polycarbonate, with tough TPU grips and bumpers. The polycarbonate is scratch-resistant, with a frosted, semi-transparent back that's easy on the eyes. The rest of the case is black in color, so it'll match just about any other accessories.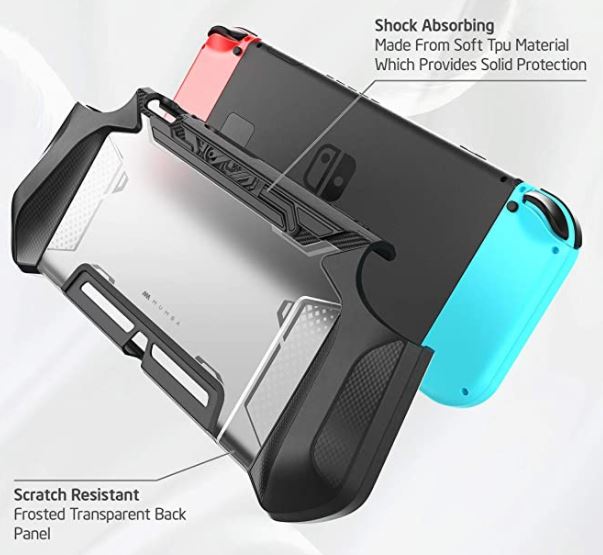 The bottom corners sport large rubber bumpers that can withstand even the worst drops. There's also similar protection around the triggers. The triggers themselves are exposed by necessity. So if you were to drop the Switch directly on one of the triggers, it might still get damaged. Still, the housing is designed so this could only happen if it were dropped at a very specific angle. Furthermore, the bottom-heavy design of the case makes it very unlikely that it would ever land top-down.
All in all, the Blade Series is one of the most protective cases we've seen. It protects your Switch from drops, scratches, dings, and other everyday abuse. It's also designed to allow access to all the ports and air vents on the Switch. As a result, it doesn't have to be removed for charging. It won't overheat your Switch, either, which can be a concern with some poorly-designed cases.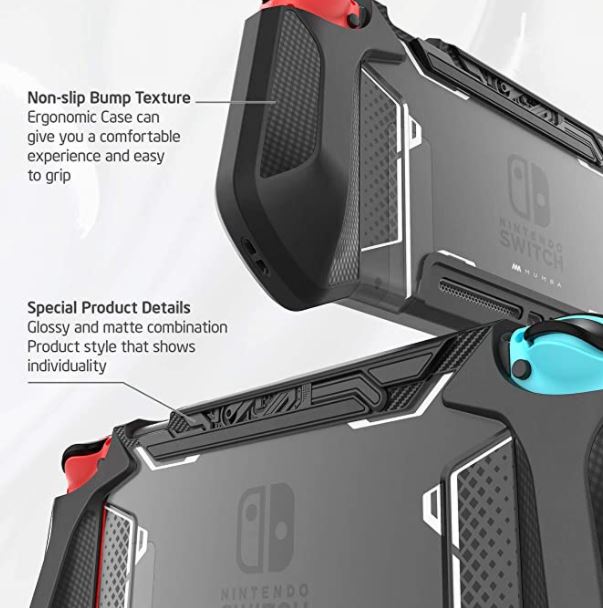 Everyday Use
The overall weight of the Blade Series case is 4.4 ounces. That's a hair more than a McDonald's burger patty, and it's noticeable when you carry your Switch. This isn't a bad thing, though. The extra heft made us feel the quality, in a very literal sense. Besides which, it's not so heavy as to be inconvenient.
The grips are exceptionally ergonomic. The fat bottoms are great if you've got larger hands. The Switch controller can feel a bit small right out of the box, and the bigger grips help with that. They're also textured, with a diamond-pattern grip that's easy to hold on to. The grips are TPU, and have a rubberized finish to keep them from slipping.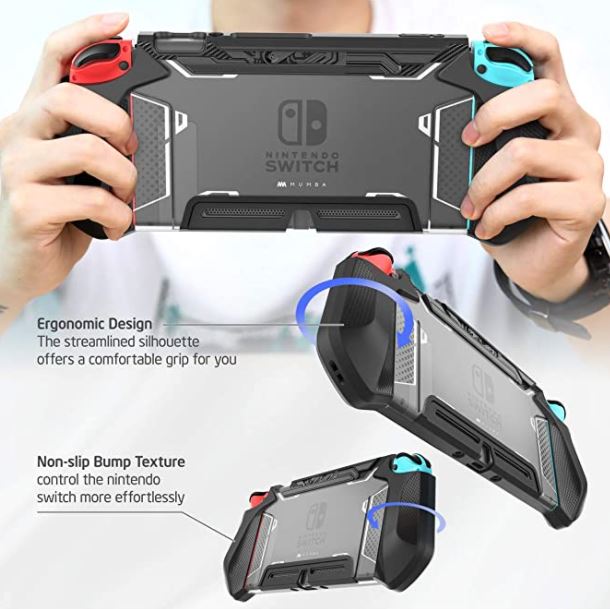 Other than the grips, the Blade Series case hugs tight to the sides and back of your Switch. This makes it easy to take in and out of the docking station. It fits like a glove, and we didn't have any issues getting it to connect. Similarly, both Joy-Con grips slide easily off the unit. The design of the case doesn't obstruct them from sliding, and lets you easily reach the release buttons.
There's only one issue with the design, but it's a major one. The back plate completely covers the kickstand. This would be fine if there were some kind of kickstand built into the case, but there isn't. In other words, there's no way to use a kickstand with the Blade Series case. It's one or the other. This is a major disappointment if you spend a lot of time gaming in tabletop mode. On the other hand, if you never use your kickstand to begin with, it's not a big deal.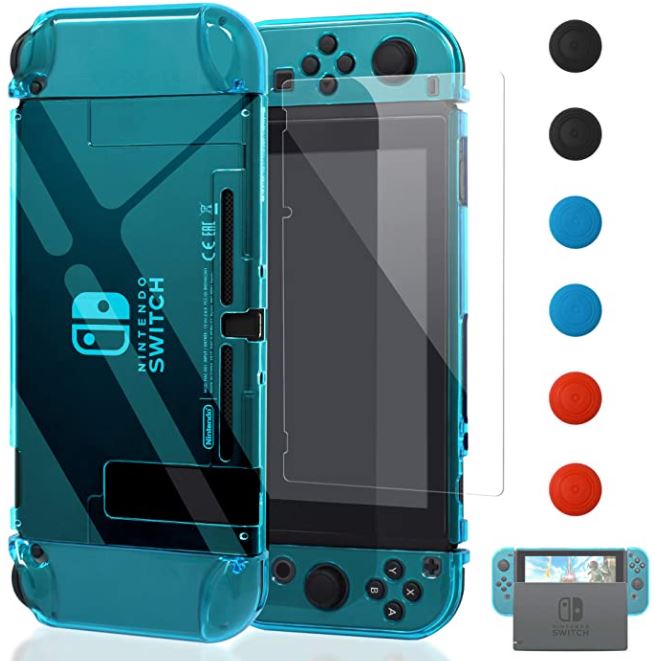 FYOUNG Dockable Nintendo Switch Case
FYOUNG is well-known for manufacturing high-quality accessories for a variety of gaming needs. They produce some of the best external Xbox cooling fans available. Because of their reputation, we were eager to see how the FYOUNG Dockable Switch Case compares to the competition.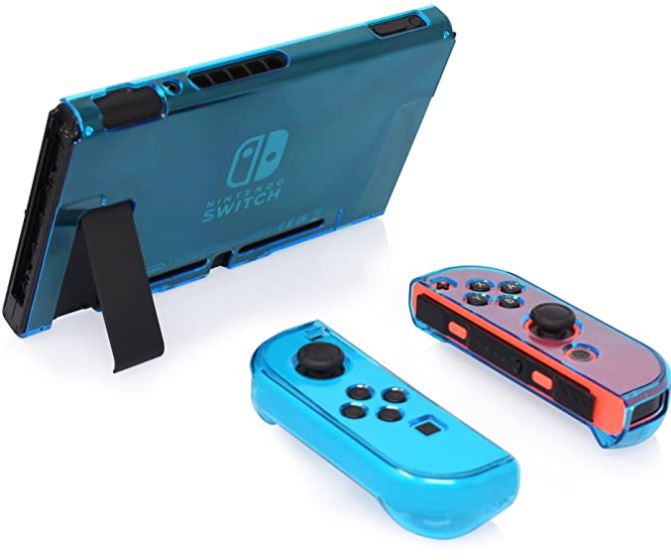 The case is constructed from transparent vinyl, not a polycarbonate or even ABS. As such, it's not terribly shock-resistant. It can withstand a minor bump, and it offers excellent scratch protection. But it doesn't offer as much drop protection as a more rugged case. That said, the FYOUNG case is very affordable, and you're getting a great value for the money. The bottom and top corners are also reinforced with rubber bumpers. These add a bit of extra protection where it's needed most.
There are five colors available: black, blue, blue and red, green and red, and clear. The clear case is fully transparent, and it's barely even noticeable when attached. This mix of colors allows you to match the case to your own personal aesthetic. Use a multicolored or blue case for a playful appearance, or stick with black or clear for something more formal.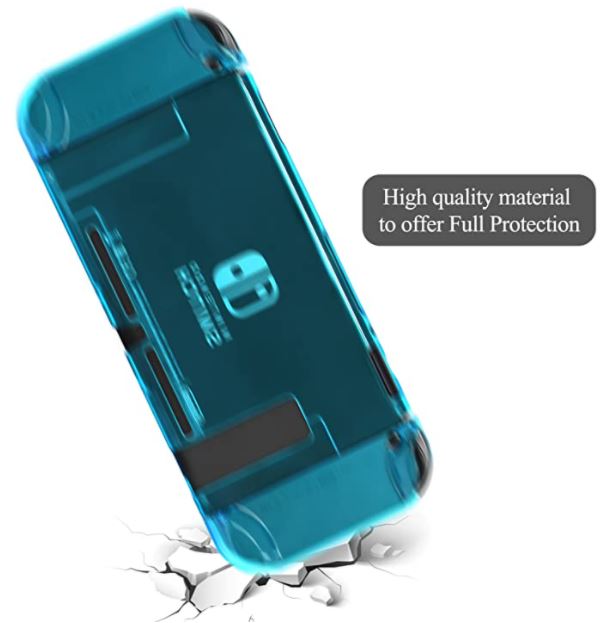 Along with the case itself, you get a couple of extra accessories to sweeten the pot. First, there's a screen protector. This will keep your screen from getting scratched, just as the case will keep your housing from getting scratched. You also get four pairs of thumb grip protectors in four colors: white, black, blue, and red. If you're going to use these, press down hard! It requires a good bit of pressure to get them to lock into place.
Everyday Use
The FYOUNG Dockable Case is fairly lightweight, tipping the scales at just 2.39 ounces. This light weight makes it ideal if you already find the Switch to be a little on the heavy side. That said, it's also an indicator that the material itself isn't as durable as it could be. You get what you pay for, in this case.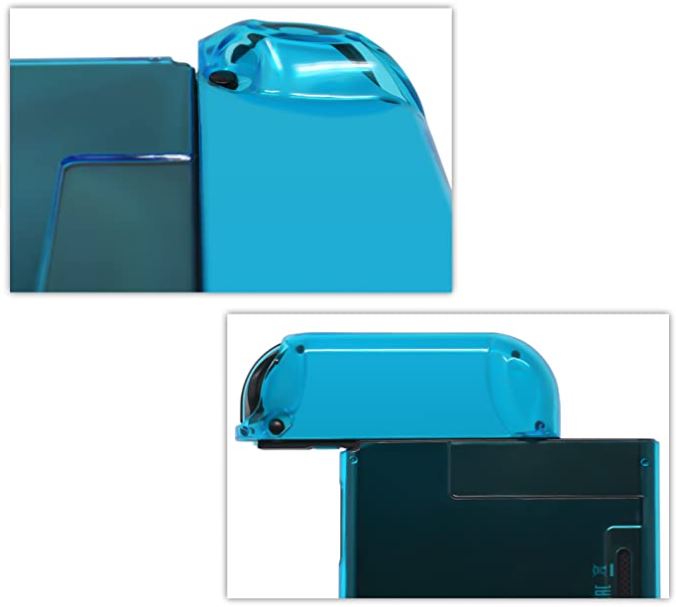 Earlier versions of the FYOUNG case were criticized for two major design flaws. The old version was too fat to fit in the Switch dock, which was a serious problem for most users. Moreover, it was designed so you had to remove the whole case to take off the Joy-Cons. The new version has fixed both of these issues. The Joy-Con controllers are now easy to remove and attach with the case installed. Moreover, the design is now slim enough to be dockable. It's still a tight fit with the screen protector installed, though. You'll need to do some wiggling to get it to properly mount in your dock.
One other good feature of the FYOUNG case is that there's a cutout on the back for your kickstand. The kickstand can be used as normal, even with the case installed. This is an essential feature if you ever plan on using your Switch in tabletop mode.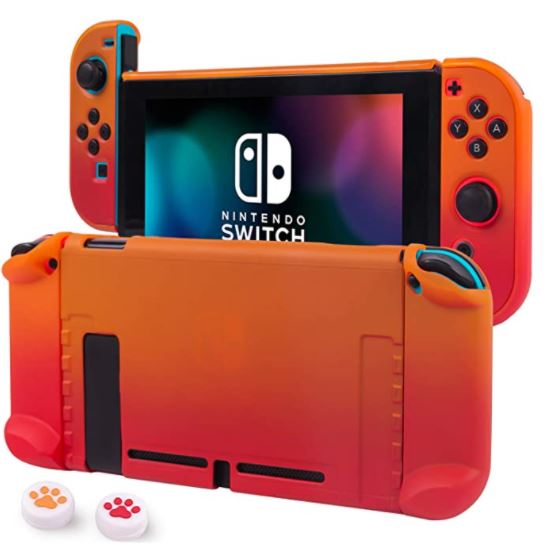 Cybcamo Protective Case Cover
The Cybcamo Protective Case Cover has a sleek appearance that looks like it's part of the Switch housing. It comes in three colors: orange, and two pastel combinations of green/yellow and pink/blue. All three have a pale finish, like powder-coated metal, but they're actually ABS plastic. Even so, the fit is nice and tight, and the case clips easily into place. This snap-on design doesn't just make it easy to attach. If you need to take the case off for any reason, it's also easy to remove.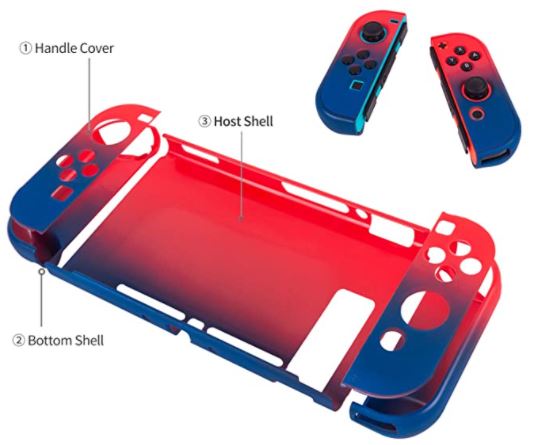 This is a precisely-molded case, and doesn't block any ports or air vents. It also leaves enough space around buttons and triggers for easy operation. The protection is minimal, particularly at the corners. It's certainly good enough to protect from scratching, but we'd be concerned about any serious drops. Along with the case, you get a pair of thumbstick caps. These are simple, rubbery caps with colorful animal paws on a white background. They're definitely for kids, but they do provide better grip on the thumbsticks.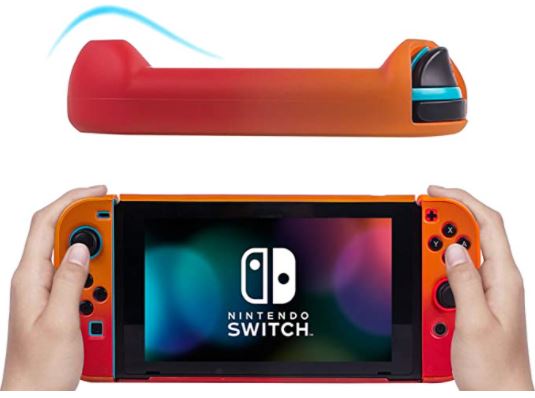 Everyday Use
The Cybcamo case is the lightest on our list, weighing in at only 1.89 ounces. This weight is barely noticeable at all, and is one of the most attractive features. And despite the lack of large bumpers, the design is surprisingly ergonomic. This is particularly true for kids, or anyone with smaller hands. Because there are no oversized grips or bumpers, the profile is almost as small as it is without a case.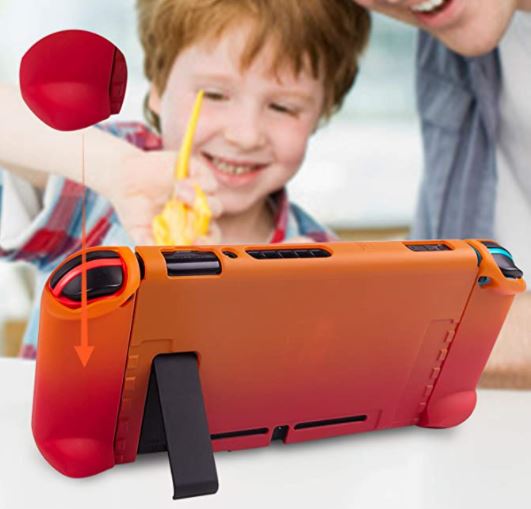 This kid-friendly design does not extend to docking itself. The fit is very tight, and you have to press down hard to get the Switch to seat properly. Along the same lines, it can be frustrating attaching and removing the Joy-Con grips. The lock release buttons are partially blocked by the case, so you need a fingernail or tool to get the Joy-Cons off. If you frequently switch between handheld and docked use, this can be a source of aggravation.
One area where the Cybcamo case does not disappoint is the kickstand. Like the FYOUNG case, it has a cutout that allows you to open and close the stand. This is a great feature for tabletop use, if you don't mind fiddling with the Joy-Cons a lot.
Final Verdict
Each of these dockable Nintendo Switch cases has its own strengths and weaknesses. Finding the right case means finding the right balance of features to suit your needs. We started out by reviewing the Mumba [Blade Series] TPU Grip Protective Cover Case. This case is the most durable of the bunch, with a polycarbonate and TPU construction that can take a serious beating. If you need your Switch case to handle a ton of abuse, you're looking at a great choice. It fits easily into a Switch dock, and the large grips are easy to hold on to. The only downside is that you can't use your kickstand with this case.
In contrast, the FYOUNG Dockable Case is the most minimalist case on our list. Constructed from vinyl, it's not the most durable option. But it's scratch-resistant, and the rubber bumpers can at least absorb some minor shock. Not only that, but it lets you use your kickstand, and it doesn't obstruct plugs or airflow. This is a good choice if you want a more affordable case.
The Cybcamo Protective Case Cover is a better choice if you spend most of your time in handheld mode. It's a tight squeeze fitting into the dock, and the Joy-Cons can be tough to remove. That said, it's affordable, and the sleek look is very attractive to look at. It's also better sized for people with smaller hands.
One thing a Switch case won't do for you is fix a housing that's already cracked or damaged. For that, you're going to need a replacement housing shell. These will replace the front and back of your handheld Switch console. Keep in mind, though, that replacing the housing is a bit more involved than slapping on an aftermarket case.
Meet Derek, "TechGuru," a 34-year-old technology enthusiast with a deep passion for tech innovations. With extensive experience, he specializes in gaming hardware and software, and has expertise in gadgets, custom PCs, and audio.
Besides writing about tech and reviewing new products, Derek enjoys traveling, hiking, and photography. Committed to keeping up with the latest industry trends, he aims to guide readers in making informed tech decisions.