Pretty much every console on the market nowadays has USB compatibility of some kind. The new PS5 typically comes with 3 standard USB-A ports; one on the front and two on the back. These ports can be used with virtually any USB-compatible device like controller chargers, peripherals, thumb drivers and more.
However, sometimes just 3 USB ports aren't enough. In certain scenarios, you need more. External USB hubs are designed to give you more USB ports for your console so you can attach more peripherals and do more things. A good example is if you're using a driving wheel for racing games. Driving wheels often have multiple peripherals that need to be plugged in. If you're already using up all of your USB ports, you'll need more if you want to plug everything in.
An external USB hub gives you more ports so you can do more with your console. Today we're going to talk about the best external USB hubs for the PS5. We're going to cover several options from various manufacturers including Ankey, Oivo and BYEASY. We'll discuss the features, design, pros, and cons of each product. In the end, we'll give our verdict on which external USB hub we think is the best pick.
What to Look for in an External USB Hub
Getting a quality external USB hub for your PS5 isn't exactly rocket science. Using one, you can have a lot of things plugged into your console at once. If you have an external hard drive and headset mic, odds are that these two things will permanently take up at least 2 of the 3 included USB inputs, so getting more is a great idea. But there are definitely a few things that you should keep in mind.
Speed
There's absolutely no reason to get any kind of hub that doesn't have at least one USB 3.0 port. USB 3.0 is so much faster and more efficient than previous iterations. With a next-gen console like the PS5, you'll need that extra speed and fast communication. For example, if you use an external hard drive, then you practically need USB 3.0, or else read/write speeds will be too slow for you to really do anything with. Also, USB 3.0 ports can deliver much more current so your controllers will charge faster than with an older USB version. In fact, simpler peripherals like a mouse or keyboard can use a USB 2.0 port just fine because they're not that complex.
Style and Design
There are two main kinds of USB hubs you can get for the PS5. There are ones that go over the front like a faceplate and several options that plug-in with a cord and are separate from the console itself. Both of these kinds work the same but have very different aesthetics. It might be wise to pick an external hub that meshes well with the PS5's futuristic, sleek, white look.
Number of Ports
The next obvious thing to consider is how many ports the external hub has. The PS5 is built with 3 USB ports and certain hubs can have up to 5 separate ports. Keep in mind that in order to use a hub, you'll have to dedicate one of the USB ports on the PS5. So for example, if you have an external hub with 5 ports, then then you would have 7 ports available to use; the remaining 2 from the console and the 5 from the external hub. Based on our estimations, you shouldn't really need more than 3 or 4 extra ports at any one given time. However, it can never hurt to have more than you need.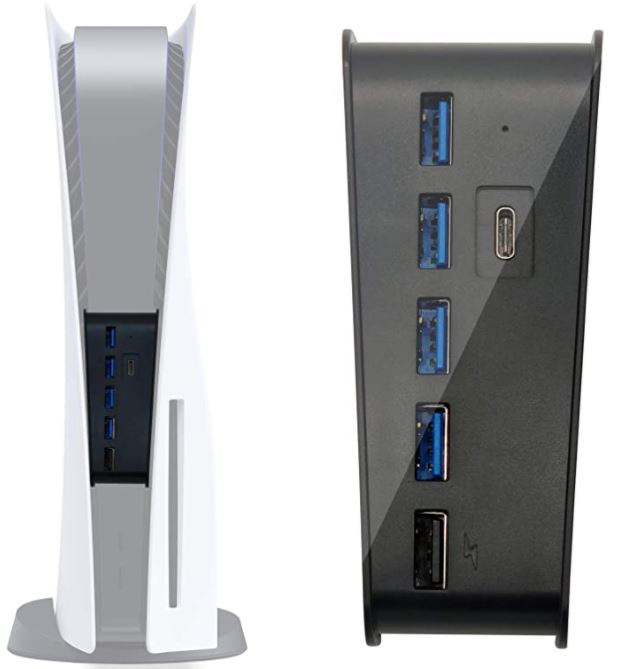 Ankey 5-Port USB Hub for PS5
First up on our list is the Ankey 5-Port USB Hub for PS5. As the name implies, this external USB hub provides 5 extra USB ports. It has one USB-3.0 port for fast data transmission and charging along with 4 USB 2.0 ports for other peripherals like a mouse, keyboard, and USB drive, and more. In fact, this specific model is designed to work with both the digital-only and disc-drive versions of the PS5.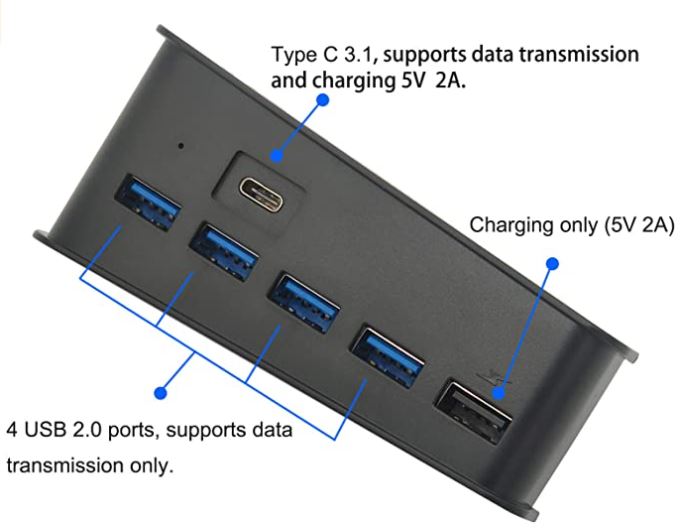 This Ankey USB hub also has a sleek and streamlined design. The "plate" plugs directly into one of the ports on the front of the console and sits flush on the front. In fact, it's pretty inconspicuous and actually looks like it's a normal part of the console when plugged in. There's also no driver needed so you can just plug it in and start playing without waiting for a software update.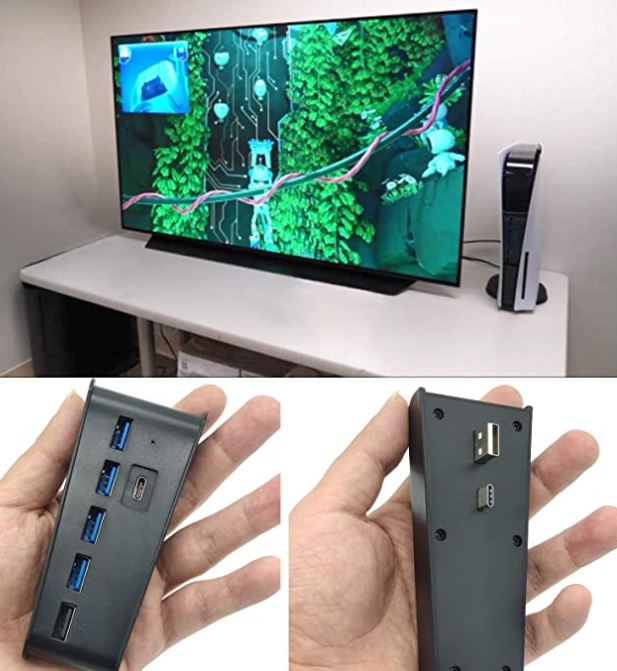 The Ankey external hub is designed to have no delay. You can use all the ports at the same time without any communication lag, jamming, or other issues. The most favorable feature is how many ports it provides. Five USB ports is a lot of extra compatibility. In fact, it can easily handle multiple devices simultaneously without technical issues. We greatly appreciate how streamlined and space-conscious it is. You can honestly forget that it is on your PS5 because it looks like a natural part of the console. In fact, looking at this thing makes us wonder why Sony didn't actually include more USB ports on the PS5 as it's clearly possible.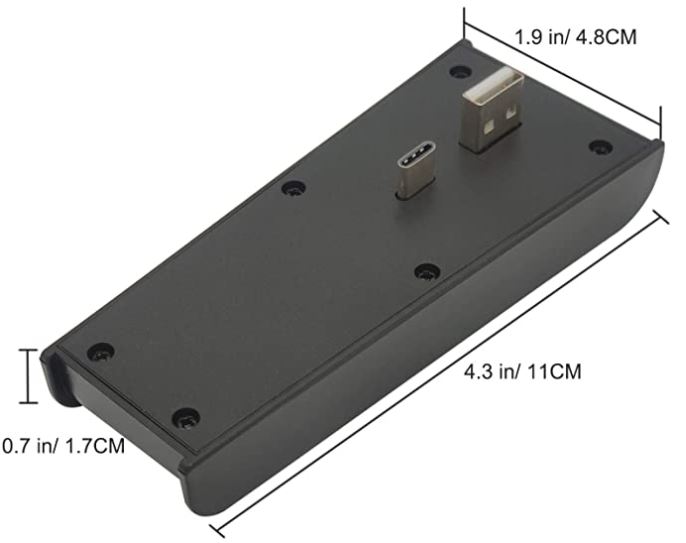 We also appreciate how easy it is to use. You don't have to download any drivers or updates, right from the start. It's good to go right out of the box without any setup process. Just plug it in and you're ready to go. It actually has a really neat design that plugs into both the USB-A port and USB-C port on the front of the console to give the hub its own source of power. That's a favorable feature since it means you don't have to plug it into a separate power outlet.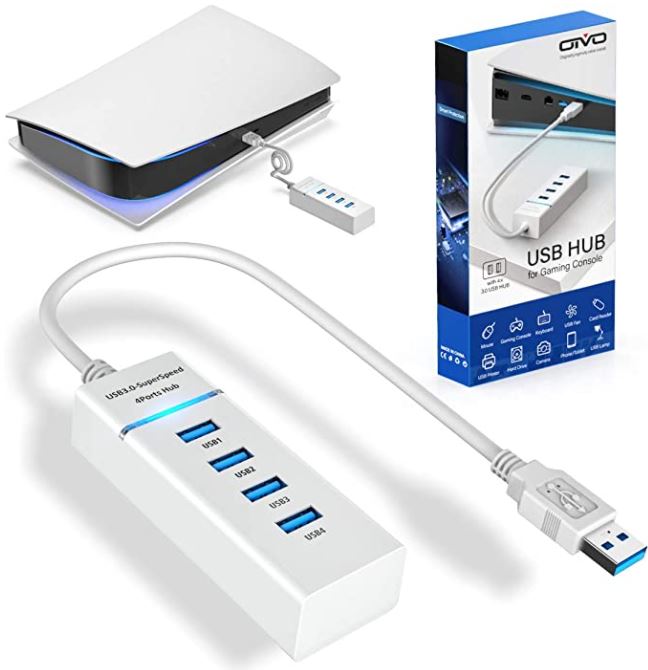 Oivo PS5 USB Hub
Up next on our list is the Oivo PS5 USB Hub. This hub is, at first glance, noticeably different from the Ankey. First off, it doesn't hug the body of the console. Instead, it's a separate unit that you plug in via USB, like a power strip for electrical outlets. The Oivo adds 4 USB 3.0 ports on the hub, each of which can handle charging, data transmission, and more. Each port can transmit up to 5 Gbps, which is 10 times faster than the previous generation USB 2.0. That means that you can attach an external hard drive to the hub and have it run just fine.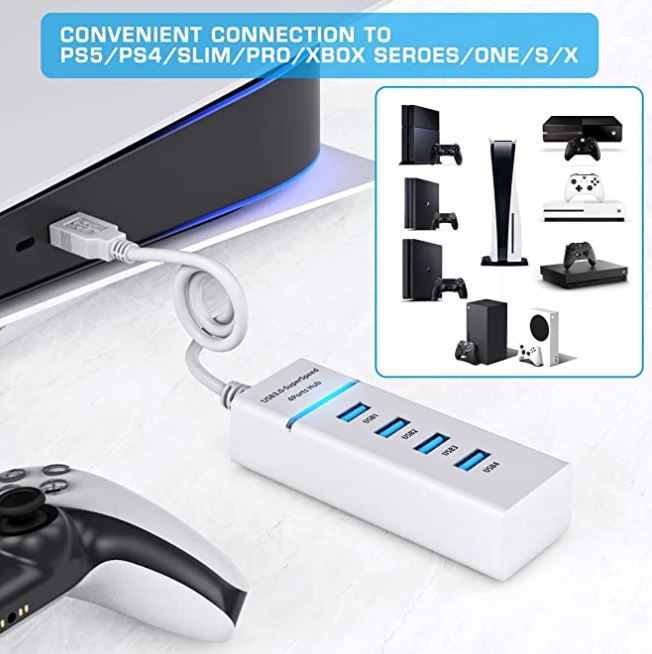 The Oivo also has some nice safety features that make it a good choice. The hub has a built-in overvoltage and overcurrent circuit that prevents overcharging devices like controllers. It also has an LED that turns blue to indicate the hub is connected and ready to be used. Like the Ankey, it doesn't require any driver downloads. You can plug it in and use it immediately.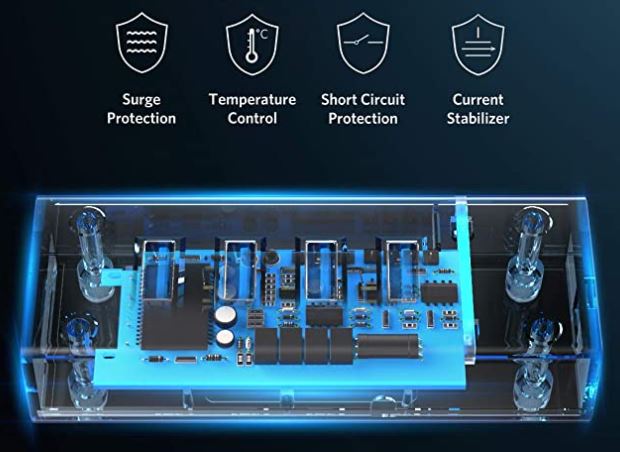 It's not just for the PS5 either. The Oivo is specifically designed for gaming consoles, but it can be used with other devices as well. It can be used with any older consoles like the PS4 and Xbox One S/X or even a laptop or PC.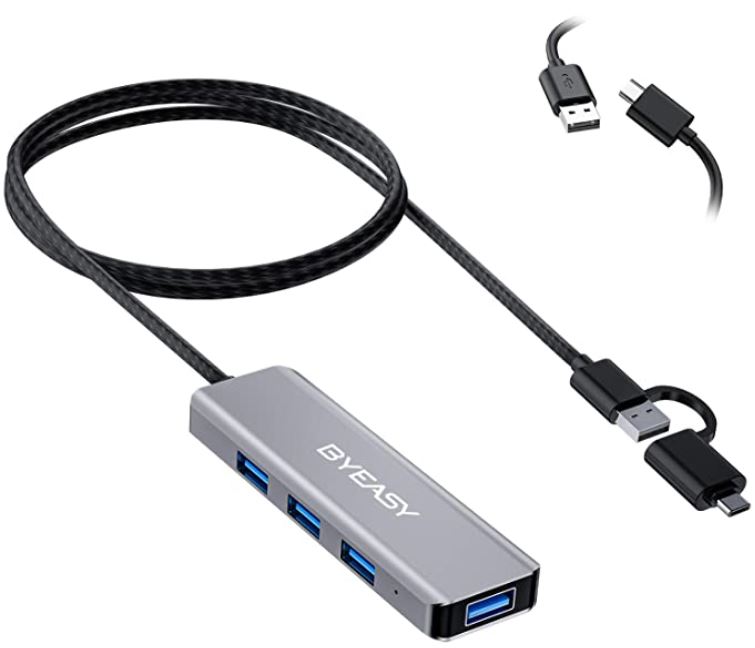 BYEASY Aluminum USB Hub
Third on our list is the BYEASY USB hub for PS5. This option holds the distinction of not only being compatible with USB 2.0 devices but also with devices that use Thunderbolt 2.0 charging technology. It can be used with the PS5 along with any older consoles like the PS4 and Xbox One X, as well as PC and Mac computers. Included, there's a 2-foot cable that plugs into one of the ports on the console. Like the Oivo, it has a power strip design, with the main hub unit connected to the console with a cord.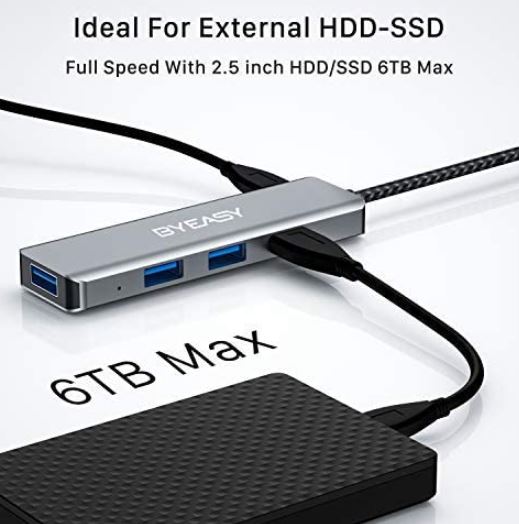 The BYEASY is very slim and contains a total of 4 USB 3.0 ports. Each one can transfer up to 5 Gbps of data so you can connect and use an external hard drive very easily. The small design has an advanced chipset that resists heat. Additionally, there's useful safety features like overcharging and overvoltage protection. The unit itself is cased in a durable, corrosion-resistant aluminum that looks sleek and professional. Needless to say, it'll mesh well with any console or PC that you use it with. It's also very small and portable so it can even be used for your workstation while on the go.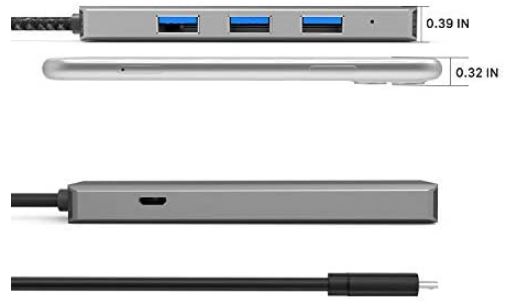 One unique feature of the BYEASY is that you can run it on passive or active power. You can simply let it run from the connecting cable to the console, or you can give it external power with the included USB-A to micro-USB power cord. This external power feature is specifically for when you have energy-hungry peripherals like an external HDD or SSD. However, if you're just running basic peripherals like a mouse or keyboard, then you shouldn't need to use the external power option.
Final Words: Which Is the Best?
When it comes down to it, the best kind of external USB hub depends on what exactly you need. What may be a good choice for one person may not be a good fit for someone else.
The Ankey 5-Port USB Hub is a great choice, mostly because of how it integrates a USB hub into a streamlined design. We really like how it fits directly into the console like a faceplate while providing 5 ports. The main drawback is that only one of the extra ports is USB 3.0, the rest are USB 2.0.
The Oivo is an excellent USB hub that doesn't need an external power source and provides 4 extra USB 3.0 ports. It also has some attractive safety features to prevent overcharging and overcurrent so your devices are always protected. The Oivo also has a convenient LED indicator that tells you when the device is connected and ready for charging. The main drawback is the appearance. It looks kind-of boring and plain – but at least it's white, a simple color that blends in well with the PS5.
The best feature of the BYEASY is how small and portable it is. It's under 4 inches long and less than an inch wide so it's easy to carry along if you're on the go. If you're one of those people who travel with a PS5 carrying case, the portability factor is really nice. It provides four USB 3.0 ports that give excellent data transfer rates. The BYEASY also allows for external power when using devices like a hard drive that need more juice to run properly. Best of all, it's also compatible with Thunderbolt 3.0.
In our opinion, the Oivo PS5 USB Hub is the best external hub when you examine all its features. It has the right mix of power, size, and compatibility. The USB 3.0 ports are great for next-gen technology and you get a good amount of ports, without the need to use an external power source.
An external USB hub is a great addition to your console setup and can also be used on your PC and other multimedia devices. But choosing the right hub can be a bit difficult if you do not know where to start. Hopefully, these three picks can offer you all the additional USB ports you'll ever need.
Meet Derek, "TechGuru," a 34-year-old technology enthusiast with a deep passion for tech innovations. With extensive experience, he specializes in gaming hardware and software, and has expertise in gadgets, custom PCs, and audio.
Besides writing about tech and reviewing new products, Derek enjoys traveling, hiking, and photography. Committed to keeping up with the latest industry trends, he aims to guide readers in making informed tech decisions.