Ever found yourself wanting to bring your PS5 along for the adventure, but felt overwhelmed by the challenge of transporting it safely? You're not alone.
As avid gamers and tech enthusiasts at NerdTechy, we understand the importance of keeping our prized console secure, especially on the go.
After rigorous testing and hands-on experience, we've narrowed down the best PS5 travel bags and cases that stand out in terms of durability, convenience, and style. Today we explore these top picks, ensuring your gaming sessions can continue, no matter where your travels take you.\
Key Takeaways:
1. CASEMATIX Hard Shell PS5 Travel Case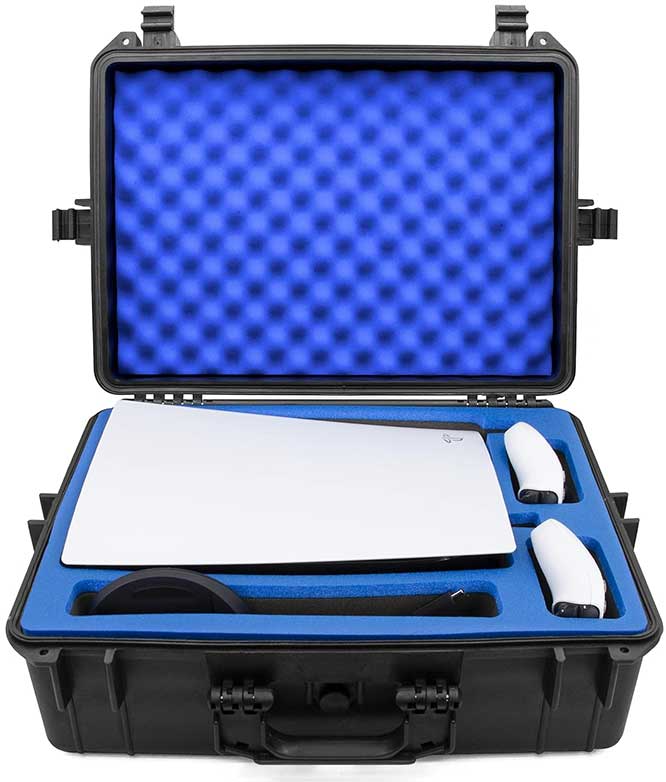 Key Takeaways:
The most durable, best protective case for your PS5.
23″ x 15.5″ x 8.5″ exterior dimensions.
Interior is pre-cut padded foam to fit console, controllers and accessories like a glove.
Provides an airtight seal with pressure valve and full gasket.
Fully waterproof and crushproof.
We recently had the chance to put the CASEMATIX Hard Shell PS5 Travel Case to the test, and it's safe to say it's living up to its reputation as one of the most durable and rugged PS5 travel cases out there. Right out of the box, the hard composite, crushproof exterior shell impressed us with its robustness, molded meticulously to provide the best protection possible.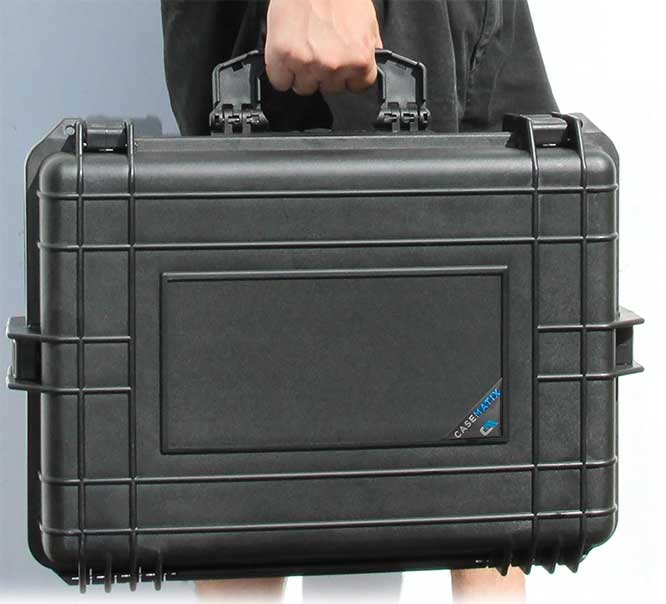 The case is fully water and air-tight, showcasing its superiority in case you accidentally leave it outside in the rain. When we tested it during a torrential downpour, not a single drop of water made its way inside. Equipped with a pressure release valve near the handle and a full gasket around the perimeter, it completely seals out dust and moisture, ensuring our PS5 stayed dry and clean. The two heavy-duty latches provided an extremely tight seal, giving us confidence that our gaming gear was always secure.
Inside, the case uses a dense foam with precise cutouts, providing a perfect fit for one PS5 console (both disc and digital versions), two controllers, and all necessary power and display cables and accessories. The lid's underside features convoluted "egg crate" foam, offering ample padding and additional protection against shocks and bumps.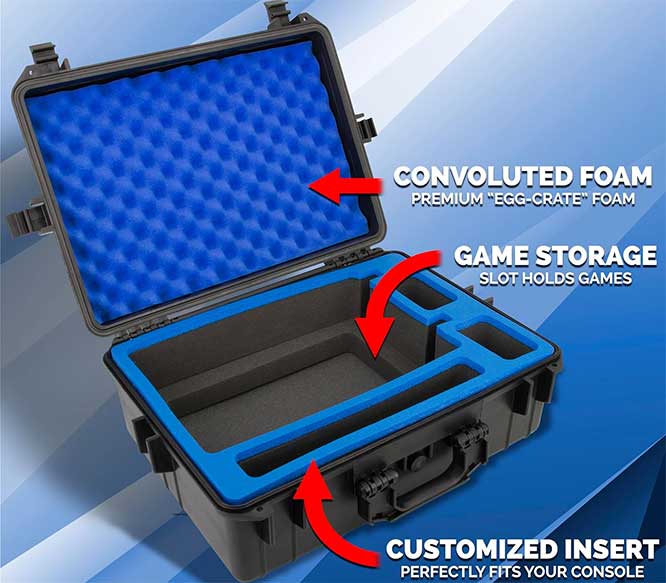 Measuring at 23″ x 15.5″ x 8.5″, the CASEMATIX case is certainly on the larger side, but for the level of protection it provides, the size is justified. The exterior of the case even has two padlock rings, allowing us to add our own locks for an extra layer of security. Although it's the most expensive option on the market at around $150, the peace of mind and unmatched protection it offers make it a worthwhile investment for any serious PS5 gamer on the move.
2. tomtoc PS5 Travel Backpack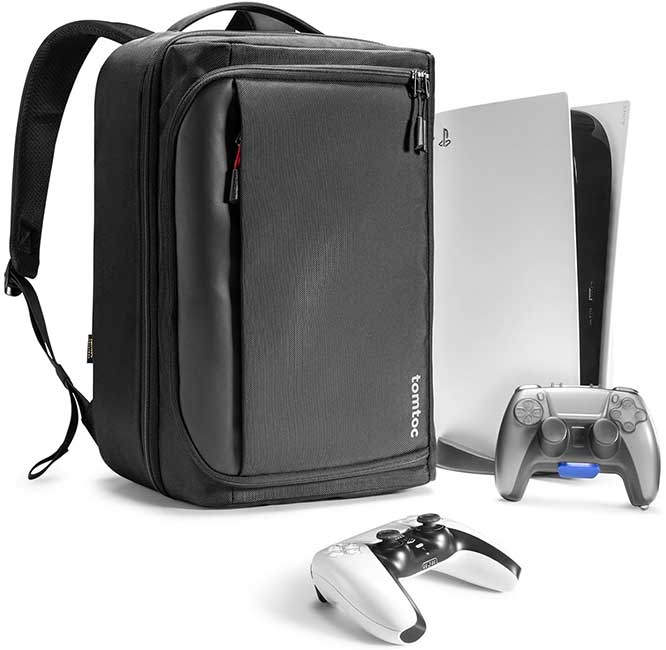 Key Takeaways:
Custom-designed for PS5 console and accessories.
360-degree padding around the console.
Exterior measures 12.99″ x 8.66″ x 17.32″
Zippers have a high quality, smooth feel to them.
Nicest looking option.
Our experience with the tomtoc PS5 Travel Backpack was nothing short of impressive. We love its sleek design and the extensive padding provided in every direction. The bag's exterior, fashioned from a matte black polyester material, felt thick yet gentle to the touch, indicating a thoughtful design geared toward durability without sacrificing comfort.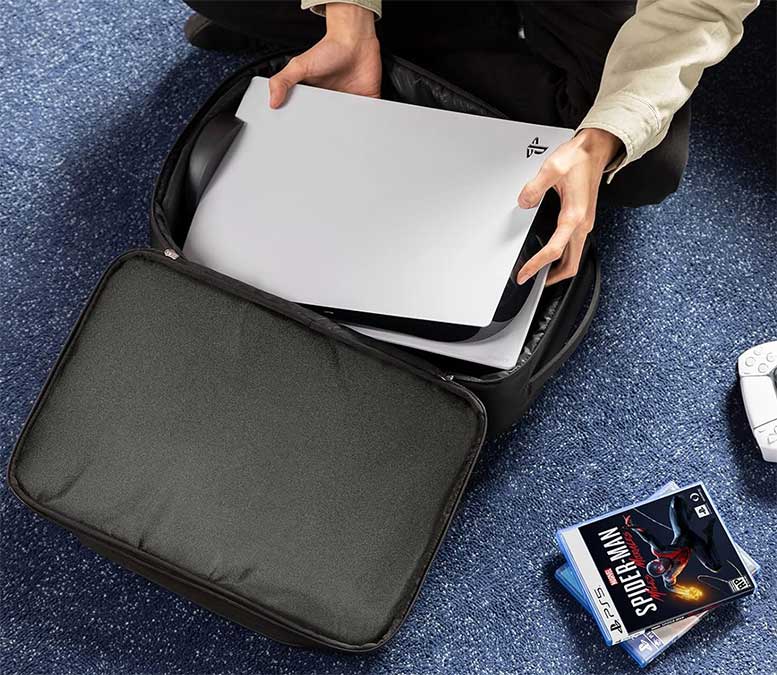 This backpack, specifically crafted for the PS5 console and its accessories, features three well-designed compartments. The largest of these easily accommodated our PS5 console, while the remaining two offered ample space for two controllers, a couple of game discs, a headset, HDMI cables, and other smaller accessories. Everything had its place, and the organization made accessing our gaming gear quick and hassle-free.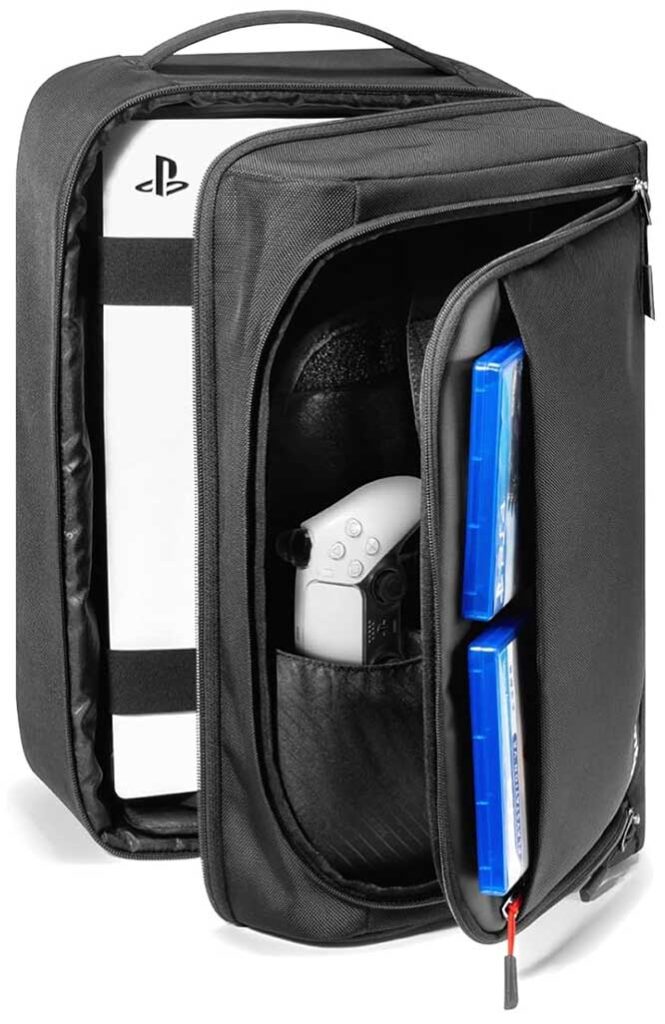 We loved the way it feels. The shoulder straps were thick and contoured, allowing for a snug fit that distributed the weight evenly across our backs. This, combined with a padded back panel, ensured superior ergonomic comfort even during extended periods of carrying.
The zippers on the tomtoc Travel Backpack glided smoothly, reflecting a high-quality build and adding to the overall sense of reliability and ease of use. In addition, the handle provided a comfortable and sturdy means of carrying the backpack. It feels both sleek and dependable in hand.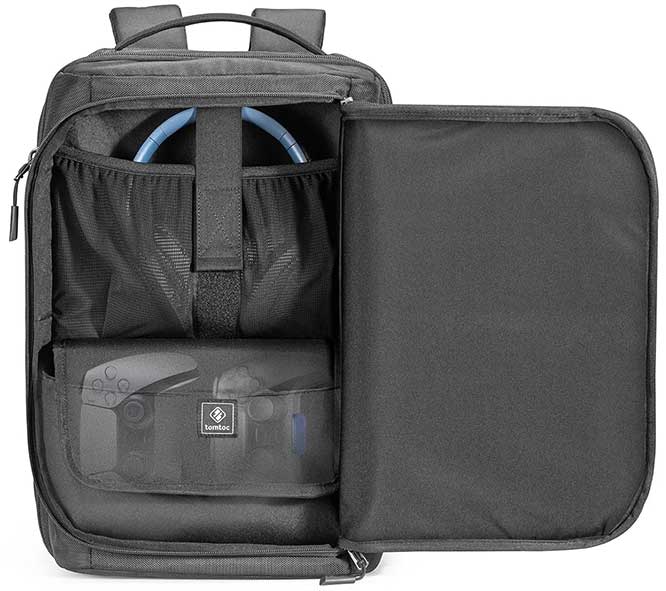 Whether we were traveling across town or heading out on a longer journey, this backpack proved to be a perfect companion. It keeps our PS5 and accessories secure and easily accessible, without any drawbacks. The 12-month warranty provided further peace of mind, reaffirming the reputation of tomtoc as a trustworthy brand.
3. ALIENERGY PS5 Carrying Case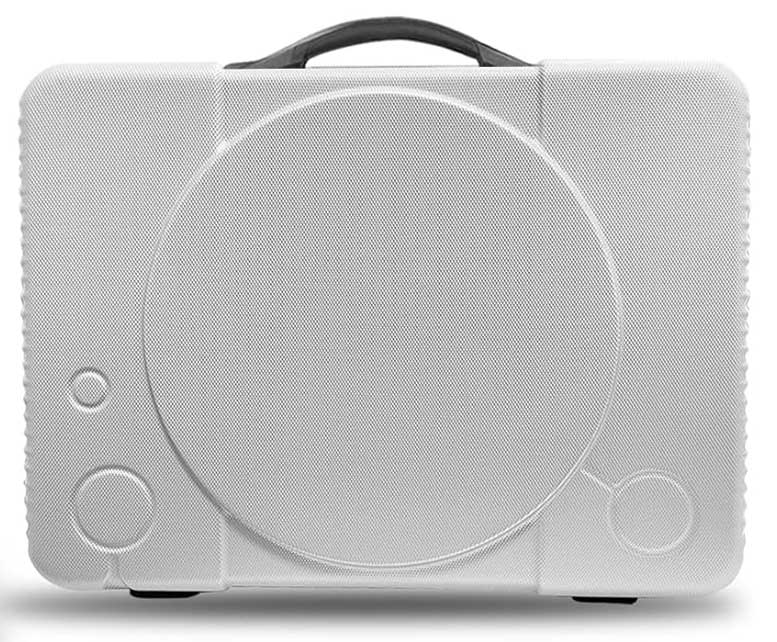 Key Takeaways:
Features a classic PS1-looking design.
16.5″ x 12.5″ x 7″ exterior dimensions.
Interior foam cutouts are lightweight and firm.
Interior elastic straps hold console in place.
During our hands-on experience with the ALIENERGY PS5 Carrying Case, we found it to be a unique and reliable option for transporting our gaming console. One of the first things that caught our eye was its classic PS1-looking design, giving it a nostalgic touch that sets it apart from other carrying cases on the market.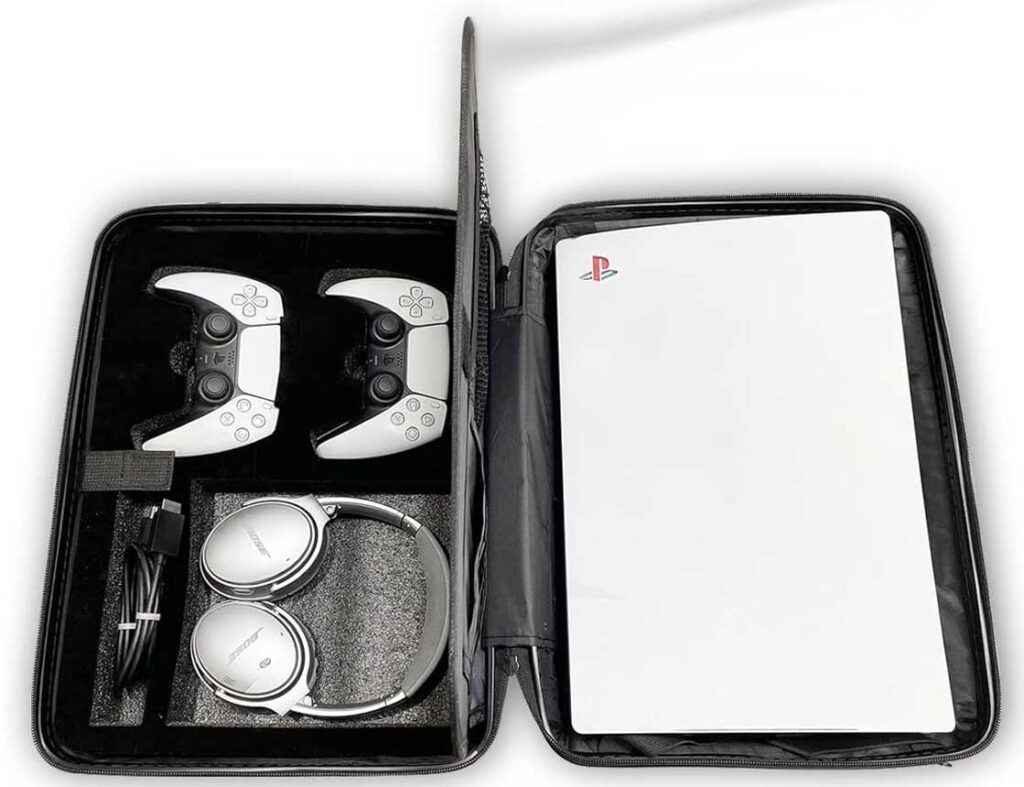 The case's exterior dimensions measure at a compact 16.5″ x 12.5″ x 7″, making it an ideal choice for gamers on the move. Inside, the lightweight and firm foam cutouts provide a snug fit for our PS5 console, two controllers, a headset, and several games. While the foam isn't as supple and soft as some of the other options we've tried, it still offered ample protection against bumps and jostles.
We appreciated the interior elastic straps that helped secure the console in place, ensuring it didn't shift around during transit. The Velcro accessory pocket was a great addition, allowing us to keep our cords and smaller items neatly organized. A unique feature of this carrying case is the removable foam piece, which gives us the option to use the case as a travel suitcase when not transporting our PS5.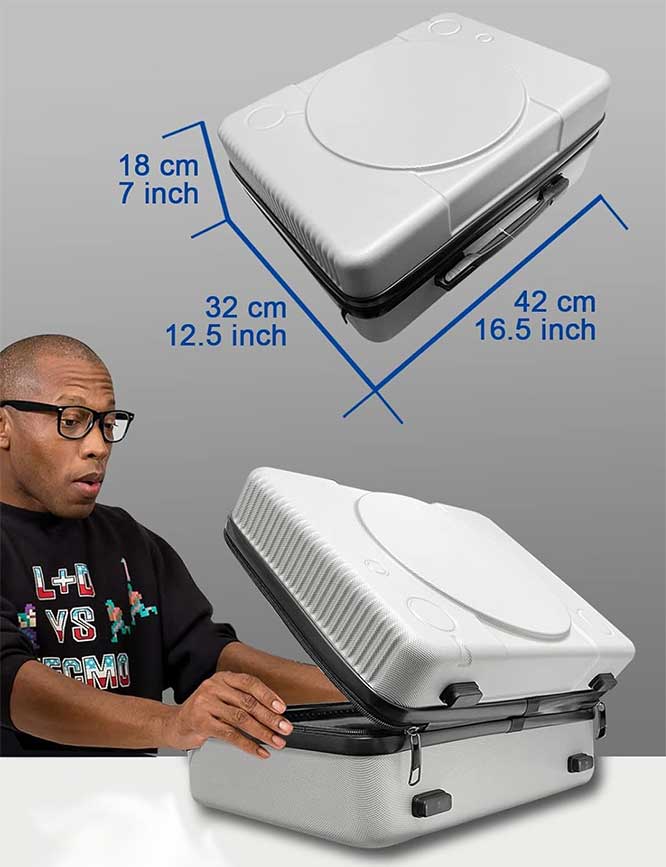 The optional shoulder strap added versatility, making it easier to carry the case over longer distances. However, we did notice that the handle, straps, and zipper felt somewhat cheap compared to other options. Despite this, they still held up well during our tests and provided decent protection for our PS5.
4. YOREPEK Protective PS5 Travel Bag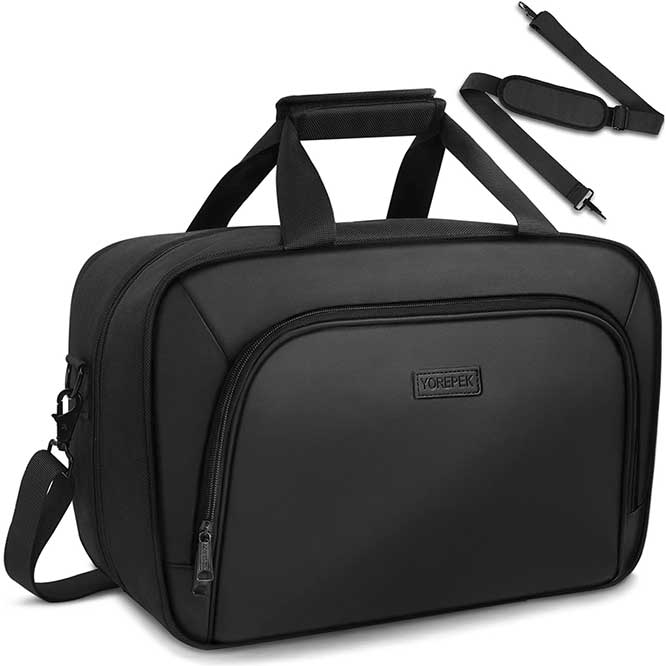 Key Takeaways:
17″ x 8″ x 12″ size with one main compartment and a large zippered pocket.
Double zippers keep the main storage area securely fastened.
0.3″ thick padded interior.
Moderately water resistant, polyester exterior.
Removable shoulder strap that's highly adjustable.
We had the opportunity to take the YOREPEK Protective PS5 Travel Bag on a few journeys, and it's safe to say it left quite an impression. The heavy-duty water-resistant polyester outer shell did an excellent job in resisting scratches and protecting our PS5 and accessories inside. We encountered a bit of rain during one of our trips, and the bag held up remarkably well, keeping everything dry and secure.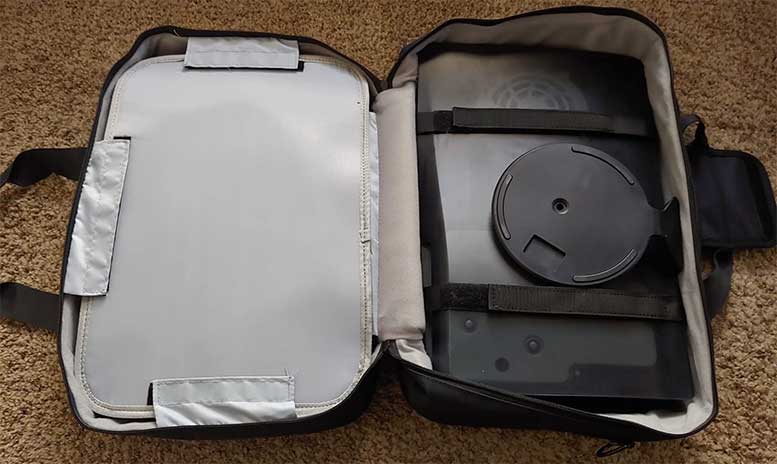 Inside, the 0.3″ soft padded velvet lining along the sidewalls added an extra layer of protection, ensuring our console was snug and safe from potential bumps and jostles. The four thick rubber pads at the bottom were a thoughtful touch, not only providing additional protection but also ensuring the bag stayed put and didn't slide around in the car trunk. The double zipper mechanism worked smoothly every time, making access to the console quick and easy, while also adding an extra level of security.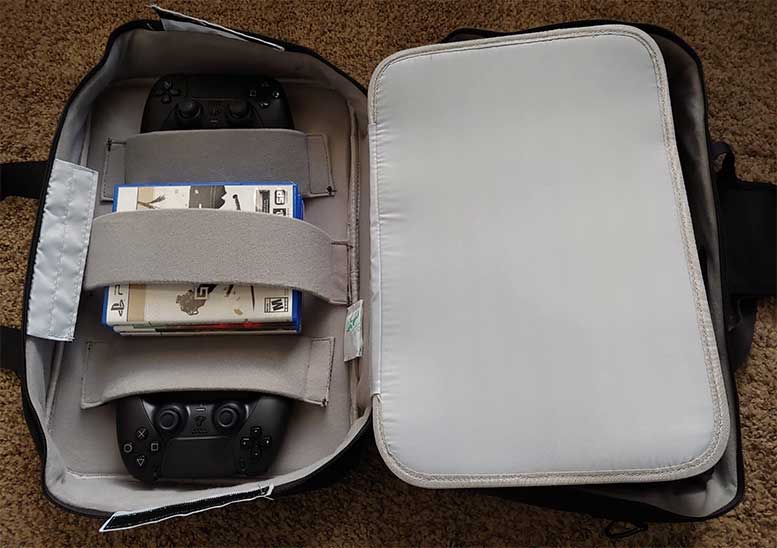 In terms of style and functionality, the YOREPEK travel bag didn't disappoint. It is available in all black, light beige, and a striking blue and black colorway. The exterior dimensions of 17″ x 8″ x 12″ proved to be more than sufficient, allowing us to pack our PS5, two controllers, a headset, and several physical games without any issues. There are even a few elastic straps
We really liked the large zippered pocket on the side of the bag. It was perfect for carrying cables, small accessories, and even some snacks for the road. The removable shoulder strap was another nice inclusion, adjustable to a wide range of sizes and featuring all-metal hardware for longevity. It made transporting the console a breeze, providing comfort and support even during longer walks.
PS5 Travel Bags FAQs
What should I look for in a PS5 travel bag?
Look for robust padding, water-resistant materials, and secure compartments. Ensure it has enough space for your console, controllers, games, and accessories. Adjustable straps and handles offer added comfort. The price you pay may be an indicator on how "good" it is.
Can I carry other items in my PS5 travel bag?
Yes, many PS5 travel bags have extra compartments for personal items. However, prioritize your console's safety and avoid overstuffing. Some, like the ALIENERGY have a fully removable interior for versatility.
Are there PS5 travel bags with theft-protection features?
Some bags offer lockable zippers and hidden compartments as theft-deterrent features. Look for these options if security is a priority. The CASEMATIX is one example that contains two specific holes to put two small padlocks through.
Can I take my PS5 travel bag on an airplane?
Many are designed to be carry-on compliant, but always check the current airline regulations to be sure. The options we've introduced within this article are all small enough for most carry-on restrictions.
How important is the design and style of a PS5 travel bag?
While style is a personal preference, functionality should be the priority. Ensure the bag meets your travel needs and protects your console effectively, then consider aesthetics. It's easy to be wowed by looks, so take some time to understand how each bag can offer protection.
Meet Derek, "TechGuru," a 34-year-old technology enthusiast with a deep passion for tech innovations. With extensive experience, he specializes in gaming hardware and software, and has expertise in gadgets, custom PCs, and audio.
Besides writing about tech and reviewing new products, Derek enjoys traveling, hiking, and photography. Committed to keeping up with the latest industry trends, he aims to guide readers in making informed tech decisions.