Most Americans only have one option for an Internet provider. Some are lucky enough to be able to choose between two, although more often than not, both are cable networks. For someone who lives in a major metropolitan area with a fiber optic network, it can make sense to purchase a router and modem separately. After all, if you decided to switch from cable to DSL, Satellite, or a fiber optic network, you're not going to need that cable modem anymore.
But in America, those options are the exception, not the norm. The vast majority of homes with Internet service choose cable. So for the vast majority of people, there's essentially no reason to have your router and cable box separate. Unless you love having extra cords and black boxes scattered around your home, it only makes sense to package them together. It's a cleaner install, and it's definitely friendlier to novice users who are trying to setup a network.
Choosing a Modem and Router Combo
Another benefit of having a modem and router packaged together is you don't have to worry about compatibility between two different units. For example, if you had a Belkin router and a NETGEAR modem, you might encounter conflicts and small errors. When both are rolled into the same device, those concerns go out the window.
However, you do still need to be concerned with basic compatibility between the Wi-Fi modem router combo and Internet service provider. Fortunately, most major modem manufacturers will be compatible with your ISP. But it's important to check and be sure, especially if you're using a more obscure provider.
Knowing Standards
When you're looking for specific Internet standards or types of Wi-Fi connectivity, you'll want to pay attention to the kind of antennas used. The Wi-Fi global standard is known as 802.11. Following those numbers, you'll also see letters like a, b, g, n, and AC. The additional letters help show the specific version of Wi-Fi being used.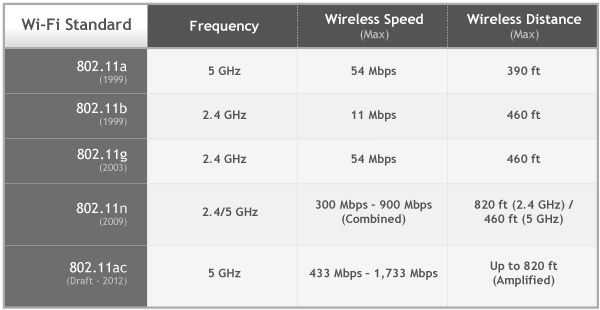 The latest standard is AC, which is capable of carrying some of the biggest and most powerful Internet connections through the wireless space. A huge number of consumers still use N-series routers, and will continue to do so for years to come. That's because even though N-series are less than a third as capable as AC, the N-series is still quite capable of handling the network speeds enjoyed by most Americans.
While any version of the 802.11 standard will share compatibility with other 802.11 devices, later versions have been expanded to accommodate higher bandwidths. In other words, if you're not using one of the higher standards, you won't be able to take advantage of higher speeds from your ISP.
But if you're using a basic 10Mbps package or something similar, then you don't have to concern yourself because even older generations of Wi-Fi technology will be adequate. The current version is AC, but the N-version is very common and still powerful enough for most types of modern use.
On the other hand, ensuring you've got an AC router does provide some degree of future-proofing for your connection. AC router speeds are fast enough to almost certainly see continued reliable use for the next decade, and plausibly far beyond that.
2 GHz Band vs. 5 GHz Band
Most Wi-Fi connections take place on the 2.4 GHz band. It's great for sending the signal through walls, and it's great for bouncing a signal around a room. But the popularity of the format has backfired. In many parts of the world, the airwaves are literally overcrowded with Wi-Fi signals using the 2.4 GHz band. So an increasing number of routers are providing support for the 5 GHz band as a supplement.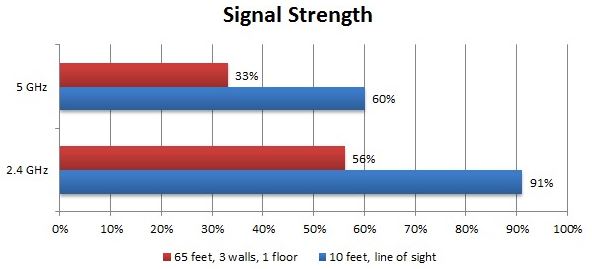 The 5 GHz band has a higher speed limit for data, but it's also carried on wavelengths that are physically different than the 2.4 GHz band. One result is the waves are less able to penetrate obstacles. Naturally, larger homes can have issues with Wi-Fi, especially if you're trying to use the higher band frequencies.
To resolve problems like these, you want to pay attention to if the Wi-Fi modem-router combo you choose has features like beamforming, or the ability to join a mesh network. Wi-Fi extenders are often necessary for people who have high standard for their connection, and many areas where they want to send that connection to. With the help of features like MU-MIMO, families with 8+ devices connecting to the router can see pretty drastic improvements in latency and response time from their connection.
Look at your Top Speeds
The best router in the world isn't going to make your Internet any faster than your ISP is sending information to you. A router is a little box that allows several computers to join the same network, by routing their communications through one central hub. And a modem is simply a device that facilitates a connection to your ISP.
If you're paying for a faster 500+Mbps connection, you're going to want to pay close attention to the speed capabilities of a cable modem Wi-Fi router combo. You need hardware that can keep up with whatever plan you choose.
But if you're using a more basic plan, and are receiving below 50 Mbps download speeds, then you generally don't need to worry about being bottlenecked by your modem or router. It's a problem which can still happen in a variety of ways, but you don't have to concern yourself with looking for high speeds. Your focus should be more on ease of use, reliability, and lasting power.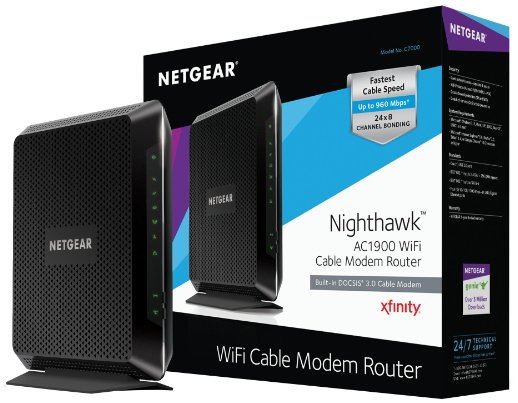 NETGEAR Nighthawk C7000
The NETGEAR Nighthawk C7000 is actually a three-in-one device rather than simply a two-in-one cable router combo. It includes a full-fledged DOCSIS 3.0 cable modem and an AC1900 Wi-Fi router. But it's third leg is an impressive 4 Gigabit wired switch. For anyone with a seriously fast Internet connection the C7000 is built to keep up.
It's worth noting the Nighthawk has been certified for use with Comcast XFINITY, Spectrum, Cox, and a handful of other major Internet service providers. But the C7000 isn't compatible with voice services which come bundled with your cable. That's unfortunately a reality which comes along with escaping the rental fee from your modem. When you're not using a cable company's proprietary equipment, your voice services won't work from that coax access point.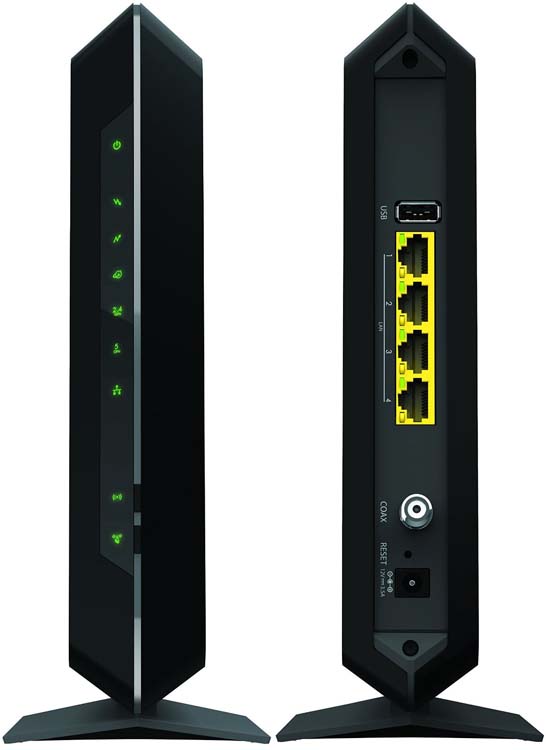 Build & Design
Holding the C7000, you'll notice it weighs a hefty 3.3 pounds. And it stands at 11.6 x 11 x 3.9 inches, making it clearly intended to be sitting stationary on a desk, or mounted to the wall. Superficially speaking, it resembles almost any other NETGEAR router, with the sole exception of the stylish crosshatch texturing across each face of the device. Internally, you'll find a 1.6 GHz processor, which doesn't sound impressive, but compares favorably with what you'll find in high end smartphones.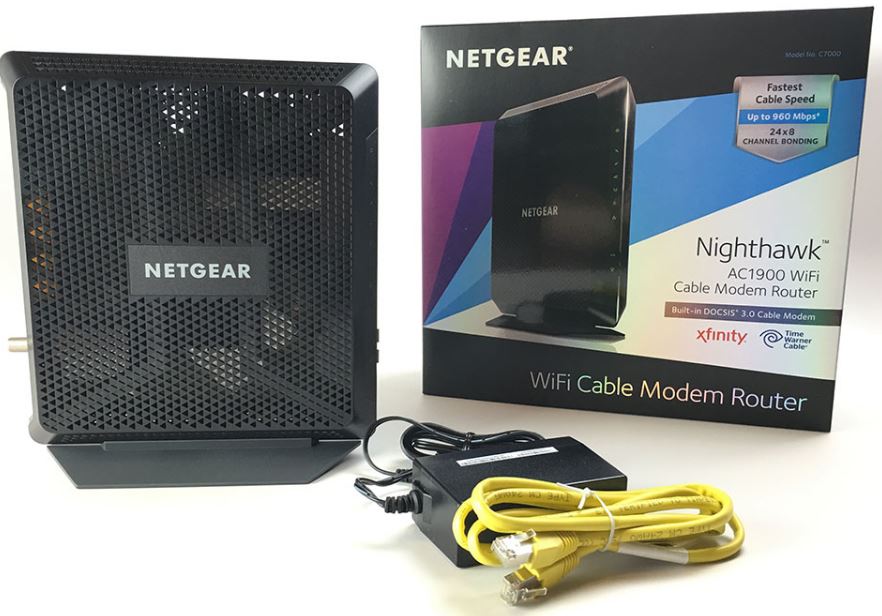 Connectivity
The NETGEAR C7000 makes use of standard 802.11 AC Wi-Fi connections. Using the modern AC format ensures the C7000 can provide up to 960Mbps of bandwidth, supported across either the 2.4 GHz or 5GHz wireless connectivity. As a DOCSIS 3.0 modem, the C7000 supports 24×8 channel bonding, which is how it manages to deliver on those 960Mbps speeds even when you're connecting on several devices. That makes the C7000 perfectly suited for streaming 4K content, playing games without latency, and getting consistent performance out of similarly bandwidth intensive tasks.
Setting up the C7000 is about as simple as plugging in the coax cable, and connecting to your modem through your computer. Depending on your ISP, you may also have to call them and provide the serial number of your router. But if you've ever plugged in a DC power plug before, you should have all of the skills you need to successful setup the C7000.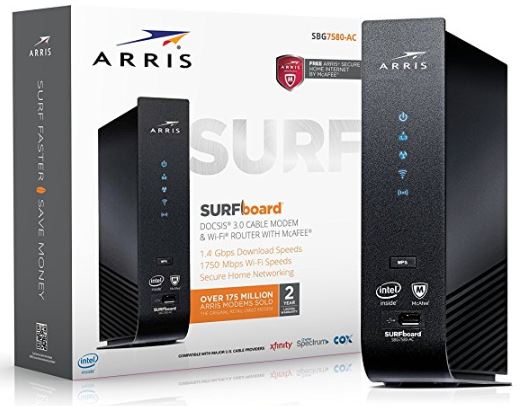 ARRIS SURFboard SBG7580AC
ARRIS isn't a giant name in networking hardware like NETGEAR, but their router/modem combo provides a unique approach both aesthetically and technologically. They're a relatively new entry to the modem market, with ARRIS' earliest releases around 1997. But like NETGEAR, the ARRIS SURFboard SBG7580AC is prepared to work with major cable providers like Cox and Xfinity. It's further equipped to support Spectrum networks like Charter, Time Warner, and Brighthouse.
Build & Design
The SURFboard SBG7580AC uses a simplistic 7.7 x 2.2 x. 9.5-inch build, weighing about 2.5 lbs. Aesthetically, its combination of professionalism and stylish yet functional colored textures. Along the backside of the ARRIS SURFboard, you'll find each of the major plug-in connections has been clearly color labeled, and labeled with a symbol. You can easily identify the blue connection for the coax cable, the red panel for the Ethernet ports, and so forth.
On the front side of the device, you'll find a number of informative LEDs that give you information about the status of your connection. If it ever becomes necessary to start doing troubleshooting, you'll be able to know where to begin with the help of one of five signals indicating the status of your connection, wireless connectivity, and power. While these LEDs aren't labeled, it's pretty simple to figure out what they represent by looking at each symbol.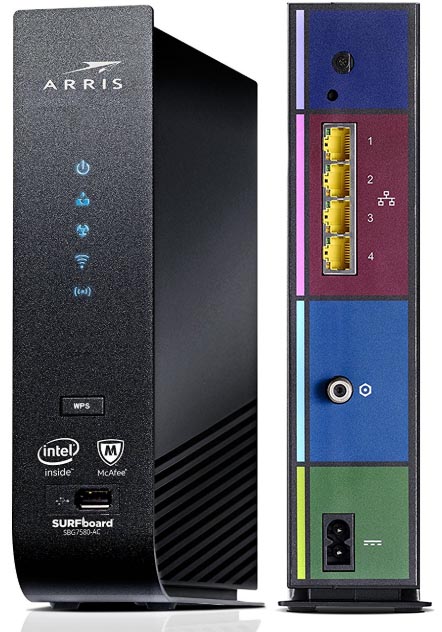 Connectivity
Like the NETGEAR C7000, the SURFboard SBG7580AC uses standard 801.11 AC Wireless. That's facilitated over an AC1750 2.4/5.0 GHz dual band router, boasting four Ethernet ports. And the beamforming Wi-Fi provides extensive coverage for a variety of different types of large and compact environments.
The cable modem portion of this device supports an impressive 32 channels, which is equipped for both high bandwidth Internet connections and numerous devices connecting to the network. For people with huge data plans, this can be critical. The SURFboard can deliver 1.4Gbps and beyond.
But here comes one of the bigger splits between ARRIS and SURFboard. NETGEAR has their own proprietary software for setting up a network. Whether or not you like NETGEAR's approach is a matter of taste. By contrast, ARRIS is setup through the included McAfee Whole Home Internet app. You end up with essentially the same services, but the addition of McAfee is worth noting for anyone who favors that brand. The SURFboard also includes a two year limited warranty, and unlimited tech support.
Choosing Between Two Great Modem Wi-Fi Router Combos
If you're paying for a Gigabit Internet connection, you want the NETGEAR Nighthawk C7000. It's got the hardware necessary to handle the best cable connections in the world. It uses every modern standard, and can integrate well with other NETGEAR devices to extend your connection as needed. Without surpassing ridiculous levels of redundancy, most people will never need a router stronger than the C7000.
One of the thing that keeps brands like NETGEAR ahead is constantly updating and revising their firmware and security. In short, what that means is even years after you've had one of their products, you might see minor improvements in performance, and you'll definitely see security keep pace with the times. The popularity of NETGEAR products also means if you don't plan on using their support staff, you can still find the answer to basically any question online from other users.
The ARRIS SURFboard SBG7580AC has many of the same features as the Nighthawk C7000. But its maximum bandwidth slightly outranks that of the C7000, approaching nearly 1. For the vast majority of people in the United States, the C7000 will provide everything you need and more. But if you're using a particularly fast Gigabit+ connection, the SURFboard is a great selection. The SURFboard also is a prime choice for people who use networks like Charter, Time Warner, and Brighthouse.