Choosing the right cable modem WiFi router combo can quickly become overwhelming due to the seemingly endless variety of options. So how do you find the right fit? You can breathe a sigh of relief, as we've tested several top models to give you a clear comparison and make your choice a little easier. In this guide, we will be looking at:
These are the modem-router combos that stood out in our research, proving their efficiency through rigorous testing. Read on as we get into all the details of each model, highlighting their strengths and the areas where they might fall short.
NETGEAR Nighthawk CAX80 Cable Modem WiFi Router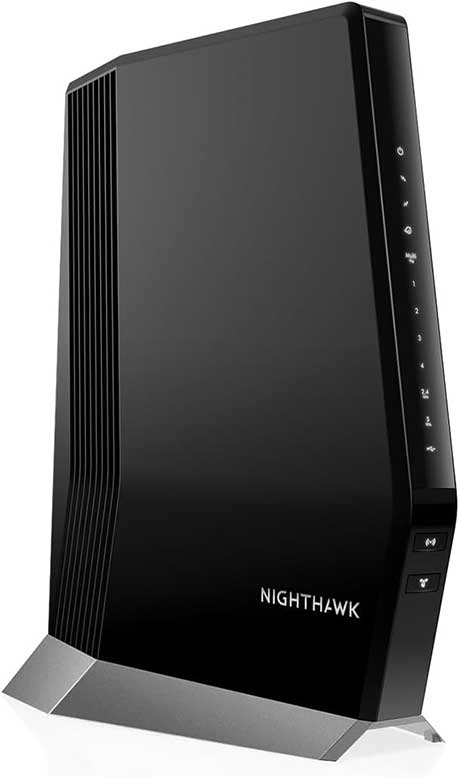 Key features:
Fast WiFi 6 performance
Five Ethernet ports, including 2.5Gbps port
Easy setup via Nighthawk App
NETGEAR Armor for security
When it comes to a robust and high-performing modem-router combo, the NETGEAR Nighthawk CAX80 proves its mettle. Sporting a sleek, black design, this unit offers an impressive range of features that help it stand out in the crowd. The CAX80 is ideal for heavy internet users, like gaming enthusiasts or large households. It features a dual-band WiFi 6 (AX6000) speed, providing quick and uninterrupted wireless coverage of up to 3,000 square feet. Whether you're streaming media, playing online games, or conducting video calls, it handles multiple tasks effortlessly.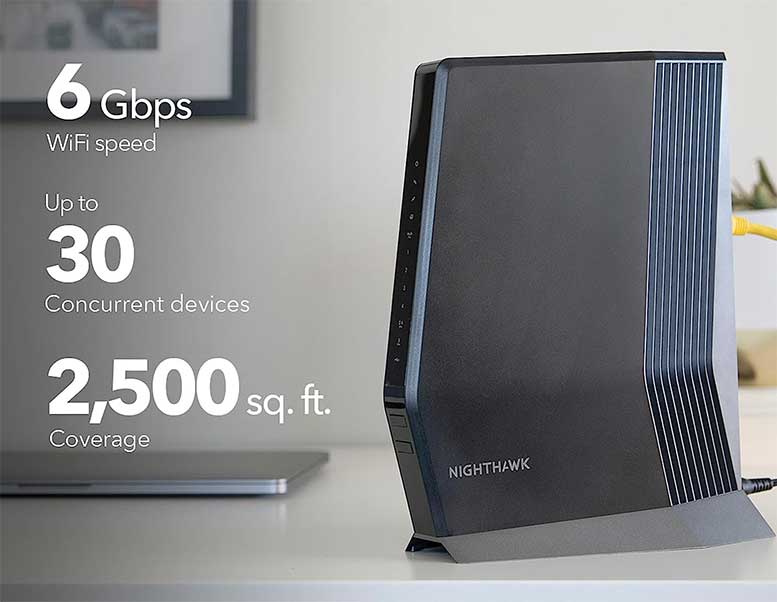 We tested this unit with several devices, including computers, game consoles, and streaming devices. It maintained steady, high-speed connections thanks to its DOCSIS 3.1 technology and 32×8 channel bonding. It also has five Ethernet ports (one of which is 2.5 Gigabit Ethernet) and a USB 3.0 port, offering speedy wired connections to all your devices. The device measures 14.29 x 12.44 x 4.65 inches and weighs just under 4 pounds, requiring a reasonable amount of space. It also hosts a range of LED indicators on the front for power, upstream and downstream activity, WiFi status, and Ethernet port status. The rear offers four Ethernet jacks, a USB 3.0 port, and a reset button hidden behind the casing.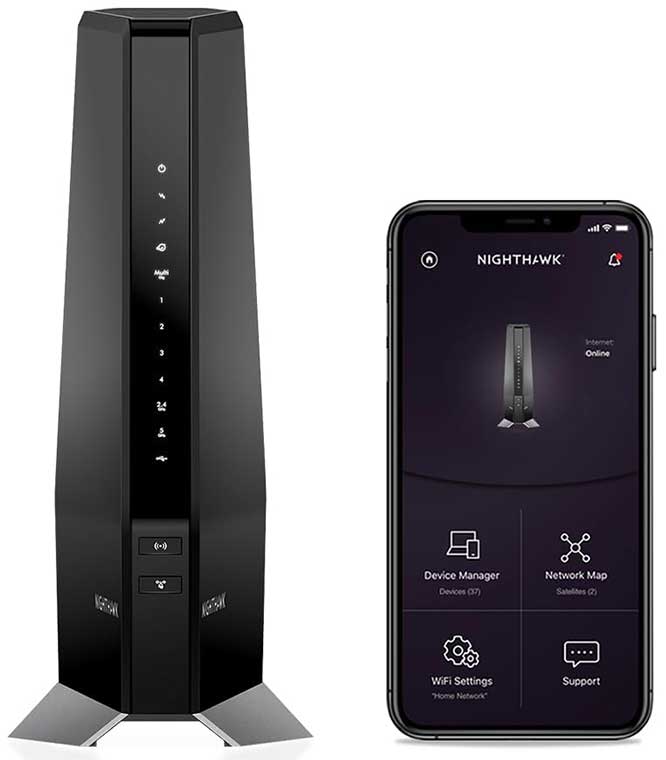 The setup process was smooth, from plugging in the coax cable to using the Nighthawk App for network setup. Its compatibility with major cable internet providers like Xfinity, Spectrum, and Cox enhances its convenience. We appreciate seeing the inclusion of NETGEAR Armor. This software safeguards all connected devices, offering a 30-day free trial and making the router an ideal choice for families prioritizing online safety. However, the Nighthawk CAX80's size could be a downside for some, requiring a sizeable amount of space for installation.
What we liked:
Wide coverage area
High speeds with DOCSIS 3.1
Compatible with major providers
Robust internet security
What we didn't like:
Large device size
Complex reset button access
NETGEAR Nighthawk CAX30S Modem Router Combo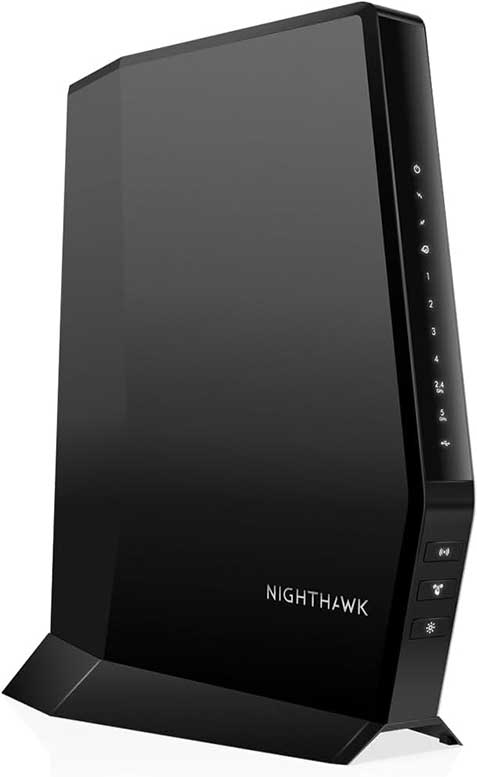 Key features:
Dual-Band WiFi 6 (AX2700)
DOCSIS 3.1 with 32×8 channel bonding
NETGEAR Armor for enhanced security
Four Gigabit Ethernet and one USB port
Our journey into exploring the NETGEAR Nighthawk CAX30S Modem Router Combo starts with its substantial size, measuring 10 x 8.3 x 2 inches and weighing a solid 2.1 pounds. Its all-black design and tower-like stature give it an aesthetic edge in the world of networking hardware. During our time with the router, it was evident that the Nighthawk CAX30S wasn't just built for its looks. The unit is a powerhouse optimized for cable provider plans up to 2Gbps.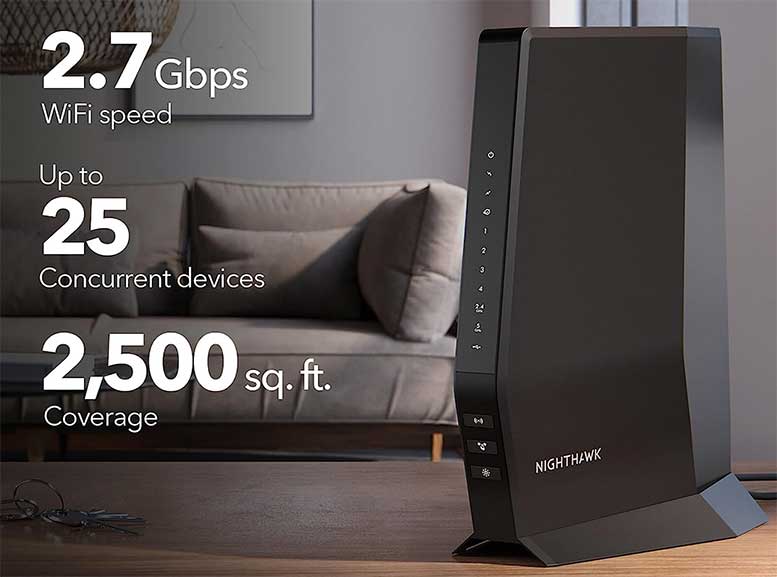 Its dual-band WiFi 6 (AX2700) enables coverage of up to 2,500 square feet and can handle up to 25 devices simultaneously without breaking a sweat. Streaming, gaming, and Internet browsing were lag-free, even with multiple 4K HD streams going simultaneously. This performance can be attributed to the DOCSIS 3.1 technology and the 32×8 channel bonding that the device is equipped with. The router also came with four Gigabit Ethernet ports and one USB 3.0 port.
This feature allowed us to connect computers, game consoles, streaming players, and storage drives. The ability to plug these devices directly into the router provided wired connections that were consistently strong and dependable. The router-modem combo unit is compatible with most cable internet providers. Most but not all. It lacks compatibility with AT&T, Verizon, CenturyLink, DISH, DirecTV, and DSL providers. It also won't work with bundled voice services.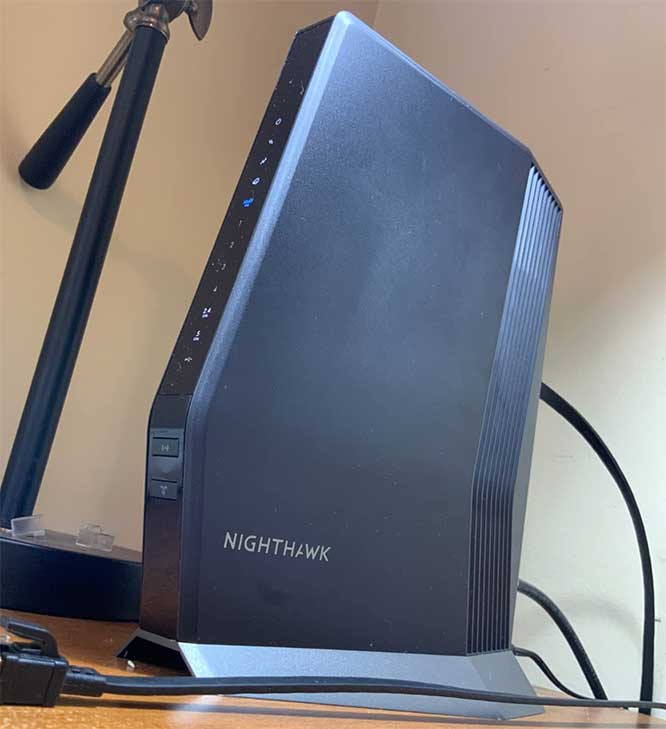 Moving along, the easy setup and activation process was a major plus. It involved simply plugging in the coax cable and following the on-screen instructions. You also have the option to activate it over the phone if you prefer. Like its CAX80 cousin, this model comes with NETGEAR Armor, an advanced cyber threat protection system. You'll be pleased to know that you get a 90-day subscription included with the router.
In testing, NETGEAR Armor provided an extra layer of security across all our connected devices. The support of WPA/WPA2/WPA3 wireless security protocols was also noteworthy. Lastly, we like the user-friendly Nighthawk App. For us, it greatly simplified the network setup process. We're fond of its intuitive interface – anyone should be able to use it without technical knowledge. With all these features and benefits, the Nighthawk CAX30S stands tall as a reliable modem-router combo.
What we liked:
Coverage up to 2,500 sq. ft.
Handles up to 25 devices
Simplified setup with Nighthawk app
Reliable wired connections
What we didn't like:
Incompatible with some service providers
Limited subscription to NETGEAR Armor
ARRIS Surfboard G36 Cable Modem WiFi Router Combo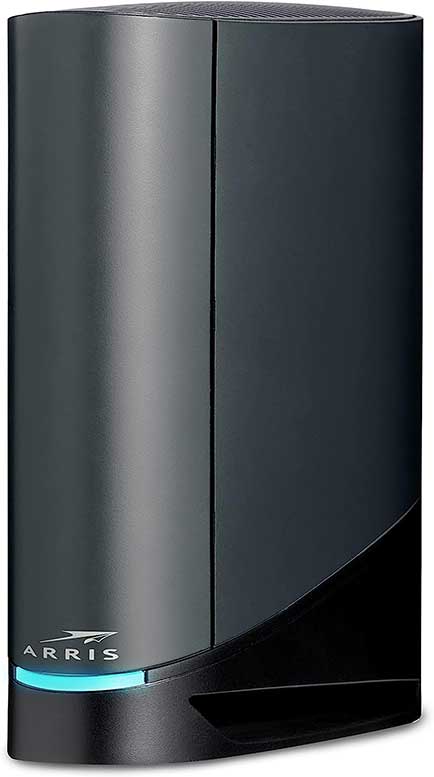 Key features:
All-in-one modem and WiFi router
DOCSIS 3.1 for ultra-fast speeds
Supports major U.S. cable providers
Easy setup via SURFboard Central App
When we put the ARRIS Surfboard G36 Cable Modem WiFi Router Combo to the test, it presented an intriguing mix of performance, compatibility, and future-ready technology. This all-in-wonder boasts space-efficient appeal, combining the capabilities of a cable modem and a WiFi router in a single unit. Weighing 3.03 pounds and with dimensions of 10 x 3 x 8 inches, it's compact enough to seamlessly fit into any home office setup.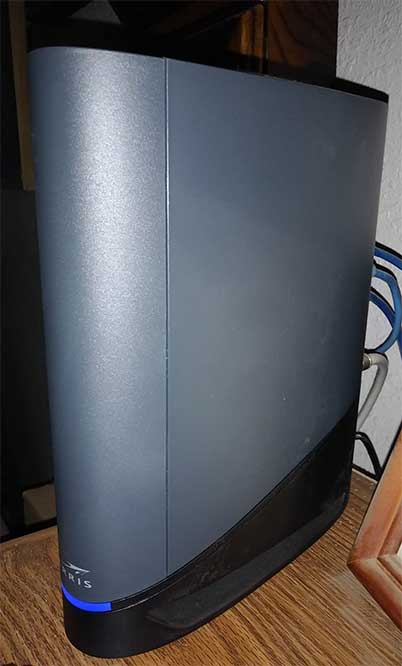 Our testing began with the setup process. It was straightforward, thanks to the SURFboard Central App. We downloaded the app, followed the instructions, and within no time, our device was activated, and our WiFi network was up and running. The app further simplified and smoothed real-time monitoring of our devices on the network and enhanced parental controls, such as setting time limits and pausing the internet.
There's impressive compatibility present here, too. It supports a range of devices, from smartphones and computers to smart TVs and IoT devices. Its compatibility extends to major US cable internet providers like Spectrum, Cox, and Xfinity. Our tests confirmed that it supports speed plans up to 2.5 Gbps, reflecting its future readiness. Supplementary to this, the G36 employs DOCSIS 3.1, the latest technology from cable internet providers. Thanks to it, you get multi-gig networking and drastically reduced latency during gaming sessions.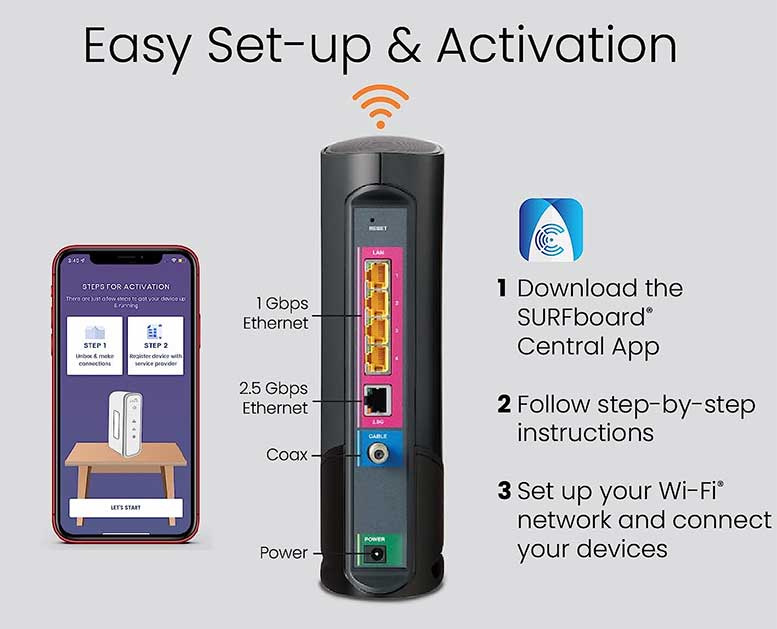 To touch upon another aspect, there's also better security and speed in this model. In fact, it's 10 times faster than its predecessor, DOCSIS 3.0. When it came to wireless communication, this router utilized the 802.11ax standard (WiFi 6), pushing our WiFi speeds up to 3 Gbps. However, our tests revealed some caveats. We experienced intermittent disconnects, which required manual reboots. Additionally, the WiFi range and speed needed a bit of fine-tuning for optimal performance – minor nitpicks in what is otherwise a well-rounded contender.
What we liked:
Space-efficient design
Future-ready with multi-gig support
Enhanced parental controls
Real-time device monitoring
What we didn't like:
Requires occasional manual reboots
WiFi range may need adjustment
Motorola MG8702 Cable Modem WiFi Router Combo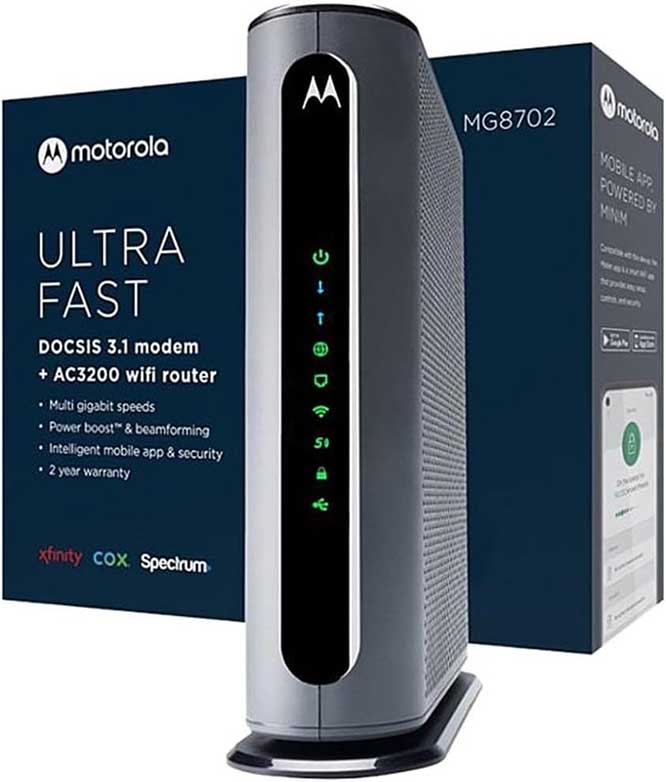 Key features:
DOCSIS 3.1 for future-proof performance
High-speed AC3200 WiFi router
Intelligent mobile app for easy management
Compact design with multiple connection options
Our final entry comes from Motorola with its MG8702 Cable Modem WiFi Router Combo. If you're looking for superior connectivity to your home, you'll definitely want to check out this one. Notably, it enables an instant boost to your WiFi performance courtesy of its advanced tech. We tested the MG8702 under various conditions, including simultaneous streaming on multiple devices, and its performance was impressive.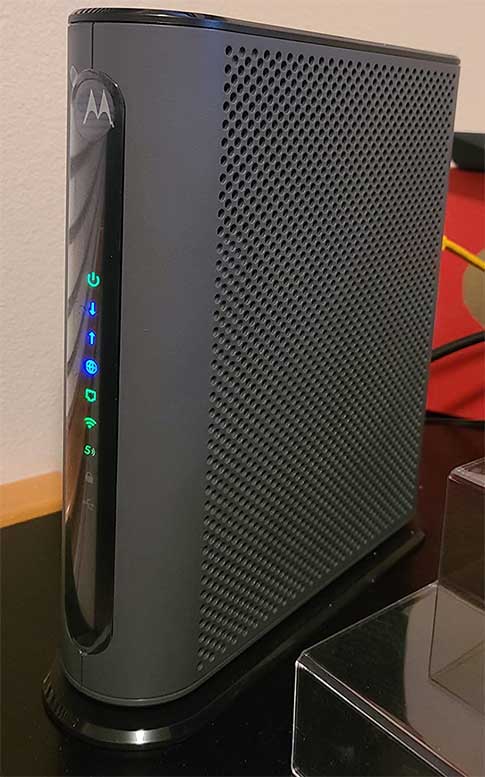 As with the previous three combos we reviewed, Motorola's unit comes with DOCSIS 3.1, guaranteeing fast cable internet and future-proof performance. We experienced higher speeds and expanded coverage, a benefit that's amplified by its backward compatibility with 32×8 DOCSIS 3.0, 2.0, and 1.1 services. For those needing a powerhouse in both horizontal and vertical home expanses, this one doesn't disappoint.
Another noteworthy feature is the addition of a high-speed AC3200 WiFi router. Enhanced with AnyBeam WiFi Beamforming, Power Boost, and Range Boost, we found it consistently delivered fast and reliable WiFi. Moreover, its MU-MIMO technology enables seamless communication with multiple devices, which is supposed to reduce buffering significantly. That said, we did experience some occasional buffering in our varied tests.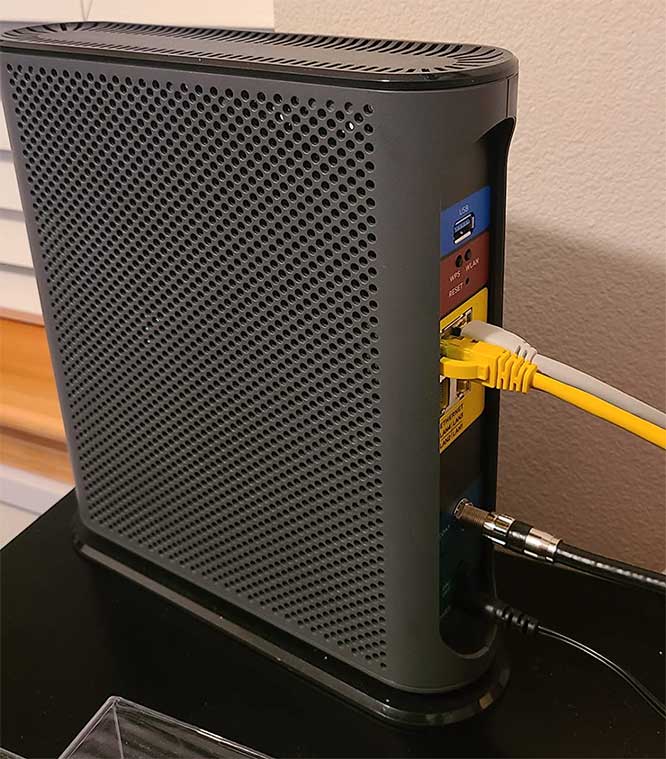 Switching gears, we like how user-friendly this router is. It features an intelligent mobile app that simplifies setup, network management, speed testing, and parental controls. The device's size (9.5 x 2.88 x 9.75 inches) and weight (2.15 pounds) makes it a compact addition to your home, fitting easily into any setup. It also features a USB 3.0 Port with DLNA for shared network storage and 4 Gigabit Ethernet LAN ports.
Despite its powerful features, our tests did indicate that obtaining tech support can be challenging, which is worth noting for less tech-savvy users. Similarly, initial setup might require a smartphone, which could pose a hurdle for some. But overall, Motorola's MG8702 proved to be a high-performance addition to your internet setup. Its features and benefits cater to a broad range of users, proving it to be an excellent choice for those seeking an upgrade in their home connectivity.
What we liked:
Seamless multi-device communication
Easy setup and management
Reliable, fast WiFi
Enhanced network storage
What we didn't like:
Tech support could be more accessible
Smartphone might be needed for setup
Cable Modem WiFi Router Combo FAQs
What is a cable modem WiFi router combo?
A cable modem WiFi router combo is a single device that combines the functionality of a cable modem and a WiFi router. This combo device connects directly to the internet service from your ISP and provides a WiFi network for your home or office.
Why should I choose a modem-router combo over separate units?
Combos serve to simplify the setup process by reducing the number of devices and cables involved. A combo router can also be more cost-effective than buying a separate modem and router. However, if one part fails, you'll need to replace the entire unit.
Will any modem-router combo work with my Internet Service Provider (ISP)?
Unfortunately, there's a possibility that it won't, as not all modem-router combos are compatible with all ISPs. Therefore, it's crucial to check if the device is compatible with your service provider before investing.
Final Verdict
After thorough testing and assessment, each of these modem-router combos made it to our list due to their distinct features and outstanding performance. Take NETGEAR's Nighthawk CAX80, for starters. It stands out for its superb speeds and wide coverage area, making it an ideal choice for large households and heavy internet users who value security. Then there's NETGEAR's Nighthawk CAX30S, a router that impresses with its capability to handle up to 25 devices simultaneously. Add in simplified setup, and you've got an excellent choice for tech beginners or households with multiple connected devices.
The ARRIS Surfboard G36 is another strong contender that provides an all-in-one solution with a compact design and wide compatibility range. This makes it an excellent choice for those seeking a lightweight yet robust router combo. Finally, Motorola's MG8702 shines with its future-proof performance and intelligent mobile app for easy management. Its seamless multi-device communication capability makes it ideal for homes with many devices. Each of these modem-router combos offers excellent value and performance, catering to a range of user needs and preferences.
Meet Derek, "TechGuru," a 34-year-old technology enthusiast with a deep passion for tech innovations. With extensive experience, he specializes in gaming hardware and software, and has expertise in gadgets, custom PCs, and audio.
Besides writing about tech and reviewing new products, Derek enjoys traveling, hiking, and photography. Committed to keeping up with the latest industry trends, he aims to guide readers in making informed tech decisions.