For the modern household, high-speed internet is practically a necessity. If you want to enjoy streaming media, answer emails, or use smart home devices, you need a high-speed connection. But your internet connection is only as good as your home networking hardware. While it's standard practice to provide your own router, most service providers will outfit you with a modem.
Whether or not this is a good deal depends on two factors. First, how fast are your ISP's modems? If they don't have any high-quality offerings, you'll find yourself languishing in the information superhighway's slow lane. Second, are you being charged a lease? Many ISPs charge an additional modem fee on your monthly bill. If this is the case, you'll save money over the long term by providing your own modem.
Of course, a modem also takes up space on your desk or shelf. And it needs to be connected to your router, which means more wires that can get tangled. Oftentimes, a better solution is to use a cable modem-WiFi router combo. This frees up space and eliminates wires. To that end, we've reviewed three of the best cable modem-WiFi router combo units available. Here's what we learned.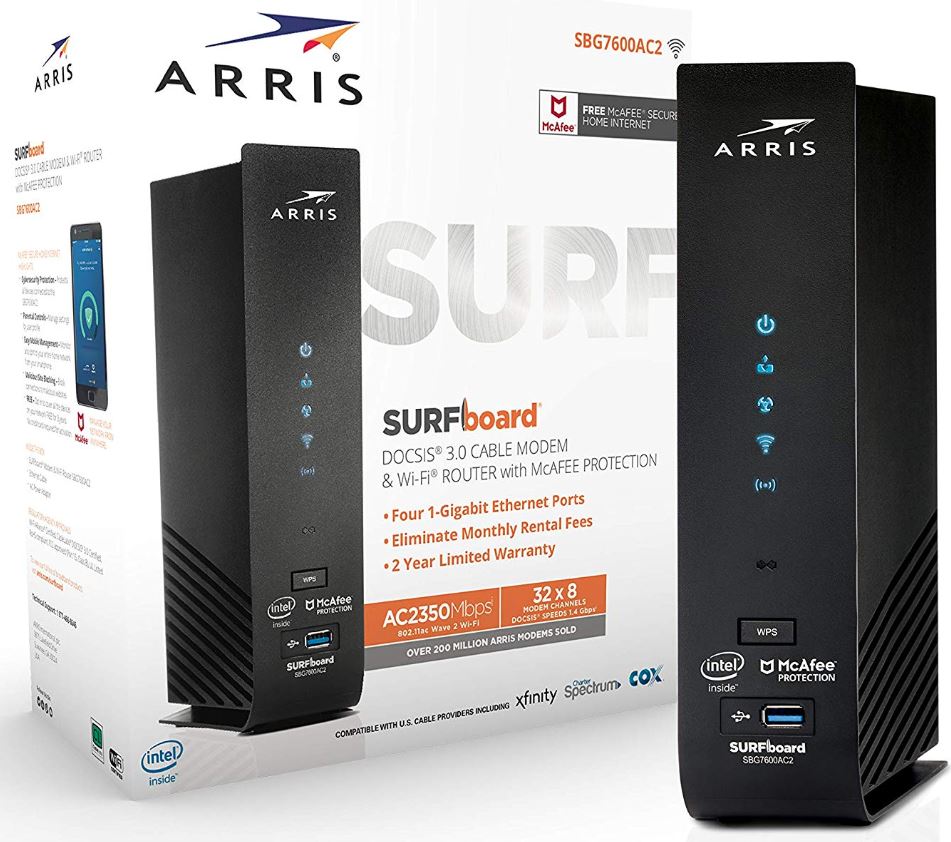 ARRIS Surfboard SBG7600AC2
The ARRIS Surfboard SBG7600AC2 is a modem/router combo unit with an unassuming rectangular shape. It's 8.7 inches high, 6.4 inches deep, and 2 inches wide, and tips the scales at just over 1 pound. The case is constructed from glossy black ABS plastic, with vented sides. On the front of the case, you'll find the same standard LED indicators as most routers. There's also a button for easy WPS connections, and a USB port for updating the firmware.
On the back, there are four color-coded segments, each with its own purpose. The bottom, green portion houses the power input. The next, blue portion houses the cable input. Above that, in the yellow section, there are four gigabit Ethernet ports. Finally, in the top purple section, you'll find a recessed reset button, which requires a pin or paperclip to operate.
Speed and Connection Quality
The SGB7600AC2 utilizes the DOCSIS 3.0 communication standard. This is a newer, faster standard than the older DOCSIS 2.0 standard. It's capable of handling speeds up to 680 Mbps per channel. And with 32 download channels and 8 upload channels, you're looking at a lot of total speed. Even if you've got a house full of relatives and everyone is streaming something, the signal will be good. Now, 8 upload channels may sound excessive. But it's important for supporting smart home devices, which frequently need to send data as well as receive it.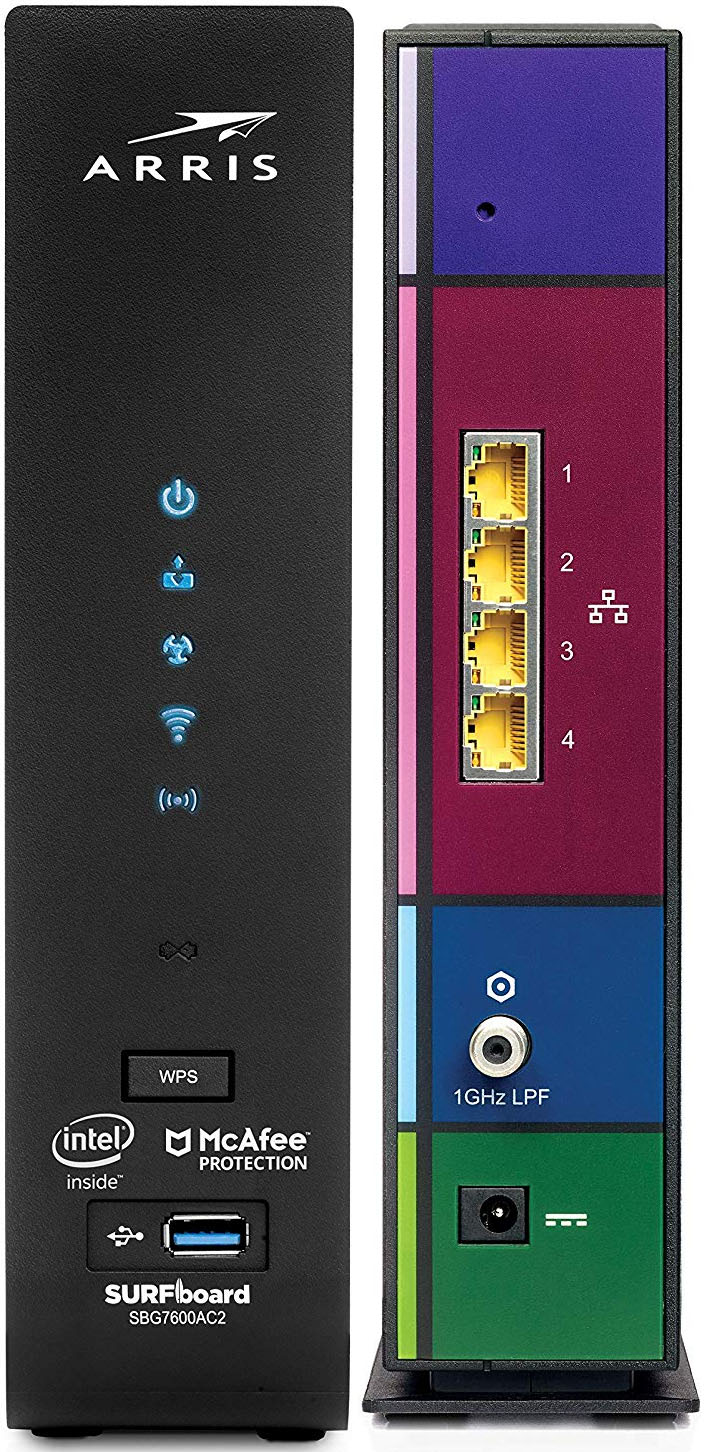 This unit works on both 2.4 and 5.0 GHz channels, which will be compatible with just about any modern device. It utilizes the 802.11ac standard, which is not the latest protocol. That said, there aren't many devices that support the latest WiFi 6 protocol. So in practice, you'll be able to get the fastest available speed with any device that's currently on the market.
But a fast connection isn't everything. Signal strength is equally important. After all, even the fastest connection on Earth won't do you any good if you're not getting a signal. Here, the SGB7600AC2 shines. It uses WiFi beamforming to get you the best signal. This technology can focus the signal on your devices to boost the range where and when it's needed. You won't notice much of a difference when it comes to stationary devices. Any WiFi router with an antenna can be adjusted for your PC, smart TV, or smart home devices. But if you're walking around on your phone, or if you use a laptop in different locations, it makes a big difference.
Extra Features
The Surfboard SGB7600AC has MacAfee Home Security integrated into the unit. This will ensure that your network is protected from the moment your signal comes out of the wall. The unit comes with a three-year subscription, which is pretty good. After that, you'll need to renew your subscription if you want to receive continued support. While you're inside the subscription period, you'll be able to use their app to monitor your network remotely.
In addition to virus protection, you'll also get a full suite of parental controls. The SGB7600AC allows you to set individual user profiles, so different devices will have different abilities. You can set time limits, which will keep your kids from staying up all night on their phones. You can block entire categories of sites, blacklist individual sites, or whitelist sites that are in an otherwise forbidden category. You'll also receive alerts if someone tries to change their user profile, or if unauthorized devices try to gain access.
We've actually reviewed the SGB7600AC2 in the past. If you'd like to learn more, check out our full review.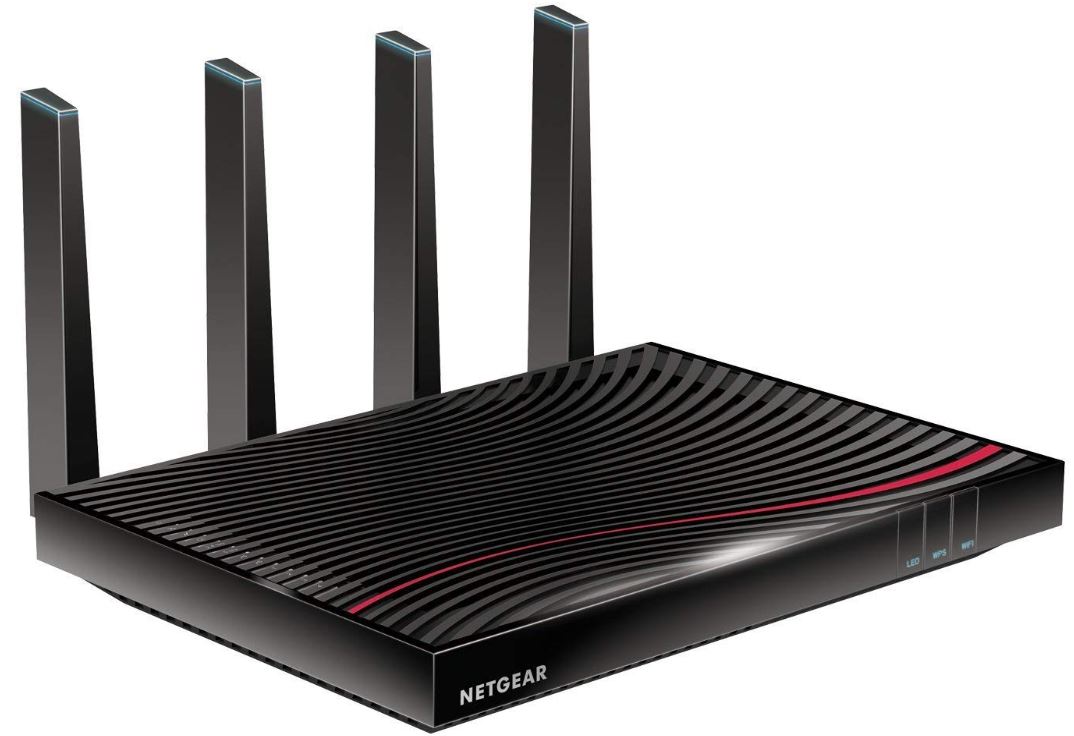 NETGEAR Nighthawk C7800
The NETGEAR Nighthawk C7800 is designed to look less like a modem and more like a traditional router. It's fairly large, measuring 12.4 inches in width, 10.4 inches in depth, and 7.5 inches high. That height includes the four antennas, which can be swiveled down. So you can theoretically fit the C7800 in a 2-inch space, but you won't be able to swivel the antennas.
Three buttons on the front of the unit allow for easy control. The left side button can be used to turn the LED indicator lights on and off. This can be a convenient feature if your modem/router is located in your bedroom, since it will keep your room darker. The second button is used for WPS pairing, and the third is used to turn the WiFi network on and off.
In addition to the four antennas, the back of the C7800 houses all your ports. The cable input is located all the way to the left, with four gigabit Ethernet ports in the middle. The Ethernet ports are highlighted with yellow, which makes them easy to find in low light. To the right, there's a power input, as well as an on/off switch. This is a nice touch, since you don't need to use a paperclip to push a reset button.
Speed and Connection Quality
The C7800 is exceptionally fast. It supports up to 3.2 Gbps WiFi connections, which is absolutely insane. This is possible due to the built-in 1.5 GHz dual processor, which quickly processes even the most demanding packet handling. This router/modem combo unit also has 128MB of flash memory and 512MB of RAM. It's basically a mini PC!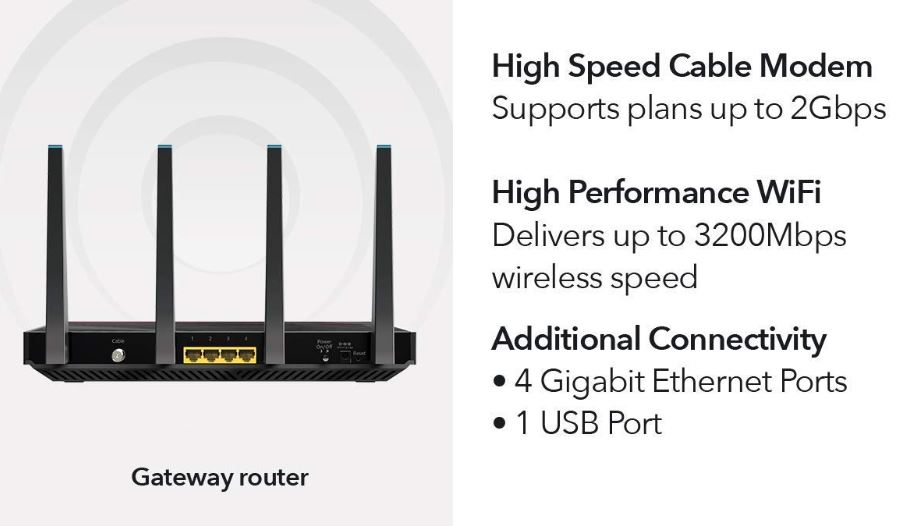 Like most modern routers, the C7800 operates on 2.4 GHz and 5.0 GHz channels. The 2.4 GHz channel delivers 1,000 Mbps speeds, while the 5.0 GHz channel delivers 2,200 Mbps of speed. It utilizes the 802.11ac wireless protocol, which is compatible with almost all current WiFi devices.
If you're looking for the fastest possible speeds, not just now but in the future, you'll love this router. It uses the DOCSIS 3.1 communication standard, which is the latest and greatest. All in all, you get 32 upstream channels and 8 downstream, which allows for plenty of connectivity.
Extra Features
The Netgear C7800 provides the security features you'd expect from a well-designed router. It includes both SPI and NAT firewall protection, as well ad DDOS protection. You also get standard WPA/WPA2 – PSK encryption, which makes it very difficult for anyone to mooch off your connection.
One thing we appreciated was the ability to provide separate access for your guests. A guest connection uses a temporary password, and is segregated from the rest of the network. As a result, your guests won't be able to spy on your network, but they'll also have a secure connection.
You'll also get parental controls, with the ability to set separate permissions for each individual device. And the C7800 supports Netgear's Genie App, which is available for free on Google Play and the Apple Store. This app allows you to configure your network, troubleshoot issues, and even reboot your modem remotely.
If you want a blazing-fast Netgear router, but don't need a built-in modem, there are plenty of options. We recently reviewed the Netgear Nighthawk XR450. It's a powerful, low-latency gaming router that can handle just about any speed.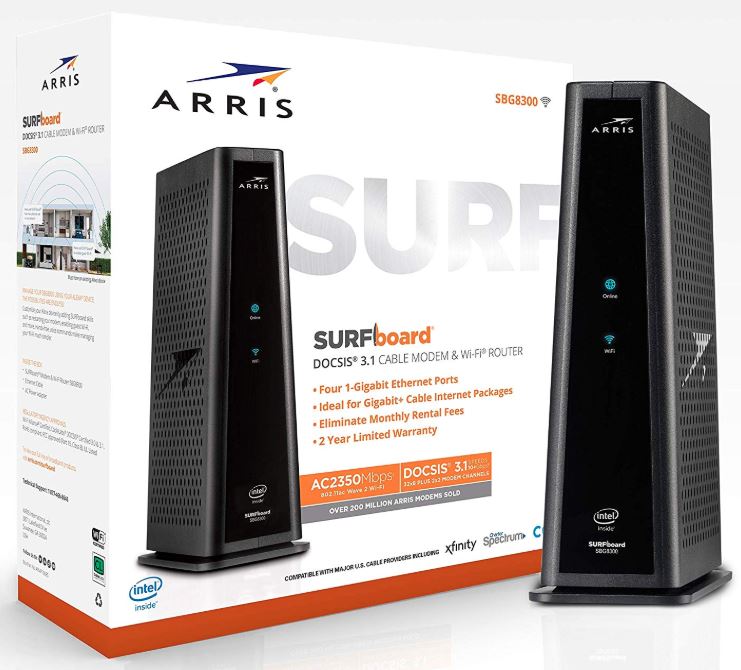 ARRIS Surfboard SBG8300
Similar to the previous Surfboard combo unit on our list, the ARRIS BG8300 has a boxy, modem-style design. It's 10 inches tall and 8 inches deep, and 3.7 inches wide at the bottom. It tapers down from there, which keeps it stable on your desk. The case is black ABS plastic, with ventilation on both sides. This ensures cool, quiet operation, even in a relatively warm room.
On the front of the device, two LED lights make it easy to perform a quick check on your network. The top light indicates that you're connected to the internet, and the bottom light tells you when WiFi is active. This is a big plus if you value simplicity. If you need more advanced diagnostics, you'll still be able to do that. You'll just have to use the companion app.
Much like the Surfboard SBG7600AC2, the back of the SBG8300 is color coded. From the bottom to the top, there's a power supply port, the cable jack, four gigabit Ethernet ports, and a reset button.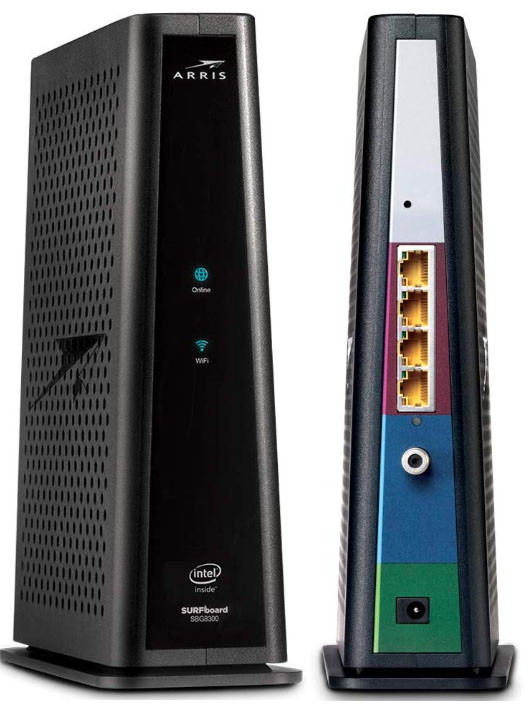 Speed and Connection Quality
If you're looking for a fast connection, the SBG8300 has got you covered. While the previous Surfboard router uses the DOCSIS 3.0 standard, this combo unit uses the latest DOCSIS 3.1 standard. This allows for up to 10 Gbps of total data transfer. Currently, you're not going to get that kind of speed from any ISP. However, it's nice to know that you have the option once connection speeds get faster. You won't need to replace the SBG8300 for many years.
All in all, the SBG8300 will support up to 32 downstream and 8 upstream channels. And that's just using the DOCSIS standard. There are two additional channels that use the older OFDM standard. This can help you out if you want to get the absolute most connections possible.
This combo unit operates on both the 2.4 GHz and 5.0 GHz frequencies. It also supports multiple user, multiple input multiple output (MU-MIMO) technology. This allows for easy connections between different devices in the same house, saving your bandwidth. However, the MU-MIMO feature requires a line of sight connection to the router. So unless both devices are in the same room as the router, you this feature won't do you much good.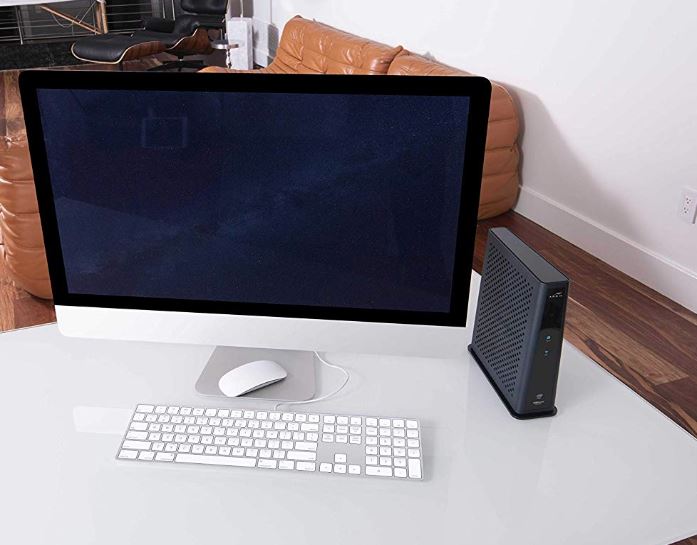 Extra Features
The SBG8300 offers some of the easiest controls you'll see. It's compatible with Alexa, so you can change your settings via voice control. No need to use an app or any other solutions. That said, if you prefer to use an app, there's one available. The Surfboard Manager App is available for free on Google Play and the Apple Store.
As with ARRIS' other Surfboard-series routers, the SBG8300 comes with a full suite of parental controls. You'll be able to blacklist sites, whitelist sites, or ban entire categories, all from the free app. You can also assign different permissions to different devices. Let's say you want your kids' internet to shut off at 11 PM, but you still want to watch Netflix. It's simple and easy to do.
As with the previous ARRIS Surfboard router on our list, we've reviewed the SBG8300 in the past. Since it was a standalone review, we went into a lot more detail than we did here. Read our complete SBG8300 review to learn more!
Final Verdict
Which of these routers is the best? The Surfboard SBG8600AC2 is the most affordable. And the beamforming technology keeps your signal strong wherever you are in the house. But the DOCSIS 3.0 standard will be a limitation as connection speeds get faster. The Nighthawk C7800 is a great choice if you want a more traditional look. It's also blazing-fast, with excellent security features. And the Surfboard SBG8300 is the fastest of all, although it doesn't offer as many extras.