Wireless technology seems to get better and better every year. While 802.11n was once the king of networking technology, modern routers and home WiFi systems take advantage of dual band technologies to provide users with better range and fewer bandwidth limitations.
What most users don't realize is that unless you have an up to date wireless adapter, you're not able to use these new technologies. Many consumers are suffering from disappointing internet speeds even with a high end router, completely unaware that and inexpensive WiFi adapter could solve the problem.
We'll be taking a look at the three best 802.11ac WiFi USB adapters on the market. We'll help you understand the technical terms, and find the one that's right for you.
ASUS USB-AC68 AC1900
When it comes to high performance computer hardware, ASUS is one of the biggest brands in the industry. Their high end motherboards and complete systems tend to be some of the best performers, but they're not always about the latest and greatest. Their line of external networking hardware is designed for use with computers that are at least one generation old. They provide direct access to the latest networking technologies, so you can bring your system into modern times.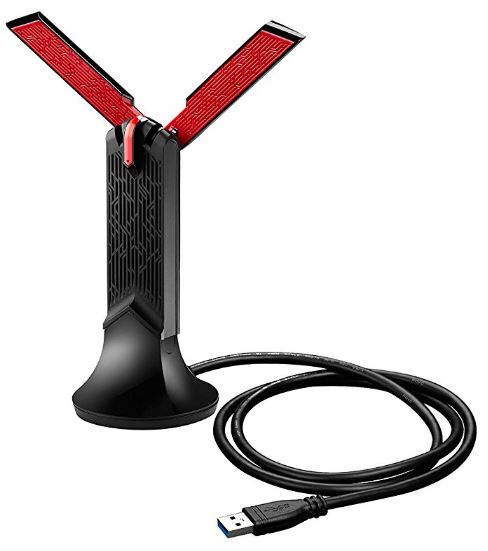 Design
The biggest problem with network cards is that they're often stuffed inside your PC or Laptop. There are a few models with external antennas, but rarely will manufacturers provide consumers with the best networking experience possible. The ASUS USB-AC68 AC1900 is uniquely designed to give you some of the best coverage available. This is done by un-tethering the adapter from the computers internal case.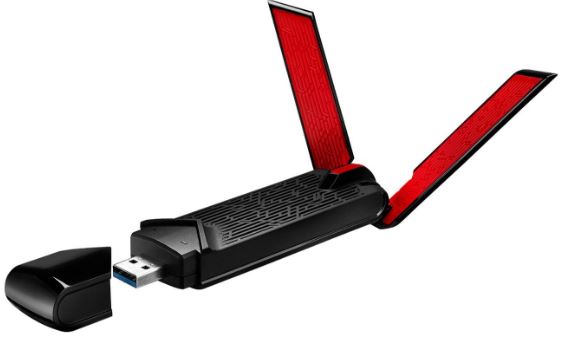 ASUS gives you a long USB cable and a stand. Even though the WiFi adapter connects to a USB port, when you plug it into the stand you're given the freedom to place it wherever reception is best. To aid with this design, two fold out antennas fan out like a pair of wings to help receive signal from multiple directions.
Despite the performance oriented design, ASUS commonly targets their products towards gamers. If ASUS is expecting users to place the adapter on their desk (where reception is best) they had better make sure that it's an attractive looking unit. Fortunately, we weren't disappointed. The plastic frame of the AC68 is engraved with an Aztec style pattern that gives it an aggressive yet eclectic look. With the added highlights of the bright red antennae, this is certainly an object that will command attention on your desk.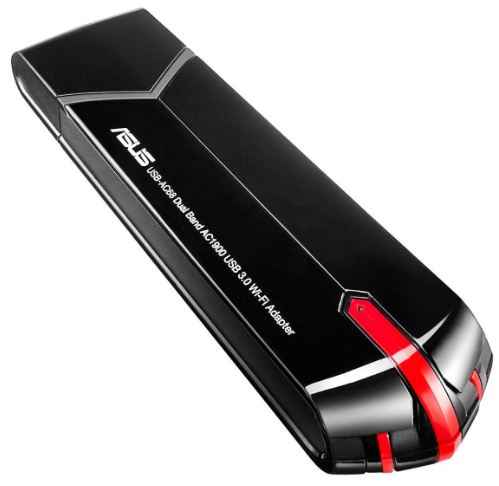 Features
Our favorite feature of the AC68 was the foldable antennas. When you're looking for something portable, you can close it up and throw it in a pocket. But with a quick flick of the wrist, the antenna will flip out for full reception.
Another nice thing about this WiFi adapter is that it uses USB 3.0. For many years, USB 2.0 has been more than enough to handle the bandwidth of wireless networks. But with the latest AC1900 technology, this just won't cut it. USB 3.0 is capable of handling multi-gigabit bandwidth, making it the perfect choice for this adapter.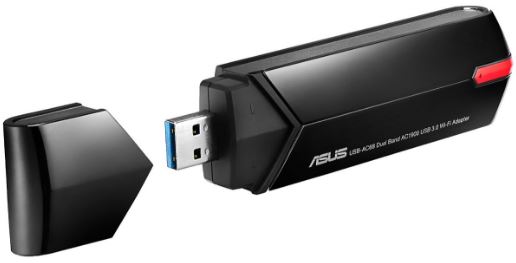 Performance
The ultimate measure of any piece of networking equipment is how well it performs. Fortunately, the AC68 is one of the most up to date network adapters we've come across. It's AC1900 designation comes from that fact that it's maximum potential bandwidth is 1.9 gigabits per second. While this isn't the only network adapter to receive this designation, it's certainly one of the best implementations we've seen.
It's biggest advantage stems from it's support for a technology called MIMO. MIMO stands for multiple input, multiple output. Most modern routers use MIMO so that they can create multiple, separate wireless networks so that users connections don't interfere with each other. But this adapter supports MIMO on it's own. If you're playing a game, downloading torrent files, and performing system updates, all of these tasks can take place with their own dedicated connection to the router. This means that you won't be finding your network cutting out while you've got tasks going on in the background, and improves connection stability.
TP-Link Archer T9UH AC1900
TP-Link is a company that's been silently powering the worlds computer networks for years. Their enterprise grade hardware can be found in datacenters all around the world, and many laptop manufacturers buy their chips in bulk. But not every manufacturer is willing to spring for their performance line of networking equipment. This portable version of their popular AC1900 chipset is your opportunity to give a serious upgrade to your portable computer without breaking the bank.
Design
The TP-Link Archer T9UH AC1900 has a surprisingly premium feel to it. The silver ring around the base combines with the smooth, dark lines of the adapter to create something that adds to your desk in a way that most adapters cannot.
When folded down, the adapter is roughly the size of a standard USB stick. A single pivot allows you to elongate the antenna, keeping it in the air away from obstructions. We were surprised to see how much of a difference adapter placement could make. We almost always saw an increase of one bar when folding up the antenna.
TP-Link gave you the ability to experiment with placement thanks to the extra long docking station. The USB 3.0 cable gives you several feet of space. After a few minutes of experimenting, we found that the right corner of our desk gave us nearly full reception. This area has always been notoriously challenging, so we were impressed to see this improvement.
Even though the design gives you tons of flexibility, you've still got plenty of portability. You can just flip it closed, slap it in a pocket, and carry it with you. You'll almost forget it's even there.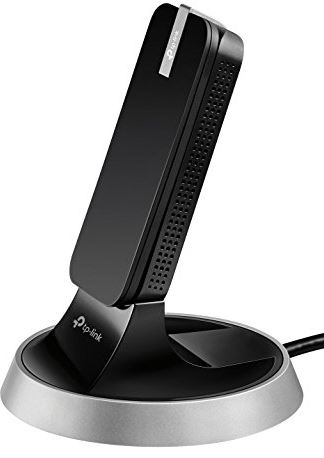 Performance
This adapter is capable of receiving a maximum speed of 600 Mbps on the 2.4 GHz band and 1300 Mbps on the 5 GHz band. We're used to seeing this rating on wireless routers, but the important thing about this adapter is that it's capable of communicating on both bands at the same time. This gives you the best combination of range, bandwidth, and stability.
In fact, stability is the one area where this adapter really excels. We often find that adapters that are trying to push the limit do so at the expense of stability. For a moment, your bandwidth might be amazingly high. But after some time, you'll notice that the speed drops a little. While the TP-Link adapter wasn't the fastest on our list, it still held it's own against more expensive models. But we noticed that our connection was rock solid at all times. We never saw our download speed drop, or have our connection cut out for a moment.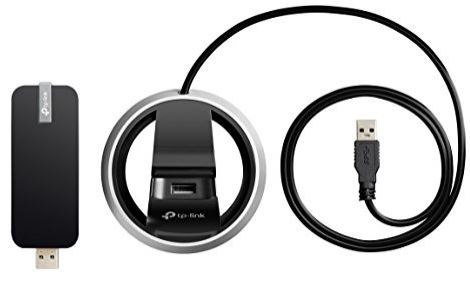 Features
The most impressive feature on the T9UH is it's beam forming technology. Basically, beam forming allows signal to be directed in one particular direction. Instead of getting, for example, a 10 meter radius of reception in all directions, you can get 13 meters in one specific direction. Most users are connecting directly to a wireless router, so this can improve the range by a significant margin.
Edimax EW-7833UAC AC1750
While Edimax isn't the most well-known brand in the networking world, their products are highly reviewed and extremely affordable. Consumers are always expected to fork out a lot of extra cash for the latest and greatest hardware, but often buying the second best thing on the market can save you upwards of 50% and result in a performance drop of only 5 to 10%. The EW-7833UAC is one of those products.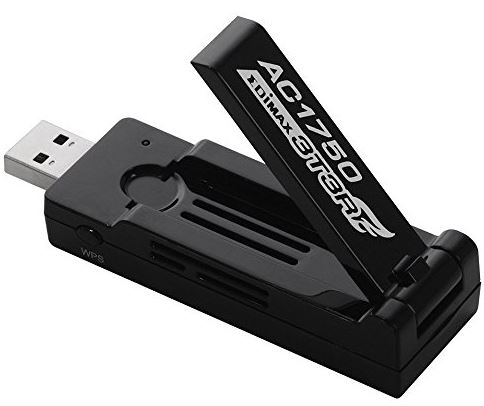 Design
To keep the costs down, Edimax kept the design of the EW-7833UAC quite simple. Just like a flash drive, it plugs directly into the USB port on your desktop or laptop computer. It's a little thicker and wider than a standard flash drive, but we had no problem popping it in a pocket or our laptop bag.
But one of the main reasons we wanted to review this adapter instead of other cheaper models was the inclusion of a fold out antenna. We've seen time and time again how important this technology is to get a good reception, and the fact that it's included means that you can get top notch performance without losing out on portability.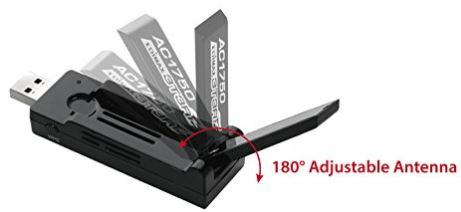 Performance
This AC1750 chipset is capable of a 450 Mbps of bandwidth on the 2.4 GHz channel and 1300 Mbps of bandwidth on the 5 GHz channel. Although it's not capable of using both of these channels at the same time, it does automatically select the one that has the best signal strength at any given time. This is ideal since the 5 GHz networks won't always travel quite as far as the 2.4 GHz networks. Even though this isn't the fastest rated adapter you can buy, it still gives you more than enough bandwidth for streaming 4K movies, playing online games, or working with cloud based software.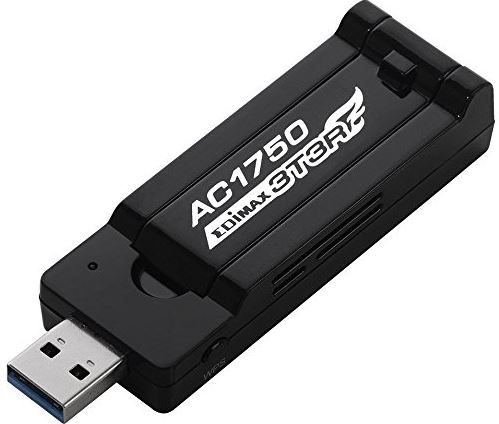 Features
Despite the extremely low cost of this adapter, it still supports both MIMO and Beam forming. When paired with the correct router, you can still get some of the latest features currently available.
While that feature isn't exclusive to this adapter, one thing that is it's plug and play system. The drives are common among many different wireless adapters, allowing it to work on a wider range of systems. This adapter is fully compatible with windows 7, 8, 10, OSX 10.7+, and Linux.
Which 802.11ac USB adapter is Right for Me?
All of these adapters could be a great choice, but the one that's right for you depends on a few factors. You'll want to consider the performance of your router, and how you intend to use your network.
If you're gaming, the most important thing to you is ping speed. A long ping time means that you can lag out, missing out on important game play. Maintaining a consistently good ping speed requires excellent reception, and the ability to isolate demanding tasks from your games to keep your connection stable. In this regard, the ASUS USB-AC68 is the best choice. It's multiple antennas and support for MIMO make it ideal for gaming.
If you're doing a lot of file sharing over the local network, the TP-Link Archer T9UH AC1900 is an excellent choice. This adapter is capable of impressive range and rock solid performance. The connection is incredibly stable, so you will rarely see dropouts or speed loss.
If you're just looking for a better internet connection for browsing, streaming, and downloading, the above adapters may be overkill. The Edimax EW-7833UAC is more than capable of the bandwidth that most internet connections provide, and the inclusion of technologies like MIMO, beam forming, and automatic channel selection allow you to upgrade your network connection and take advantage of the features found in the latest hardware.