Desktop computers can be extremely powerful pieces of computing machinery. They often have some of the best components and can handle bigger workloads than other options available.
However, one downfall that they tend to have is their lack of WiFi abilities. Sure, you can plug in an ethernet cord in order to access the internet, but that isn't the most convenient option. It also isn't always possible to do in some cases. That's where finding a way to access WiFi comes in. To do this, you'll probably want one of the best USB WiFi adapters for desktop computers.
What makes the Best USB WiFi Adapter?
There are numerous factors to consider when making that decision. Size, looks, system compatibility, ease of use, and additional features can all play a role in your decision. You also want to think about how much range they have and internet speeds they can handle for your computer.
Will any USB WiFi Adapter work with any computer?
Not necessarily. While they have a wide range of compatibility, different adapters are going to be compatible with different operating systems. Typically, as long as you have a relatively current operating system, then an adapter should work. However, make sure to check the compatibilities ahead of time just to be safe.
What type of USB port does my desktop need for a WiFi Adapter?
The WiFi adapters on this list all have USB-A plugs. To utilize them to their full potential, you'll want to use a USB 3.0 port. Using any older version may impact the effectiveness of these devices.
Best Budget: Inamax AC1300 USB WiFi Network Adapter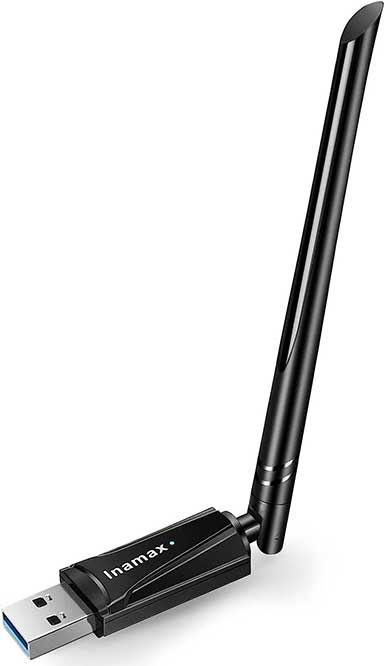 Key Features:
5dBi high gain antenna
867 Mbps speed
Dual-band compatible
The Inamax AC1300 USB WiFi Network Adapter is a great solution for those looking for a budget option. It's a singular antenna attached to a USB plug. This, along with an all-black color scheme, helps it remain discreet while plugged into the desktop.
There are multiple operating systems that the Inamax can work with. They include:
Windows 11
Windows 10
Windows 8 and 8.1
Windows 7
Windows XP
MacOS 10.9 – 10.15
Not included are operating systems such as:
MacOS Big Sur
MacOS Monterey
MacOS Ventura
Linux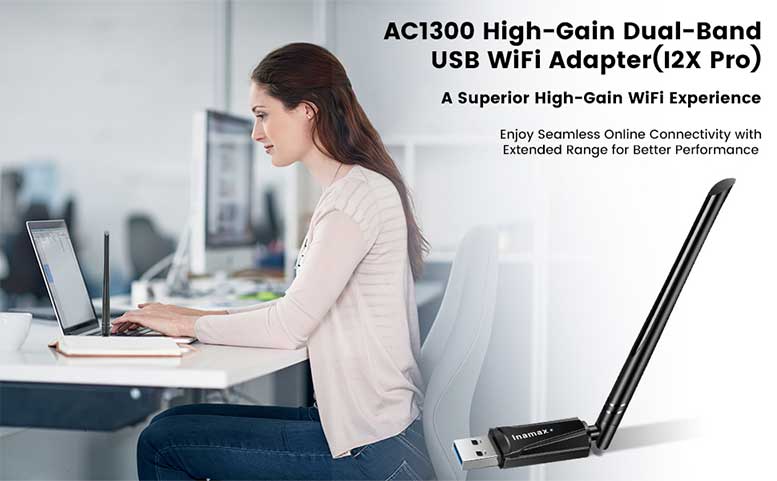 The Inamax is extremely easy to use, simply plug it in and start connecting to the internet. It does require drivers, but they're pre-installed in the device, so they automatically go into your desktop.
It's capable of dual band support, meaning it can connect to both 2.4GHz and 5GHz networks. While on 2.4GHz, it can handle speeds of 400Mbps. On 5Ghz, it can handle speeds of 867Mbps. Additionally, it has advanced security measures. Utilizing WPA and WPA2 encryption protocols allow you to keep your wireless network protected.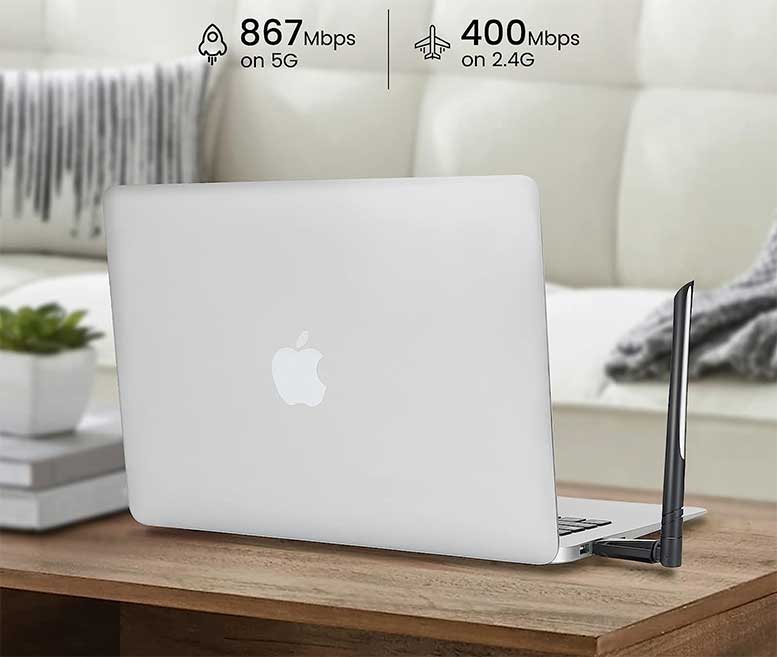 One of the most powerful features of the device is its 5dBi antenna. This antenna helps to maximize the effective range it can access WiFi. Additionally, it can swivel up and down 90 degrees and left to right 180 degrees. This further allows you to point it where your router is and increase signal strength.
Pros:
Long range antenna
Dual band connectivity with fast speeds
Great security measures
Cons:
Limited compatibility with some MacOS versions
Best High-End: NETGEAR AC1900 WiFi USB Adapter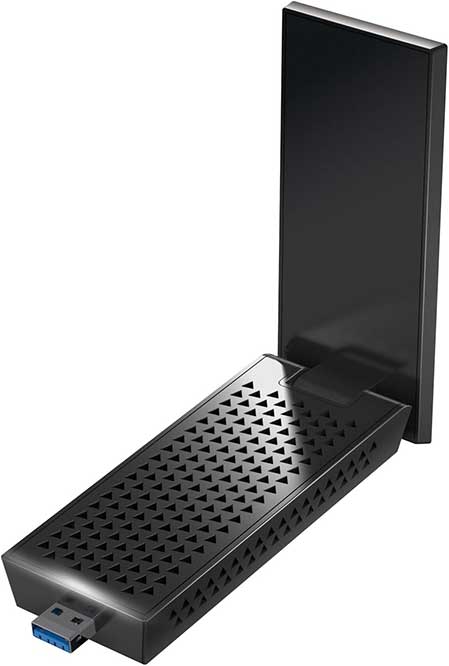 Key Features:
Four antennas to maximize range
Up to 1300Mbps of speed
Included magnetic cradle system
The NETGEAR AC1900 WiFi USB Adapter is one of the best high-end options on the market. It's a slim device that does a good job of hiding four internal antennas. It has an all-black colorway and multiple ways to mount it, ensuring you can hide it out of sight easily.
The NETGEAR AC1900 is compatible with many of the leading operating systems for desktop computers. They include:
Windows 7
Windows 8
Windows 10 (32/64 bit)
Mac OS X 10.8.3 or later
Similar to the Inamax, this WiFi adapter does not support Linux.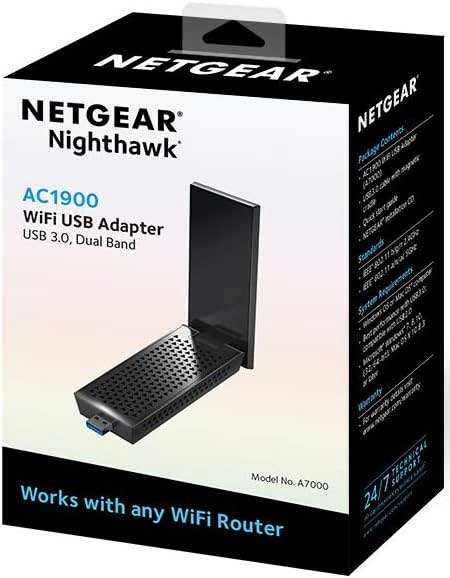 This is another simple option when it comes to the difficulty of use. Simply plug it into an available USB 3 port, and it will start finding your WiFi network. This is especially true with Windows systems, as it has a built-in Windows standalone driver. Additionally, it will work with any WiFi router you use in your home, so there are no compatibility issues there.
This adapter utilizes four separate antennas (housed in one enclosure) to help maximize the WiFi range within your home or office. It's a dual band antenna, allowing it to hit speeds of 1300Mbps on 5Ghz networks and the ability to connect on 2.4Ghz networks as well. Best of all, it has a 3×4 MIMO design to help it have more bandwidth while downloading and uploading data simultaneously.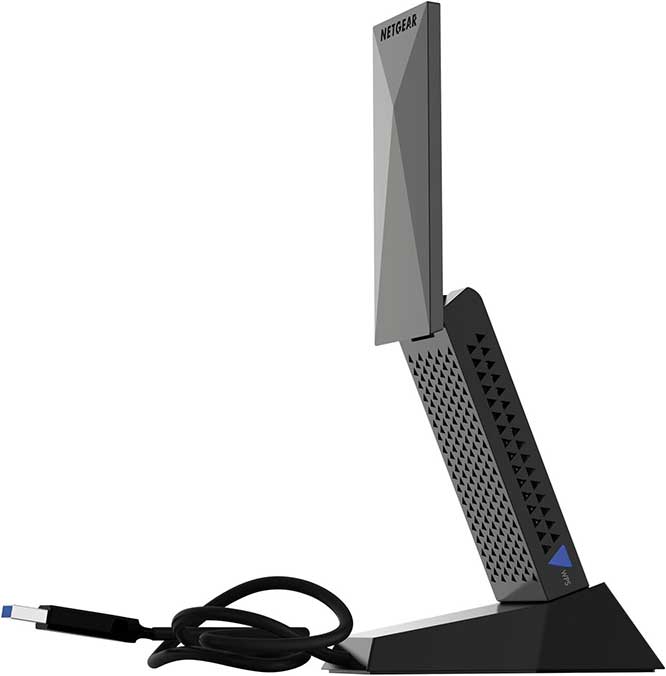 One of the most unique features of this WiFi antenna adapter is the two different ways you can mount it. The first is normal; simply plug it into your computer. However, the second is a bit different. This device comes with a magnetic cradle that it can plug into. This cradle has its own cord to plug into your computer for connectivity. You can then stick this cradle to the wall, under your desk, or wherever else you want to magnetically attach it.
Pros:
Four high-powered antennas
Magnetic cradle for mounting options
Speeds of up to 1300Mbps.
Cons:
Most Compact: D-Link AC1300 USB WiFi Adapter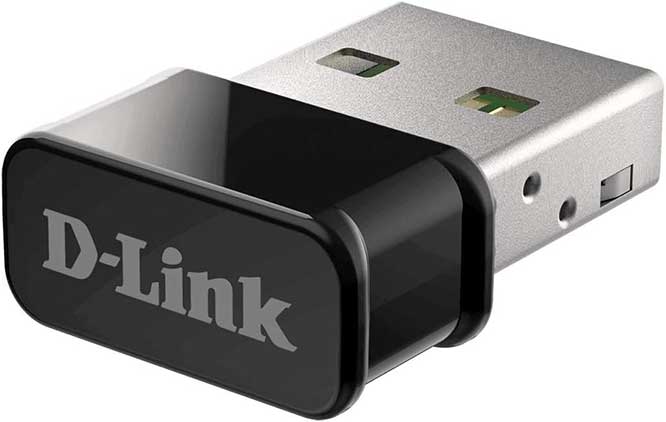 Key Features:
Compact design
Up to 867Mbps speeds
Dual band support
If you're looking for a WiFi adapter in a tiny package, then the compact D-Link AC1300 is for you. This WiFi adapter doesn't have the bulky antennas or large bodies that others have. This is simply a tiny device (slightly bigger than a USB plug itself) that you can easily plug in and forget it's even there.
As for system compatibility, this is one of the more diversely compatible options out there. It can be used with the following:
Windows 10
Windows 8
Windows 7
Linux 5.6.1.5
MacOS 10.09 – 10.14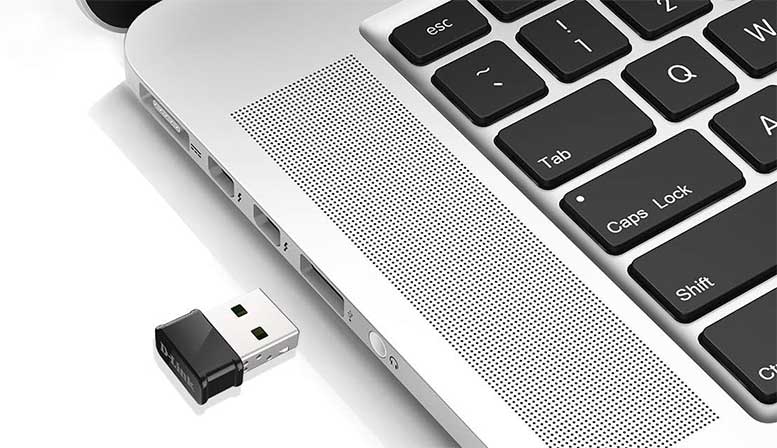 It can be used with wireless networks in 8.2.11ac and is backward compatible with 8.2.11 a/b/g/n as well.
The D-Link is designed to be a plug-and-play option for your wireless internet adapter needs. However, when on Windows, you will need to install drivers off of D-Link's website before it will work out of the box.
The D-Link AC1300 features dual band technology, allowing it to connect to both 2.4 GHz and 5 GHz networks. While on 2.4 Ghz, it can reach speeds of 400Mbps, and on 5Ghz, it can reach speeds of 867Mbps.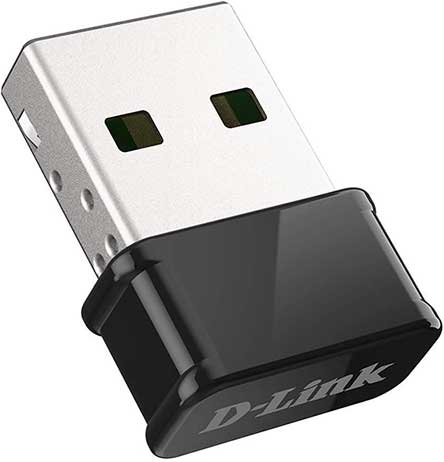 One of the features that helps it maintain its compactness is the built-in antenna. Rather than having a long or bulky antenna design, D-Link went with an integrated design. It's truly designed to be a powerful device that stays out of sight with ease.
Pros:
Speeds of up to 867 Mbps
Integrated antenna design
Works on Linux
Cons:
Some reviewers note limited range capabilities
Best Range: WAVLINK AC1900 USB WiFi Adapter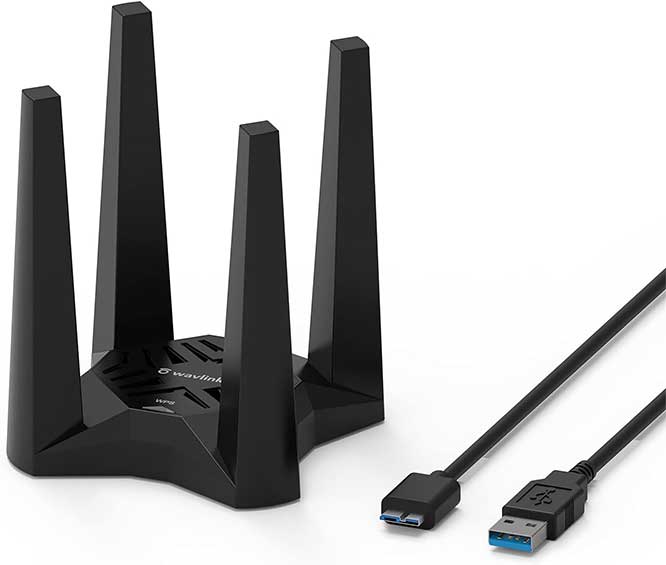 Key Features:
Four antennas to increase coverage
Up to 1300 Mbps speeds
Extra Feature: Doubles as a WiFi hotspot
The WAVLINK AC1900 is one of the most powerful and unique-looking WiFi adapters on the market. Rather than trying to be compact and remain discreet, the design of this looks like a mini router. It's built on a base with four non-moving antennas. The overall color scheme of the adapter is black.
This WiFi adapter isn't just powerful; it's also widely compatible. It can work on the following operating systems:
Windows XP
Windows Vista
Windows 7
Windows 8 and 8.1
Windows 10
Windows 11
Mac OS 10.7 – 10.15
While being used on Windows 10 or 11, you can simply plug the device in, and it will work immediately. On all others, you will need to download a driver file from Wavlink's website for your corresponding operating system.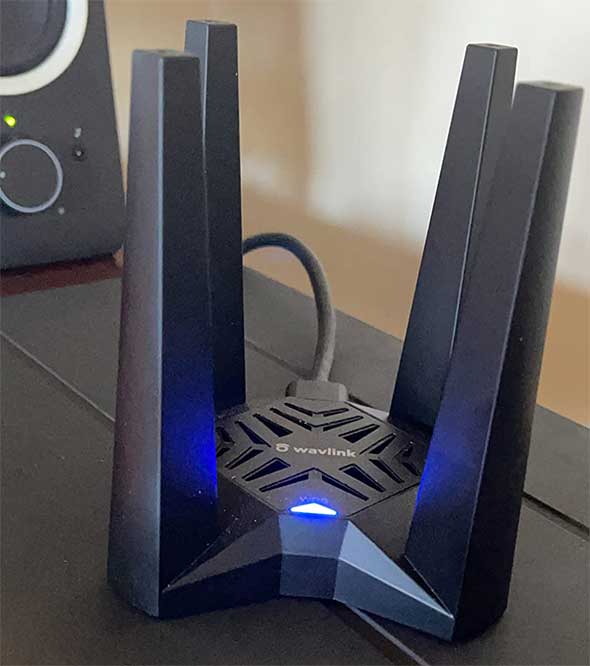 Similar to other choices on the list, the WAVLINK AC1900 is a dual band device. It can connect to both 2.4 GHz and 5.8 GHz networks. On 2.4 GHz, you can expect speeds of up to 600 Mbps. While on 5.8 Ghz, you can expect speeds of up to 1300 Mbps. Either option will be plenty of speed for most workloads.
Additionally, with its four high-powered 3dBi antennas, this can support a huge range of connectivity within your home or office. There's also a cord attached to the back that plugs into your computer, which allows you to place the adapter itself wherever you need to for maximum connectivity.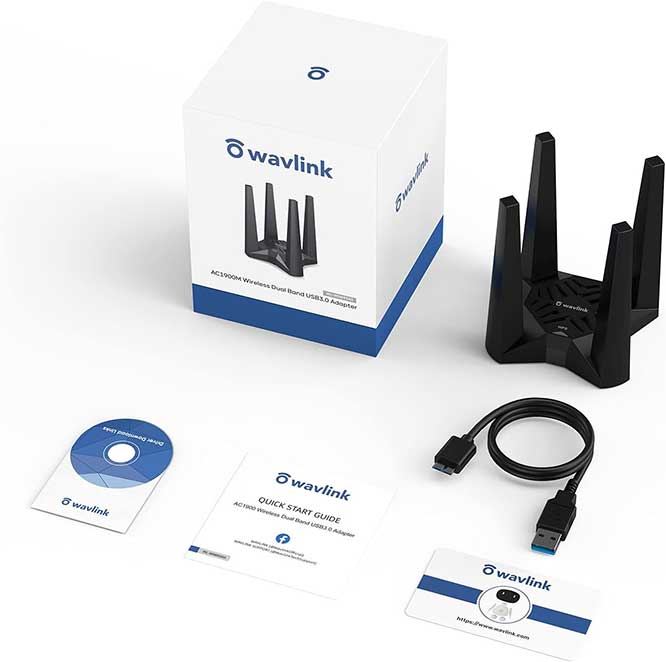 Perhaps the most unique feature of the WAVLINK AC1900 is the ability to double as a WiFi hotspot. At the push of a button, this device can take the internet it receives and sends it out to your WiFi-enabled devices.
Pros:
Doubles as a WiFi hotspot
High-speed capability
Extreme range
Cons:
Best All-Around: TP-Link AC1900 WiFi Adapter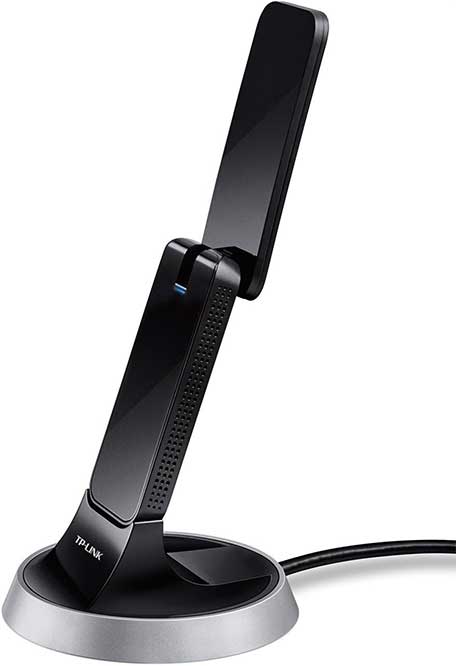 Key Features:
High gain antennas
Speeds of up to 1300 Mbps
Beamforming technology
The best all-around choice out there is the TP-Link AC1900 WiFi Adapter. It's designed to be a compact yet versatile WiFi adapter for your internet needs. An all-black design on the device itself helps to blend it into the surrounding area of your setup.
As for system compatibility, the TP-Link can be used with a variety of operating systems. They include:
Windows 11
Windows 10
Windows 8 and 8.1
Windows 7
Windows XP
Mac OS X 10.9 – 10.14
Linux
There are required drivers for each operating system. You can find them easily on TP-Link's website. This is especially useful when operating systems update so you can make sure you stay connected.
The TP-Link AC1900 is a dual band device. Similar to the other dual band options on the list, it can connect to both 2.4 GHz and 5 GHz networks. It can reach speeds of 600 Mbps on 2.4 GHz and 1300 Mbps on 5 GHz.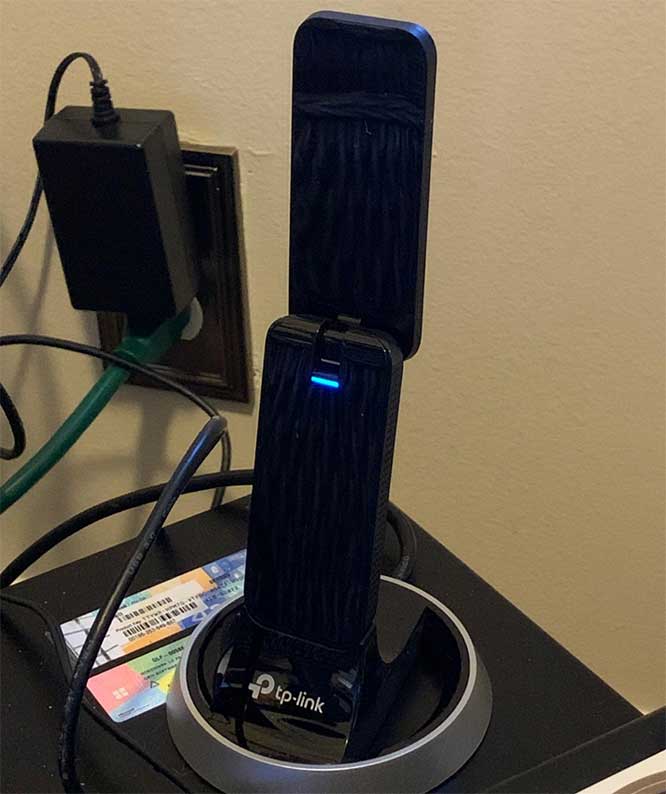 Connectivity with this device shouldn't be an issue either. It features four internal omnidirectional antennas that allow it to find the WiFi in your home or office. This pairs with beamforming technology to focus on the WiFi signal from your router and ensure maximum connectivity.
One feature that sets this adapter apart is the optional base it comes with. This base allows you to plug the device in and place it anywhere on your setup rather than in your computer. All you have to do is plug the included cord into your computer, and it's good to go.
Pros:
Four omnidirectional antennas
Optional base for multiple mounting methods
Strong signal with beamforming technology
Cons:
Some reviewers note a dip in speeds when using the optional base