Are you someone who takes pride in your backyard and outdoor living spaces? Maybe you have a grilling station, a fire pit, a sitting area, or a combination of them all. However, there's one thing you can add to take it to the next level. That thing is a set of the best smart outdoor string lights that connect to WiFi.
Factors to Consider:
When looking for the best outdoor string lights, there are a few factors to consider in helping make your decision. Take the following into consideration:
Size – This will greatly depend on just how much space you have to light up. Whether you need 10 feet of lights or nearly 200 feet of lights, there are options available to choose from. Additionally, different string lights have different-sized bulbs that affect how bright your new lighting setup will be.
Controllability – Smart outdoor string lights require some aspect of controllability. Most are controlled by either an included remote, a mobile app, or voice activated devices. They control various functions such as colors, brightness, power, and more.
Colors – Speaking of colors, there are two main types of outdoor lights for color options. Some people choose to go with the fully customizable RGB variants. These can hit any color you want to display with ease. The second type is more traditional. They are the regular color of a standard lightbulb. However, there is some customization on some options to change the color temperature type of each bulb.
Durability – Just like any outdoor electronics, durability is important. Waterproofing, bulb toughness, and more are all factors to consider when choosing which string light is best for you.
Extra Features – Other features that aren't necessarily universal are also good to keep an eye out for. These features can be the determining factor between two options that might make sense for you.
Best Overall: Novostella Blenda Smart String Lights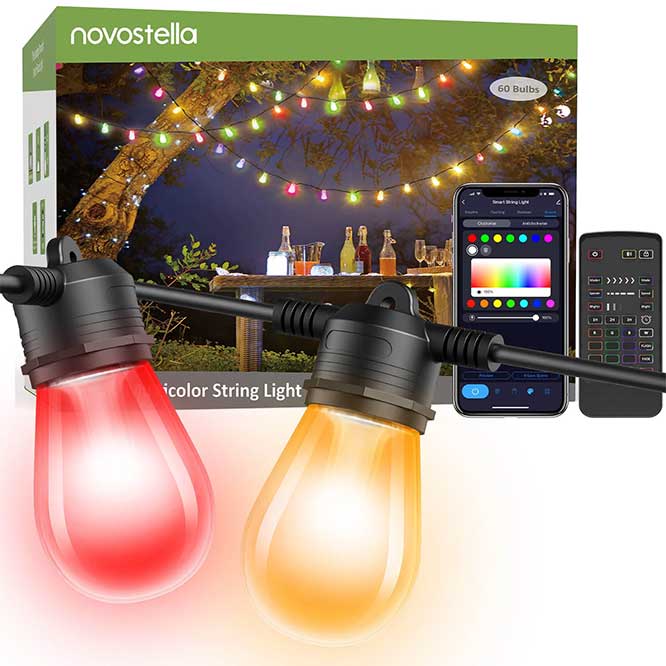 Key Features:
91.2 – 179 feet length
Full RGB with 2700K warm white
App and Remote Control
The Novostella Blenda Smart String Lights are the best overall option on the market. There are two options for length available. You can choose from 91.2 feet or 179 feet. The shorter version comes with 30 bulbs, while the longer version comes with 60 bulbs.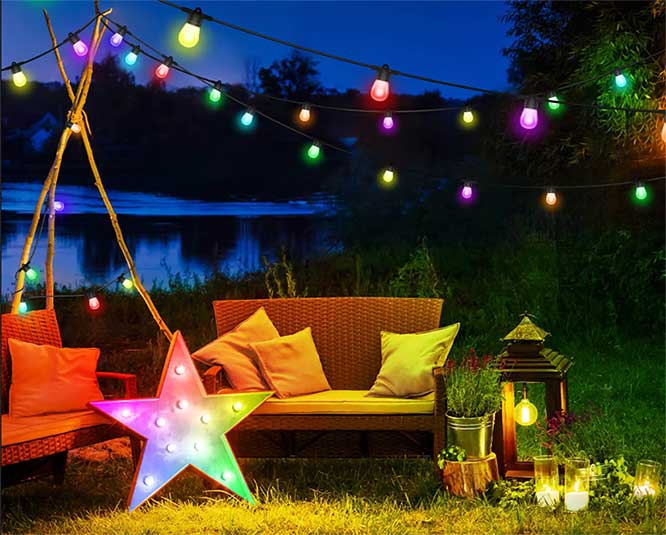 To control the Novostella string lights, you have two choices. The first is to use the included remote controller. The second is to use the companion app. Each option allows you to fully control the color of each lightbulb. You can also change scenes, speeds, modes, times, and more. Additionally, you can control the lights via voice control on your voice-activated devices such as Alexa, etc. Take a quick-look at the video below that shows the precise lighting effects in action:
Durability isn't an issue with the Novostella Blenda lights. They are created to be IP65 waterproof, including the power adapter and controller. This protects the entire system from wind, rain, snow, sun, and more. Additionally, the cord is heavy-duty and can withstand the elements of being outdoors year-round.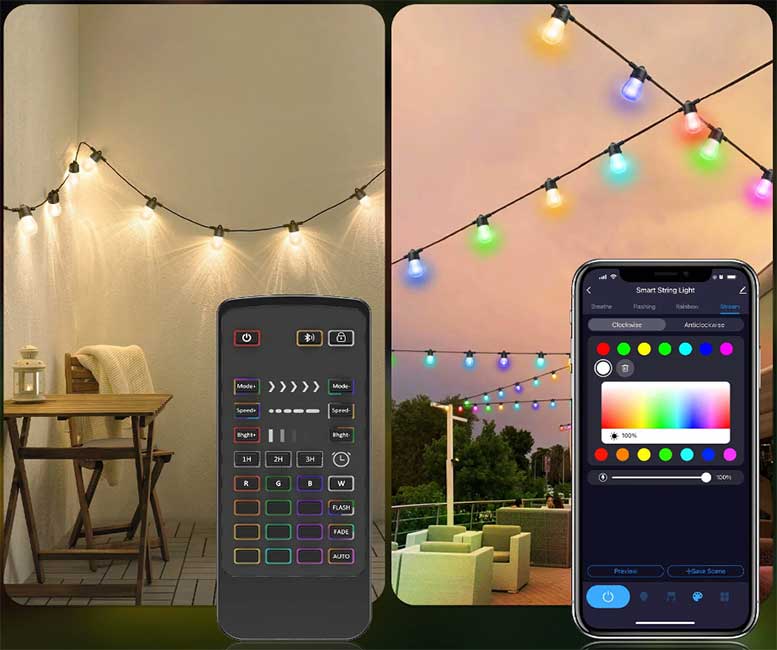 One cool additional feature is the included music mode. This mode allows the lights to know what songs you're playing and display a light show accordingly. This can make your outdoor parties even better.
Pros:
Nearly 180 feet of lights
Fully RGB customizable with 2700K warm white
Very easy to setup and configure
App functions very well without issue
Cons:
Voice assistants only control power and brightness
Best Alternative: Govee RGBIC WiFi Outdoor String Lights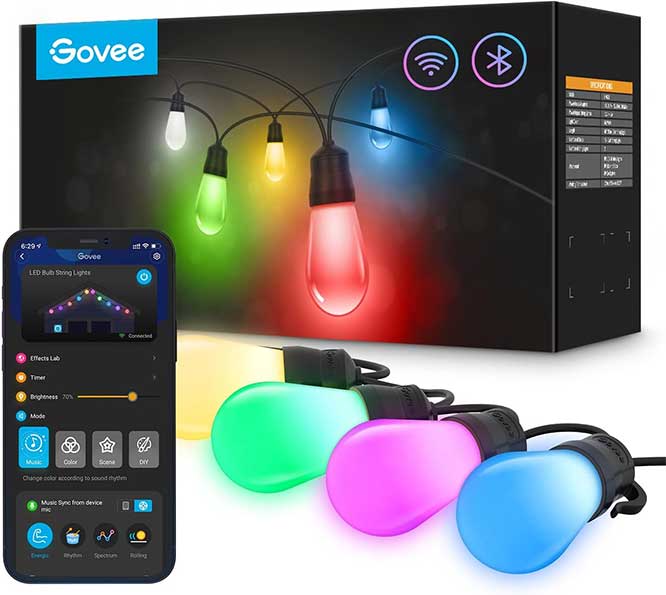 Key Features:
48 – 96 feet length
Full RGB Customization
Cool Feature 1: Powerful Govee Companion Ap
The Govee RGBIC WiFi Outdoor String Lights are the best alternative option around. They are available in either 48 feet or 96 feet lengths. The 48-foot option has 15 bulbs, while the 96-foot option has 30 bulbs.
The Govee RGBIC string lights utilize the Govee app to control all functionality. This app is extremely powerful and intuitive to use. It easily lets you customize the color of each bulb. With over 16 million colors to choose from, you'll be sure to find one that suits your needs. Additionally, these lights are compatible with both Google Home and Alexa to help you control them even easier.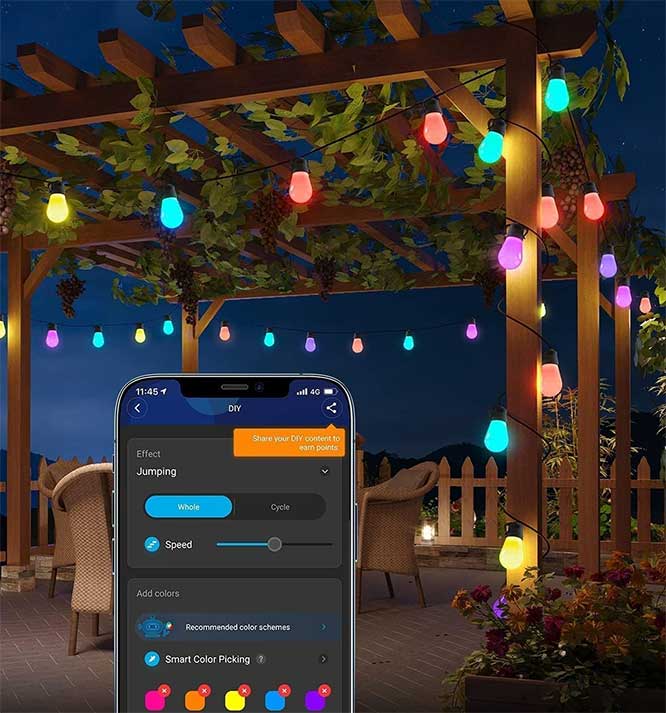 Similar to the Novostella lights, these lights are IP65 waterproof. This only applies to the cord and the lights themselves, as the power adapter is not waterproof. The bulbs are made of plastic to further protect against shattering in high winds or tipping over.
One cool feature of the Govee string lights is the linking ability. You can combine two 48-foot lengths for a total of 96 feet of lights. This makes it easy to buy one string of lights now and add to it later down the road if you choose to.
Pros:
Linking ability
Powerful app
Multiple voice control options
Cons:
The power adapter isn't waterproof
Best Traditional Lighting: XMCOSY+ Smart Outdoor String Lights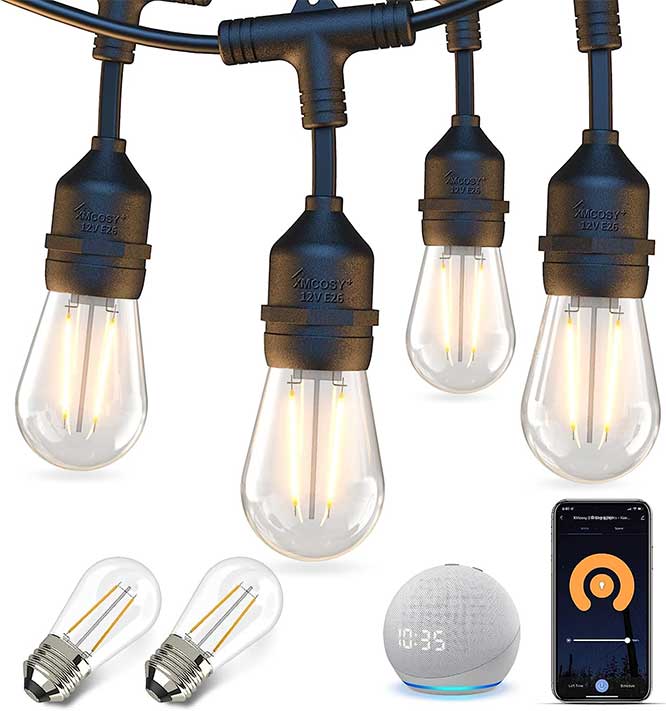 Key Features:
49 – 123 feet length
Traditional Lighting Colors
Edison Style Bulbs
The XMCOSY+ smart outdoor string lights are the best option on the market for a more traditional style. They are available in four different sizes. They include 49 feet (15 bulbs), 72.5 feet (22 bulbs), 98 feet (30 bulbs), and 123 feet (40 bulbs). This gives you tons of options for your outdoor area, whether you need a small space or your entire yard lit up.
Controlling the XMCOSY+ string lights is extremely easy. The companion app is all you need in order to control the power and brightness of the lights. The app can also change between four built-in scenes, create custom scenes, adjust breathing and flashing effects, and also schedule when the lights should turn on and off. Various functions can also be controlled with Google Home and Alexa.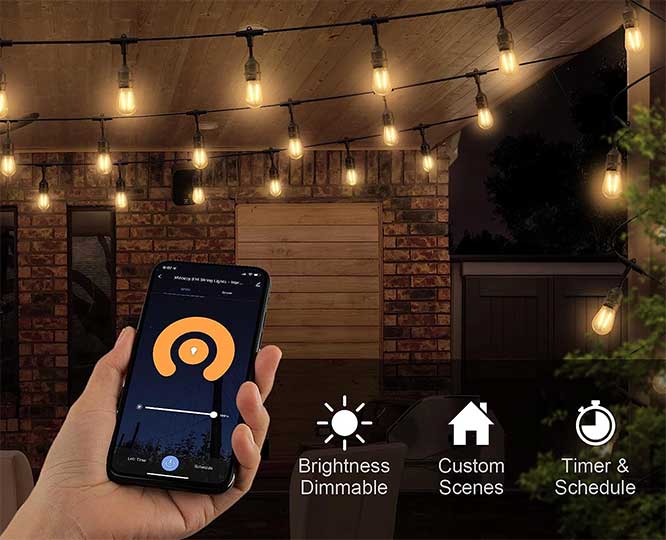 The string lights from XMCOSY are also durable enough to take on mother nature. They are UV-resistant, IP65 waterproof, windproof, and snowproof. Additionally, the bulbs themselves are shatterproof, energy efficient, and have a lifespan of 25,000 hours. The power controller for these string lights is also waterproof. One final durability feature is the heavy-duty cable wire used. It's double-insulated and made of high-grade copper. These features all ensure maximum durability for the whole system.
One of the coolest features of the XMCOSY+ is the aesthetic of the bulbs themselves. In addition to having the traditional color of a regular lightbulb, they are designed to look like Edison bulbs. This is a very popular style that can elevate the look of any outdoor patio space with ease.
Pros:
Multiple durability features
Edison bulb design
Bulbs last 25,000 hours
Cons:
After 200 feet in length, the bulbs can lose brightness
Best Traditional Lighting Alternative: Banord Smart Outdoor String Lights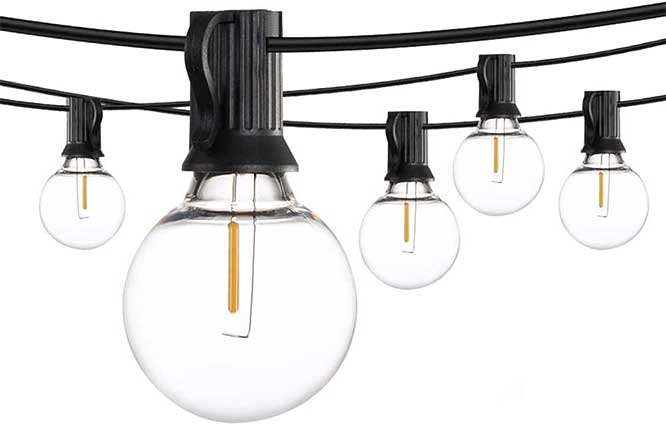 Key Features:
50 – 100 feet length
Traditional lighting colors
Connect up to 20 strands together
The Banford Smart Outdoor String Lights are another great option for a traditional lighting look. There are only two different sizes available. The first is 50 feet with 26 bulbs, and the second is 100 feet with 50 bulbs. This is a bit shorter than other options on the market but still gives you plenty of flexibility for your outdoor lighting needs.
Similar to other lights available, there are multiple ways to control these smart string lights. The first is via a mobile app. This allows you to power them on, change the brightness, change the color temperature, and more. However, these are traditional-styled lights, so there isn't any RBG included. Additionally, you can control the functionality via voice control with Google Home or Alexa.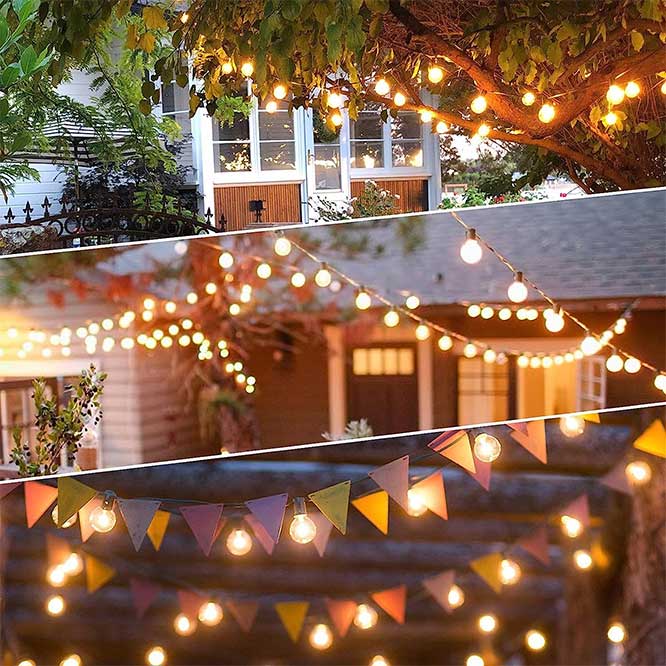 As for durability, you won't have to worry about them breaking. Each bulb is shatterproof, made out of G40 plastic. They are also waterproof, with fully sealed and self-gasketed sockets. This ensures that your lights will keep working rain or shine. Additionally, they are energy efficient, saving up to 80% of energy compared to traditional bulbs. Best of all, if something does go wrong, these string lights are covered by a 1-year warranty.
One of the coolest features of the Banord Smart Outdoor String Lights is their daisy chain ability. Some other options available only let you combine a few strands together before issues arise. With these, you can combine up to 20 strands. This lets you have hundreds of string lights, all working together to give you the best outdoor lighting you could ask for.
Pros:
Combine 20 strands of light together
Shatterproof bulbs
1-year warranty
Cons:
Only two smaller length options are available
Best Multi-Mount: Duewot Smart Outdoor Ground Lights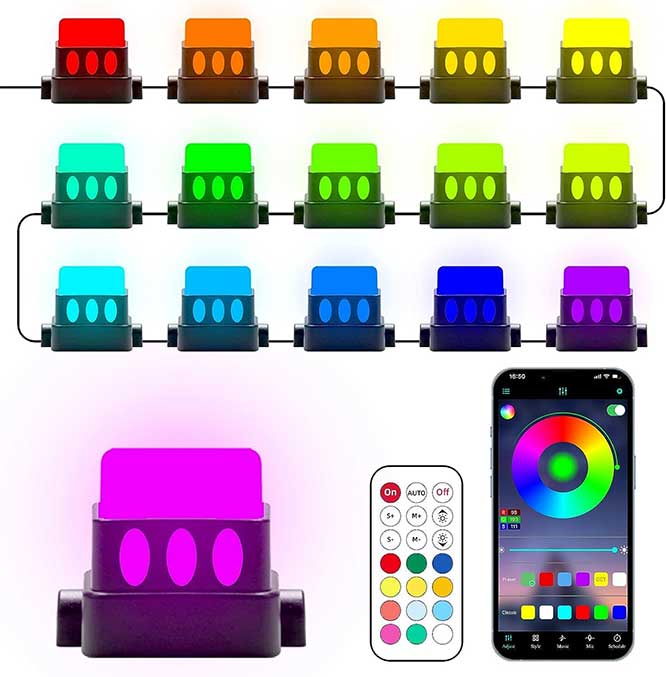 Key Features:
37.7 feet length
Full RGB
Multiple ways to mount them
The Duewot Smart outdoor ground lights are one of the more unique options available. They're only 37.7 feet long and have 15 lights on each strand. Where they differ is their overall design. Rather than a lightbulb shape, each bulb is it's own frosted plastic cube. This gives them an incredibly unique look.
To control the Duewot string lights, you get one option; the included mobile app. There are many different functions the app can control. Each bulb can be turned into any color individually, and you can create your own automatic lighting schedules. Additionally, there is a music sync mode. This changes the lighting effects based on the beat of the music being played, giving a cool-looking area for you and your guests.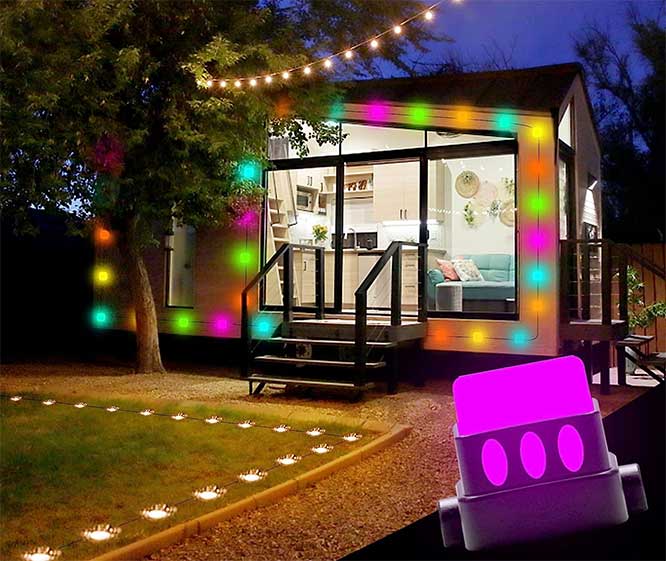 The Duewot string lights feature IP65 waterproof protection, keeping every aspect of them safe from the elements (except for the power adapter). Plastic bulbs help reduce the chance of shattering. Additionally, they are snowproof, sunproof, and windproof.
The coolest additional feature of the Duewot outdoor lights are the multiple ways you can mount them. The first is the main way; ground mounting. Simply attach the ground bracket and insert each bulb into the lawn. This is great for lighting up pathways and other areas. The second way to mount them is via wall mounting. Each bulb has two holes to put screws through and insert into wood, brick, or any other type of wall.
Pros:
Two ways to mount them
Music mode
RGB customization
Cons:
Only available in 37-foot lengths
Final Thoughts
If you're looking for the best outdoor string lights on the market, there are multiple to choose from. Factors such as string light length, color choices, controllability, and durability all play a role in determining which suits your needs best.
The best overall is the Novostella Blenda. Another solid choice are the Govee outdoor string lights. If you prefer a more traditional look, you can't go wrong with the XMCOSY+ or the Banford string lights. If you prefer something to be mounted on a wall or the ground, then the Duewot string lights. Regardless of what you're looking for, in our opinion, these five choices are all solid options.