With the increasing number of "smart" and wireless devices in our homes, connectivity is more important than ever. Just a few years ago, you only needed a small number of connections. If you could connect a PC, a couple of smartphones, and a game console, you were good to go. But now, just about every home device can connect to the internet. From smart refrigerators to internet-connected smoke detectors, smart devices are everywhere. The problem is that older routers aren't always able to handle this load. Connecting too many devices can lead to bottlenecks, and your Netflix connection can drop to near zero.
Needless to say, this can get frustrating. But if you want a solid replacement, you don't want to buy a fly-by-night router. You want one that's secure, and powerful enough to last you for several years. One way to find a great modem is to choose a reliable manufacturer, and Netgear is one of the best. We've reviewed several of their routers in the past, including the R6330, the RAX15, and the Nighthawk XR450.
Today, we'll be reviewing the Netgear Nighthawk CAX80. This powerful modem can connect over 30 devices simultaneously. Not only that, but it doubles as a modem, which simplifies your WiFi network configuration. But is it worth your hard-earned money? Or is the advertising just a bunch of marketing hype? We'll take a close look at the Nighthawk CAX80, from the physical construction to the connection quality. After that, we'll sum up what we've learned. Let's get started!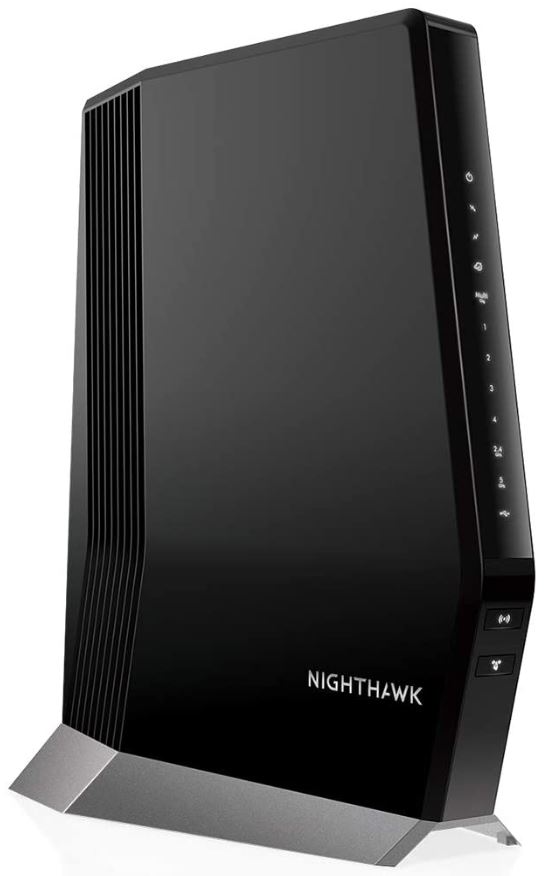 Overall Design
The Netgear Nighthawk CAX80 is a bigger beast than your typical wireless router. At 12.52 inches in height, 10.12 inches in depth, and almost 3 inches in width, it's fairly beefy. However, keep in mind that it's a two-in-one unit. As such, we'd expect it to be fairly large. It's also a bit heavy, tipping the scales at 4.42 pounds. This means you'll need to find an appropriately large area to locate it. Then again, you won't have to worry about modem placement, since everything is built into the unit. As a result, placement isn't as much of an issue as it might appear at first blush.
As with most of Netgear's offerings, the Nighthawk CAX80 has a forward-looking, futuristic design. It's shaped like an off-center arrow, with a longer slope on the top and a shorter slope on the bottom. The bulk of the unit is constructed from black ABS plastic, with a satin finish. This finish is attractive to look at, but still smooth enough that it's easy to dust off as needed. Towards the back, a set of vertical vents provide plenty of air flow to keep the unit cool. Near the front, there's a white Nighthawk logo, just in case you forgot where it came from. The base is a silver-gray, and extends out to both sides to provide plenty of support.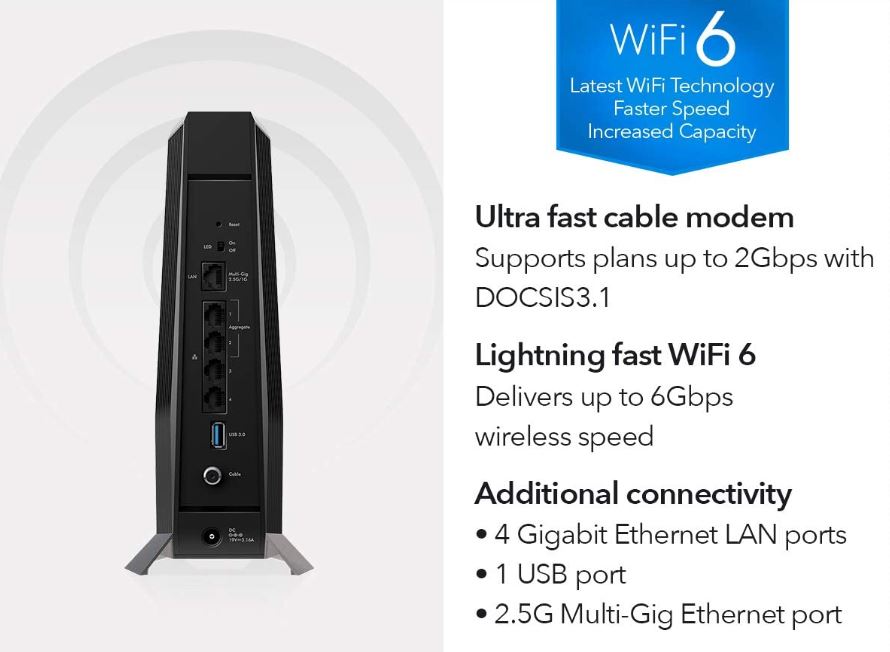 On the front, there's a dizzying array of indicator lights that provide both modem and router alerts. At the top, you'll find your standard modem lights. These include a power indicator, upstream and downstream indicators, and a light that indicates an active internet connection. Beneath this, you'll see your router indicator lights. You'll see lights that indicate Ethernet connections 1 through 4, as well as 2.4 GHz and 5 GHz wireless bands. Beneath that, there are two buttons for WPS connections and security functions.
On the back of the Nighthawk CAX80, you'll see further controls at the top. There's a simple on/off switch, as well as a pinhole reset button for emergencies. Beneath that, you have a 2.5 Gbps Ethernet port that allows for use as a router only. For a faster connection, use the CAX80 as a combo unit by connecting to the cable plug at the bottom. In between, there's a row of four Gigabit Ethernet ports that allow for wired connections to your devices. There's also a USB 3.0 port which provides for additional functionality. You can connect a thumb drive or USB hard drive and use your router as a home media server. Finally, at the bottom, there's a power port for connecting the AC/DC adapter.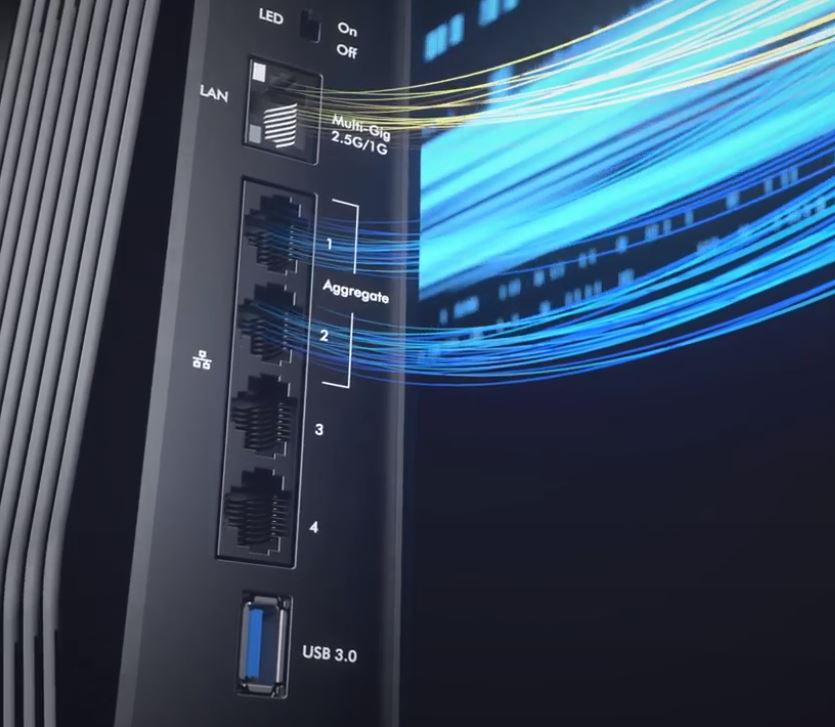 All of this is protected by Netgear's 12-month manufacturer's warranty. This ensures that you're protected from any defects in parts or workmanship. You also get 90 days of free technical support. If you're having any issues during setup, Netgear can help walk you through the process.
Speed & Coverage
As we already mentioned, the Nighthawk CAX80 is a dual-purpose unit. It functions as both a modem and a router, simplifying your home network's setup. However, your exact performance is going to depend on how you configure it. If you're using it as both a modem and a router, you can get up to 6Gbps of speed. This will only work if you connect your service provider's coaxial cable directly to the plug on the bottom. If you're using the CAX80 as a router only, you'll have to connect to your modem via Ethernet. In this case, you'll be limited to a maximum of 2Gbps. That sounds fast. But if you're using a lot of smart devices, it can end up being a bottleneck. To get the best performance, you'll want to take advantage of the CAX80's modem function.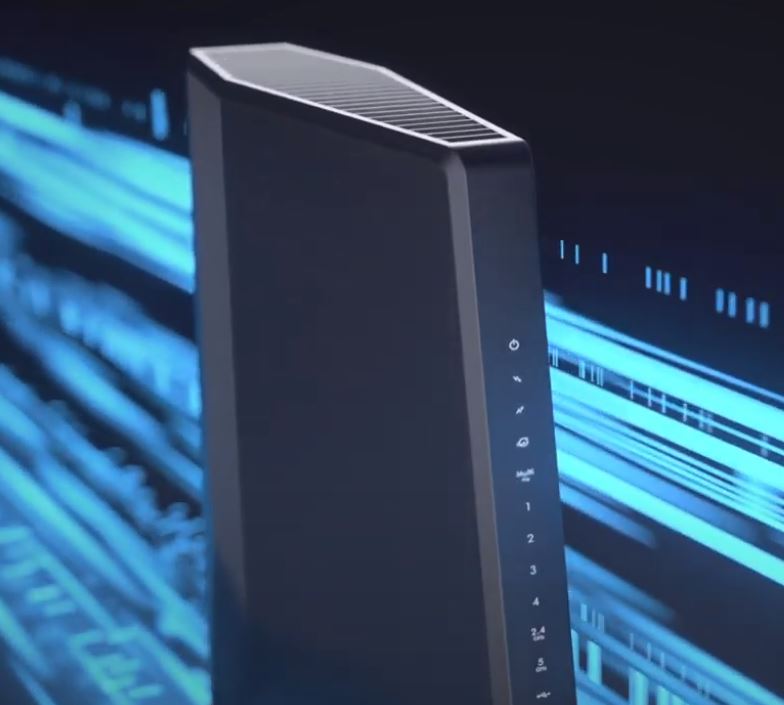 Once your network is set up, you can get up to 2,500 square feet of wireless coverage. This is a broad rating, and it depends on your home's configuration. For instance, you'll get more coverage in a 2-story home than you will in a ranch. Regardless, you're looking at some of the best coverage available. If you need more than 2,500 square feet, you should consider a wireless range extender. The CAX80 supports WiFi 6, the latest version of the WiFi protocol. As a matter of fact, it's so new that smart home devices are only beginning to support it. That said, the CAX80 still supports older WiFi protocols, so older devices are still supported. Essentially, you're looking at a future-proof router that will also support legacy devices.
In total, you can connect 32 wireless devices, as well as 4 wired devices. This allows you to connect just about any smart home device you like. Hook up your TV, your refrigerator, your security cameras, and you'll still have bandwidth for your PC and smartphone. This is an impressive amount of capacity for a home network.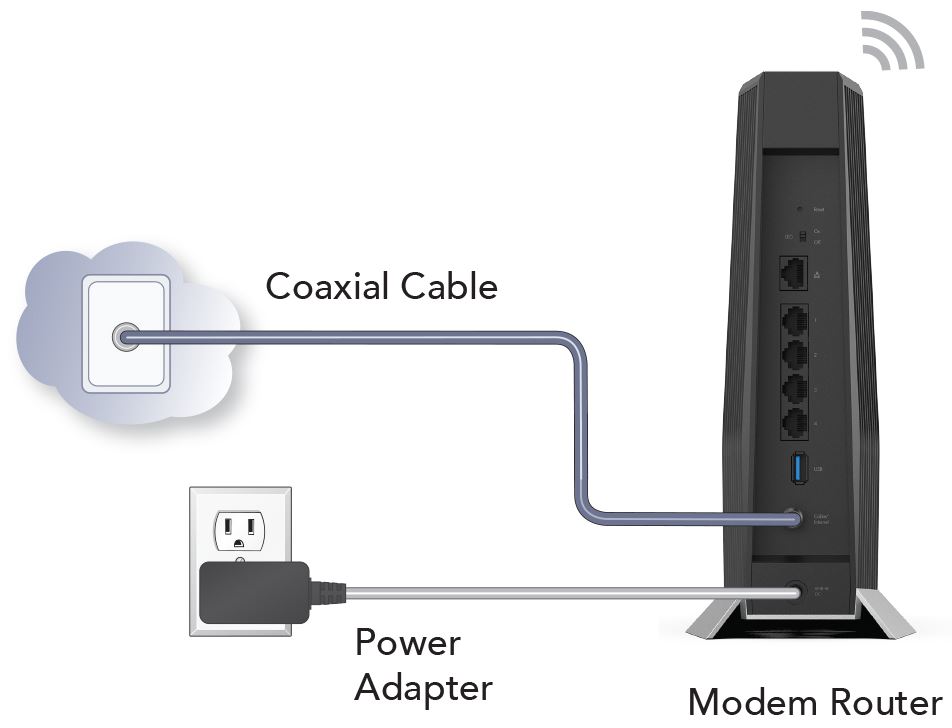 In addition, the CAX80 supports the DOCSIS 3.1 protocol. This is the latest and greatest connection protocol for cable internet. In total, it supports download speeds of up to 10Gbps and upload speeds of up to 1Gbps. This is even faster than the router itself is capable of, so blazing-fast connections are a given. No matter what you're trying to do, you're going to have enough bandwidth to get the job done.
Security & Extra Features
Setting up the Netgear Nighthawk CAX80 is easy, at least in theory. If it's just a router, no complex setup is required. However, if you're connecting it as a modem/router unit, your performance will depend on your service provider. In theory, the CAX80 is certified by all major service providers, including Comcast, Xfinity, Spectrum, and Cox. It should be plug and play. However, with some service providers, such as Spectrum, you'll still need to call in to get the modem activated. This should only take a few minutes on the phone with customer service. They'll as you for the MAC address and some other information, and you'll be ready to go.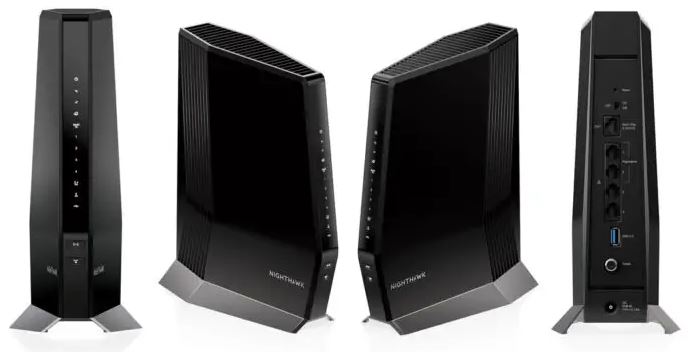 The CAX80 supports both WEP and WPA/WPA2 wireless security protocols. Needless to say, you'll want to secure your network as soon as possible. Otherwise, you're leaving a back door open for hackers or opportunistic neighbors. Configuration simply requires you to create a password, so it takes just a minute. You also get parental controls. You can block specific websites or classes of websites across the board, or on a per-user basis. You can also set a "bedtime" for individual devices, so your kids can't stay up all night on their phones.
To get even more out of your CAX80 router, you can install the Netgear Nighthawk app. This app works with Netgear's entire Nighthawk like of routers, and allows for easy setup. Not only does it make the installation process quick and painless, it also allows for easy configuration. Instead of using the complex browser-based configurator, you can simply use the app. This means you can easily adjust parental controls and other features. You can also run internet speed tests and take advantage of other useful functions.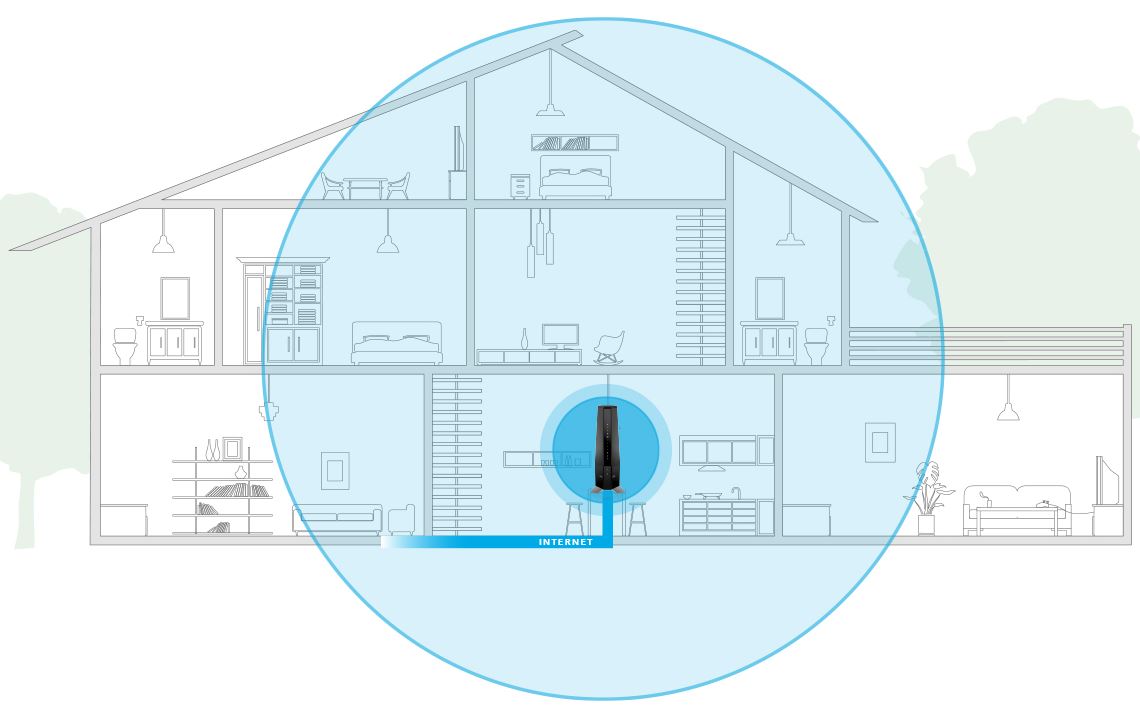 Final Verdict
As you can see, the Netgear Nighthawk CAX80 is an exceptionally powerful unit. Not to mention, it can actually save you money. Many service providers charge a monthly fee to rent a modem. If you're getting that charge on your current bill, the CAX80 can actually pay for itself in a few years.
To begin with, let's look at the obvious benefit: you're getting a router and a modem in one. This is much easier than buying two standalone units. On the other hand, you can't upgrade your modem or your router separately. This means that when it's time to upgrade, you need to replace the entire unit. But given how future-proof the CAX80 is, this shouldn't be a concern for several years.
The physical design is slick and attractive, and provides everything you need. In terms of speed, you shouldn't have any issues. You get up to 6 Gbps of bandwidth, enough for 4K streaming with plenty of bandwidth to spare. You can also connect up to 32 devices. If you're a smart home enthusiast, this is an excellent feature. Not only that, but you get plenty of security options. In addition to standard encryption, you also gain access to full-featured parental controls. Finally, you can use Netgear's Nighthawk app. If you want to control your network directly from your smartphone, you're good to go.