In today's market, you can't be too careful about choosing a set of earbuds. There are many options on the market, and the sheer variety can get confusing. This is particularly pronounced due to the fact that many of the brands are unfamiliar. Unless you're buying something from Mpow or Sony, how do you know what you're getting? It's not always clear whether you're looking at a high quality set of buds, or a knockoff set of duds. We've reviewed many earbud models over the years, so we're going to take a crack at some new models.
We're about to review the TBI PowerPro Sprot 5.0 Bluetooth Headphones and the Spidoc Bluetooth Headphones. Both of these buds have an over-the-ear design with silicone ear hooks for plenty of security. But there are some significant differences between the two that we need to examine. To begin with, we'll look at other features of the physical design. Next, we'll talk about battery life and the quality of the connection. Finally, we'll dive into sound quality and the hands-free calling experience. At the end, we'll wrap up by summarizing the similarities and differences so you can make a decision. Let's get started!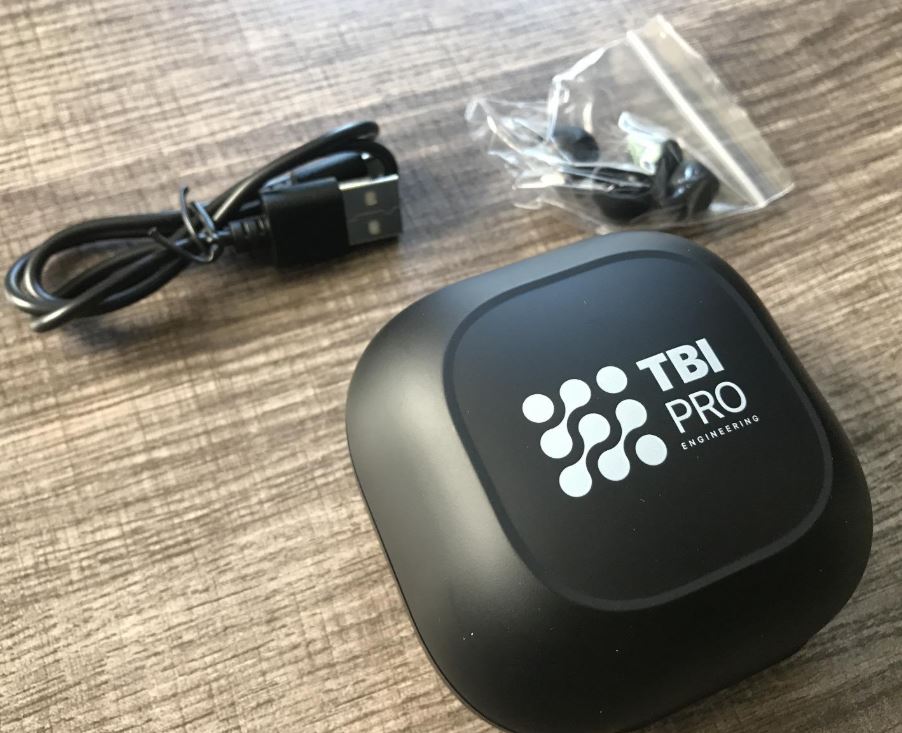 TBI PowerPro Sport 5.0 Bluetooth Headphones
The TBI PowerPro Sport 5.0 Bluetooth Headphones have a sturdy design that's engineered for an active lifestyle. They come with a set of silicone ear hooks, which add an extra layer of security. However, many earbuds with ear hooks fit loosely in your ear, with a hard plastic speaker. The TBI buds have silicone ear tips, much like earbuds that don't have hooks. These tips not only provide a more secure fit, they also provide a measure of noise isolation. All of this depends on using the correct set of tips that are right for your ears. Thankfully, there are three different sets of tips in the box. Find the ones that are right for you, and you're good to go.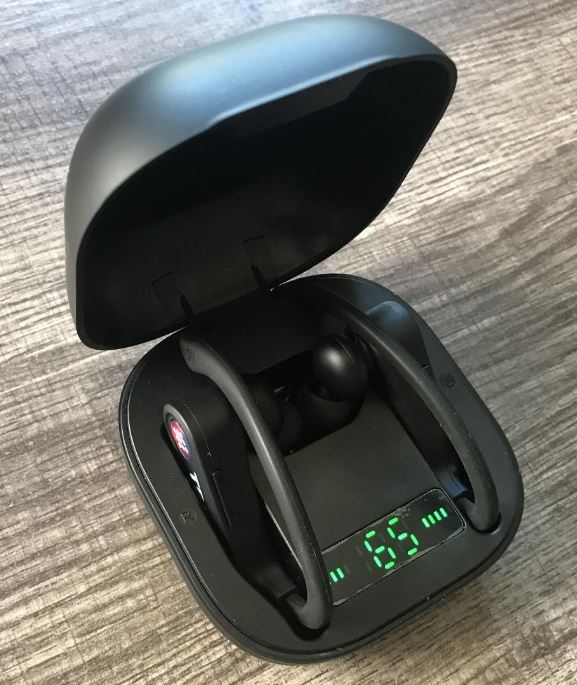 The TBI earbuds have intuitive, easy-to-use controls. On the top of the right earbud, there are a set of buttons for adjusting the volume. A set of soft touch buttons on both earbuds complete the control scheme. By tapping or holding the controls, you can skip tracks, answer and end calls, and activate your voice assistant. The soft touch design ensures that the buttons are comfortable to operate. You won't have to apply any significant amount of pressure to get them to work. They're also glossy instead of matte, so you can feel them easily with your fingers. You won't have to fumble around to find where the button is.
These earbuds are IPX7-rated for water resistance. This means they were tested by submerging them at a depth of one meter for 30 minutes. As a result, they're a cut above your standard "sweat-resistant" earbuds. You can take them in the shower and they won't get damaged. You can even wear them swimming without worrying about water infiltration.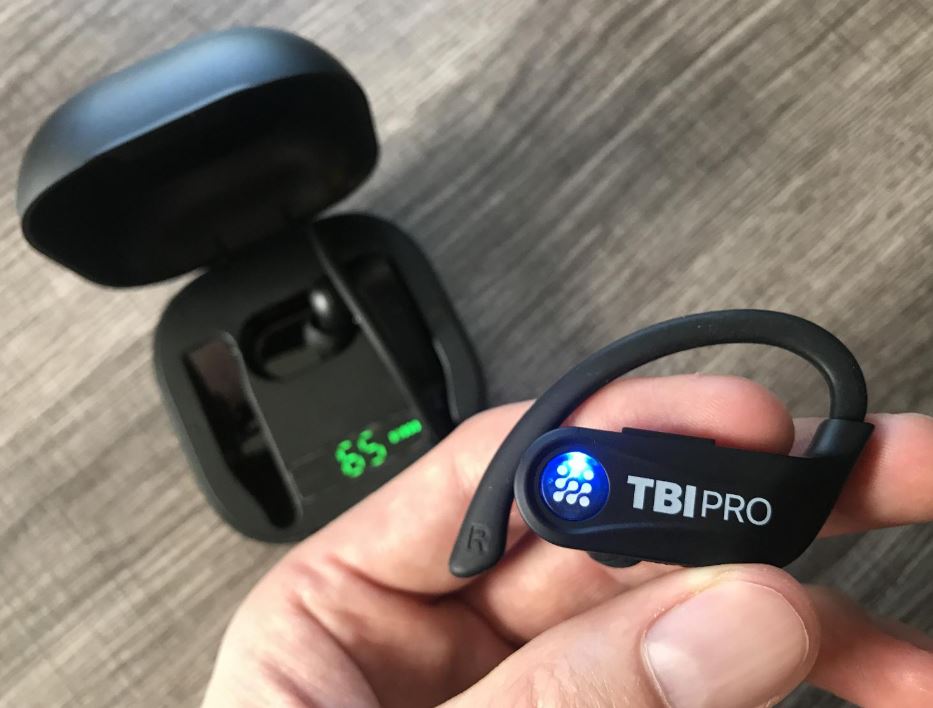 The charging case is very well-engineered. It has a clamshell-style design, with a spring-loaded lid that stays shut when you want it to. It's also easy to open. There's a tab on the front of the lid that allows you to pop it open with a single finger. Inside, you'll see a full-featured LCD display that tells you everything you need to know. A numerical display shows the current charge level of the case's internal battery. From 0 to 100 percent, you'll know how much juice you have left. On either side, a pair of five-bar displays show the charge level of the earbuds themselves. If you're eager to start listening, you'll know roughly how much playtime you've got.
The TBI charging case is a bit beefy, measuring 3.9 inches wide, 3.8 inches deep, and 2.7 inches thick. And it weighs 7.2 ounces, or just under half a pound. In other words, it's chunkier than most wireless earbud cases. You can still carry it in a laptop bag or backpack without any trouble. But it's a bit big if you were planning on a pocket-sized case. A Micro USB cable is included in the kit for easy charging.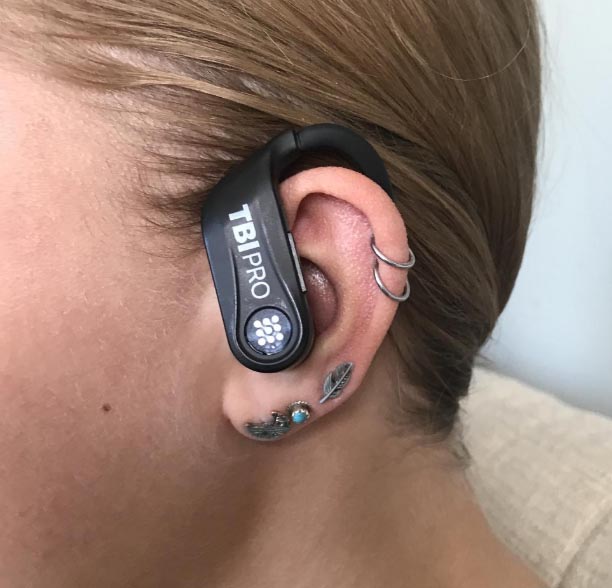 Battery & Connectivity
The TBI earbuds deliver up to 12 hours of playtime on a single charge. This is almost twice as much playtime as you can expect to get from most wireless earbuds. Even if you want to use them for an entire weekend, you're not liable to run out of juice. Of course, this is a manufacturer rating, based on playback at medium volume. Still, that's pretty impressive, no matter how you cut it.
Moreover, the case's built-in battery supports five additional charges. In total, you're looking at a total of 72 hours of charge at moderate volumes. Not only that, but the case has quick charge technology. In one hour, you get up to 10 hours of playtime from your battery. In only 10 minutes, you get about two hours of playtime. This is a great feature if your earbuds are out of juice when you want to work out.
The TBI PowerPro Sport 5.0 Bluetooth Headphones connect to your smartphone or MP3 player with the latest Bluetooth 5.0 protocol. This protocol provides an exceptionally stable connection, eliminating dropped calls and skipping music. It also allows for higher bitrates than older protocols. You can listen to high definition music without any loss in quality. Finally, the Bluetooth 5.0 protocol has virtually zero latency. When you're watching movies or videos, the audio will be in perfect sync. All of this is complimented by a 100-foot range, so you can listen just about anywhere.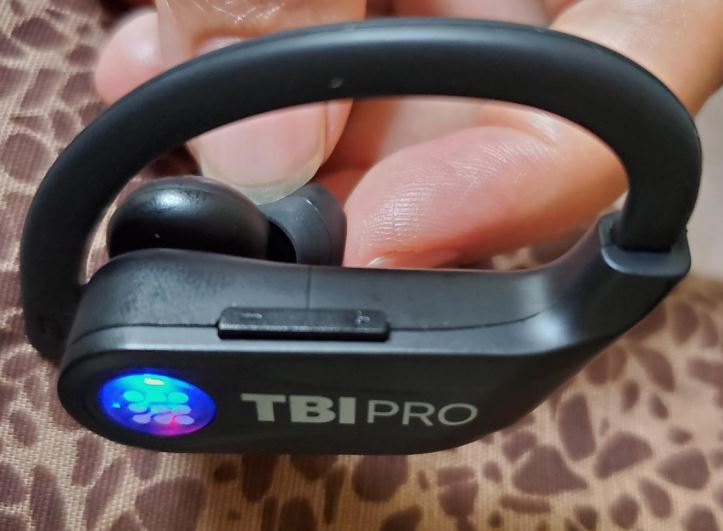 Sound Quality
The TBI PowerPro Sport 5.0 Bluetooth Headphones have 11mm diaphragms. This is nearly twice as large as your average 6 or 7mm earbud diaphragms, and allows for a "bigger" sound. To begin with, the soundstage is nice and wide. There's separation between all the instruments, which will be a relief to any audiophiles.
In addition, the frequency response is excellent across the board. High frequencies are clear, clean, and shimmery. Strings, cymbals, and high synths don't produce any fuzz or buzz. Middle frequencies are similarly clear. Vocals in particular have plenty of depth, without the hollowness you'll hear from cheap earbuds. When it comes to bass, the TBI buds really shine. Now, these are earbuds, not headphones. You won't feel the bass. But you'll definitely hear all the thump and punch you'd expect from a high-quality audio source.
Finally, let's talk about call quality. The built-in TBI mics feature intelligent noise cancelling. Even if you're in a crowded, noisy location, the other person will hear your voice just fine. This allows for hands-free calling without constantly needing to repeat yourself.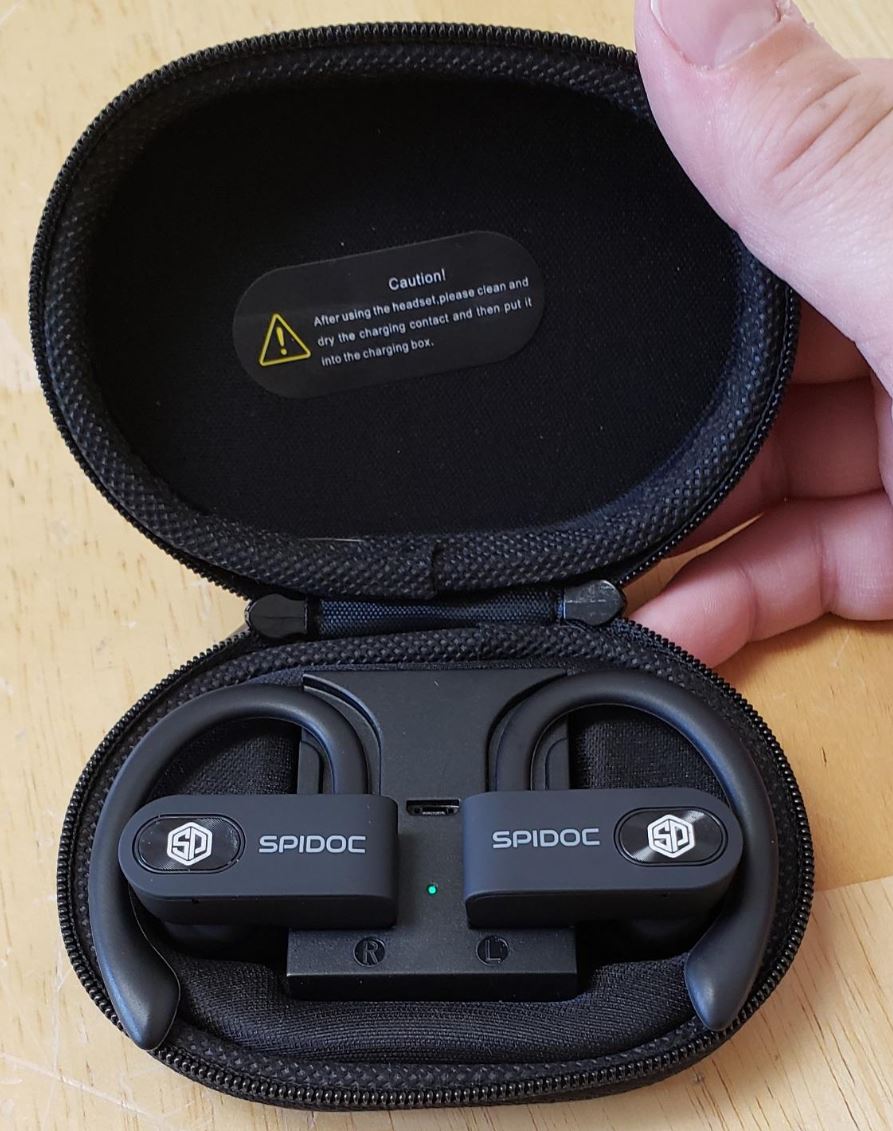 Spidoc Bluetooth Headphones
The Spidoc Bluetooth Headphones have a similar design to the TBI buds. Specifically, they have an over-the-ear design with comfortable silicone ear hooks. They also ship with three different sets of silicone ear tips. If the default tips are too big or too small, try a different size. Chances are, one of the sets will be just what you need to get a comfortable, secure fit.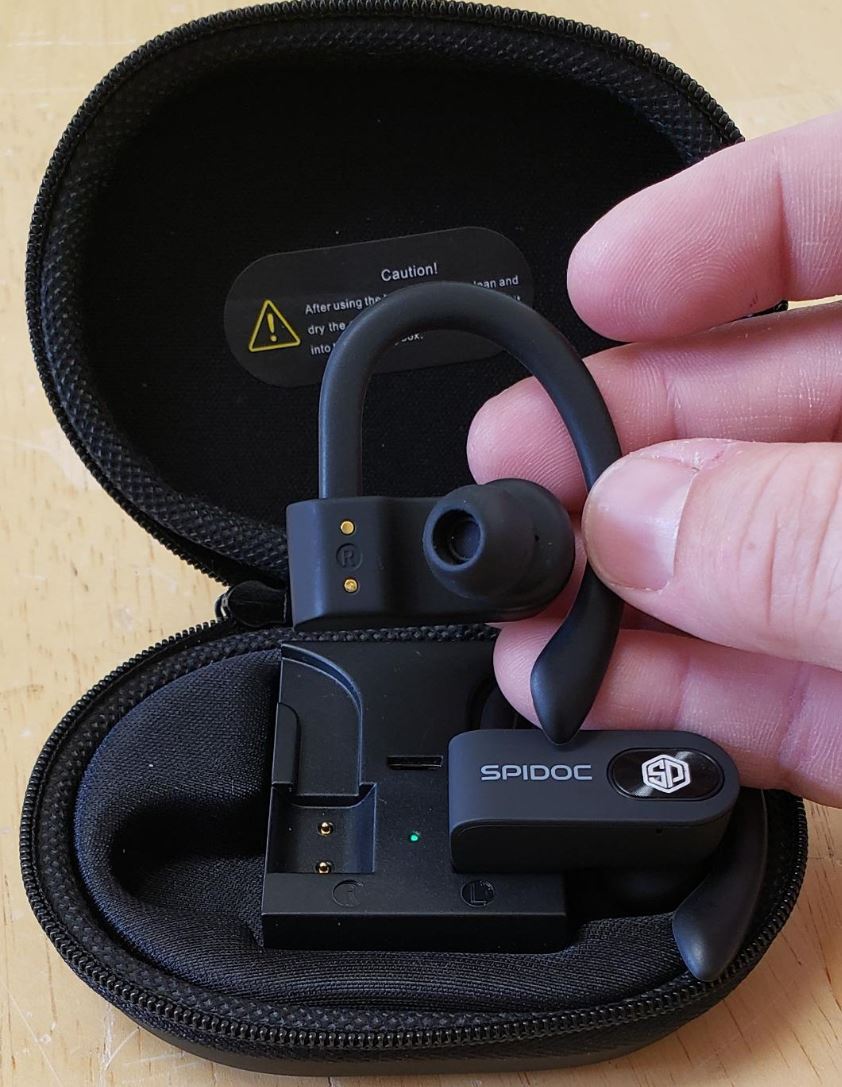 The buds themselves are a bit slimmer and more compact, and have a matte finish. That said, they're available in five color options: black, blue, green, red-orange, and silver. You can choose a cosmetic option that matches your own personal set of style. On the back of each earbud, there's a soft touch control that provides plenty of functions. Play and pause songs, answer or end calls, and adjust the volume with the push of a button.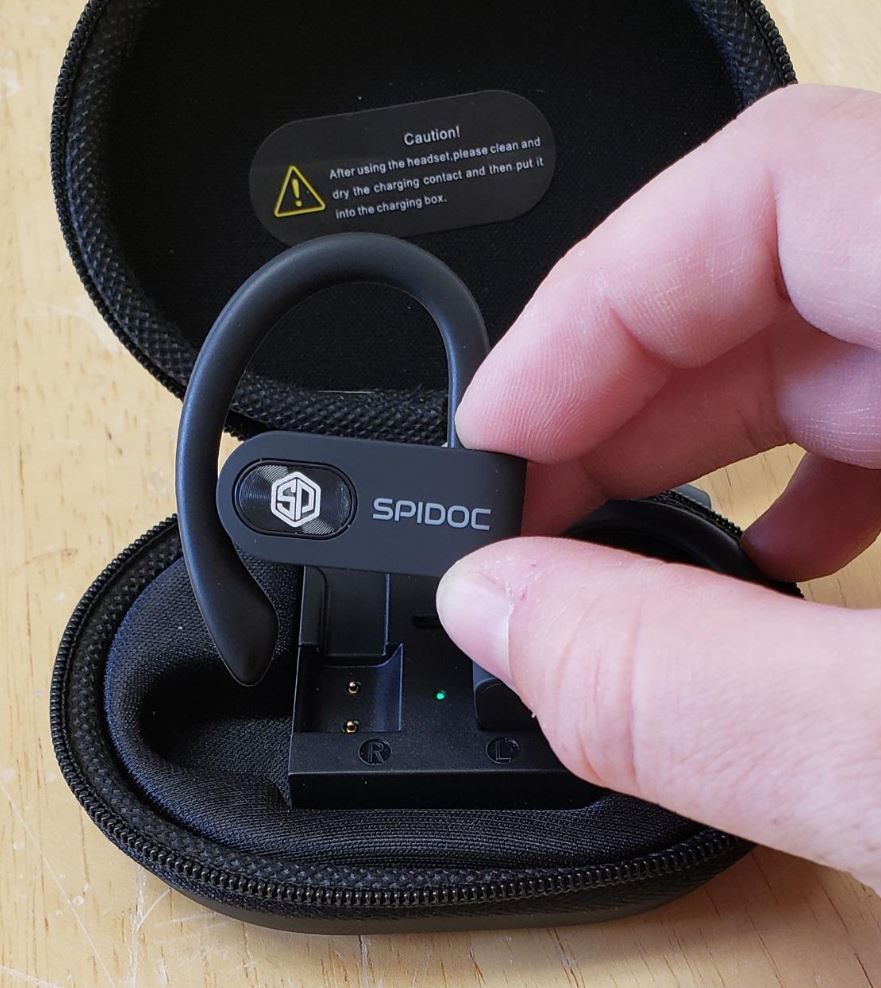 The Spidoc earbuds carry a water resistance rating of IPX5. This means they're splash-resistant, but not waterproof. They're good enough to work out or take in the rain, but they can't withstand submersion. Go ahead and wear them during your workout or your walk. But don't take them in the shower or out for a swim.
The charging case measures 4.1 inches wide, 2.9 inches deep, and 1.5 inches thick. It's a bit large for your pocket, but easy enough to carry in a bag. And at only 2.82 ounces, it's relatively lightweight. Moreover, it has a nifty zippered design with a nylon fabric shell. This adds a nice cosmetic touch you won't get from your average wireless buds.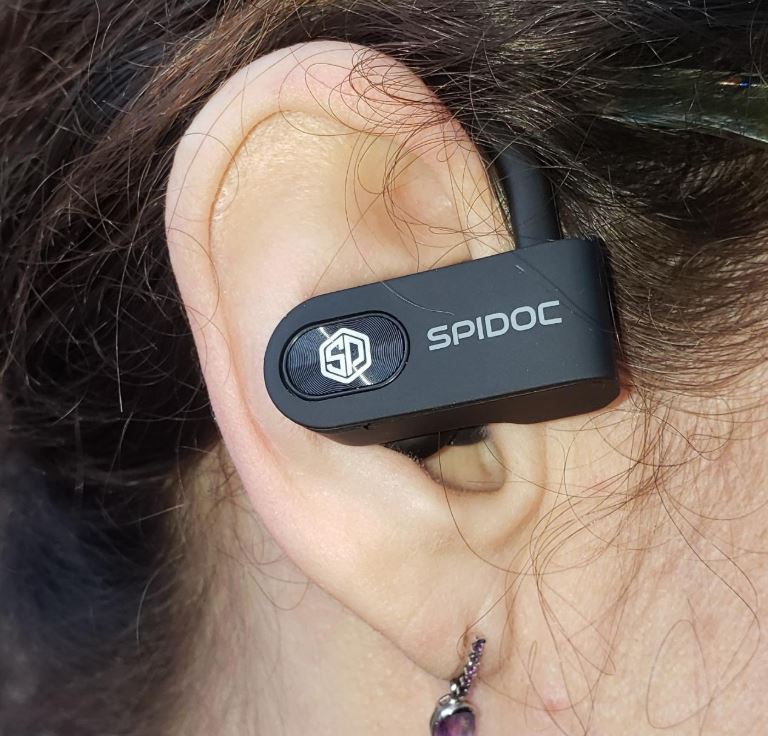 Battery & Connectivity
The Spidoc earbuds' built-in batteries carry a manufacturer rating of 7 to 8 hours. This isn't quite as impressive as the TBI earbuds', but it's still better than the industry average. Unfortunately, the charging case is a bit underwhelming. It only provides a total of 20 hours of playtime, so take your charging cord with you if you're on a trip.
The Bluetooth 5.0 connection offers the same benefits as the TBI earbuds' connection. On the downside, the range is limited to 33 feet. But on the other hand, you can pair the Spidoc buds independently. This isn't a benefit if you're listening to music. But if you want to maintain awareness during hands-free calling, it's a great feature. Not only that, but it effectively doubles your battery life.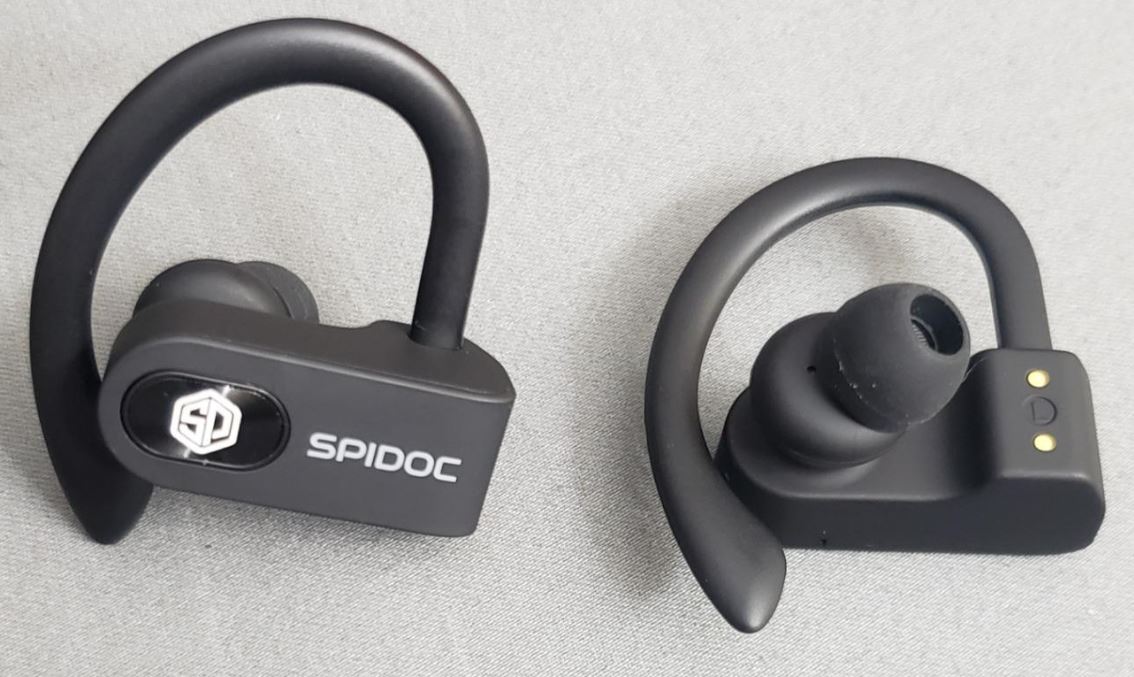 Sound Quality
The Spidoc Bluetooth Headphones offer excellent audio quality for the price. Whether you're a fan of hip hop, country, classical, or heavy metal, you'll be pleased with the frequency response. The soundstage provides plenty of space, and the signal is very clear. In addition, the earbuds feature binaural mics. When using both buds for hands-free calling, you get plenty of clarity. With a single bud, the signal quality drops, but it's still good enough to get the job done.
Final Verdict
Clearly, both of these earbuds have a lot to offer. But what's the difference? The TBI PowerPro Sport 5.0 Bluetooth Headphones offer longer battery life. With up to 72 hours of playtime without plugging in, you're looking at plenty of longevity. The water resistance is also superior. Conversely, the Spidoc Bluetooth Headphones offer slightly better sound quality. They also allow for independent pairing. If you want to use your headphones primarily for hands-free calling, they're the superior choice. Either way, you're looking at an excellent pair of earbuds.
Meet Derek, "TechGuru," a 34-year-old technology enthusiast with a deep passion for tech innovations. With extensive experience, he specializes in gaming hardware and software, and has expertise in gadgets, custom PCs, and audio.
Besides writing about tech and reviewing new products, Derek enjoys traveling, hiking, and photography. Committed to keeping up with the latest industry trends, he aims to guide readers in making informed tech decisions.