To get the most out of your internet service, you need a good router. This is especially true in today's world of ubiquitous smart home devices. Between your security cameras, smart switches, smart appliances, and even door locks, you need a router with plenty of bandwidth. Add in a few people watching Netflix or online gaming, and an old router just won't be enough.
That said, not all routers are created equal. Some are designed for maximum bandwidth, to support even the most demanding 4K streaming. Others are designed for businesses, with maximum range and lots of extra security features. And some are designed for today's smart home, with the ability to support a lot of devices.
Today, we'll be reviewing one of this last variety, the Netgear R6330. It's designed specifically to support a large number of smart appliances and devices. But what else does it have to offer? We decided to take a close look, and consider all of its features. We'll talk about bandwidth, range, setup, and security. But first, let's get started by discussing the physical design.
Overall Design
The Netgear R6330 is 12 inches wide, 9.8 inches deep, and 5 inches tall. The height includes the three adjustable antennas, so it can be considerably shorter depending on the angle of the antennas. It weighs 1.9 pounds, which is fairly lightweight considering the size. This large, bold design is typical of Netgear, which likes to make a statement with their routers. When your friends see your router, they'll know it's a Netgear. It's almost a form of advertising for them.
The bold design continues when we look at the shape. It has a sloped design, with the back significantly thicker than the front. The edges are sharp and clean, so the R6330 is sure to stand out on any desk or shelf. The case is constructed from a flat black ABS plastic, with a NETGEAR logotype on the top panel. Beneath the logo, you'll find a set of four green LED lights. The leftmost button indicates the router's power status, and the next one indicates an active internet connection. The third light lets you know when you have an active WiFi connection to any devices. The fourth and final light indicates that devices are actively connected via Ethernet. There are no separate lights for individual Ethernet ports, though.
One thing we loved about the design is just how sleek it is. All the vents are located along the back, so the overall look is very smooth. Three antennas stick up from the back, and can be pivoted to any angle to get the best signal.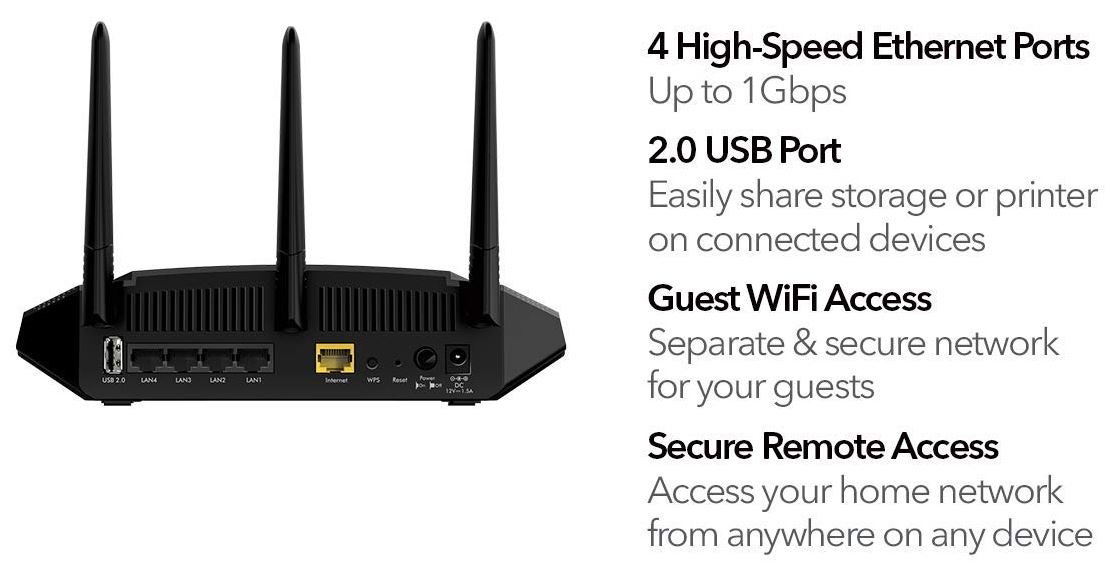 Along the back of the unit, you'll find all of the R6330's ports. On the far left, there's a single USB 2.0 port. Following that, you'll find a row of 4 Gigabit Ethernet ports, conveniently labeled with individual LAN numbers. On the other side of the central antenna, you'll find the R6330's outbound Ethernet port. This is bright yellow, the only part of the router that uses any kind of color. To the left of that, there's a WPS button, which can be used to easily pair modern smart devices. There's also a reset button. This has the usual annoying, recessed design that requires a paperclip to operate. Thankfully, there's also a power button. If you need to reset your router, the easiest way to do it is just to power it off and then on again. Finally, there's the DC power port, used to power the device.
The WPS button makes setup easy. Just plug the R6330 into your modem, power it up, and connect your devices. Download Netgear's Nighthawk app to your smartphone, and use the wizard to set up your network. This is a significant improvement over older routers, which required complex setup for passwords and other security features.
Speed & Coverage
The R6330 offers approximately 1,200 square feet of coverage. This is just a ballpark figure. It depends on many variables, including whether there are any masonry walls or lots of copper piping. That said, we would most accurately describe this router's coverage as about average. For homes that are larger than average, you're likely to need a WiFi range extender to get complete coverage. This isn't necessarily a big deal, since it's a common issue with home routers. That said, it does mean that most businesses are going to need a more powerful router.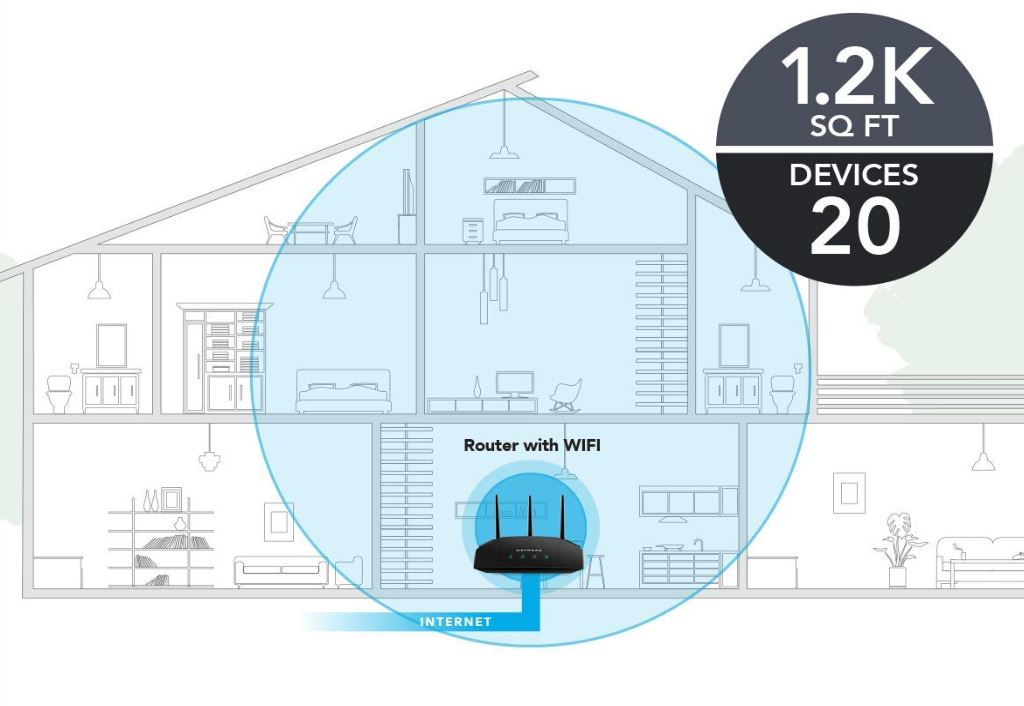 The overall bandwidth is 1,600 Mbps. This is broken up over two bands, a nearly ubiquitous feature on modern routers. The 2.4 GHz band offers a paltry 300 Mbps of bandwidth. However, it has a longer range that can exceed the 1,200 square foot stated range. If you've got a few smart home devices that are just outside the R6330's "bubble", this will get them covered. The workhorse of the R6330 is the 1,300 Mbps 5.0 GHz band. This provides enough bandwidth for HD streaming on multiple devices. That said, it's truly limited to the 1,200 square foot range. Outside of that area, your internet speeds will drop precipitously.
If you need exceptionally fast speeds for 4K streaming or other demanding applications, you'll need a faster router. In that case, consider the Netgear Nighthawk AX4. It offers a mind-blowing 3,000 Mbps of bandwidth, albeit at a significantly higher price point.
The Netgear R6330 supports the 802.11g, 802.11n, 802.11b, and 802.11ac protocols. It does not, however, support 802.11ax (WiFi 6). At the moment, this won't cause any serious issues. However, it does mean that the R6330 isn't future-proofed for next generation smart home devices. Four or five years down the road, you might find yourself running into some issues. If you want a more future-proof router, consider the Netgear RAX15 AX1800. It supports WiFi 6, and should be useful for at least the next decade.
One thing the R6330 does handle very well is connecting a large number of devices. It's rated for up to 20, which should be sufficient for most homes. This is due to its MU-MIMO technology. MU-MIMO stands for "multi-user multiple-input multiple-output". This technology supports a large number of simultaneous connections from numerous devices. It's partially supported by the three antennas, each of which provides a separate input-output channel. As a result, you can stream and game on multiple machines, while still supporting plenty of smart home devices.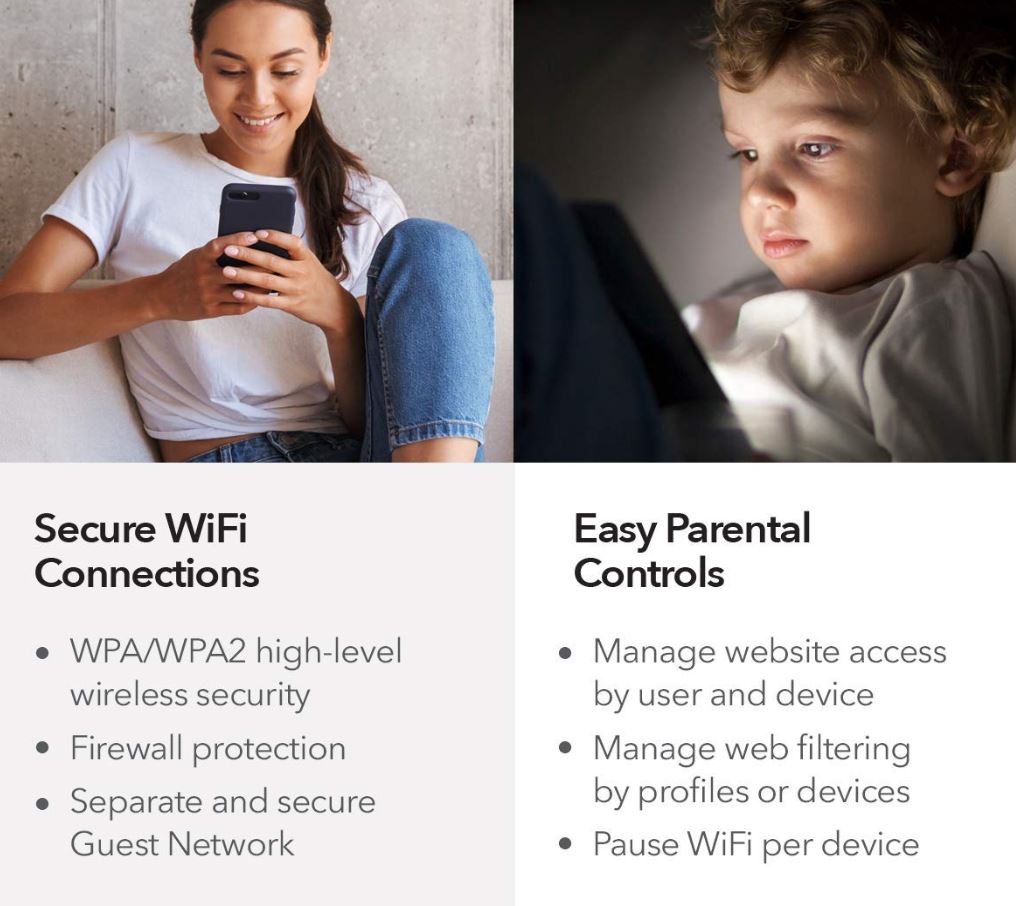 Another feature we appreciated was the USB port on the back of the R6330. This allows for a few different options. The first is that you can easily set up a network drive. Plug a USB hard drive into the back of the router, make a few changes inside the app, and you're set up. This is a great option for setting up a home media server. It's also a good way to set up a shared hard drive in a small business environment. Alternatively, you can connect a USB-enabled printer directly to the router. Through the app, you can set it up as a network printer. This is a more office-oriented feature, but it can also be a useful feature inside your home.
Security & Extra Features
An important consideration for any router is how secure it keeps your network. There are a few ways that the R6330 does this. First off, it supports the latest WPA2 security protocol. This is more or less a given on more or less any router. However, it's still nice to see. Netgear has also included a DoS (denial of service) firewall. This is important for small businesses, but it's also helpful for home networks. It blocks out easy methods of intrusion, and prevents glitches from crashing your home network. In addition, the R6330 also supports VPN use. This ensures that you can use the VPN of your choice for added security.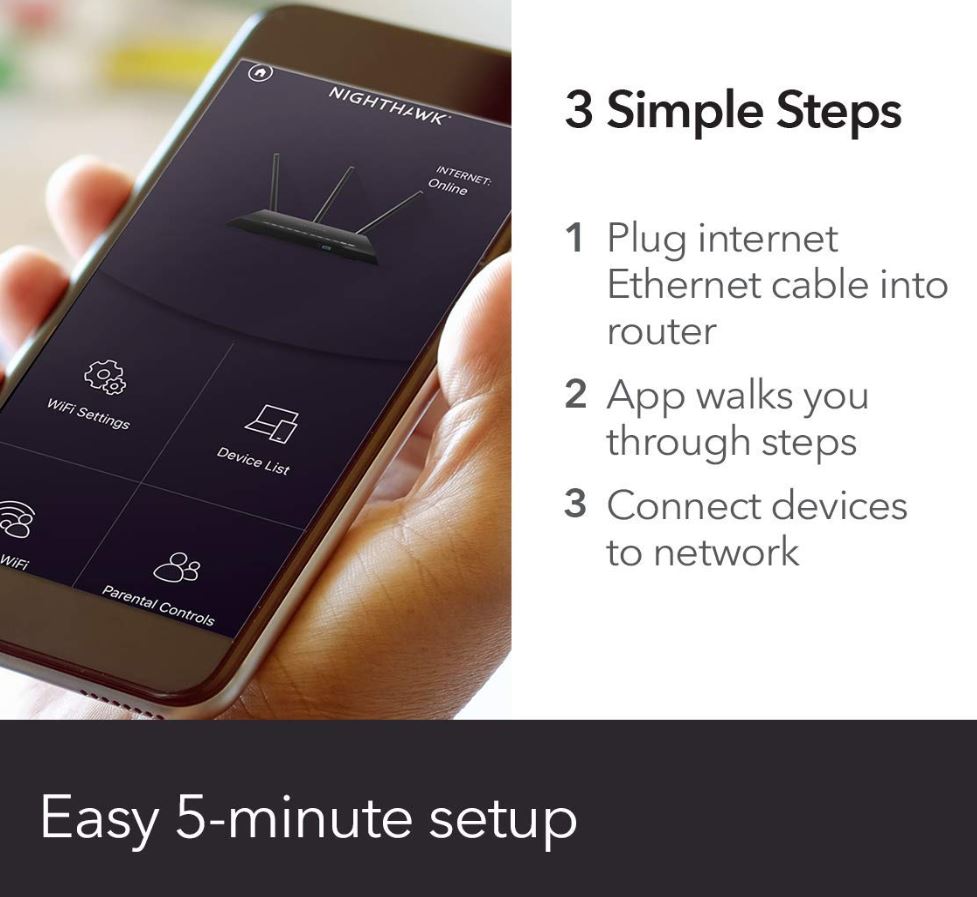 The R6330 also supports a separate guest network. This Guest WiFi Access allows guests, contractors, and other non-family members to use your network. Simultaneously, because it's separate from your main network, they won't have access to your devices. This is also a useful feature for small businesses, so you can offer free WiFi to your customers.
The Nighthawk App allows you to configure a variety of settings, including parental controls. You can block access to specific websites or groups of websites. You can enable web filtering to block unsafe sites based on Netgear's algorithms. You can do this for the entire network, or set different permissions for different devices and family members. You can even pause WiFi altogether at certain times of day. This feature is also available both for the whole network or for individual devices.
If you need lower latency, consider buying yourself a quality gaming router. The Netgear Nighthawk XR450 is an excellent choice, which we've recently reviewed. In addition to low latency, it allows geo-filtering to ensure that you're only connected with gamers near you.
Final Verdict
So, how well does the Netgear R6330 to other routers in its class? To begin with, the bandwidth is fairly middling. It's not bad by any means, but you'll need a more powerful router if you want 4K streaming. Same for the range. It's not bad, but there are more powerful options on the market.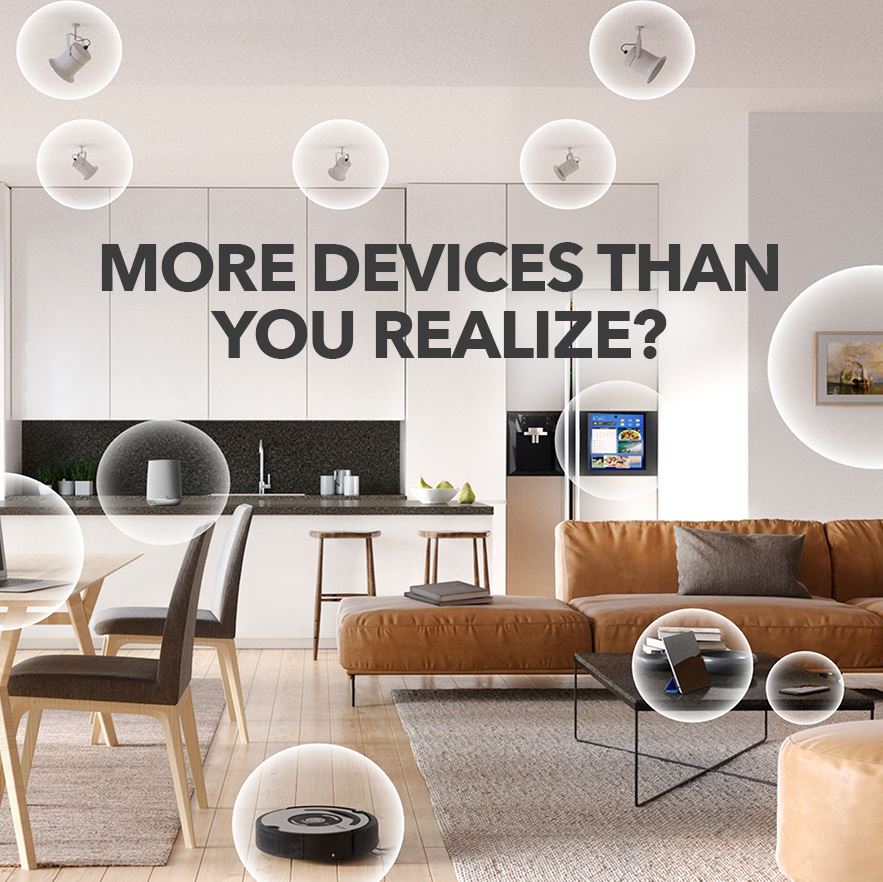 That said, it does maintain Netgear's tradition of style and quality. The security features are among the best in its class, with WPS support and a dedicated guest network. You also get plenty of filtering options, which makes the R6330 a great choice for families. The smart home support is particularly good, thanks to the MU-MIMO support.
At the end of the day, the R6330 is designed for families and small businesses. It allows you to operate a variety of devices without any significant lag or latency. And the guest network is great for small businesses in particular. Larger offices and buildings are going to require a more powerful router or a mesh router system. Ultimately, it depends on what kind of network you're trying to build.