Quick Analysis
Pros
Easy to set up and install.
Weatherproofed for outdoor use.
Plenty of app functions.
Allows you to set motion-detection zones.
Cons
Needs to be taken down for recharging.
No local video storage.
For today's home, a security camera is a near-essential investment. There's simply no better way to deter thieves, keep tabs on your kids, or watch out for deliveries. And in today's connected, smart home environment, setting up your security system is easier than ever. Of course, as with many products, this has led to a flood of cheap knockoffs hitting the market. Do you really want to leave your home's security in the hands of some manufacturer you've never heard of?
Thankfully, you don't have to. TP-Link is a reliable manufacturer with a strong track record of producing well-engineered electronics. And this month, they're releasing their new Kasa 2 Home Security Camera System. But just as it would be foolish to buy a knockoff camera, you shouldn't rely on brand recognition alone. Ultimately, the camera system needs to stand up on its own merits. To help you out, we've put the Kasa 2 to the test. We'll talk about the overall design, the quality of the video, and how it stores and transmits your videos. We'll also talk about the companion app and the extra features it offers. Now, let's take a closer look!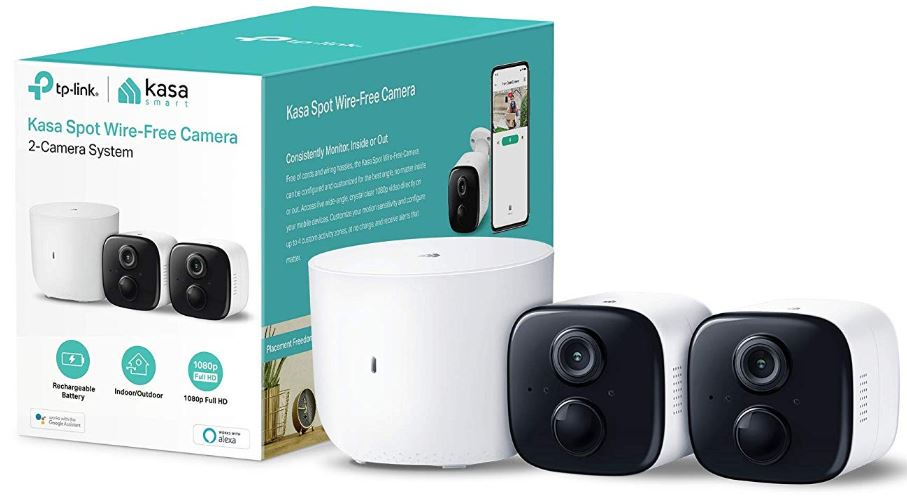 Design & Construction
The Kasa 2 is a three-part security system that consists of two TP-Link cameras and a single hub unit. The hub unit is compact and unobtrusive. Constructed from white ABS plastic, it has a cylindrical design with an LED light that tells you when it's connected. The only other features of the design are a TP-Link logo on the top and the WPS button and power port. It plugs into your wall outlet with a simple AC adapter, and is very easy to operate. Connecting it to your home network is very easy. All you have to do is press the WPS button on the unit and on your router. Bam! It's connected and ready to go.
The cameras themselves are attractive, with a slick white ABS plastic case. They're square in shape, with rounded corners that create a soft, sleek appearance. The front of the cameras are black, with a see-through panel that provides a clear view of the lens. The lens is located in the top of the frame, while the bottom half is dedicated to the motion sensor. On either side, you'll see small infrared LED lights. They don't shine with a visible light, but they aid with the infrared night vision. You'll also see small perforations on either side of each camera, which house the microphone and speakers.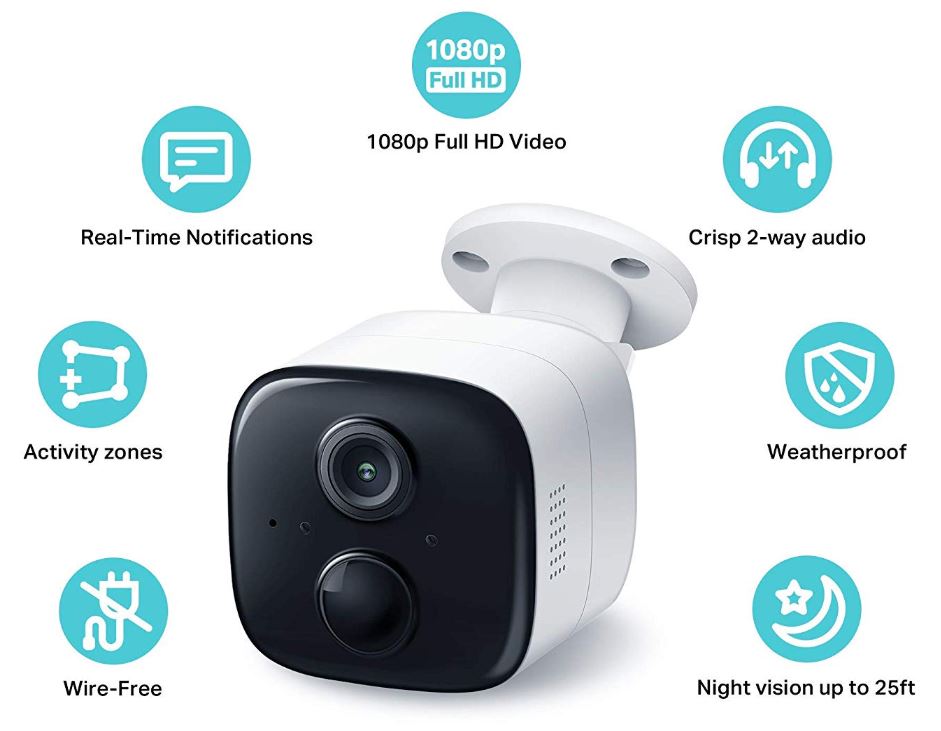 The Kasa 2 cameras are also easy to mount. Because they're wireless, you don't need to worry about running any wires. Mounting hardware is included, so all you have to do is drill a few holes and screw in the mounting bases. As a result of the wireless design, you'll need to charge the batteries before you actually mount the cameras. While they're charging, mount the bases, then clamp the cameras on. The clamps are designed to be attached and released easily, so recharging is a breeze.
The cameras are IP65-rated for weather resistance. This means they can withstand dusty days as well as rainy ones. Even heavy storms won't damage the cameras. Provided you don't submerge them in water for some weird reason, water isn't going to be an issue. Keep in mind, though, that the wireless hub is not waterproof. Keep it inside, and you'll be just fine.
One limitation of the Kasa 2 is that it "only" has 2 cameras. If you need more cameras, consider the A-ZONE 8-Channel Home Security Camera System. It comes with 4 cameras, and allows you to connect 4 additional cameras if you want to.
Connectivity & Storage
The KC310 connects to your home wireless network via WiFi. When the cameras are powered on, they will automatically pair with the hub unit. Pair the hub unit with your router, and you're good to go. This makes them very easy to use, even if you're not terribly tech-savvy. The wireless design also makes the cameras easy to place, since you don't need to worry about wires. You can position them anywhere, indoors or out. You can even mount your cameras on a tree or a detached garage, provided they're in range of the hub. This is a very attractive feature, for obvious reasons.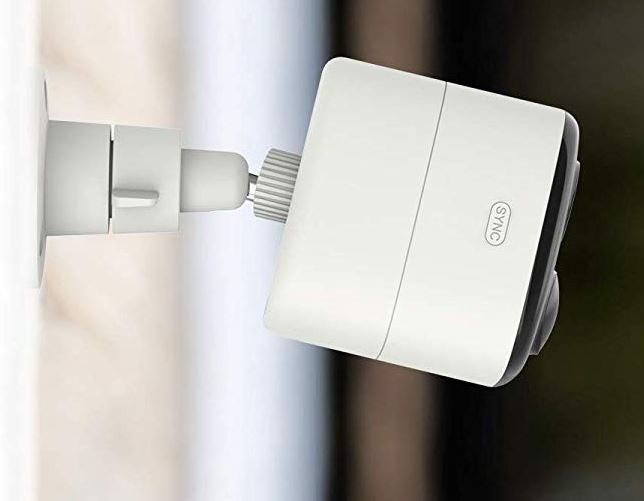 The downside of the wireless design is that you need to charge the batteries from time to time. Typically, they should last for about a week. However, this will depend on usage. If you're simply using the basic motion-sensor mode, they will last longer. If you're constantly monitoring the video, recording, and using the voice features, they won't last as long. Admittedly, recharging your security camera batteries can be a bit inconvenient. On the other hand, it's easy to do. As we already mentioned, the brackets attach and detach easily, so it's a simple process.
The storage options were a bit more disappointing. There's no SD card slot on the cameras, so local storage is simply not an option. Instead, you'll have to rely on TP-Link's cloud storage. The cloud storage is available for free for 30 days. After that, you'll have to pay a monthly fee. To be fair, the fee is very reasonable. But it's still irritating not to have a local option if you'd rather not pay for a cloud service.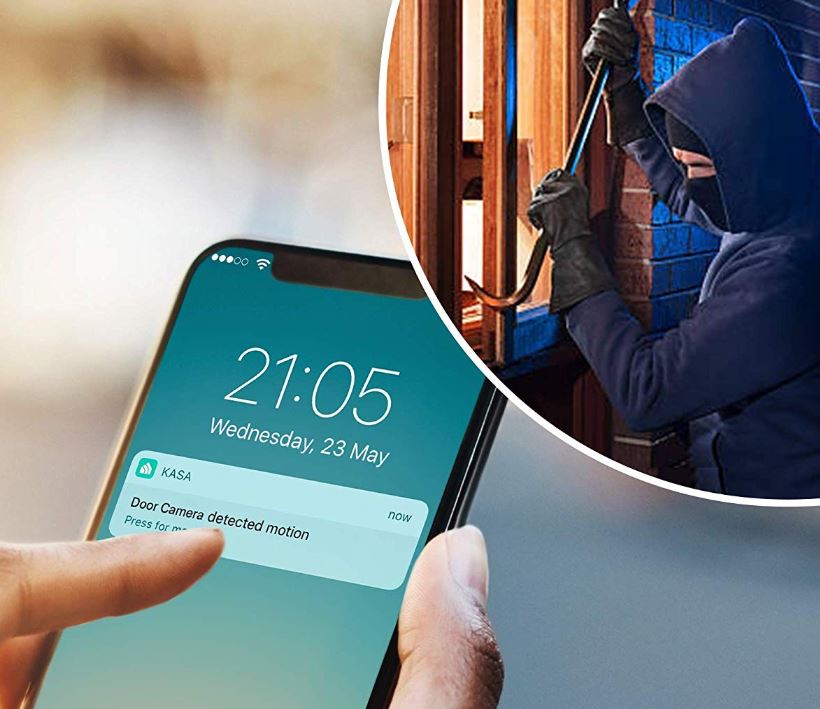 If you like the Kasa 2's look and feel, but don't need an outdoor camera, consider their original Kasa Spot. It's an indoor camera system with 4 cameras instead of 2, but it's otherwise similar to the Kasa 2. This also includes the cloud storage limitation, though, so keep that in mind.
Video Quality
The Kasa 2's camera resolution is 1080p. This is sufficient for most home security purposes. For example, you can easily identify a porch pirate, or see which one of your kids is getting home. That said, it's not sufficient for reading a license plate at a distance. This can make it hard to identify individual vehicles when they're out on the street. That said, this is a fairly unusual application, and it isn't generally necessary. The field of view is 130 degrees, which is medium. It's not a narrow field, like a 90-degree camera. But neither does it have the wide view of a 180-degree fisheye camera.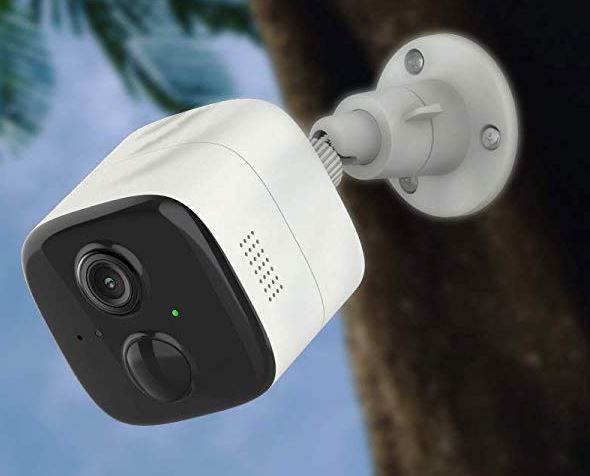 At night, the Kasai 2 cameras switch over to infrared mode. This happens automatically when it gets dark, so you don't have to switch it over manually. The active infrared system will function in any environment. Even if it's literally pitch dark outside, you'll still be able to see objects up to 25 feet away. The picture is crisp and clear, without any of the fuzziness you'll sometimes see on night vision cameras. That said, it's limited to black and white. This is normal for infrared, so it didn't disappoint us. Still, there are some cameras that can record color video in very low light conditions. The real question is whether you'd actually need that feature on anything other than a dash cam.
All of this being said, perhaps the best value of a security camera system is its deterrent effect. There's an argument to be made that all you really need is the appearance of a security camera. Thankfully, there are several excellent fake security cameras that offer exactly this deterrent effect. We've reviewed a few of these in the past.
Extra Features
Like many home security cameras, the Kasa 2 comes with a companion app, the Kasa Smart App. It provides alerts directly to your phone, based on motion and sound detection. The app allows you to set the sensitivity level, so you can avoid false alarms. When you receive an alert, a tap of your finger will provide you with a live feed from the camera. At that point, you can enable two-way audio. This allows you to say hi to a guest, or tell a delivery person to go around the side of the house. If you happen to spot a burglar or porch pirate, you can also activate the built-in siren. If the camera itself didn't deter them, the siren probably will.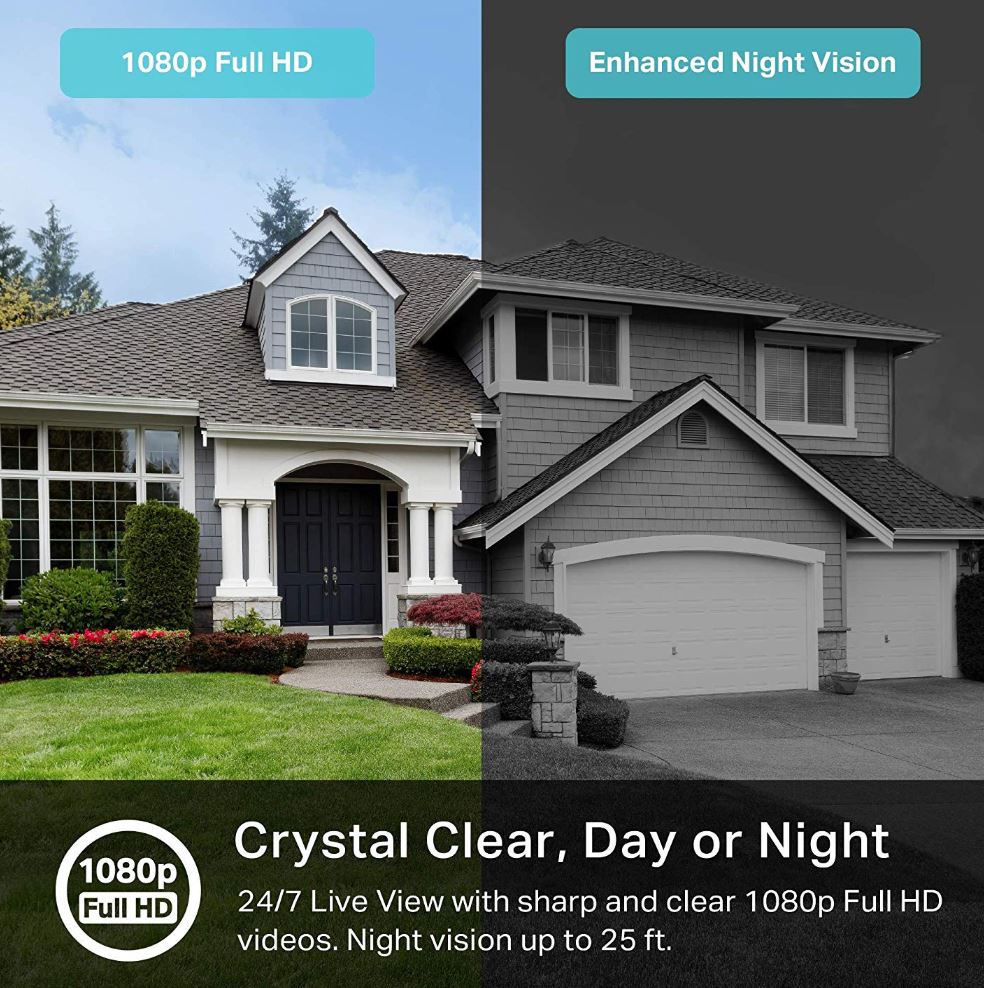 In addition to adjusting the sensitivity, you can also set activity zones. With this feature, you can mark off areas for the motion detector to ignore. For example, suppose there's a pet door in the lower left corner. You can turn the bottom left off to stop false alarms. The downside of this is that you can only designate four different zones. As a result, you can't pinpoint a single problem object, such as a wind chime. Still, it's a nice feature to have.
You can also bring up your live feed even when there's no alert. Pop in whenever you like via the app, or use Alexa or Google Assistant. You can even stream video to another device via Fire TV or Google Chromecast. Keep in mind, though, that this will drain your battery faster than leaving the camera off.
Final Verdict
At the end of the day, the TP-Link Kasa 2 is a great home security camera system. This is particularly true if you're not very tech savvy. There's no need to run any wires or perform any complicated setup procedures. The battery-powered design is somewhat limiting, since the cameras require regular charging. That said, they're easy to mount and dismount, so the process isn't terribly difficult.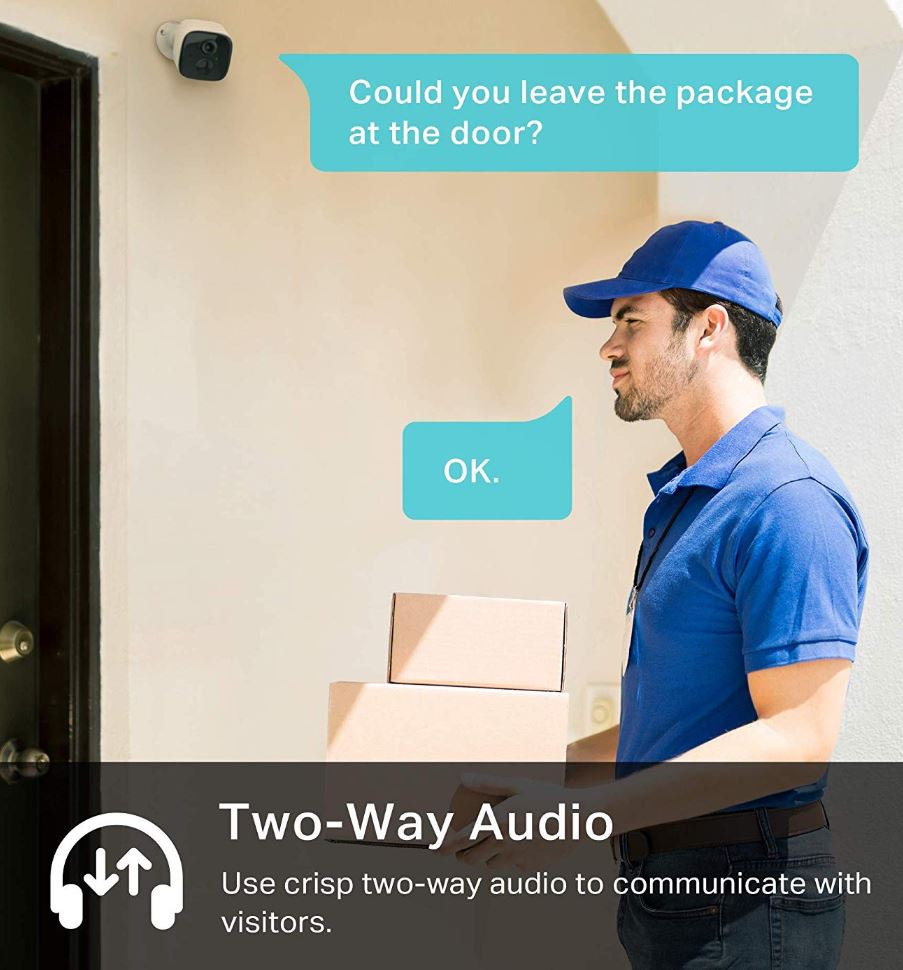 We also appreciated the app features. Whether you want a constant stream or just the occasional alert, you can watch your feed however you desire. The ability to set activity zones is somewhat limited, but still very functional. The only serious downside here is the lack of any local storage. Sign up for the cloud service, or you'll be limited to a live feed only. Storage aside, the Kasa 2 is still a good value for most people.