Quick Analysis
Pros
Blazing fast refresh rates and tear-free video.
Can operate from a battery or USB Type-C cable.
Portable and sleek design.
Wide viewing angle and 100% RGB color spectrum.
Cons
Poor speaker quality.
A bit heavy.
If you're serious about your gaming performance, you need a high quality gaming monitor. This means looking for different features than you'd look for in a business monitor or photo editing monitor. For example, a good office monitor is going to be affordable and long-lasting. That's about it. Conversely, a photo or video editing monitor should have a high contrast ratio and a full color gamut. A gaming monitor, on the other hand, requires a fast refresh rate and low latency more than anything else.
This might seem counterintuitive. Isn't 4K all the rage? Doesn't resolution matter? Yes, it does, on a large, 70-inch screen. But a smaller monitor is going to look just fine in 1080p. But no matter what your monitor size, a faster refresh rate is essential to eliminate blur and tearing. Similarly, low latency will give you that essential 1 or 2-millisecond advantage over your opponents.
On February 24th, 2020, ASUS will officially release their ROG Strix VG17AHPE Portable Gaming Monitor. This is a compact, portable monitor that's designed to maximize your gaming performance. We took a look at this little monster to find out how it really performs. Here's what we discovered.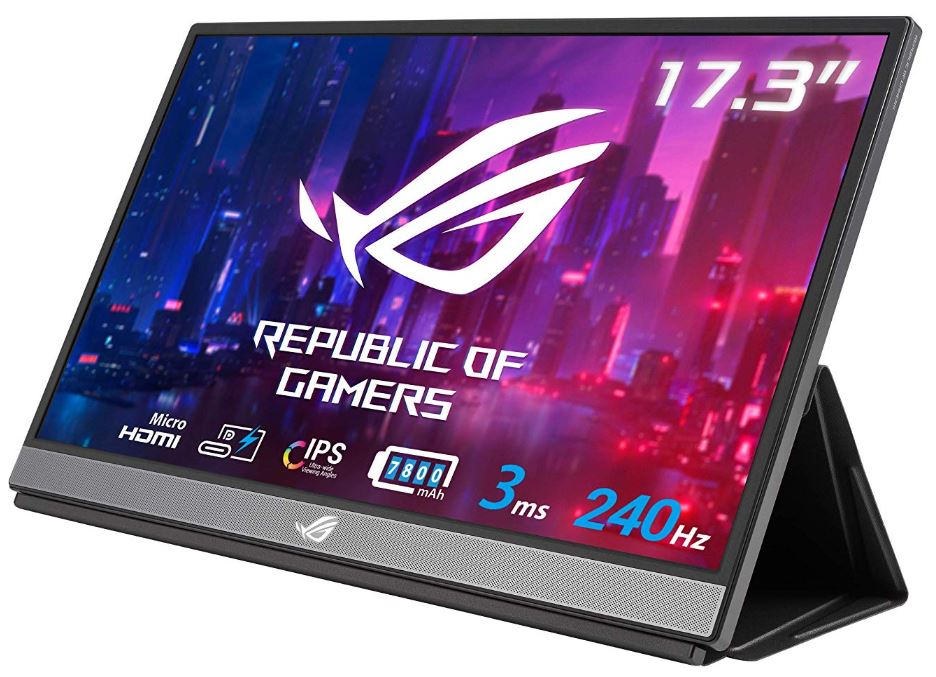 Design & Construction
The ROG Strix VG17AHPE measures 17.3 inches on the diagonal. At this size, it's not ideal for living room use, but that's just fine. It's designed to be portable, so you'd typically use it when travelling, or when gaming at a friend's house. When it's collapsed, it measures 15 inches wide, 9.9 inches deep, and 0.4 inches thick. This makes it easy to transport, whether you want to carry it in a laptop bag or a backpack. The slim form factor is easy to slip inside a pouch, right alongside your laptop.
One thing that did disappoint us was the overall weight. At 6.83 pounds, it's fairly heavy for the size. For reference, that's about the weight of 1 1/3 standard red clay bricks. So you'll be able to carry it around in just about any bag, but you're definitely going to feel the weight. Then again, if you want a lot of features and internal electronics, you're going to have to accept a certain amount of extra weight.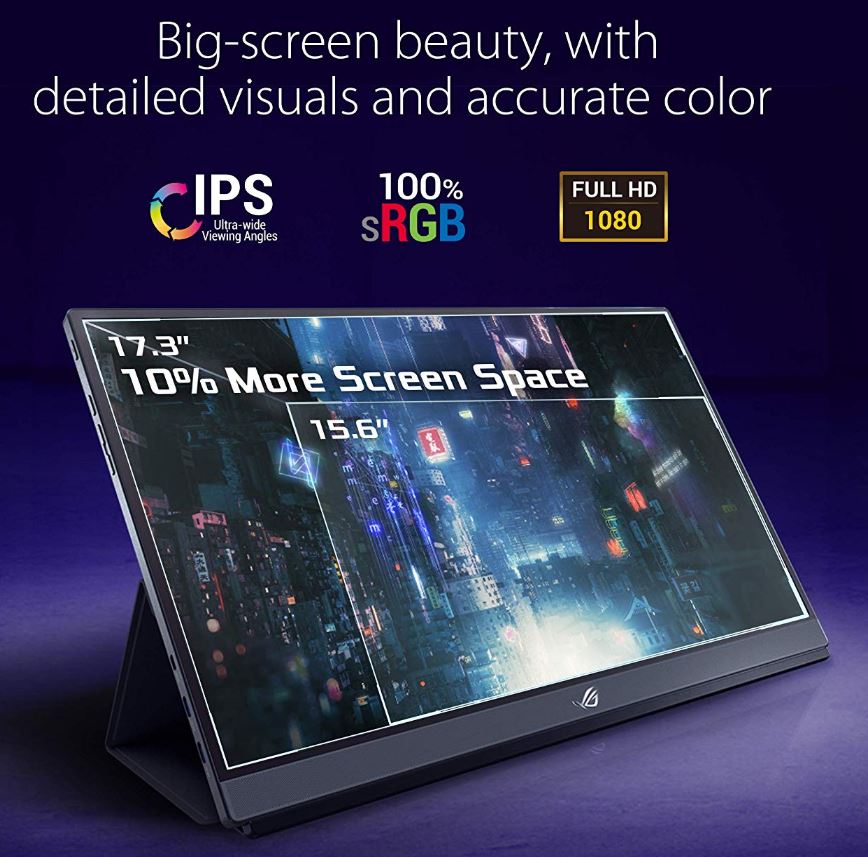 The ROG Strix has a versatile folding case that's designed to protect your screen when it's in transport. It's made of tough black PVC plastic that's virtually impervious to breakage under normal circumstances. When it's time to game, the case unfolds to become a stand, holding your monitor at a comfortable viewing angle. It can also support your monitor in portrait configuration. This isn't useful for gaming, but it does make the ROG Strix more versatile for other purposes.
The body of the monitor itself is also durable, with a PVC construction that's tougher than its ABS peers. The frame forms a minimal, unobtrusive border around the screen, maximizing the screen size. At the bottom of the screen, there's a grey speaker bar, with a white ASUS logo emblazoned on the center.
If you want a portable monitor that weighs a bit less, consider the Lepow Portable Monitor. It weighs only 1.7 pounds, so it's very easy to carry around. That said, there's less vibrancy, less color variety, and slower refresh rates.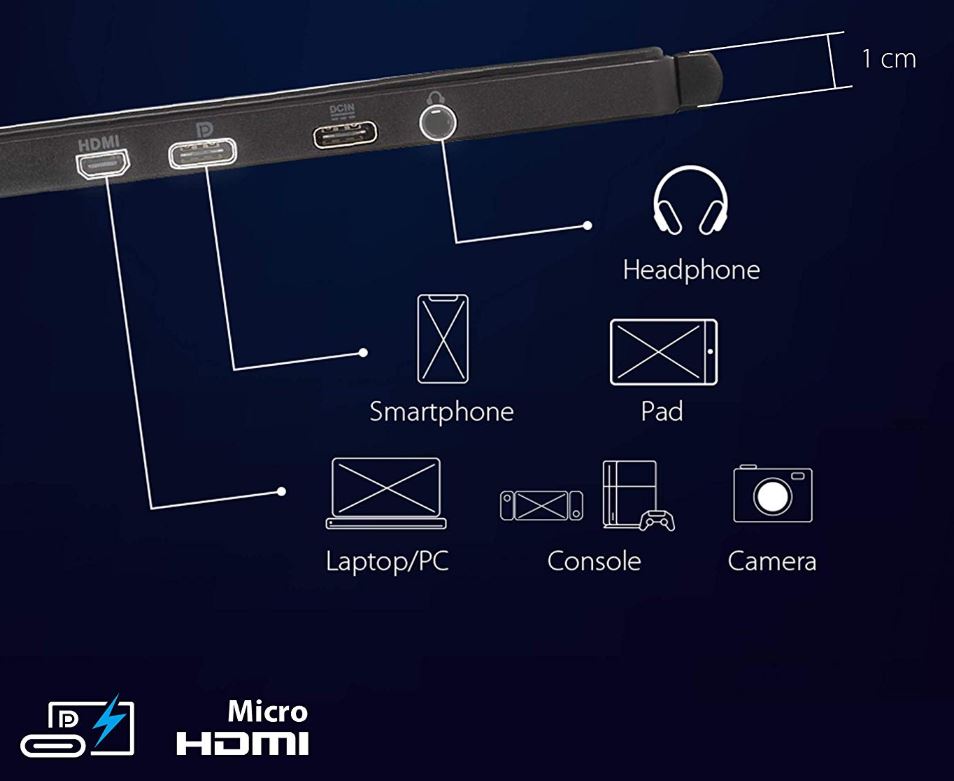 Connectivity & Battery
The ROG Strix offers you two different options for connecting to your gaming device. On the left side of the screen, you'll find a USB Type-C input, along with two micro-HDMI inputs. This allows you to connect to laptops, consoles, and even your smartphone. In a pinch, you can even connect a camera, or just about any other device with a display.
Above those inputs, you'll also find a set of buttons to switch between them. These buttons also turn the monitor on and off, as well as performing menu navigation functions. You can adjust the tint, sharpness, and all the other standard settings you'd expect to be able to manage. The buttons are small, but they click when you press them, which provides plenty of tactile feedback. You can easily make adjustments on the fly without having to look at the buttons.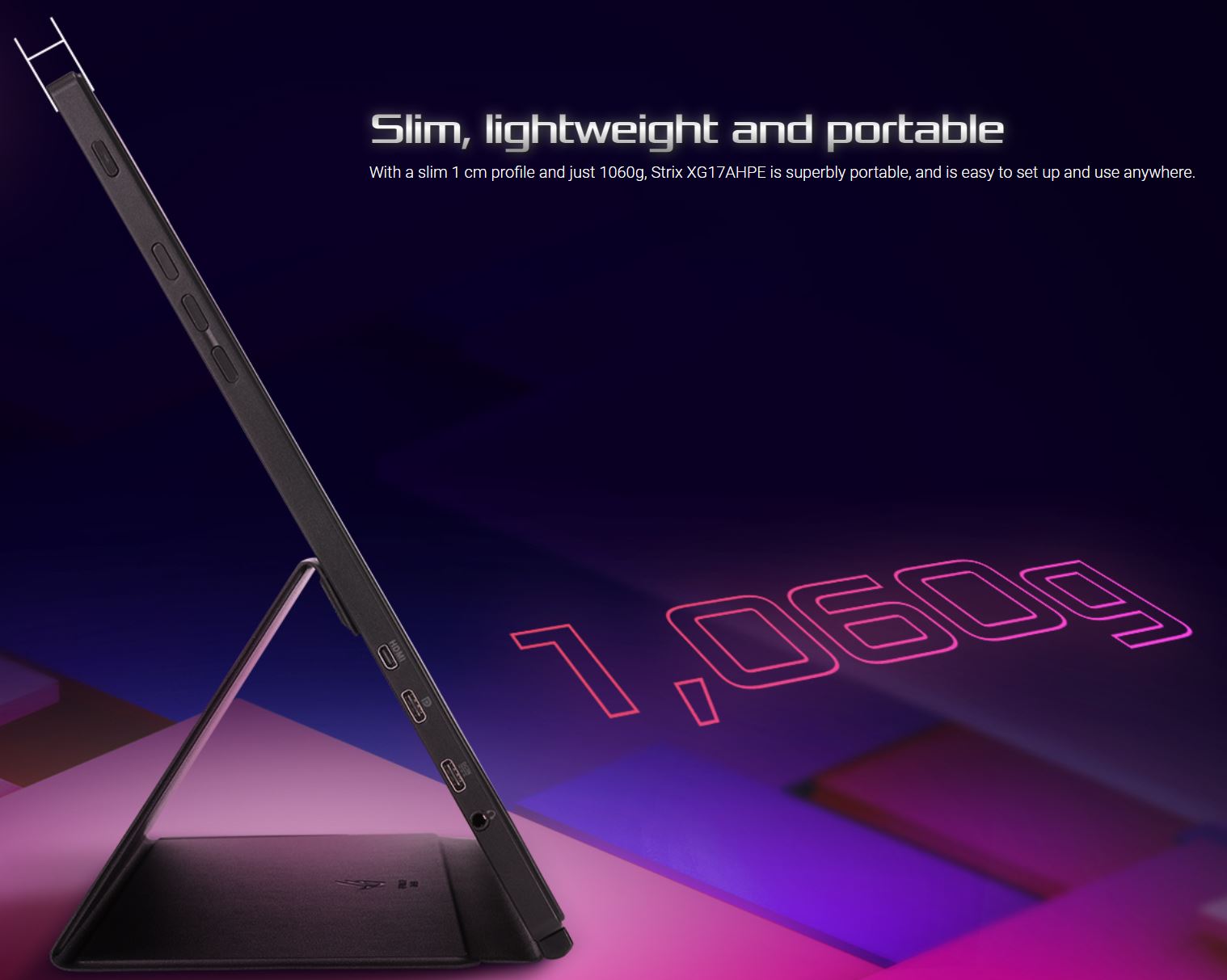 It can operate in two different ways. First, it can work as a basic wired monitor. Use the USB Type-C port to connect it to a charging block, and you'll get an infinite power supply. Keep in mind, though, that your charging block or power supply will need to support quick charging. If it doesn't, you're going to end up draining your battery, albeit at a slower rate.
Alternatively, you can run the ROG Strix directly from the 7800mAh battery. In this mode, it will support a full 3 hours of use, even at the maximum refresh rate. It can operate even longer if you lower the refresh rate, but slower if you're using the built-in speaker. Either way, it will recharge in about 90 minutes when connected to a quick-charge power supply. But it will take up to 3 hours to charge if your power supply does not support quick charging.
If you don't need a portable monitor, why not choose a stationary gaming monitor? The ViewSonic Elite XG270 is an excellent choice. It has a 27-inch screen, and features a built-in headphone bracket and left and right-handed mouse anchors.
Resolution and Color Quality
Before we talk about gaming-specific considerations, let's take a look at some of the ROG Strix' most basic features. These features are less important for gaming, but they're still important considerations. After all, better color quality and resolution will provide a more immersive gaming experience.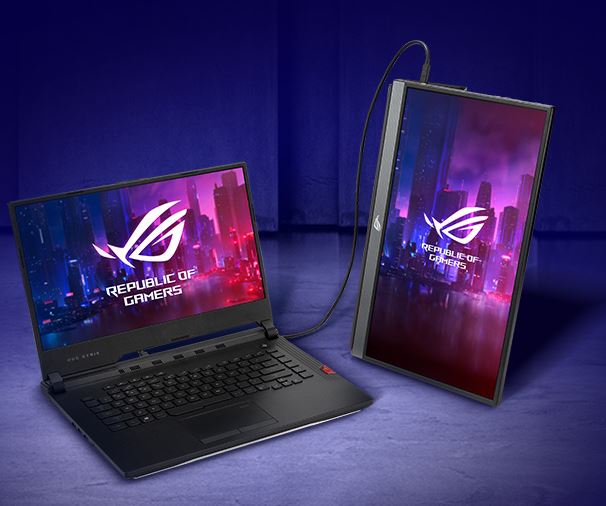 To start with, the overall resolution is 1080p. This might seem underwhelming for a brand new gaming monitor. However, with a 17-inch screen, you're not going to notice a difference between 1080p and 4K. This is because of pixel density. Simply put, there's a limit to the resolution our eyes can distinguish on a smaller screen. For anything 27 inches and smaller, 1080p is functionally the best resolution we can distinguish. Are there smaller monitors with 4K resolutions? Sure. But it's a marketing gimmick, and it's really unnecessary.
The color gamut is rated at 100 percent RGB. Simply put, this is the best color gamut possible. It means that the ROG Strix can display every possible color on the RGB color spectrum. In practical terms, 85 percent is going to be good enough for most people's purposes. Much like with resolution, our eyes can only distinguish so many colors, so 100 percent RGB is superfluous. One thing ASUS did not provide was a contrast ratio. The contrast ratio is a measurement of the difference between the lightest and darkest colors on the screen. Rest assured, whether or not ASUS has provided a rating, the contrast ratio is good. Dark images are easily distinguishable, even with the contrast set at the default setting of 50 percent.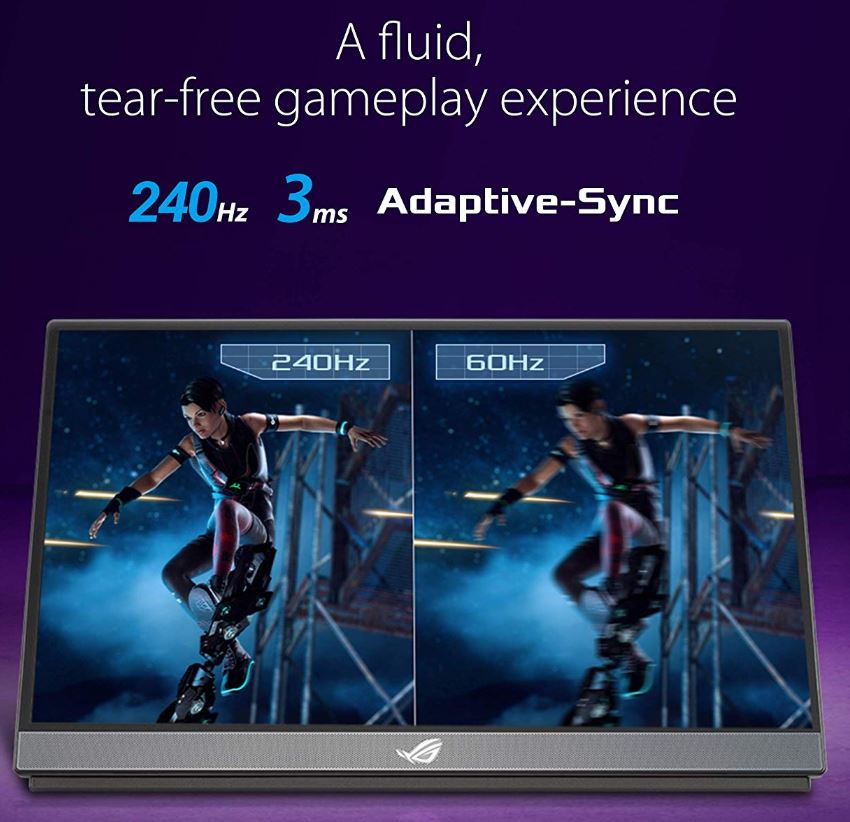 The ROG Strix' LCD panel uses IPS technology. This allows for wide viewing angles, outside of your standard 70 to 80-degree viewing angle. Even when viewed from the side, the screen is still clearly distinguishable. Again, this isn't necessarily a big deal for gaming, since you're probably watching the screen head-on. But if you're using the monitor to watch a movie with your friends, it's a nice feature to have.
For a similar-quality monitor in a stationary format, consider the LG 27GL850. It has a heavy-duty construction, and the screen is even hardened to prevent damage.
Refresh Rate and Other Gaming Considerations
The main attraction of the ASUS ROG Strix XG17AHPE is the impressive, 240Hz refresh rate. This is so fast that it's almost ridiculous. Even the best gaming rigs aren't going to be able to play a new, AAA game at 240 frames per second. That said, it provides a couple of benefits.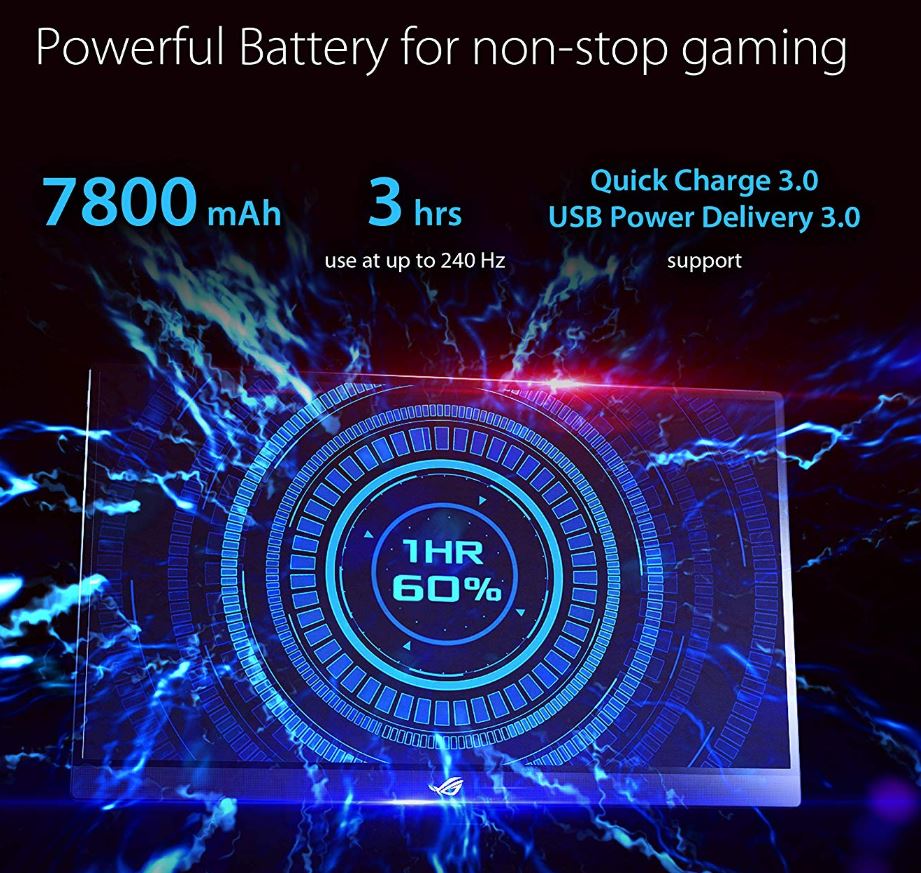 First off, it future-proofs the monitor for at least the next decade. Secondly, it's a great feature for less demanding games. For example, Fortnite and DOTA aren't the most graphically-demanding games on the market. A quality gaming PC can absolutely run these games at 240 FPS.
The ROG Strix also has a couple of other features that reduce motion blur. For example, it integrates adaptive-sync, which allows for minimal tearing. The grey to grey time is a blazing fast 3ms. In other words, the monitor can switch between two similar shades almost instantaneously. Combine that with a 1ms latency time, and you've got yourself one of the best monitors available for gaming.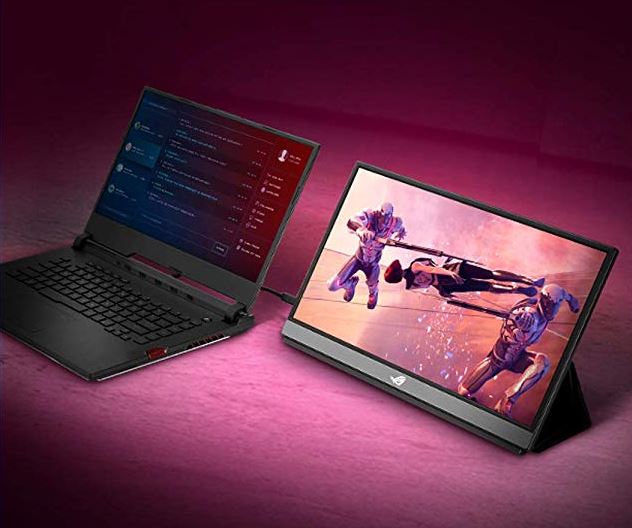 The built-in speaker, on the other hand, is mediocre at best. To be sure, it's loud enough to hear. But at anything over low volumes, the audio sounds tinny and the bass just isn't present. This didn't surprise us. You just can't expect a whole lot from speakers this small. Besides which, there's a headphone jack. If you want good quality sound, use a pair of quality headphones. Alternatively, plug a quality gaming headset directly into your PC or console.
Final Verdict
So, how does the ASUS ROG Strix XG17AHPE stack up to the competition? To begin with, we loved the overall design. It's tough and rugged, albeit a bit heavy. If you don't mind a little extra weight in your bag, you'll love the durable construction. Similarly, the battery-powered design is innovative. You can plug it in or take it on the road. Just make sure your power supply supports quick charge technology.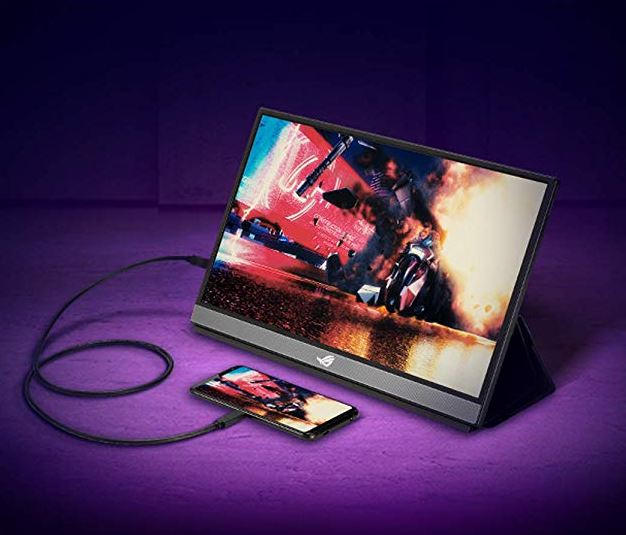 But where the ROG Strix really shines is when it comes to gaming-specific performance. The 240Hz refresh rate is, frankly, absurd. There aren't many monitors on the market that support this fast of a framerate. You also get minimal tearing and motion blur, for a crisper, cleaner image during high-speed scenes. Finally, the latency is exceptionally low, so you won't find yourself lagging behind your competitors. All in all, the latest ROG Strix is a solid monitor, and we're excited to see it hit shelves.
Meet Derek, "TechGuru," a 34-year-old technology enthusiast with a deep passion for tech innovations. With extensive experience, he specializes in gaming hardware and software, and has expertise in gadgets, custom PCs, and audio.
Besides writing about tech and reviewing new products, Derek enjoys traveling, hiking, and photography. Committed to keeping up with the latest industry trends, he aims to guide readers in making informed tech decisions.