Quick Analysis
Pros
Fast 15-watt wireless charging.
Secure, motorized grips.
Attractive look is suitable for nice cars.
Several mounting options.
Cons
Can't take your phone out when the car is turned off.
Dash cam app offers no real benefits.
Car chargers have been around for a long time, since the very first cell phones. If you've been around long enough, you might even remember dedicated "car phones", which were hardwired into your vehicle. But new technology has now brought us the ability to charge wirelessly. What if you don't want to wear out your phone's USB port by plugging it and unplugging it constantly?
To answer this question, Fiora has created a wireless charger that's designed for automotive use. It clamps your phone in place, securing it right on top of the charging pad. The best part is that you can just leave the car charger plugged in, without having to fiddle with it. It even comes with a dash cam app! All of this sounds fantastic in theory. But what are we actually looking at, here? Do these features actually work? We're about to take a close look, and let you know exactly what to expect. Let's get going!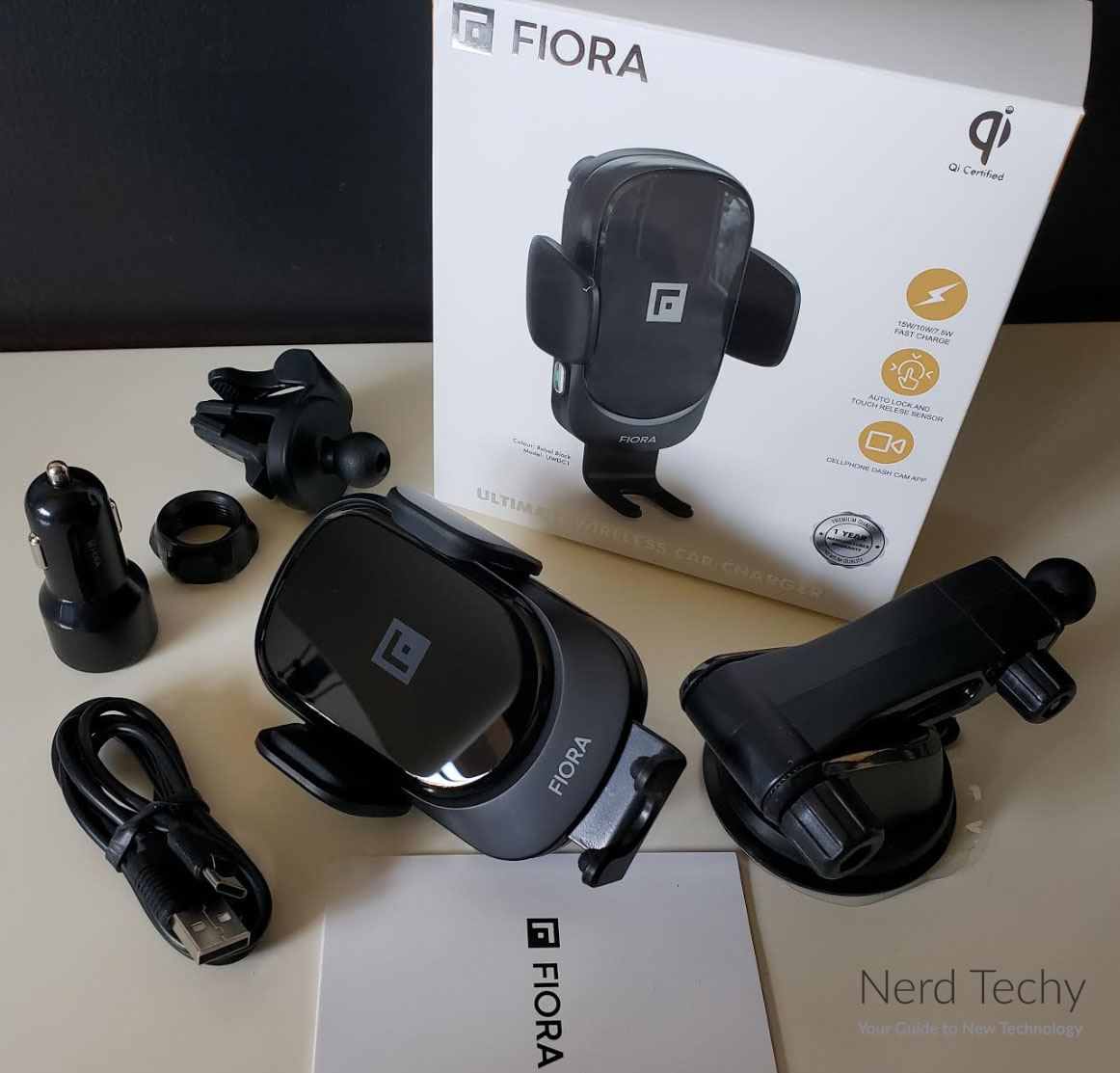 Overall Design
The Fiora Ultimate Wireless Charger is designed for semi-permanent installation. Now, don't get concerned. It's easy enough to move around. It's just convenient to leave in place and plugged in. Along with a powerful suction cup mount, it also comes with an air vent clip and CD tray mount. This allows you to install it in just about any vehicle. The suction cup mount is particularly impressive and powerful. If for some reason none of these options works for you, you can still use it. The Ultimate Wireless Charger also has a standard ball mount for using third-party hardware. Get it mounted, plug it into your car's 12V power outlet, and you're ready to go.
The charger measures 3.7 inches wide, 3.7 inches high, and just over half an inch thick. These are the maximum dimensions, when the tension grips are fully extended. If your phone is smaller than this, it's going to be somewhat smaller. It weighs in at 1.65 pounds, light enough to mount just about anywhere in your vehicle.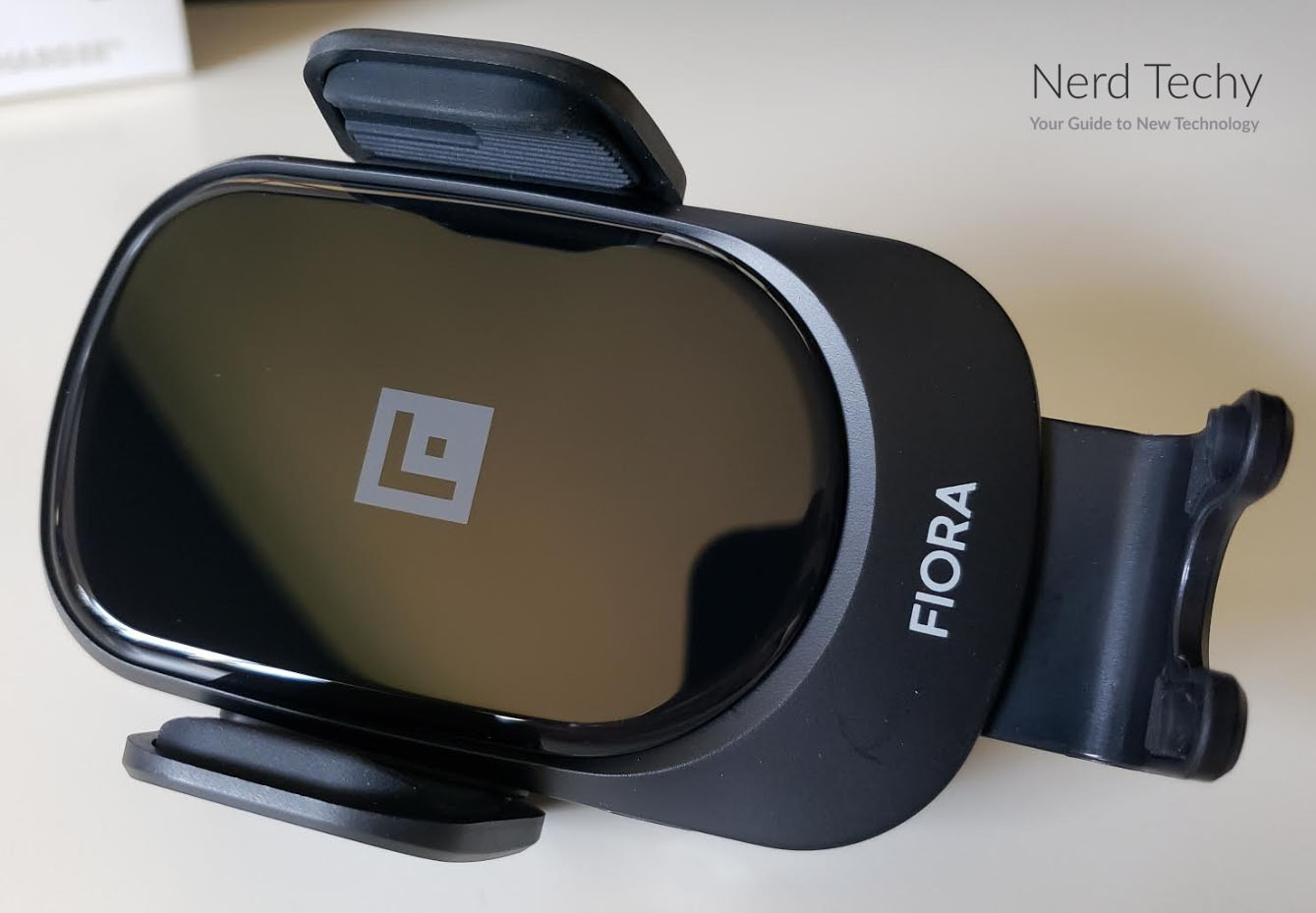 The overall look is very attractive, suitable even for high-end vehicles. It's available in 4 different colors: grey, silver, black, and red. Each version has a green LED light on both sides, indicating when it's plugged in. The grips on the sides are soft and padded, protecting your phone from scratches. Behind them, a built-in Qi pad is designed to charge your phone easily. Because the Ultimate Wireless Car Charger is always plugged in, it's easier and more convenient than most other options. There's also a small padded support underneath your phone, providing additional support. The Qi pad itself is padded, too, with an embossed Fiora logo. No need to worry about your phone getting scratched.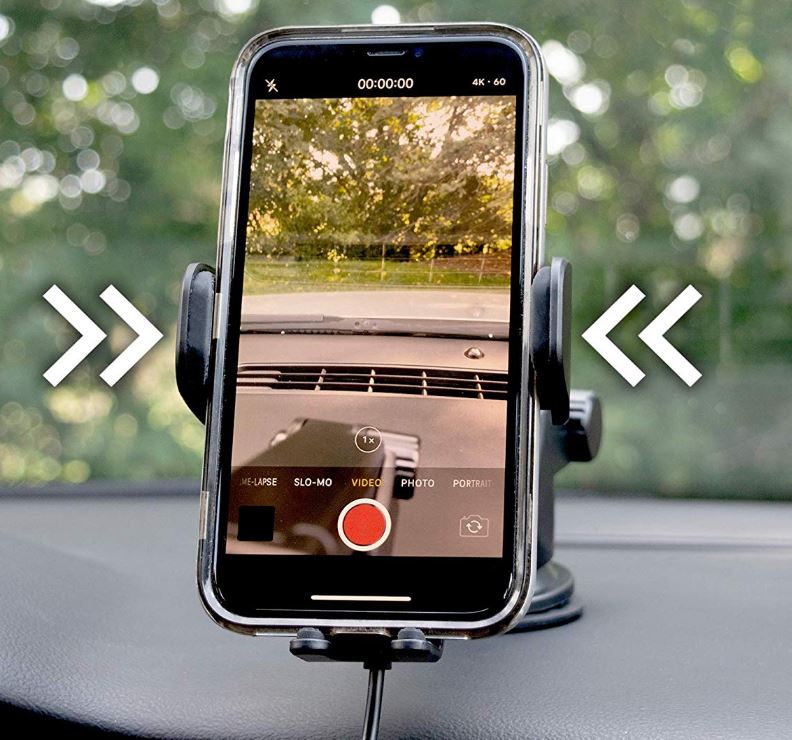 The tension grips themselves are motorized, and cannot be operated manually. This performs a couple of important functions. First, it ensures that you won't install your phone too loosely, so it won't accidentally get dropped. On the flip side, this also ensures that you won't clamp them down to hard and damage your phone. This secure grip provides another essential function. It keeps your phone in the exact right position. This is necessary to ensure that the built-in cooling system works.
Now, you shouldn't need to worry about your phone overheating under normal circumstances. But it's been known to happen from time to time with wireless chargers of all different types. A built-in fan blows air over your phone constantly, so it won't overheat. This is a great safety feature, and we very much appreciated it. Fiora also ensures that you're protected if their Ultimate Wireless Car Charger should ever fail. It comes with a 1-year warranty, as well as lifetime customer support. That's some of the best manufacturer support you're going to find in this business.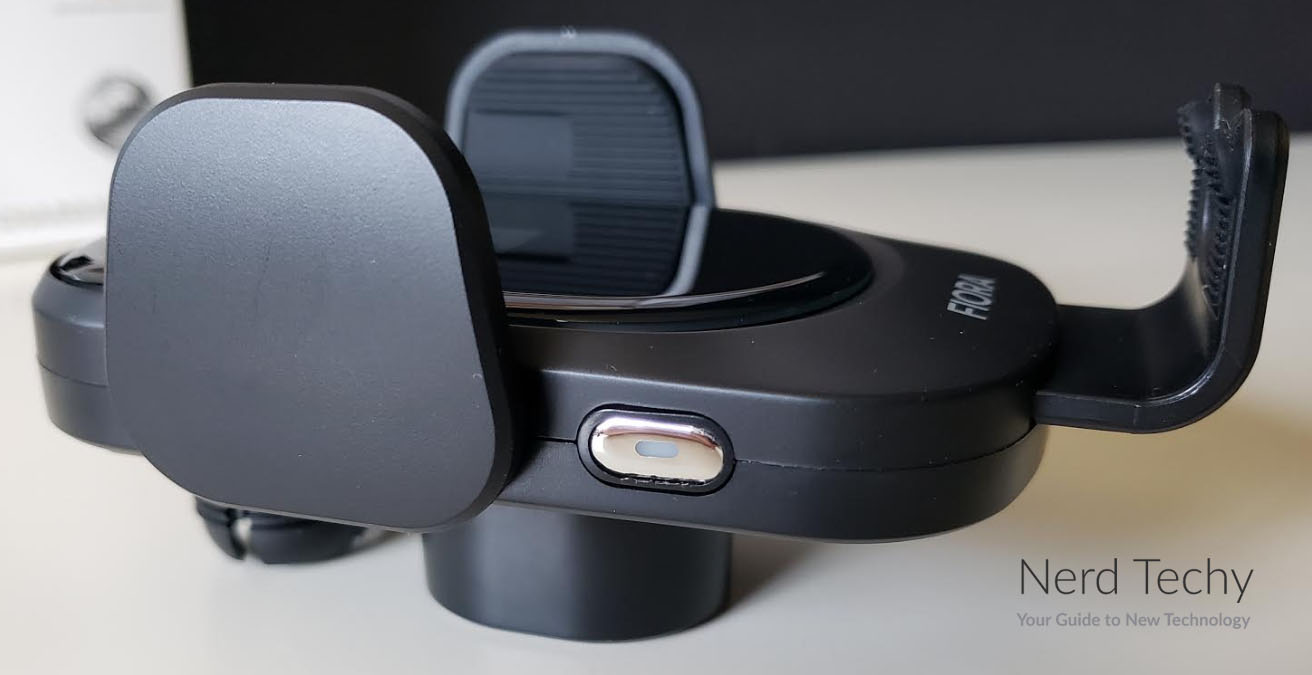 We should point out that the motorized tension grips do have a small downside. They only work when your car is turned on. This isn't a big deal under most circumstances. Presumably, you're only using the car charger when you're actually using your car. That said, if you turn your car off without removing your phone, you won't be able to retrieve it. It's not too inconvenient. Just turn your car back on and remove your phone. But it's still something to keep in mind if you frequently shut your car off.
There's also a touch release sensor built into the unit. All you have to do is give your phone a tug, and the mounting grips will automatically release. This ensures that it's easy to grab your phone quickly when you're on the go.
What's in the Box?
There's a lot to unpack here, so let's take a look at everything that comes in the Fiora's box. Here's what you'll get:
Fiora Ultimate Wireless Car Charger
QC 3.0 fast charge car adapter
USB Type-C charging cable
Air vent clip
CD player mount
Suction cup mount
Download code for Ultimate Dash Cam App
Owner's manual
Charging Technology
As we mentioned, the Fiora Ultimate Wireless Car Charger opens to a maximum width of 3.5 inches. This is sufficient to accommodate just about any phone on the market. Even the enormous Samsung S10+ will fit just fine, as will the iPhone 10. The only time you're likely to run into an issue is if you use a big, beefy phone case like the Otter Box. In that case, you might need to go with a smaller phone case or a different car charger.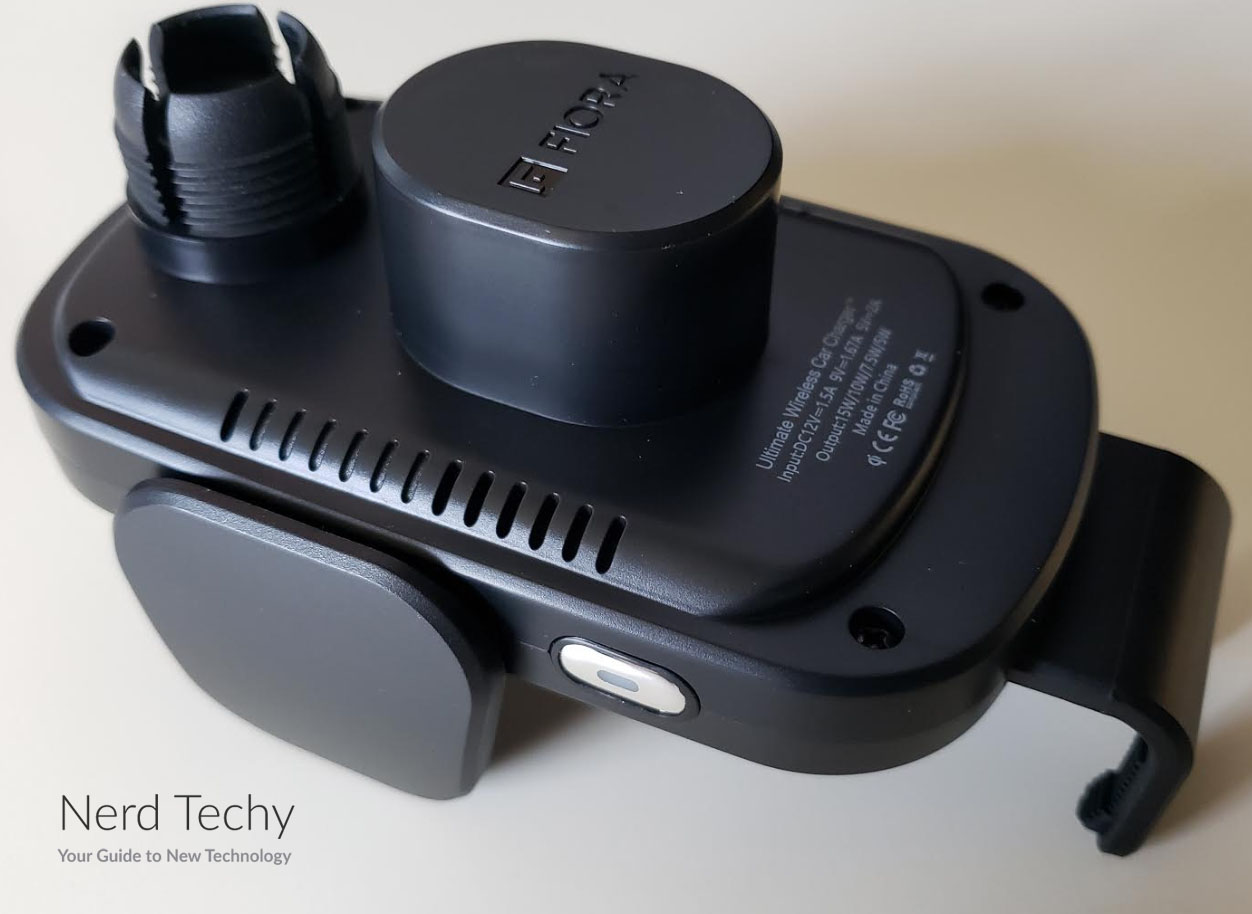 If you do decide to go another direction, there are plenty of options on the market. Recently, we reviewed the best wireless car charger mounts on the market. There, you'll find our thoughts on offerings from CLEEBOURG, Andobil, and iOttie. If you need a quality wireless car charger, you're virtually guaranteed to find what you're looking for.
That said, the Ultimate Wireless Car Charger is one of the most powerful wireless chargers available on the market. The USB Type-C charging cord provides a whopping 15 watts of power, the fastest supply available. Most Qi chargers only deliver 9 or 12 watts, making the Ultimate Wireless Car Charger far superior. Your exact charging speeds will vary depending on your phone and case. But with a charger this powerful, you don't need to worry about your battery draining due to use. Use hands-free calling to call your friends, run your GPS, and use Fiora's app at the same time. You won't have any issues with your battery slowly draining due to heavy use.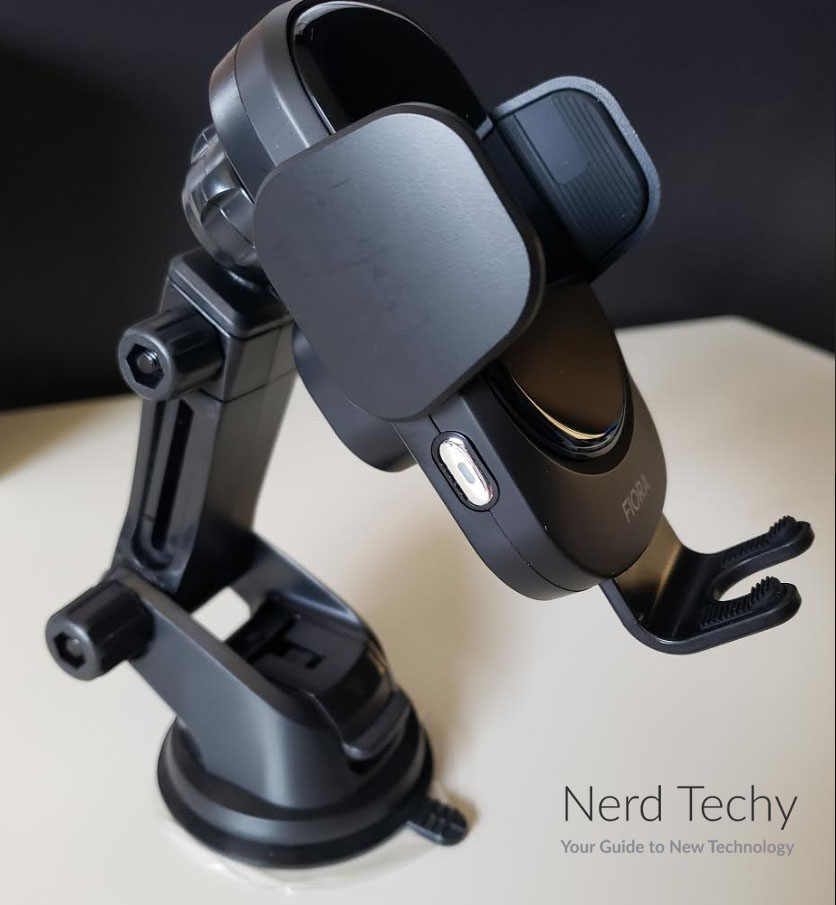 Dash Cam App
One of the things that intrigued us about the Fiora Ultimate Wireless Car Charger is the included dash cam app. After all, dash cams are rapidly becoming an essential security feature for modern vehicles. Add to that the extra cost of a dash cam, the extra power drain, and the space required. An app seems like a great solution! So we decided to take a closer look at this feature.
When the Ultimate Wireless Car Charger first launched, the app was not even finished. This disappointed many early customers, who were looking forward to this feature. To their credit, Fiora was upfront about the fact that they were still debugging the app. Eventually, they did indeed launch it, and honored their promise. The Ultimate Dash Cam App is available on iOS and Android, and is free with a Fiora download code. A unique code comes with each of Fiora's car chargers.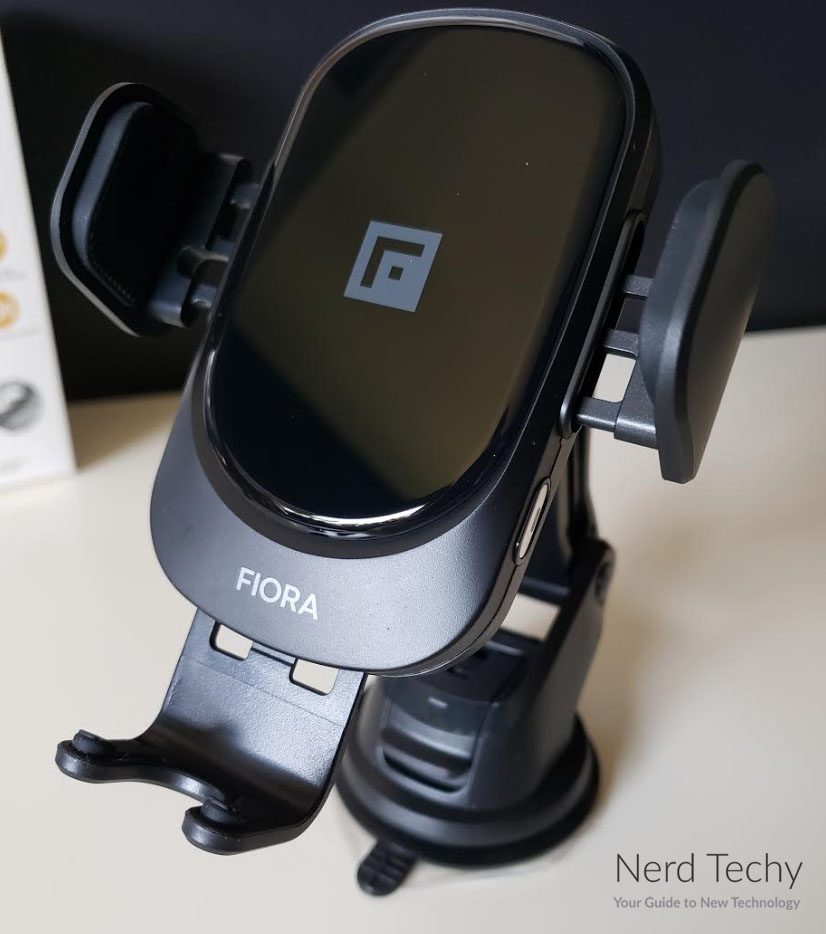 The theory behind the app is simple. With your phone mounted on your dashboard, your camera is already facing out the front of your car. By using an app, you can eliminate the need for a standalone camera.
Unfortunately, the app is riddled with issues. This isn't to say that it doesn't work. It does. Your phone's camera will record out the front of your car. The problem is that it doesn't actually do anything else. You could just as easily get this feature from a free app, or just from setting your camera to record.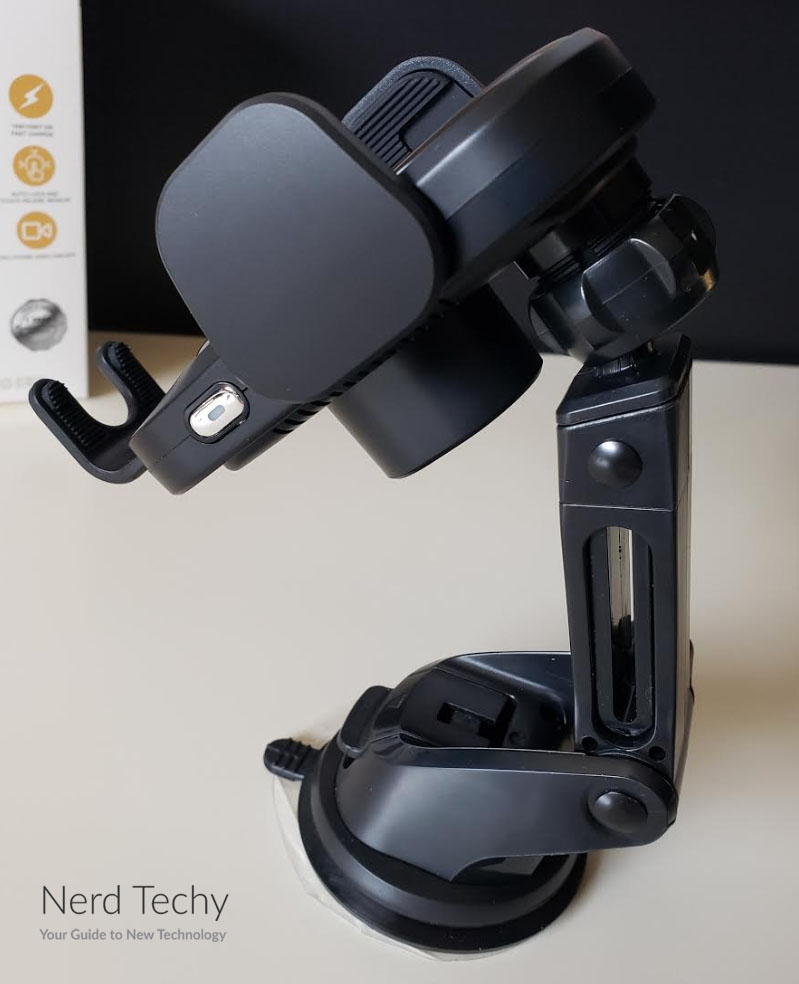 If you absolutely need a quality dash cam, there's simply no replacement for a dedicated device. For example, check out our review of the Viofo A129 Pro. It pairs a powerful 4K front camera with a 1080p rear camera. It also comes with an optional GPS module, allowing you to save a lot of battery life.
Final Verdict
So, at the end of the day, how does the Fiora Ultimate Wireless Car Charger stack up? To begin with, let's look at the one negative: the app. It simply doesn't do anything you can't already do for free. This isn't a deal-breaker. The Ultimate Wireless Car Charger still has a lot to offer. But if you were considering making a purchase based only on the app, give this one a hard pass.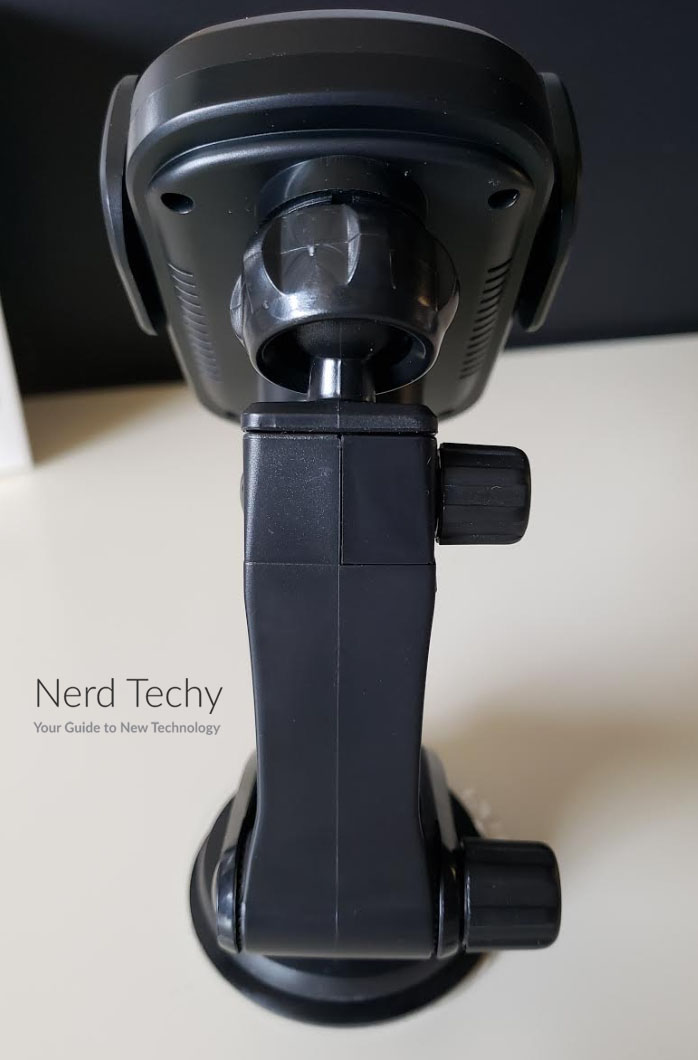 That said, we loved the charger itself. Let's start with the mounting options. You can attach it to your windshield, your air vent, or your CD player. No matter how you want to carry your phone, you're well set up. In addition, the motorized grips were also impressive. There's no fooling around with a ratchet or manual clamp and wondering if you've got the right tension. Fiora takes care of all of that for you.
In addition, we really liked the cooling fan. As we mentioned, you shouldn't have to worry about overheating, at least in theory. But from time to time, even the best Qi chargers can damage your phone. By building a fan into the design, Fiora ensures that your phone is safe. The soft, rubbery grips also protect your phone and case. This ensures that you don't have to worry about scratching. If you want a safe, convenient wireless charger, the Ultimate Wireless Car Charger is a solid choice.