So, you want to buy some new headphones. Surely, you can just hop online, find a pair or three, and decide between them. But you start looking, and soon, you're overwhelmed with options. There are just so many of them, and it's not always apparent which ones are worth buying. If you're not already an expert, it's nearly impossible to tell which ones are any good.
The reason for this is that good wireless headphones are actually a relatively new phenomenon. A few years back, wireless audio was downright awful, to the point where you couldn't even listen in stereo. But the invention of True Wireless Stereo (TWS) changed the playing field. And when Apple's AirPods proved that there was a market for good wireless audio, other companies noticed. Before long, just about everybody was marketing their own pair. The resulting competition has led to plenty of options, but an equal amount of confusion.
Today, we're going to review the OneOdio A30 ANC Bluetooth Headphones. These are large, over-ear headphones that are designed more for music than for calling. That said, there's a lot more to a pair of earbuds than just the fit. We'll go over everything, from the ergonomics to the quality of the audio. We'll also touch on the battery life, the Bluetooth connection, and the control scheme. After we've covered all the bases, we'll have a more complete picture of what we're dealing with. At that point, we'll be prepared to render our verdict. Let's see what there is to learn about these stylish headphones!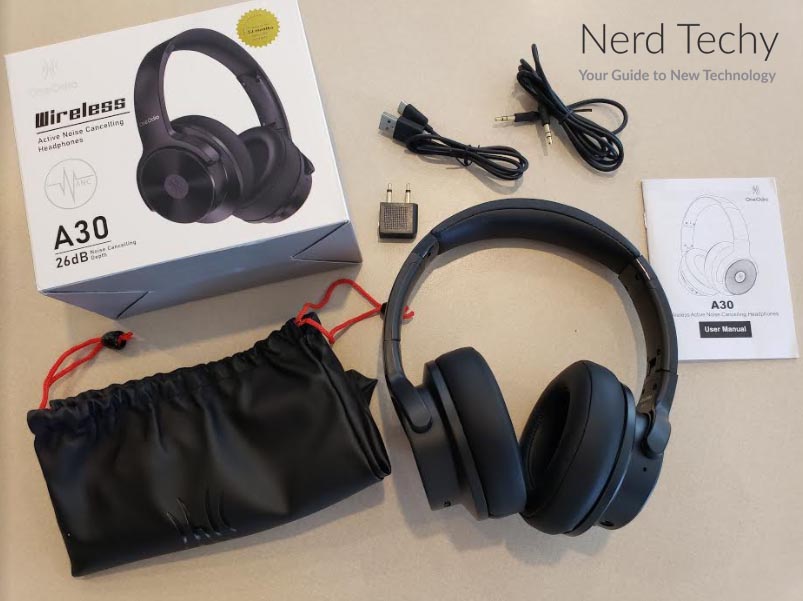 Overall Design
The OneOdio A30 ANC Bluetooth Headphones are big, black, and bold, a serious fashion statement. In part, this is a matter of function as much as form. The cups are made to cover your entire ear, and contact your head from your jaw back to the side of your skull. The inevitable result is a wide, flat set of ear cups. But OneOdio leans into this design, with a headband that's wider and flatter than it needs to be. This accentuates the wide ear cups, creating a unique, fashion-forward design.
So, why would OneOdio make the ear cups so wide to begin with? The simple answer is comfort. By spreading the weight and pressure over a larger area, you get a gentler fit without sacrificing overall security. The padding isn't as thick as some other headphones, but it doesn't really need to be. Because the weight is well distributed, there's not enough pressure to cause discomfort. This is true even if you're wearing your headphones for a long period of time.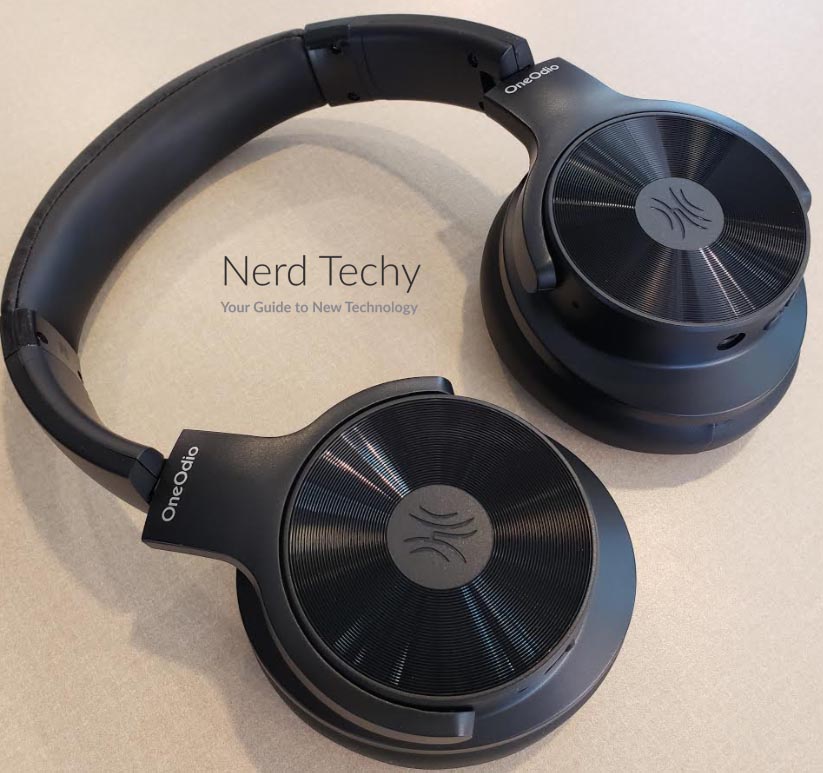 If you prefer a different fit altogether, the Mpow X6 Hybrid ANC Headphones are an excellent choice. They're actually earbuds, not headphones, with a compact, in-ear design. They're very ergonomic, and they're easy to transport. However, the batteries don't last very long, which limits their versatility.
The A30 headband is lightly-padded, but the padding is dense, with a slick PU leather finish. When extended, they reveal a flat steel inner frame, which is sturdy as well as flexible. The cups themselves can be tilted, rotated 360 degrees, and flexed 180 degrees. This means they can be maneuvered to fit literally any face. Even better, they can be folded completely flat for travel. So despite the ear cups' large size, the headphones as a whole are surprisingly portable.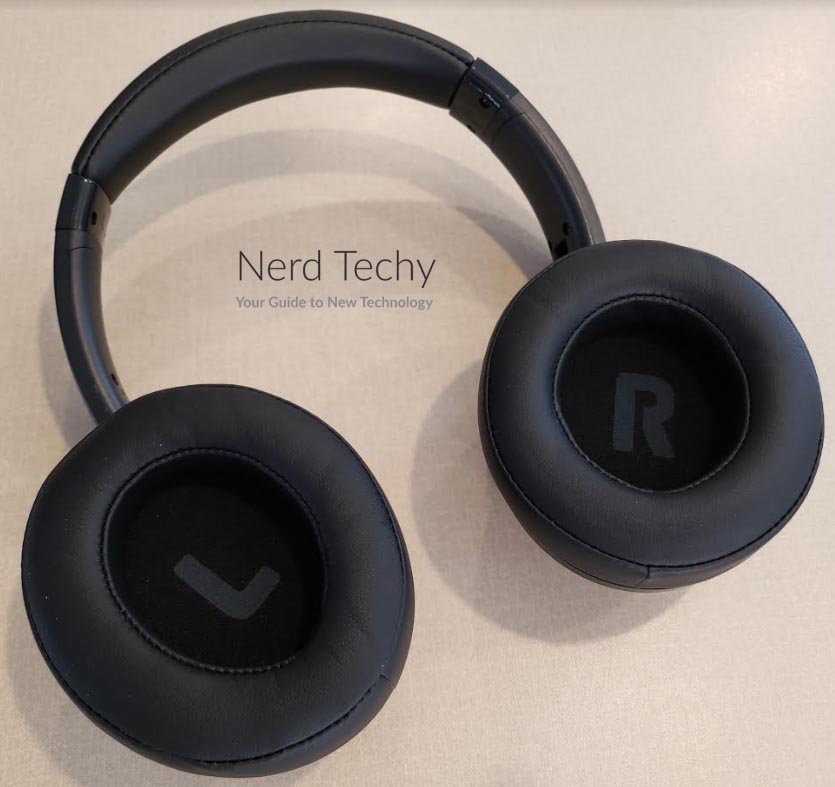 The controls are split between the left-hand and right-hand ear cups. On the left, you'll find the power button, along with a pair of volume buttons. These buttons are also used for hands-free calling, so they perform a variety of functions. This ear cup also houses the 3.5mm aux port, for forging a wired connection. The right ear cup is host to the USB Type-C charging port, as well as the Active Noise Cancelling (ANC) switch. Be careful with this switch. When left on, it keeps noise cancelling active, even with the main power button turned off. This is good if you want to take a nap. But if you set your headphones down and leave the switch on, your battery will continue to drain.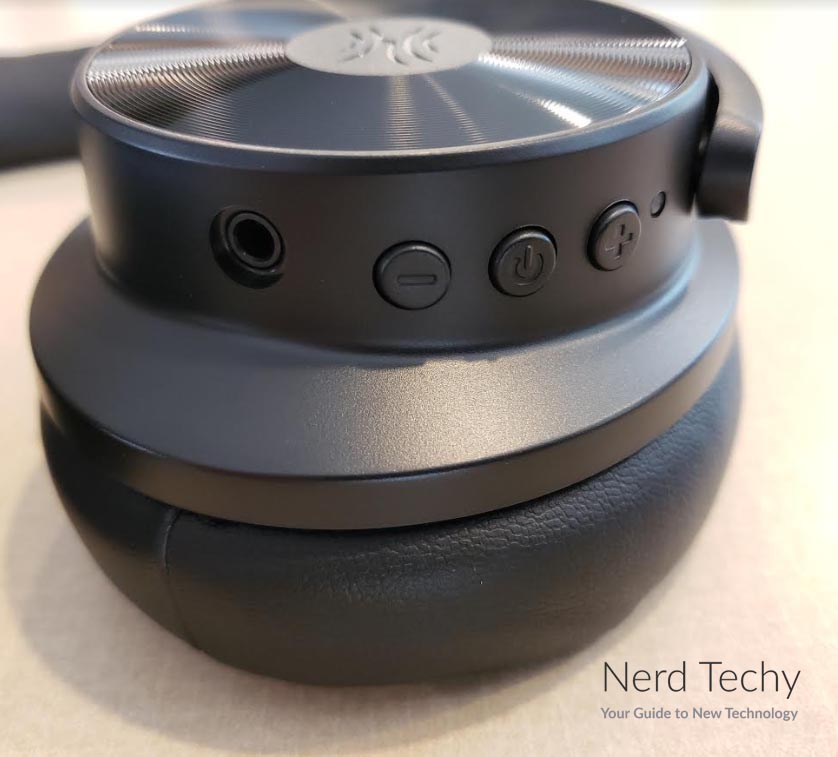 Along with the headphones themselves, you also get the accessories you need for operation. There's a USB Type-C charging cable, along with a charging adapter, which is a nice addition. Another nice addition is the two-prong in-flight plug adapter. Combined with the 3.5mm aux cable, this allows you to plug into airline seats for in-flight entertainment. A drawstring pouch ties it all together. It's not scratch-proof, much less crush-proof, but it at least keeps all your gear together.
Battery & Connectivity
Like most ANC headphones, how long the A30's batteries will last will depend on how they're being used. This is because the ANC chipset and mics draw a lot of juice in their own right. When used purely as headphones, you can expect up to 25 hours of playtime. This assumes playback at medium volume, so your mileage may vary. But even with the volume cranked up to 11, you'll still get well over 20 hours. With ANC active, this drops to about 15 to 18 hours, which is still pretty good for a single charge. With ANC active all by itself, your battery life will be as long as 45 hours. No matter how you cut it, that's fairly impressive.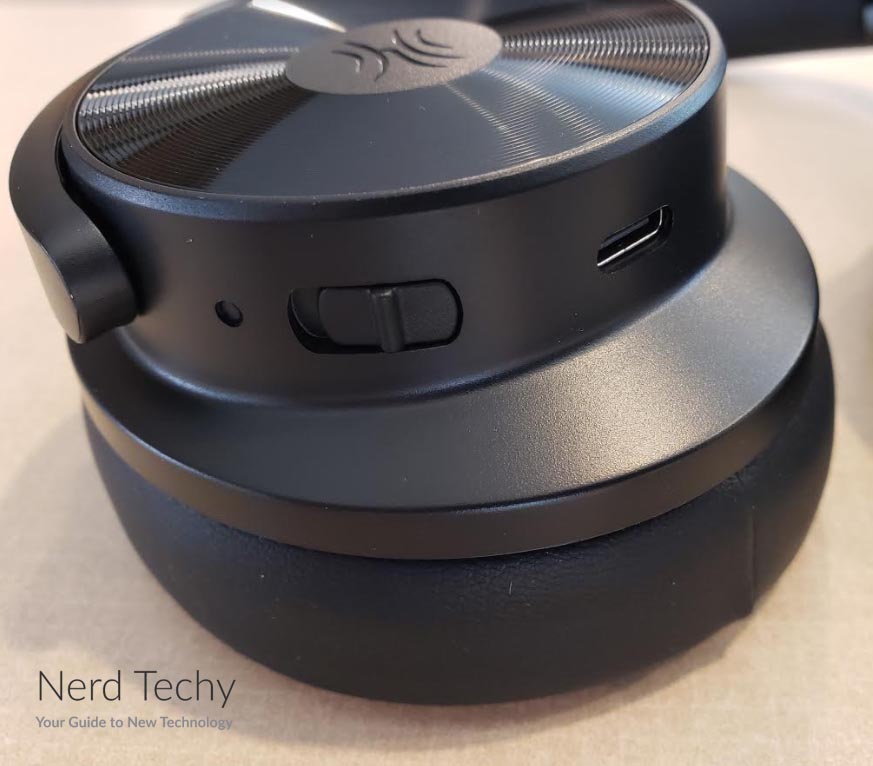 Charging the headphones is quick, easy, and straightforward. Plug them into any USB power source, and they'll be fully charged in about two hours. In addition, they're also capable of quick charging. Plug in a dead pair, and in five minutes, they'll have enough juice for two hours of listening. If you do somehow end up with a dead battery, you'll get up and running again in a jiffy.
The A30 headphones connect via the latest Bluetooth 5.0 protocol. This is a major upgrade from Bluetooth 4.2, and is the current wireless standard. Among other improvements, it allows for lower-latency audio. In plain English, the audio won't lag behind the video when watching movies or playing video games. It will also provide a more stable signal, reducing the likelihood of random disconnections. Finally, you can listen to higher-bitrate music. This means you can enjoy all the benefits of your high-definition music library.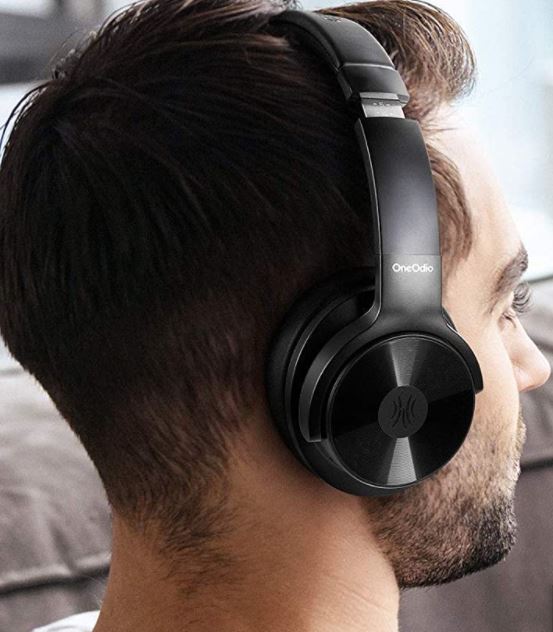 As an alternative, you can use these headphones in wired mode. We've already mentioned the ability to plug into an in-flight entertainment jack. But it also has benefits for everyday listening. You won't have to worry about your batteries, since it won't drain them. Theoretically, you can use the A30 headphones forever in this mode, and never charge them at all. That said, you need batteries if you want to use the on-board controls. More to the point, power is absolutely required for the ANC function. So for practical purposes, Bluetooth mode is generally going to be preferable.
Audio Quality
Each A30 headphone is packing a large, 40mm driver. This is on the large side, and is capable of moving significant amounts of air. More air means more sound, across all parts of the spectrum. This is most noticeable on the bass end of the spectrum, which is where smaller drivers usually suffer. But unlike many "powerful bass" headphones, the audio here is more well-rounded. You get to enjoy rich highs and mids, not just a lot of bass. There's plenty of sparkle on the high end, and vocals come through clean and clear in the midrange.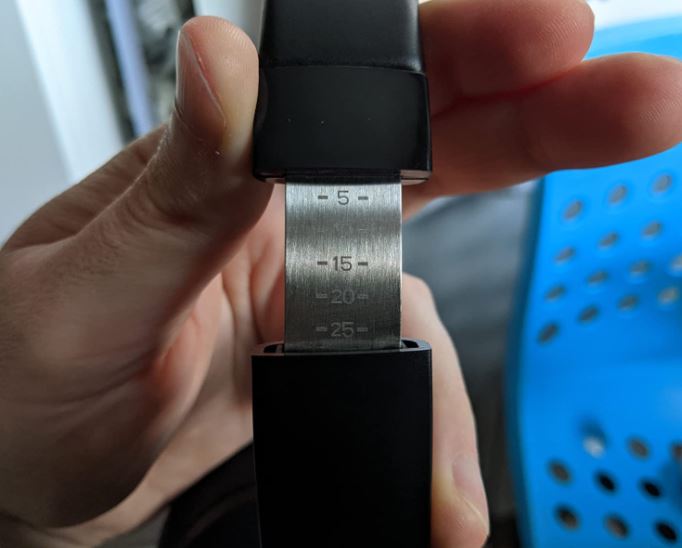 In addition to clear, rich sound, you also get a broad soundstage. This is distinct from frequency reproduction, and refers to the sense of space you get while listening. With a wide soundstage, it feels like you're in a real space with real music. By contrast, many affordable headphones have a more condensed sound. Even if you can hear everything, it sounds like it's compressed into once center channel. That's not an issue here.
Of course, there's no such thing as perfect audio. And while the A30 headphones sound good, there are other headphones that sound even better. For instance, the Tribit Quietplus 78 Wireless Headphones offer near-studio quality over a Bluetooth connection. That said, their designers put all their eggs in one basket, and the call quality and ergonomics suffer.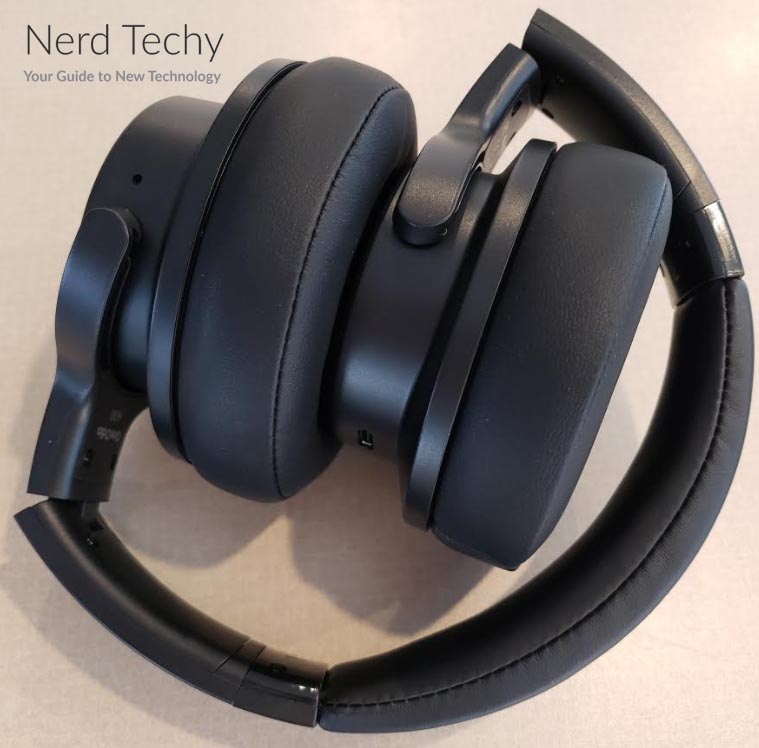 One of the OneOdio A30's best features is its ANC function. This system uses external microphones to detect ambient noise. Internal circuitry and speakers then eliminate that noise, leaving you with only your music. The ANC mode is only marginally effective. It eliminates traffic, engines, crowds, and other background noises, but they're still noticeable. It's equally effective when your music is off. If you want to take a nap on an airplane, you can lower the engine noise without the need for music. But they'll still be noticeable, at least to some extent.
Along with ANC, the A30 headphones also offer CVC 8.0 voice isolation for phone calls. This works similar to noise cancellation, but it doesn't affect what you hear. Instead, the CVC circuitry focuses on your voice and eliminates background noise. It's designed to make it easy for the other person to hear you during a conversation. Then again, keep in mind that this only affects your side of the conversation. If the other person is using a cheap headset and driving with their windows down, you'll still have trouble.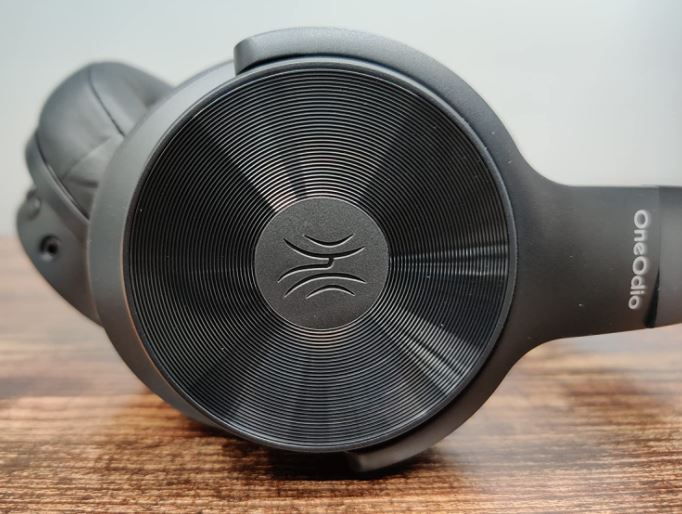 Final Verdict
As you can see, the OneOdio A30 ANC Bluetooth Headphones are relatively well worth owning. The ANC isn't perfect, but it works reasonably well, and the overall audio quality is excellent. Battery life is also excellent. With up to 25 hours of ordinary operation, you get a lot of playback between charges. And with quick charging, you get the ability to top off quickly whenever you need to. Finally, the design strikes an excellent balance between comfort and portability. Finally, we appreciated all these accessories and extras. An AC adapter and in-flight adapter might seem like small things, but they were a great added touch.