Sensibo Air
Pros
Controls most home air conditioners and air pumps.
Smart scheduling, proximity control, and IFTTT support.
Good coverage for the whole home.
Works With Apple HomeKit, Amazon Alexa, and Google Home.
When the internet first became widespread in the mid-90s, it was a gateway to information. You could look up movie times, or buy books on Amazon. But as internet speeds have gotten faster and faster, we've been able to do more things. Nowadays, you can sit on your couch and stream 1080p video all day. This would have been unimaginable on dialup internet, when you could spend an hour downloading a single MP3 file. Clearly, things have changed.
But the internet hasn't just gotten faster. It's also gone wireless. More people access the web on smartphones than on PC, even around the house. Wireless internet has also made it easy to connect dozens of devices all around your house. Now, we have the Internet of Things (IoT), with fridges, dishwashers, and even smoke detectors paired with their own apps. IoT devices allow for smarter homes, providing better convenience and energy-efficiency.
Today, we're going to review the Sensibo Air Smart Air Conditioner Remote Controller. This is an infrared air conditioner remote that connects to the web. With the Sensibo, you can change your air conditioner settings remotely, or even automate them. It's also compatible with Apple HomeKit. But how do you set it up, and is it convenient enough to justify the price? To find out, we'll need to take a closer look, and see how the Sensibo performs in the real world. We'll look at how it's set up, how it's used, and what types of hardware it's compatible with. After that, we'll be able to render our verdict. Let's begin!
What is Apple HomeKit?
Before we talk about the Sensibo Air itself, let's talk about Apple HomeKit. This is perhaps its biggest benefit, and the main thing that separates it from the earlier Sensibo Pure. Apple HomeKit is a smart home control system, similar in many ways to Google Home and Amazon Alexa. It launched in 2014, so many people have probably heard of it. The concept is simple: to bring Apple users the same quality of smart home controls as Android and Amazon users.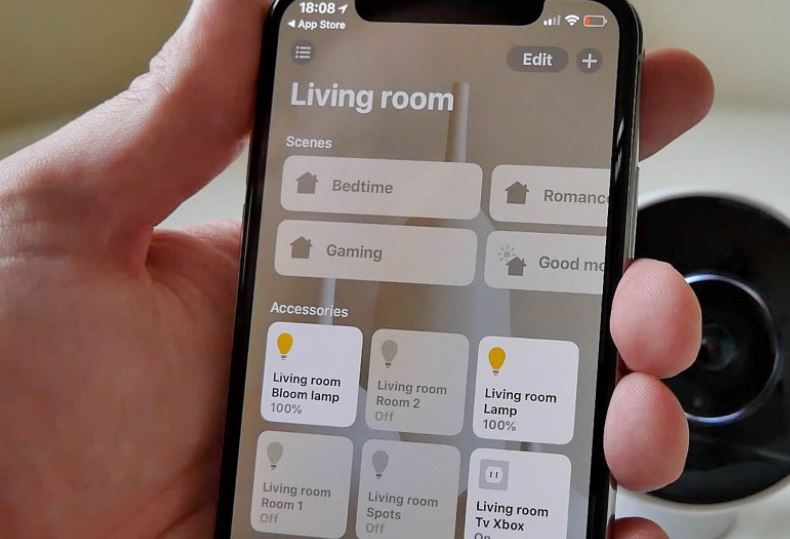 Apple HomeKit is an iOS app, so it's easy to install and use seamlessly on your iPhone or iPad. That said, it works a bit differently depending on what system you're using and where you're located. When you're at home, you can simply use your smartphone or iPad. As long as the Apple Home app is installed, you'll be able to control any paired, compatible smart home devices. For WiFi devices, you'll simply need to be on your home network. For Bluetooth devices, you'll have to be within 33 feet, or whatever that specific device's range is.
When you're not at home, you'll need to have another way of connecting to your devices. One way is to use a third-generation or newer Apple TV, running tvOS 9 or later. tvOS 10 is required for some more advanced features, such as adding multiple users to your account. If you'd rather not invest in an Apple TV, a more affordable option is simply to buy a HomePod. This is a home-based unit similar to an Alexa hub, which ties your devices to your phone app. Finally, an iPad running iOS 10 or later will act as a HomePod alternative. But the iPad will need to be inside your house, so it essentially has to be dedicated to that task. The more affordable HomePod Mini is smaller and cheaper, but won't cover as wide of an area.
Within the app, you can tap devices to turn them on and off, or set a timer to have them run on a schedule. You can also combine multiple devices into "scenes," which are comparable to gaming macros. With a single command, a scene will activate or deactivate several devices at once. Scenes can be triggered on a timer, on demand, or even based on your location. For example, you could program your HomeKit to unlock your doors and turn on your lights when you get home.
At the time of this writing, there aren't many devices compatible with Apple HomeKit. However, that's because it's a brand new technology. If you look at newer devices released in the past few months, many are compatible. And considering Apple's large user base, we can expect more HomeKit-compatible devices in the future.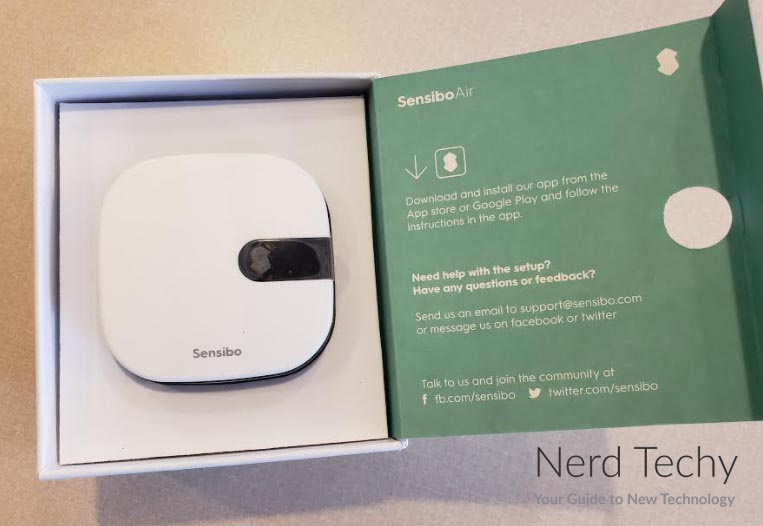 Overall Design
The Sensibo Air Smart Air Conditioner Remote Controller is a compact device, with an attractive white finish. It measures just over 2 ½ inches on each side, and two thirds of an inch thick. This makes it easy to position just about anywhere in your home. Find a convenient power outlet, plug it in, and you're ready to get started. It's also surprisingly attractive, with a silver band around the outside and a discreet logo on the IR receiver.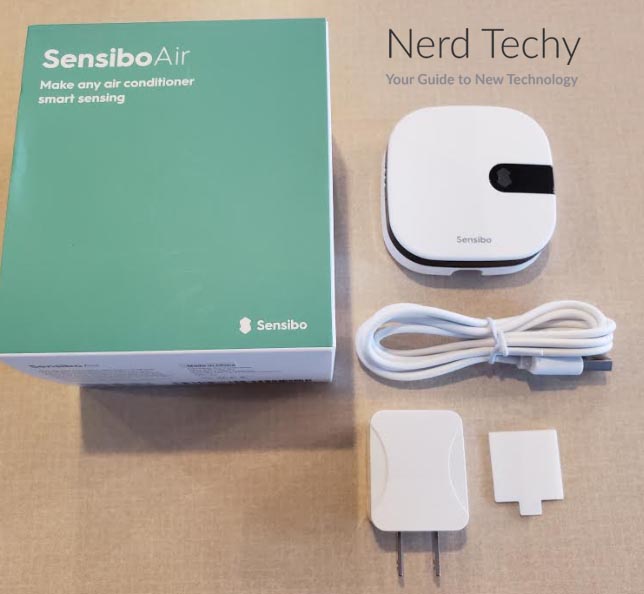 This is all for the better, because the Sensibo Air is an infrared remote. It needs to have a line of sight connection to your air conditioning unit. This has a couple of implications. First, you can't tuck it behind some knick-knacks and forget about it; it needs to be visible. Second, if you have air conditioners in multiple rooms, you'll need a separate controller for each of them. To make things as easy as possible, Sensibo offers theirs individually, or in a 2, 3, or 4-pack.
Inside the controller, you'll find a thermostat and humidistat. These keep track of the conditions in your home, providing real-time monitoring. And everything is covered by a 12-month warranty. If the hardware doesn't work, you can file a claim for a refund or replacement.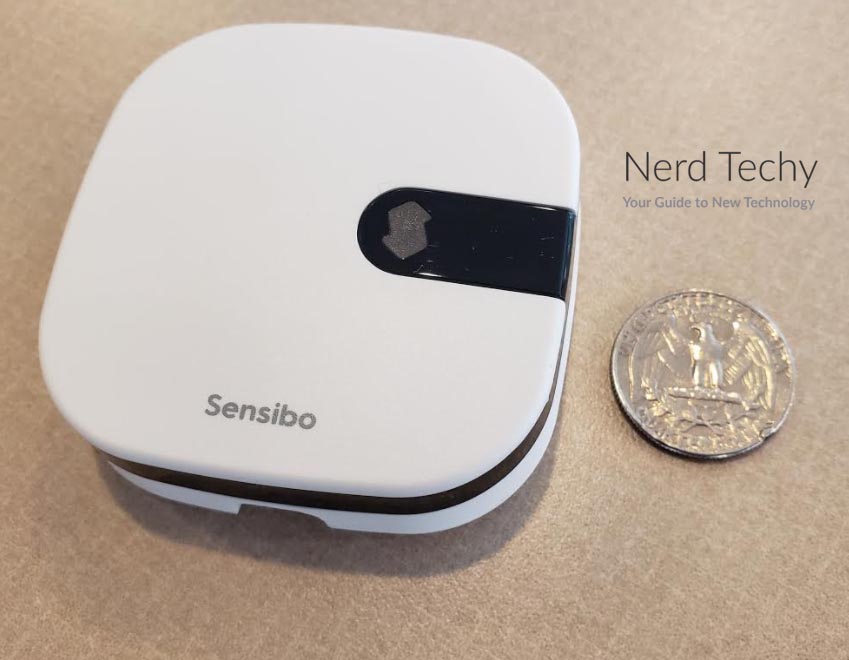 Compatibility
One thing that impressed us about the Air was its versatility. Simply put, it works with just about every air conditioner that has a controller. These include window ACs, portable units, minisplits, high mints, and central air conditioners with wireless controls. You can even control heat pumps, which makes it useful in the winter as well as the summer.
Each controller contains not one, but two means of communication. The first is a Bluetooth connection, which has a range of about 30 feet. That's enough for changing your settings when you're in the same room, but not much else. In most cases, you'll find yourself using the WiFi connection. The Air connects to the 2.4GHz band, which is the longer-range of the two main WiFi bands. Anywhere you can use your phone's WiFi, you can use the controller.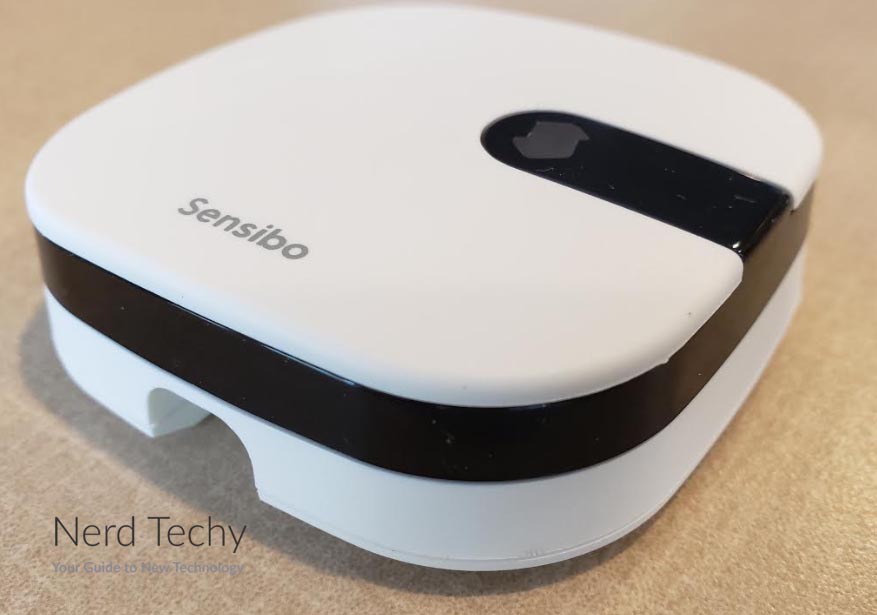 We spent a while talking about the Apple HomeKit system, because it's new and unfamiliar to many people. However, the Air can also be controlled by other smart home systems. You can use it with Siri or Google Home without running into any compatibility problems. Keep in mind that exactly what kind of functionality you get will depend on your smart home system. Different systems offer different features, and they're constantly changing. That said, it should work fine with any features that require a thermostat and humidistat.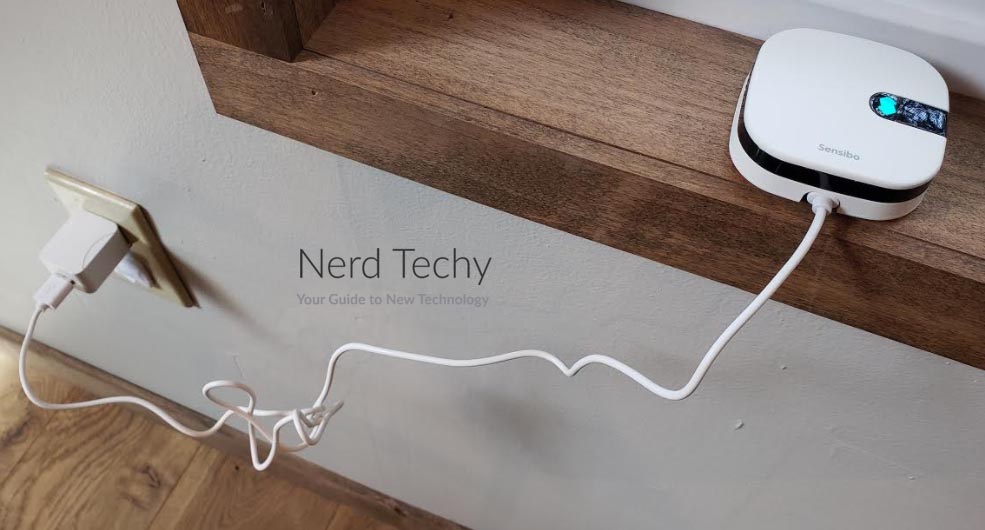 Another thing that makes this controller more versatile is its open API. This means that anyone can create new extensions, or integrate Sensibo Air support into their app. If you're a hardcore enthusiast who uses OpenHub, Homebridge, or SmartThings, you'll appreciate this. You can also use the Air in IFTTT recipes and automations. Given the popularity of these platforms, finding new features is often as easy as making a Google search.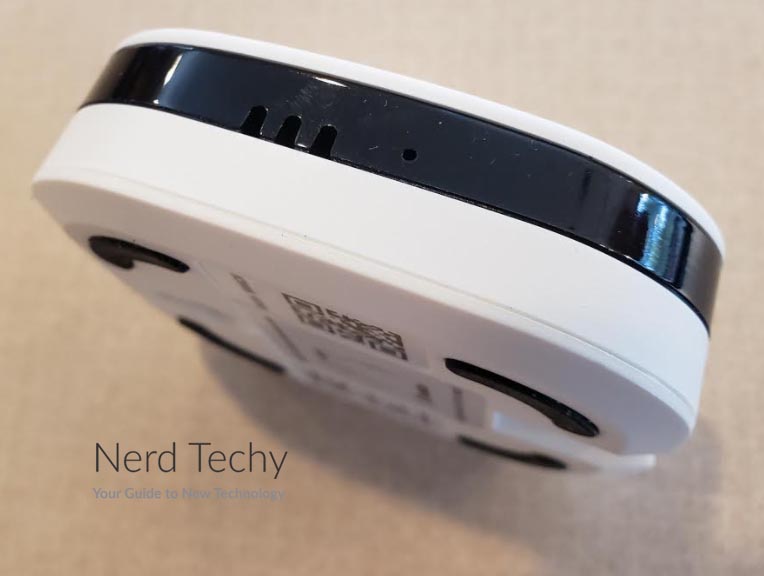 Controls
As an alternative to Apple HomeKit or other smart home programs, you can also use the Sensibo app. This is by no means required to use the Air. However, it has a couple of its own advantages. First, it has an easy-to-use interface and a handful of built-in customization features. Second, it doesn't require you to have another smart home platform. You don't need Siri, Alexa, Google Home, or anything else. If you have a smartphone and an internet connection, you can use the Sensibo Air.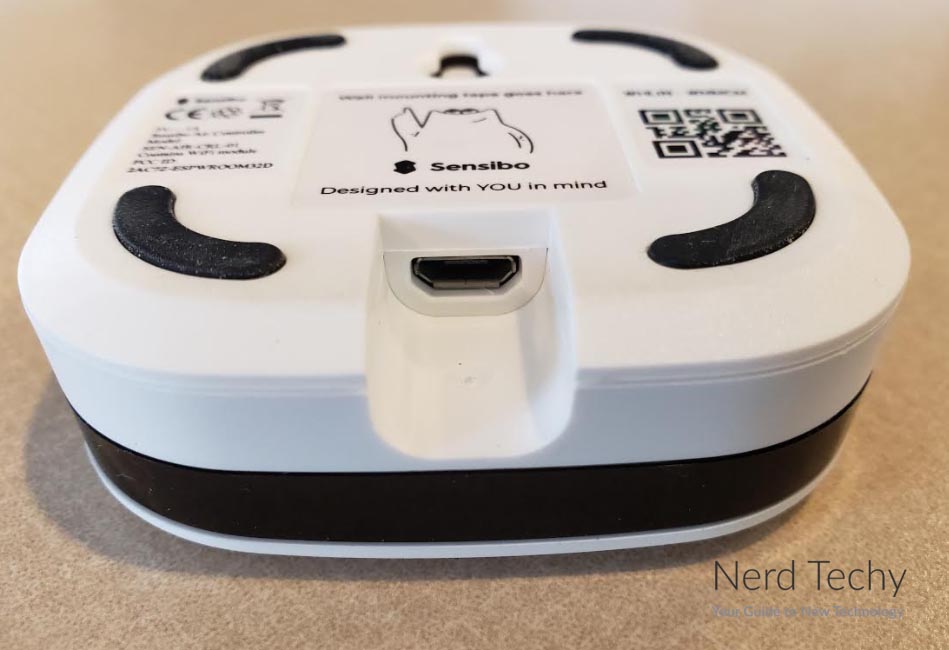 Within the app, you'll have access to seven-day scheduling. This allows you to set the temperature for any time of day, on any day of the week. You can set your house to cool off just before you get home from work. Meanwhile, you can let it warm up during the work day, and keep it cool all through the weekend. There are also no limits on how many temperature changes you can make. If you have a complex schedule, this controller will keep up with you.
The Climate React system sounds like an ordinary thermostat at first, but it's a bit smarter. Instead of basing your air conditioner's operation on temperature alone, it also takes humidity into account. So if it's dry, the temperature will get a bit higher. If it's humid, the air conditioner will be a bit more aggressive. The end result is that you'll feel cool and comfortable, without feeling too cold on dry days. You'll also save energy.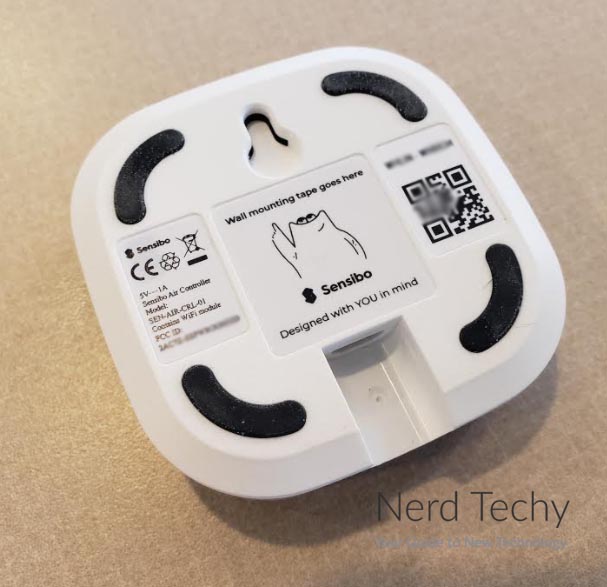 A final, useful feature is the Sensibo Air's automatic on and off feature. With this feature, it will detect when you are nearby, and automatically activate your air conditioner. This is ideal for people with irregular schedules. Your home will be cool whenever your home. This same functionality can be extended to an unlimited number of Air Smart controllers and unlimited users. You can turn on proximity sensing for the whole family, and it will be cool whenever someone is home. The same feature can even be used for offices, for significant power savings.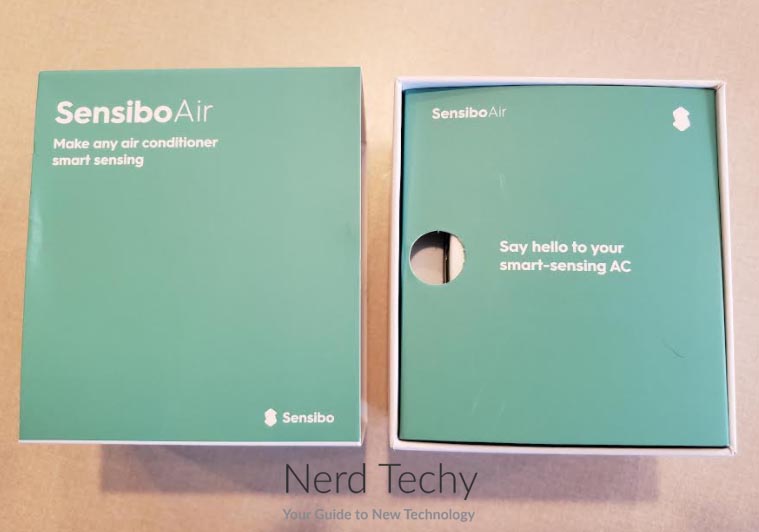 Final Verdict
The Sensibo Air Smart Air Controller is one of the more comprehensive controllers on the market. It's compatible with just about any air conditioner, even heat pumps, and just about any control system. If we had to complain about anything, it would be the price, which is a bit steep. But considering the fact that it doesn't even require an existing smart home system, that's money well spent.