Mpow X6
Pros
Good audio quality and loud maximum volume.
Hybrid ANC earbuds with transparency mode.
Ergonomic design with excellent noise isolation.
Supports wireless charging.
Cons
Mediocre battery life.
Some hiss in transparency mode.
If you're in the market for a new pair of earbuds, you know how challenging it can be. There are simply so many options out there that the average person can have trouble choosing. How did we end up with literally thousands of pairs of wireless earbuds? The answer is simple; they're a relatively new technology.
To be fair, there have been wireless earbuds of some kind or another for many years now. But older earbuds were really only good for spoken word media and hands-free calling. You couldn't listen in stereo, and even the mono bitrates were downright awful. There just wasn't any way to get decent quality without a 3.5mm aux cable. But then True Wireless Stereo (TWS) was developed. TWS allows you to listen to your music in full quality, as well as in stereo, without a wire. Apple was the first major manufacturer to use this standard, when they released the original AirPods. In the wake of the AirPods' success, other manufacturers started developing their own earbuds. And that's how we ended up with thousands of options.
To find the best earbuds, it can help to focus on manufacturers you already trust. This isn't to say that up-and-coming manufacturers can't make a good set of buds. It simply means that you're more likely to get consistent good quality from a reliable brand. Mpow is one of the best in this regard, and we're about to review the Mpow M6 Hybrid ANC Headphones. Despite their names, these are actually earbuds, and sit inside your ear and not over your head. But how well do they perform, and how good is the audio? To find out, we had to take a closer look. Here's everything we know about these new Mpow earbuds!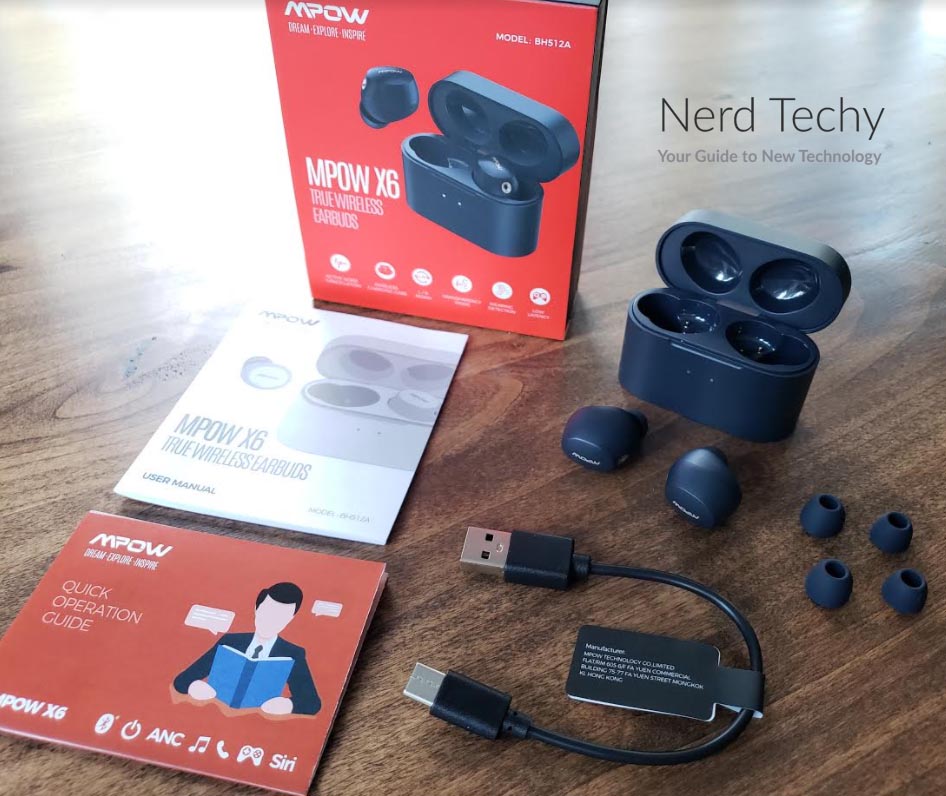 Overall Design
The Mpow X6 Hybrid ANC Headphones have a compact, "shell"-style design. They fit inside your ears with a set of silicone tips, and are fairly unobtrusive. The shells are available in two colors: metallic blue and metallic purple. Not that anyone will be seeing much of them. When properly inserted, they barely stick out of your ears at all. But getting them properly inserted requires getting the proper fit.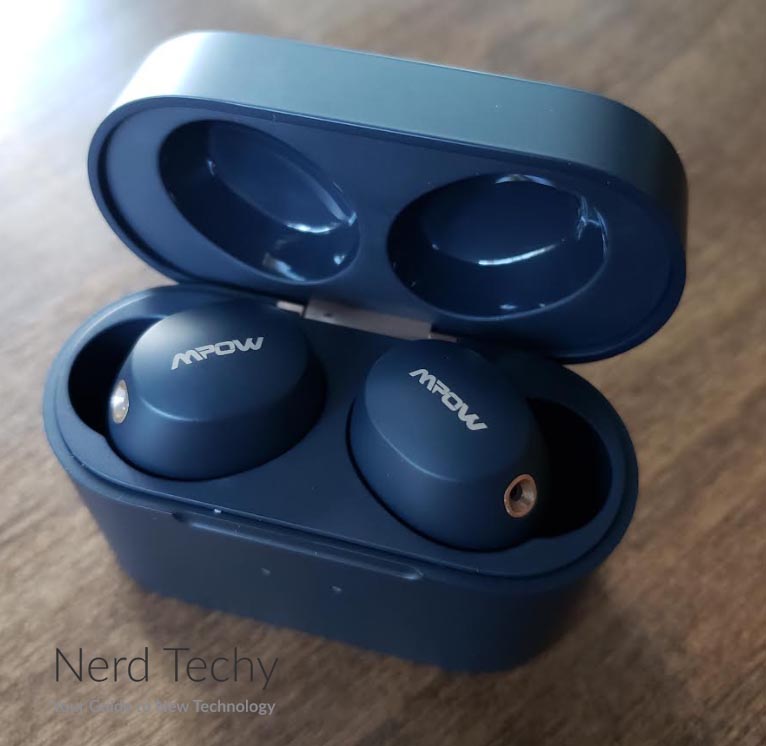 To make getting the right fit as easy as possible, Mpow includes three extra sets of ear tips in the box. A lot of people know that earbuds come with extra tips, but many people don't realize those tips aren't identical. They're actually in three different sizes, so you can get a better fit. A correct fit needs to be snug, so the earbuds won't fall out. Being snug will also ensure that excess noise won't seep in from the outside. This is what's often referred to as "passive noise isolation." But don't use a bigger tip just to get the fit as tight as possible. Remember, you'll also want some tips that are comfortable enough to wear for an extended period. Take your time, and test different sizes as they're needed.
If you want an even more secure fit, consider the Mpow Flame Lite. These earbuds have a secure, over-the ear fit with large, sturdy hooks to hold them in place. That said, these hooks also need to be stored, and the charging case is correspondingly bulky.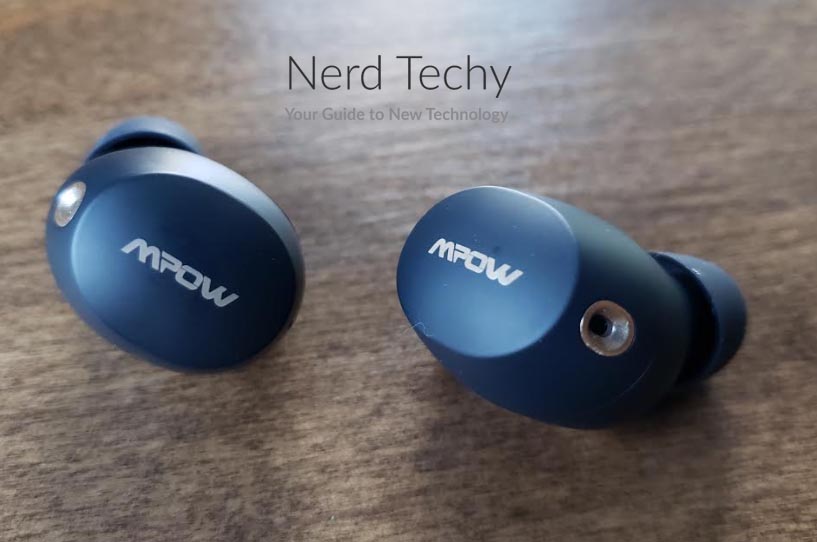 The backs of the X6 earbuds function as soft touch controls. With a tap, hold, or double-tap, you can perform a variety of functions. You can adjust the volume, skip tracks, and answer or end calls. You can also summon your phone's voice assistant, or activate the X6's transparency mode. There is also an additional "control," that works automatically. Each earbud has an infrared proximity sensor, so they know when they're inserted. When an earbud is removed, your music will pause all by itself. When it's re-inserted, your music will pick up where it left off. This makes operation as quick and painless as possible.
The X6 earbuds have a water-resistance rating of IPX6. This means they can be subjected to intense streams of water. Effectively, they'll survive anything short of full submersion. If you want to take them in the shower after your workout, that's a non-issue. They'll be just fine.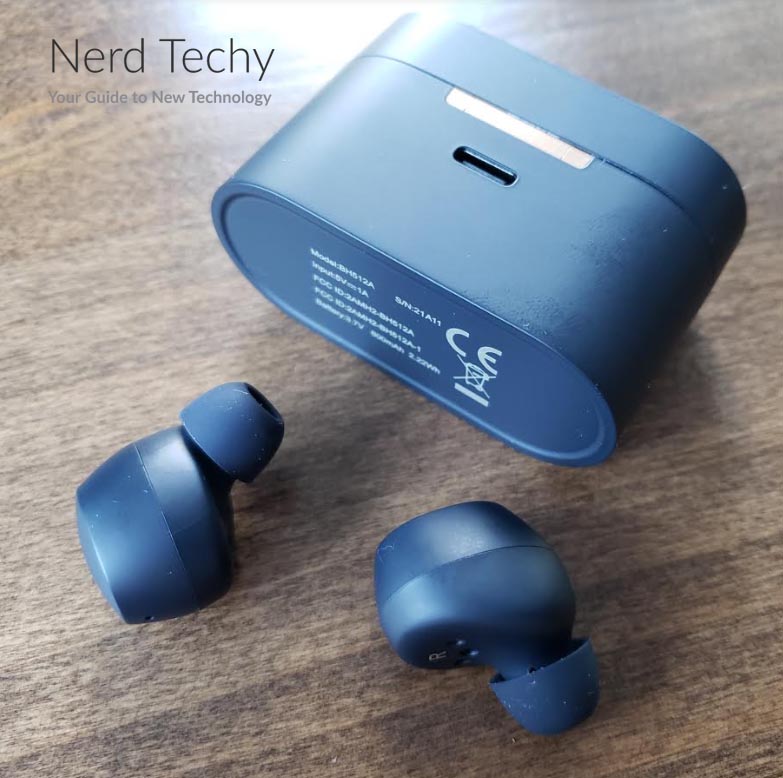 The charging case has a similar finish to the earbuds themselves, with matching metallic blue or purple. It's oval in shape, with a vertical design that looks almost like a pillbox. The clamshell-style lid is spring loaded, and snaps open easily when pushed upwards. Otherwise, it will stay shut, both inside your pocket and in a purse or a backpack. Beneath the lid, on the front of the case, you'll see a pair of white LED lights. These lights will both be solid when the battery is full or almost full. At medium levels, you'll only see a single light. When you badly need to plug in, the single light will start flashing.
The charging port is located on the back of the case, quietly hidden under the lid hinge. A USB Type-C cable is included, so you're ready to start charging immediately. This is a very short patch cable, though, only about six inches long. You may want a longer cable, depending on your charging setup.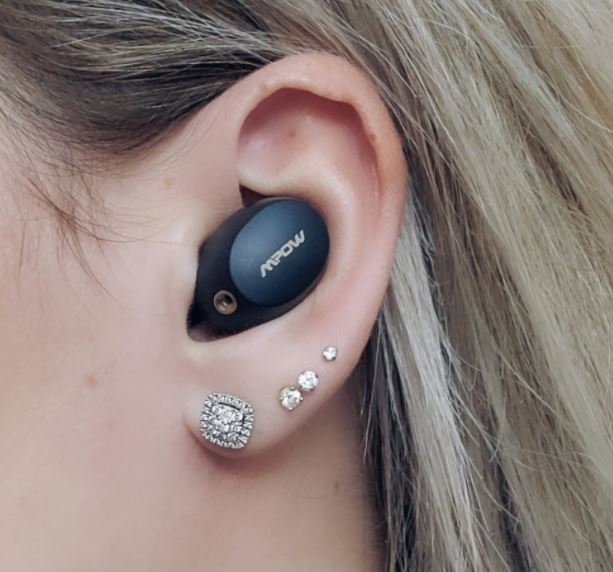 Battery & Connectivity
No matter how good your earbuds are, it doesn't do you much good if their batteries are lackluster. In this regard, the X6 headphones fall towards the lower middle of the pack. They're rated for five hours, which isn't half bad. However, keep in mind that manufacturer ratings are based on half-volume playback. If you're using your earbuds at full volume, you'll get correspondingly less performance. This works out to something around the neighborhood of four hours per charge. That's enough to get most people through a few days, but it's not terribly impressive.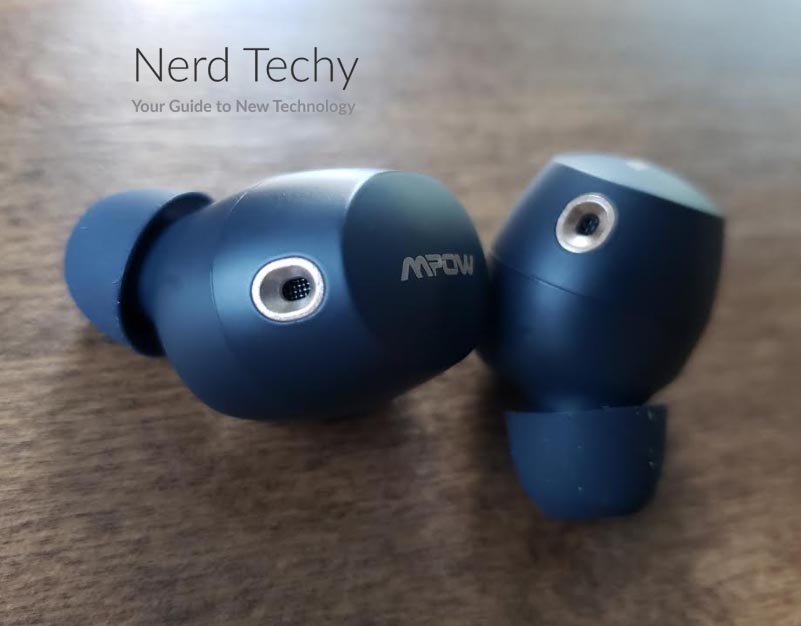 You can extend your battery life by using the charging case. When fully charged, the case's internal battery carries enough juice to recharge the earbuds four times. In total, you'll have 25 hours of rated playback time, or more like 20 hours at full volume. Recharging is easy. Plug into a USB port, and the Type-C cable will have you topped off in about 90 minutes. Alternatively, you can set the case on a Qi wireless charger or a smartphone with reverse wireless charging. In this mode, the battery will take a bit longer to top off. On the other hand, you don't have to fiddle around with any cables, and it will still charge overnight.
If longer battery life is a requirement, you do have other options. For instance, check out the upgraded Mpow X3. It has an impressive, long-lasting seven-hour battery, significantly longer than the X6. That said, the bass isn't nearly as rich as the X6. In this regard, you're looking at a trade-off.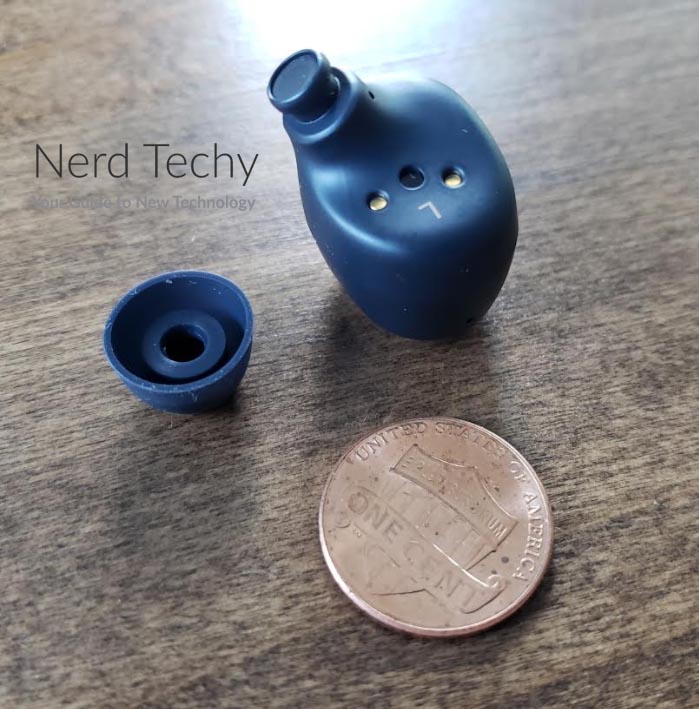 The Mpow X6 will connect to your phone or MP3 player via Bluetooth 5.1. This is the latest and greatest Bluetooth protocol, a slight upgrade to the 5.0 standard. It offers improved latency, for properly-synchronized audio and video. It offers higher bitrates, for better-quality music. It also offers a more stable connection, so you don't have to worry about dropped calls or janky connections. The X6 improves on this even further by including a special low-latency mode. In this mode, latency is reduced to the absolute minimum. Your batteries will drain slightly faster, but you'll love the improved movie and gaming performance.
Audio Quality
At the end of the day, the most important feature of any earbuds is their sound quality. No matter how good they are in other respects, they're useless without good audio. Thankfully, the X6 Hybrid ANC Headphones perform very well in this regard. The sound is rich and deep, with plenty of bass. There's also a nice, wide soundstage so all the instruments have good separation. Your vocals won't get muddy when there's too much bass, and they won't sound shrill with a lot of treble. These are very loud earbuds when you crank up the volume. If you want anything louder, you'd be better off with a Bluetooth speaker.
If anything, the only issues with the X6's sound begin to appear at lower volume. In this case, you might hear some buzzing if Active Noise Cancellation (ANC) is turned on. Transparency mode will produce a similar buzz. This isn't a huge deal, since it only happens at low volumes. But if you want low-volume earbuds, these might not be the best choice.
The ANC is a hybrid ANC, which means there are mics both inside and outside the earbuds. The outer mics hear the sound outside your ears, while the inner mics pick up the sound inside. Why is it better to have both? There are several reasons, but the most important is that inside and outside mics serve different functions. Outside mics provide better responsiveness, since they pick up the sound a millisecond earlier. On the other hand, they can't self-correct. Internal mics can hear the effect of the ANC, and adjust accordingly if there are issues. By combining both, a hybrid ANC system maximizes both responsiveness and accuracy.
In addition, these earbuds support transparency mode. Transparency mode uses ANC to perform the opposite function. The noise picked up by the external mics is amplified instead of cancelled. This means you can have quick conversations without taking out your buds.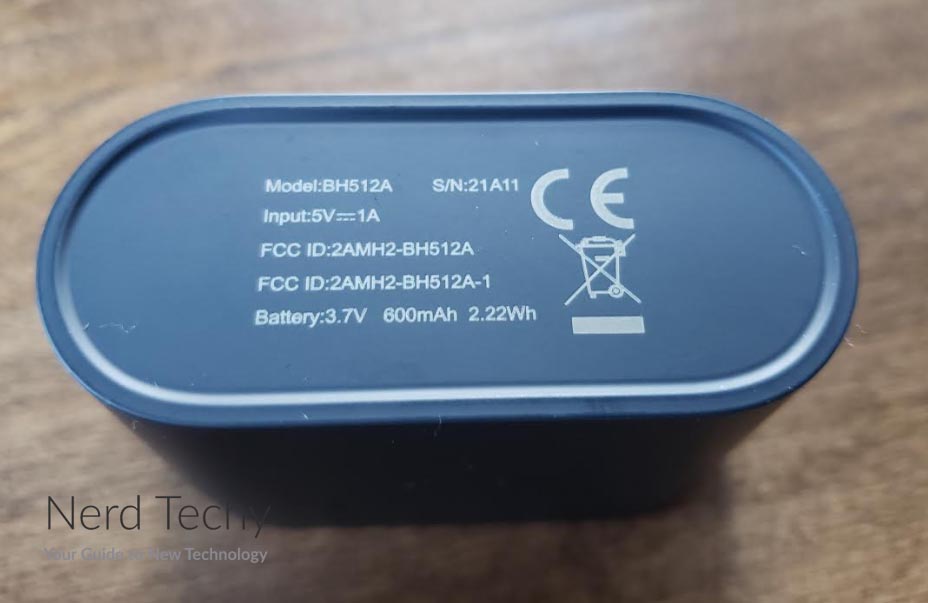 Final Verdict
The Mpow X6 Hybrid ANC Headphones offer some of the best sound quality on the market at their price range. Whether you want deep, rich bass or simply ultra-loud volumes, you'll be well prepared. Not only that, but the earbuds are very well engineered. The metallic finish is attractive to look at, and the IPX6 water-resistance is outstanding. We would have liked to have gotten better battery life, but Qi charging makes it easy to stay topped off. Moreover, some features we liked, such as the infrared sensor, are inherently battery-intensive. All in all, this is a solid pair of buds for just about anybody.