No matter what kind of music you enjoy the most, it goes without saying that owning your own portable speaker is a real luxury. Contrary to what a lot of people believe, in this day and age, you really don't need to spend a lot to get decent sound and portability. We've reviewed hundreds of personal audio products here at NerdTechy – from true wireless earbuds to full-scale speaker systems. In our experience, we often come across options that surprise us. Typically, speakers that sound nice and carry several promising features, but don't cost an arm and a leg.
Take the new Mpow R9 Bluetooth Speaker. Nicknamed "SoundHot", the R9 is built in a compact form-factor with many enticing features. The price is affordable and the specifications look excellent. But what's the truth behind it? Is this a Bluetooth speaker that's worth investing in or passing up? Do all the features live up to their expectations or do they fall flat? Today, we're going to go "hands-on" with the R9 and find out just that. We'll look closely at the form-factor, sound quality, battery life and more.
This isn't the first Mpow product we've reviewed. In fact, we've unboxed, tested and reviewed several offerings from Mpow, including but not limited to the Mpow M12, M30 Plus, the Mpow R3 and many more. They typically produce products that come in at a price-point that's below average but with quality that typically always exceeds our expectations. Viewed more as a budget-friendly brand, they aren't priced like top of the line Bose, Sony or Beats, but cater to those who don't want to shell out over $100 for a set of earbuds or a single speaker.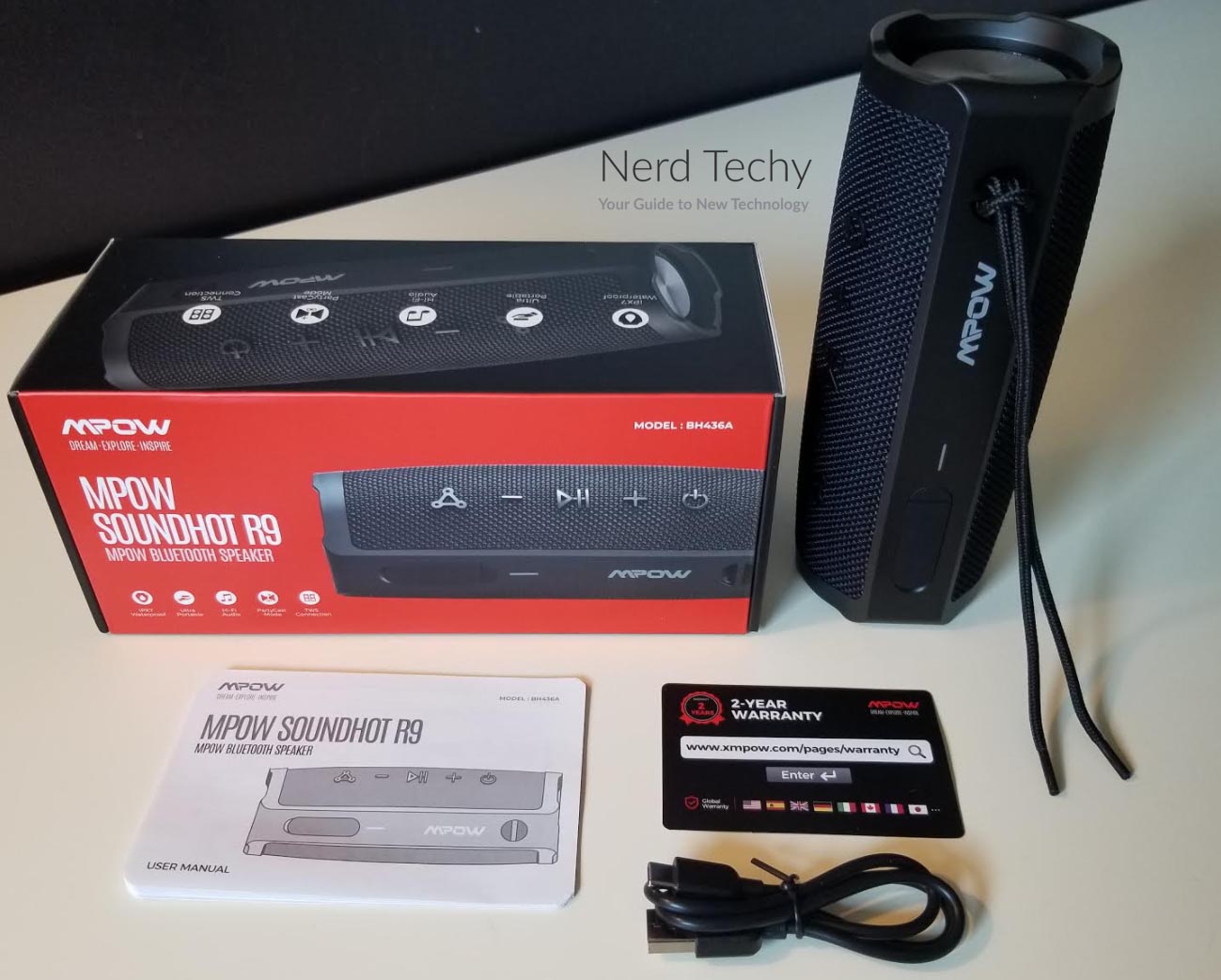 First Look
Taking the Mpow R9 out of the box for the first time, we immediately noticed the cylindrical shape. Measuring 7.5 inches tall, and 2.5 inches in diameter, it's sized well for the palm of your hand. Tipping the scale at just over 17 ounces, it has a hefty yet compact feel to it. You can tell it's "solid" and not full of a bunch of cheap plastic parts. In fact, almost the entire exterior is encased in a woven cloth mesh that gives it good grip and rugged feel. We like it.
Moving on, you'll notice that each end has its own subwoofer that's indented about a quarter inch. This gives it the room it needs to flex without too much exposure to the outside. Along the length, you'll see 5 integrated buttons – pair, volume up/down, play/pause and power. Next to this is a shoelace for tying it up and a small rubber flap that covers the USB-C and Auxiliary inputs.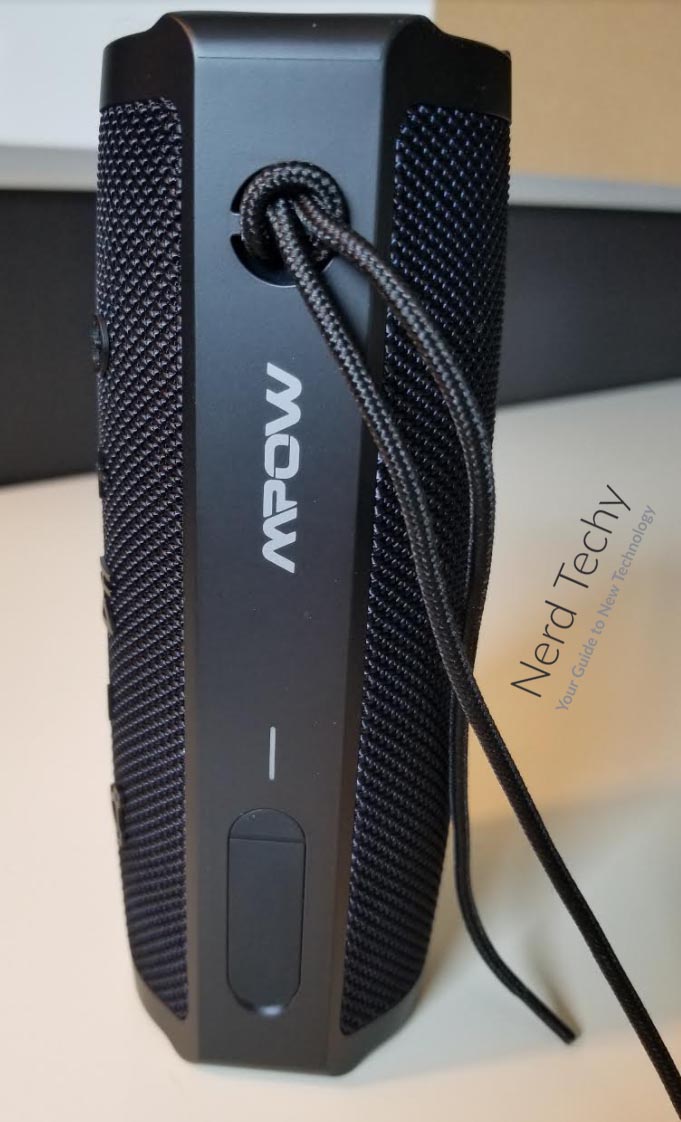 Inside the box there's an instruction manual, warranty card and short USB-C charging cable. Basically everything you need and nothing more.
Pairing
Since the Mpow R9 is a Bluetooth speaker, you'll need to pair it to your smartphone or other device before you put it to use. To do this, simply press and hold the power button for 2 seconds. At this point, you'll notice a small blue LED that'll begin blinking, right near the charging port. This means it's ready to pair with your device (smartphone). Move on over to your Bluetooth settings on your device and you'll see "Mpow SoundHot R9" come up as an available connection. Select it and within seconds you'll hear another beep, indicating a successful pair.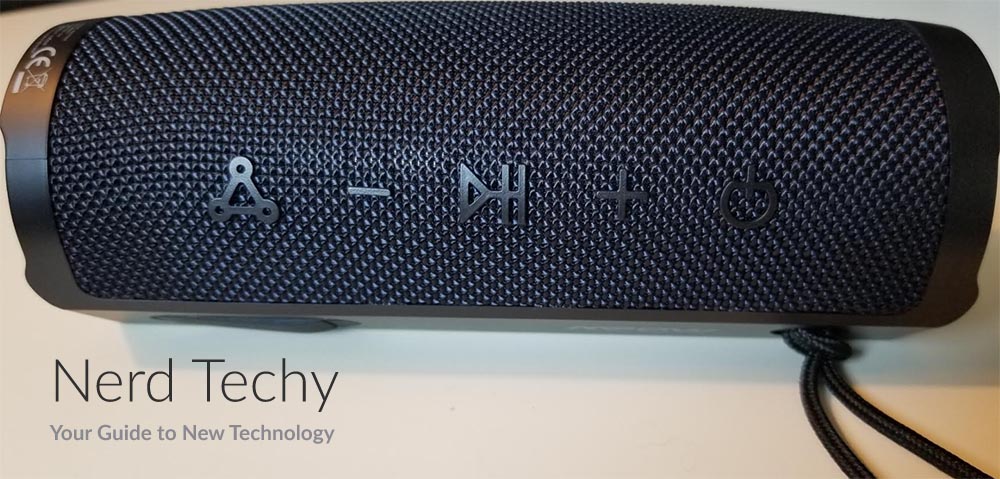 The pairing process is very straightforward and best of all, you don't have to do it every single time you power it on. The speaker and your device will remember the pair for the next time you want to play music.

Sound Quality
Usually when we see a speaker of this size, we don't expect much when it comes to audio quality. However, the R9 really surprised us when we started to play music. First we played some of our favorite Spotify playlists – everything from modern day hip hop to 80's rock. The quality of the sound was really sharp without any noticeable negative effects like distortion, crackling or humming. The bass was a little bit lacking, but still provided enough to give it a rich-effect. Sure, it would have been nice to see some sort of integrated adjustment for the subwoofer level, but it's not something we truly expect at this price-point. Overall, we were quite pleased with the sound quality. The clarity of vocals seemed adequate and the treble/bass levels were definitely acceptable in most regards.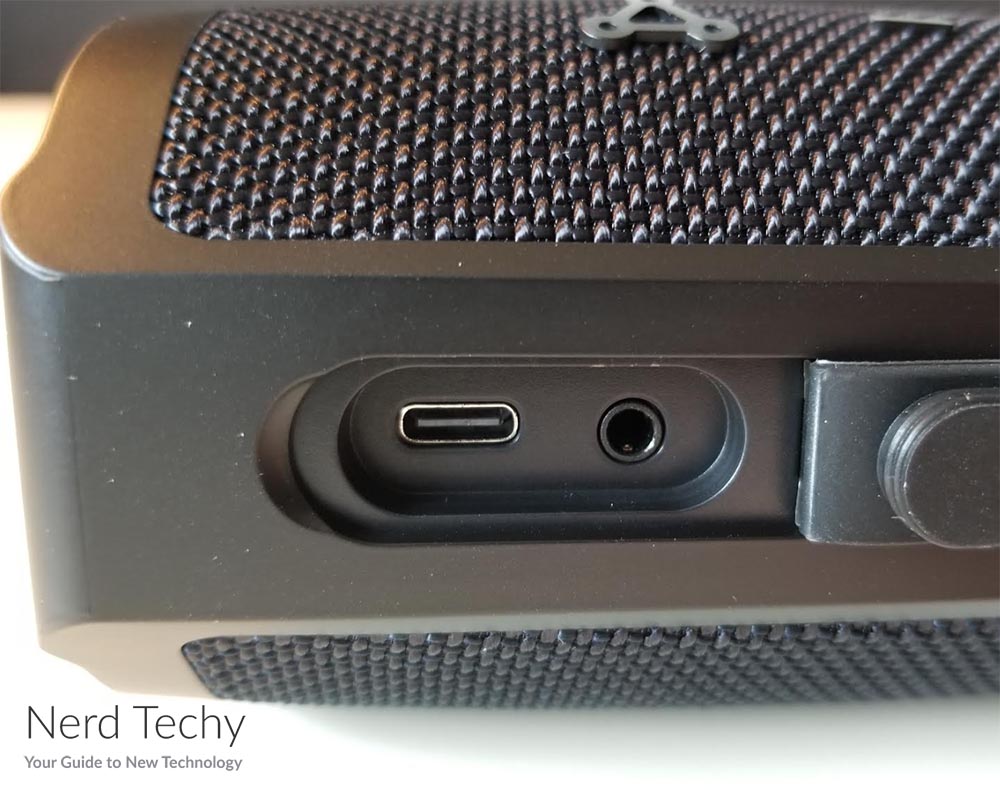 The volume was ridiculous, and we mean that in a good way. For how compact the R9 is, we were literally shocked at how loud it could crank out tunes. Sure, some of the audio quality degrades at high volume, but it really isn't too noticeable, especially if you're playing music in an already loud or spacious environment. Since there are two separate speakers built into the design, the total of 24W maximum power seems like a lot for a speaker of this class.
Since the R9 is a cylindrical design, it's supposed to emit sound in a full 360 degree field. While this is somewhat true, it's apparent that the sound doesn't come out evenly throughout the entire exterior body. Rather, it comes out much more strong 180 degrees from the charging port, on the opposite side. This is likely where the actual speaker is centered inside of the body. This isn't really that big of deal, but it's noticeably louder on this side of the R9 than anywhere else. Honestly, we wouldn't call this true 360 degree sound, but it's close enough.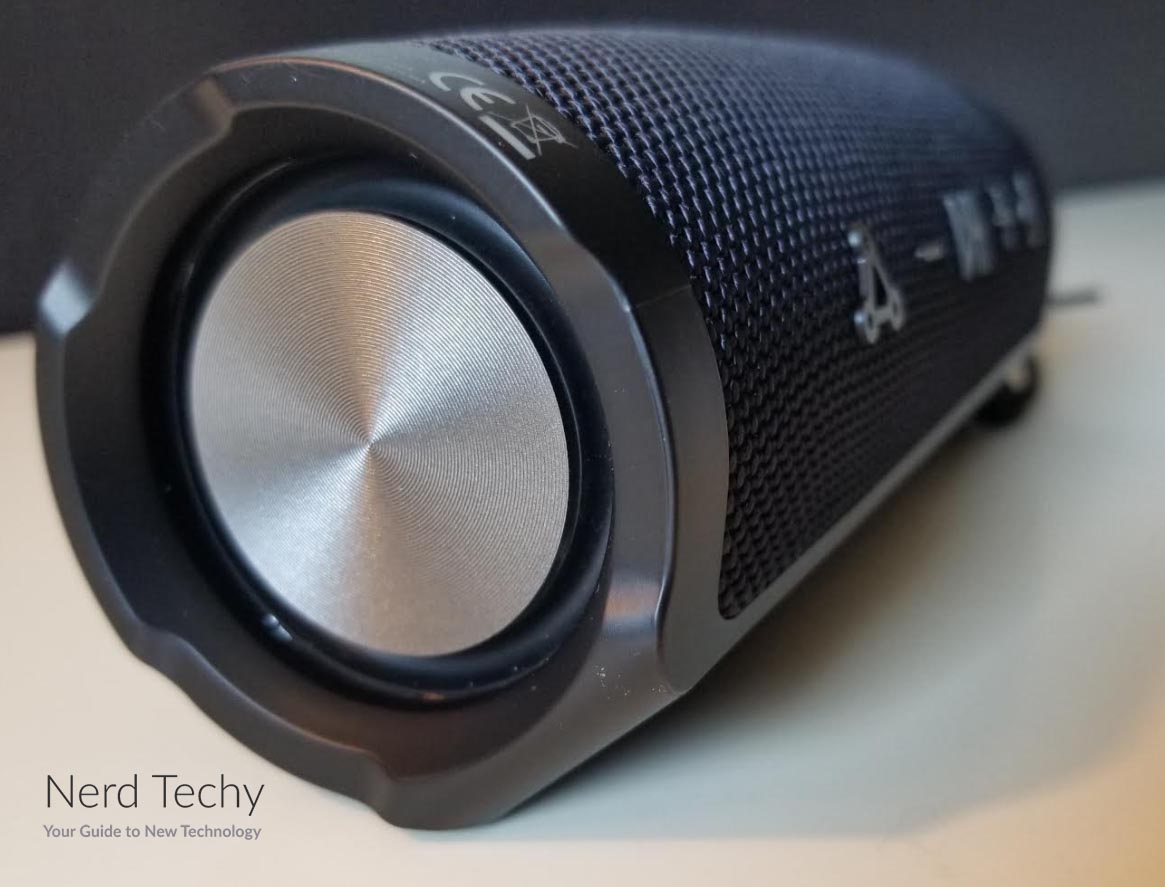 PartyCast Mode
One of the coolest features of the Mpow SoundHot R9 is its ability to pair with up to 100 separate R9 speakers at the same time. Known as the "PartyCast Mode" this allows you to sync up with other R9 speakers so you can get a true surround sound experience. Obviously, you'll have to own more than one of this specific model of speaker, but needless to say, it's awesome that this ability is possible.
To enter PartyCast Mode, first, pair a single R9 like you normally would; press the pairing button until the LED flashes blue. On your smartphone, select the R9 and make the connection. Afterwards, turn on the second speaker and click the pairing button twice on each speaker, simultaneously. At this time, on the first speaker, the LED should turn green, red and then blue. The second speaker LED will turn a solid green.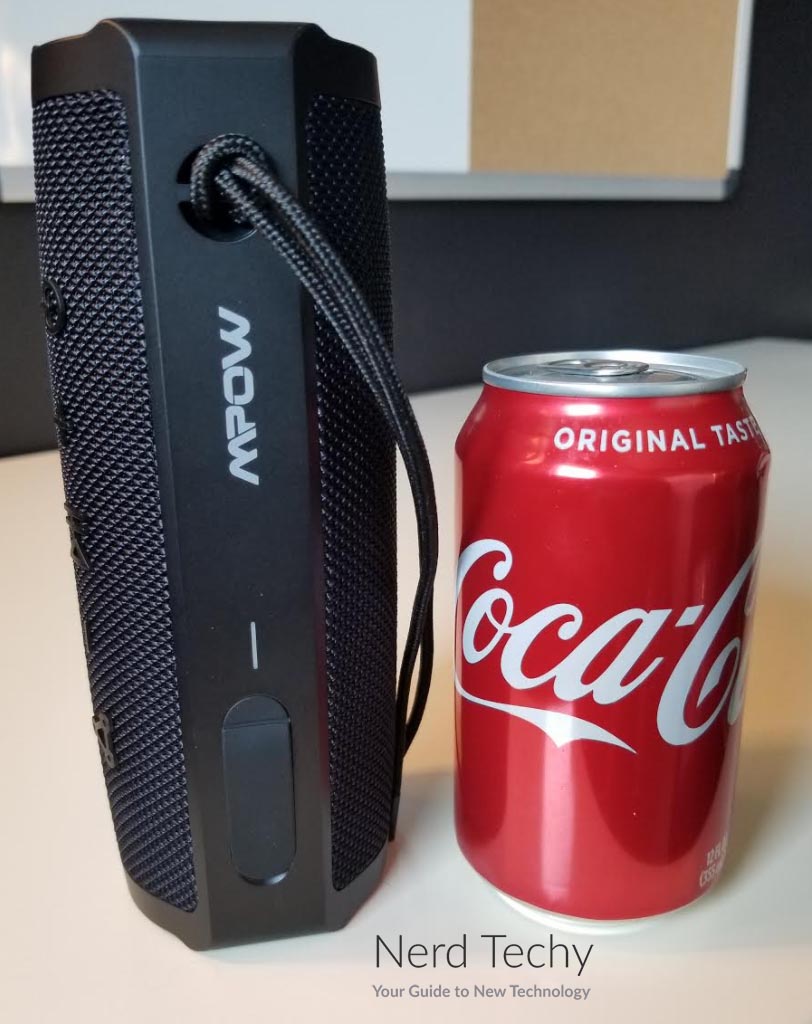 For the third speaker, or every additional one you'd like to pair, turn it on and click the pairing button twice. Continue repeating as desired until you pair as many speakers as you'd like (up to 100).
While PartyCast Mode isn't essential for normal everyday operation, it's definitely a nice bonus feature to have. We only paired two speakers simultaneously, but we could see how more than two speakers playing music at the same time could offer a really cool (and loud) effect.
Durability
Feeling the Mpow R9 in your hands, it doesn't feel cheaply made or low quality. Honestly, it has a nice weight and sturdiness to it. Sure, the materials it's comprised of isn't metal or an indestructible resin, but we feel the plastic is rugged enough that you shouldn't have to worry about it falling apart.
Since Mpow markets this speaker as an outdoor speaker, it's nice to see that they've included an IP rating with its design. Specifically, the R9 is IPX7 rated, meaning that it can withstand submersion in up to 1 meter of water for up to 30 minutes. In addition, it can withstand dirt ingress, or dust/debris from entering the body of the speaker. We tossed it around in the dirt and even exposed it to the rain on more than one occasion. To our expectations, it held up just fine and still plays music just as nice as before.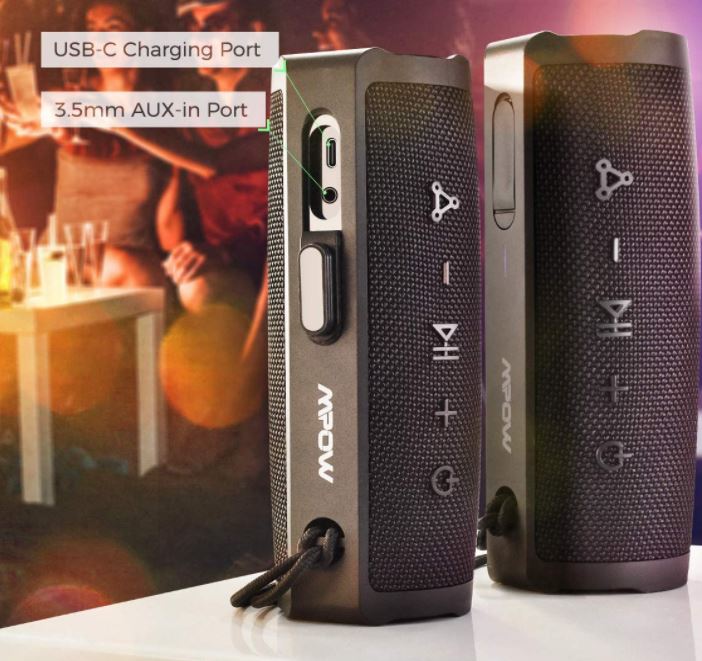 The integrated lanyard is a nice addition, but all it is is a shoelace. This does the job, but it's a bit tacky compared to other speakers that have a carabiner or rubberized handle. Sure, you could easily remove it and forget about it, but it does offer a nice way to attach it to virtually anything. Regardless, Mpow simply attached it to a built-in loop on the speaker body. This way, even if you do remove it, you can always attach it later down the road.
Battery Life
Like any other Bluetooth speaker, the R9 has an integrated rechargeable battery. This 4,400 mAh lithium-ion battery allows the speaker to hold a charge that offers an advertised "10 hours" of playtime. But the real question remains; is 10 hours accurate or is it an overstatement by Mpow? We aimed to find out, so we fully charged up the speaker and let it play music at a medium volume for as long as it could. At around 8 hours, we were alerted with a "low battery" warning. At just over 9 hours, it was dead and no longer able to play music.
So the 10 hour estimate is a bit generous, but at an even lower volume, it might be able to achieve that. Turn the volume up and it likely wouldn't have been able to reach 8 hours. This is simply the nature of it; if you play music loud, it'll use up more battery power. Play it at a low volume, and it manages the existing battery capacity much better. Kind of like MPG in a car; if you drive fast and accelerate a lot, you'll use much more gasoline than you would if you were to drive like a grandma.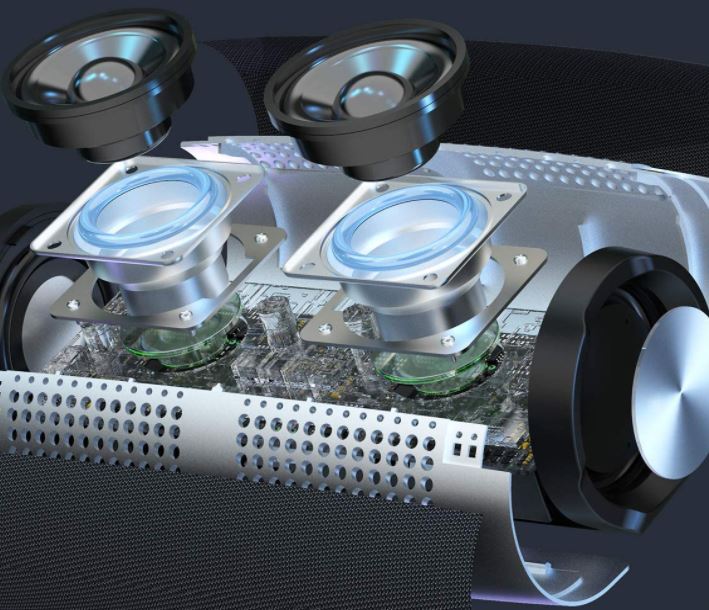 Speaking of charging, the USB-C charging input offers a quick(ish) way of topping off the battery. With the supplied USB-C cable, simply plug it into a USB charger and the LED on the speaker will flash red. After about 3.5 hours from completely empty, the battery will be charged fully and ready to go. We like to see that Mpow chose USB-C rather than Micro-USB. USB-C is simply becoming the standard for everything these days. It's more durable than Micro-USB and more universal with most modern day electronics and smartphones.
Wireless Range
Utilizing Bluetooth 5.0, the Mpow R9 can stream wirelessly from about 50 feet away. After 50 feet you may encounter lag, distortion or a slight delay. Put a few walls and obstructions between your paired device and the speaker and you're looking at a much shorter range. In most scenarios, we think the 50 foot wireless range is on-par with the competition. Most wireless speakers max out at this distance, so it's adequate in our opinion.
If you're not a fan of utilizing the wireless connection, you can simply use an auxiliary connection to hard-wire the speaker to virtually any music source that has an AUX output. Eg: Old CD players, tape decks, etc.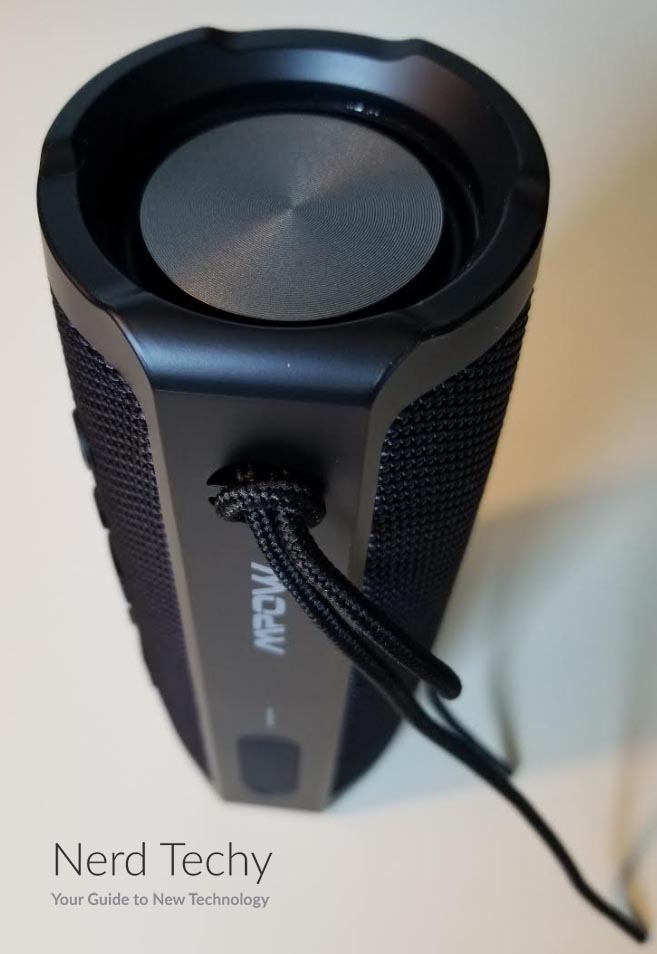 Final Thoughts
All in all, the Mpow SoundHot R9 Bluetooth Speaker has a lot going for it. The sound quality is quite favorable with plenty of "oomph" and clarity for most situations. The volume can crank to an enormous level and with the "PartyCast Mode" we could see it becoming a favorite among party-goers or entertainers that want to play music outdoors or indoors with a decent sized crowd. The bass seems adequate, although it's not adjustable, and the treble is set to a nice level that makes the vocals shine through.
The look and feel isn't anything too special, although we're a fan of how rugged it feels. With its IPX7 waterproof rating, we're certain that it can withstand quite a bit of wear and tear. Best of all, Mpow offers a 2 year warranty period on the R9 from the date you purchased it. This means, if you ever have any issues with it or it simply stops working in the first 24 months, you can contact them for a replacement. That being said, Mpow has been around for several years and is always easy to get a hold of.