Quick Analysis
Pros
Excellent display quality.
9.7" version supports 5 GHz WiFi.
16 GB integrated memory.
Built-in sleep timer.
Cons
No cloud storage.
10.1" version only supports 2.4 GHz WiFi.
Can only pair with frame while on the same network.
They say a picture is worth a thousand words. Indeed, pictures tell the story of our lives. We use them to commemorate our weddings, our vacations, our births, and other major life events. Then we hang them up all over our homes to remind ourselves of our best times. Regardless of who you are, it's undeniable that family photos add warmth and life to a home.
But traditional picture frames have natural limitations. First off, you need physical pictures. This means having prints created and framing them. And when you want to change one picture to another, you have to repeat the process all over again. Second, there's limited space on your wall. Do you want to put up pictures of your trip to Disney World, or your Alaskan glacier cruise? Your sister's wedding, or your niece's christening? Invariably, if you want to show off one event, you're leaving another event out in the cold.
A digital picture frame is a great way around both of these limitations. First, it eliminates the space issue since you can cycle through photos. You can put all your vacation pictures in a single frame, and let them rotate throughout the day. Second, a digital picture frame eliminates the printing and framing issue. Copying digital pictures is way easier – and cheaper – than having new pictures constantly framed.
We're about to review the AEEZO Smart Digital Picture Frame. This frame is available in two variants: the 9.7 and 10.1-inch sizes. For the most part, they're identical, but there are a few differences that are worth noticing. When a difference does arise, we'll point it out. Otherwise, just assume we're talking about both variants. But is the AEEZO picture frame worth your money? And if so, which version should you buy? Let's dive into all the features, and you can decide for yourself!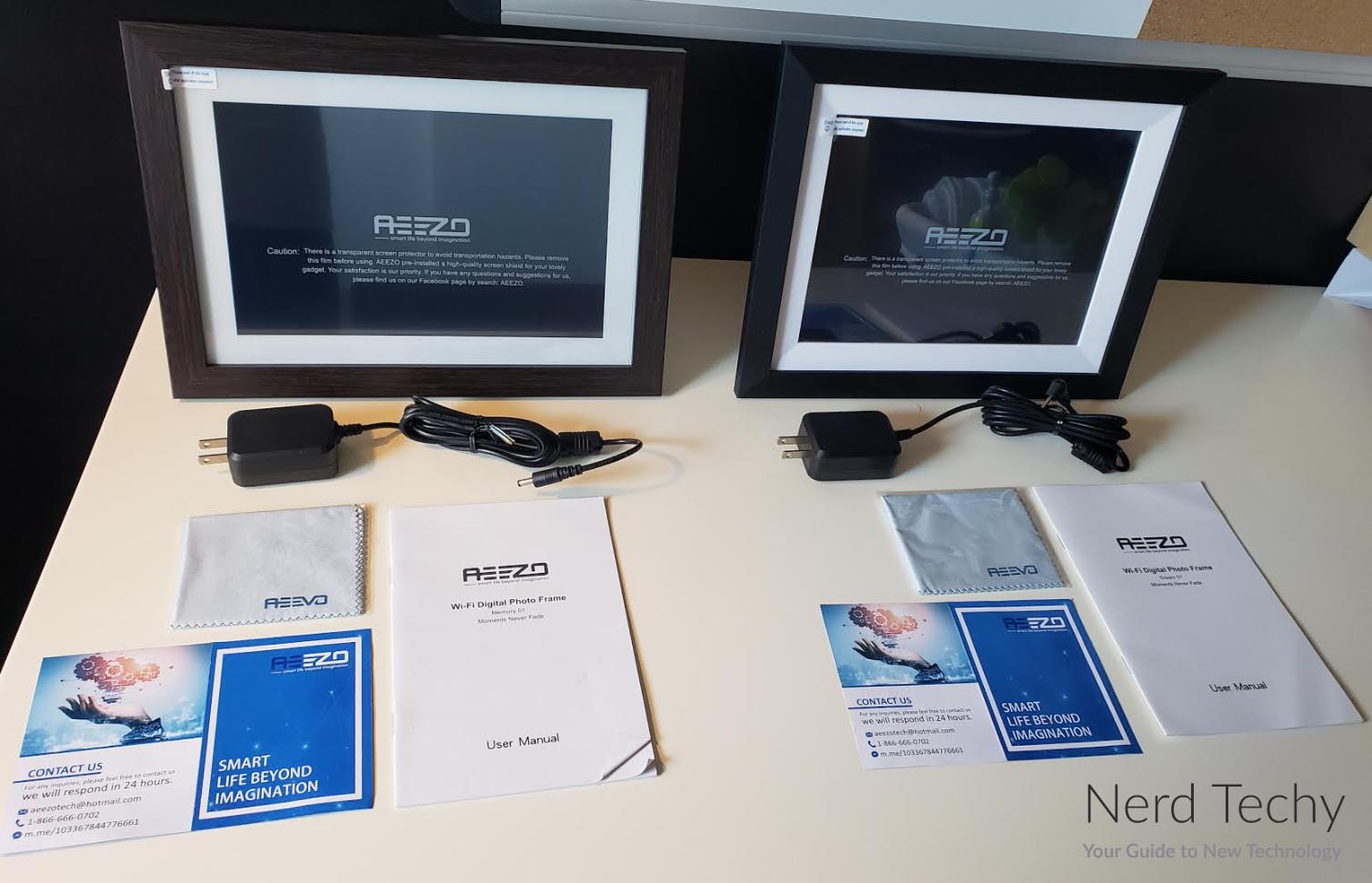 Design & Construction
The AEEZO Smart Digital Picture Frame is designed to look as much like a real picture frame as possible. Obviously, anyone with functional eyes can tell the difference between a digital display and a physical photo. But the AEEZO frame obfuscates the digital look as much as possible. The screen is bordered by artificial matting, complete with artificial 45-degree cuts at the corners. This gives it an authentic appearance, as of it had been professionally framed. The outer frame is rectangular, and slopes slightly towards the center. As a result, it has a contemporary appearance, much as you'd expect from a professional frame shop.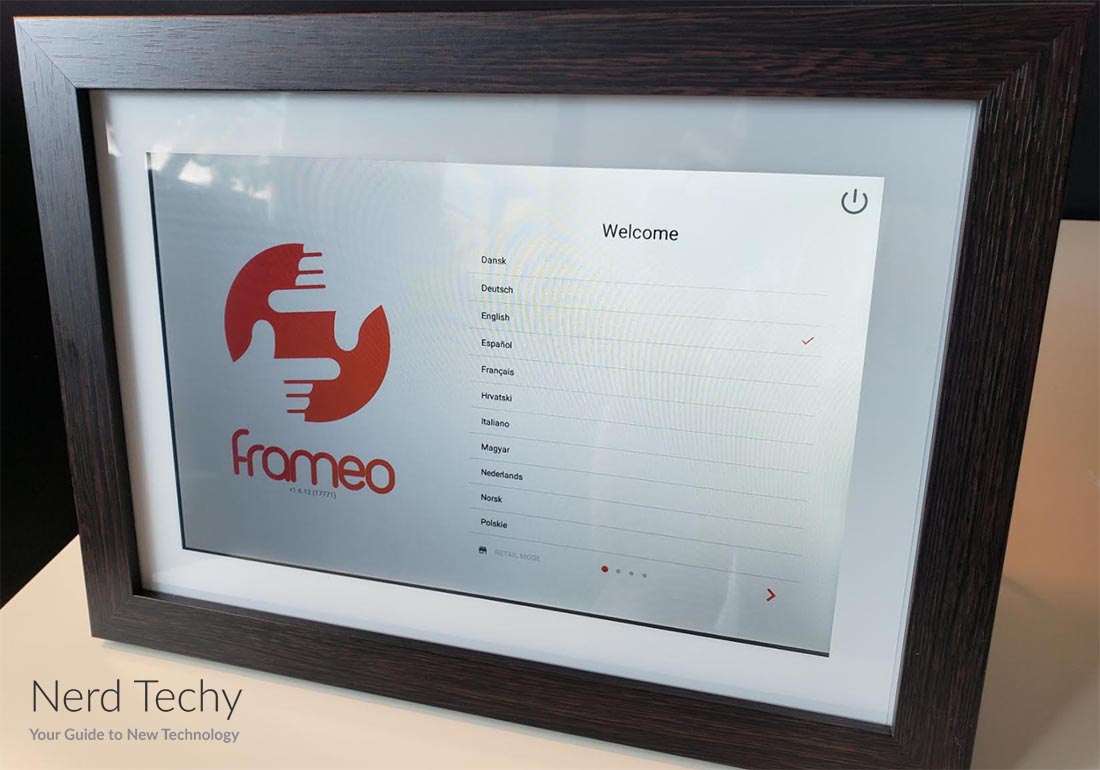 The screen itself measures either 9.7 or 10.1 inches diagonally, depending on which variant you bought. Either way, the AEEZO frame is available in three different colors: black, brown, and white. All three color options have a natural wood appearance, as if they had been stained. This makes them very attractive, whether you want to keep them on your wall or on a table. They're also easy to keep clean. A plastic finish is actually easier to wash than wood, so you won't have issues with dust or fingerprints.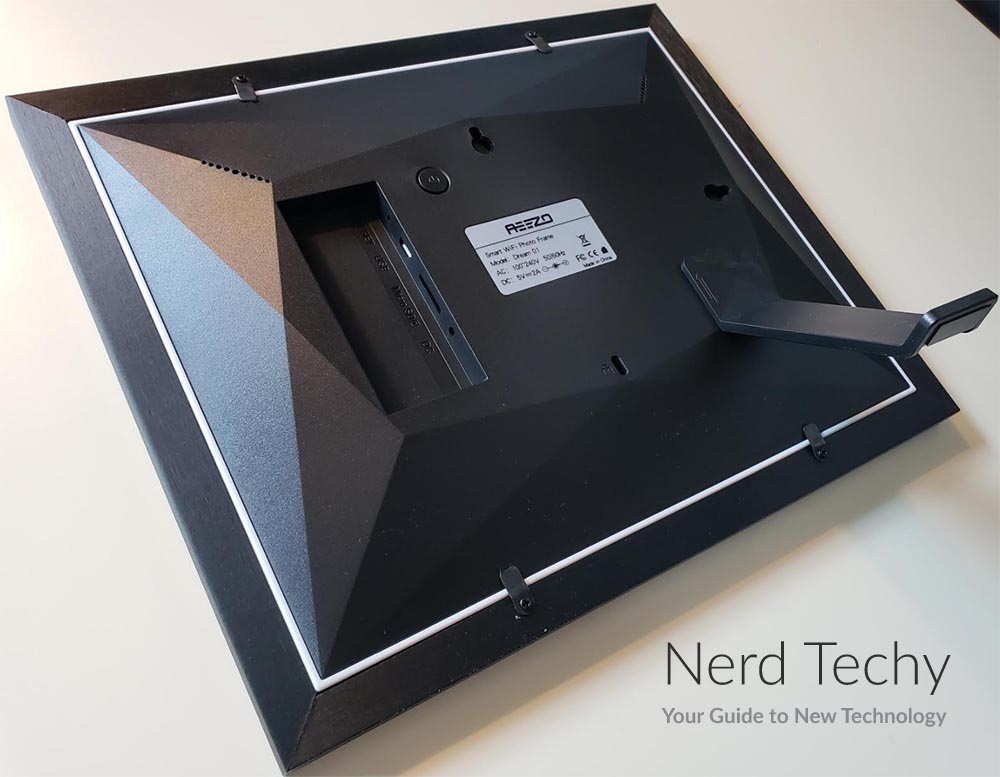 Regardless of which design you choose, you have your choice of placement. There's a kickstand that can be attached to the back for easy tabletop placement. Because of the shape and attachment of the kickstand, it will work in both portrait and landscape mode. Similarly, the frame can be hung on your wall in either orientation. There are screw slots in the back for both eventualities. When the frame is in position, the screen will automatically adjust to portrait or landscape mode as needed. You don't have to worry about adjusting your settings just because you moved the frame.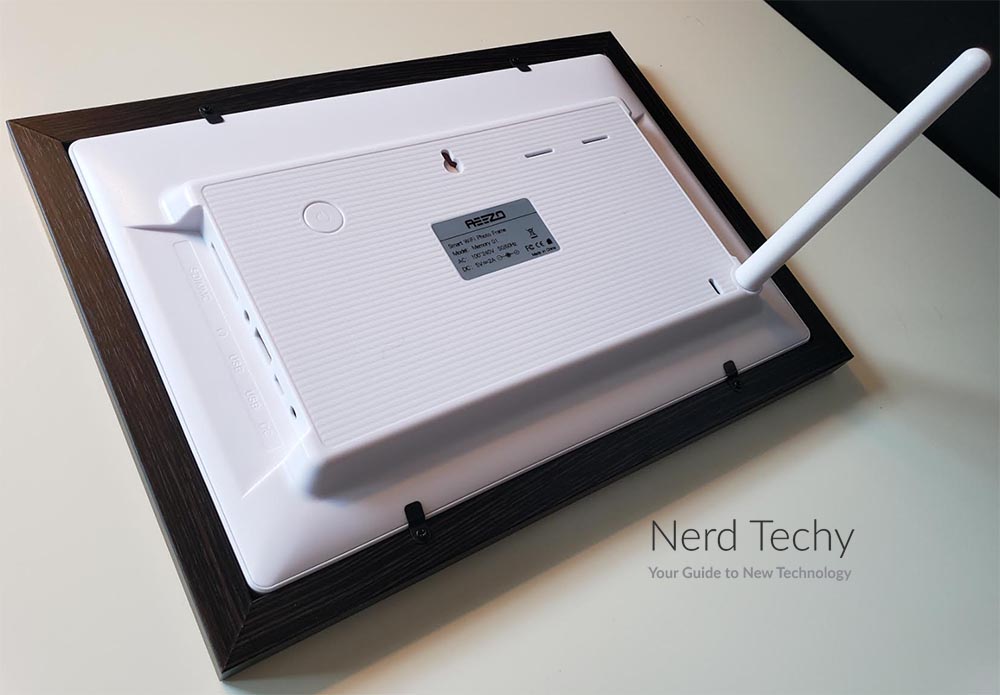 The frame is constructed from polycarbonate, so it should last for a good long time. However, even the best-engineered of electronics have been known to fail. To keep you safe, AEEZO provides a 12-month manufacturer's warranty. If anything goes wrong in the first year, you can file a claim for a full refund or replacement.
Connectivity & Storage
The AEEZO Smart Digital Picture Frame stores your pictures on a built-in 16GB memory chip. The easiest method is to copy pictures wirelessly, but there's no reason you can't do it manually. You can copy photos and short videos to the memory from a USB drive. If you need more memory, you can insert an SD card to expand your storage. An SD card can also be used to transfer your files, so you've got plenty of options.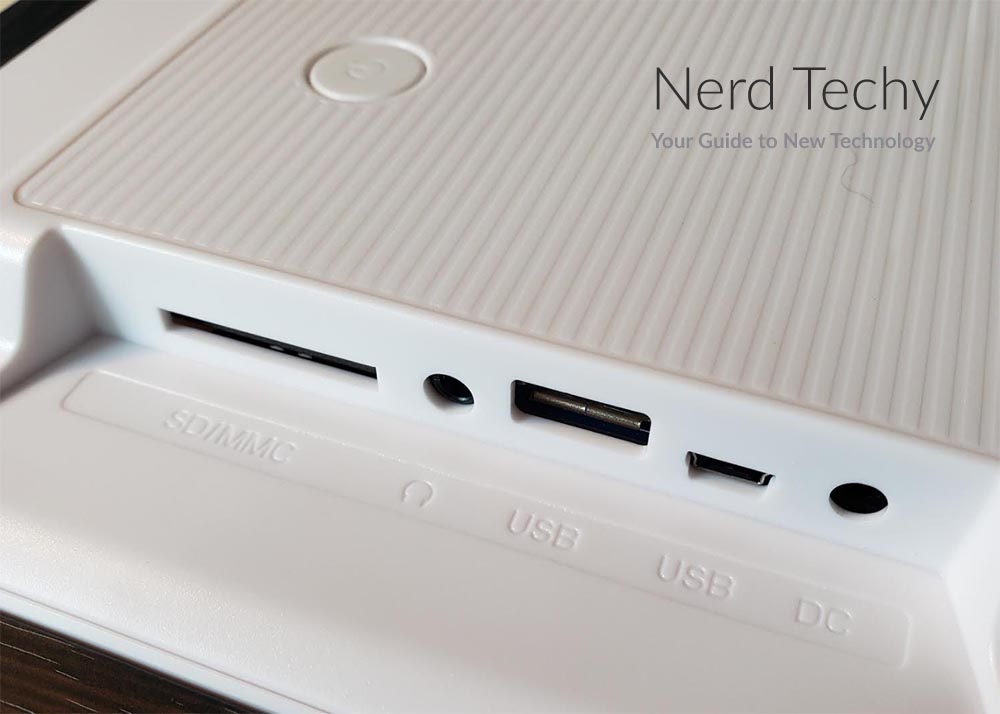 The only storage option the AEEZO frame doesn't offer is cloud storage. If you want to store your photos in the cloud, the Aura Frames Sawyer is a better choice. It comes with free unlimited cloud storage, so you can share as many pictures as you want. Just be careful with the app's privacy settings, or you may end up sharing photos that are better kept private.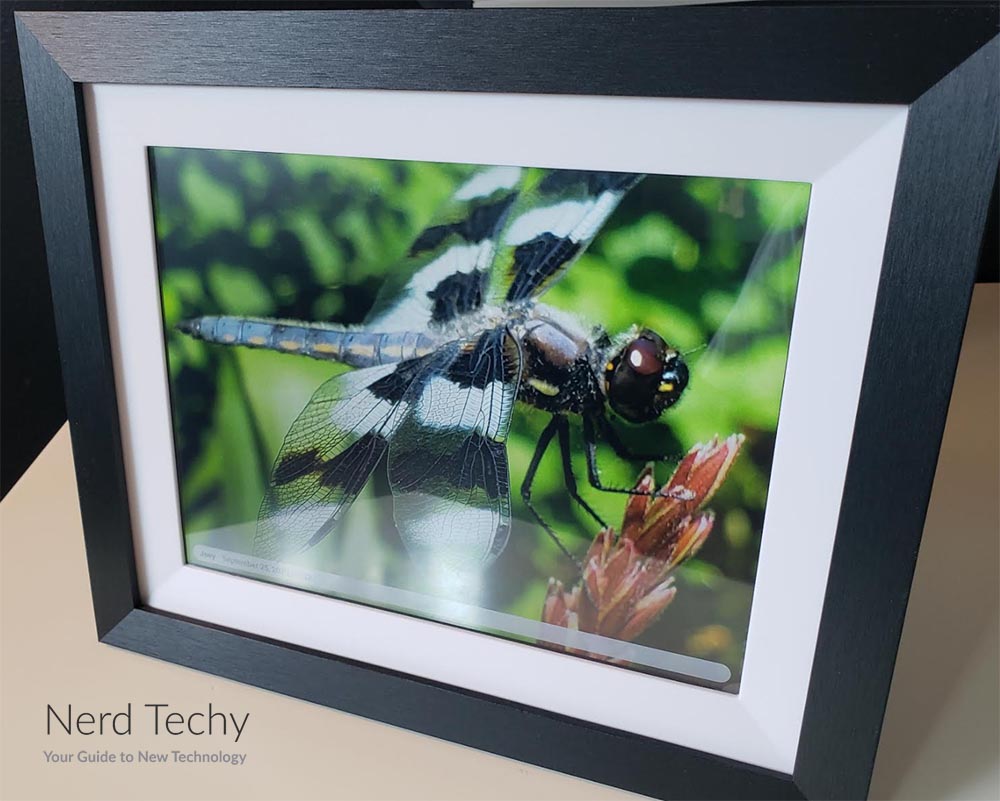 That said, to get the most out of the AEEZO frame, you're going to want the companion app. The app is called Frameo, and it's available for free on both iOS and Android. Once the app is installed, you can pair your phone with your frame by simply scanning a barcode. This has significant privacy benefits. You don't have to pair your frame with your email, Facebook, or other personal accounts. Just pair your phone with the frame, and upload photos or manage them directly from the app. Multiple people can pair with a single frame, so the whole family can share photos together.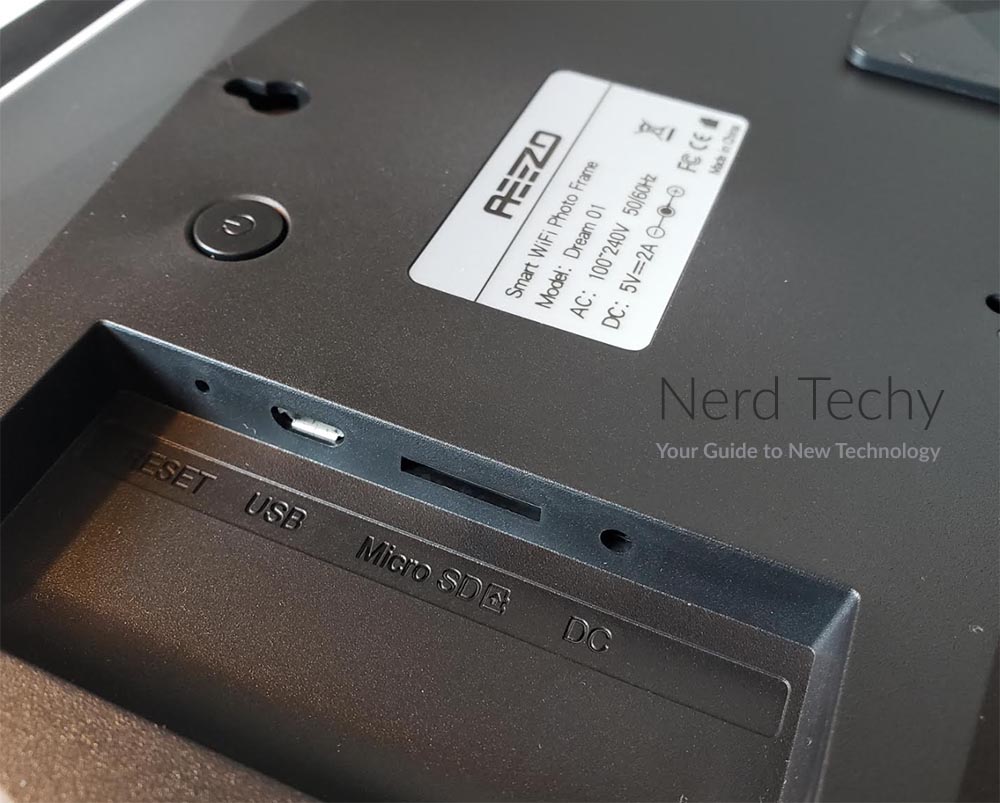 If you're looking for remote features, consider the Dragon Touch Digital Frame. The privacy options aren't quite as good as the AEEZO's, but the connectivity is amazing. Up to 10 friends and family members can pair remotely with a single frame, or with up to 10 different frames. This makes it a great way to share photos with large families. It's particularly useful when you have elderly relatives who aren't yet comfortable with social media.
One neat feature of the 9.7″ AEEZO frame is that it supports transfer over the 5 GHz wireless band. This band offers higher data rates than the 2.4GHz band. As a result, you typically don't have to worry about slow loading speeds that may come with the 2.4 GHz band. However, keep in mind that the 5 GHz band cannot travel quite as far as 2.4 GHz, although it's better-capable of transferring larger files in a shorter period of time.
Theoretically, anywhere you can get a WiFi signal on your phone, you can connect your frame. Once the frame is in place, a simple WPS button makes it very easy to connect to your home WiFi network. You don't have to go through a complex setup process or anything like that.
The controls are mostly performed through the app. You can choose different display modes for your picture frame. Options include adjusting display time, transition types, and which photos will appear to begin with. You can even use the app to publish images to social media, or display captions on the images. If some pictures are too large or too small, they can be zoomed in or out within the app. You can also adjust screen brightness, in order to provide the most comfortable possible display.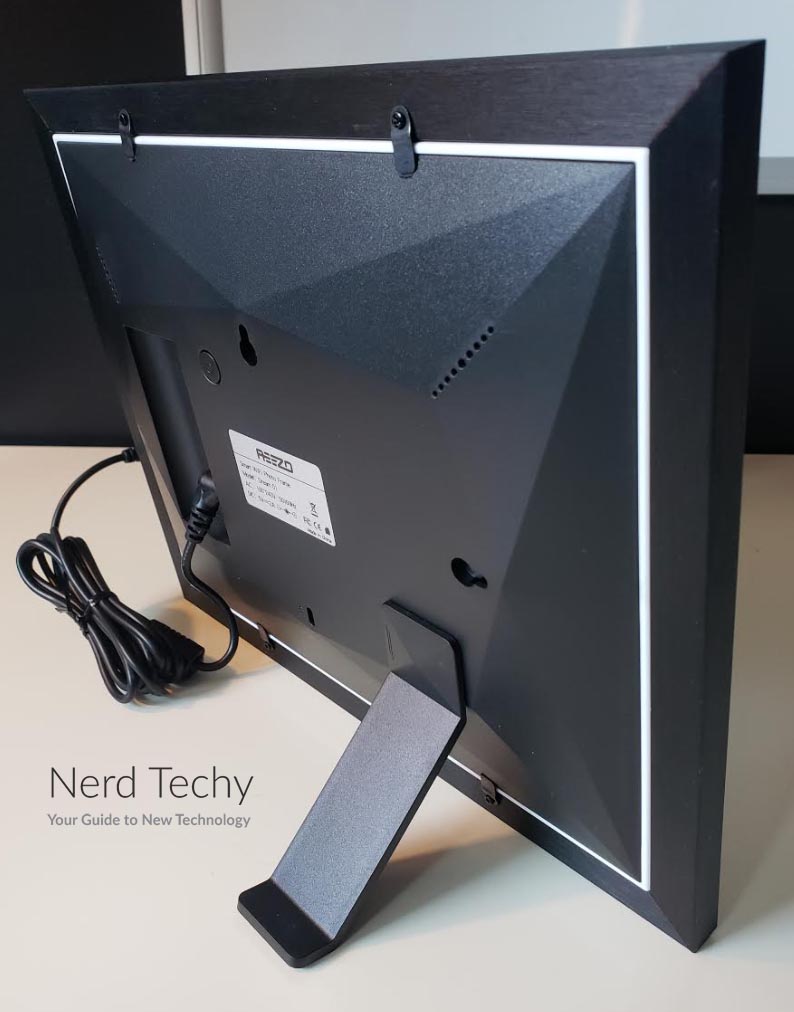 Perhaps our favorite feature was the inclusion of a sleep timer. Digital picture frames are bright, and can keep you up at night, but that's not an issue with the AEEZO. When the sleep timer is set, the frame will automatically turn off during set hours. So, for example, you can set your sleep timer for 10PM to 6AM. In that case, the frame will automatically turn off at 10PM and back on at 6AM.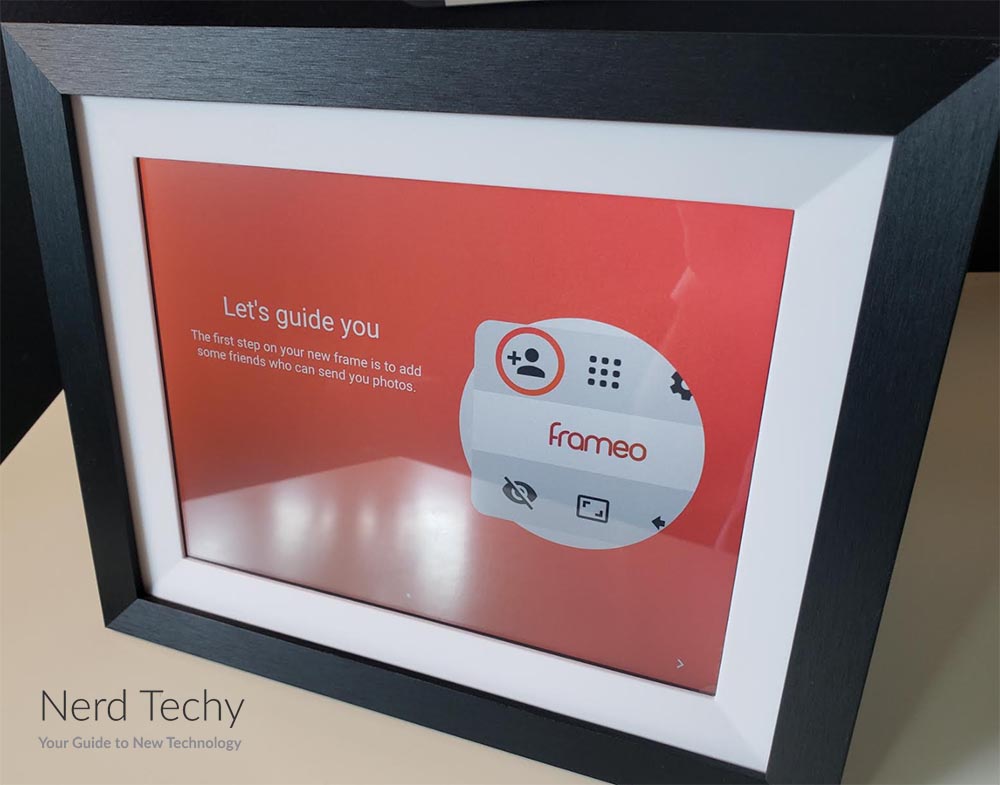 Image Quality
The display is the main difference between the two AEEZO frames. Both of them are IPS displays, which means they have a wide viewing angle. You can clearly see your pictures from an angle of 89 degrees in either direction. This makes the frame look more "realistic", since real pictures don't disappear when viewed from an angle.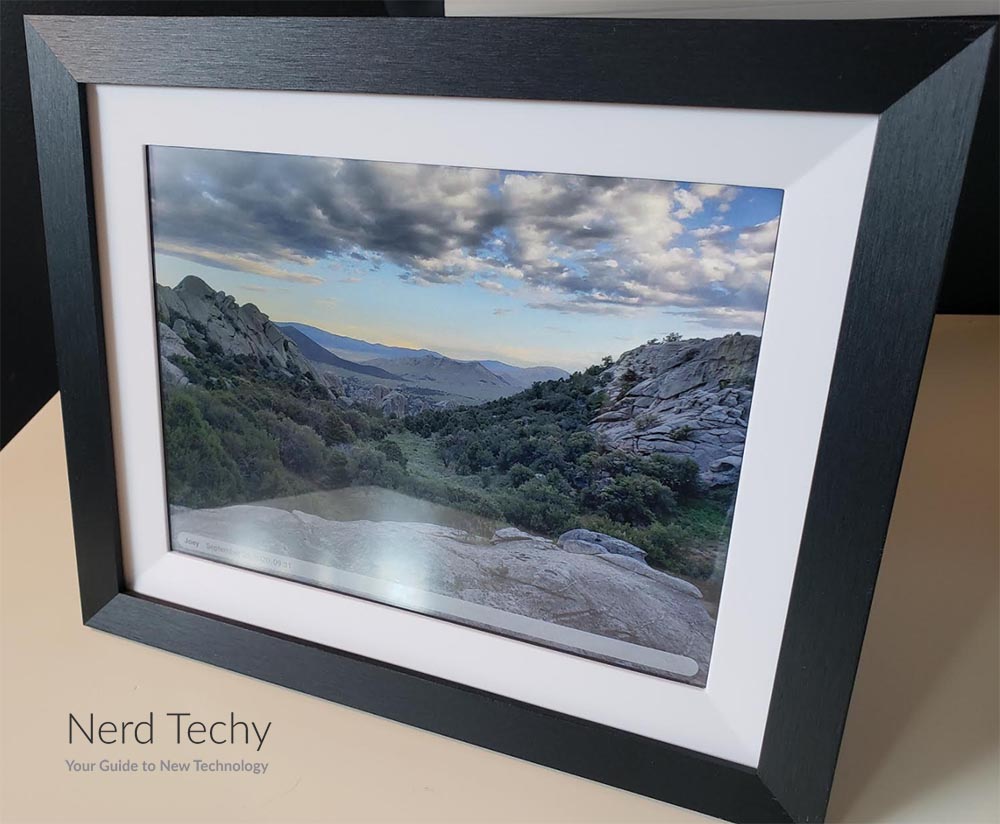 There are three differences between the screens. The first is the resolution, with the 9.7-inch frame displaying in 2K, while the 10.1-inch frame is 1280×800 pixels. Here's the thing. At this size, you're only going to see a very marginal difference between those two resolutions. The human eye can only distinguish pixels that are so small, and the difference here is minimal. If you're super picky about image quality, you'll prefer the 2K screen. But most people aren't going to care.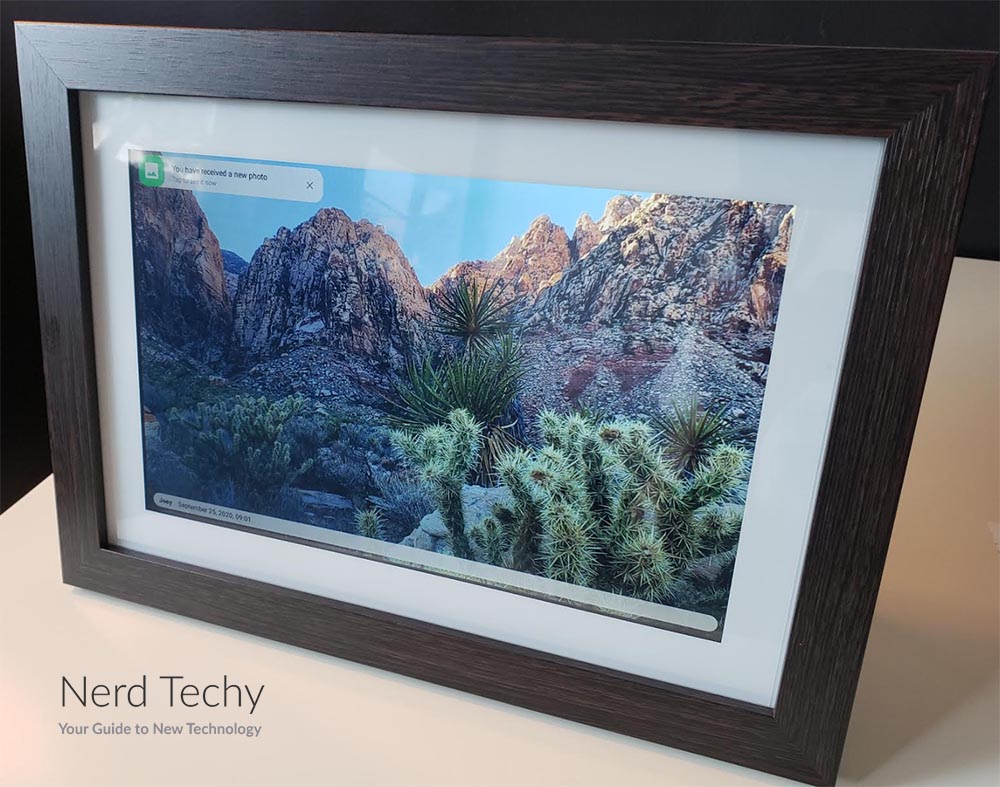 Another major difference is the display ratio. The 9.7-inch screen has a traditional ratio of 4:3 for photos. The 10.1-inch frame has a ratio of 8:5, which is a bit unusual. This means that more often than not, you'll have black bars on the side of your pictures. It's not a huge deal, but it's something you should be aware of.
In addition to photos, both versions of the frame can show short, 15-second videos. The built-in speaker isn't studio-quality, but it's good enough for fun family videos. Alternatively, you can mute the speaker if sudden sound irritates you.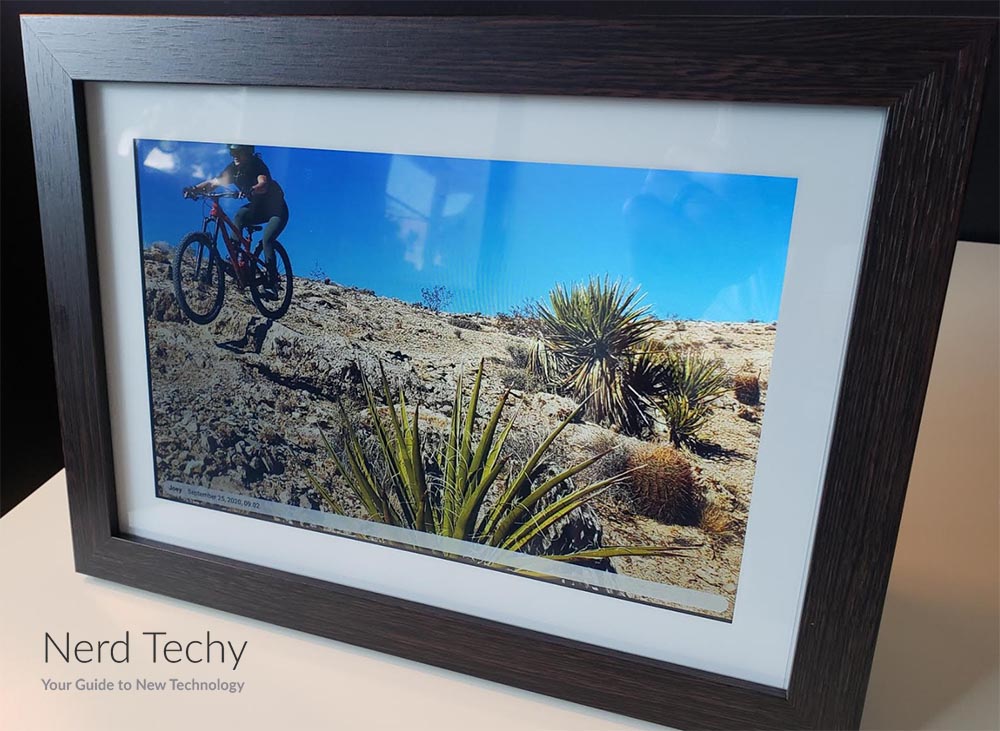 Final Verdict
As you can see, which one of these frames is the best comes down to which screen you prefer. We liked them both equally, although the 10.1″ version is nice to have just because it is a bit larger (more viewing area). Sure, the availability of 5 GHz is nice to have with the 9.7″ version, but in most scenarios, 2.4 GHz WiFi connection will do the job just fine.
The app is easy to use, offers quick setting adjustments and plenty of intuitive sharing features for receiving photos that you'd like to display. Overall, the AEEZO frames provide plenty of value for their price-point with many attractive features that live up to their expectations.