Quick Analysis
Pros
Plugs directly into your smartphone.
Easy to use.
Translates 40 different languages.
Also transcribes meetings.
Cons
Significant accuracy issues during translation.
Won't work with thick phone cases.
Won't work with older Android devices.
With each passing day, our world becomes more and more connected. This is good for business and the economy. The more countries trade and interact, the more we all benefit. It's also a benefit for world peace. After all, countries that are doing business together are less likely to fight. This is why so many of our leaders have hailed globalization as the dawning of a new era.
Unfortunately, this increasing interconnectedness can present certain obstacles for people in business, academia, and everyday life. Sure, if you're a smart person who travels a lot, you may speak two or more languages. But nobody, no matter how smart and dedicated, speaks all languages, or even most languages. In the past, this meant you'd have to hire someone to translate for you. As you can imagine, hiring a personal translator can get expensive over the course of a trip.
Nowadays, technology has delivered what we could previously only imagine: automatic translators. Instead of relying on another human being to translate for you, you can simply talk into a machine. The AI will do all the hard work, and you can focus on communicating as naturally as possible.
Of course, not all automatic translators are equally well designed. Some are constructed from quality material, while others are cheap. Some only work for a few languages, while others are more well-rounded. And of course, some are better than others at accurately translating what you're trying to say. Today, we're going to review the Timekettle Zero Language Translator. This is a unique translator that plugs into your phone instead of being a standalone unit. But how well does it perform? Is it worth your money? Let's take a deeper dive, and find out!
Overall Design
When you think of a pocket translator, you probably think of a dedicated device. Something the size of a cell phone that you hold in your hand and talk into. Timekettle has developed a more innovative option. Instead of carrying their Zero Language Translator separately, it plugs directly into the charging port on your smartphone. This makes it easy to use, and you don't have to worry about charging a separate battery. The downside, of course, is that it will drain your phone's battery.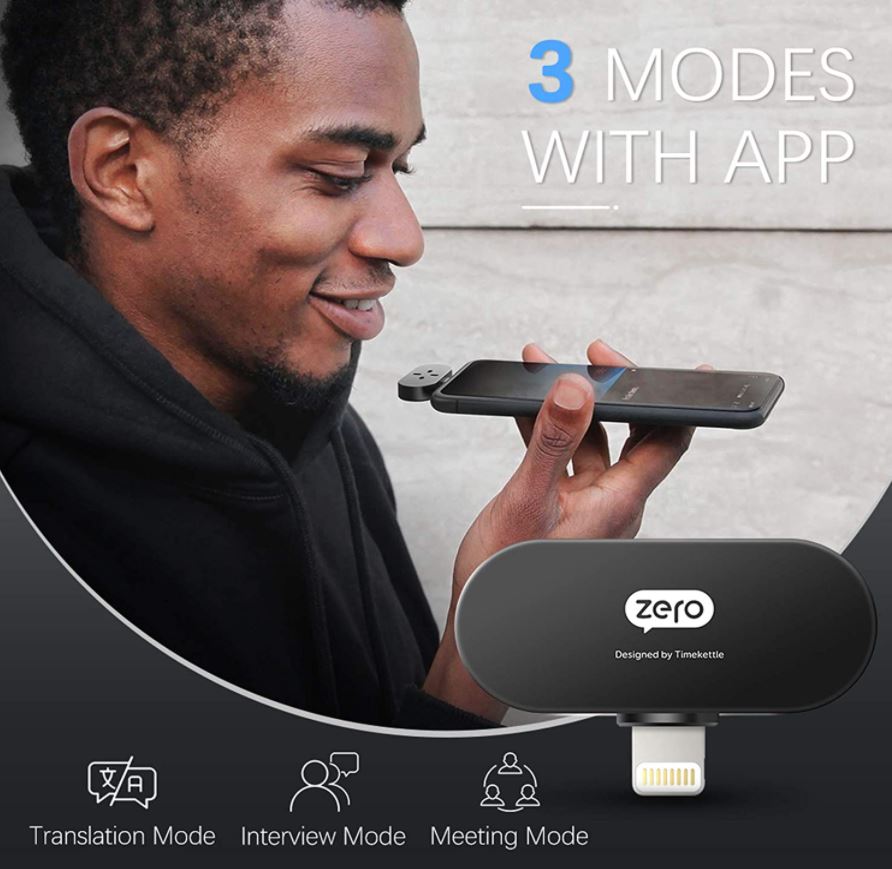 There are two different variants of the Zero: an iOS variant and a USB Type-C variant. The iOS variant is for iPHones, while the Type-C variant is for newer Android phones. Other than that difference, the two variants are identical. Unfortunately, there's no Zero translator with a Micro USB plug. This means that you can't connect to older or off-brand Android phones with Micro USB power. In addition, the plugs are slightly shorter than you might expect. You can only plug into a phone case that's 5mm in thickness or less. If your case is thicker than that, you're not going to be able to securely seat the plug.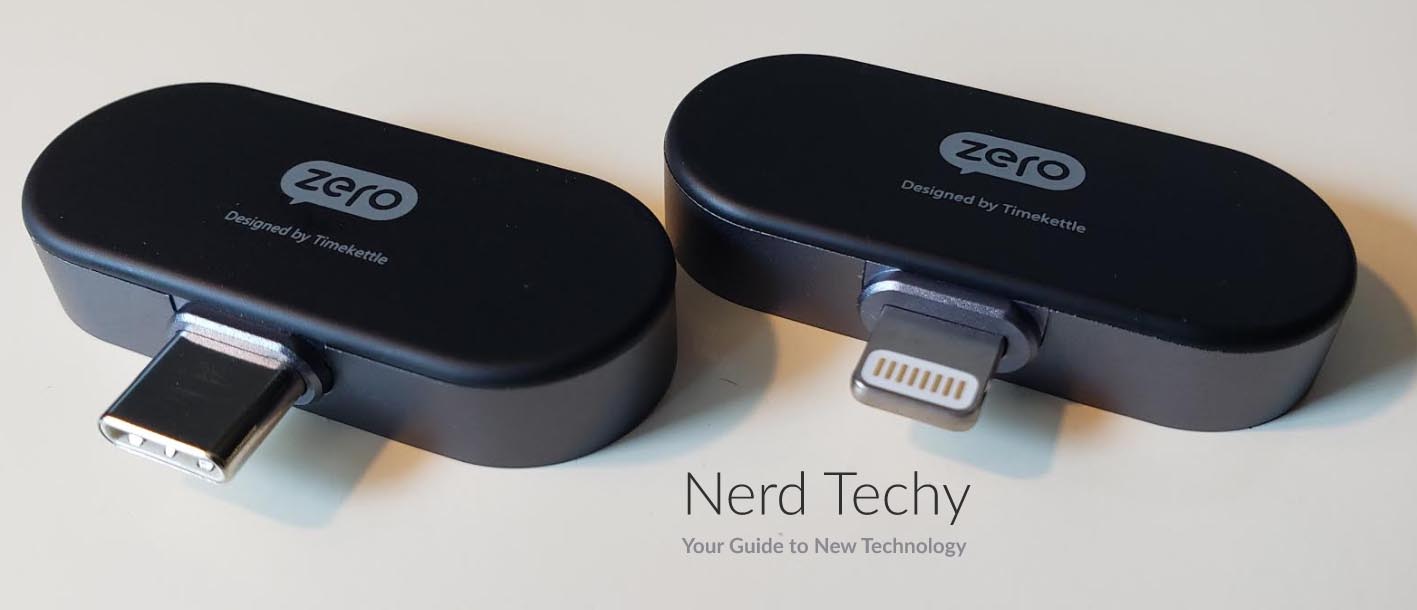 The Zero Language Translator itself measures just over 4 inches wide, with curved oval edges. It's also a little over an inch and a half long, and 0.79 inches thick. This makes it a good match for most smartphone profiles. Obviously, your mileage may vary depending on your exact phone and case. But no matter what you're using, it's going to be close enough in size for comfort. The total weight of the unit is only 1.76 ounces, so it's light enough that you'll barely notice it.
The housing is black ABS plastic, with a plain matte finish. This finish is less flashy than some. On the other hand, it also doesn't attract fingerprints or dust, and it's easy to clean. On the front, there's a white Zero logo, and the design is otherwise plain. The curved oval profile keeps it from jabbing your legs, even if you carry your phone in your pocket.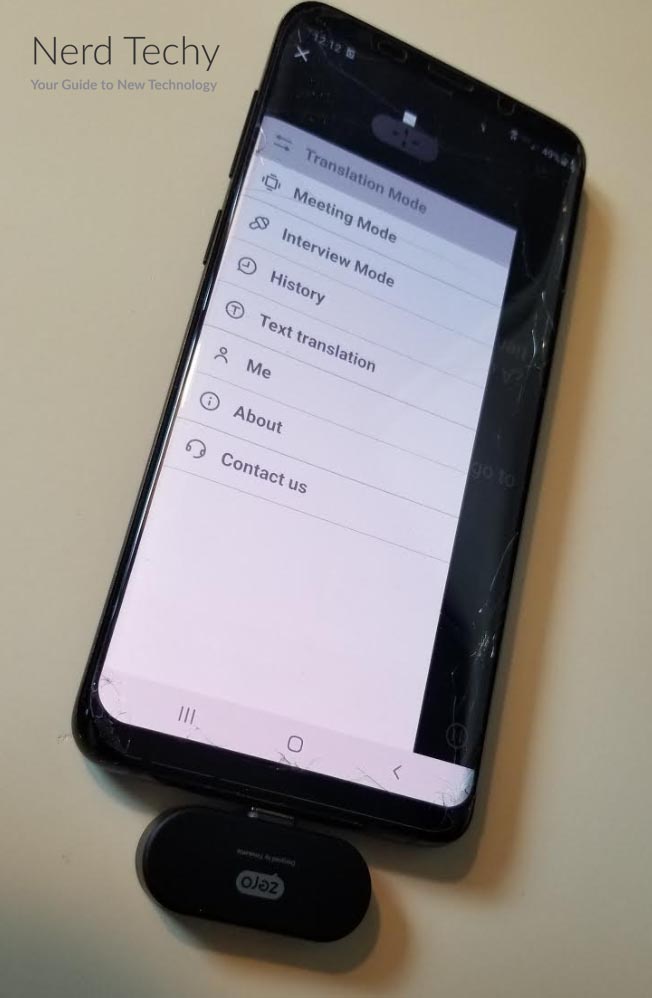 Everyday Operation
The Timekettle Zero works in conjunction with the Timekettle app. Just download the app for free, plug in the translator, and you're ready to get started. Once you're inside, you'll have the ability to translate between 40 different languages. These include Mandarin, English, Cantonese, Spanish, Dutch, Italian, Japanese, Russian, French, Turkish, and more. In addition, the app is programmed to recognize 93 different regional accents. This can help improve translation accuracy when regional differences are at play.
As you can see, the Timekettle Zero can handle a large number of languages. That said, there are some translators that can handle even more. The Langogo Genesis can translate between a whopping 50 languages, making it one of the most versatile translators available. That said, it's a separate device, so it's bulkier than the Timekettle Zero.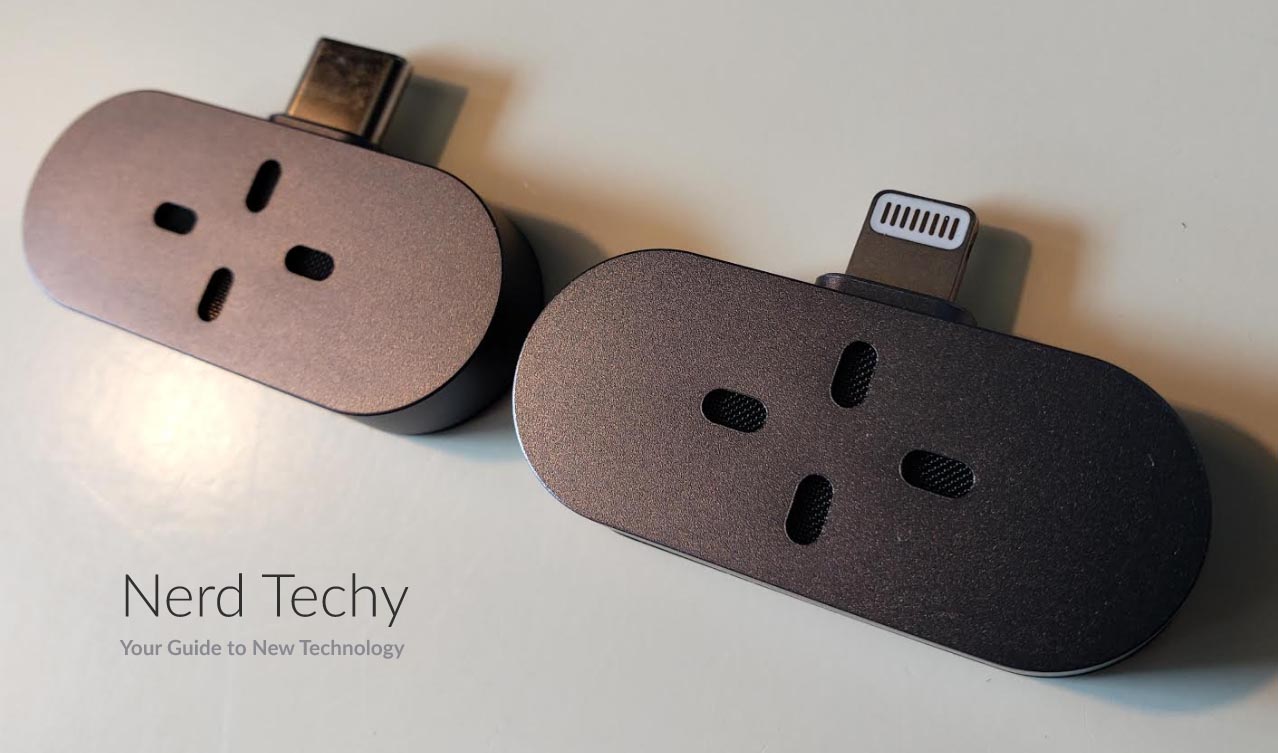 The Timekettle Zero works in three different modes. The primary mode is translation mode, for a conversation between two people. In this mode, you simply select the two languages, and take turns talking into your phone. The translation will both play audibly and be displayed on the screen. In this mode, the microphone is rated for a range of one meter, or about 3.3 feet.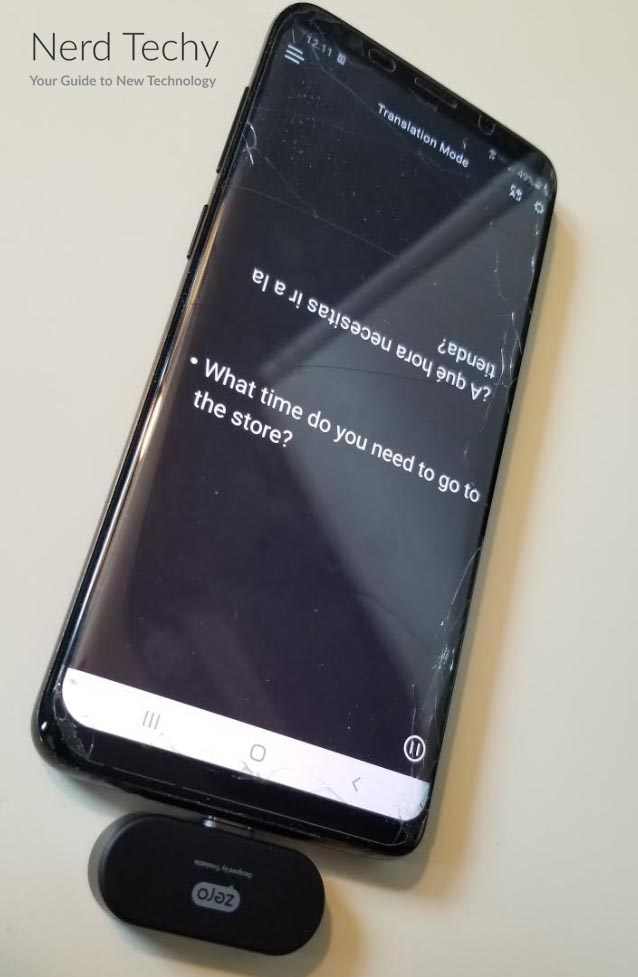 Alternatively, you can use meeting and interview modes. These modes use four directional mics to better isolate different voices. They also provide a text display only rather than an audio readout. This way, you can freely listen to a meeting without your translator being disruptive.
About the only thing the Timekettle Zero doesn't offer is a transcription service. If you need long sessions translated and saved, it can be easier to use a translator that's designed for this. The Langogo Minutes is an aptly-named translator that will get the job done. You can get even hours-long recordings translated and emailed to you as a PDF. This service is even free through December 31st, although it will cost a per-page fee after that.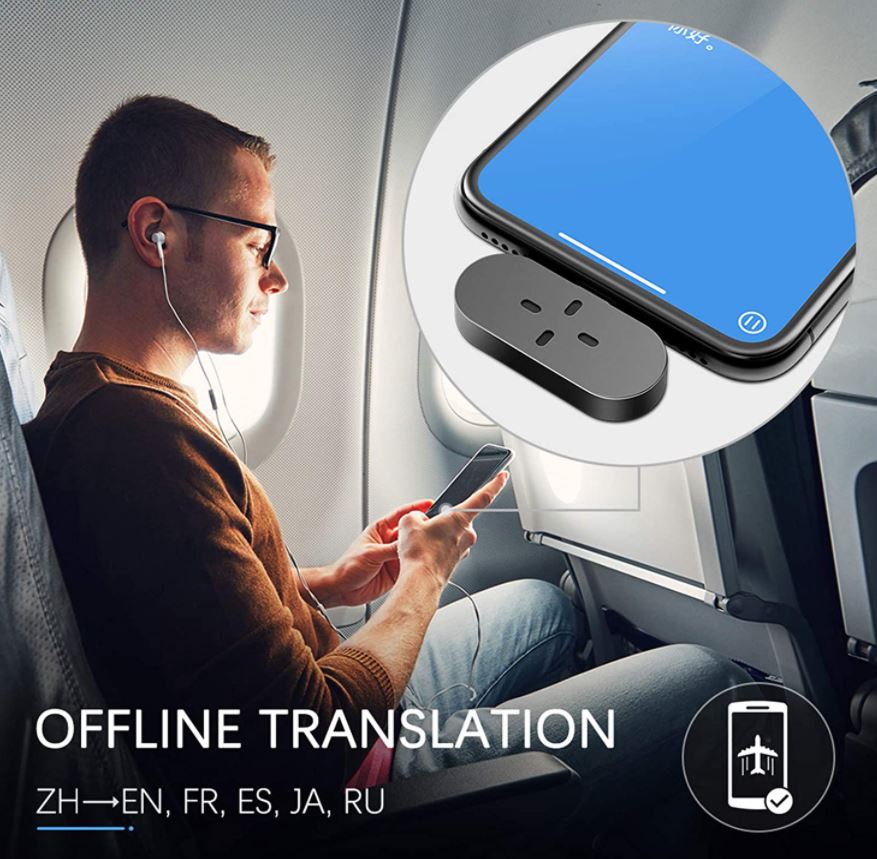 Connectivity
For most translation functions, the Timekettle Zero requires an internet connection. This only makes sense, if you think about it. There are way too many words in 40 languages to store everything locally. Most of the data is actually in the cloud. This means that you're going to need either a WiFi or mobile data connection. Thankfully, the app isn't super picky about the quality of your connection. If your speeds are slow, it might take a second to process, but it will still work.
That said, the Zero will translate between six different languages in offline mode. These include Mandarin Chinese, English, Japanese, French, Spanish, and Russian. As a result, you'll be able to communicate with more than half the world in offline mode. To access the other languages, all you have to do is establish an internet connection.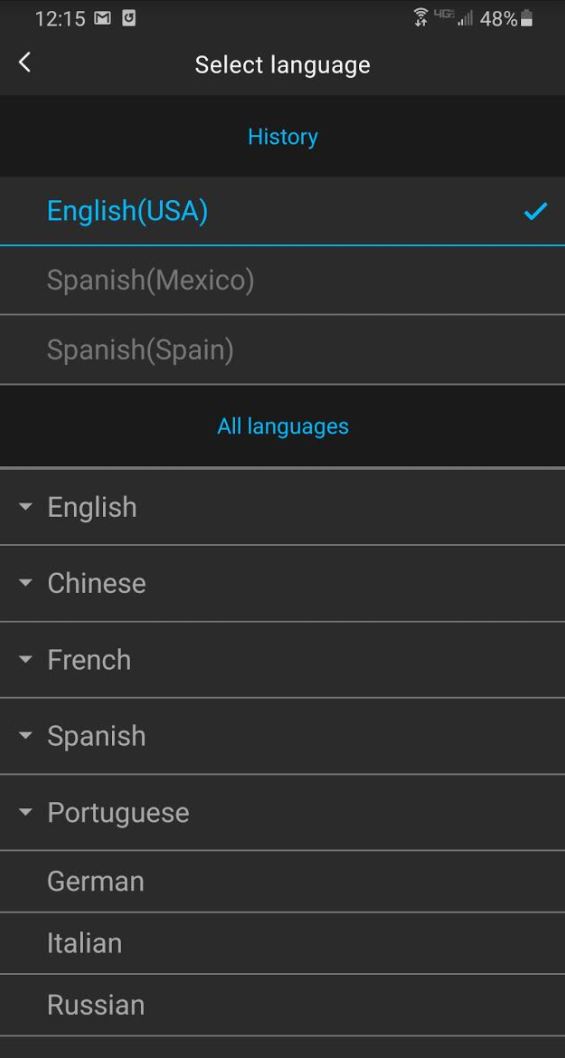 Quality of Performance
So far, it seems like you're looking at one of the better pocket translators on the market. And indeed, the overall design has a lot to recommend it. Unfortunately, the Timekettle Zero has some accuracy issues that severely hamper its performance. Now, let's be totally clear. No pocket translator, no matter who makes it, is going to be 100 percent accurate. Human language is incredibly complicated, and it takes a human being to decipher it sometimes. In other words, you should expect to see some silly errors with any translator you buy.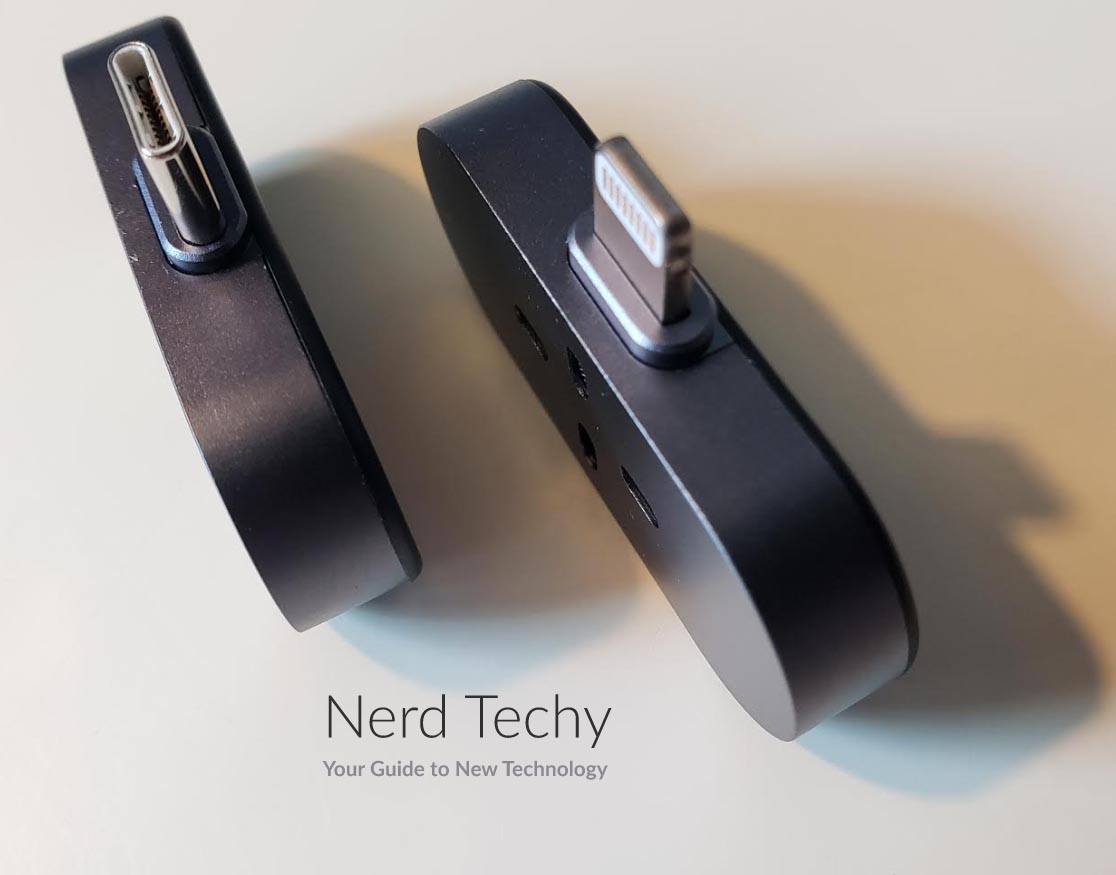 That said, voice recognition is an old and relatively well-developed technology. You'd expect that any pocket translator would at least correctly identify what you're saying. But when you say "Hi, it's Jason" and the machine thinks you said "Try this bacon," you know something's off. There's simply no excuse for this level of performance. If you can't rely on your pocket translator to know what you're saying, you can't trust it for anything.
To be fair, Timekettle seems to be well aware that this is a problem. In a standard response email to customers, they've stated that they'll be improving voice recognition. They've also stated that they'll be extending the USB plug to be compatible with thicker cases. We have yet to see a release date for the latest and greatest version of the Zero. However, it's possible that these issues are going to be worked out in the near future.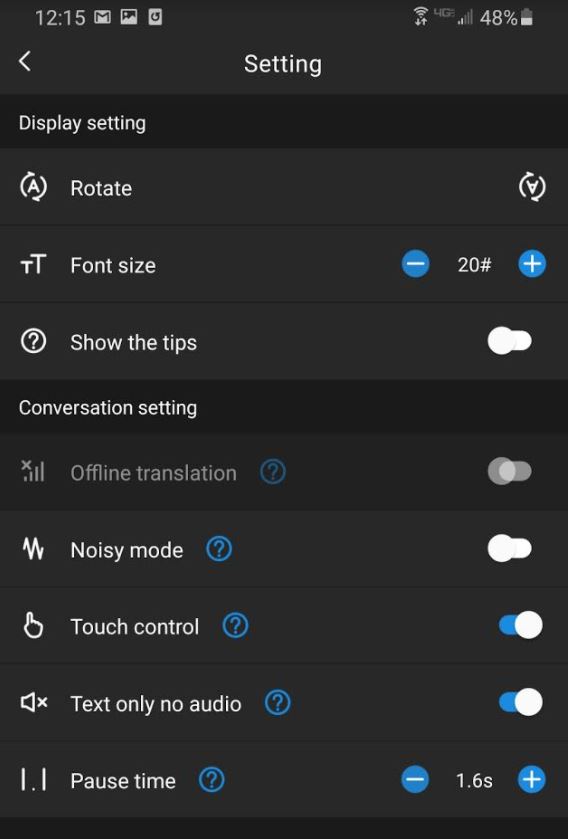 If you need a translator for serious work, you need some serious accuracy. In that case, don't sell yourself short with a translator that's only 50 percent accurate. We've reviewed several more accurate pocket translators that will leave a much better taste in your mouth.
Final Verdict
The Timekettle Zero Language Translator is a powerful, unique translator with a fatal flaw. Let's start with the positives. The basic design makes it much easier to use than your average pocket translator. Since it plugs right into your phone and works through an app, there's no extra gear to carry. Moreover, the availability of 40 different languages is refreshing. You can communicate with almost anyone on Planet Earth without any confusion.
At least, that would be the case if the translator itself was more accurate. We get it. Natural language processing is hard. It's so hard that companies like Apple and Google have invested billions and they're still not perfect. So it's understandable that a pocket translator, even a very good one, will make the occasional error. But that's no excuse for simply not being able to hear words to begin with. There are children's toys with more effective voice recognition than this. The lack of compatibility with older Android phones was also disappointing, albeit more understandable. After all, this is an advanced device, and Micro USB might not offer enough bandwidth for the job.
For now, we recommend giving the Timekettle Zero a pass. There are better pocket translators on the market that aren't going to make these kinds of basic mistakes. That's a real shame, since there's so much to like about the Zero's overall design. Hopefully, Timekettle will follow up on their promise to develop a new version of the Zero. If they do, we look forward to trying it out, and seeing if they've worked out the bugs.