In this day and age, portable audio takes high priority among many individuals. Whether you listen to music regularly or just on occasion, we can all agree that having a small speaker can help boost your audio to the next level. Let's be honest, smartphone speakers tend to be lacking in many regards. Having the ability to pair your smartphone with a wireless speaker can do big things for your music.
The caveat for most is that owning a portable speaker requires a bit of an investment. However, you really don't need to spend an arm and a leg to acquire one with decent sound quality and features. Take the new Mpow R3 Bluetooth Speaker for example. It's small, inexpensive and built to withstand the elements. But the low price tag of the R3 brings up some key questions. Is it too cheap to be any good? Is it even worth trying or should you double your budget and select a more-capable speaker? Today we're going to take a closer look, test out the R3, and see if it's worthy of a purchase.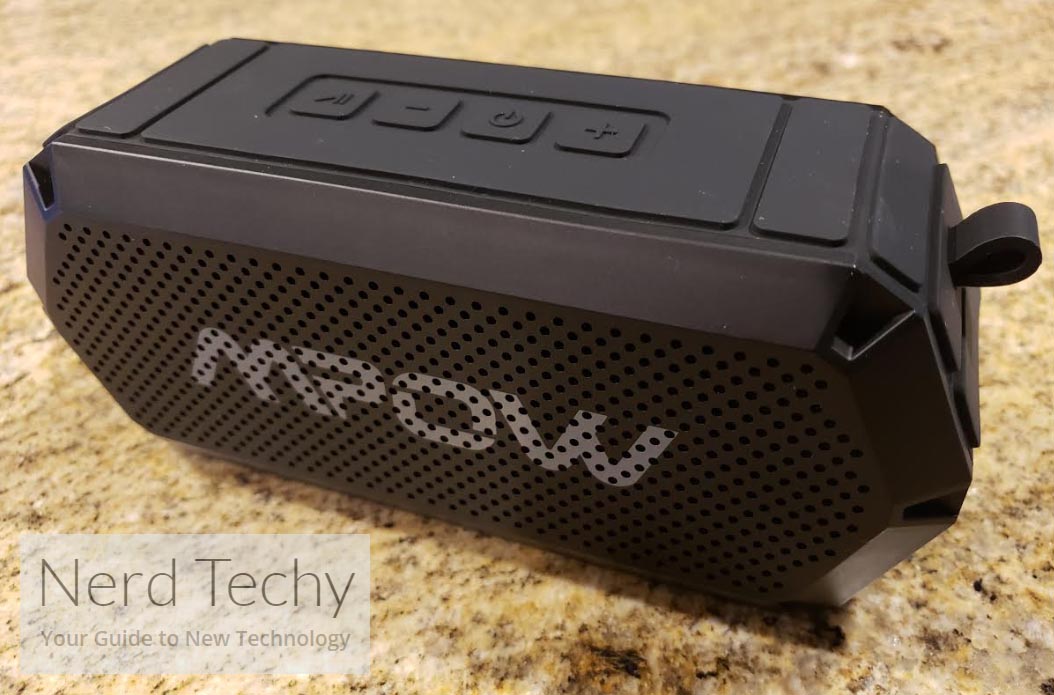 First Look
Opening up the box, we were initially impressed with the small size and dimensions of the speaker. Measuring in at 7.24 x 3.74 x 2.56 inches and weighing just over 13 ounces, you can tell that portability was exactly what Mpow was going for with the R3. While it doesn't exactly feel like the most high quality build, nothing seems extraordinarily cheap or tacky.
The body of the speaker is comprised of hard plastic with a rubberized coating built around the top, sides and bottom. The front and rear are perforated with holes to let the audio emit without the exterior dampening it. On the right top-side, a small rubber loop is built-in to clip the (included) carabiner for an easy attachment point for a variety of scenarios. In addition to this loop, a small rubber flap can be opened up right underneath it to expose the charging and auxiliary ports.
Along the top you'll find four individual buttons located side by side. These controls adjust the volume, play/pause, and turn on/off the speaker. Pretty self explanatory. As far as included accessories go – you'll find an auxiliary cable, USB charging cable, carabiner clip, and instruction manual all within the box.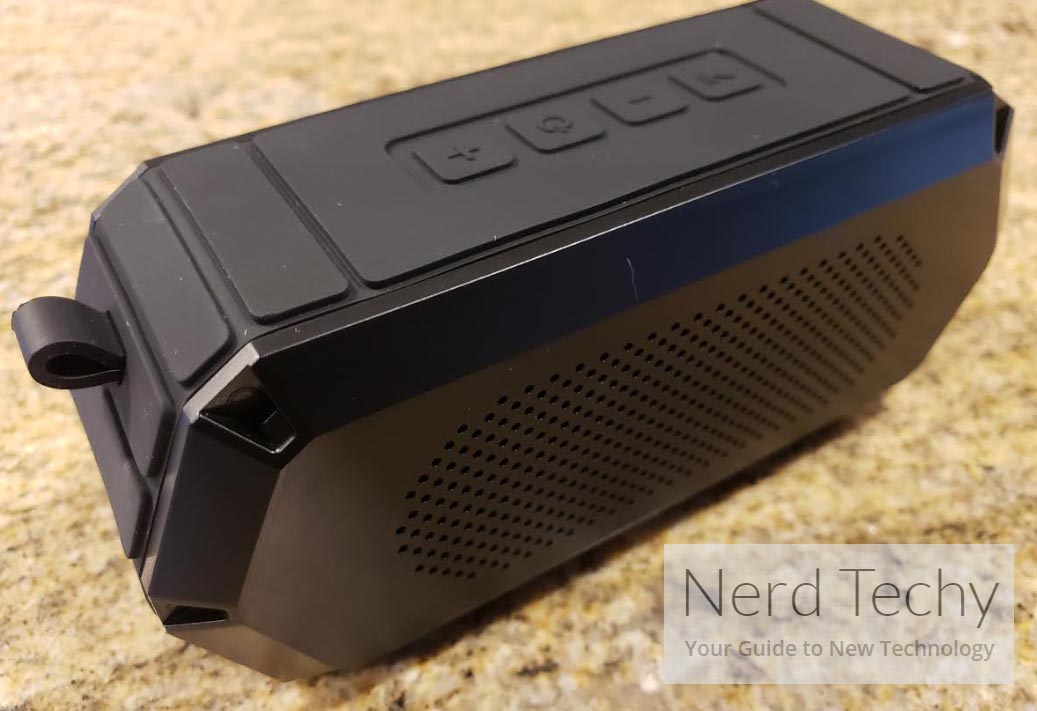 Wireless Connectivity
Although you can easily plug in the included auxiliary cable and start listening instantly, your connection won't be wireless. To take advantage of the wireless capability of the Mpow R3, you'll need to pair it first.
To do this, you'll need to first make sure that Bluetooth is enabled on the smartphone, tablet or device that you want to pair with. Once you've done this, press and hold the power button located on top of the speaker. You'll hear it boot up, then wait about 3 seconds until you see the small LED in the center of the Mpow logo blink red/blue intermittently. This indicates that pairing mode is now active. Using your smartphone or device, search for available nearby devices until you see "MPOW R3" show up on the list. Click it, listen for two beeps, and you're good to go!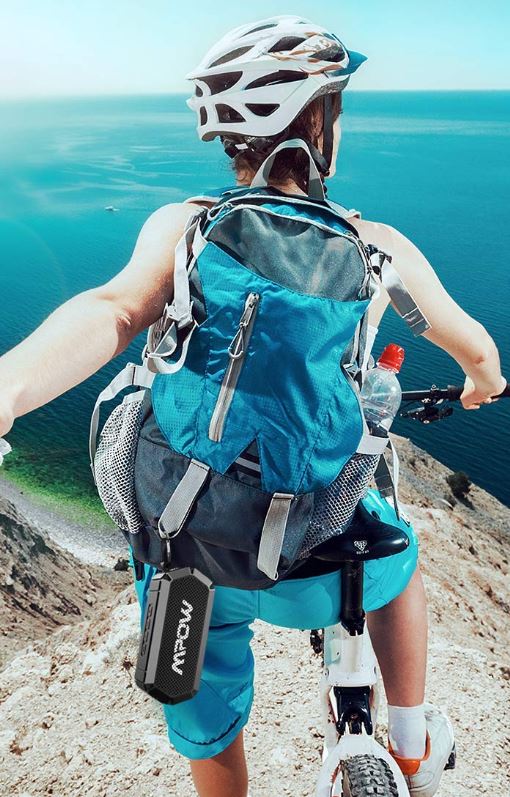 With a wireless Bluetooth connection, you're able to listen tether-free, which is one of the best aspects of the R3. But like anything that's wireless, you'll need to know its limitations before expecting too much. We found that the audio transmission was very clear with no delay.
The only qualms we had was when we put over 25 feet of distance between our paired smartphone and the speaker itself. At this distance, a bit of choppiness and lag were present – especially if there are obstructions in the way. It didn't seem like too big of a deal to us, but something to keep in mind. In most situations, a distance like this isn't even often encountered. People tend to keep the speaker nearby, so these effects are too be expected if you're pushing the range to its maximum.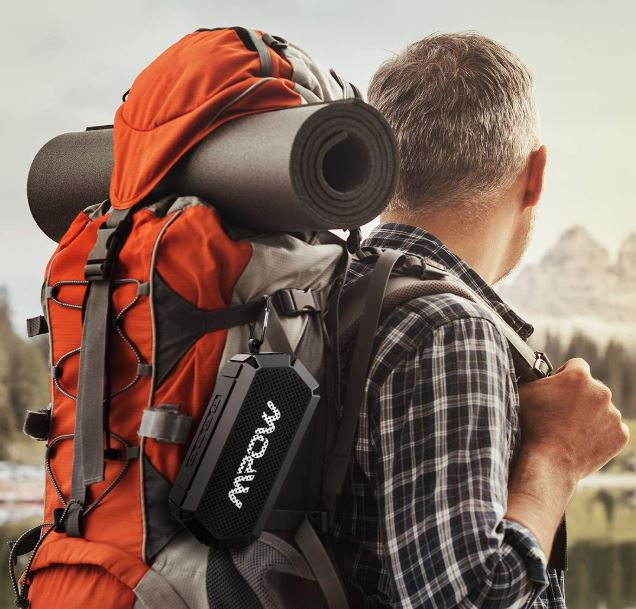 Durability
Although it goes without saying that you should keep electronics out of water and the elements, the Mpow R3 is made for it. Well, it's not made for full submersion in water, but the IPX6 rating means that it's definitely more durable right out of the box than your average Bluetooth speaker. IPX6 means that the R3 can withstand constant pressurized water jets without a hiccup. You can keep it in the rain and snow without a worry for water seeping in and becoming a problem. In addition, dust and micro-debris is kept out at all times, thanks to it being sealed-up tightly.
Although IPX6 doesn't specifically have anything to do with drop-protection, as it's more of a rating against water and debris, Mpow assures that it's strong enough to protect against accidental drops. When we were playing music through it, we dropped it from 3, 4 and 6 feet heights onto a concrete floor. To our surprise, after each of these drops, the R3 wasn't phased.
Nothing cracked, broke or went haywire. Impressively enough, the drop tests were no match for the R3. We didn't have the liberty to see from which height it would actually break at. However, it gives us a lot of confidence in saying that it can definitely handle most accidental drops that it may encounter throughout its lifespan.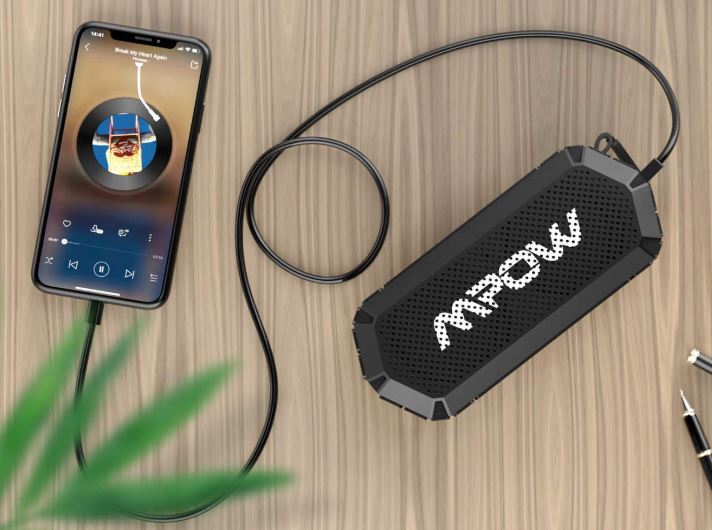 Sound Quality
Arguably the most important aspect of any portable audio equipment is the sound quality. With budget-oriented speakers like the Mpow R3, we must say, you must take audio quality with a grain of salt. This isn't a Bose, Beats, Sony or high-end speaker – it's just over $20 and with that, you shouldn't expect audiophile sound.
To the average listener, the sound quality of the R3 is sufficient in most cases. It's incredibly loud for its size, but a bit "tinny" when you reach higher volumes. The bass isn't too impressive, but it isn't non-existent either. When playing tunes, you'll notice the sound only emits from one side – not both sides, even though both sides have a grille. The uni-directional sound isn't necessarily a drawback – most speakers only emit from one side, but the look of the R3 might give off an impression that audio emits from both side.
The volume range is quite extensive, but the best sound quality comes when the speaker's volume is set around 50% to 70%. The bass isn't adjustable and certainly doesn't impress us a whole lot, but it really comes down to value. For the price range, we would say the sound quality is acceptable. The highs, mids and lows seem to come through decently and on-point.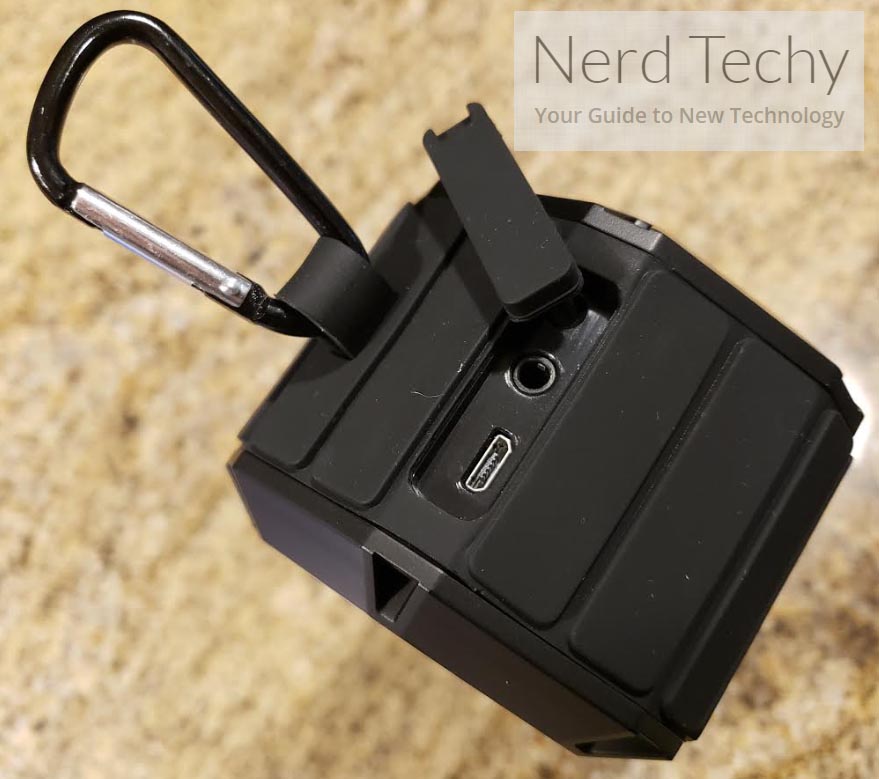 Battery Power
With any wireless speaker, the battery power should be taken into close consideration. The R3 is equipped with an integrated 2000 mAh lithium battery, providing an advertised 15 hours of play time, which is quite impressive. But we weren't going to simply take Mpow's word for it. One of the first things we did when we initially received the R3 was give it a full charge via the supplied USB cable.
Once the charge was complete, we kept music playing for close to 13 hours straight until we received low-battery warnings. While this isn't the original 15 hours that was advertised, it was fairly close! We feel that in different scenarios, environments and settings, you may be able to achieve 15 full hours. Playing music with the volume higher than average, paired wirelessly with a smartphone vs. a wired auxiliary connection are just a couple factors that may ultimate effect its longevity between charges.
As far as charge time goes, you can expect the R3 to have a full battery within about 2 hours. Pretty quick if you ask us! Most speakers tend to take much longer to achieve a full charge, so this was refreshing.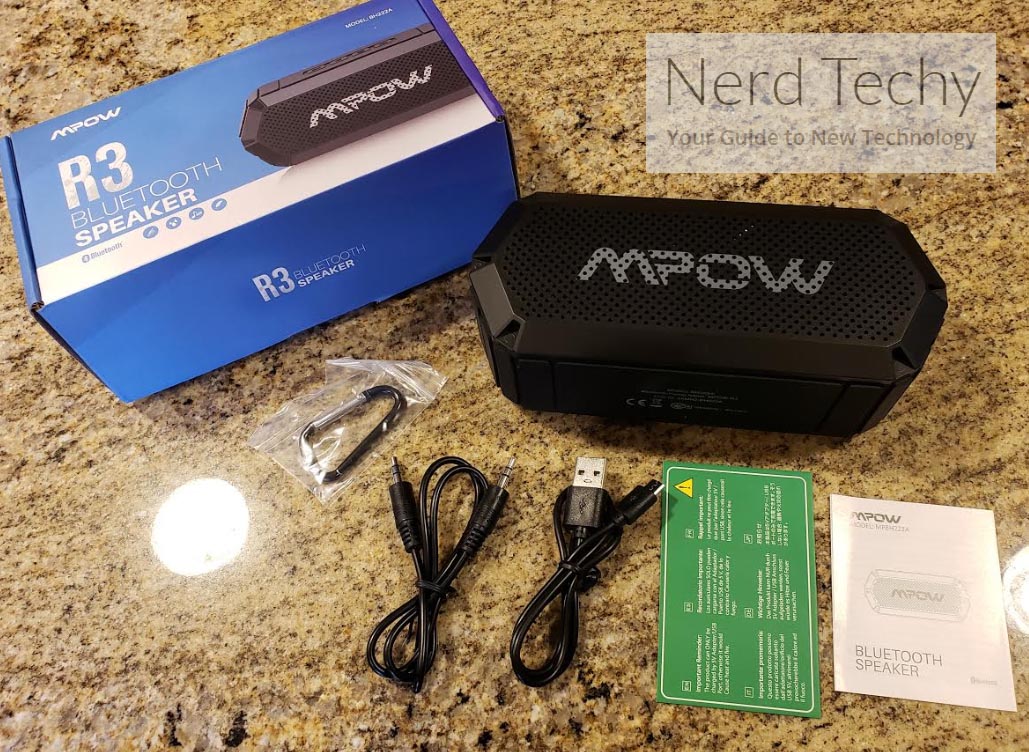 Conclusion
While the audio quality may not be similar to speakers that cost ten times as much, the Mpow R3 Bluetooth Speaker provides plenty of value for what it is. The portability and durability make it a great choice for those looking to own a small wireless speaker that isn't fragile or a monetary commitment. It would make a great shower speaker or one to have around the yard or house for on-the-go use.
The internal battery seems to provide an exceptionally long listening time-frame before you need to plug it in the charging cable. In addition, charging time is only a couple hours, so you can top it off within a relatively quick duration.
Although it's such a robust and portable choice, it would have been nice if Mpow included a small carry-case or drawstring bag to store it with all of the included accessories while it's not in use.
When it comes to overall value, you truly can't go wrong. For under $30, the R3 sufficiently meets the mark on most aspects. Being feature-rich, durable and easy to use, we would highly recommend it to anyone looking for a cheap way to boost their listening experience.