As hard as it may be for some of us to believe, the PlayStation 5 is now nearly four months old. Despite supply shortages, we're now at the point where everyone at least has a friend who owns one. If you're that lucky friend, you may already be looking for accessories to spice up your new console. One of the most exciting of these is the Media Remote. At first, it's just a simple remote control, much like you'd use for your Playstation. But after some consideration, it offers additional benefits that you can't get from your DualSense controllers.
Even the mere fact that there is such a thing as a PS5 media controller should excite hardcore fans. The PS3's media controller was largely successful, yet Sony decided not to release one for the PS4. Instead, if you wanted a simple media controller, you had to buy from a third-party vendor. But with the PS5's revamped menu and 4K capability, more and more people are using it as a set-top box. Perhaps this is why Sony opted to revive their media controller for today's generation of consoles.
At the end of the day, a media controller is just another accessory, much like your regular controller. And, much like your regular controller, it's bound to take its share of abuse. Bumps, dings, and the occasional drop are more or less inevitable. At the same time, the media controller costs a bit more than your daddy's universal remote. You'll want to protect it. You can keep a DualSense controller with a specialized PS5 controller skin. So why not do the same thing for your Media Remote? Not only can you keep it safe, but you can provide yourself with a better grip.
With that in mind, we're going to review three of the best PS5 Media Remote covers currently available. We'll start with the Seltureone Silicone Skin. This is a one-piece cover that slips over your entire media controller, leaving the buttons exposed. Next, we'll look at the Alquar Glow In The Dark Skin. This skin does exactly what it says it does; it glows in the dark. Finally, we'll review the Eyglo Silicone Cover. This is a very similar skin to the Seltureone, complete with a distinctive diamond-textured back. Which one is the best? To find out, we'll have to look a little closer.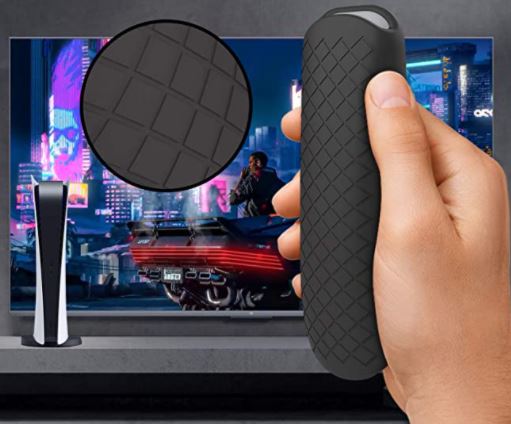 What is the PS5 Media Remote?
A PS5 Media Remote is a lot like your existing TV or set top box remote. It's compact, it's handheld, and it has a top surface with buttons. The actual housing has the same modern white finish as the console and the new DualSense controller. It even sports a matching black stripe down the center. The first difference between the Media Remote and a regular controller is that it uses a pair of AAA batteries. At first, this might sound disappointing. Aren't reusable batteries bad? They would be, if you were changing them a lot. But this is a remote control, not a game controller. You won't have to change the batteries more than once a year, and you'll never need to plug it in.
The buttons themselves are arranged much like they'd be for a set top box. There are volume buttons, a power button for your TV, and a mute button. Beneath, there's a PlayStation menu button, and other buttons for navigating your system menu. You can do anything with it but play games. Finally, at the very bottom, there are shortcut keys for four major streaming services: Disney+, Netflix, Spotify, and YouTube. This kind of shortcut key is always a risky bet. Remember those Vizio TVs that came with iHeartRadio pre-installed? That said, the four services Sony chose seem like they'll be popular throughout the console's life-cycle.
Finally, there's an additional button at the top center of the remote. It has a microphone icon on it, and Sony has only stated that it's "reserved for future use." Does Sony plan on building voice controls into the PlayStation 5 at some point in the future? We don't know any more than you do, but this microphone button is making us wonder.
The Media Remote connects via Bluetooth, and is easy to set up. Start your PS5, go to your settings, then navigate to "accessories." There should be an option for "media remote." Follow the setup instructions, and you'll be paired in just a few seconds. After this initial pairing, you can use it without going through all the menus. In the same wizard, you'll be asked if you want to control your TV as well. This can be done via HDMI ARC with CEC if you have that set up. If not, you'll need to go through a few more steps. If you have a third-party sound system, the volume may not work. But once again, if you have an HDMI ARC connection, it will all go swimmingly.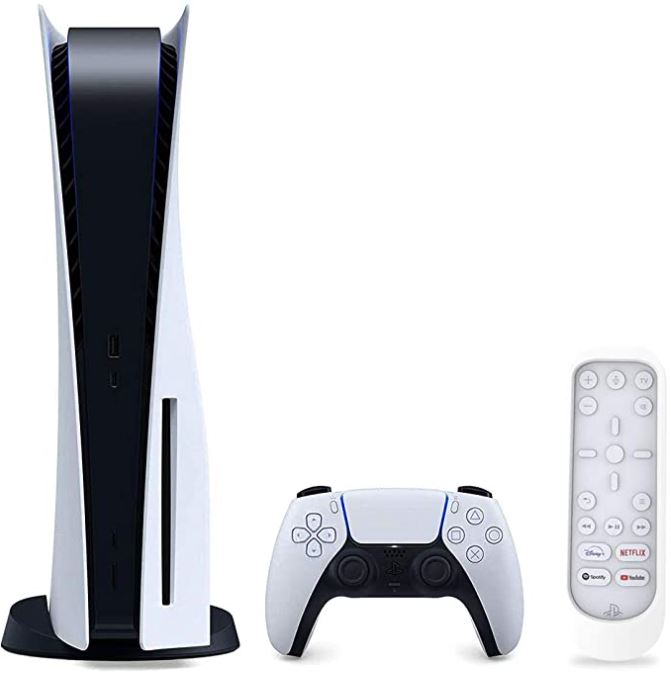 Is a Media Remote Cover Worth it?
With the price of a Media Remote nearly the same as a new DualSense controller, you might wonder if you need one. The truth is that it depends on what you're trying to do. If you use your PlayStation for a lot of non-gaming activities, it's more useful. For instance, instead of picking up your DualShock, powering it on, and using both hands, you press a single button. And you do it with one hand, just as you would with a TV remote. Keep in mind that it's fairly small, though. That's an odd choice on Sony's part, since they opted to make the DualSense controller larger than the earlier DualShock.
Another advantage of a Media Remote is that it looks nicer than a DualSense. If it's sitting on your coffee table, it's not going to look out of place to your guests. Keep in mind that the right controller skin can add to — or detract from — this aesthetic. Make sure you choose something that will match the rest of your living room.
The Media Remote also boasts a set of programmable buttons. These can be linked to your favorite games or apps. Even if you're using your DualSense controller to play the next MLB 2K, it's cool to have a dedicated shortcut button. Similarly, we made fun of other manufacturers earlier for providing shortcuts to niche or little-used apps. But suppose you're a big fan of Pandora's music library, or you love to stream free horror movies on Tubi. You can pin those apps to your shortcut buttons, and they'll have a place on your remote alongside Netflix.
Finally, you won't have to burn through your controller's battery. Everyone knows how fast the DualSense controller can drain, even when it's just sitting there idle. And to be fair, an aftermarket charging station can help with this. But using your controller in this way will still shorten the battery pack's useful life. Instead, the Media Remote runs on a pair of AAA batteries, and lasts as long as a TV remote. It may not be the right choice for all people. But if you use your PlayStation 5 as a set-top box, it's well worth the investment.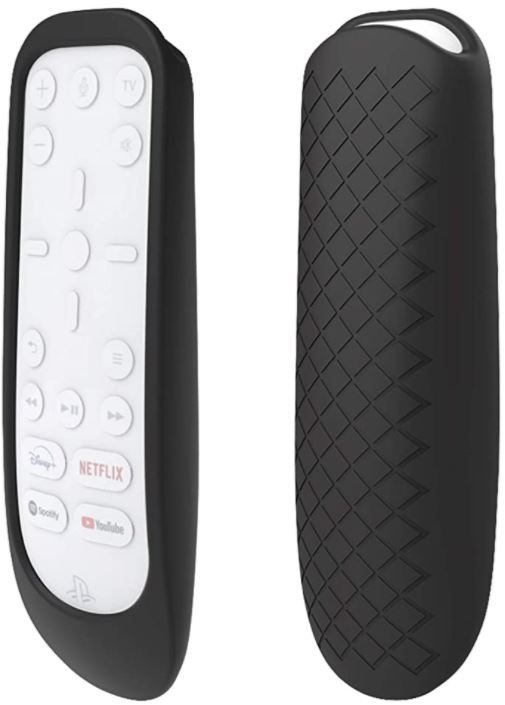 Seltureone Silicone Skin
Seltureone has been one of the first manufacturers to the market with PlayStation 5 accessories. We've already reviewed their PS5 portable monitor, which performs very well. The Selturetone Silicone Skin is of the same standard, with a thin silicone construction that stretches easily over your controller. Once it's in place, it provides excellent protection against drops and other shocks. It's available in five colors: black, grey, green, red, and white. The cutout on top is wide, and leaves a single large opening for all the buttons. There's an additional cutout at the front for the infrared emitter.
The Seltureone skin is comfortable to grip, with a rubbery surface that won't slip easily. This easy gripping is further enhanced by a lattice of diamond hashes on the back. You probably won't be grabbing your remote with sweaty palms like you will with a normal controller. But now you won't have to worry about dropping your controller just because you've got butter fingers.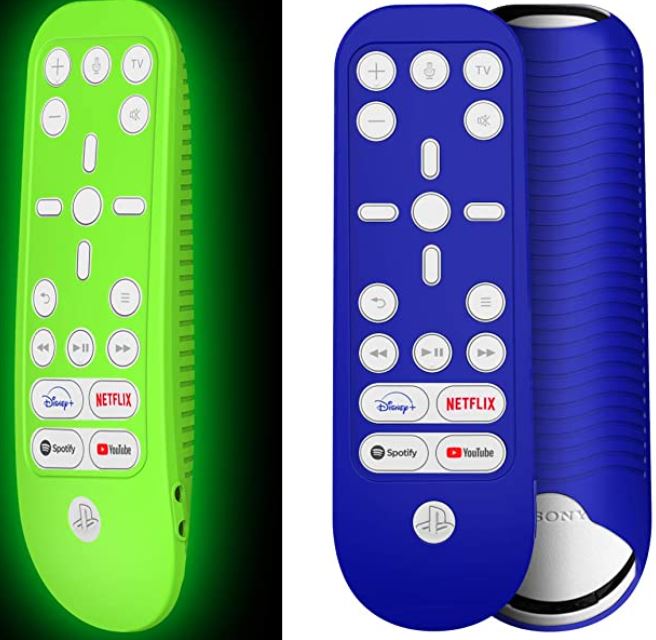 Alquar Glow In The Dark Skin
The Alquar Glow In The Dark Skin is not a complicated product. It's a controller cover, and it glows in the dark. The silicone comes in green and blue, and you get one of each in the two-pack. The design is a bit tighter than the Seltureone's, with cutouts that are molded for each button. This makes the Alquar cover harder to get on and off. It can also make it harder to hit the buttons from anything but a directly vertical angle. On the other hand, you'll get the maximum possible protection from dirt and staining. This cover is not as rugged as the Seltureone. But it still provides a secure, comfortable grip, with a wavy texture on the underside of your remote.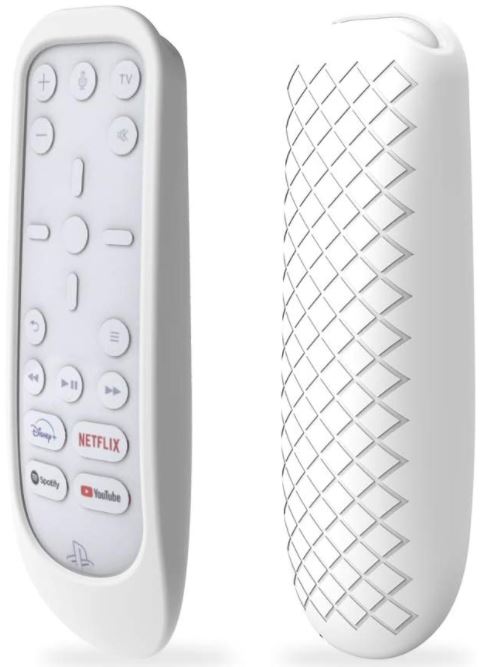 Eyglo Silicone Cover
The Eyglo Silicone Cover looks and feels, to all appearances, exactly like the Seltureone. We're not sure exactly how this came to pass. That said, it has the same construction, right down to the diamond texture on the back. It also costs more, and is only available in black, white, or red. There's literally no reason to buy this cover over either of the previous two.
Final Verdict
So, we've established that the Eyglo Silicone Cover is just a pricier clone of the Seltureone. That effectively leaves us with two choices: the Seltureone Silicone Skin, and the Alquar Glow In The Dark Skin. The choice between these two is only a matter of preference.
With its large opening, the Seltureone is easier to get on and off. It's also a bit more rugged, with a thicker profile that can provide more protection. Finally, it's a little more formal, with plain black and plain white variants. The Alquar skin is more playful, complete with a glow-in-the-dark aesthetic that's also practical. If you like to watch movies in the dark, you'll appreciate this feature. Not only that, but the Alquar's molded button holes keep your Media Remote as clean as possible.