Gaming is many people's favorite hobby, but it can be difficult to partake in some places. Consoles like the PS5 require a separate monitor to use and not everyone has a TV that they can carry around everywhere. Or at least, in the past, they didn't.
Thanks to advancing screen technology, you can now buy portable gaming monitors that have high graphical fidelity on par with giant screen 4k and 8k TVs. These portable monitors are small and can fit in your laptop bag or backpack for gaming on-the-go, wherever you are.
If your device has a USB-C or HDMI connection, then you can use it with one of these portable monitors. You can use them on the train, at a coffee shop or even while lying in bed. Even better, portable monitors nowadays can handle up to 4k quality, which is a great feature for those who own next-gen consoles like the PS5.
Today we're going to talk about the best portable gaming monitors for the PS5. We're going to cover a few different options from a wide range of manufacturers; G-Story, Cocopar and Azmior. We'll talk about the features, specs, and pros/cons of each one. Then, we'll give our judgment on which monitor we think is the best.
What to Look For in a Portable Monitor
Monitors are pretty sophisticated pieces of tech so there are some terms and technical specifications you should know about. Here are some of the most important features to look for when buying a portable gaming monitor.
Size
In general, "portability" for monitors means that it's about the size of a standard laptop screen, which is 15.6″ diagonally. However, some portable monitors can even measure up to 17″. You should also check how thick the monitor is. The thinner the monitor, the easier it'll be to carry around in your backpack.
Connectivity
When looking for a portable gaming monitor one of the most important things to look for is the connectivity and compatibility options. For gaming, you'll need a monitor with at least one HDMI or USB Type-C input. In fact, if you see a monitor without an HDMI port, skip it entirely, especially if you want to play a console on it.
Resolution
Resolution refers to how detailed the picture on the screen is. The higher the resolution, the more detailed the picture is going to be. You need a screen that's capable of at least 1080 x 1920 resolution, which is standard HD. However, many monitors nowadays are compatible with 4K resolutions. For the PS5, a monitor with 4K resolution is a great idea as it runs 4k natively.
Refresh Rate
Refresh rate refers to how often your screen refreshes images. With monitors, this fall anywhere between 60Hz to 240hz. If you want to get the full potential out of the PS5, then you'll need a monitor capable of refresh rates of at least 120Hz. That's the 4K native refresh rate. In fact, you can play PS5 games on a 60Hz 1080p monitor but you won't get the full graphical and gameplay experience.
Power Supply
As is the case with any portable device, power is important. Gaming monitors capable of high fidelity graphics can drain a lot of energy so good power source is definitely a trait to look for. Some portable gaming monitors require an external power supply. If you do pick one of those, make sure that you'll be using it in a place with power outlets nearby. However, this almost always means that it'll have fewer portability options.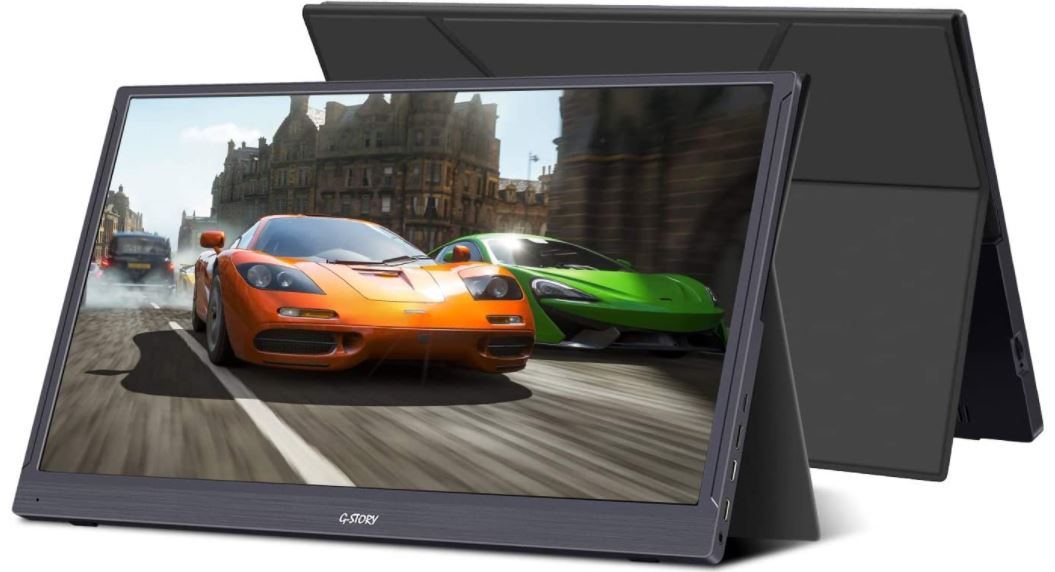 G-STORY 15.6" 165Hz Portable Monitor
Up first on our list is the G-STORY 15.6" 165Hz Portable Monitor. This portable monitor is capable of playing games at full HDMI resolution and has an incredibly high 165Hz refresh rate. That means that it can play all modern PS5 games with the maximum refresh rate and lowest response times. It comes with a mini HDMI port, USB-C input and a mini USB input. It also has a 3.5mm headset jack on the bottom right of the edge and a dial on the left-hand side.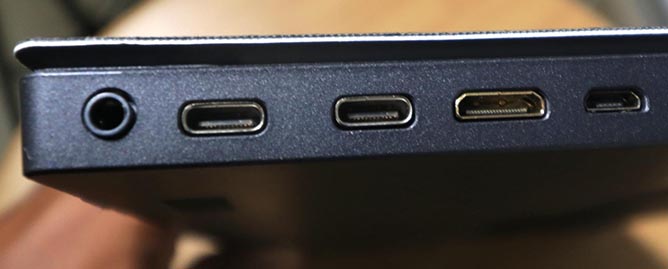 The G-STORY is not battery powered and requires a USB-C input. On one hand, this means you never have to worry about battery life. On the other hand, it means you can only use it when there's an external plug around, which may not always be the case when you're on-the-go. The extremely high refresh rate and 1ms response time means that you won't experience any screen tearing as the video will not separate from the refresh rate.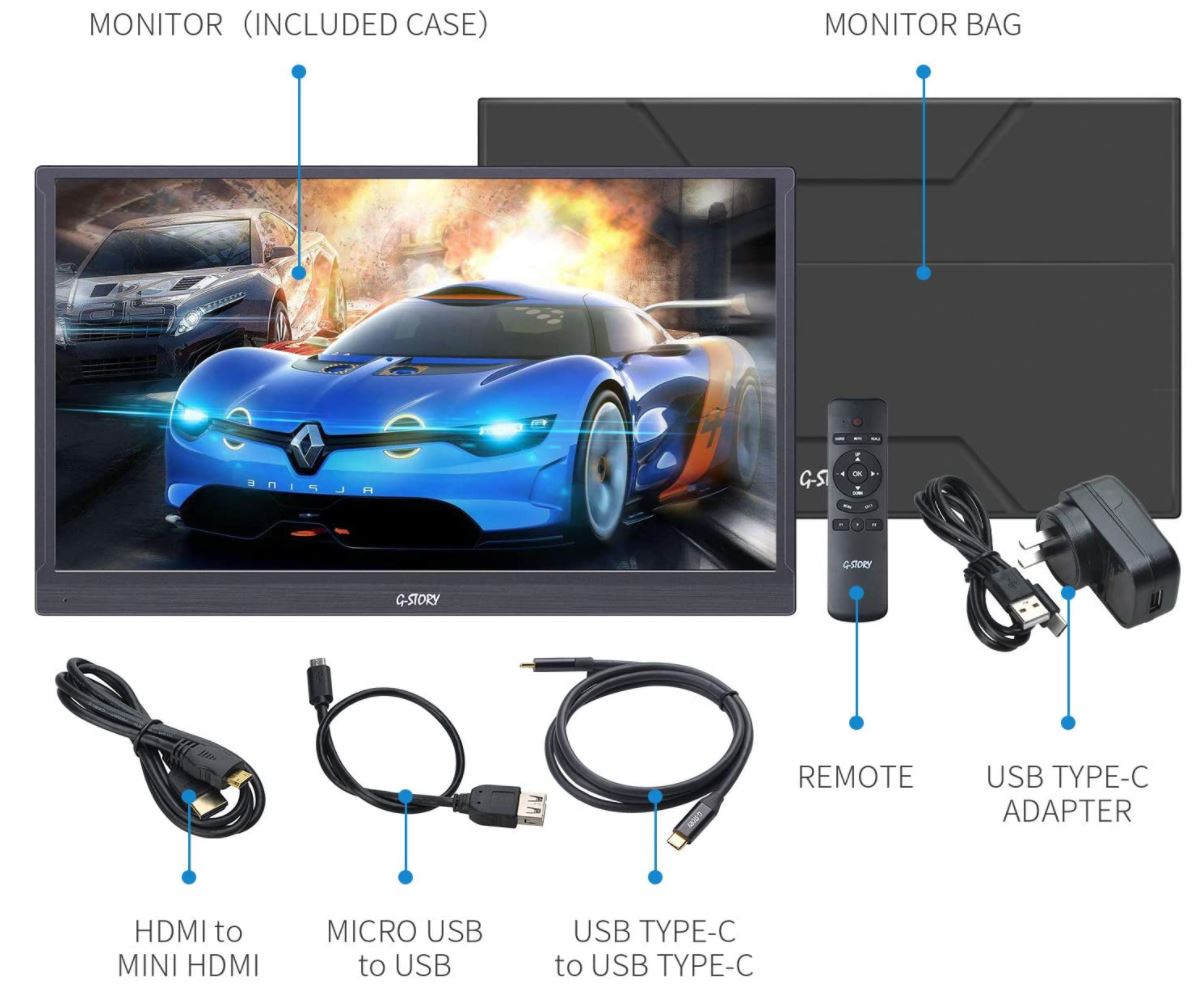 The exterior is covered with a durable PU leather case that protects the monitor from scratches and abrasion. The case can also be folded into itself to form a scream stand, similar to how most iPad covers work.
The G-Story also has some advanced video features like G-Sync technology. G-Sync uses intelligent protocols to adjust screen performance to keep video synced and prevent screen tears. It also has native HDR functions which improve graphical fidelity. The screen is LED which means it provides an unusually high viewing angle of 178 degrees. Thanks to this, you can look at it from basically any direction you want and still see the full picture. Best of all, the 99% RGB color gamut can display vibrant colors without blushing or oversaturating the picture.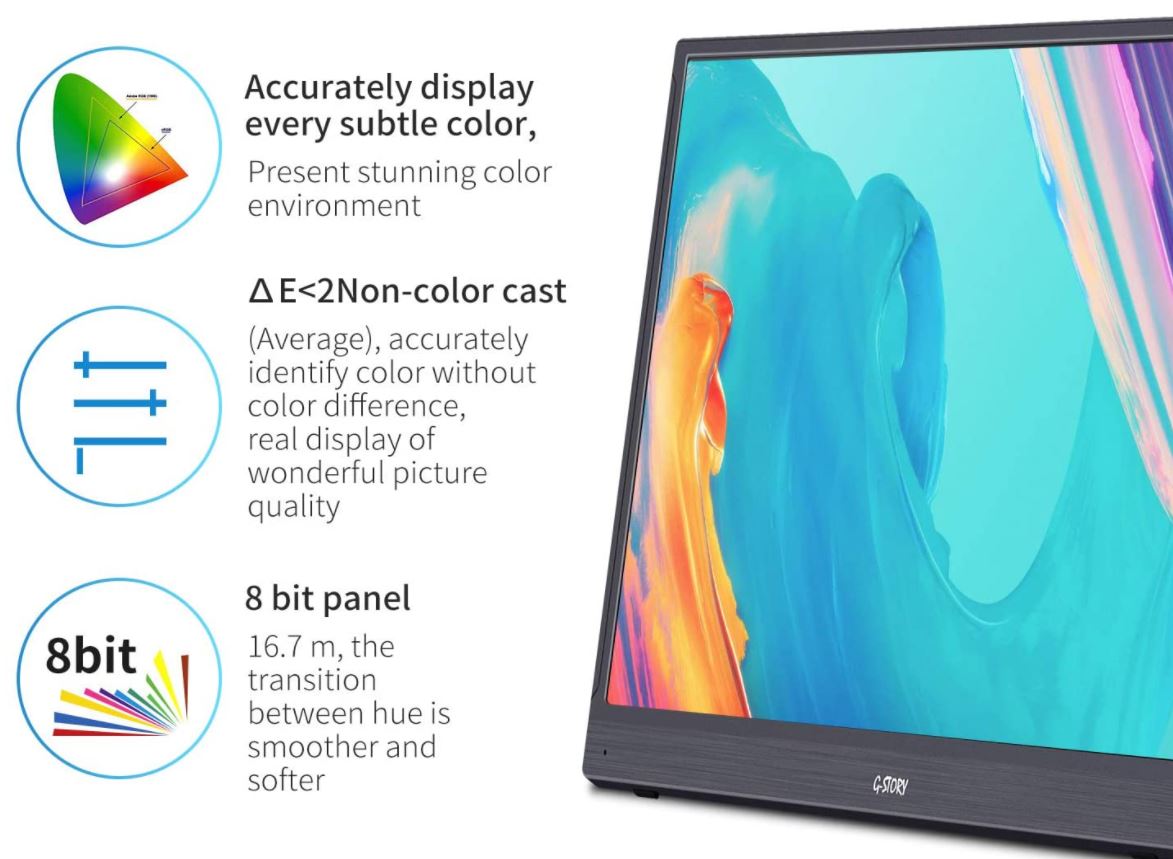 The G-Story is highly portable. It measures less than half an inch thick so it's super-sleek with an attractive profile. It's also very affordable for a monitor of its performance and caliber. In fact, it'll run any current PS5 game with excellent fidelity and can also be used with every existing console on the market. You can even use it as a secondary monitor for your PC or laptop when you aren't using it with your PS5.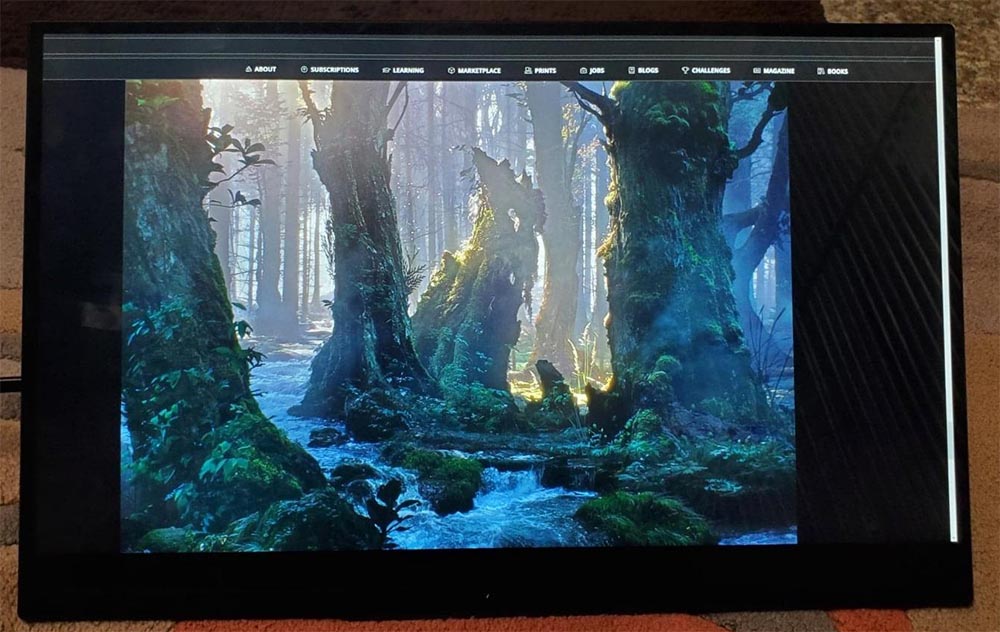 Cocopar 15.6" UHD 4K Monitor
Up next on our list is the Cocopar 15.6" UHD 4K Monitor. This monitor measures 15.6" diagonally and provides full 4K resolution. This means you can play all existing PS5 games at their full settings with no stuttering or slowdowns. It also has touch-screen compatibility so you can hook it up to a laptop or PC that's compatible with touchscreen devices. The IPS touch-screen also has a built-in gyroscope that detects and switches orientations when it's in portrait or landscape mode.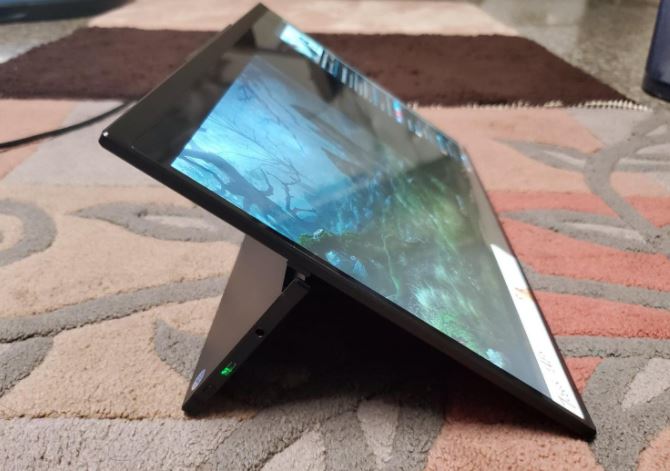 The Cocopar provides two USB Type-C ports for power and display and a mini HDMI port for consoles and other devices. It also has an ultra-stable kickstand for support. The kickstand extends to 90-degrees so the screen is angled for maximum viewing. Best of all, there's also support for Thunderbolt 3.0 so it's compatible with both Apple products as well as Windows devices.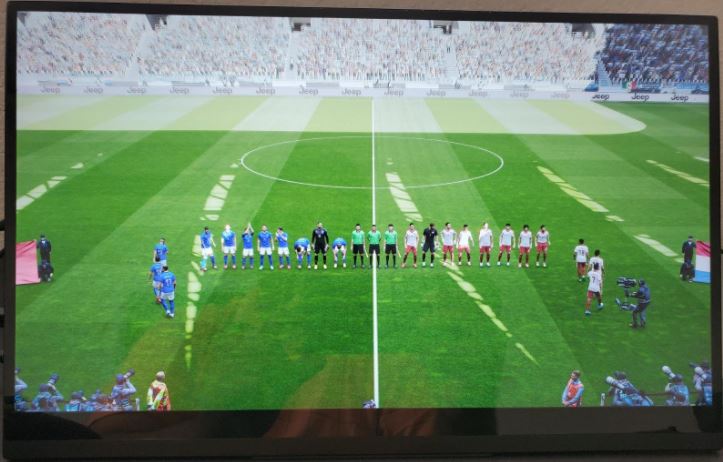 This monitor also has some good features to improve picture performance. Freesync is one feature worth mentioning that keeps the refresh rate and video feed in sync so there's no screen tearing. In addition, it's capable of a 144Hz refresh rate. Not to mention, it weighs in at just 2.1 pounds, making it is ultra-portable for a wide variety of situations.
The only real downside is that it's not battery powered. You need to have an external power source. This monitor is so advanced that it probably would have to be downgraded if it were fully battery-powered, so it is not a huge downside. However, the lack of battery power does decrease its portability a bit.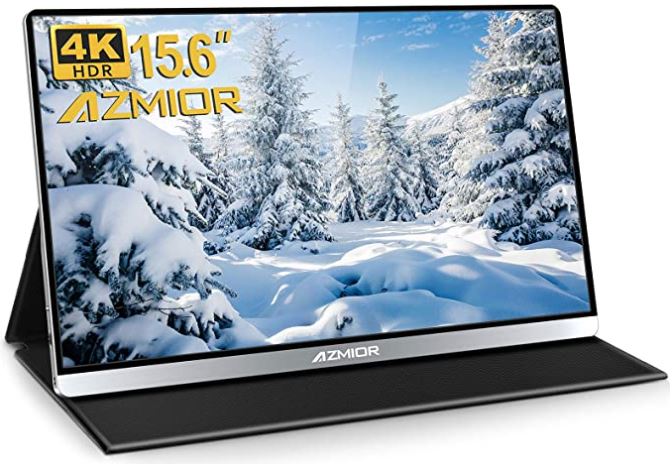 Azmior 15.6" Ultra Slim Portable 4K Gaming Monitor
Last on our list is the Azmior 15.6" Ultra Slim Portable 4K Gaming Monitor. This gaming monitor has wide compatibility so you can use it for virtually anything – PS5 gaming, office work, watching movies and utility purposes. In fact, you can use this monitor solo or you can use it as an extended monitor for your desktop or laptop.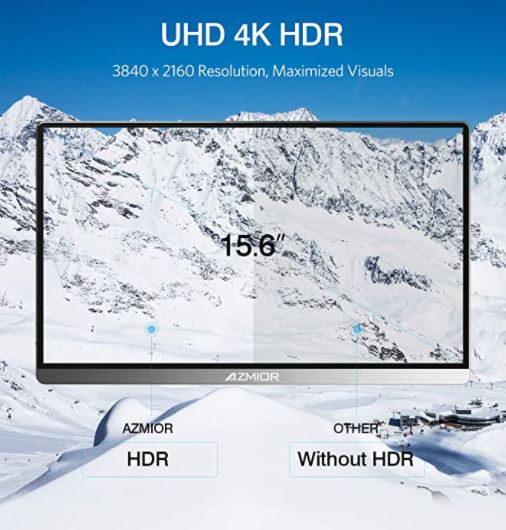 The Azmior monitor has 2 USB Type-C ports; one for power and another for video input, with a mini-HDMI port for consoles and other devices. It also has a 3.5mm headphone jack on the side for private viewing and listening. The screen can be used with virtually any console on the market, including the PS5. Other than that, it can also be used to extend the touchscreen of your phone. The touchscreen function has a 10-point architecture so you can do all the normal gestures with 1, 2, or 3 fingers like swipe and zoom.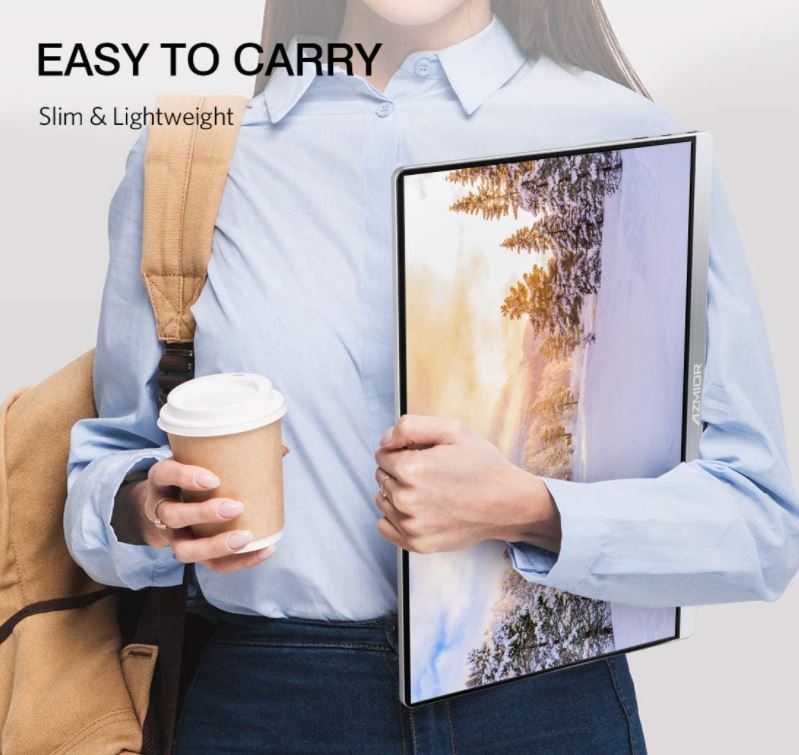 This 15.6" display is capable of 4K resolutions and 144Hz refresh. Knowing this, it can handle PS5 games to their full graphical and gameplay potential. The refresh rate is high enough with a Freesync function that eliminates screen tearing. Additionally, it comes with a special 45W power supply to power the screen and certain consoles at the same time so you only have to deal with one power source. However, the only console it can readily power in this manner is the Nintendo Switch. Since the PS5 has a much higher power demands, you'll still need to rely on the AC adapter that comes with your PS5 console.
Overall, the Azmior is incredibly versatile and is a great portable monitor for pretty much anything. As far as gaming goes, this monitor is capable of playing modern games with the highest fidelity and its 100% color display is bright and vibrant. The refresh rate is fast enough for playing FPS games online with minimal lag and the response times are so low you will hardly notice any input delays.
Final Verdict
Which of these portable monitors is the best? As you might expect, the answer to that question depends on what exactly you need.
The G-STORY is a fantastic budget-friendly monitor that's not incredibly expensive and provides some great specifications for gaming-specific purposes. It can handle full 1080p resolution and has a very high refresh rate. It's also very compact and attractive in its design and style. In fact, the G-STORY can be used as a separate monitor for your PC or by itself for gaming. However, the main drawback of the G-STORY is that it can't handle 4K resolutions. This means that you won't be able to play some PS5 games at their full graphical fidelity.
The Cocopar 15.6" Portable Monitor is another great choice that's capable of full 4K resolution with an impressive 144Hz refresh. This monitor is an excellent choice for gaming, specifically since it can handle all the high-demands of the PS5. It's also a great option for work or for watching movies when you aren't playing your PS5. We love that the Cocopar also has an auto-rotate feature for viewing in landscape or portrait mode, but keep in mind that you can only game in landscape mode.
Last was the Azmior Monitor. The Azmior monitor is an excellent touchscreen device that's also capable of full 4K resolution. It has a 100% RGB color gamut so it can easily produce bright and vibrant colors all over the spectrum. Additionally, the touchscreen compatibility is very sensitive and allows for all the multi-finger gestures like swipe and zoom.
Overall though, we would have to say that the Cocopar 15.6" Portable Monitor is the best choice. It provides full 4K resolution, a high refresh rate and other great features that are useful for console gaming such as Freesync, HDR compatibility and a stable kickstand. It's also extremely lightweight and thin so it's super compatible and great for gaming on the go.