"Do you really need all that?"
If you're into tech, you've probably been asked that question before. And if you're reading NerdTechy, then you're probably hauling around a little more tech than the average traveler.
Fortunately, we understand your struggle. In our eyes, it's totally reasonable to pack your Raspberri Pi on your business trip. How else would you get your retro gaming fix? Yes, we also think that you should bring all five of your external drives. What's the point of backing up if you're not going to have the files on hand?
In all seriousness, travelling with tech does come with a unique set of challenges. Small adapters and memory cards are easily lost, cables are quickly tangled, and fragile hardware is shamelessly broken by underwhelmed TSA workers. If you find yourself awkwardly stuffing your hardware into a backpack, you'll likely want to pick up a travel organizer specially designed for our purposes.
We've done our fair share of travelling, so you better believe that our packing routine is down to an art. In this guide, we'll be taking a look at our three favorite travel organizers for your electronics and gadgets. First, we'll go in-depth and find out what each option has to offer. After, we'll help you decide which one best suits your needs.
BUBM Electronics Travel Organizer
Is the bottom of your backpack a rats nest of cabled and adapter? Are you always struggling to track down the micro-USB, or grabbing the wrong cable by accident? These are the exact problems that BUMB set out to solve with their electronics travel organizer. No, it's not designed to hold your laptop, tablet, or phone. But it is designed to carry every peripheral, cable, and accessory that you've been carting around. By taking the mess out of travel, they've ensured that the devices you want to use are always at hand.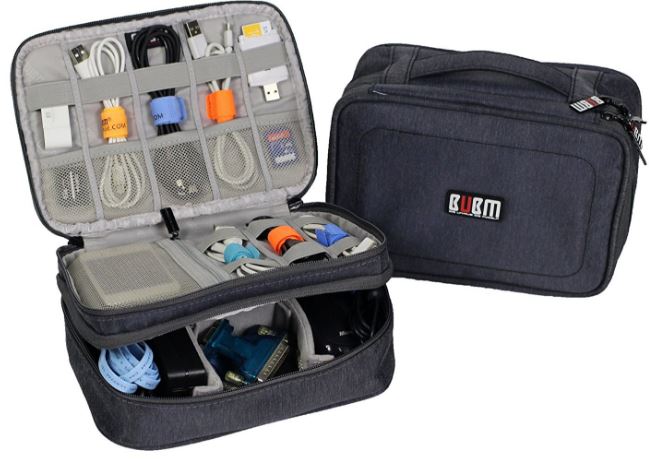 Appearance
For the stylishly inclined, the BUBM Electronics Travel Organizer will appeal instantly to you. It's available in three different colors. The blue model has a soft, felt like finish. It's dark toning is akin to a brand new pair of jeans, giving it classy yet understated look.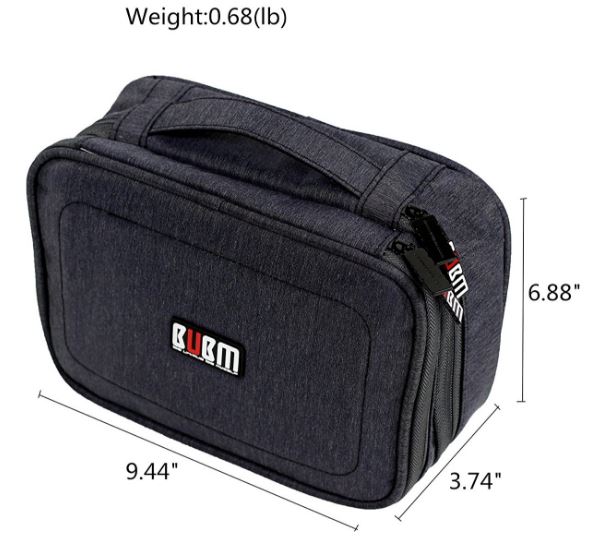 The Coffee model, to us, looks a lot more like a burnt gold tone. It's got a vinyl finish, and metal zipper-pulls that give it a loud and vibrant appearance.
For a more professional look, we'd recommend the gray model. Structurally, the fabric and stitching follows the same basic pattern as the blue one. But the felt material has been replaced with a smooth faced fabric, much more in line with your typical airline carry-on.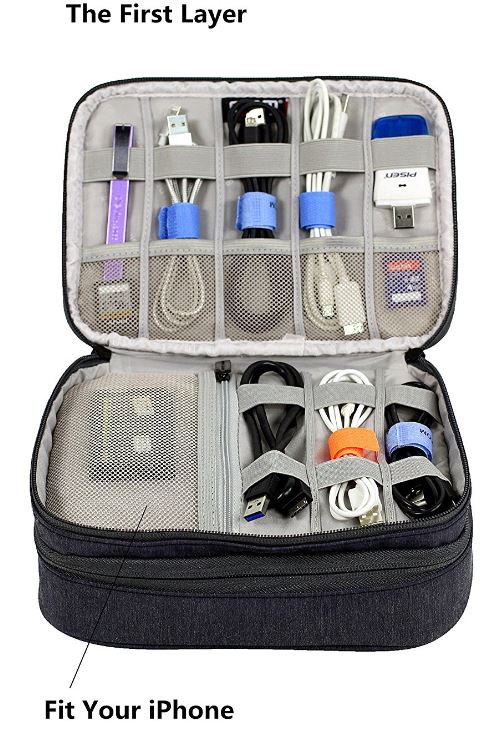 Layout
Until we opened the BUBM travel organizer, we'd never seen so many pockets, elastics, and stowaways.
The design is similar to that old CD wallet you had back in the early 2000's. You open the top cover, unveiling several additional fold up sections, each with their own storage space. Most of these areas are a small, padded storage compartment with a stitched-in elastic band to hold everything in place. Cables, memory cards, chargers, and other small peripherals all fit comfortably. The smallest items fit on the top flap, with several elastic-supported sleeves that can hold things like cables, cards, and adapters. In middle is a zippered case with a mesh cover. This can hold larger items such as battery packs.
The second layer has several padded pockets that can store AC adapters, larger cables, and small electronics. The back flap has a full size zippered pocket that is large enough to store an 8 inch tablet.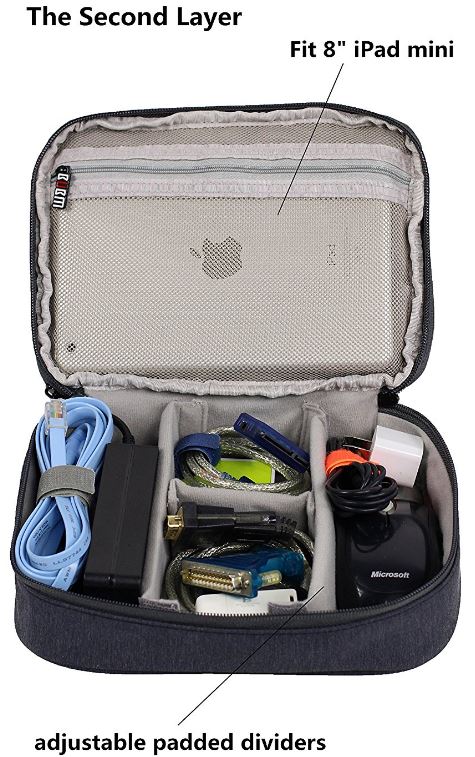 Durability
When we first pulled BUBM's organizer out of the bag, it seemed to feel a little flimsy. It's extremely soft and malleable. But once we installed the firm divider pieces for the lower pockets, we were amazed at just how much rigidity was added. The walls of the case are very soft, but coated with a strong fabric. This ensures that it's protected from wear and tear, but still has the padding needed to keep your gizmos and gadgets safe and secure.
AmazonBasics Universal Travel Case
For consumers looking for a bargain, Amazon's Basics line is a great place to start. As one of the most prolific online retailers, they've leveraged their ability to sell huge volumes against their connections to manufacturers, offering affordable products that won't break the bank. Their universal travel case is designed for a variety of purposes, but we found that it's a great option for your gizmos and gadgets.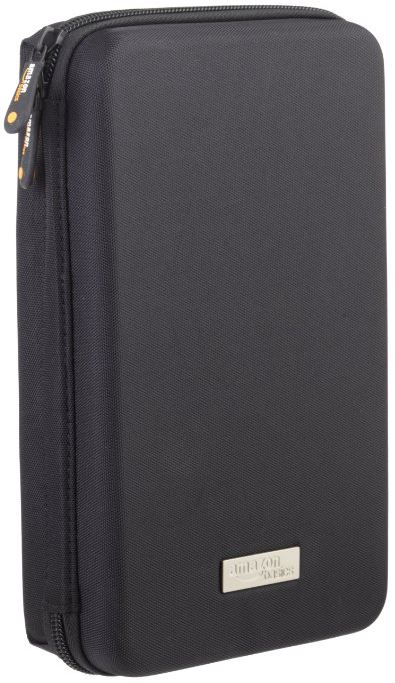 Appearance
The hard shell case of the AmazonBasics Universal Travel Case is outfitted with a soft-touch material. It's smooth, but not glossy like most basic plastics. The matte black color scheme and gently rounded corners give it a high end appearance, looking like cases that cost several times the price. The zipper ends are covered with a soft rubber material, with Amazon's logo printed on them. Around the zippers themselves is a rounded fabric that prevents them from getting dinged or caught up in something, but is also stitched on both sides to avoid getting the fabric caught in the zipper. On the face, a single silver plate bears the brands etched logo.
It's these kind of small details that make it obvious that you got a good deal. The case may be simple and clean in appearance, but care was taken to create something that you'd be happy to use.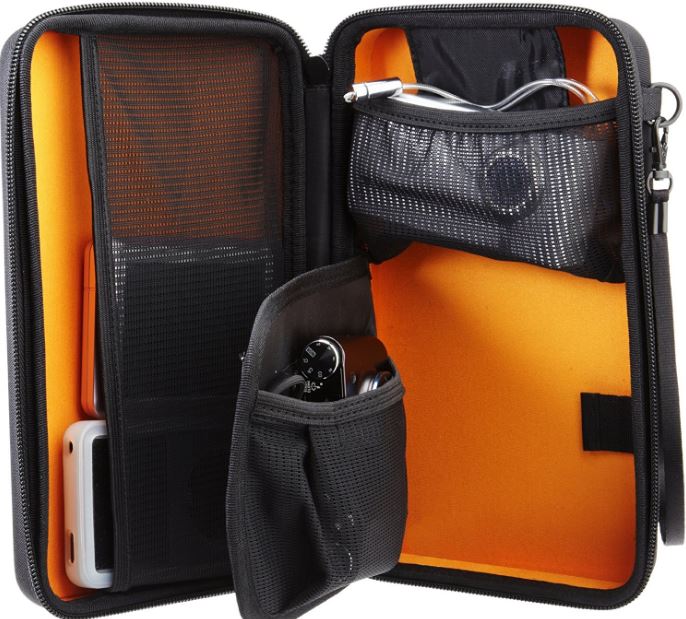 Layout
Even before you open the case, you've got space to store your gadgets. On the front side of the case is a fabric pocket. It's made from the same smooth material that covers the shell, and remains quite taut. You're able to store thin items such as manuals or documents without worrying about them falling out. If you choose to put cables, memory cards, or thicker objects, the thin profile of the sleeve will hold them in place.
Next to the pocket you'll also find a lanyard. This allows you to secure the case inside of a suitcase or bag, so it won't move around too much.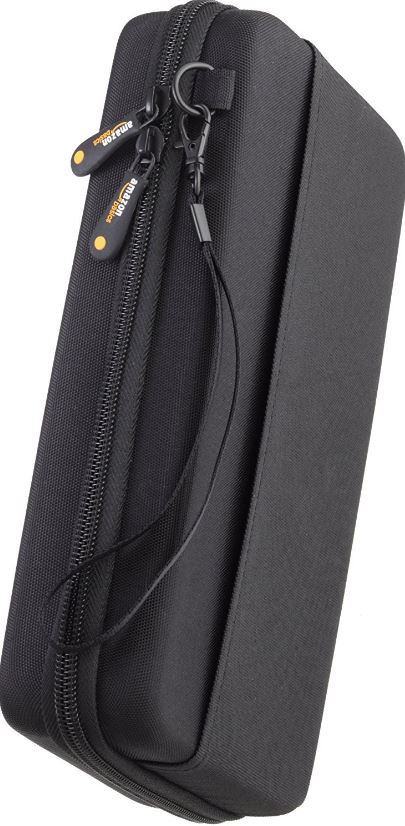 Opening the case, you'll find several pouch style areas where you can store all your gadgets. The largest pouch is located on your left. This one uses a mesh cover and elastic top to give you a large storage area. You can store your media devices, phones, external drives, or any other larger hardware you have.
On the right are three separate pockets, each with varying sizes. The top third is another elastic topped pouch, while the bottom two pockets are both zippered. This is where we store our smaller, easy to lose items. Adapters, memory cars, and cables work great here. The zipper keeps them in place, preventing them from falling out or getting entangled with other items we're carrying.
Durability
The combination of a hard, plastic shell and soft padded inner covers creates the perfect environment to store delicate electronics. You can drop this cause, throw it in a bag with other heavy items on top, or let it bounce around in your trunk. It's rigid design isn't easy to compromise, creating a protective layer around your valuables.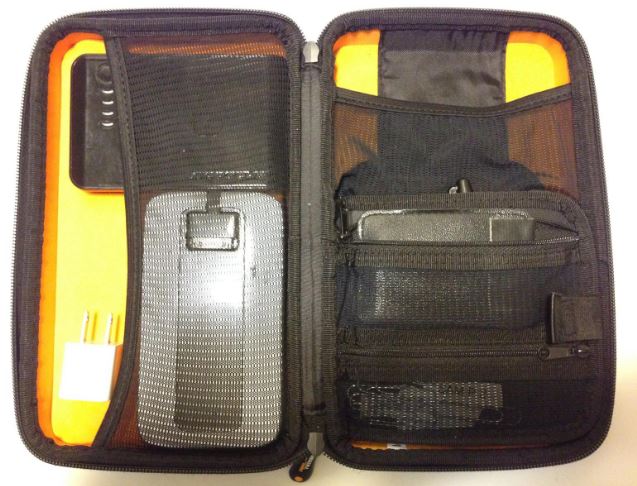 Durability doesn't just apply to accidents. It also applies to general wear and tear. That's why we were so please to see that only high quality materials were used. The zipper has a smooth, but firm feel. It's not the kind of zipper that will get all snaggletoothed and fail to zip up properly. The shell of the case is also resistant to scratches, so it's not going to look ugly after a few years of use either.
Bagsmart Travel Organizer
Establishing a balance between portability and capacity, Bagsmart's organizer is designed for people who have trouble keeping all of their hardware organized. With one of the most adaptable storage storage systems on the market, this is a great option to look at when others don't have what you're looking for.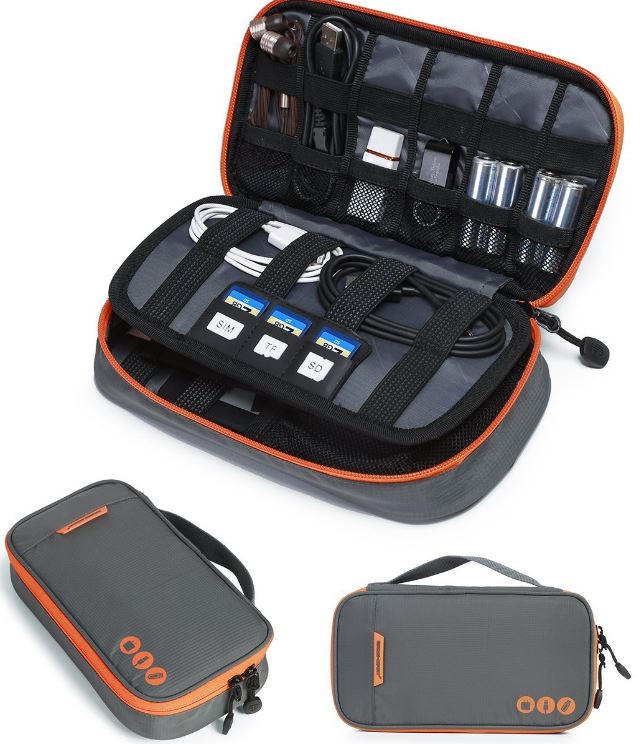 Appearance
The flat grey appearance is simple and sleek, but a few creatively placed streaks of color really make the Bagsmart Travel Organizer come alive. The primary highlight goes around the zipper, underlining the rectangular shape of the case. Additional highlights are placed on the bottom right, as three icons showing the types of items that can be stored inside. Finally, a small rectangular logo appears on the face, showing the opening for a front-facing pocket.
The silky smooth feeling and appearance of the tightly stitched fabric is definitely appealing, making this a premium case that has just as much tactile appearance as it does visual.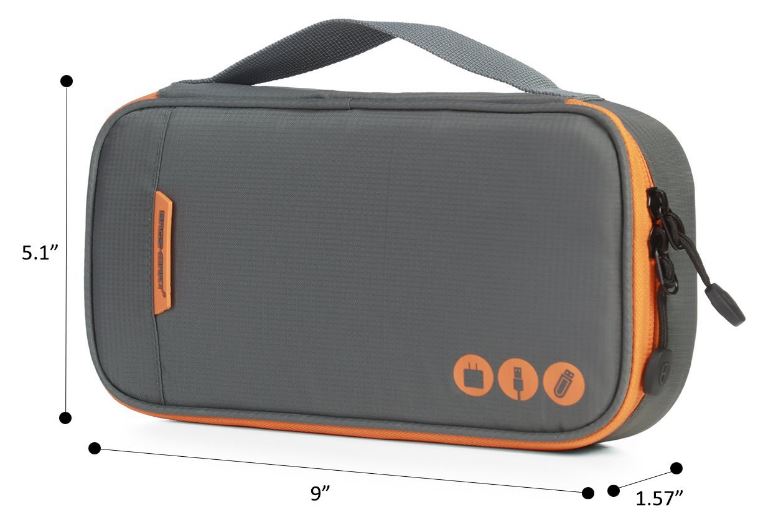 Layout
On the outside of the case, there are two places to store your gadgets. The largest pocket is located on the rear. A large zippered enclosure provides space to store compact devices. Phones, media players, or similarly shaped hardware will work well here. On the front, there is a thin pocket. It would be suitable for a single cable, or any manuals you need on hand.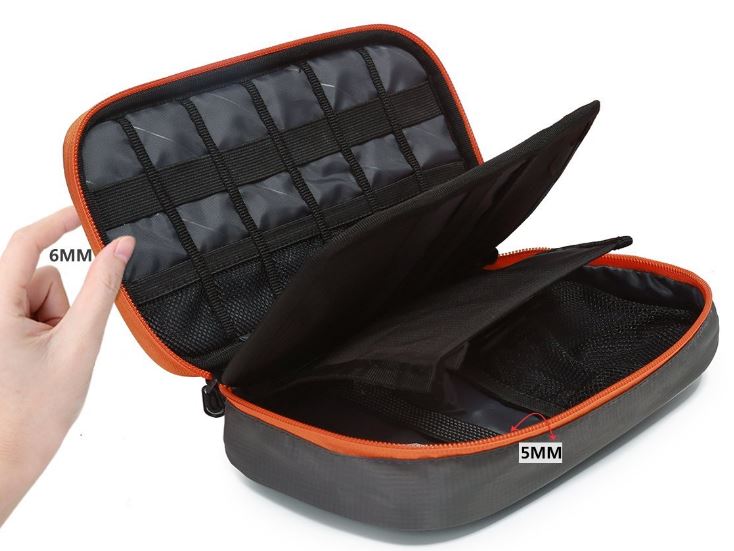 Opening the case up, the first thing you see is two elastic pouches. On the lid, you've got a strip of elastic material that is broken up into six thing compartments. Anything small can go here. Things like batteries, flash storage, or USB cables fit comfortably. Below, you've got the same type of elastic pouch, but the material isn't stitched to the back. This allows you to store larger items. You could put a phone or e-reader here, but it will also work well for cables.
Below these flaps is a padded case that can store all of your larger hardware. It will fit an Amazon Fire tablet, but can also be used for battery packs, chargers, or anything bulky that won't fit elsewhere.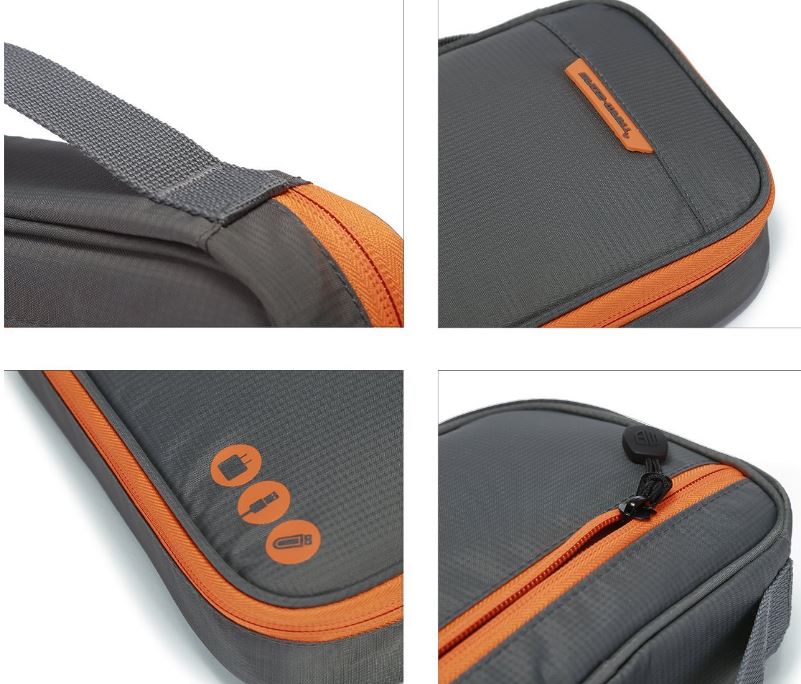 Durability
Although synthetic leather is a common material for these types of cases, we much prefer the high thread count fabric that it's made from. The stitching Is unlikely to come loose or snag on anything. Combined with the thick padding inside of the case, this is likely something that's going to last you quite a long time.
Which Travel Organizer is Right for Me?
Unsure of which to get? The first thing to do is think about what you're going to want to store in here. It may be helpful to lay out all of your cables and adapters and find out how many you have. Depending on your budget and the amount of stuff you have to store, one of these cases may be better or worse than others.
If you've got a ton of hardware to carry around with you, there is no better option than the BUBM Electronics Travel Organizer. This case is larger than most, featuring both compact pockets for small cables and cards as well as large padded storage areas for bulkier electronics. Photographers and computer technicians will especially like this one, as it's the only model with space for things like parallel cables or bulky battery chargers.
Carrying around general consumer electronics? For all of your cellular and multimedia needs, the Bagsmart Travel Organizer is the perfect fit. It's got several separate pockets, and an adaptable elastic storage system the securely holds many different items, both large and small.
On a tight budget? The AmazonBasics Universal Travel Case is the best bang for your buck. You get a durable clam shell case, four pockets, and a combination of zippered and mesh storage areas that let you securely and safely keep all of your valuables in one place.
Meet Derek, "TechGuru," a 34-year-old technology enthusiast with a deep passion for tech innovations. With extensive experience, he specializes in gaming hardware and software, and has expertise in gadgets, custom PCs, and audio.
Besides writing about tech and reviewing new products, Derek enjoys traveling, hiking, and photography. Committed to keeping up with the latest industry trends, he aims to guide readers in making informed tech decisions.