One of the best things about the PS5 is the new controller. Sony has graced us with a clever piece of engineering that has some significant upgrades from the previous model. The PS5's "DualSense" controllers differ from the PS4's DualShock controllers with its advanced haptic feedback, more sensitive triggers, and higher-fidelity built-in speaker. The new controllers are also a bit heavier than the previous model and have a different charging port.
Most people report that the PS5's DualSense controllers have a battery life of up to 12 hours – plenty of time for even long gaming sessions. But one problem is that you can't charge your controllers with the console without it being on. Additionally, the PS5 is known to get hot when sitting around idling.
Simply put, it's useful to have a controller charging stand to charge them wherever you want. Plus, a controller charger is also a unique storage solution that'll make your entertainment center neater. Several controller charging docks can also double as a headset or cable holder. Additionally, having a charging rack just looks better than having a bunch of wires sticking out of your console. Combining a charging dock with a PS5 wall mount is a great way to improve the look of your entertainment center and match your wall-mounted TV.
Today we're going to cover the top PS5 controller charging stations. We'll talk about their features, appearance, convenience, pros and cons. Then, we'll give our verdict of which of these chargers is the best and our recommendation.
Why Use a Controller Charger?
First, though, let's talk about why using a controller charger is a good idea.
Fast-Charging
Perhaps the single biggest reason to get a docking controller charger is fast-charging. A generic USB-C cable will charge just fine but a docked controller charger will charge even faster. The best charging docks can charge controller batteries in just two hours.
Tidiness
Your entertainment center can get very cluttered with your speakers, receiver and other consoles. Controllers are just another thing that will add to the clutter, especially because they have an awkward shape and may be hard to find space for. A controller charger is a natural and useful solution to tidiness.
Avoid Overcharging
The PS5 controllers use a lithium-ion battery. One problem with lithium-ion batteries is that they can overcharge and ultimately ruin their internal capacity. Modern controller chargers sense battery levels and will automatically reduce voltage and current when the battery is full, thus preventing overcharging. This mechanism keeps your battery healthy and increases its lifetime amount of charges.
Design
Another important feature is how the controllers dock on the charging station. Controllers can be docked in a lot of ways, like in a tower on top of each other, at either end of the dock, lying down or hanging up. You need to make sure that the space where you put your controllers can still fit when they're actually attached to them.
Indicators
You also want to know when your chargers are done powering up. Most modern chargers have some kind of LED indicator that changes color when the controller batteries are full. That way you always know when it's time to game.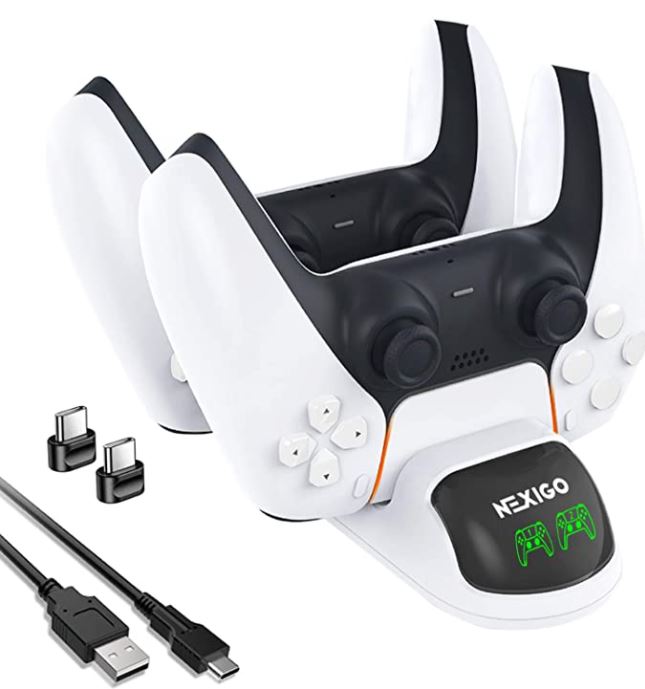 NexiGo Dobe PS5 Controller Charger
First up on our roundup is the NexiGo Dobe PS5 Controller Charger. This controller charger combines a unique design with quality hardware. It can fit up to two PS5 DualSense controllers and charge them simultaneously. The controllers are placed charger port down and can be left upside down to charge. This is a bit of an unconventional design choice but it does prevent the USB-C charging bit from getting bent due to the weight of the controller.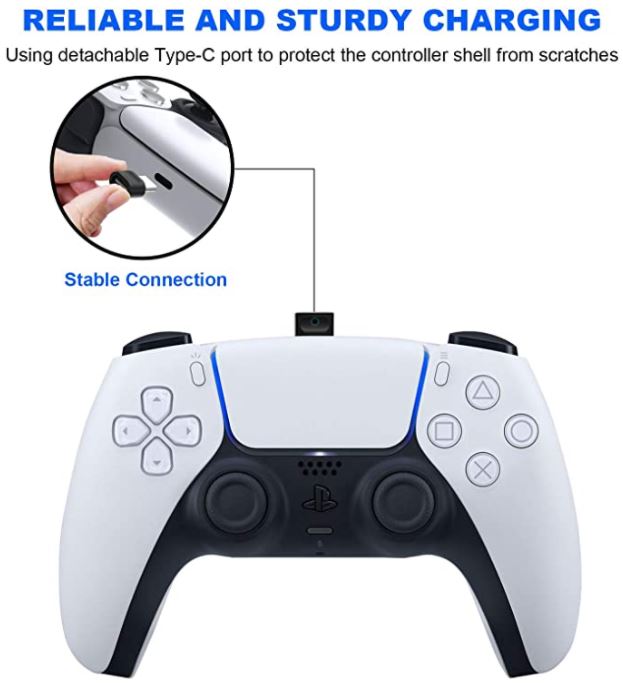 The charging dock connects to a USB-C cable that can be used with any standard charging block. You can also plug it directly into the PS5's USB-C ports on the front of the console if you do not want to find a second outlet for the dock cable. The downside of this setup is that your charging dock will not work when plugged into the PS5 unless you leave it on rest mode. So it really depends on how often you leave your PS5 to go idle.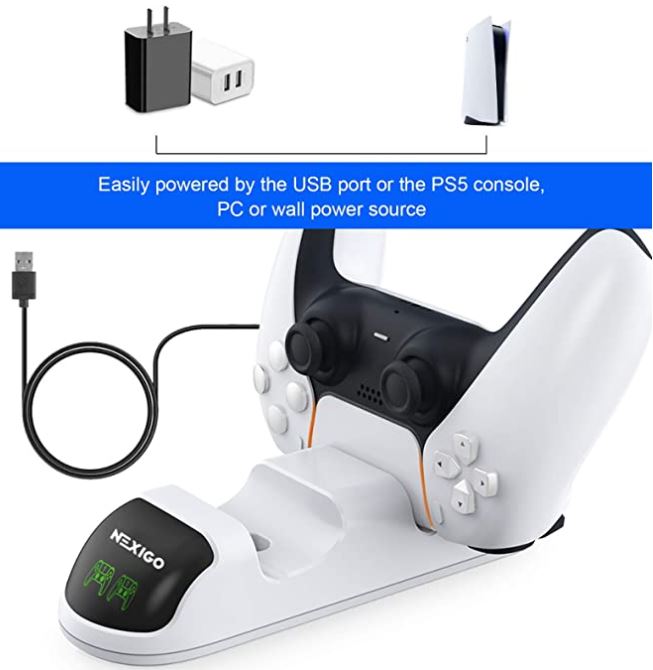 The body of the charging dock is made from a durable ABS plastic with an LED screen on the front. It illuminates an icon when a controller is plugged in. The controller port cutout is a bit shallow and looks like the controllers are going to fall down, but it's rounded enough to keep them secure. In addition, there's built-in smart charging technology that detects controller battery life and automatically senses when the battery is nearly full.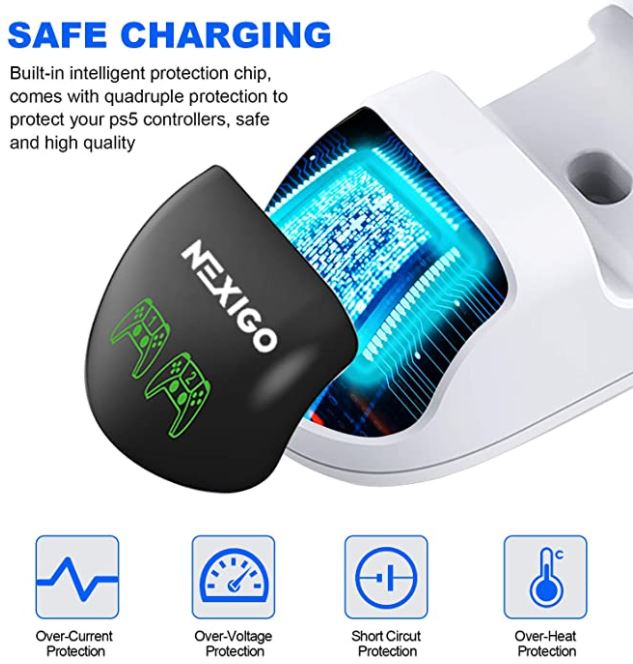 The NexiGo Dobe comes with the dock, a USB-C cable and 2 USB port caps. These caps can be placed on your controller to protect the charging port shell from scratches and damage. It also has some extra safety features, including an over-voltage and over-heat protection auto-shutoff circuit breaker. Simply put, this charger will not damage your controller via overcharging or the battery failing.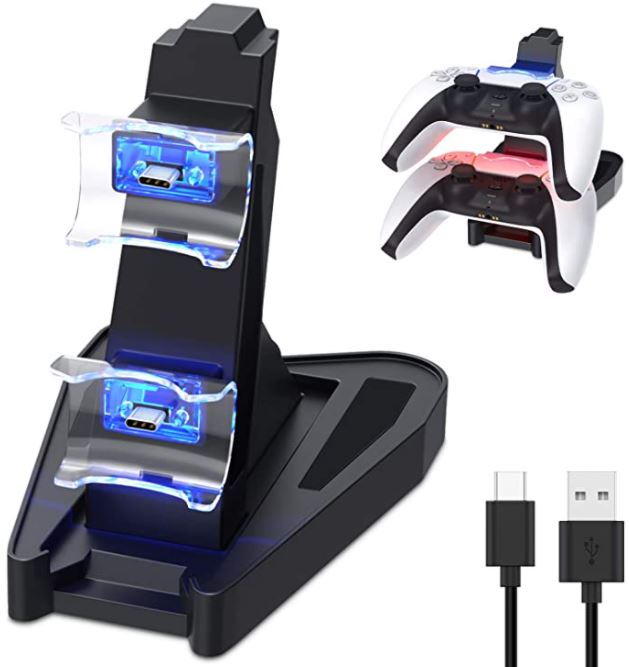 Auarte Dual Charge PS5 Controller Charger
Up next on our list is the Auarte Dual Charge PS5 Controller Charger. The Auarte is a vertical tower charger where the controllers are placed one on top of each other in the charging tower. It's meant to sit flat on a desk or TV stand. The most unique feature is the LED indicator. The LED near each port turns red when the controller is currently charging and turns blue when the battery is full. These LEDs are specifically designed to work with the PS5 controller so the battery sensor is very accurate.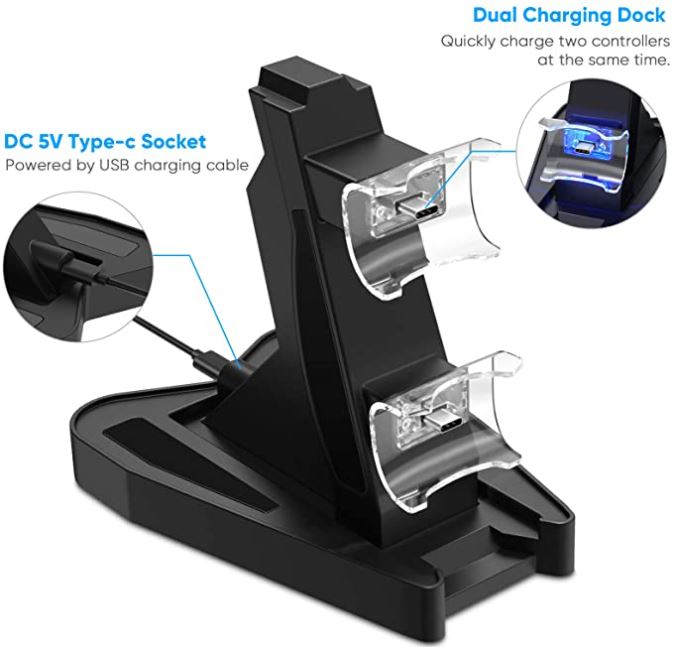 We really like the style and the design of the Auarte charger. The tower and black matter finish look neat and tidy with the controllers fitted naturally into the slots. Each charging port has a collar of clear plastic that cradles the controller so that the entire force does not rest on the charging bit. They do a great job of making sure that the controller sits even and straight, without any sag.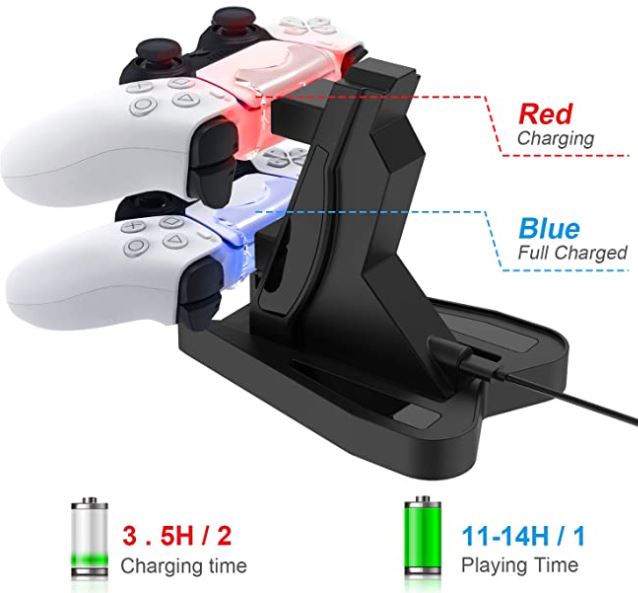 The dock itself uses a USB cable and can be used with a standard charging block or plugged into the front port of your PS5. Either way you choose, the dock charges very quickly. It takes just under 4 hours for a full charge for both controllers at the same time. It'll even charge one controller in even less time. Like the NexiGo, the Auarte has intelligent smart chips that modulate current to protect the battery. The built-in circuit breakers will automatically shut down if there's too much voltage or the dock overheats.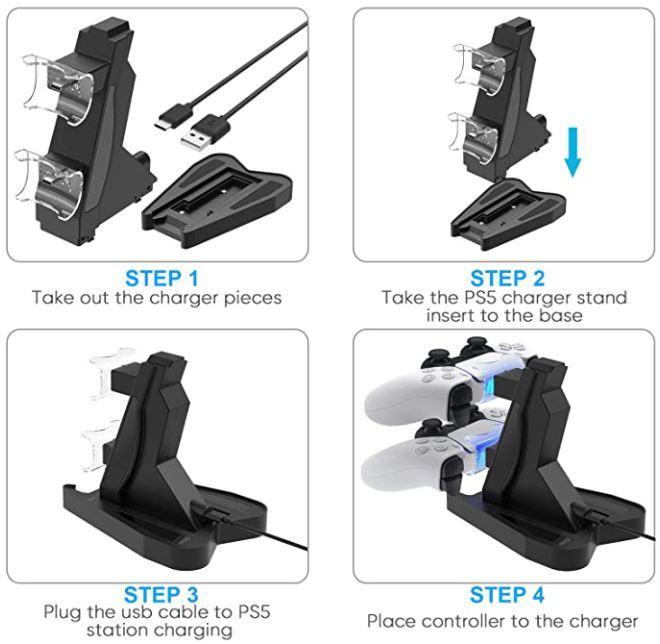 One of the better features is how space-conscious it is. The charging tower neatly stacks the controllers on top of each other so it looks great while saving space. The only thing that would make the design better is if the dock could be mounted on the wall. That being said, the dock can only be used while placed on a table or flat surface.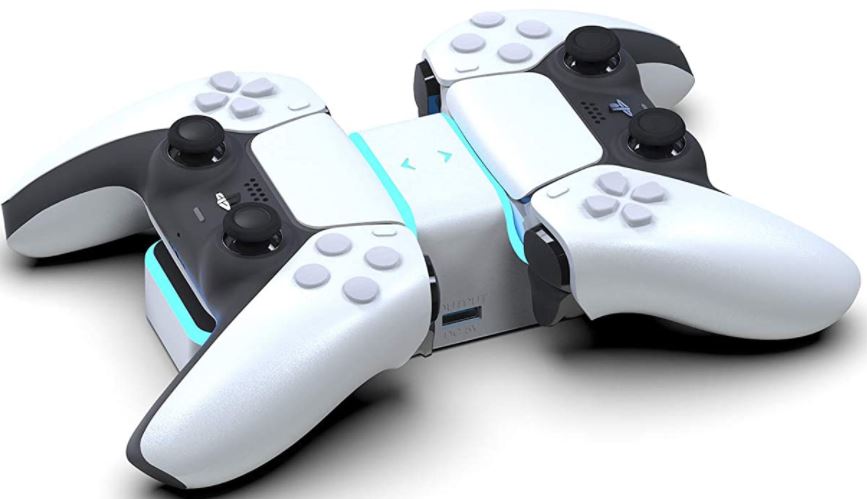 Mattay PS5 DualSense Controller Charger
Last on our list but certainly not least is the Mattay DualSense Controller Charger. This controller charger has a striking, unique design that sets it apart from a lot of other offerings. It fits both controllers back to back in a small saddle-shaped dock. The charging bits extend horizontally and the controllers are placed on their back. The unit itself attaches to a USB-C cable that can be plugged into any available port (or a charging block).

The Mattay charger also has built-in LED indicators that tell you about the battery level. The LED backlight turns red when the controller is currently charging then switches to blue when the battery is full. Placing and removing the controllers is easy so you don't have to fiddle with a cradle or controller perch.
This charging dock is capable of charging two DualSense PS5 controllers simultaneously, in less than 3 hours. In fact, it can charge a single controller in even less time. The shape is convenient and the position of it makes it easy to grab and remove a controller when you're ready to play.
It also has a convenient smart-charging sensor that automatically detects battery charge to prevent overcharging. This built-in failsafe mechanism ultimately protects the longevity of your controller batteries.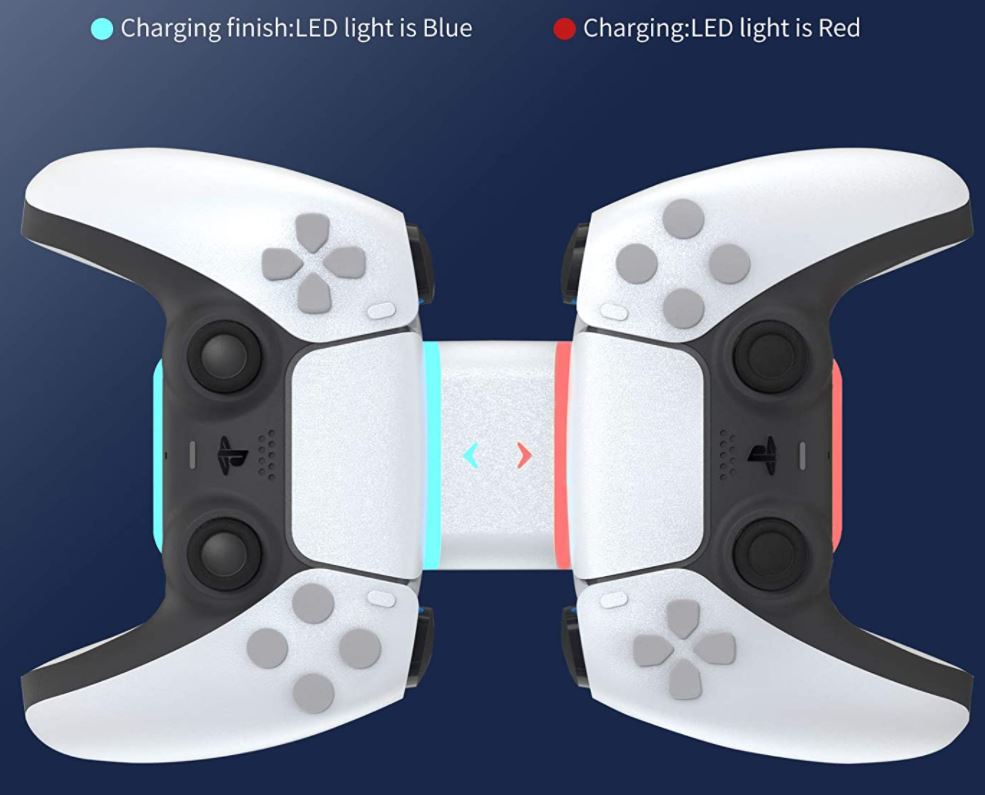 All in all, the Mattay is an excellent controller charger. The only real criticism we have is that it's not as space-conscious as a tower-design. In fact, you need to put both the controllers side-by-side backside-down to charge. If you're already tight on space with your entertainment center, it can be hard to find a space to fit the dock and controllers when they're attached.
Final Verdict
So which of these controller charging docks are the best? Like always, the answer depends on exactly what you need.
The NexiGo Dobe is a sturdy charger that has a unique design. It has all the basic protections you would expect such as over-voltage, over-current and temperature fail safes. The main criticism of the NexiGo is that the angle the controllers are placed in is slightly awkward. This can make it a bit cumbersome to place them into the dock and take them out when you're ready to play. However, the controllers stay in each port securely so you don't have to worry about them falling out. That said, they're a bit awkward to grasp when they're basically upside down.
The Auarte is a good charging dock that has a space-conscious and attractive design. The tower-shaped dock is great for two controllers at once. In addition, the colored LEDs are bright and easy to see. Each port is surrounded by a clear plastic collar, which makes it look like each controller is floating in mid-air while charging. The main criticism of the Auarte is that you can't mount the charging dock to the wall, which would be a very convenient alternate form of placement.
The Mattay charger is a good choice because of its simple design and sturdy components. Everything is made from durable ABS plastic and there are bright LEDs to indicate battery condition when charging. Like the others, the Mattay also has built-in safety features like overvoltage and overcurrent protection.
Based on our criteria, the best charging station for PS5 controllers is the Aurte Dual Charge PS5 Controller Charger. The Auarte won our pick because of its compact tower design and cool, stylish look. It also has the sturdiest design with the widest base plate for mounting. Because of this, you won't have to worry about it tipping or falling over. In addition, the Auarte can be plugged into either a charging block or alternatively, your PS5 console.
Controller chargers are one of the most useful console accessories that you can have. With one, you can store your controllers neatly while simultaneously charging. This list of the best PS5 controller chargers is very timely given the release of the new console so hopefully, it gave you some ideas on where to start looking.