Gamers finally got their wish late last year when the long-waited for PS5 finally dropped. The new PS5 boasts some of the best hardware specs of any console so far and plenty of gamers are extremely excited to see what next-gen consoles have in store.
If you do own a next-gen console, there are a couple of ways that it can be oriented. You can keep it up on its side in tower-form or you can lay it horizontal on the ground. Whichever way you prefer will work. However, in some cases, you might want to actually mount your console up on the wall. Doing so can protect your PS5 and get it out of the danger zone so nobody drops anything on it or trips on it.
If you're going to mount your console then you'll need a quality mount. They attach onto your wall and provide a shelf for your console to rest on. With it, you can keep your expensive PS5 out of harm's way and also free up space on your entertainment center.
However, there are a lot of options out there and not many people are familiar with them. It can be a bit difficult to tell which ones are the best if you have relatively little exposure. Thankfully, we're here to help you out. We're going to take a look at three PS5 wall mounts and compare them. We'll look at the HIDEit PS5 Wall Mount Pro Bundle, the Toptay PS5 Wall Mount, and the TotalMount Universal Mount.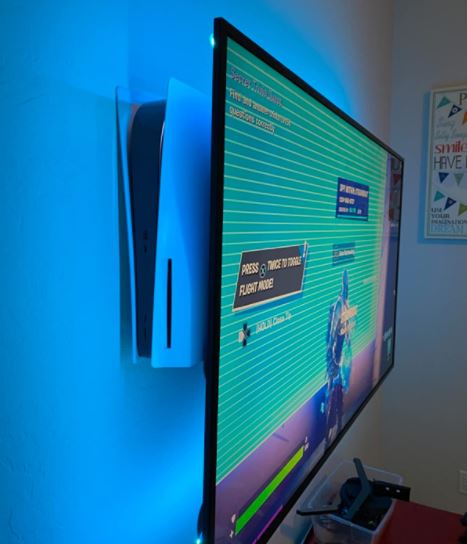 Why Use a PS5 Console Mount?
First, though, we should talk about what a console mount is and why you should use one. A console mount goes into your wall and serves as a shelf for your console. Unlike a normal shelf, the console itself is directly attached to the mount so it does not take up much space and it's secure hanging on the wall.
There are a lot of reasons to consider a console mount. Here are just a few of them:
More entertainment space
One thing about the PS5 is that it's pretty large – a good deal larger than the previous generation consoles. As such, it takes up a lot of space in your entertainment center, especially if you have other consoles, a stereo system, and anything else. Mounting your PS5 will get rid of any unnecessary clutter on your TV stand so you have more space for organizing cords, controllers, and other peripherals.
Better ventilation
One problem with keeping your console on the ground or on a shelf is that it is low to the ground and the bottom doesn't get enough ventilation. Mounting your PS5 will give it more ventilation by letting air flow to both the top and bottom. Additionally, keeping your console higher up will reduce dust build-up which can clog the vents and cause it to overheat.
Keep out of the reach of kids and pets
If you have kids or pets, odds are you've worried about your console once or twice. Kids, unfortunately, are not known for being very cautious around expensive electronics. The last thing you want is your son or daughter accidentally knocking it off the entertainment center or spilling their orange juice on it. Mounting your console will keep it high up, out of the way of being knocked over, stepped on, or having anything dropped or spilled on it.
Manage cables
If you have a lot of things in your entertainment center, then you probably have a bunch of cords that will get all tangled. Tangled cords can be incredibly frustrating to deal with. Think about all the times you've looked behind your TV and seen the writhing mass of cables, with no clue as to what goes to what. A console wall mount is the perfect thing to help manage those cables and keep them organized. Mounting it higher up will make it much easier to trace cords so you know what goes where.
Convenience
Another reason to mount your PS5 is convenience. Say your entertainment center isn't close enough to the outlet. A wall mount can give you a little bit of extra space so the cords can reach a bit further. Mounting your console to the wall will also make it easier to plug into your wall-mounted TV with less cord management and a cleaner appearance.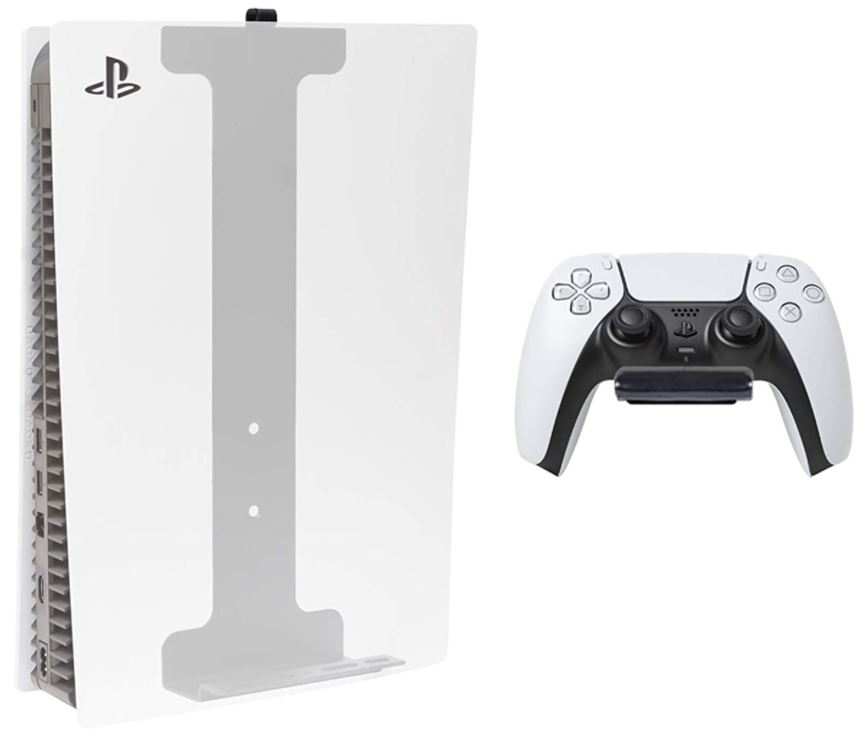 HIDEit PS5 Wall Mount Pro Bundle
First up on our roundup is the HIDEit PS5 Wall Mount Pro Bundle. This bundle comes with both a mount specifically for the console and a PS5 controller. That's right, you get two mounts, one for the console and one for the controller. The wall mount is made from a durable steel material with metal croppings to connect it. Additionally, it's designed for both the digital and disc version of the PS5. The versatile design is specially crafted to securely hold the console while providing unobstructed access to all ports and ventilation openings while providing maximum airflow.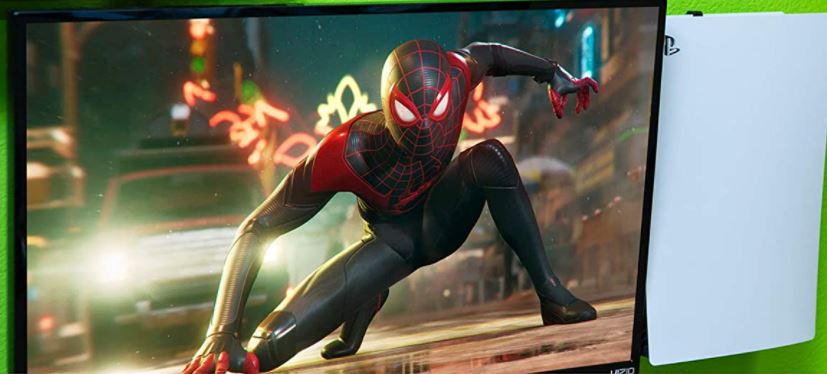 The HIDEit Wall Mount needs to be mounted to a wall to be used in any way. The metal spine has 4 support holes, each of which requires a typical 1″ screw. The screws come included so all you need is a drill to put the screws in the wall. The bottom metal rung also screws directly into a mount on the bottom of the console itself, so it's securely fastened and stable at all times. The mount is made from durable cold-rolled steel which gives it sturdiness and strength you can count on. The steel also has a powder coating that will protect the frame from rust and prevent scratches and abrasions on the console.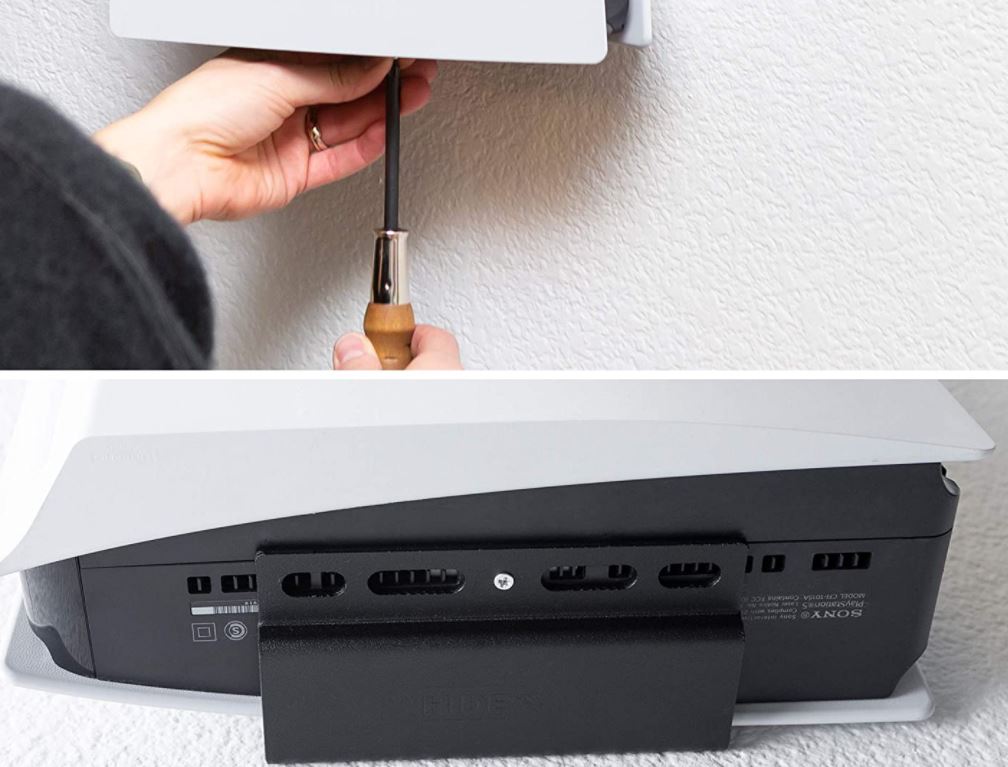 The HIDEit mount also comes with a convenient wall mount for a single controller. Like the main unit, the controller mount is made with durable steel and goes into the wall with the same standard 1″ screws. The bundle comes with only one controller mount, though you can buy extra controller mounts separately from the same company.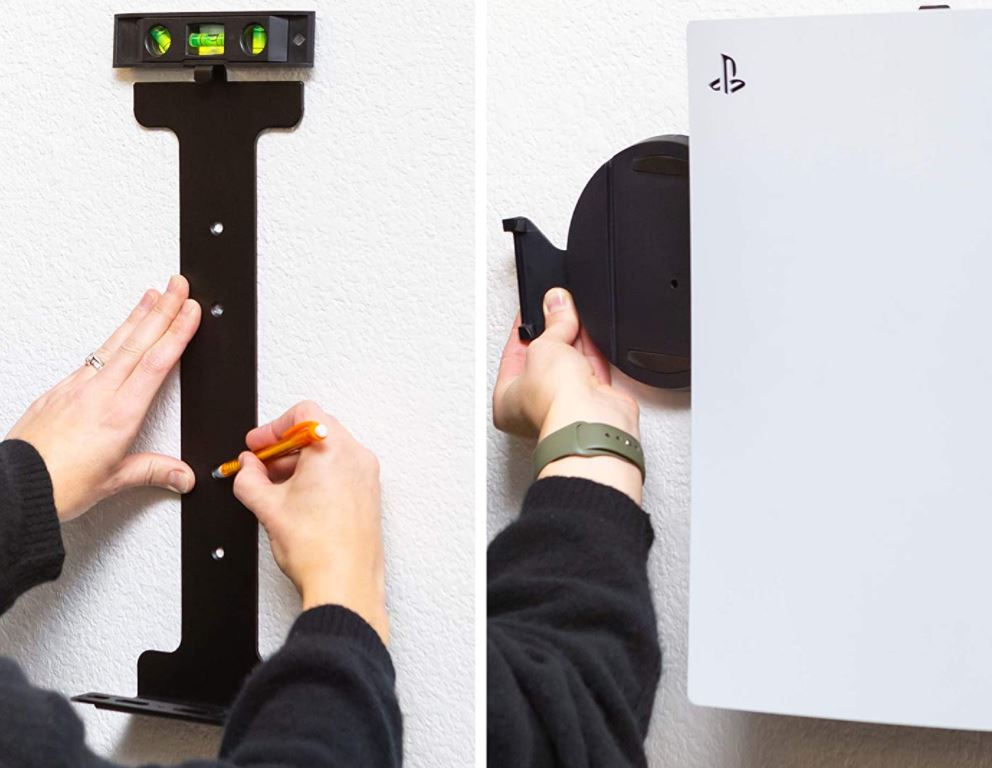 Unfortunately, this mount is designed specifically for the PS5 so it will not work with other game consoles. The frame is just too large to properly hold a PS4, Xbox One X, or Xbox Series X. Also, you may need to remove a small piece on the bottom of the PS5 to open up the M3 screw hold for proper mounting.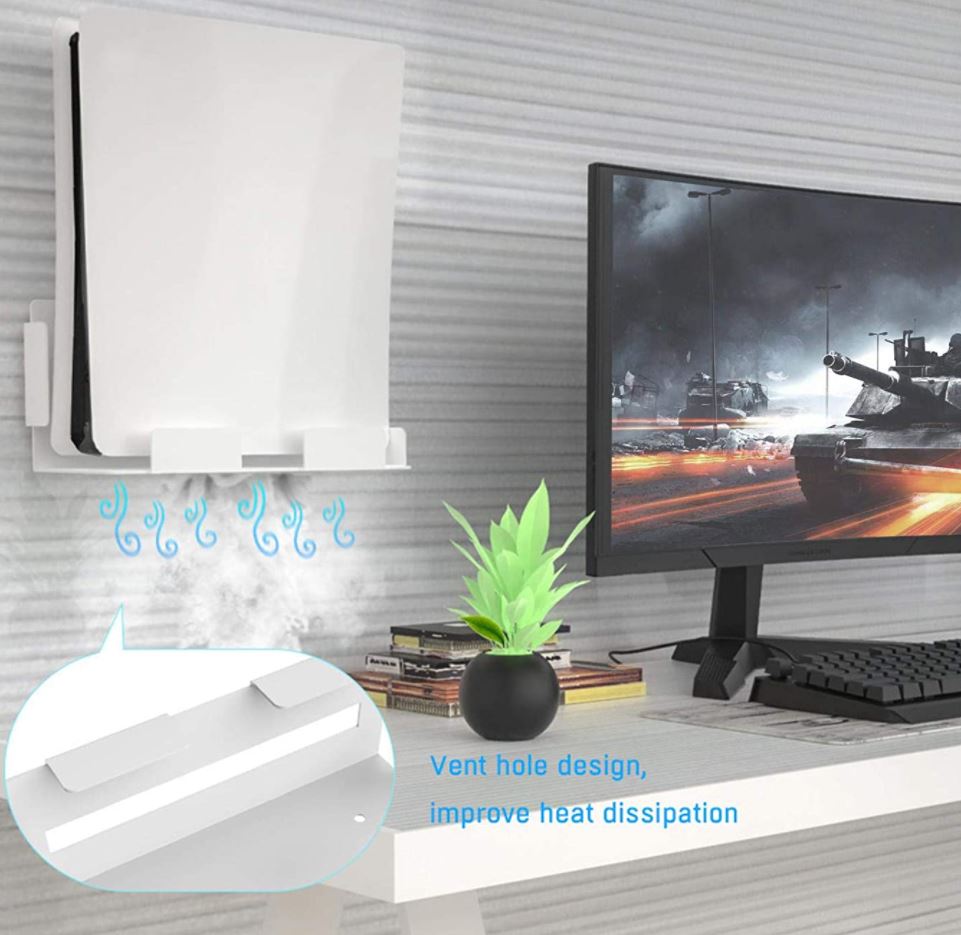 EJGAME Wall Mount Hanger
Up next on our list is the EJGAME Wall Mount Hanger. This wall hanger is extremely sturdy as it's made from durable iron – a tough material that can take a beating. It's designed specifically for the PS5 so it won't fit any other console, but is designed to fit the exact dimensions of the PS5. This mount goes horizontally on the wall and creates a durable shelf for your the PS5. Best of all, it's built a bit more open than other wall mounts. It boasts a wide base on the bottom and leaves most of the top area unobstructed. That means your PS5 will have open ventilation and the ports will be available. Unfortunately, this design also means that the console can be a bit top-heavy.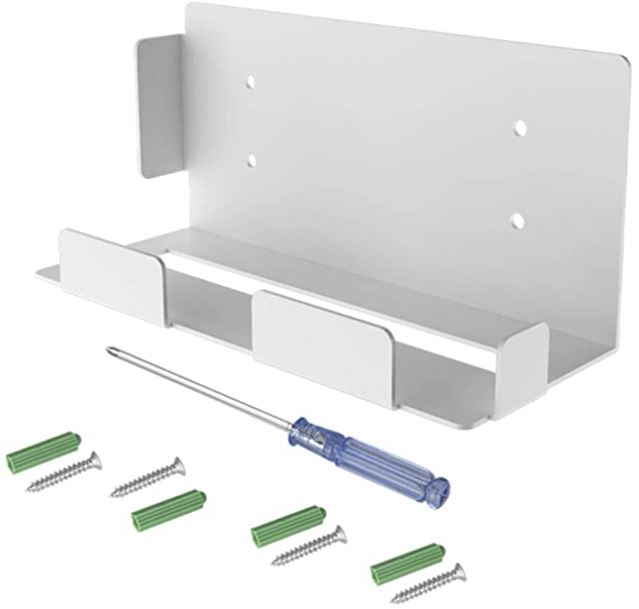 The EJGAME bracket comes with the required screws for so all you need is a screwdriver or drill to put them in. The bottom of the frame also has a long opening for extra ventilation on the bottom of the console, an area that is often neglected. This wall mount does not come with a controller mount though so you will have to buy one of those separately. Once installed, you can also easily remove the PS5 from the mount simply by lifting it out. This is because the console is not directly mounted to the bracket. We think the best part of this mount is how durable it feels. The iron and 4 screw holes hold it flush to the wall with an extra-wide base for placing your PS5.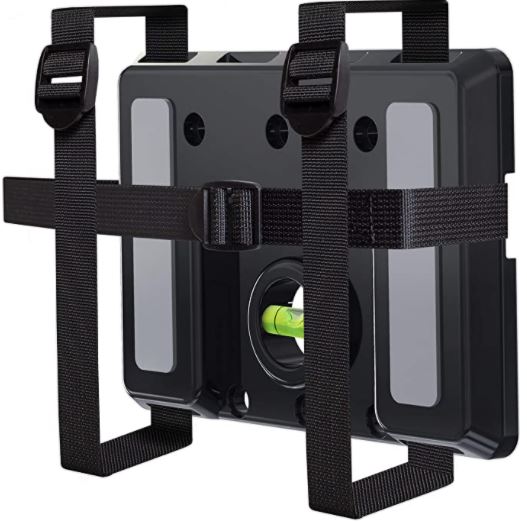 Total Mount Universal Mount
The next and last choice on our list is the TotalMount Universal Mount. This wall mount, as the name implies, is a universal mount that can be used for any console currently on the market. The mount consists of a durable ABS plastic frame and heavy-duty straps for securing your console. The straps can adjust to fit the contours of whichever device you have and hold it securely – whether it's a PS5, Xbox, PS4, or more. The Total Mount is perfect for more than just consoles too. It can also be used for a DVR or cable box that you want to store on the wall.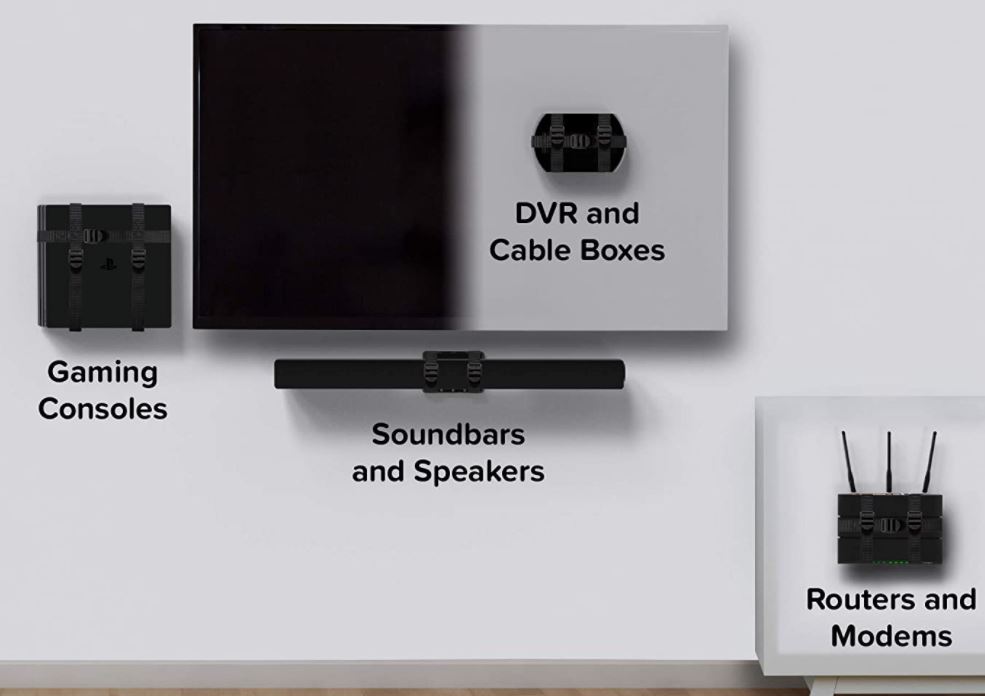 One really interesting feature of the Universal Mount is that it has a built-in level. The level helps you make sure that you're setting it up straight on the wall. The straps can be adjusted by moving the buckles and there's also large, non-slip rubber panels on the front of the frame that keep your PS5 secure from slippage. Another nice trait is that it comes in two color schemes – standard white or professional black.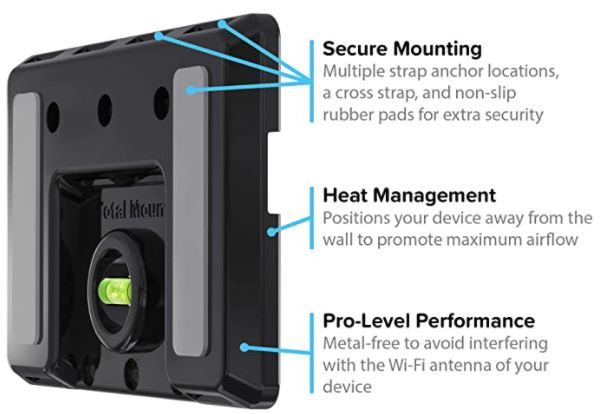 The straps are highly adjustable and can fit anything with up to a 40″ diameter. Fair warning though, it really only works with things that can be vertically oriented. So you'll have to keep your console in the upright position when utilizing it. That means it can't hold a Bluray or DVD player that can't load discs vertically.
Final Verdict
Out of the three wall mounts we covered, which is the best? As with most things, the best wall mount for your PS5 depends on what exactly you need.
The HIDEit PS5 Wall Mount is probably the most discreet and space-conscious option we picked out. The frame is very thin and specially designed with an integrated mounting screw that screws directly into the console itself. It also comes with a controller mount as well which is a very nice bonus. Additionally, the HIDEit mount leaves a lot of the console exposed so it'll always get adequate ventilation with clear access to all the ports.
The EJGAME Wall Mount is probably the most sturdy and hefty choice on our list. It has a very wide base and is actually large enough to be used with other consoles that can be oriented vertically. The main problem with the EJGAME is that it doesn't screw directly into the PS5 itself and leaves most of the top unsupported. Because of this, you can still accidentally knock it over if you're not careful.
Last, the TotalMount Universal Mount is the most versatile. It can be used with basically any console currently on the market (except the Nintendo Switch) and also has a convenient built-in level to make sure you are mounting things straight. It's very versatile and easy to switch out one of your consoles for a different one. But, the straps are not as durable as a metal frame the other two provide.
Overall though, we would say that the HIDEit is the best wall mount for a PS5. Not only is it specifically designed for the PS5 but it's flush to the wall, very space-conscious and sturdy. Best of all, it has a special mounting base that connects directly to the bottom of the PS5 via a screw port on the back. The HIDEit also has great exposure so your console will get the max amount of ventilation, giving you unobstructed access to the port.