Straight from the box, the PS5 can be oriented vertically or horizontally. Sony includes a small metal screw that allows you remove and fit the included stand in either position. Whether you want to stand the console upright next to your TV or on a shelf, on its side, it's very easy to do both.
However, as with any small parts, it's easy to lose this screw, and even the original PS5 base stand. Alternatively, you may have even accidently broke either piece. Regardless of the reason, you may be on the search for a replacement. While Sony doesn't sell an individual OEM screw or black-plastic base, there are aftermarket replacements readily available.
Removing the PS5 Base Screw Plug
On the bottom-side of the Playstation 5, you'll notice a tiny plastic plug that's inserted flush into the exterior. This plug is magnetically attached, so there's a little bit of know-how to get it removed.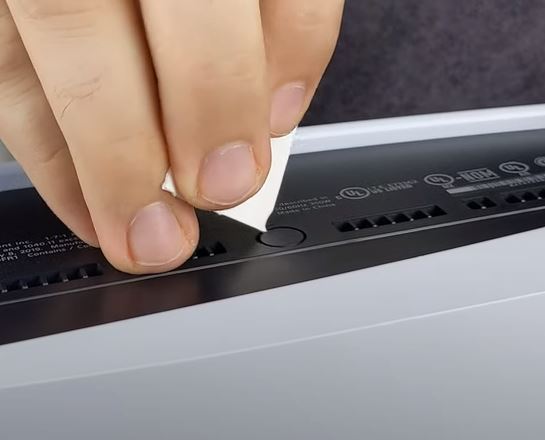 You can simply use tweezers to pop it out. However, we recommend inserting a tiny piece of thick paper into the crack and prying it upward. Alternatively, if your fingernails are long enough, simply try grabbing it. This will pop the tiny plug off and expose the threaded holes for the stand screw.
If you have any trouble, you could try using a piece of duct tape. Stick it flat on the surface and pull upward. This will make the plug come with the tape to cleanly be removed. Whichever method you choose, it's quite simple to remove it.
Attaching the Stand Base – Horizontal or Vertical?
The OEM black-plastic stand is designed to work universally well, regardless of if you're wanting to place the console sideways or upright.
Setting up the PS5 Horizontally
To set it up horizontally, start by placing the PS5 on its side, with the back vent facing up. You'll know you've got it on the right side when the Playstation logo is situated on the front, top-right corner of the front panel.
Next, look at the back panel and locate the square, X and circle shapes pattern. This indicates where the stand should be aligned. Then, get your stand and align the two prongs on the back with the Playstation shapes/pattern on the back panel. Give it a firm press and you're good to go. Now, the PS5 can be placed on its side.
Setting up the PS5 Vertically
First, get the PS5 stand in your hand. Hold onto the small piece of plastic on the top-side of the stand with one hand. Next, firmly hold and turn the protruding hook with your right hand, and twist the stand. It'll then open up a small compartment, exposing the mounting screw for attaching the base vertically.
After that, examine the base of the console and remove the plug as we described earlier. In the small compartment we just opened, there's actually a dedicated spot to place this tiny plug while you have your console oriented vertically. Simply drop the plug into its dedicated storage spot and remove the screw that we just exposed.
Next, place your PS5 console on its side with the back-side facing upward. After that, grab the stand and position the hooks snugly, just under the power port. Hold the stand in place, get the screw and begin manually turning it clockwise into the center threaded hole.
Once you give it a few turns by hand, use a flat screwdriver or coin to continue turning the screw until it's firmly in place. That's it! Now the PS5 can be placed upright, vertically.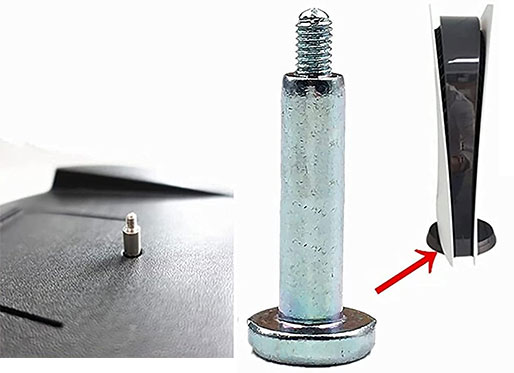 Replacement PS5 Screw and Stand
We've gone ahead and done all the extra homework in regards to finding a worthwhile replacement for either the original screw or stand. After ordering a variety of third-party screws and stands, we've selected a few options that work well and are readily available.
While they may not be official Sony products, all of the options we're going to discuss today are attainable. Best of all, they're inexpensive upgrades that work equally well with both the disc and digital versions of the PS5.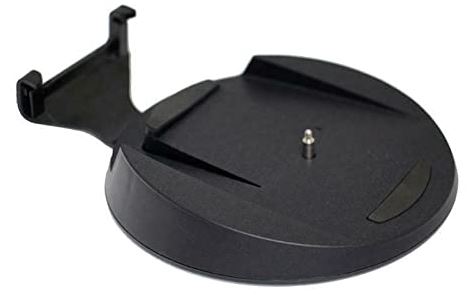 XBERSTAR PS5 Stand Replacement Vertical Stand with Screw
For those looking for a direct replacement stand that comes with the proper screw, look no further. The XBERSTAR PS5 Stand Replacement Vertical Stand is a direct clone of the original PS5 stand base.
It's the exact same color, size and design as the OEM that comes included with the console. In fact, there's even the same tiny compartment to keep the plastic plug and screw in a safe position if you want to set it up horizontally.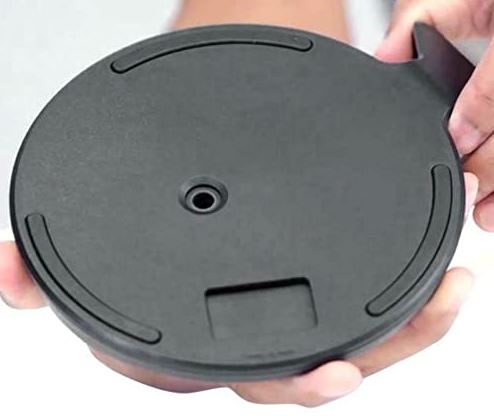 The bottom of the stand has the same rubberized feet that you're probably already used to. This keeps the console sturdy and movement-free when upright or on its side. Best of all, it works equally well with the disc and digital versions. In addition, installation is just as painless and straightforward as with the original stand. If you're looking for a direct clone of the PS5 base and screw, XBERSTAR offers just that.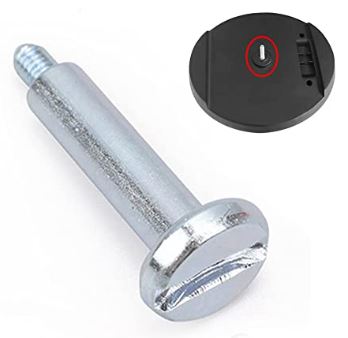 Generic PS5 Base Vertical Stand Screw Replacement
If you don't need a complete base, and you're only missing the screw, this Generic PS5 Base Vertical Stand Screw Replacement is a good pick.
It's an exact clone down to the precise length and thread count of the original OEM screw. It's even made from the same stainless steel material as the Sony-branded screw, for ideal strength and resilience.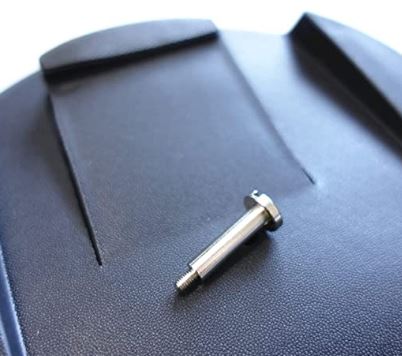 These replacement stand screws are sold in a variety of options. You can opt to purchase a single screw, but it's also sold in 2 or 6 packs. Needless to say, you get a better deal when you buy multiple. Simply put, most people won't ever need 6 of these screws. However, buying it in a 2-pack is a great way to have a spare on-hand if you end up losing it once again.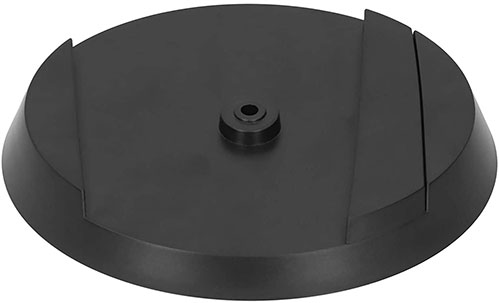 Dilwe Replacement PS5 Vertical Stand with Screw
While it isn't an exact clone of the OEM PS5 stand, the Dilwe Replacement PS5 Vertical Stand is a great alternative.
Rather than having a clawed design like the original, it offers a generic solution that actually attaches just as nicely. With a screw included, it's an inexpensive way to acquire all the necessary pieces for an effective replacement.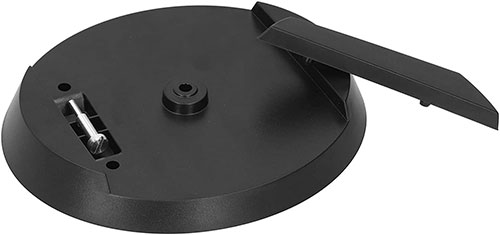 Made from a high-quality ABS plastic, this stand is only meant for vertically-oriented consoles. Simply put, because there's no claw, it won't work in a horizontal position. However, it works universally well with both the disc and digital versions of the PS5.
Simply remove the top-bracket and it'll expose a tiny compartment that houses the screw. Installation is simple and straightforward with little to no guesswork. And once it's setup, the console is stable, sturdy and perfectly vertical.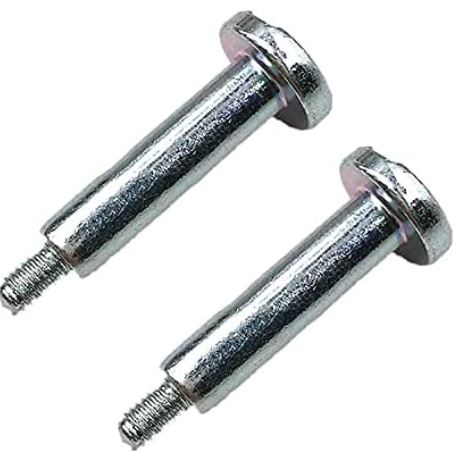 Weston PS5 Vertical Stand Screws
As another alternative, the Weston PS5 Vertical Stand Screws are another great pick. Sold in a two-pack, they're even slightly better-priced than the generic screw we previously showcased. However, they seem to work equally as well. Some reviews mention that they're not long enough, but we had no issues with it.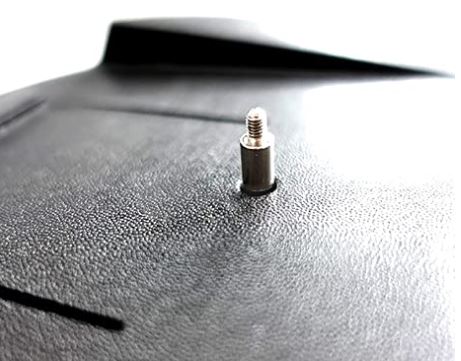 Since they're sold in a two-pack, it's a great solution for those who find themselves misplacing small objects on a regular basis. Whether you're unorganized or simply forgetful when it comes to small parts, it may be wise to purchase PS5 base screws in a two-pack, so you always have a backup on-hand.
What Are My Other Options?
Rather than using and/or relying on the OEM PS5 stand that's included with your console, there are several other ways to orientate your console.
Using a dedicated horizontal PS5 stand is a great way to add stability and airflow when you have your console sideways. These aftermarket stands utilize two pieces for resting the PS5 on its side while simultaneously propping up the console. Not only does it improve the look, it adds much more stability than the standard base provides. In addition, it allows for better ventilation and heat dissipation.
There are also many different vertical PS5 cooling stands available. They add a bit more to the table than the standard OEM stand. Often times, they'll include controller charging/docking stations, game organizers or hubs for bringing all of the inputs to the front. Needless to say, they're worth looking into if you're replacing the OEM PS5 stand anyways.
For those who want the cleanest appearance possible, a PS5 wall mount may be a great option. A wall mount is the best choice for those who want to suspend their console behind or next to their TV. Either way, you could choose to showcase the PS5 on the wall, or simply hide it from sight.
As another popular upgrade, some gamers use PS5 dust covers to protect their console while not in use. Not only does it prevent build-up of dust and debris internally, it keeps the outside looking clean and new. While they're arguably unnecessary, most will see them as an inexpensive and effective way to assure long lasting performance for years to come.
Meet Derek, "TechGuru," a 34-year-old technology enthusiast with a deep passion for tech innovations. With extensive experience, he specializes in gaming hardware and software, and has expertise in gadgets, custom PCs, and audio.
Besides writing about tech and reviewing new products, Derek enjoys traveling, hiking, and photography. Committed to keeping up with the latest industry trends, he aims to guide readers in making informed tech decisions.