BougeRV Power Station
Pros
Massive 1100Wh capacity.
Excellent build quality with aluminum frame.
Bright, two-color screen that's easy to read outdoors.
Built-in 1200 pure sine wave inveter with 2000w surge rating.
Intelligent BMS keeps unit safe and properly protected.
Cons
No built-in lamp or wireless charger.
No button to turn off display screen.
Re-charging the unit slows down when you get close to 100% capacity.
A bit expensive for some budgets.
If you've been on the hunt for a portable power station, you may already be overwhelmed with the options available. It seems every other week, manufacturers are releasing new versions that seem to offer quite a bit of enticing features. Truth is, as time goes on, features get better and prices get lower. Take the new BougeRV 1100Wh portable power station, for example.
BougeRV is no stranger to the RV lifestyle. We've reviewed several of their 12V portable refrigerator/freezers in the past, such as their 30-Quart and 53-Quart models.
When we heard that they were releasing a portable power station with 1100Wh of energy storage, we knew we had to get our hands on it, and try it out for ourselves. Luckily, they agreed to send us a sample unit in order to test, review and share with our readers.
Over the course of the past week, we've put their new 1100Wh portable power station to good use. We've already taken it on two overnight trips and vigorously tested it with a variety of electronic devices and appliances.
Now we're here, writing this article to share our experience, the good and bad, and ultimately determine if it's a worthy investment or a power station you should pass-up on. Let's get right into it!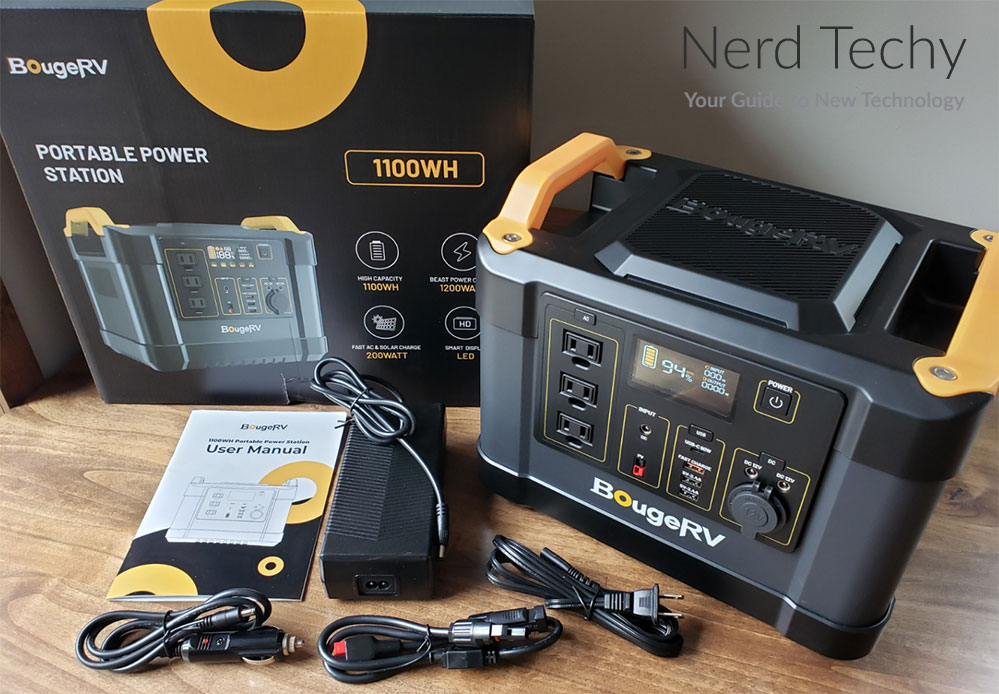 First Look
Right out of the box, the BougeRV 1100Wh Portable Power Station seems to have a lot going for it. Packed with it are all of the charging cables you'll likely ever need. That said, you get an AC charging block with plug, DC charging cable, an MC4 solar cable and an easy-to-read user manual.
Measuring 12.56″ wide, 9.17″ deep and 10.47″ tall, this power station isn't exactly small, but not exactly large, either. We'd call it more of a medium-sized unit. However, it does weigh a whopping 28.6lbs.
Use code "nerdtechy12" for a 12% discount when you order the 1100Wh Power Station directly from BougeRV's website.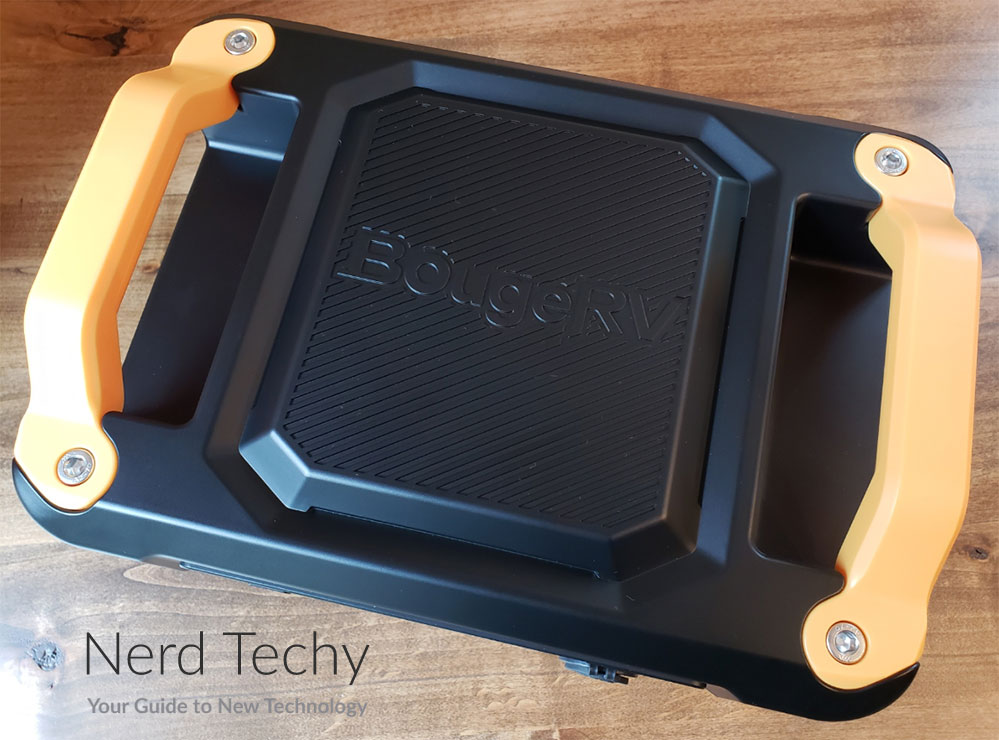 While it isn't necessarily impossible to lift and move-around on your own, depending on your abilities, you may require assistance. Regardless, there's two oversized, yellow handles protruding from the top of each side. Ultimately, these feel comfortable, and allow for a much easier way to move and maneuver it around in small spaces.
One of the first things we noticed was the housing that encases all of the internal components. Notably, it's made from a heavy-duty aluminum shell/frame that's cold to the touch. While the top and bottom are capped with a rugged, thick plastic, the majority of the unit is aluminum. It gives off a high-end feel that is much more resistant to accidental bumps and drops. In addition, the natural coolness of using metal helps to dissipate heat in a very-efficient way.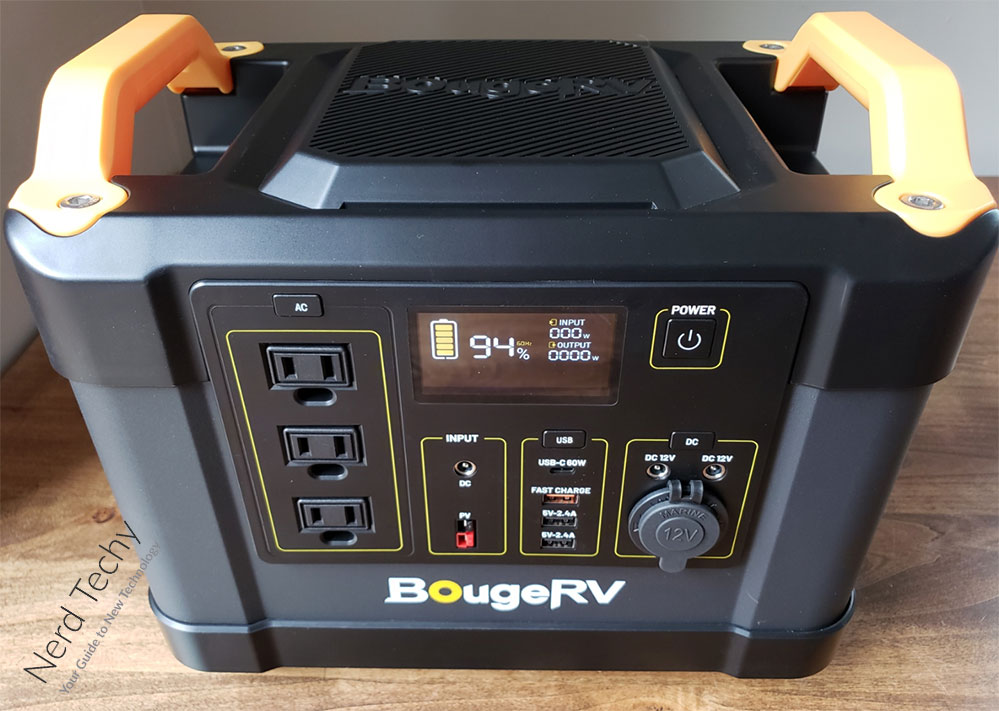 We're big fans of the color scheme and layout. All of the inputs/outputs are conveniently located on the front panel for easy access. The right-side houses two built-in cooling fans that only activate while under a high load of charging or discharging. When they turn on, they're actually very quiet and don't seem to be a nuisance.
The bottom is the only other area that has something worth mentioning. Notably, there are four rubber feet that keep the unit from slipping by adding an extra layer of much-needed grip to the base. While there isn't a built-in LED lamp or wireless charger, these aren't really always that practical, or necessary.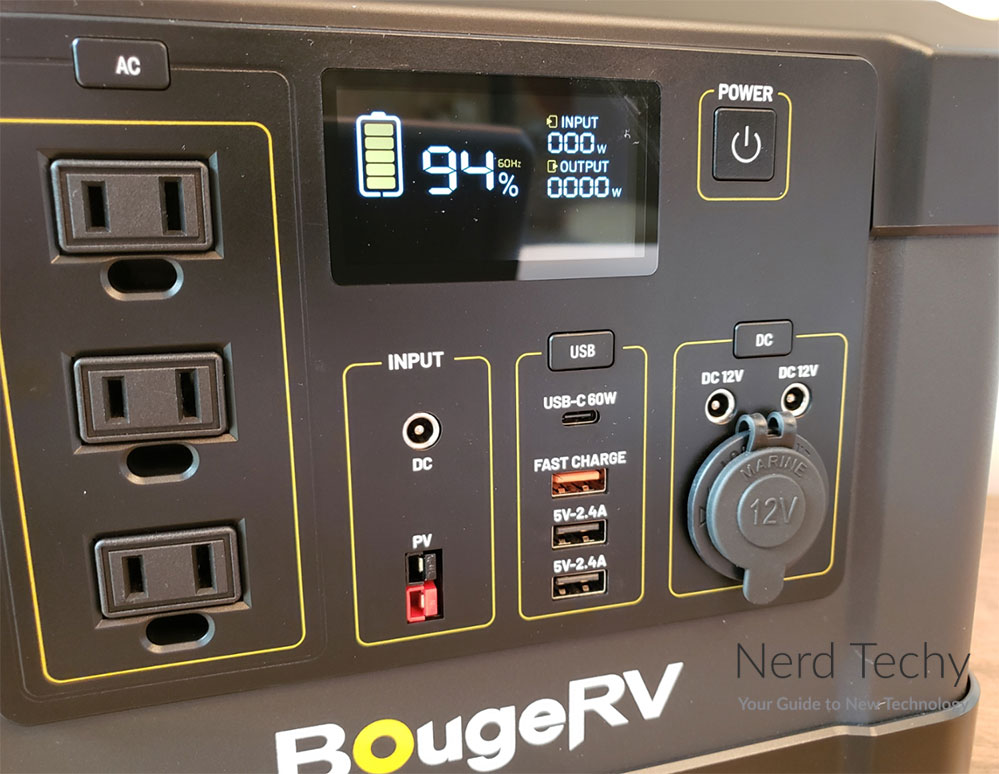 Charging Outputs
In total, there are 10 individual charging ports, clustered together in AC, DC and USB sections on the front panel. Each section has its own button that must be pressed before using the respective ports.
Notably, there are three AC outputs that support a total of 1200W rated power with a 2000W peak surge rating, thanks to the built-in pure sine wave inverter.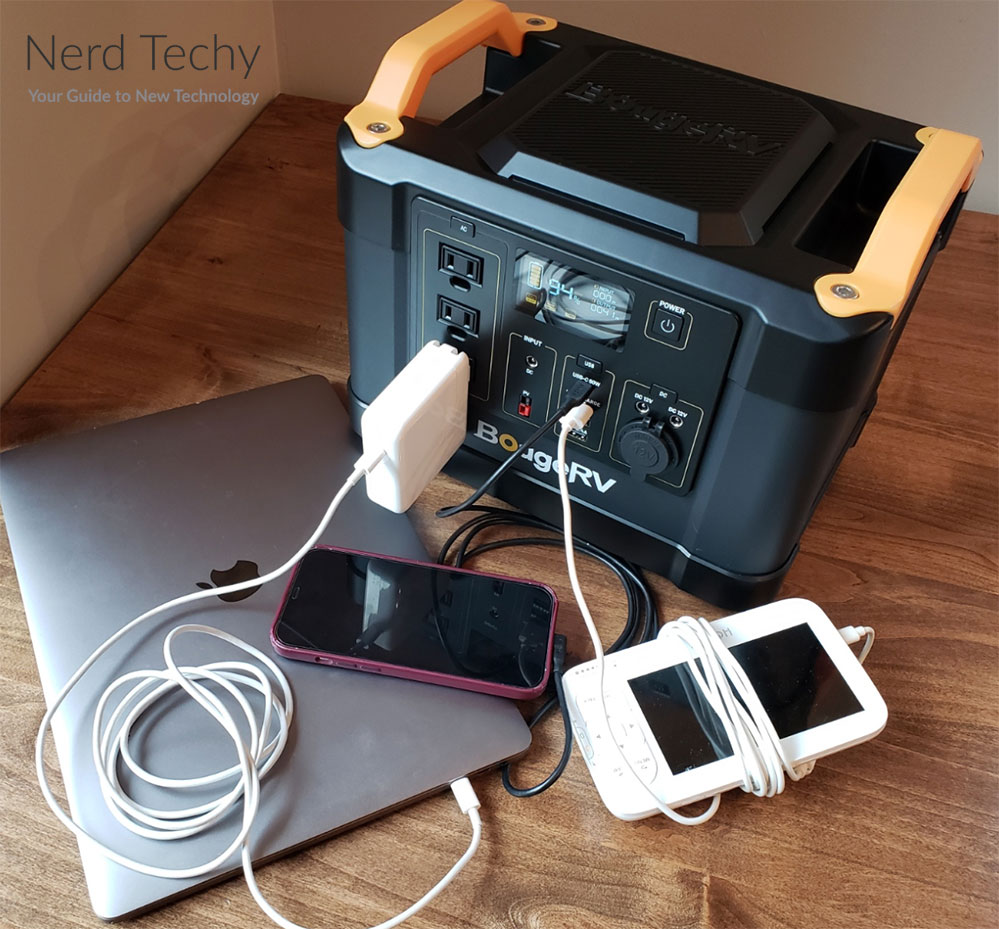 The next section contains four USB ports; one USB-C PD port that supports an input/output of up to 60W. With it, you can charge the power station unit or charge any USB-C device. In addition, there's one USB-A 3.0 fast-charge and two USB-A 2.0 5V-2.4A charging ports.
Lastly, you have the 12V DC charging outputs. These include two barrel-style DC5521 outputs and one cigarette output.
Realistically, there's virtually any and every kind of charging output available. With the wide availability that you have, you're able to charge and power a wide range of devices including but not limited to laptops, smartphones, tablets, CPAP machines, monitors and much more. As long as the appliances or devices you're powering don't exceed 1200W, the BougeRV power station will be able to power it.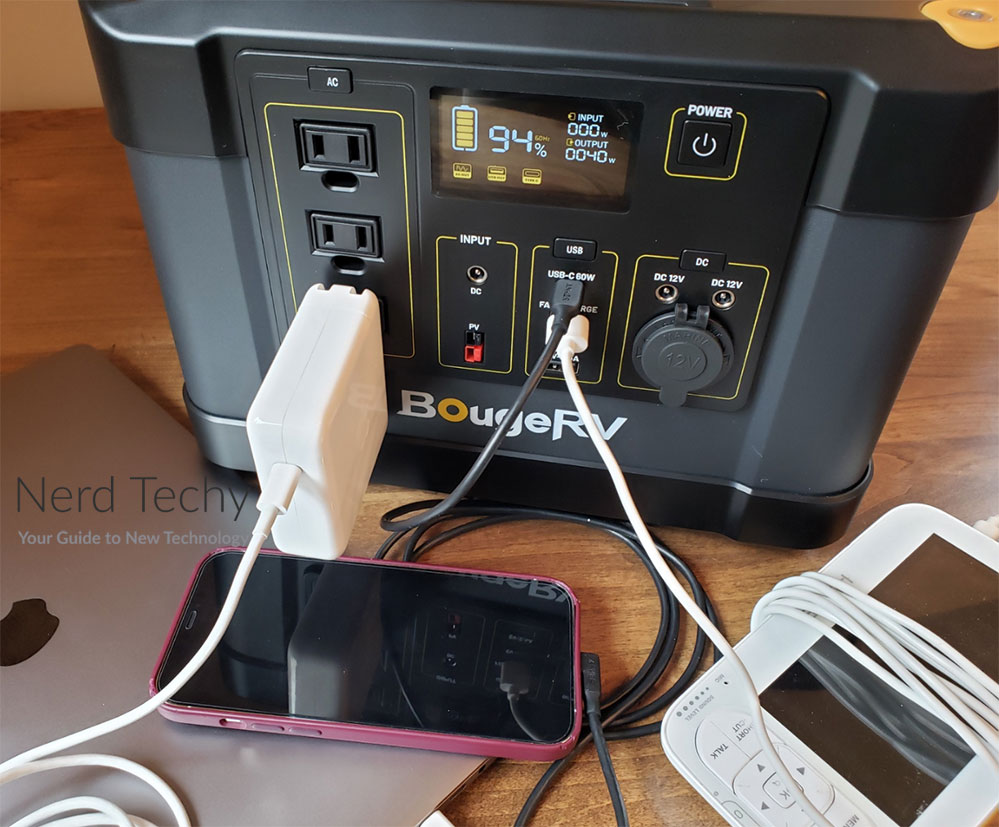 Charging Inputs
Although there are many less charging inputs than there are outputs, there's plenty of ways to charge-up the BougeRV 1100Wh power station at your convenience.
The fastest way to charge it is by using the USB-C input in conjunction with the AC input. While there isn't a PD charging cable or adapter included, you can use any that you may already own. By using these two charging methods simultaneously, you'll be able to re-charge from nearly empty to fully charged in around 4.5-5 hours.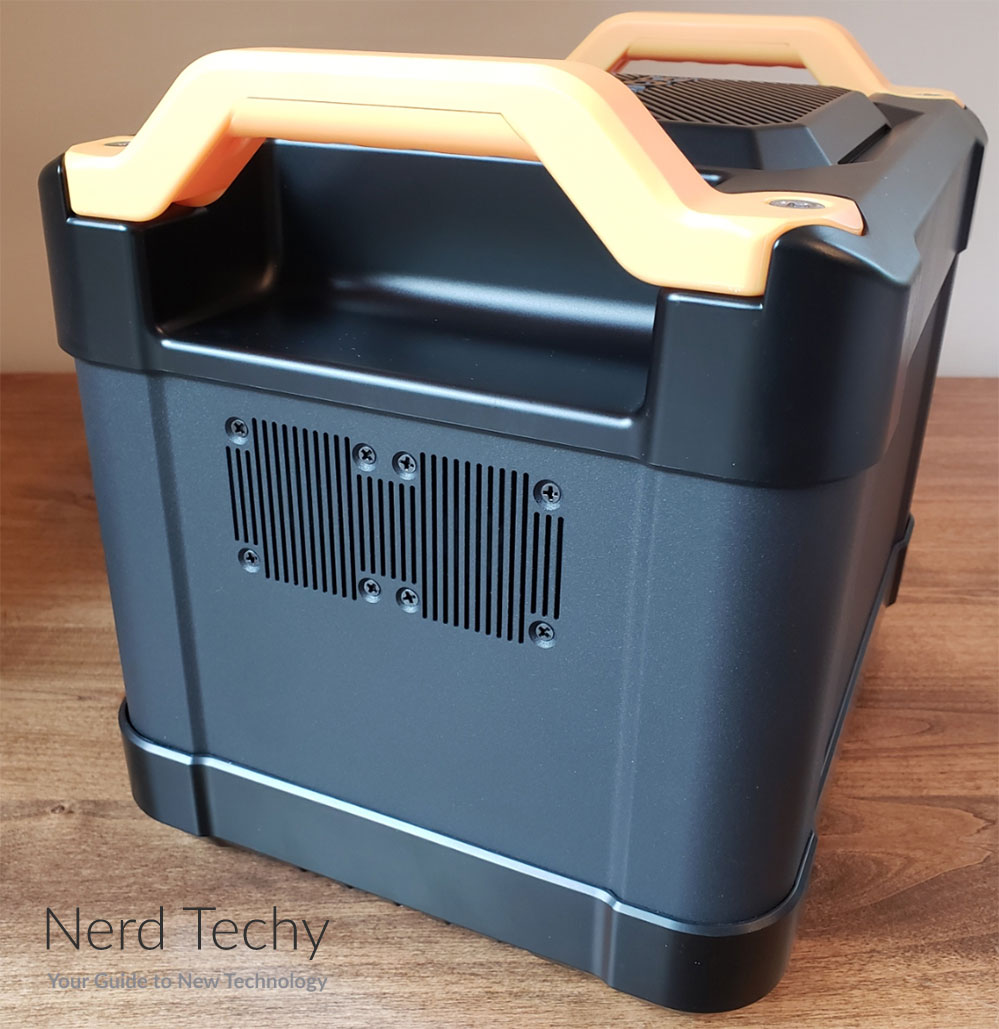 This estimate depends on the ability of your USB-C cable/charger its power rating. While the included AC charging brick pulls about 200W from a wall outlet, adding an additional USB-C cable can let you achieve up to 260W of total charge input in a best case scenario. This could knock-off about a half hour of charge time in comparison to using the AC charging brick on its own. That said, solely using the AC charger will take around 5.5 hours to achieve a full-charge.
Another popular method to re-charge is to use the PV input to connect a solar panel. Although BougeRV's 120W panel is sold separately, you can use any MC4 connectable solar panel that's rated for 200W or lower. With it, you can achieve similar charge times to AC charging.
However, solar charge times are very hard to estimate because there are many more factors at-hand. For example, panel orientation, angle, ambient conditions, time of year and geographical location all play an important part in variable solar panel efficiency. Luckily, while it may not always be practical, you can use also use USB-C PD charging simultaneously to give your solar charge an extra boost, if necessary.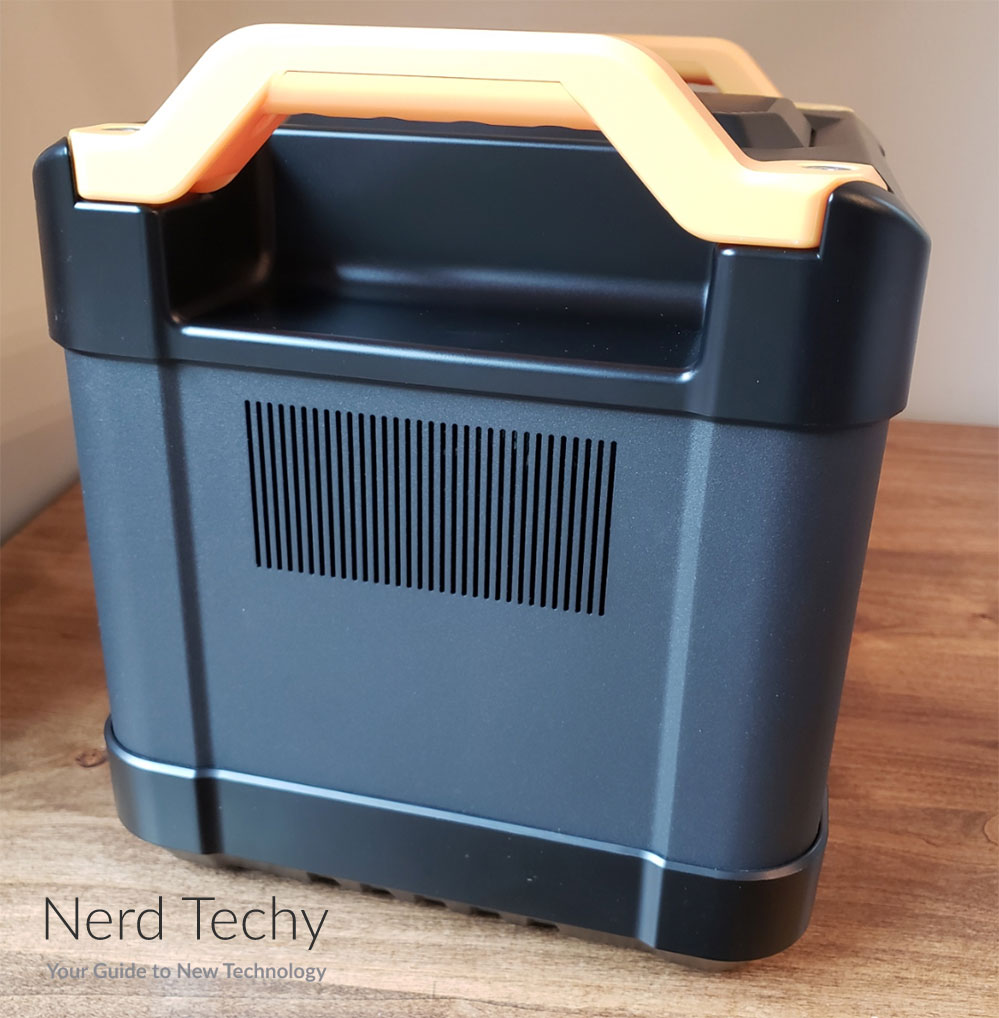 Lastly, you can opt to charge-up the unit from your vehicle's 12V cigarette lighter output. Using the provided 12V DC charging cable, it can achieve up to 120W of charging input. However, this wattage rating isn't always achievable. Many vehicles only support 60-100W of charging through their cigarette plug, so take this into consideration. That said, a full charge via your car is usually achievable within 8-10 hours.
Use code "nerdtechy12" for a 12% discount when you order the 1100Wh Power Station directly from BougeRV's website.
Smart Display
Centered in the front panel around all of the inputs/outputs is a a dual-color screen that measures just under 3″ across. It has a wide assortment of notifications that it'll display while you're using the power station. When either of the charging inputs or outputs is activated, it'll be displayed on this screen with a dedicated icon. Also, when the fan is activated, you'll see a tiny "fan" icon appear in the bottom-right corner.
Best of all, the smart display gives you a precise percentage as to the remaining capacity. It's displayed next to a large visual battery icon that's easily readable from across the room.
Next to this is a live reading of the input and output wattage. It'll reflect the precise amount of draw in watts so you have clear indication as to what your plugged-in devices are pulling. That said, it'll also display the current charge input so you have a clear understanding at how efficient your solar panels are doing or how fast of a total charge it's achieving.
We really like how the display appears. It's bright, vivid and surprisingly easy to read in the sun. While it does give off a tiny bit of a glare in direct sunlight, it isn't enough to make it near-impossible to read like we've seen on other units in the past.
However, it would have been nice to have a little button next to the screen so we could turn it off, if needed to save energy or simply dim down the brightness a bit.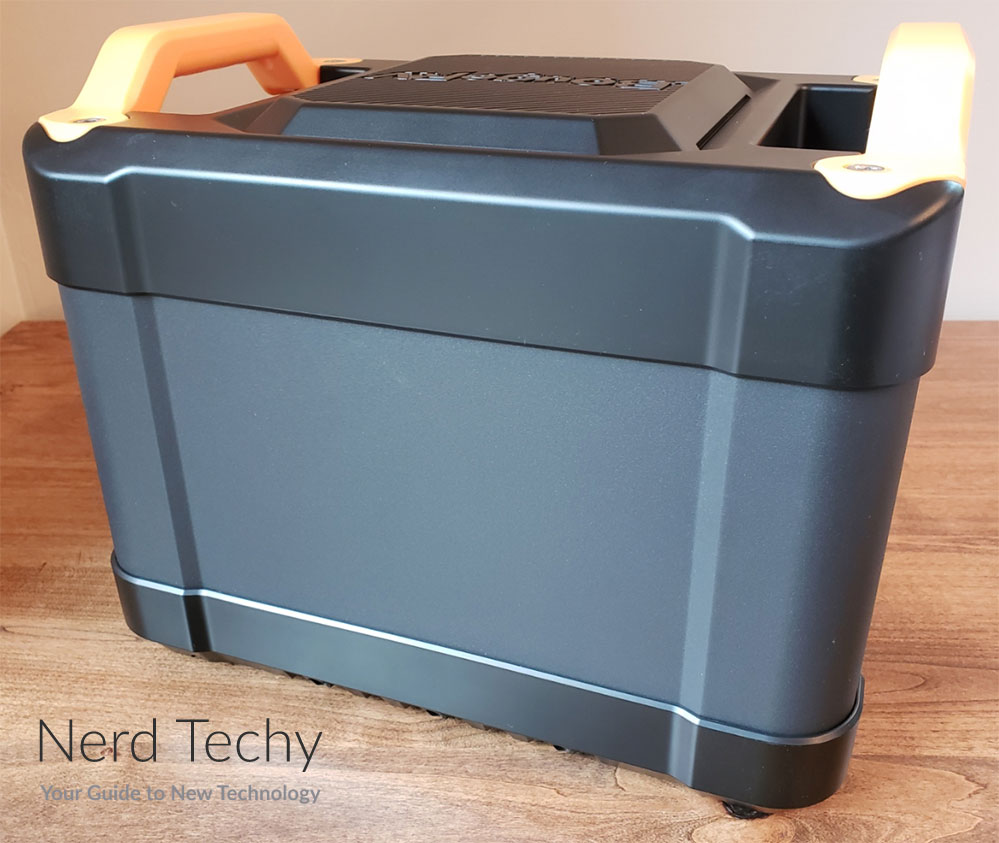 Safety & Longevity
Inside the BougeRV 1100Wh portable power station are several square aluminum shell lithium batteries. While they aren't accessible, they're configured in a manner that improves efficiency and overall longevity. They're properly aligned and wired to offer an improved lifespan over tradition cylindrical batteries.
That said, it can achieve around 1500 re-charge cycles for its entire lifespan. When compared to other lithium-ion power stations, this is almost twice as much. Typically, lithium-ion power stations only support 700-900 re-charge cycles.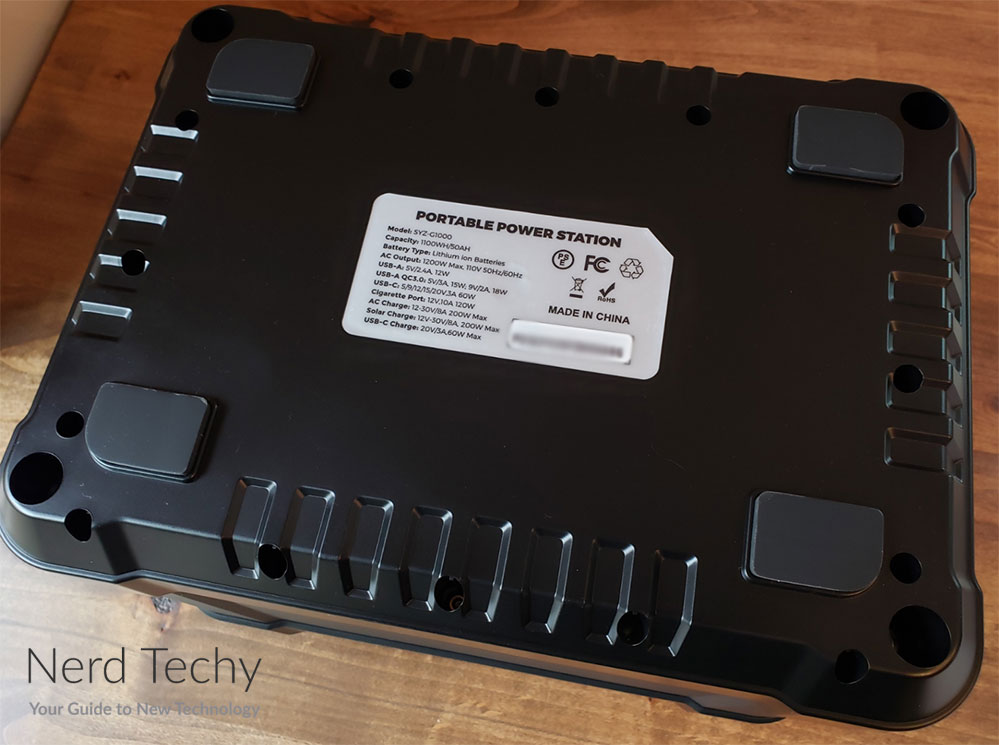 However, do keep in mind that the BougeRV 1100Wh power station isn't of the LiFePO4 variety. If it was, you could expect even better performance and a longer lifespan. In fact, LiFePO4 batteries have the upper-hand when compared to tradition lithium-ion batteries, such as the ones found in this unit.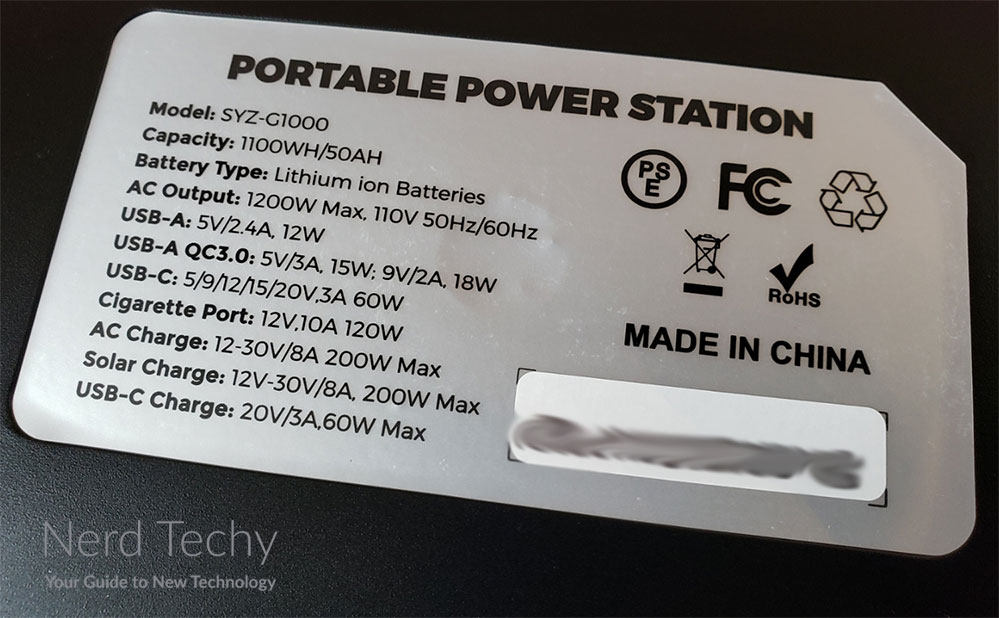 That isn't to say the lithium-ion batteries found inside are bad, by any means. It simply indicates that they likely won't achieve several thousands re-charge cycles. Realistically, even at an estimated 1500 re-charges, the BougeRV unit is superb over most of the competition. That said, most LiFePO4 power stations cost hundreds, if not, thousands of dollars more.
Luckily, BougeRV included several safety features to keep the unit running safe and efficiently for years to come. Notably, the built in BMS (battery management system) will prevent any issues that may occur.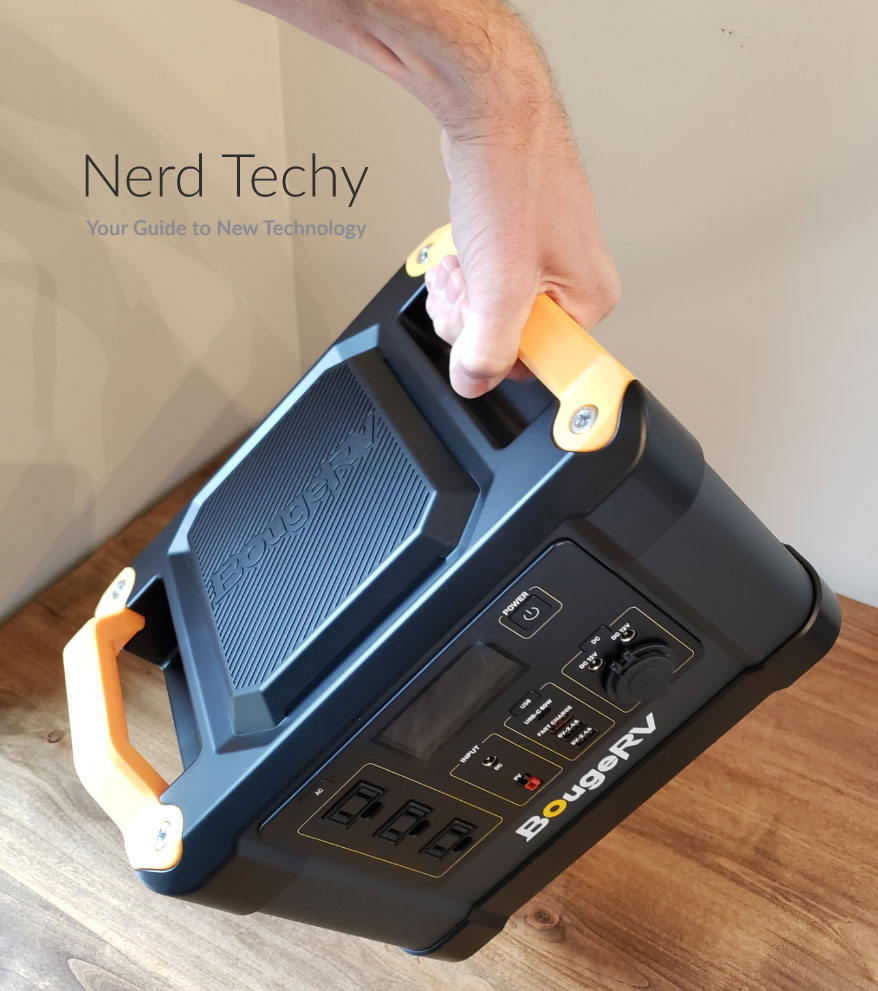 The built-in protection is effective for over-voltage, over-discharge, over-current, over-charge, over-heat or short circuit. If any of these occur, the display will clearly indicate it with an error code. Luckily, the user manual has a complete section on all of these codes, their explanation and ways to go about troubleshooting each issue.
The BMS also manages charging so as to increase the overall longevity of the unit. Most commonly, it'll slow down the charge rate when the unit gets close to 100% capacity. While it may extend overall charge times, it does this in order to make sure the internal batteries are never over-voltage.
Final Thoughts
As you can see, the BougeRV 1100Wh Portable Power Station has a lot going for it. The build-quality and overall design is commendable. This is a well-made unit that provides a vast array of charging and re-charging options. There's virtually every and any kind of input/output you can think of, without any unnecessary frills.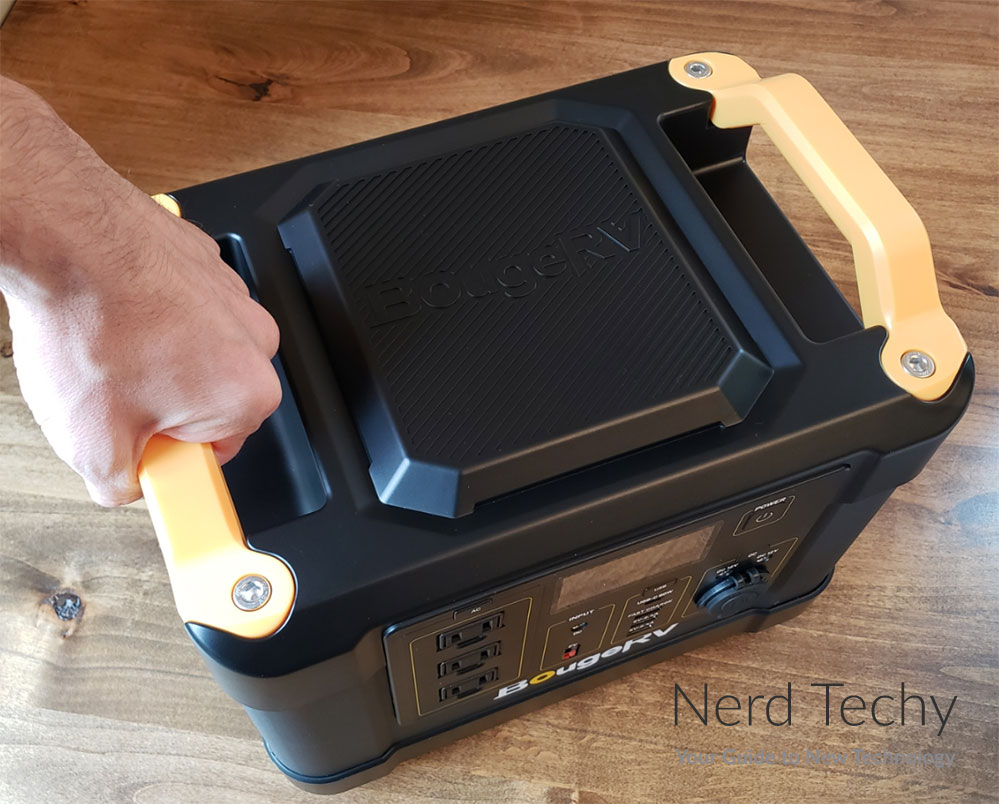 We're big fans of the aluminum body as it seems to give-off a high-end yet durable finish. The built-in handles are comfortable and conveniently located for relatively easy maneuverability. While it does weight a hefty 25lbs, it isn't as bulky as other power stations in the same class. That said, most people can move it around on their own, but if not, it's still relatively simple to lift with a little bit of assistance.
Use code "nerdtechy12" for a 12% discount when you order the 1100Wh Power Station directly from BougeRV's website.
The included user manual is well laid-out, easy to read and contains all of the troubleshooting tips you'll likely ever need. Either way, BougeRV has been in business for several years. Simply put, they tend to stand behind their products and with this new 1100Wh power station, they're no different. Therefore, they even include an 18-month warranty period and free lifetime technical support. Through their website, it's easy to get assistance when you need to.
However, chances are, you'll probably never need assistance. Right out of the box, this power station is solid, well-built and equipped with some very enticing features. While it may be at the top of the budget for some folks, those who can afford it, should look no further.