If you live your life on the road, you need a way to store food for your travels. Sure, a basic Coleman cooler is good enough for a trip to the beach or a day-long camping trip. But for long-term use over days or weeks, you need an actual refrigerator. But a travel fridge needs to meet a number of requirements. For one thing, it needs to operate on DC power. Cars, semi trucks, and even RVs use DC instead of AC, so most ordinary fridges are out. Similarly, a travel fridge needs to be designed so it won't drain your vehicle battery. Otherwise, you might wake up in the morning and not be able to start your engine.
In the past, we've looked at a number of DC portable freezer/fridge units. Today, we're going to take a deep dive into a single option. We'll be reviewing the BougeRV 53 Quart Portable Car Freezer (And Refrigerator). This is a portable combination unit that's designed specifically for cars, trucks, and RVs. It can operate anywhere there's a DC power supply, and has both a fridge and freezer compartment. But how well does it perform when it's put under stress? And what can you actually store in it? To find out, we'll have to take a closer look. Let's take a peek under the hood, and see what we find out!
Note: At no extra cost to you, we may earn a commission for purchases using our links. Learn more.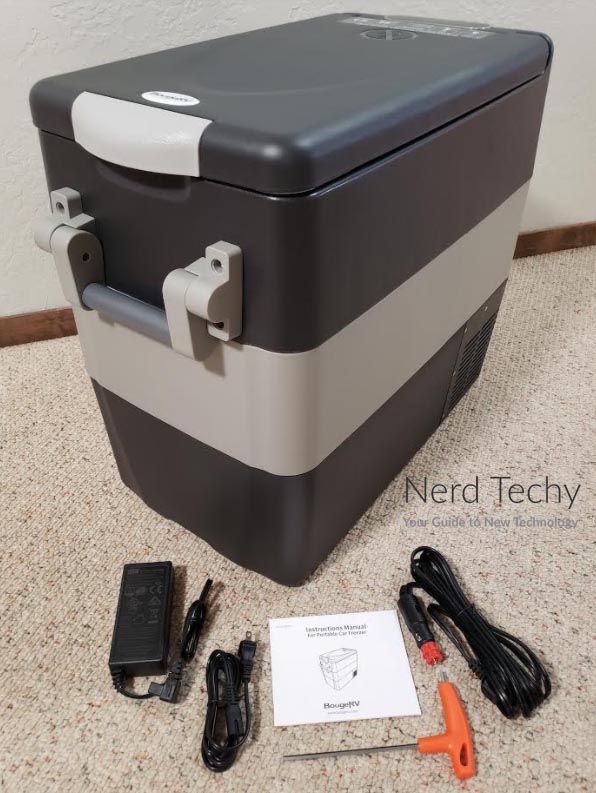 Overall Design
The BougeRV 53 Quart Portable Car Freezer/Refrigerator is a well-engineered unit that's quite roomy for the size. Most fridges with this capacity measure at least two feet on one side. This one, on the other hand, measures 22 inches in depth, 13 in width, and 21 in height. As a result, you can fit it in smaller spaces that wouldn't work for most other high-capacity fridges. We should point out that there's also a 42-quart variant available. It has most of the same features; it's just smaller. The larger variant we're reviewing today weighs 46 pounds empty. When fully loaded, it can get pretty heavy.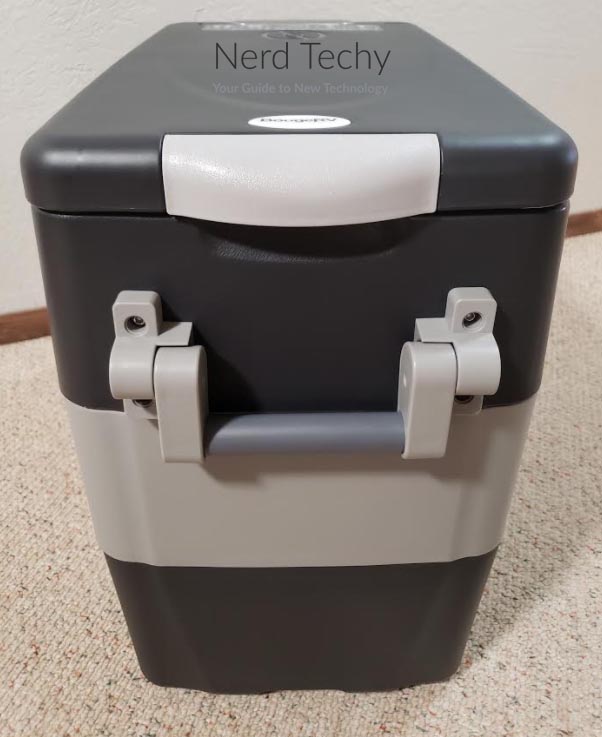 Thankfully, the fridge is easy to move. While it's a true refrigerator, it's built like a cooler. The elastic handles are big and beefy, and sit comfortably in your hand even when the fridge is full. The finish is soft, and has a little bit of give, so you won't get any pressure points on your fingers or palm. Moreover, the handles fold down when they're not in use. This keeps them out of the way during normal operation.
Use code "AFFfridge100" for $100 off through BougeRV's website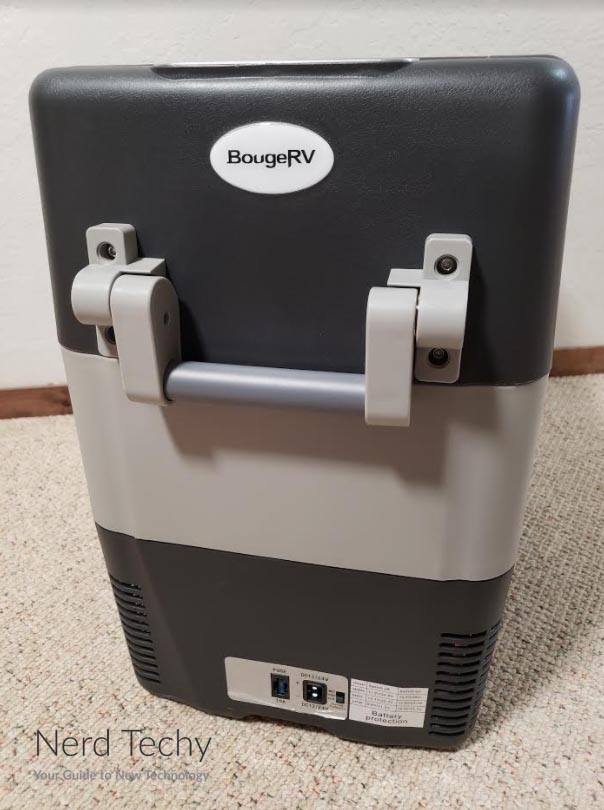 The handles aren't the only plastic parts. In fact, with the exception of the compressor, none of the BougeRV parts are metallic. This reduces the risk of corrosion, and is still surprisingly sturdy. That said, there's one disadvantage. With a metal frame, you can bolt a fridge in place for semi-permanent installation. With an all-plastic housing, there's nothing to run a bolt through. That's not what the BougeRV fridge is designed for, but it's a limitation you should be well aware of.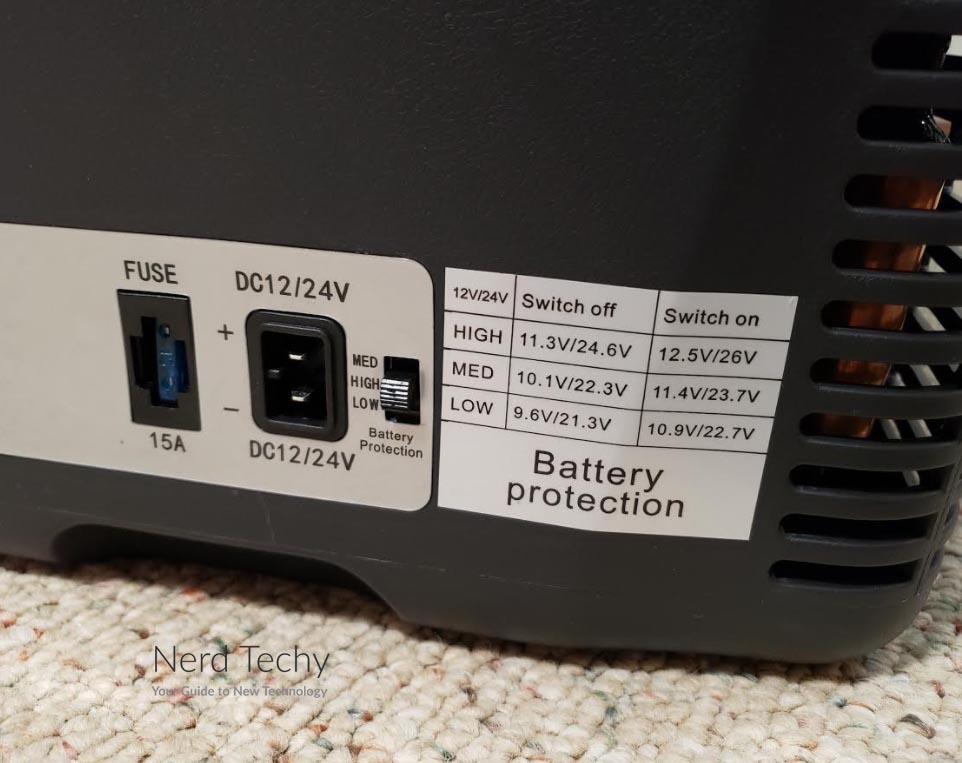 The design is surprisingly attractive, with the bulk of the body colored a solid satin black. There's also a broad grey stripe around the middle, which creates an accent. The same color pattern is reversed on the handles, with the sides in grey and the grips in black. The lid is also black, with hinges at the back. It folds up and down easily, and secures with a grey latch. This latch is very ruggedly designed, and will not pop open easily; unless you want it to, of course. The only thing we didn't like about the aesthetic is the glossy "no step" symbol embossed on the lid. It's good advice, but it's ugly as a permanent feature. A simple removable warning sticker would have been a better choice.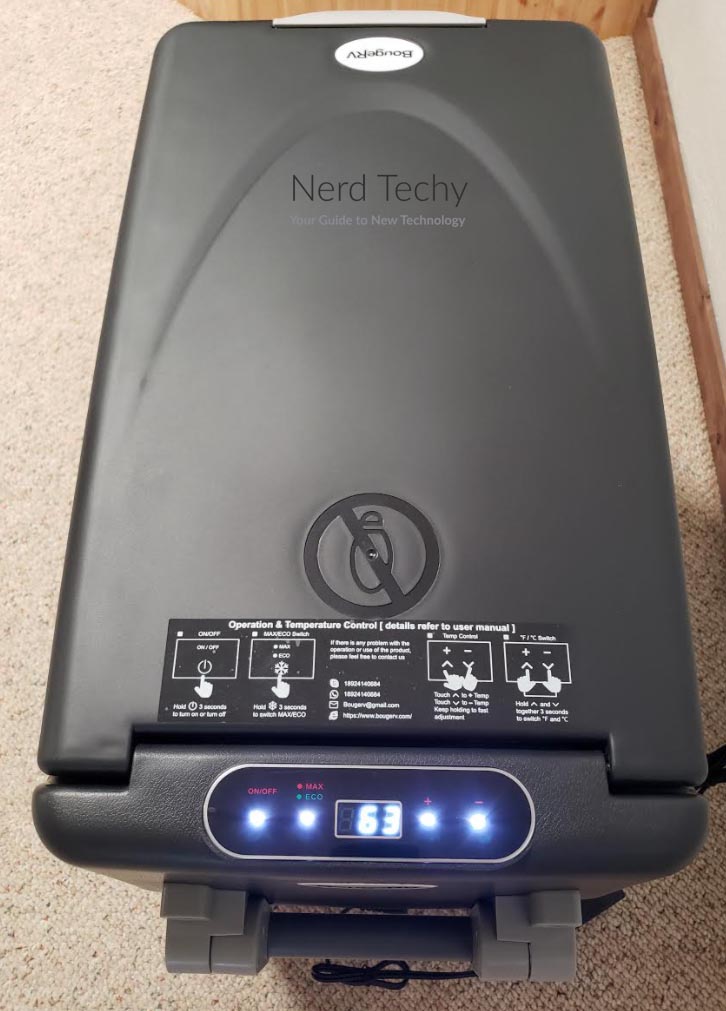 At the back of the lid, on top of the hinge, you'll see an LCD control panel. This will show you the current temperature of both compartments, as well as the fridge's current settings. You can also adjust the temperature, switch modes, and turn the unit on and off. All in all, it offers as many tweaks and customization options as many a full-sized refrigerator.
The compressor runs reasonably quietly, topping out at 45dB. This is louder than a whisper, but softer than the noise of a normal conversation. So instead of being whisper quiet, it would be better described as "mutter quiet." Still, it's not loud enough to disrupt your sleep. If you're using your fridge in a sleeper cab or an RV, the volume will be just fine.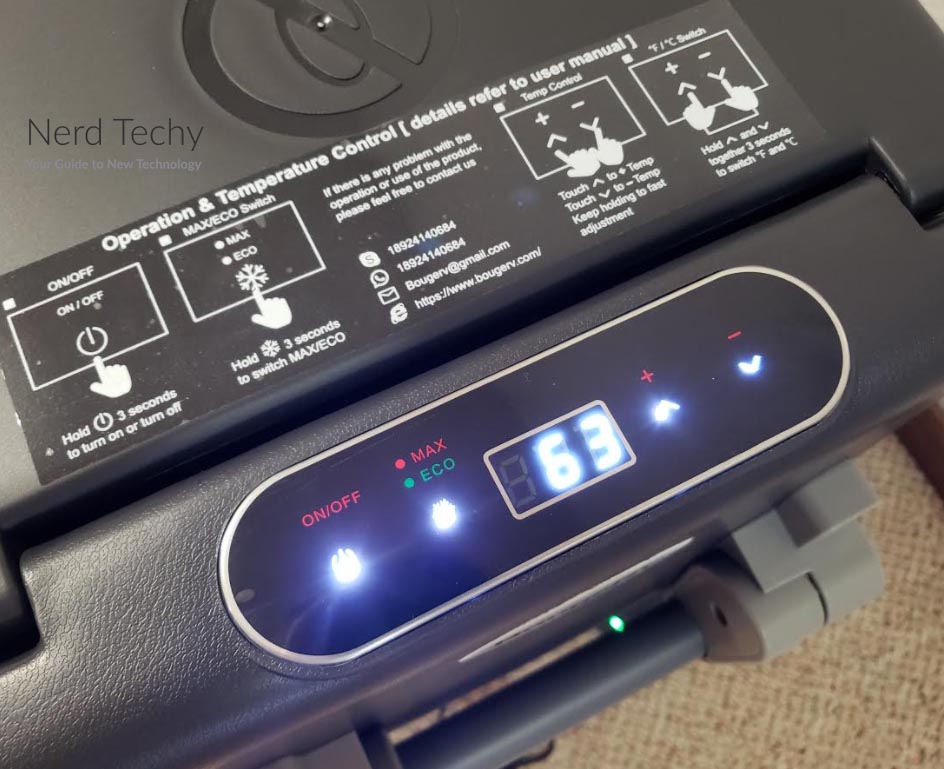 This freezer/fridge will run on both 12 and 24-volt DC power systems. Meaning that it's suitable for both very large and very small vehicles. You can run it the back of a Prius as easily as you can in a semi. In fact, it can also be used with a portable power station. This is a great way to avoid putting unneeded stress on your vehicle battery. If that's not enough, the BougeRV freezer can also run on solar power. Provided your solar panel can put out at least 45 watts at 10.9 volts, you're good to go. Finally, it can even run on both 110 and 220-volt AC power. Get a simple socket adapter, and you can use it at home anywhere in the world. As a result, the BougeRV fridge makes a solid backup for barbecues and other parties.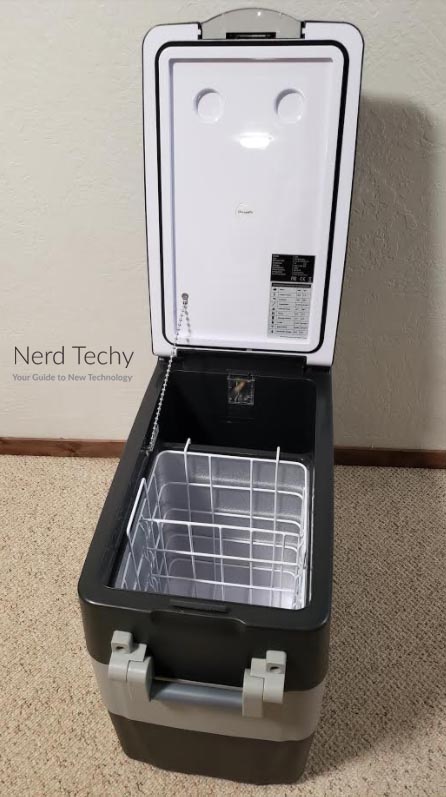 Along with the refrigerator itself, you get AC and DC power cables. The AC supply is a North American style. So while the BougeRV is compatible with 220-volt power, you'll still need a plug adapter. These accessories, along with the compressor, are covered by a two-year manufacturer's warranty. The rest of the fridge is covered by an adequate, if less robust, one-year warranty.
Storage and Organization
Inside the BougeRV freezer, you'll find two separate storage compartments. The front compartment is the cooler portion, and has a volume of about 40 liters. Because it stays about five degrees cooler than the back compartment, it's the freezer compartment. The rear compartment is significantly smaller, with a 10-liter capacity. Because it's warmer, it's usually used as the refrigerator. Keep in mind that this is simply the recommended use. In practice, the temperature range is wide enough that you can use both compartments as either a fridge or freezer.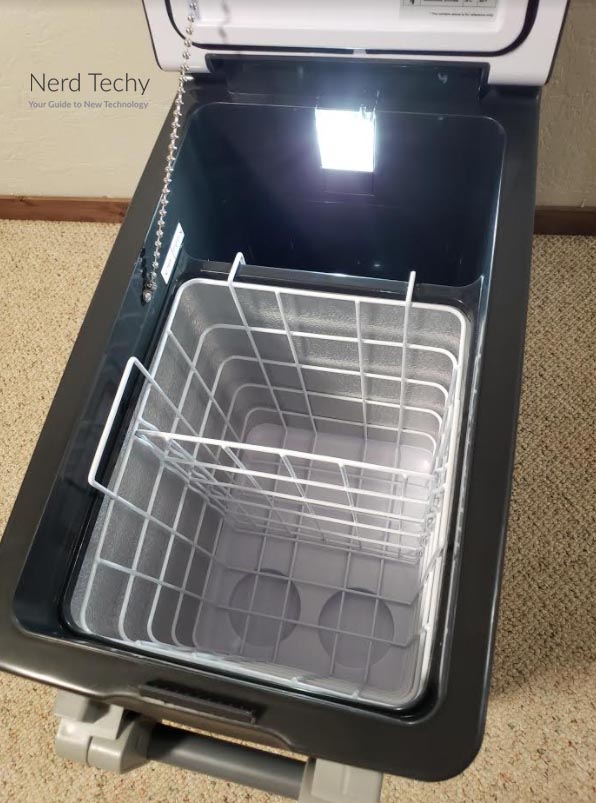 The storage basket is sized for the larger compartment, and is designed to be easily removed. It's about half the height of the overall unit, and sits in the top of the compartment. The idea is that if you have to reach something at the bottom, you don't have to remove everything individually. Instead, you can lift out the basket and everything in it at one go. This makes it fast and easy to get at the bottom when you need to.
Inside the fridge compartment, you'll also find an LED light. This makes it easy to see inside, even if your surroundings are dark. This is a standard feature on full-sized fridges, but it's uncommon on mini fridges and virtually unheard-of on travel fridges.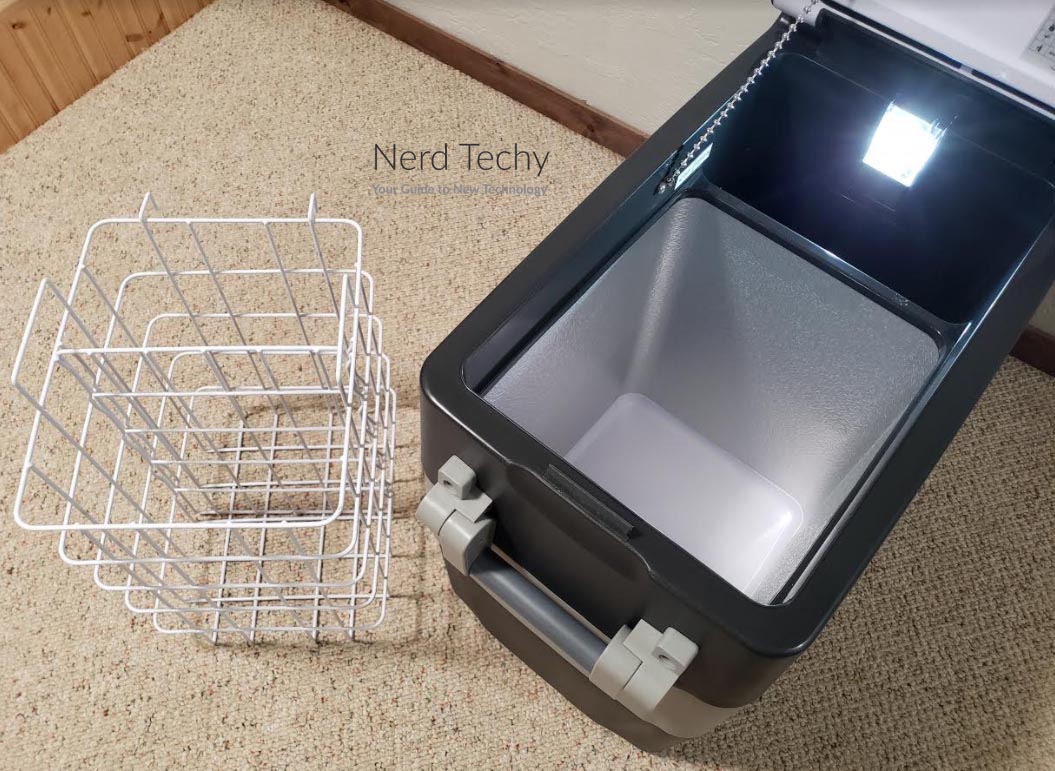 Cooling Performance
So, with all of this storage and the rugged design, how well does the BougeRV do at actually cooling your food? To begin with, the temperature range is adjustable from -4 to 50 degrees Fahrenheit. At the low end, you can use both compartments as a freezer. At the high end, you'll be warmer than normal refrigerator range, and too warm for food. However, 50 degrees is great for defrosting. Since the fridge will still be relatively cool, it will cool off faster when you're done with the defrost cycle.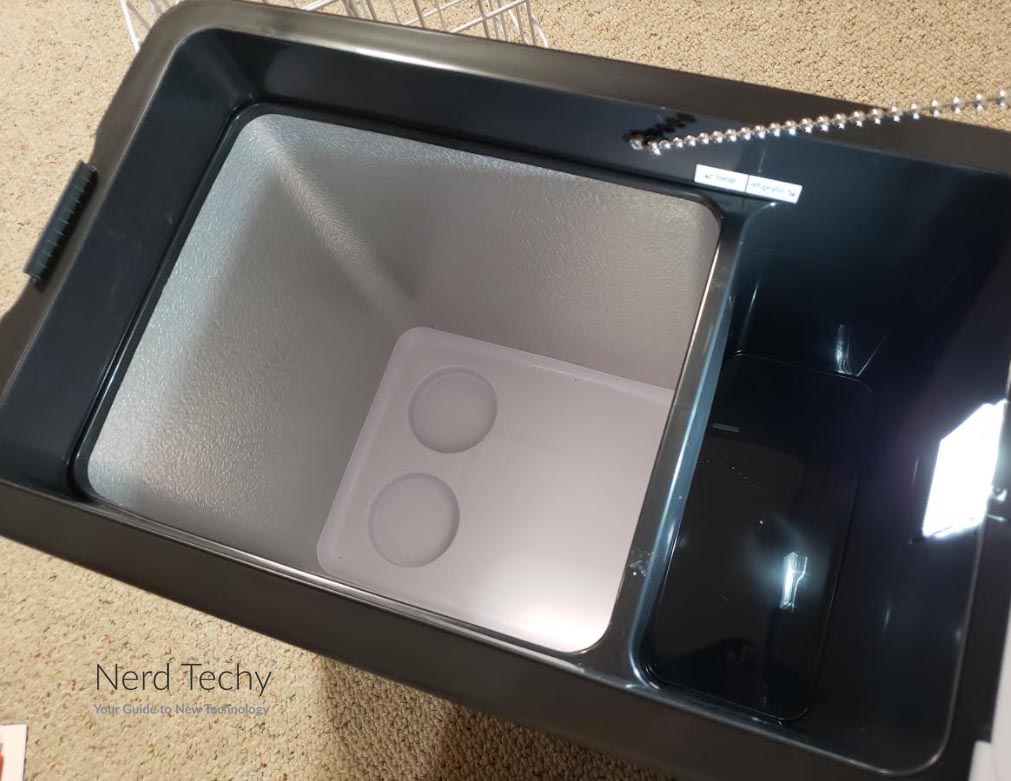 The insulation in the sides of the unit is 35mm in thickness. This is fairly heavy, just over an inch, and it's sufficient to keep your food very cold with minimal effort. In MAX mode, the fridge will cool off exceptionally quickly. In fact, it will drop from 77 to 32 degrees in just over 15 minutes. You'll be able to keep frozen foods at a safe temperature even if you turn on the fridge at the last minute. Not only that, but the BougeRV will drop all the way to -4 degrees in less than an hour. This is ideal for foods like meat and ice cream, which are best kept below zero.
Use code "AFFfridge100" for $100 off through BougeRV's website
The other setting is called ECO mode, and is designed for saving energy. In ECO mode, the BougeRV will draw only 45 watts. This is the more efficient way to run your refrigerator. However, it takes a long time to cool off in ECO mode. Ideally, you want to start the refrigerator in MAX mode, let it cool down, then switch to ECO mode. That way, you'll get the best of both worlds; fast cooling, and energy-efficient long-term use.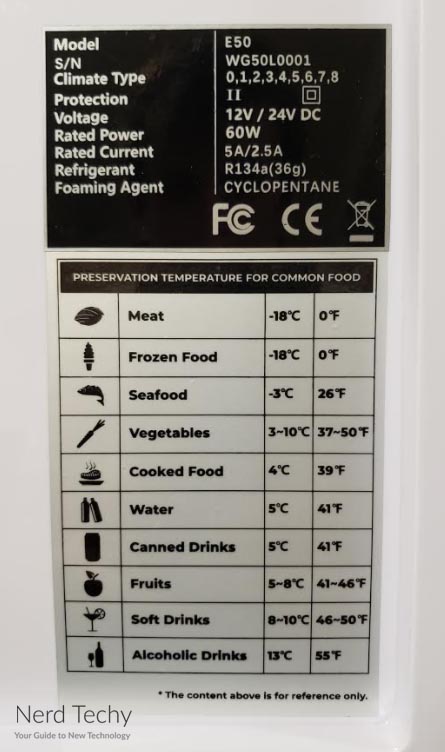 The BougeRV refrigerator is also smart when it comes to your car's battery. It has a three-level monitor that prevents it from running you completely dry. As the power drops below 12 volts, the fridge will start drawing less power. In an emergency, it will stop running altogether in order to protect your battery. Keep in mind that the fridge will eventually warm up in these circumstances. So while it can keep your food cold overnight, you'll need to run your engine regularly during the day. Or you could just use a solar panel or power bank and avoid the issue entirely.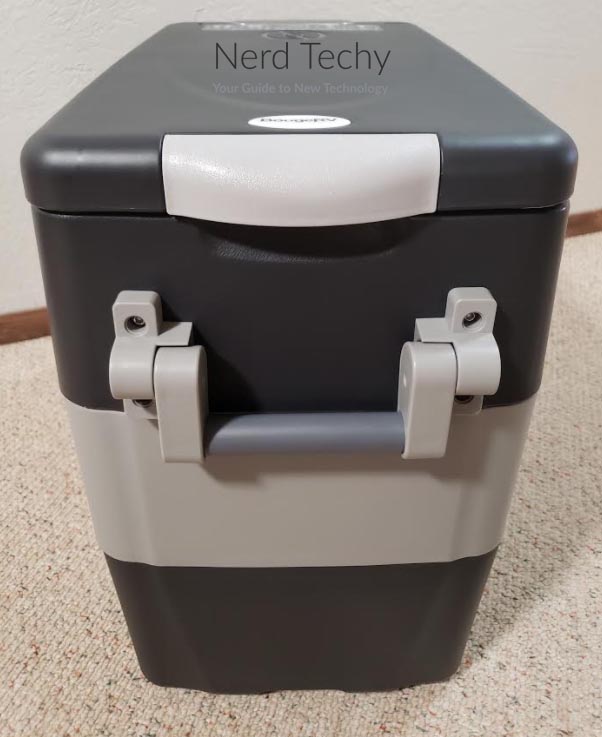 Final Verdict
The BougeRV 53 Quart Portable Car Freezer/Refrigerator is the complete package. To begin with, it's very spacious, with enough capacity to cool a week's worth of food. It cools off quickly, it stays cold for a long time, and the temperature is adjustable. It's even designed to save you energy. Our complaints were minor and mostly cosmetic. If you want a reliable portable refrigerator, whether for trucking, camping, or occasional use, this is an excellent choice.
Please consider sharing:
Note: At no extra cost to you, we may earn a commission for purchases using our links. Learn more.