These days, it's harder than ever to find a good pair of wireless earbuds. You might think that with advancing technology, the job would be even easier. After all, aren't newer earbuds just plain better? The answer is yes… and no. The problem is that there are so many manufacturers in the game right now, it can be difficult to tell who's who. The reason for this is that good wireless earbuds are actually a fairly recent invention. Just a few years ago, wireless audio was mono-only, and the bitrate was highly limited. If you were listening to anything more textured than an audiobook, the experience was downright dreadful.
But then, True Wireless Stereo (TWS) came around and changed the rules of the game. Instead of low-bitrate, mono audio, you were getting textured audio in true stereo. Apple's AirPods were the first major earbuds to use this new technology, and they were an instant success. Soon, other manufacturers were scrambling to release wireless earbuds of their own. And for every quality product, there was a dud. All too often, this remains the case, with fly-by-night manufacturers offering low-quality buds. If you don't know what you're looking for, it's easy to end up with buyer's remorse.
There are many ways to find a good pair of earbuds. But one way to avoid bad ones is to stick with known manufacturers. UGREEN is one such manufacturer, and one we've reviewed in the past. Today, we'll be reviewing the UGREEN HiTune T2 True Wireless Earbuds. These AirPod-style buds are brand new to the market, and we were lucky enough to snag a pair. Now, we'll break down everything we've learned. We'll start by talking about the physical design, as well as the charging case. Next, we'll move on to the battery life and Bluetooth performance. We'll wrap up by talking about the audio quality and call quality.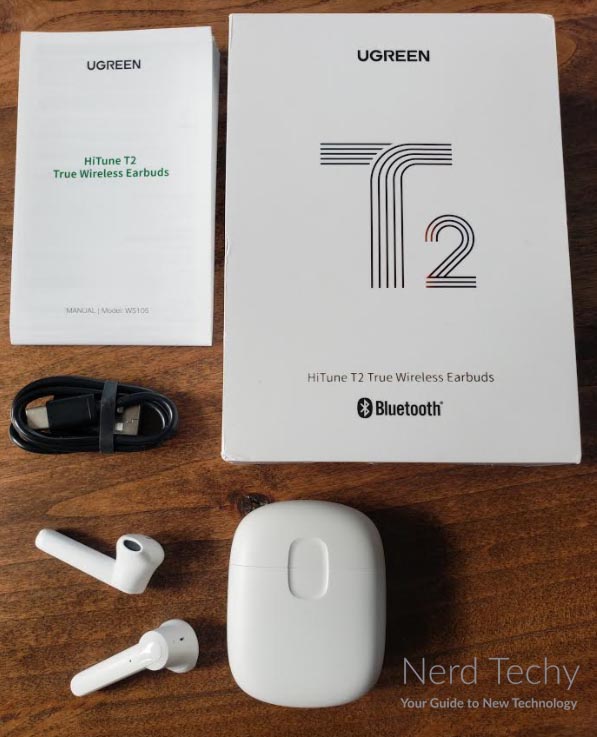 Overall Design
The UGREEN HiTune T2 True Wireless earbuds have an AirPod-style design. This means they're built vertically, with a battery stud extending downwards from the unit. The stud makes them bottom-heavy, so they'll fit securely in your ears. This is essential, since there are no silicone tips to retain them in place. But even without tips, your buds will stay in place in most circumstances. You'd have to be doing cartwheels or gymnastics in order to shake them loose.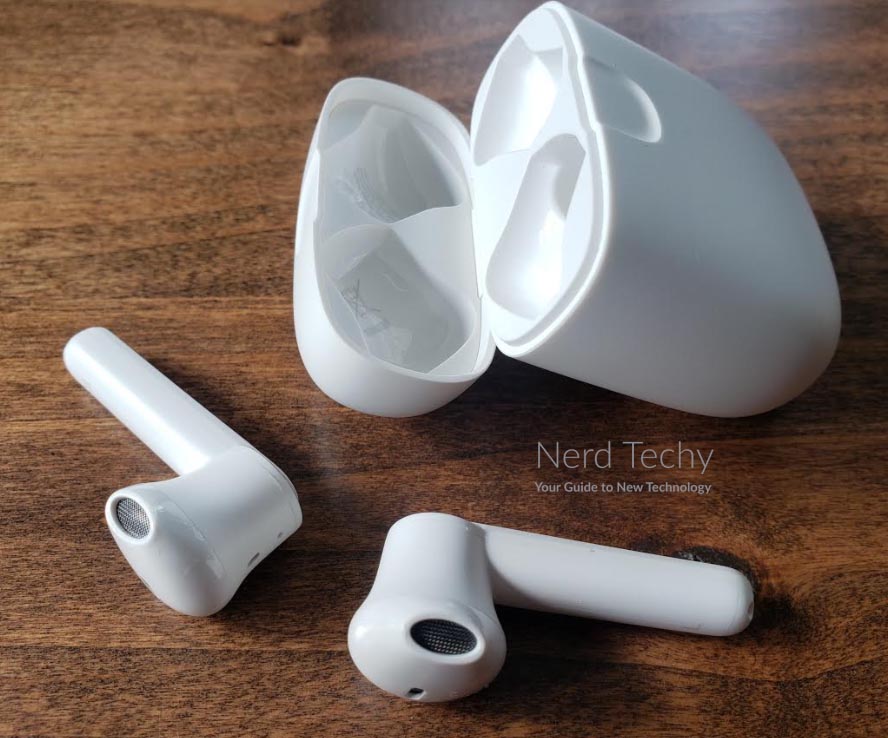 That said, the absence of tips has some other downsides as well as upsides. On the downside, you won't have much passive noise isolation. Surrounding sounds will be able to get through, even if you're listening to music. This makes it difficult to use your earbuds for tuning out the outside world. On the other hand, it can be useful if maintaining situational awareness is what you want. For example, if your commute involves traversing busy city streets, hearing background noise can literally save your life.
If you want a pair of earbuds with better passive noise isolation, UGREEN offers other options. For instance, the UGREEN HiTune WS100 earbuds are in the same product line as the HiTune T2. Instead of an AirPod-style design, they're compact, and have silicone tips for added security. Most of their other features are similar to the T2.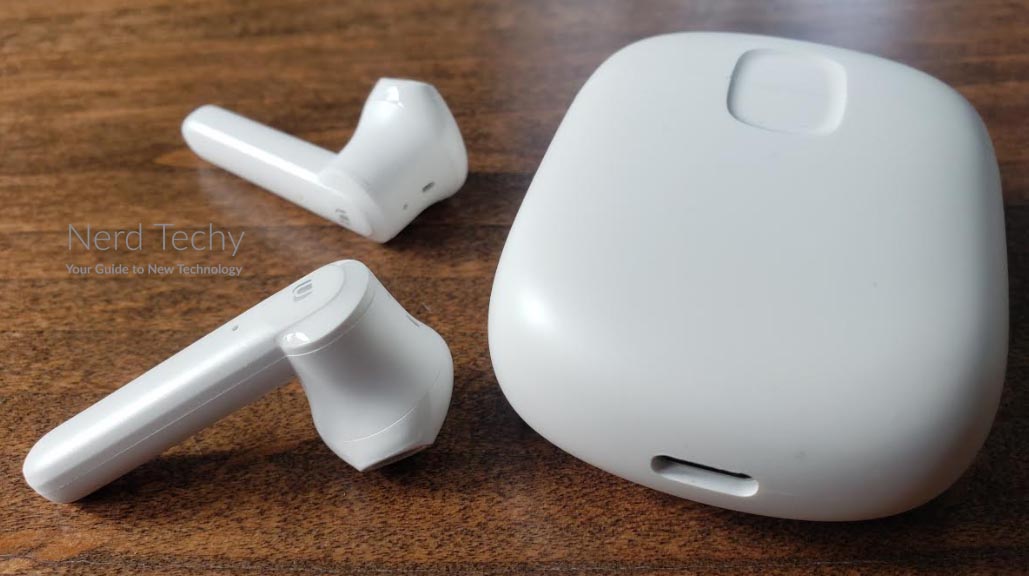 The HiTune T2 earbuds are housed in plastic shells, and are available in white or black. This allows you to match most other accessories you might be carrying. The backs of the earbuds are decorated with small UGREEN logos, which are unobtrusive, yet attractive. These logos mark the location of the T2's soft touch controls. Tap, double-tap, or hold them, and you'll be able to control a variety of phone functions. You can pause or play music, skip tracks, and answer or end phone calls. You can also adjust the volume, or call up your phone's voice assistant to give more advanced commands. So after a single touch, you can do anything you want with hands-free controls.
One thing that disappointed us about these earbuds is that they don't carry any kind of official IP rating. UGREEN states that they are "waterproof," but they don't elaborate on what that means. Some "waterproof" earbuds are merely sweat-proof or splash-proof. Others are well-sealed enough to wear in the shower. Still others are fully submersion-proof. Without an IP rating, it's impossible to know exactly how waterproof they are. At least, it's impossible without risky trial and error. We'd stay on the safe side, and avoid exposing these buds to anything more intense than sweat or light rain.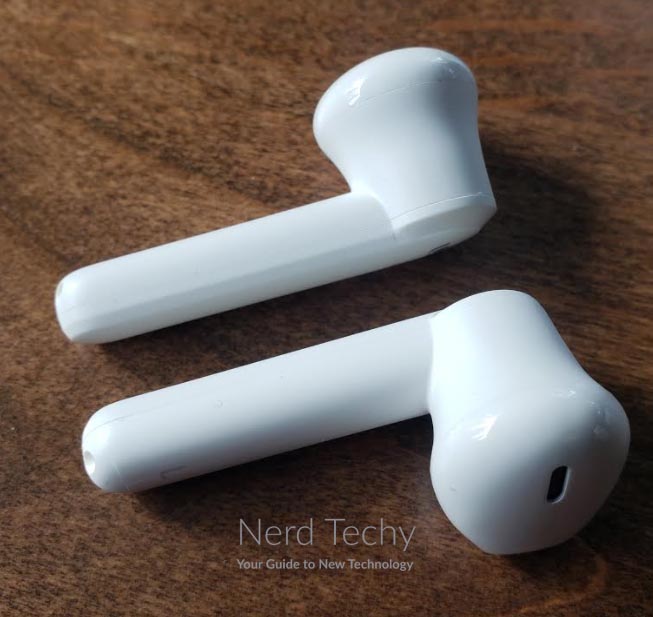 The earbud case is constructed from white or black plastic, to match the earbuds. It has a vertical design, similar to the AirPod case, and the buds drop in for charging. Because the earbud wells are molded, it's impossible to do this incorrectly. Your buds will only fit in the correct hole, so the contacts will always be touching. On the front of the case, just under the spring-loaded lid, you'll see a single LED. This LED will light up when the case is plugged in for charging. Its only function is to let you know the charging cable has been properly connecting. A USB Type-C charging cable is included in the package for your convenience. All you have to do is plug into a USB port or AC adapter.
Battery & Connectivity
The next factor we need to consider is battery life. In this regard, the HiTune T2 buds are somewhat disappointing. They only offer four hours on a single charge, which is mediocre at best. On top of that, it's important to remember that this is a manufacturer's rating. Since manufacturer tests are performed at partial volume, your real-world performance is most likely going to be less than this. If you get over three hours of playtime at full volume, you're doing reasonably well. Still, most people aren't going to need more than three continuous hours. And with the charging case, you can always top off your battery on the go.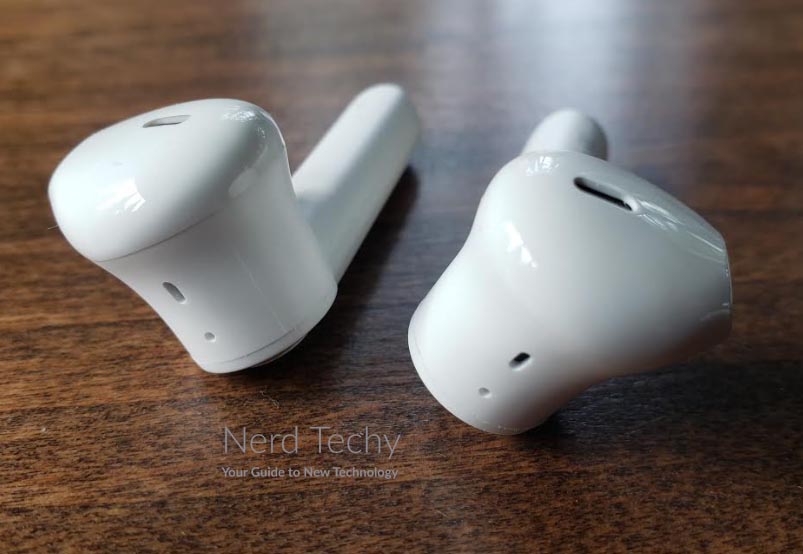 The case itself carries enough juice for four additional charges. This gives you a total of 15-20 hours of battery life, depending on your volume level and other variables. This isn't spectacular, but again, it's important to think of what you're realistically going to need. These earbuds, as well as the case, will fully charge in 90 minutes via USB Type-C. So unless you're camping in the wilderness, you shouldn't ever have any serious power issues. Not only that, but a 15-minute quick charge will give your buds enough juice for an hour of use. That's enough to get through your morning workout if you've found yourself in a pickle.
If longer battery life is important to you, consider the UGREEN HiTune T1 earbuds. They offer five hours of rated performance, or 20 percent longer than the HiTune T2. They also have silicone tips for better noise isolation. On the other hand, the overall audio experience isn't quite as rich.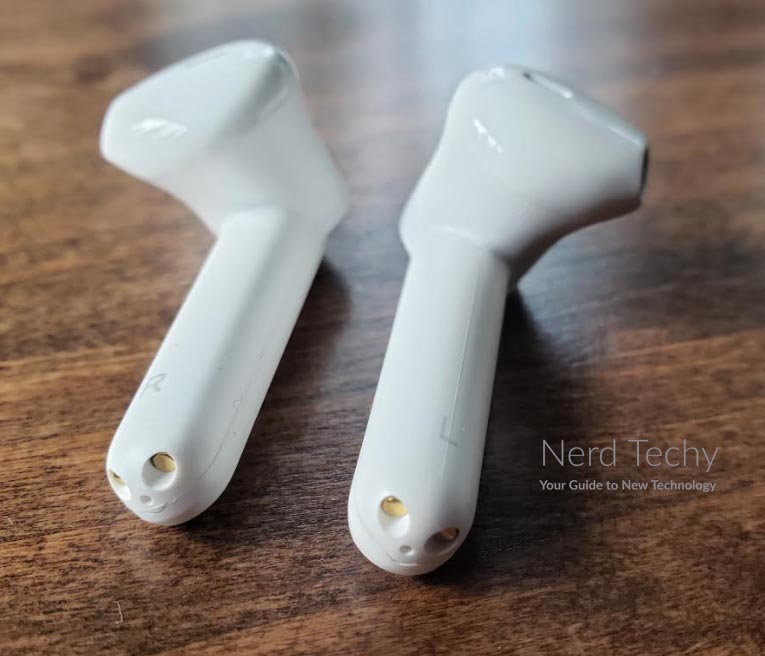 The HiTune T2 earbuds connect via the Bluetooth 5.0 protocol. This is the current Bluetooth standard, and is backwards-compatible with older Bluetooth versions. That said, it offers significant upgrades over Bluetooth 4.2. To begin with, the latency is significantly lower, so audio and video will sync better. Second, the signal is more stable, so you don't have to worry so much about losing your connection. Finally, the potential bitrate is higher, so you can listen to higher-quality music. Finally, these earbuds support the latest AAC and SBC Bluetooth audio codecs. This means you'll get better audio quality from your brand new smartphone.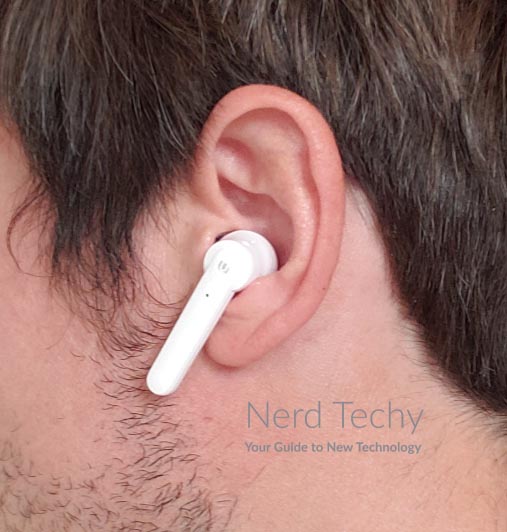 Audio Quality
The HiTune T2 True Wireless Earbuds contain a large, 14.2mm dynamic driver. This is about twice the size of an ordinary earbud driver, and allows for richer audio, particularly the bass frequencies. It's made of a PU and titanium composite, which is both lightweight and highly flexible. The result is excellent audio across all parts of the spectrum. Lows are nice and rich while the mids and highs have plenty of detail and texture. Your bass won't bleed through into the higher frequencies, and vice-versa. There's plenty of separation. This is an excellent sound profile for buds of this size.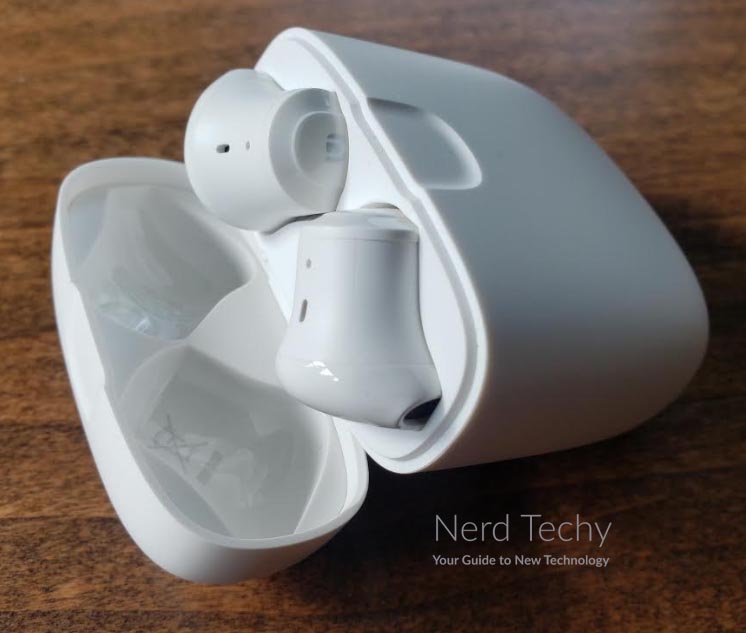 Under ordinary circumstances, these earbuds have roughly 60ms of latency. This is not noticeable to most people, since it's shorter than a tenth of a second. Effectively, you see and hear things simultaneously. As a result, the HiTune T2 earbuds are suitable for gaming as well as music. To augment this, UGREEN has built in a specialized gaming mode. When active, the gaming mode will activate high-resolution, 3D sound that simulates a surround-sound system. When you hear gunshots, grenades, or footsteps, you'll be able to easily distinguish where it came from. This comes at the cost of slightly reduced battery life. However, if you're not gaming, you can just turn off gaming mode. Problem solved!
Hands-free calling is easy and relatively painless, with advanced noise cancellation technology. Four microphones pick up your voice, and use digital signal processing to filter out background noise. It's not magic, but it makes a big difference, even in a very loud environment. The person on the other end of the phone will not have any trouble hearing you.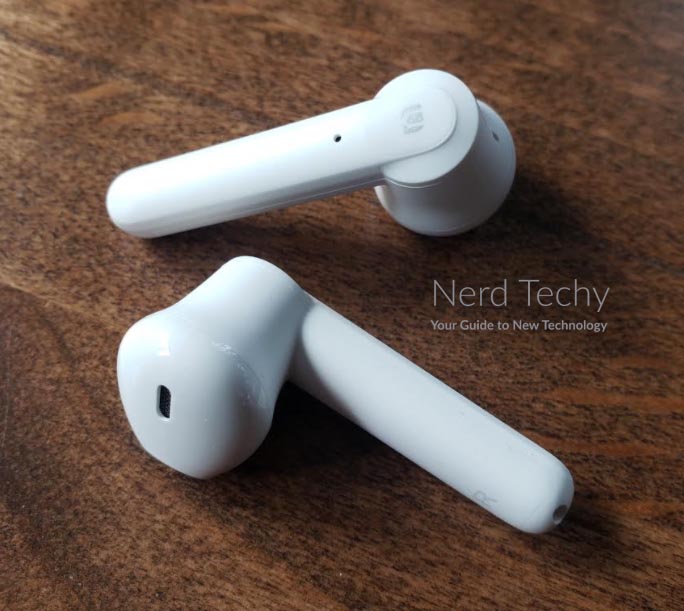 Final Verdict
The UGREEN HiTune T2 True Wireless Earbuds are a great choice for most people. To be clear, they're not perfect. It wouldn't be unreasonable to ask for significantly longer battery life. We were also disappointed by the lack of an IP rating. That said, everything else was quite impressive. For one thing, the design is on par with anything Apple is putting out. For another thing, the case is well-engineered and the buds are easy to charge. Finally, the audio is among the best you'll find at this price point. You get exquisite detail across all frequencies, from the lowest to the highest. You also get a high-performance gaming mode, and noise-free hands-free calling. These earbuds are the complete package.