If you're on the road for an extended period, you don't want to subsist on protein bars and trail mix. After all, eating is a big part of life, and nobody wants a monotonous, boring diet. Whether you're camping for fun or driving cross-country for work, fresh food can make a huge difference. For any trip longer than a day, this means a refrigerator, not ice. Today, we'll be looking at three of the best 12v DC portable fridge/freezer units available.
A 12-volt fridge or freezer will work easily with any vehicle power system. They can be used for cars, trucks, RVs, and even boats without the need for an inverter. This is a huge benefit if you need reliable cooling in any of those situations. 12-volt fridges can even run from a compatible portable power station when your motor is shut off.
We'll start out by examining the Dometic CFX28. This is a compact, 26-quart fridge that still manages to include two storage compartments. Next, we'll look at the ARB Fridge Freezer Series II. This is a somewhat larger fridge, with a 50-quart capacity and a large storage basket. Finally, we'll review the Whynter FM-85G 85 Quart Portable Fridge. This massive 85-quart fridge is about as big as they get for a 12-volt portable unit. But other than the size, what separates these three fridge/freezer units? To find out, we're going to need to take a closer look. Let's dig deeper, and see what each of them brings to the table!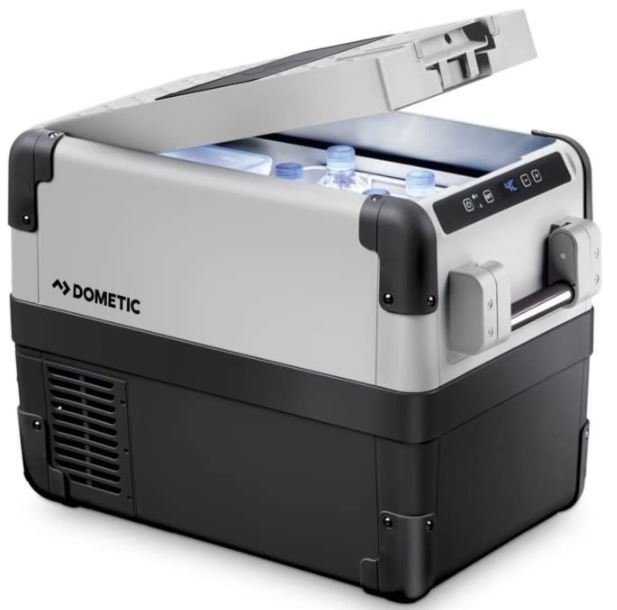 Dometic CFX28
The Dometic CFX28 is a compact fridge/freezer combo that's designed for smaller vehicles. It measures 13.4 inches wide, 16.7 inches high, and 24.4 inches deep. At this size, it can fit in the trunk of even a small compact car. Not only does this make it useful with almost any vehicle, but it leaves more space for your other gear. The CFX28 weighs 29 pounds empty, which is surprisingly heavy for the small size. Even so, it's still easy to carry. There are large carry handles on both sides, which are collapsible when not in use. They can also be used as tiedowns to keep your fridge secured in place.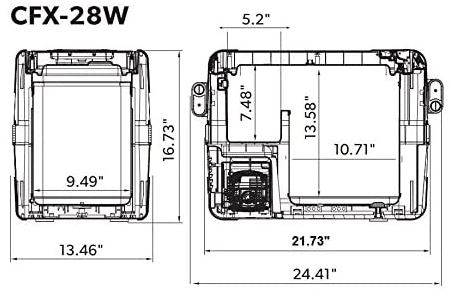 The housing is constructed from a durable two-tone polymer. The bottom half of the unit is black, with rubberized reinforcement at all four corners. This prevents it from easily sliding around. It also provides added durability, even if you're frequently moving your fridge around. The top half of the housing is grey, with similar rubber reinforcement at the top corners. It opens from the top, with a release catch that can be pulled with one or several fingers. On the top front edge, there's a simple LCD control panel that shows you the current temperature. You can also adjust temperature from this panel with the push of a button.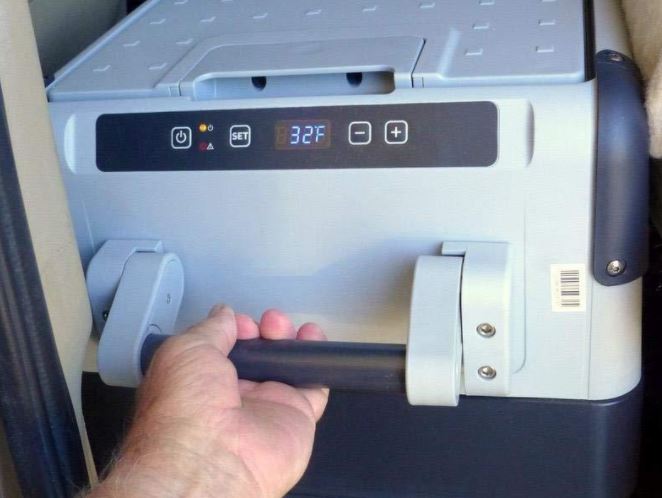 Cooling and Storage Capacity
Inside the unit, you'll find two separate compartments. Roughly the front two-thirds of the interior are occupied with a removable storage basket. Behind that, the final third is occupied by a simple tub, isolated from the main compartment by a thin wall. Both of these compartments can be adjusted independently. This makes them highly versatile. They can both be fridges, both be freezers, or some combination of the two. You get plenty of versatility here.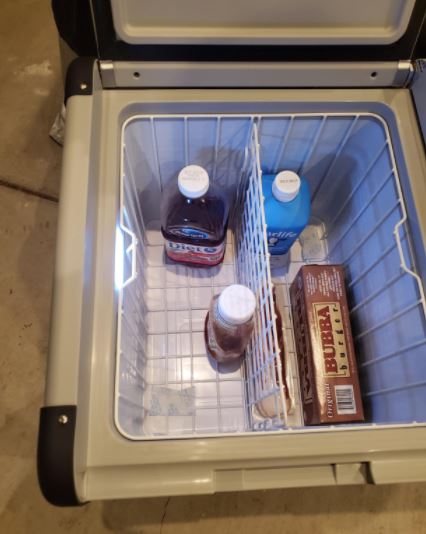 The overall capacity of the interior is 26.4 quarts. That's enough space for a 30-pack of beer, with a bit of headroom left over for soda. The compressor is powerful enough to keep the temperature as low as seven degrees below zero. This makes it suitable for far more than just drinks. You can keep steak frozen in the Dometic fridge without any issues.
Installation and Extra Features
The Dometic CFX28 is compatible with both 12-volt and 120-volt power systems. It comes with both a 12-volt DC cord and 120-volt AC power cord to assist with this. Obviously, it's primarily intended as a vehicle fridge. But there's nothing stopping you from using it for a backyard barbecue or overflow space for a graduation party.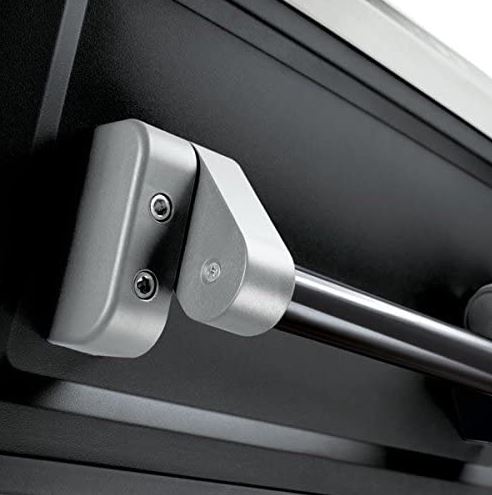 In addition to its versatility, the CFX28 also allows you to charge your devices. It has a USB port, which supplies a standard five-volt current. This isn't a huge deal, but it's enough to charge a cell phone or Bluetooth speaker.
The CFX28 also comes with a companion app for adjusting the settings. Because the fridge connects via WiFi, you'll need a WiFi signal in order to use the app. This can be either a home network, or a mobile hotspot on your smartphone.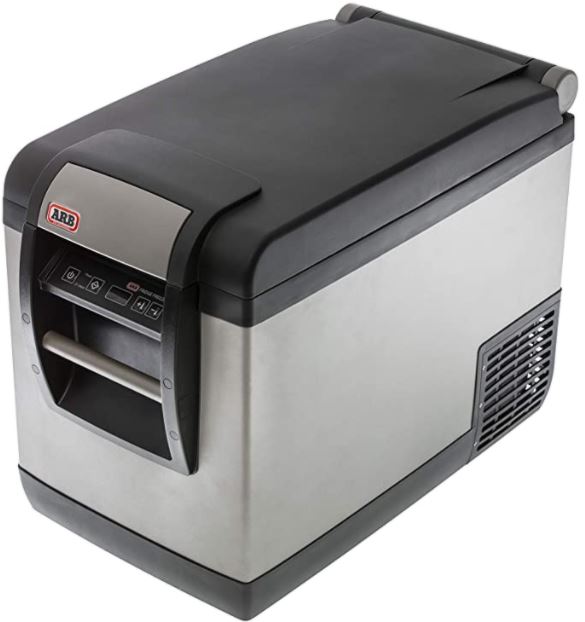 ARB Fridge Freezer Series II
The ARB Fridge Freezer Series II is a bit beefier than the last fridge we looked at. It measures 28 inches long, 15 inches wide, and 20 inches deep. It's also comparably heavier than the Dometic fridge, with an empty weight of 53 pounds. That's about the same as a small bag of concrete, so you'll definitely feel it when you lift it. Regardless, it's ergonomic to carry. Like the Dometic fridge, it sports a pair of handles, but they have a recessed rather than a folding design. You can lift it by yourself, or team up to lift it with someone else. You can also use the handles as tiedowns to secure the fridge in place.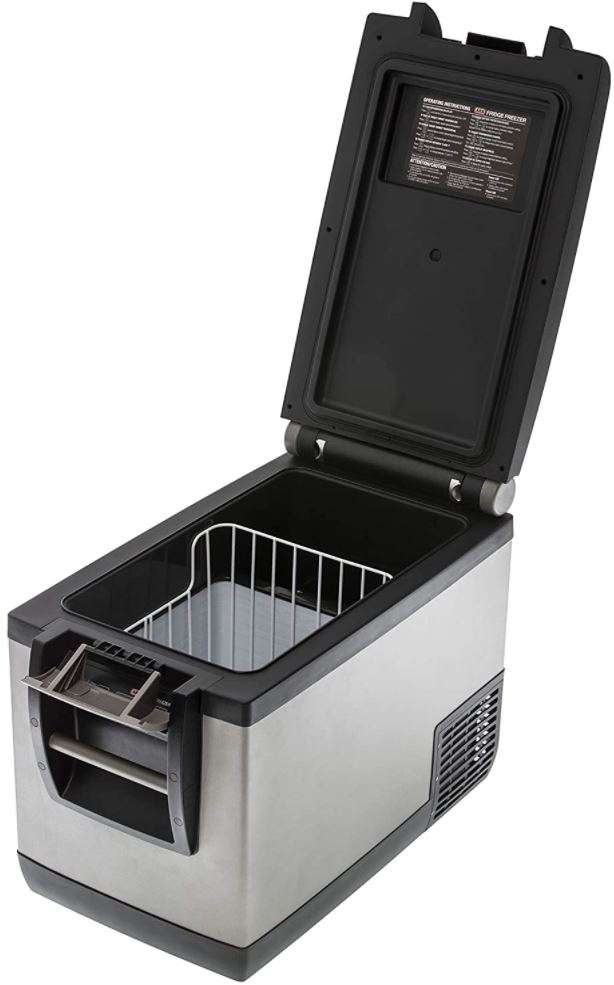 The main body of the unit is aluminum, with a dull grey gunmetal finish. The top and bottom are constructed from black polymer, which is a bit more forgiving during transport. The lid is hinged at the very rear, with the catch all the way at the front. When it opens, it provides full clearance for the opening, so you don't have to struggle to wedge anything in. On the front, just above the handle but inside the recess, you'll find the control panel. From here, you can power the unit on or off and adjust the temperature. An LCD display shows the current temperature, so it's easy to keep tabs on.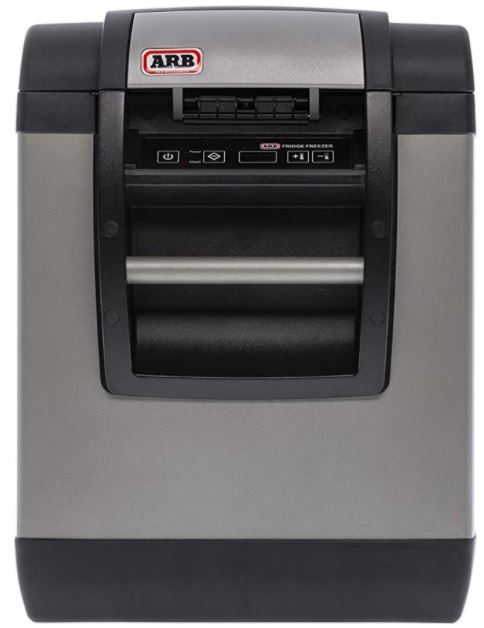 Cooling and Storage Capacity
The Fridge Freezer Series II has a capacity of 50 quarts, about twice as much as the Dometic fridge. This makes it more suitable for larger groups, where more food and drinks are required. There are two compartments on the inside. The main compartment measures 15.5 inches high, 11.2 inches wide, and 13.3 inches deep. It includes a wire basket, as well as a drip bucket for collecting sweat from bottles and cans. The fruit and dairy compartment is a bit smaller, at 8.1 inches high, 11.2 wide, and six deep. It's designed to stay just above freezing, ideal for these kinds of products.
The temperature of the main compartment is adjustable. It can be as cold as five degrees, but the display sensor isn't very accurate. It can be off by as much as 10 degrees in either direction. That said, the inaccuracies seem to be consistent from unit to unit. So if your fridge reads five degrees too warm, it will always read five degrees too warm, regardless of temperature. As a result, it's easy to compensate once you know your individual fridge.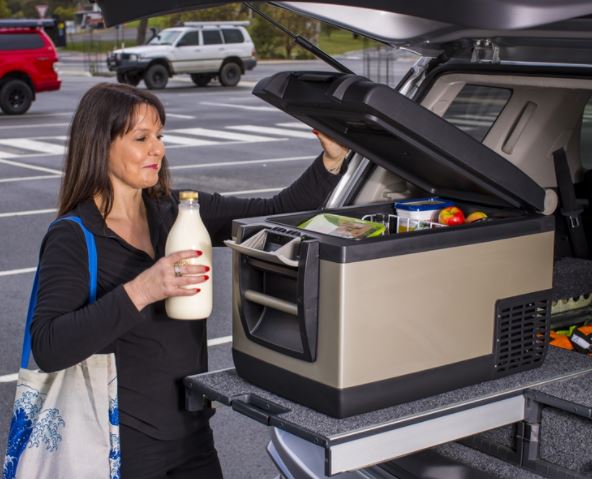 Installation and Extra Features
Like the Dometic fridge, the ARB Fridge Freezer Series II includes both 12 and 120-volt power supplies. This means it can be used with an ordinary household outlet should the need arise. Moreover, the Fridge Freezer Series II can be hardwired. In this mode, it will continue to keep your food cool even when the vehicle is off. This requires a hardwiring kit, which is sold separately. It also means you need to plug into the correct circuit on your circuit board. Otherwise, it could drain your battery entirely without shutting off. Check your vehicle manual twice before attempting this.
ARB offers a free companion app for their fridge. The app connects to the fridge via Bluetooth, which requires you to be nearby. However, it offers several benefits. For one thing, it will send you battery alerts when the fridge is hardwired. This allows you to shut the fridge off manually if your car battery is unexpectedly low. You can also switch between Fahrenheit and Centigrade, adjust the display brightness, and adjust the temperature. You can even create preset temperature profiles for use at a later date.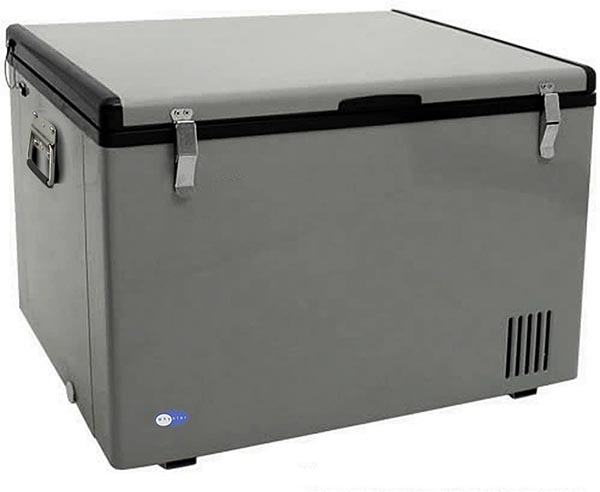 Whynter FM-85G 85 Quart Portable Fridge
Last but not least, we have the Whynter FM-85G 85 Quart Portable Fridge. This is a monster, measuring 28.1 inches long, 23.5 inches wide, and 18.25 inches high. At 71 pounds, it's a bit of a beast, but a pair of handles make it easy to carry. The handles are small metal devices, similar to those on a classic Coleman cooler. Not only that, but the compressor can function even if it's tilted 30 degrees. This makes it safe to move around while it's running.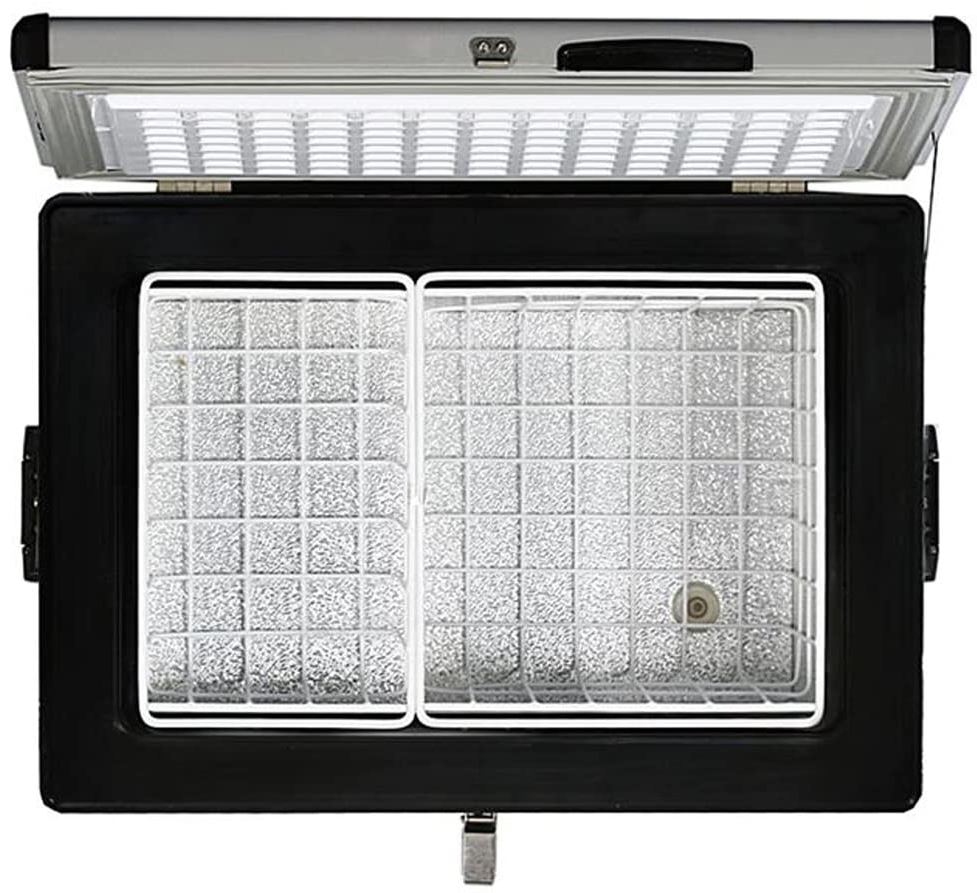 The case is constructed from a no-nonsense anodized aluminum, with a control panel on the back. The top opens like a trapdoor, and is secured by a pair of metal clamps. A drain plug at the bottom makes cleaning as simple as letting the water flow out when you're finished.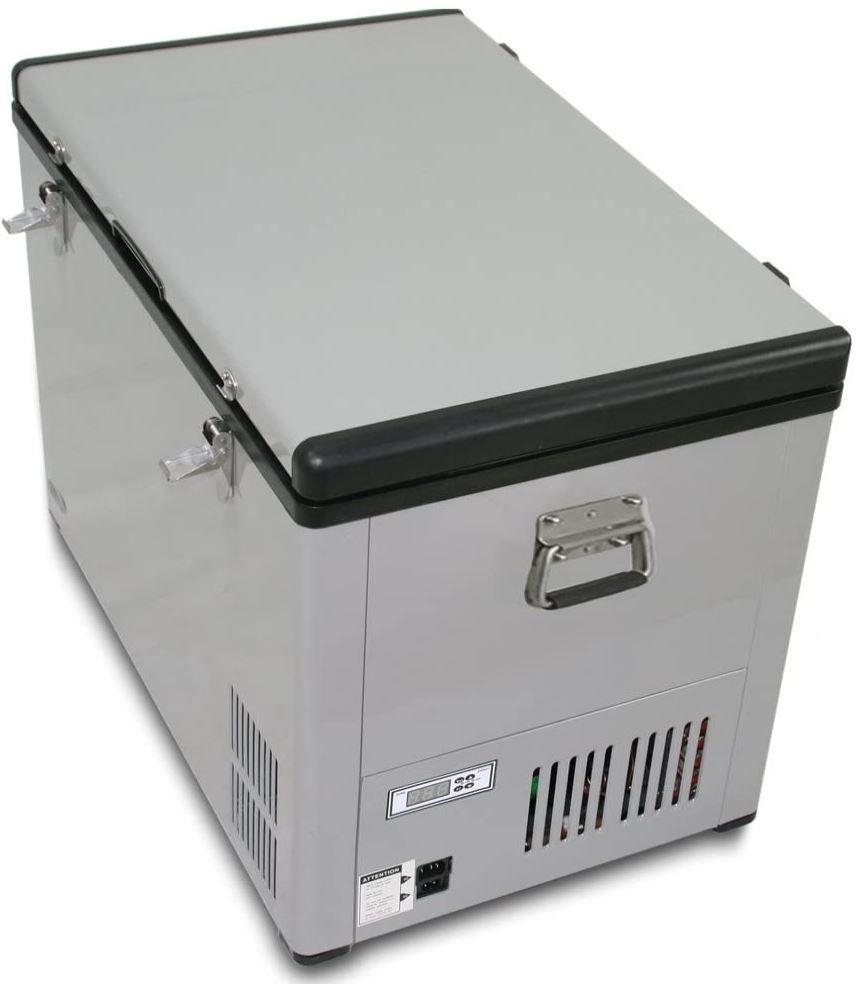 Cooling and Storage Capacity
The inside of the FM-85G has an impressive 85-quart capacity. This is enough for four 30-packs of beer. It's also enough for just about any other kind of food you can imagine. You can easily fit a whole turkey inside, with room to spare for side dishes. The only limit is how much you're willing to lug around.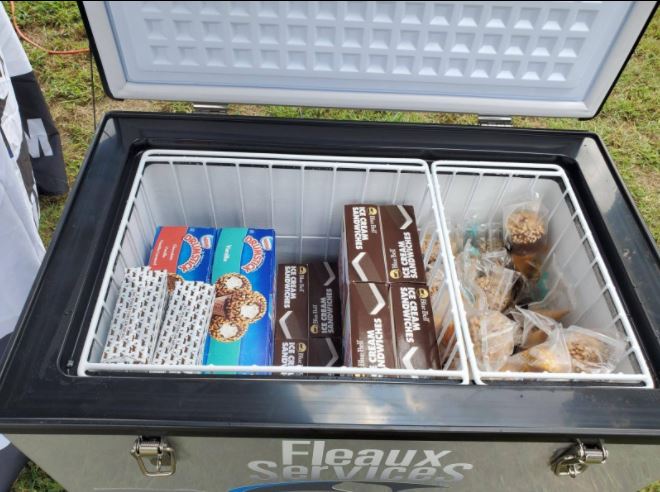 To help make food more accessible, the inside sports a pair of removable wire baskets. These two baskets roughly correspond to the fridge's two temperature zones. The zones can be adjusted independently between negative eight and 50 degrees. There's no physical barrier between them, though, so keep your expectations reasonable. If one side is set to 20 and the other is set to 40, you'll be just fine. If one side is set to negative five and the other side is set to 45, your performance will suffer. That said, your food will be safe if freezing temperatures are required. The FM-85G's Fast Freeze mode will reach subzero temperatures in mere minutes.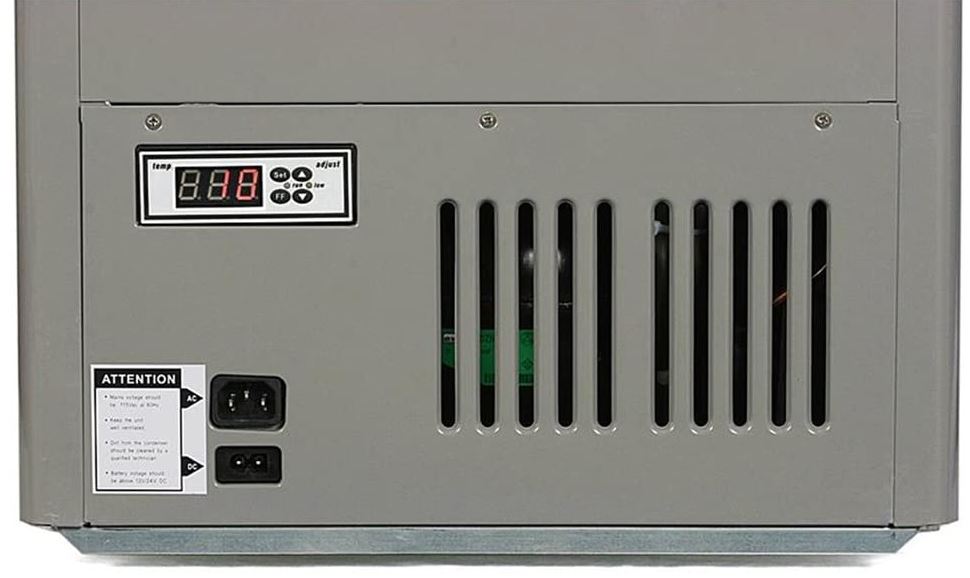 Installation and Extra Features
The FM-85G doesn't have any wireless app or other fancy bells and whistles. However, it's well-equipped for multi-purpose use. Much like our last two options, it includes both 12-volt DC and 120-volt AC power adapters. But unlike the last two fridges, the FM-85G can be plugged into both power sources at once. In this mode, it will run off AC power by default. If the AC current is cut off, it will automatically switch over to DC power. This can be very useful if you're using an inverter for your primary power source. You can use a portable power station as a backup for uninterrupted cooling.
Final Verdict
Clearly, each one of these 12v DC portable fridge/freezers has its own unique benefits. But which one is the top choice for you? Let's quickly go over what we've learned today. We began by looking at the Dometic CFX28. This 26-quart fridge is designed specifically to be as compact as possible. It's best for carrying drinks, or just enough food for a few meals. Even so, it packs a lot of value into a small size. It will get as cold as negative seven degrees for deep freezing, and it has two independent compartments. Not only that, but it can be controlled and monitored via the WiFi app. All of these features make the CFX28 the best tiny 12-volt fridge on the market.
The ARB Fridge Freezer Series II is a mid-sized vehicle fridge, with a capacity of 50 quarts. This makes it suitable for larger groups of people, or for more than a few meals. It also has a separate dairy and fruit compartment so you can eat healthy while you're on the road. The temperature readout isn't as accurate as we would have liked, but it's easy to compensate. On the plus side, the Fridge Freezer Series II can be hardwired, so it can run when your vehicle is off. This is a major benefit if you're camping out of the back of your Jeep.
The Whynter FM-85G 85 Quart Portable Fridge was our largest selection, and it's not even close. With 85 quarts of capacity, it's starting to push the limit of what we consider "portable." Even so, it's very powerful, and it allows for dual-zone cooling. If you want a large, reliable 12-volt fridge, the FM-85G is an excellent choice.
Meet Derek, "TechGuru," a 34-year-old technology enthusiast with a deep passion for tech innovations. With extensive experience, he specializes in gaming hardware and software, and has expertise in gadgets, custom PCs, and audio.
Besides writing about tech and reviewing new products, Derek enjoys traveling, hiking, and photography. Committed to keeping up with the latest industry trends, he aims to guide readers in making informed tech decisions.