If you're trying to build an effective, efficient workspace, good lighting is essential. An overhead light can be good for reading, but not so much for using a screen. This is particularly true if the light is behind you, which can cause glare. At the same time, you don't want to sit around in the dark. Particularly in these days of working from home, that could get downright depressing. An LED desk lamp is a great middle ground. It provides enough light to read by, and a pleasant atmosphere. On the other hand, with a little bit of intelligent placement, you don't have to worry about glare. Instead, you can focus on your work without sitting in a dark, dreary room.
We've reviewed a few LED desk lamps in the past, including wireless charging desk lamps and clip-on LED monitor lamps. Now, we're going to look at three additional options. First, we'll review the TaoTronics Metal LED Desk Lamp. This is a sturdy, aluminum lamp with classy fabric accents and a USB charging port. Next, we'll examine the AmazLit Desk Lamp with Clamp. This is a big, beefy lamp that mounts on a large frame that clamps to your desk. Finally, we'll check out the Saicoo LED Desk Lamp. This is a more restrained articulated lamp, with a contemporary square bulb. Which one is right for you? To find out, we'll need to dig a bit deeper. Let's get going!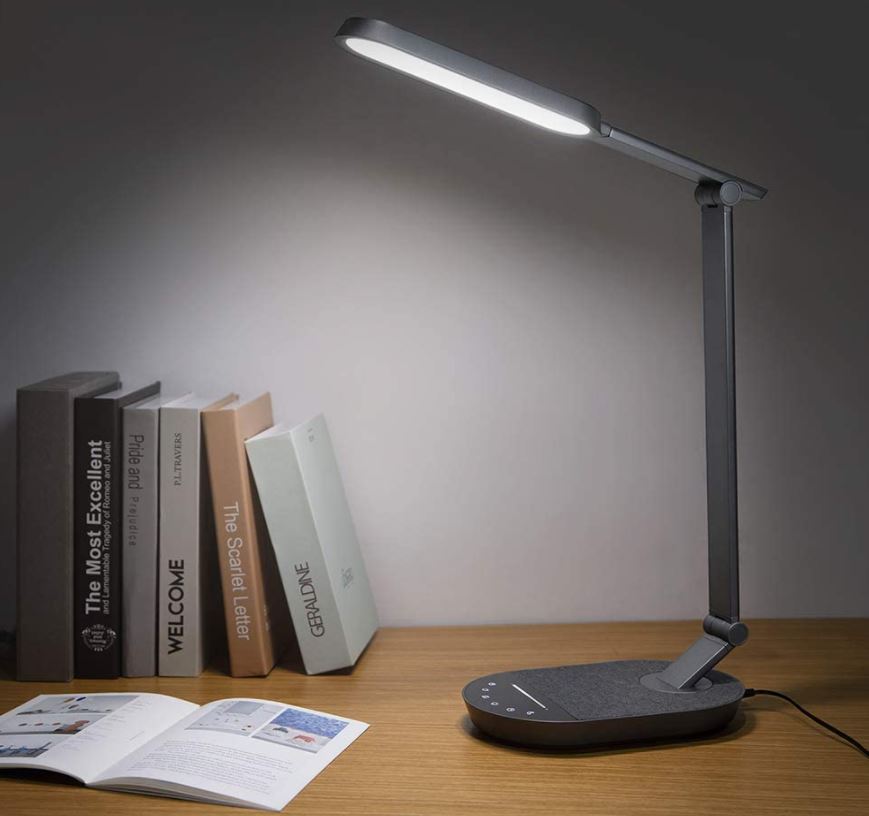 Features to Look For
Before we dig right in, there are a few features you should be looking out for when you choose an LED desk lamp. The first is the quality of the light itself. Now, you might be thinking that all LEDs have the same advantages, and to some extent that's true. They draw less power and produce less heat than incandescent bulbs, without the flicker of fluorescents. Those things are universally true of all LEDs, but there are still important differences to consider.
For one thing, consider how bright you want your environment. Do you want a brightly-lit experience, as if you're sitting outdoors? Or do you want to have just enough light to see by? Similarly, color temperature is important. Do you want a warmer, reddish-tinged light, or a cooler, blue light? Unlike with incandescent lights, LED lights don't have to be locked into a single color or brightness. That's why the best LED desk lamps are adjustable, both in brightness and in color. That way, you can change the lighting based on what you need at the moment. Turn it down while you're working on your computer, or turn it up if you're doing paperwork.
The size of the lamp is also important. There are two aspects to size: the size of the lamp itself, and the size of the footprint. The lamp size will depend on how much area you want the light to cover. A small light is generally better for small areas. A larger lamp, meanwhile, can light up much more than just your desk. This doesn't necessarily mean that bigger is better, though. For one thing, the spread of the light depends on more than just size. The bulbs themselves, as well as the housing, also make a big difference.
Not only that, but a larger lamp is typically going to be heavier, requiring a larger base. Before you buy a lamp, you need to think about whether or not you actually have enough space for it. This is less of an issue the smaller the overall footprint is. You'll also need to think about clearance for lamps with adjustable stands. You might want to have the stand flex over the top of your monitor, but you'll want to be sure it will reach.
If there's one thing you need on your desk, it's more USB ports. Seriously! Just about everything charges via USB these days, so why not use a lamp with a charging port? You can plug in your smartphone or tablet without needing to plug into your laptop.
There are other extras to look for, as well. For example, many LED desk lamps have sleep timers built-in. This makes them useful for more than just work. You can also use them to read before bed, and they'll turn off on their own. Some desk lamps even have a nightlight function. This can be used not just for sleeping, but also if you want a little illumination in an empty study.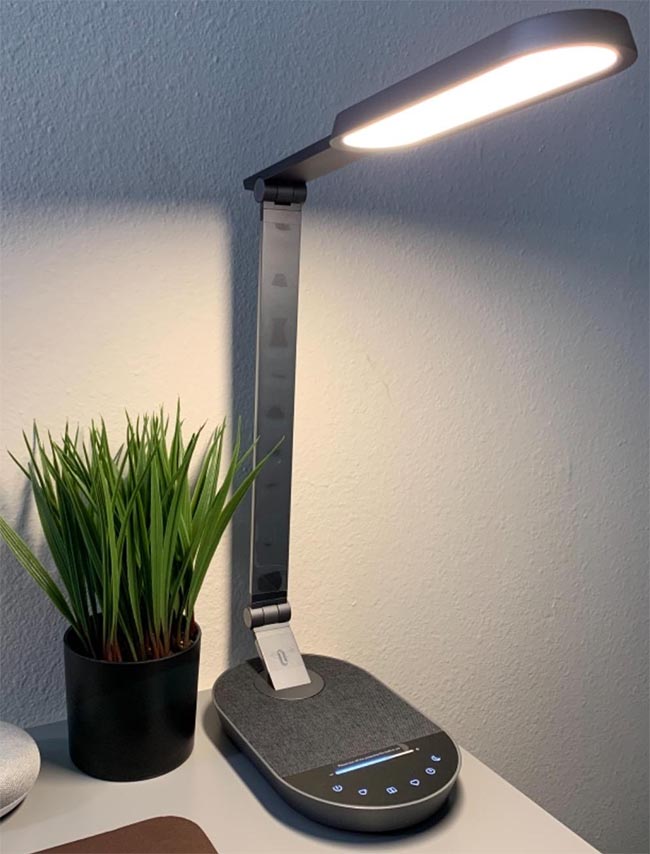 TaoTronics Metal LED Desk Lamp
TaoTronics is one of the better-known manufacturers of modern electronics. For example, they have an impressive line of wireless earbuds. Their Metal LED Desk Lamp is a similar exercise in function and elegance. The frame of the unit is constructed from anodized aluminum, which is both lightweight and sturdy. This includes the articulating arm, which is 17 inches tall when fully extended. It's hinged in two places, first about two thirds of the way up, and again a few inches above the base. The top hinge will flex a full 180 degrees, and folds up easily when it's not in use.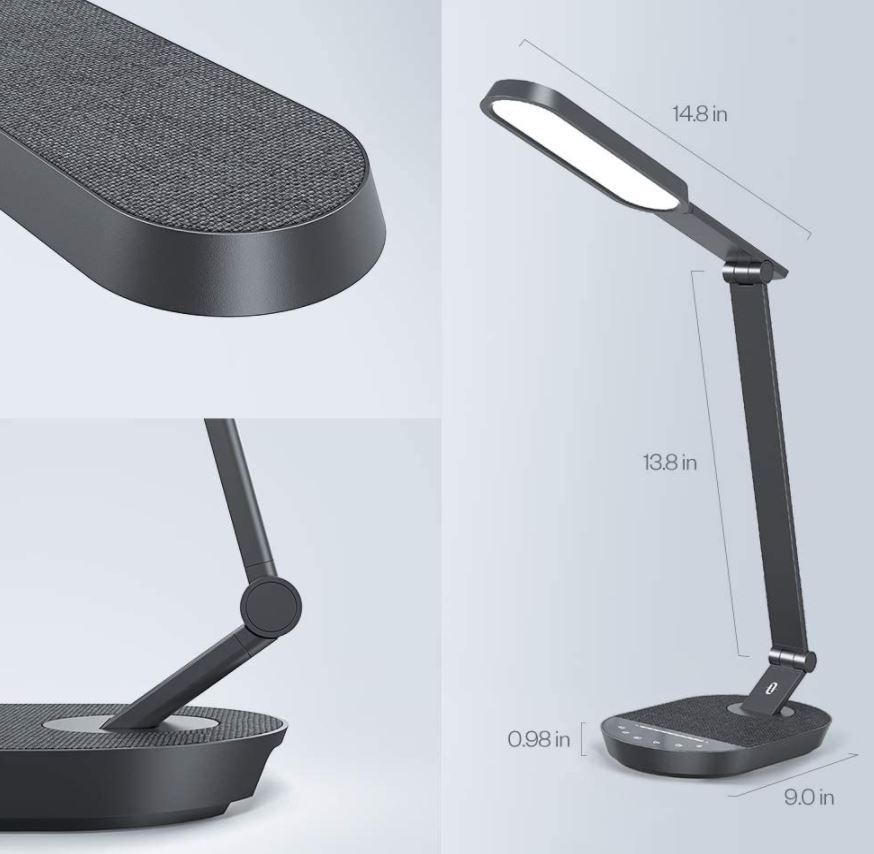 The charcoal-colored aluminum is accented by grey fabric padding on the base as well as the top of the oval lamp. This provides an attractive touch that goes over and above mere functionality. The base measures roughly nine inches long, and just under six inches wide. The oval shape is easy on the eyes, while still providing plenty of stability. On the front portion of the base, you'll see a control panel with a set of soft touch controls. The buttons are clearly marked by colorful LED indicators, and are easy to operate.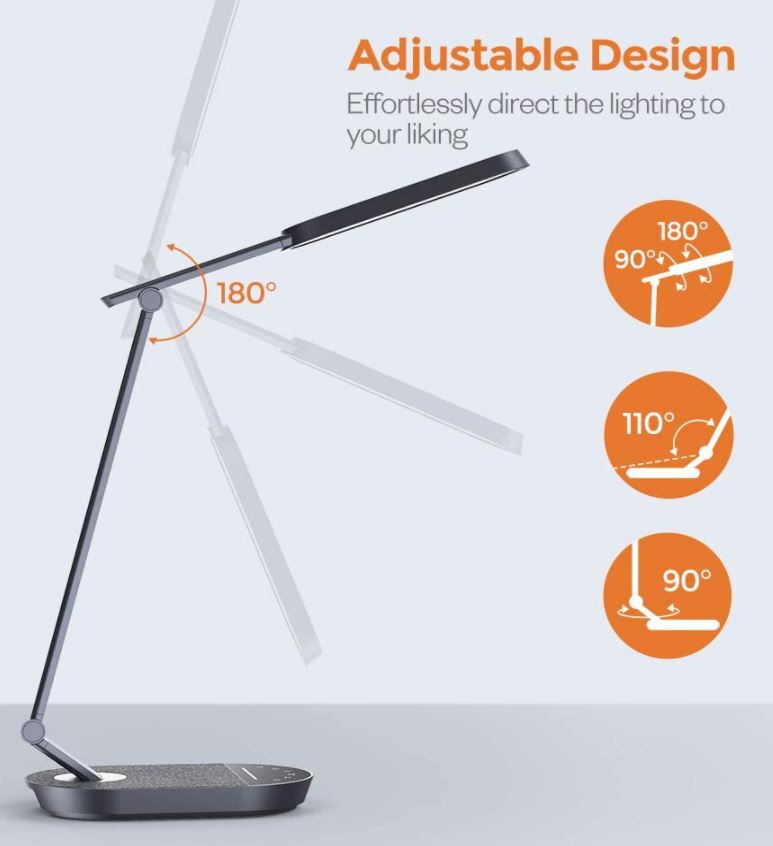 On the back of the base, you'll find a CD power input, next to a USB charging port. This is a standard, 5-volt port, not a Quick Charge or PD port. Still, it's more than good enough for keeping your phone or tablet charged while you work.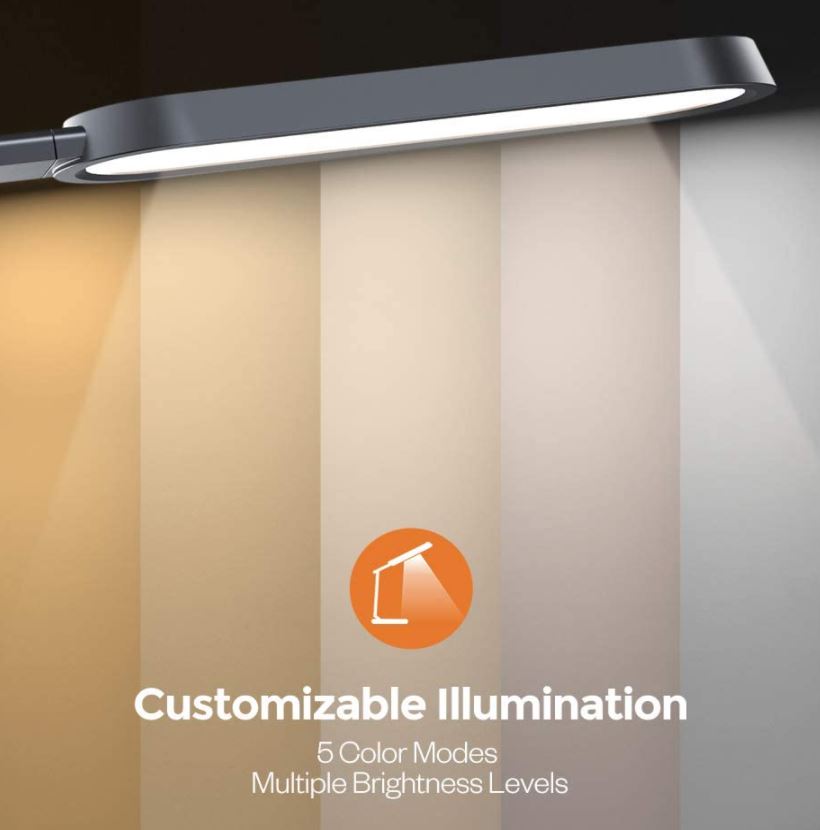 The controls allow you to choose between five different color modes: white, cool white, natural, yellow, and warm yellow. In terms of color temperature, these correspond to 2700-3000K, 3000-3500K, 4000-4500K, 5000-5500K, and 6000-6500K. That's a reasonably wide range, and covers most of your indoor lighting news. The overall brightness rating of 1,200 Lux isn't incredibly bright, but it's more than enough for a desk. In addition to this maximum brightness, there are four dimmer settings, so there are plenty of options.
The TaoTronics lamp has a 60-minute sleep timer, so you can use it before bed. If you want it to stay up all night, it will also work as a night light. It even has on-board memory, so it will remember your settings after a power outage or being unplugged.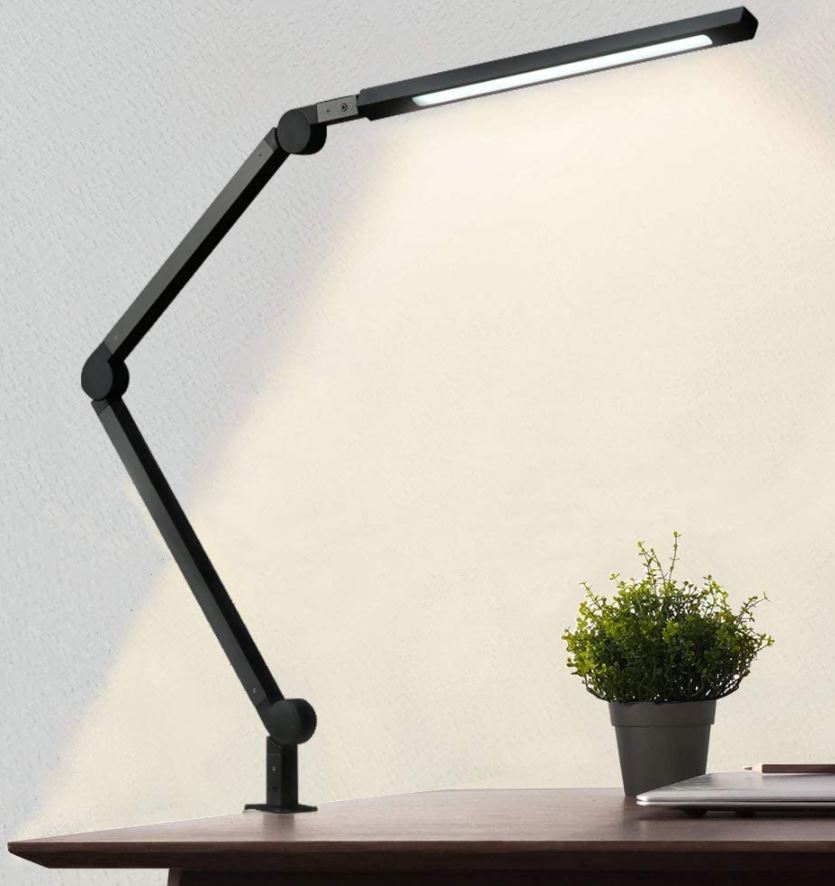 AmazLit Desk Lamp with Clamp
The AmazLit Desk Lamp with Clamp is designed to provide the largest light possible with a minimal footprint. It achieves this by mounting on your desk with a clamp, rather than sitting on a base. The clamp opens to 2.1 inches, enough to fit on almost any table or desk. Both sides have silicone padding, which means it won't scratch delicate furniture.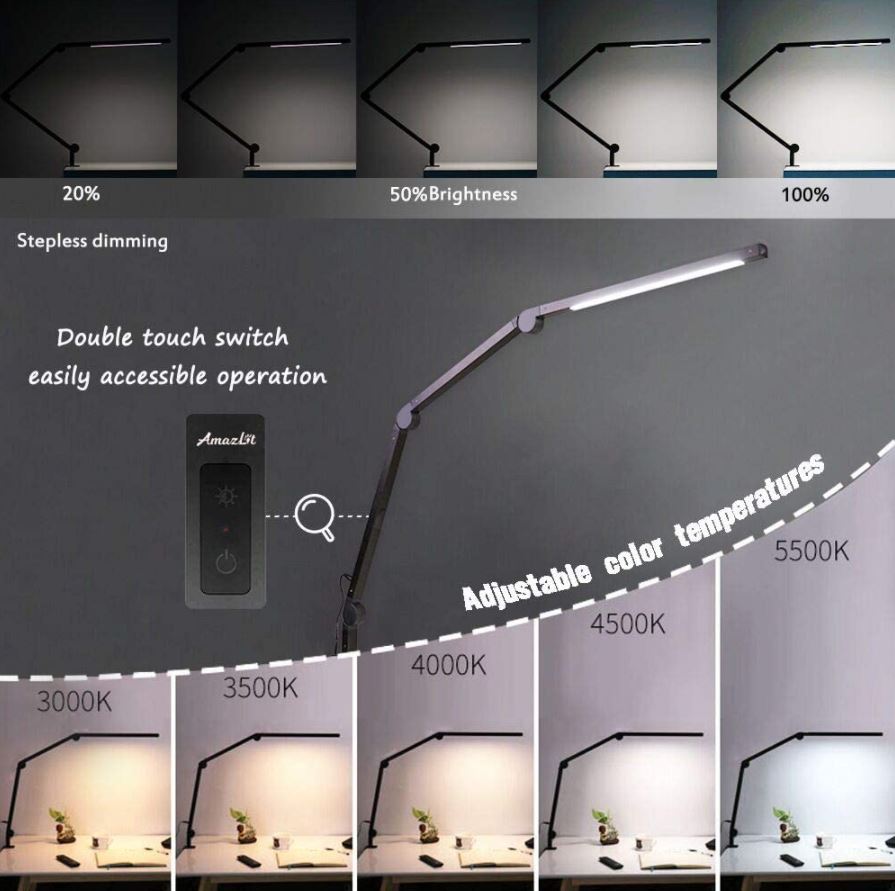 Meanwhile, the lamp is mounted on a large, anodized aluminum frame. The frame is hinged in three places, and stands two feet tall when fully extended. Don't be put off by the plastic-looking hinges. The hinges are made of metal; they're just sheathed in plastic for aesthetic purposes. Underneath, they're just as sturdy as the rest of the frame. The light itself is very large, measuring 15.8 inches in length. It can be swiveled 180 degrees, which makes it highly adjustable, particularly combined with the three frame hinges. You can point it in any direction you want, without needing to remove the clamp and relocate it.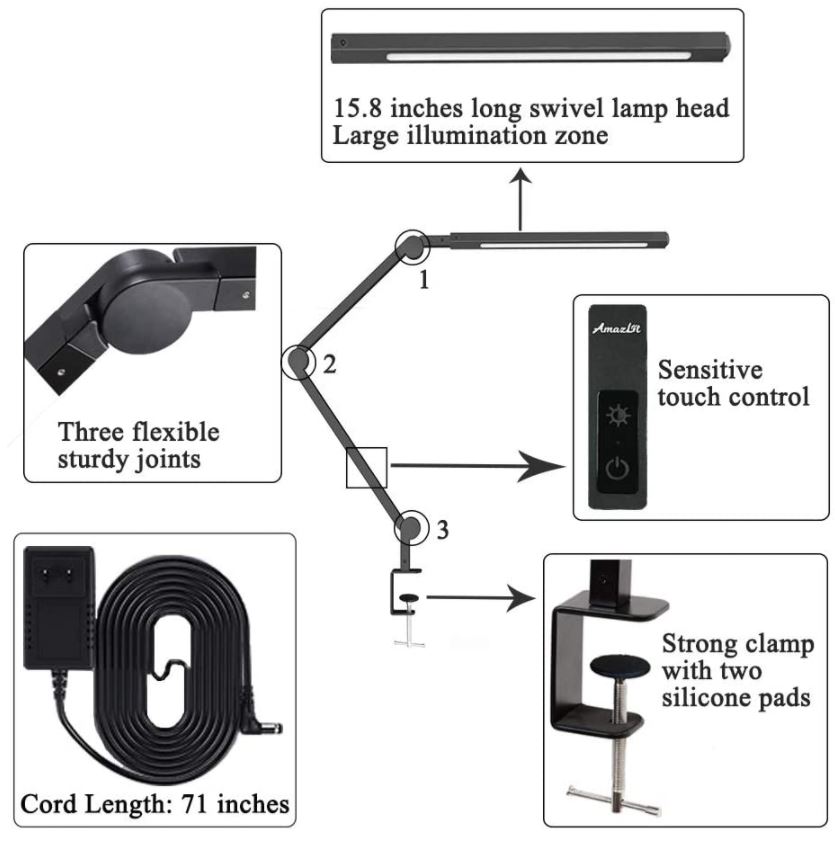 The AmazLit lamp features variable dimming, from 3,000 to 5,500K. This gives it less range than the TaoTronics lamp, but with more customization within that range. Similarly, the brightness range is more limited, but can be variably adjusted. There are two sleep timer options: 10 minutes and 40 minutes. This lets you set the timer for just a minute before bed, or leave it on for long enough to read by. There's also a six-foot cord, which gives you range to reach the nearest power outlet. Finally, the entire lamp as well as the cord is covered by AmazLit's 24-month manufacturer's warranty.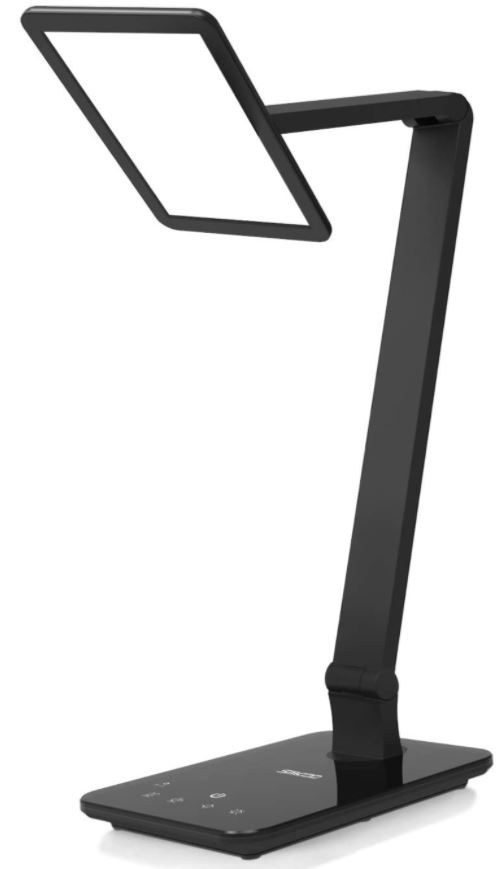 Saicoo LED Desk Lamp
The Saicoo LED Desk Lamp is a bit different from the last two we looked at. The LED head is the smallest of the bunch, at 7.4 inches square. It's also constructed from plastic rather than metal. This makes the design more lightweight, but also less durable. That said, it's an excellent choice for smaller desks. Not only that, but it has a contemporary appearance that's attractive to look at. And despite the light weight and small footprint, it's surprisingly tall, at 17 inches when fully extended. The arm is also articulated in two spots, making adjustments simple.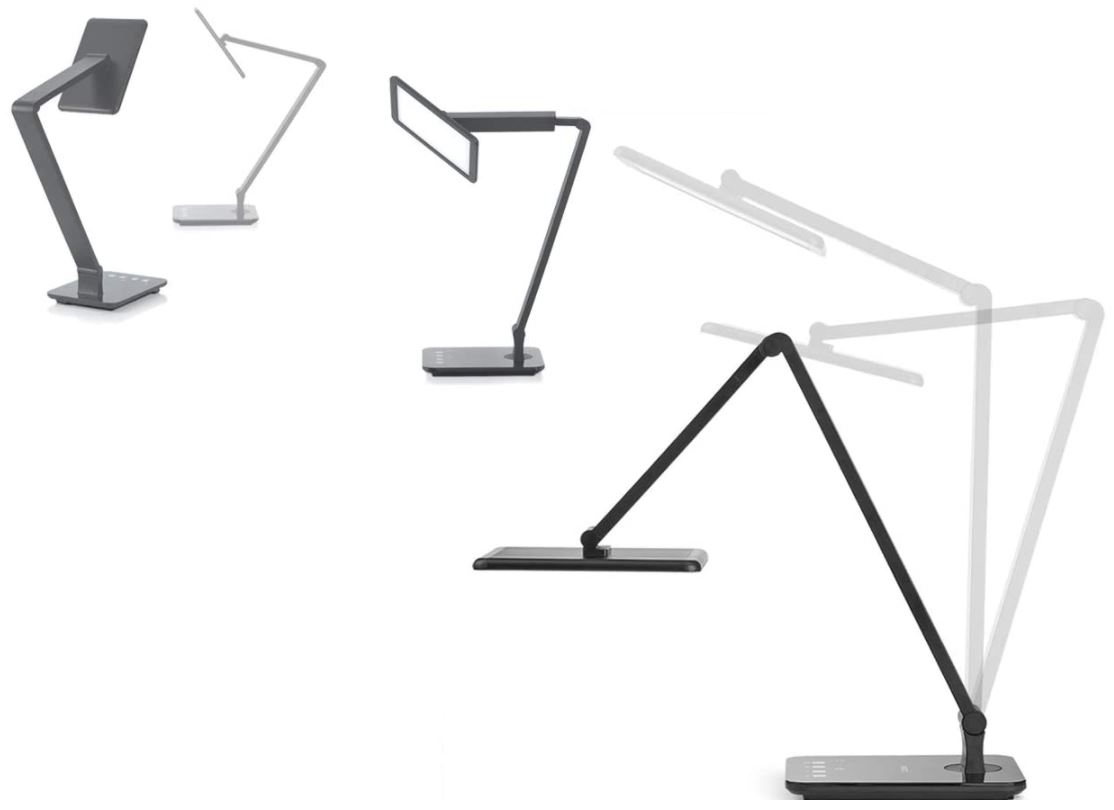 The small rectangular base has a glossy finish, with soft touch controls towards the front. Bright LED buttons allow you to adjust brightness, color temperature, and more. You can also set a sleep timer if you so desire. The timer can either shut the light off entirely, or switch it to night light mode when it expires. On-board memory even lets you save your settings when the lamp is powered off. That said, adjustment options are fairly limited. There are three settings: cold, natural, and warm. Not only that, but the ranges are fairly wide, at 5,500-6,500K, 4,300-5,300K, and 2,700-3,300K respectively. This means you don't get as much control as you might want.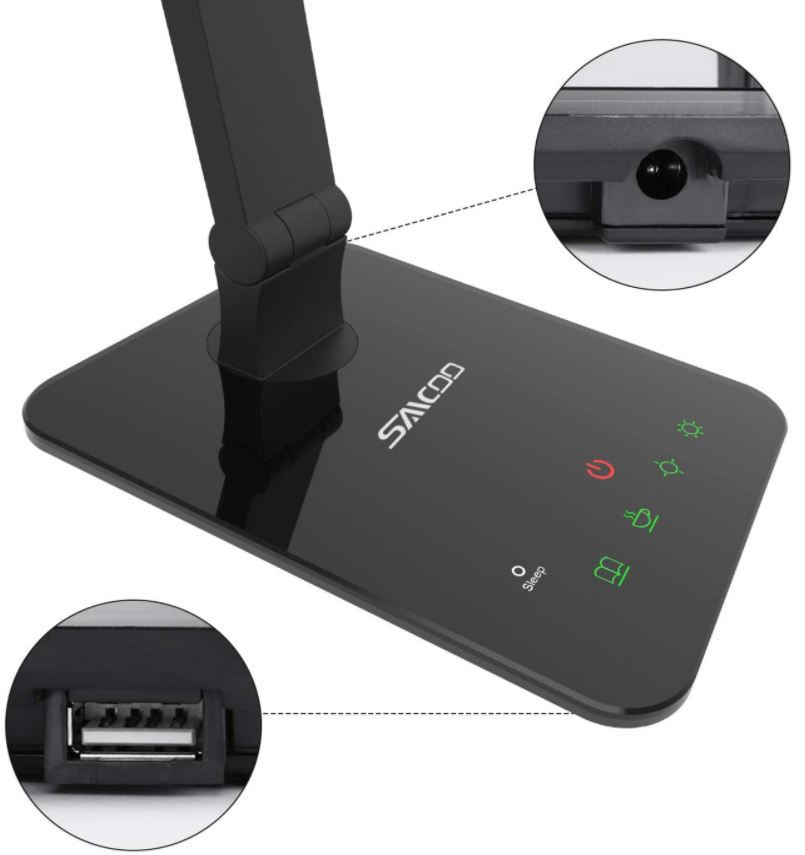 At the front of the base, you'll find a USB charge port. As with the TaoTronics lamp, this is just an ordinary 5-volt port. But it's a great added value for something that's going to sit on your desk anyway. The entire package is covered by a 12-month manufacturer's warranty. If there are any defects, you're fully protected.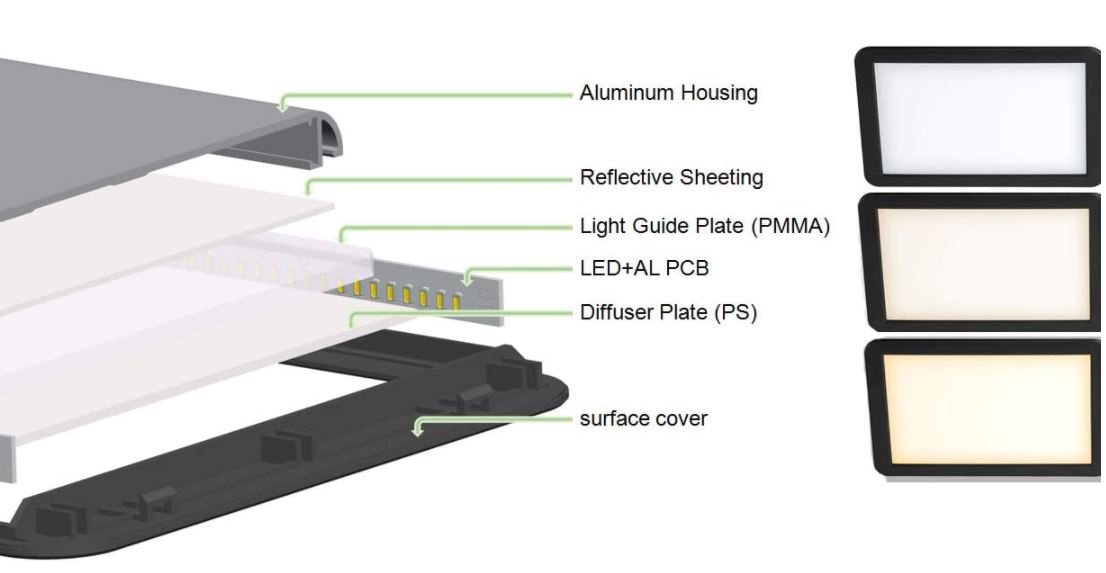 Final Verdict
As you can see, each of these LED desk lamps has a lot to bring to the table. However, there are some significant differences between them that set them apart. A lamp that's perfect for one person might be a terrible choice for someone else. Let's sum up what we've learned about each of these models.
To start off our list, we looked at the TaoTronics Metal LED Desk Lamp. This is a mid-sized lamp that's versatile enough to serve several purposes. The five brightness settings and five color warmth options give you plenty of versatility. Not only that, but you get timer and night light modes for overnight use. But that's just part of the equation. The anodized aluminum construction is quite durable, and the base is big enough for stability without being oversized. All of this combined makes a lamp that's excellent for most everyday applications.
If you want the biggest lamp on the market, the AmazLit Desk Lamp with Clamp is not far off. The clamping design is both a blessing and a curse. On the one hand, it's not very portable, since you have to clamp and unclamp it for transport. On the other hand, a lamp of this size would need a very large base for stability. Using a clamp provides that same stability without occupying any meaningful amount of desk space. Finally, we loved the sturdy design and the articulating arm. If you need a lamp for a drafting table or other large surface, you're looking at a clear winner.
The Saicoo LED Desk Lamp is a more compact choice, with a contemporary design. It's not as customizable as the other options, but it still offers plenty of value. The sleep mode allows you to choose auto-off or night light mode, and there's a built-in USB port. All in all, it's a good choice for anyone who wants a small lamp with a modern, professional look.