In the past few years, there have been a number of desk lamps on the market with built-in USB ports. This is a nice feature, but many of these products are not very well-engineered. They might be good enough for home use, but certainly not for your office. For a more professional look, you're going to want a lamp that looks the part. And while you're at it, wireless charging would be a nice touch. And while we're dreaming, why not throw in a clock and some Bluetooth speakers?
Our dreams have come true. This January, LumiCharge released two excellent desk lamps: the T2W and the LD. In many regards, these two lamps are very similar. Both of them offer both USB and wireless charging. Both of them have a built-in clock display. And both of them have built-in Bluetooth speakers. But they're very different in terms of style, and each has its own small functional quirks. Let's take a closer look, and see how they compare!
Note: At no extra cost to you, we may earn a commission for purchases using our links. Learn more.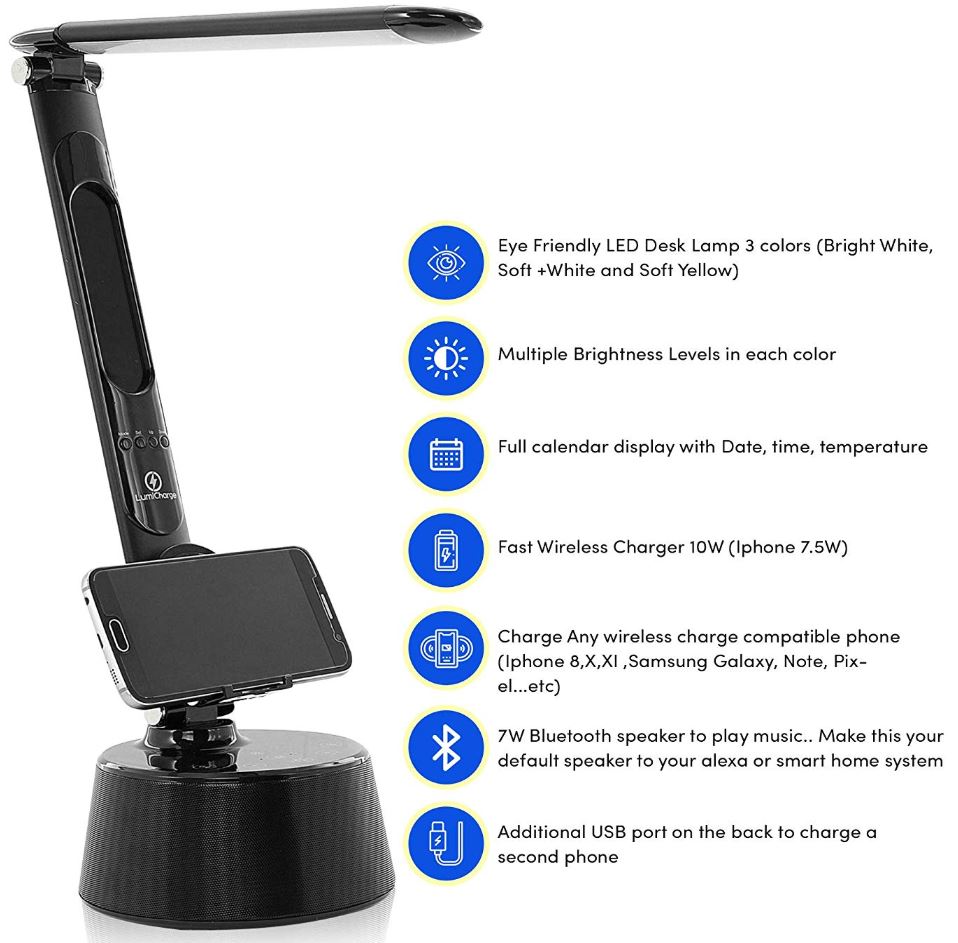 LumiCharge T2W
The LumiCharge T2W is a swan-like glossy black lamp that's perfect for professional use. The light itself is mounted in the top part of a hinged arm, and is built into the oval-shaped frame. Because of the hinged design, you can easily tilt the light up and down, adjusting the angle as needed. The light itself is temperature-adjustable, so you can change easily between a softer or cooler tone. It's also dimmable. You can turn it down to take a nap, and turn it back up for reading over paperwork.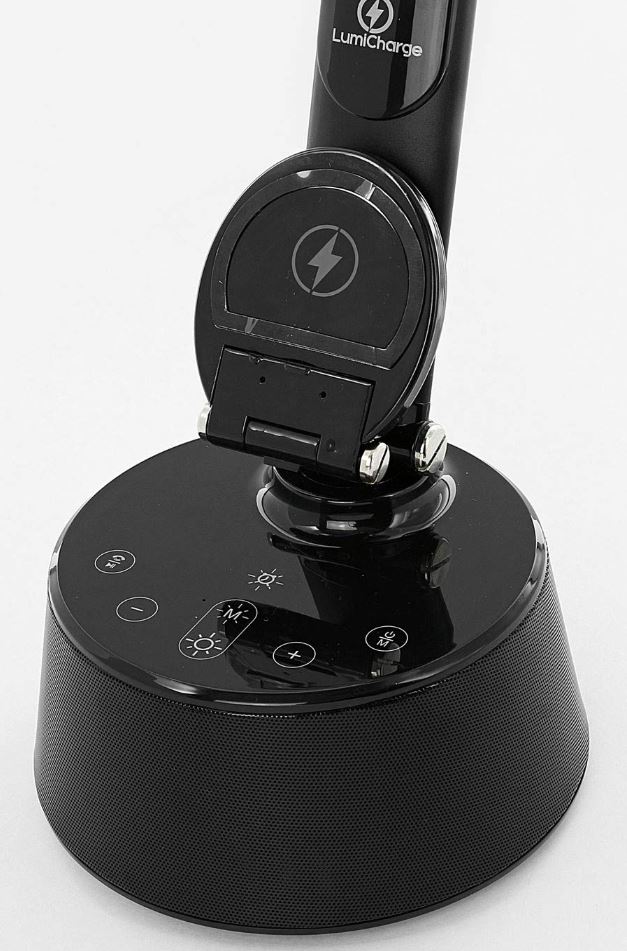 The primary arm is the vertical portion, which also has a hinge at a bottom. This provides better flexibility, so you can move the light in and out in addition to tilting it. On the front of the arm is a clock, which we'll talk about more in a second. It's recessed into the frame, with a soft blue display and a set of controls underneath. Even the buttons are black. The only non-black parts of the frame are the button text, the LumiCharge logo, and the button labels on the base. All of these are printed in clean, white text.
The base itself is a sloped cylinder that doubles as a Bluetooth speaker. There's an aluminum mesh on the outer edge, allowing for 360-degree sound. The top of the base has a set of soft-touch buttons, which operate the light as well as the speaker. In addition to the light controls, you can play and pause music, skip tracks, and adjust the volume. The total weight of the unit is just under 3 pounds. Most of this is in the base, so it's nice and bottom heavy and hard to knock over.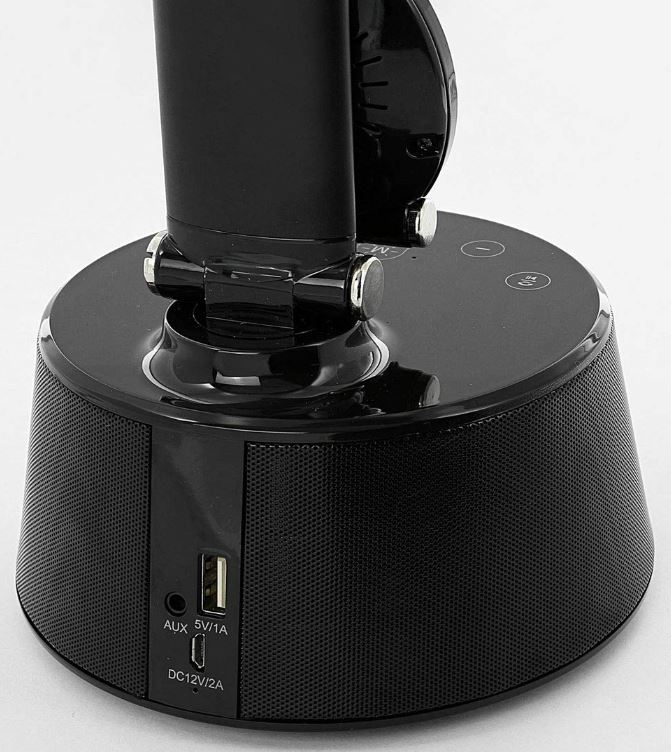 On the back of the base, you'll find a single USB port that can be used for charging. You'll also find the DC adapter input, as well as a 3.5mm audio input for the speaker. On the front of the arm, just under the clock, you'll also notice a wireless Qi charger. It provides 10 watts of total power, which is a lot for a wireless charger. It's black in color to match the frame, and angled slightly backwards with a little foot to support your phone. Since your phone sits on the charger in a horizontal alignment, it also serves as a good stand for video. You can watch a movie or video while your phone is simultaneously charging.
The one thing this design doesn't offer is easy portability. For that, you're going to need something a bit more compact. Consider the iWalk Portal Power Bank, which attaches directly to the back of your phone. Then again, it's not a desk lamp.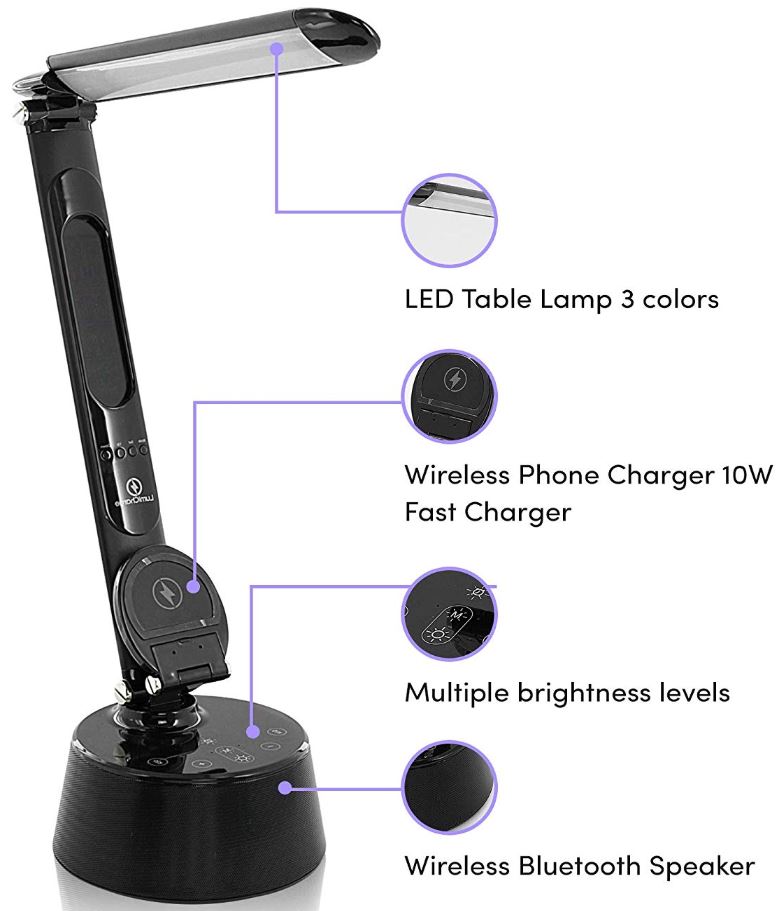 Clock Face & Sound
So, what about the clock face and the speaker? The clock is attractive and easy to read. At the top, in bold font, is the time, displayed in 24 or 24-hour format depending on your settings. Underneath, you'll find the month and date display, with the day of the week underneath that. These are in a slightly finer font. Finally, you'll see the temperature display. The clock can be dimmed for nighttime use, or even turned off if you so desire. The buttons underneath the clock allow you to set the time and date and adjust the brightness. You can also switch time and date format, or switch between centigrade and Fahrenheit temperature scales.
The speaker itself is a 7-watt unit, which provides reasonable quality sound. At 6 inches in diameter, it's large enough for an office or a bedroom. It also provides 360-degree coverage, which is great if your desk sits in the middle of your room. Keep in mind that the T2W is, first and foremost, a desk lamp. The speaker doesn't put out huge amounts of bass, and it's limited to mono sound. But for what it is, it does a good job. You can connect to the speaker by Bluetooth 5.0, which keeps the connection stable. Alternatively, you can just use the 3.5mm audio jack.
Finally, the T2W is compatible with Amazon Alexa and Google Assistant. This allows you to perform all functions via voice control. Keep in mind, though, that there's no WiFi connectivity, so you'll need the Bluetooth connection to make this work.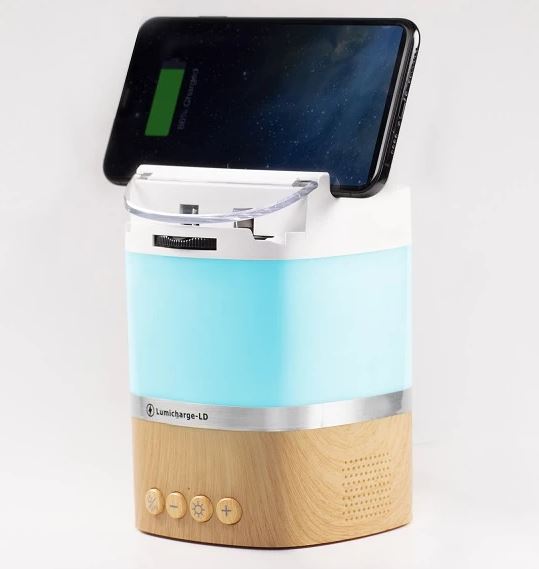 LumiCharge LD
The LumiCharge LD is less of a traditional desk lamp, and more of an end table lamp. On the other hand, the shorter, wider design allows it to light a whole room, rather than just your desk. It's about 6 inches high, with an oblong shape that's about 4 inches on each side. The bottom portion is constructed from a wood-grain plastic, with hole grids in the sides for the speaker. On the front, there's a clock display that shines through the plastic, along with buttons that blend into the wood grain. We'll get into that more in a minute.
Moving up, the main portion of the body is occupied by the LED light itself. The light shines 360-degrees, illuminating a wide area of space. You can change the color from bright white to soft yellow to a sleepy blue or purple. You can also dim the LED between 2 different settings.
The top of the unit is unique, with a 2-tiered design that allows you to charge 2 phones at once. In the front of the white ABS cap, there's a recessed area for wired charging. A small USB Type-C plug protrudes from the bottom of the base. This allows you to set your phone in vertically, like you would on an iPod dock. By spinning a small wheel, you can switch to a Micro USB plug to increase your charging options.
Alternatively, you can use the wireless Qi charger on the top of the lid. This can be used in 2 configurations. If you're already charging one device on the USB plug, you can leave it horizontal. Then you can just set your phone flat on top. Alternatively, the Qi charger will tilt forward to sit at an angle. There's a little lip in front of it, which lets you set your phone in landscape orientation. This way, you can watch your videos while your phone charges. Unfortunately, if you're charging your phone via USB, you'll be limited to a portrait orientation.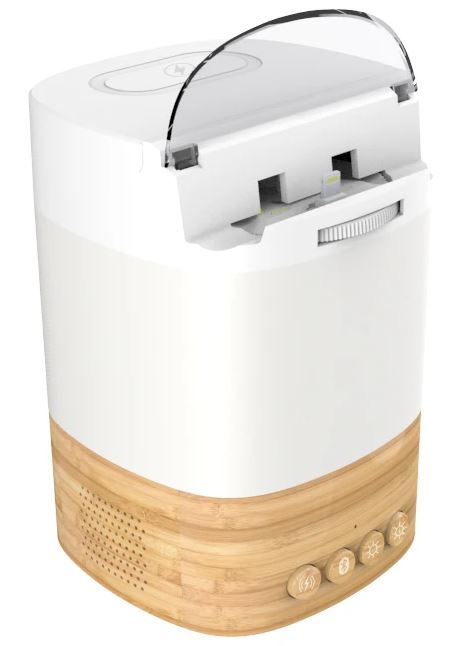 Clock Face & Sound
Much like the LED light, the T2's clock display is also dimmable. It has both a day mode and a night mode, which makes it easy to read under most conditions. Both of these functions are controlled by 2 buttons under the clock. These same buttons will change the brightness of the lamp itself, so the two will work in tandem. There's no button that allows you to set the time, though. That function is performed with LumiCharge's app, which is available for free on Android and iOS.
The other 2 buttons under the clock are used to turn the Bluetooth on and off, and to activate the Qi charger. If you're not using either of these functions, you may as well leave them off to save power. The actual power switch is located on the back of the base, next to the DC adapter. Much like setting the time and changing the light color, you also have to control the speakers via Bluetooth. Thankfully, the Bluetooth 5.0 protocol, which allows for a stable connection.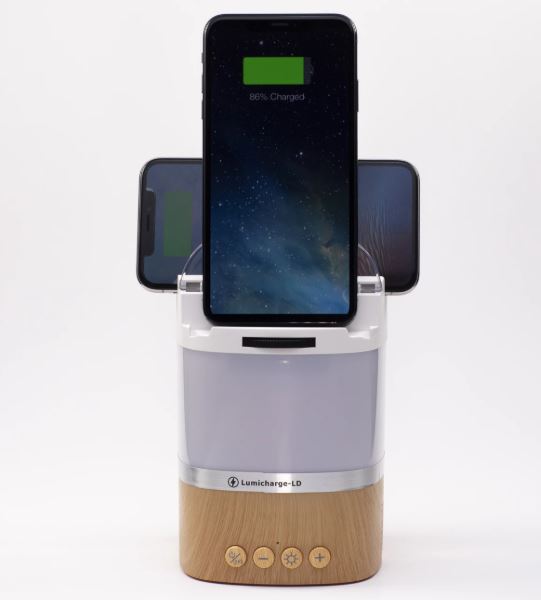 The LD's audio quality is similar to what you'll get from the T2W. The bass is underwhelming, but all in all the quality is pretty good. It's reasonably loud, with enough volume to fill a small room. That said, it's not a party speaker. It's primarily for relaxing.
If you need more volume, you're going to want a dedicated Bluetooth speaker. Why not the Bugani M83 or W-KING D8. These are much beefier speakers that put out a lot more noise.
As we mentioned, to perform many of the controls, you'll need to install LumiCharge's mobile app. That said, the app provides a couple of significant advantages. First off, when connected via Bluetooth, it allows you to change your settings via Amazon Alexa or Google Assistant. Secondly, the clock will sync automatically once you've connected. You don't need to manually set the clock.
Final Verdict
So, which one of these enhanced desk lamps is the superior option? As usual, it depends on what you need. For an office environment, the LumiCharge T2W is a clear winner. It has a sleek, beautiful design that looks professional enough for even an old-school, wood-paneled office. It also has an elegant-looking clock, which displays a wide variety of information. Finally, the controls are easy to operate, so you can quickly mute your music or turn on the light immediately.
The LumiCharge LD, however, is a better choice for home use. It doesn't look professional, but it's warm and inviting. We particularly liked the blue and purple light options, which are great for taking a nap. The bright white light will light up your room, while the soft yellow is ideal for reading. All in all, there's a lot to like about both of these lamps.
Please consider sharing:
Note: At no extra cost to you, we may earn a commission for purchases using our links. Learn more.