If you grew up in the 1980s or earlier, you'll already be familiar with the boom box. For you kids, a boom box was a large portable sound system. They typically required several D batteries, and could put out a lot of sound. As technology got smaller, they were mostly displaced first by CD players, and then by MP3 players.
But there's one thing that boom boxes did well: they allowed you to share your music with your friends. You just can't do that with your iPod and a pair of headphones. However, the development of true wireless stereo has brought us a whole new solution: Bluetooth speakers. Bluetooth speakers allow you to play your favorite songs for everyone to hear. And with today's battery and speaker technology, you don't need a giant, ungainly box to get the job done. To those of us who grew up in the boom box era, it's as if we've come full circle.
Today, we're going to review two of the hottest new Bluetooth speakers on the block. The Bugani M83 and the W-KING D8 both have a lot to offer in relatively small packages. But how good are they really? And how do they stack up to each other? Let's take a look at all of their functions, features, and flaws.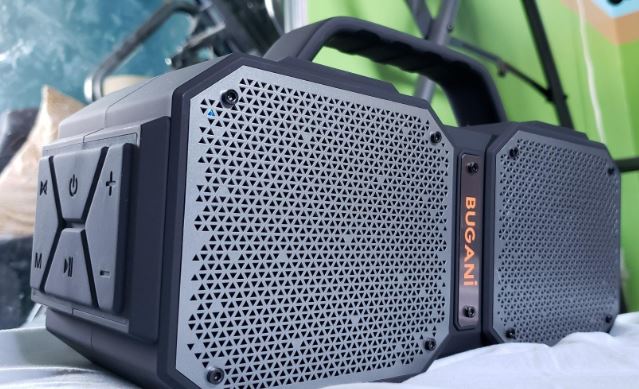 Bugani M83
The Bugani M83 is a compact, rugged speaker that's designed for heavy-duty use. It's constructed from black anodized aluminum, with an attractive, low-gloss finish. The speaker grills on the front are also metal, not plastic, and are secured by tough Torx screws. The corners are angled, rather than sharp, which helps prevent denting and damage. A sturdy aluminum handle protrudes from the top, with ridges built in for comfort and a better grip. The overall size 12.7 inches in width, 4.4 inches in depth, and 6.7 inches in height. It weighs 4.7 pounds, which is a bit hefty without being overly burdensome.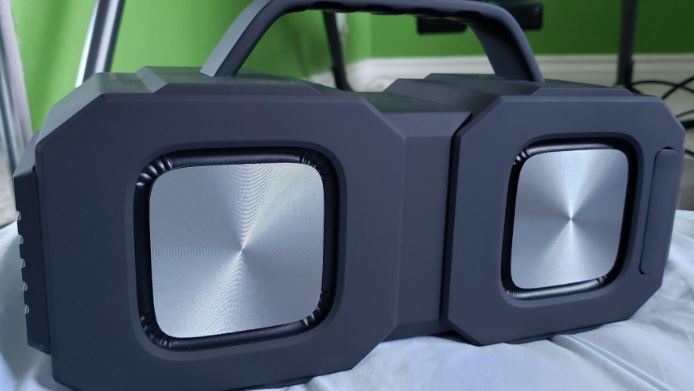 On the right side of the unit, there's a ribbed rubber bumper that provides a measure of shock absorption. On the left, there's a set of controls for basic functions like play, pause, volume, and mute. These buttons are also constructed from heavy-duty rubber, so they're not easy to damage by mistake. All of the inputs are located behind a rubber plug on the back of the control panel. They include USB, 3.5mm aux, and even a Micro SD slot for playing your music directly from the M83. There are USB and Micro USB to 3.5mm cables included in the kit. The 3.5mm cable is particularly helpful, since it allows you to play music when the M83's battery is dead.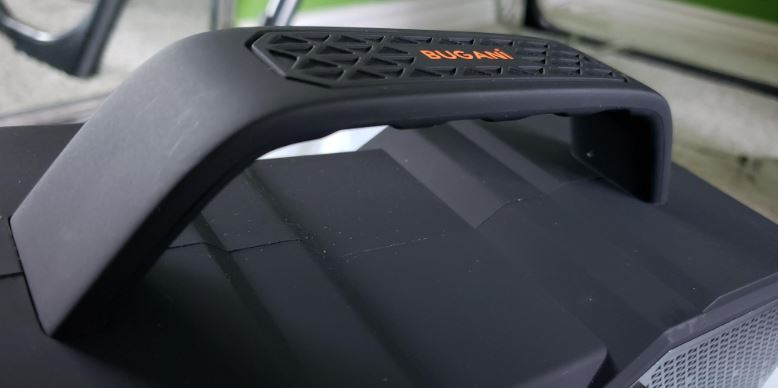 Of course, a wired connection is really a secondary option on a Bluetooth speaker. At the end of the day, the M83's most valuable feature is its ability to play music wirelessly. For Bluetooth connectivity, it uses the Bluetooth 5.0 protocol. This is faster and more stable than older protocols, and allows for higher bitrates. It's also less prone to random disconnections, and will automatically reconnect once it's been paired for the first time. Most Bluetooth 5.0 devices are limited to a 33-foot range, which is a major drawback. However, the M83 has an enhanced internal antenna, which allows for a longer, 66-foot wireless range.
The entire unit is IPX5-rated for water resistance. This equates to splash-resistance, not immersion-proofing. In other words, you can safely use the M83 in the rain, but you don't want to take it in the pool.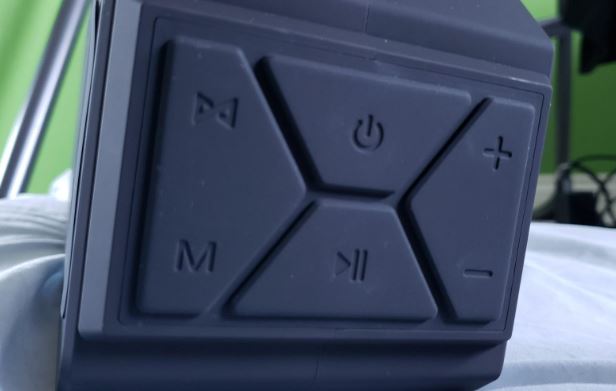 Battery Life & Sound Quality
The M83's internal battery offers 40 total hours of playtime. This is fairly impressive, since it's long enough for just about any conceivable use. That said, this is a manufacturer rating, and it's based on playing at a relatively low volume. In practice, you can count on about 30 hours, although your results will vary based on volume and bitrate. Still, it's not bad. It charges via Micro USB, and a full charge takes about 3 hours. But let's suppose that you don't need 30 hours of battery life. In that case, you can take advantage of one of the M83's other excellent features. Specifically, it functions as a backup power bank, so you can use it to charge your phone during playback.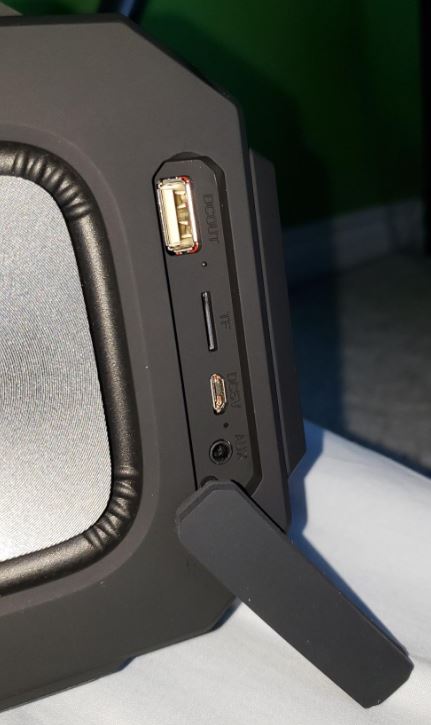 The sound quality itself is also excellent. The M83 contains a pair of 28-watt mid-bass speakers, a pair of 4-watt tweeters, and two subwoofer diaphragms. The subwoofer diaphragms are not powered. Instead, they're designed to enhance vibrations from the mid-bass speakers, but they do add a lot of punch. Overall, you're looking at 50 watts of total power, which is a lot for such a small speaker. The quality is excellent across the spectrum, with no interference between the highs, lows, and mids. You'll get clear, crisp vocals, shimmering strings and cymbals, and plenty of bass punch. This is true even at max volume, where you won't hear any rattle or muddiness whatsoever.
If you want even more sound, you can pair two M83 speakers together. In this mode, the primary speaker will function as the right channel, and the other will function as the left. Touch controls will be limited to the right speaker only in this mode; make sure you know which is which. The speakers also have built-in microphones for hands-free calling. This isn't a make-or-break feature, but it's nice to have the option.
Bugani manufactures several other features with a wide array of options. For example, consider the Bugani M99. It's more compact than the M83, and it has a mounting bracket for attaching it to a bicycle.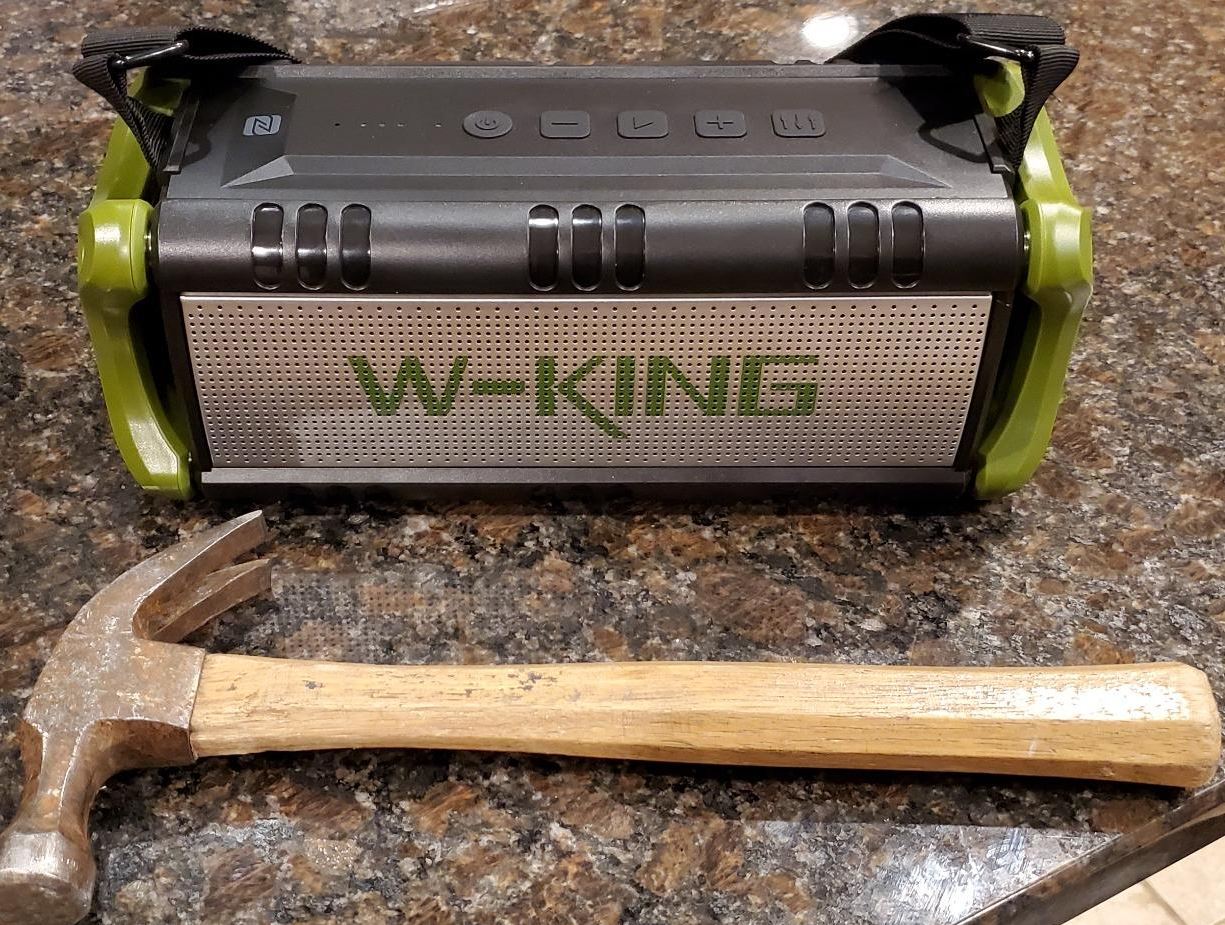 W-KING D8
The W-KING D8 is a rugged speaker in its own right, with a similar, anodized aluminum design. However, it's a bit more stylish than the M83. The top, bottom, and back are a brushed black, but the sides feature green X-shaped end caps. The end caps are screwed in with long, durable hex bolts, and can take a significant beating. The front speaker screen is grey in color, with "W-KING" painted in a green that matches the side caps. The overall dimensions are similar to the M83, at 12.6 inches in width, 4.8 inches in height, and 4.7 inches in depth. Across the top, there's an adjustable webbed nylon carry strap, with a rubberized pad for comfort. The overall weight is 6 pounds, which makes the D8 fairly beefy. However, it's not too difficult to carry over your shoulder.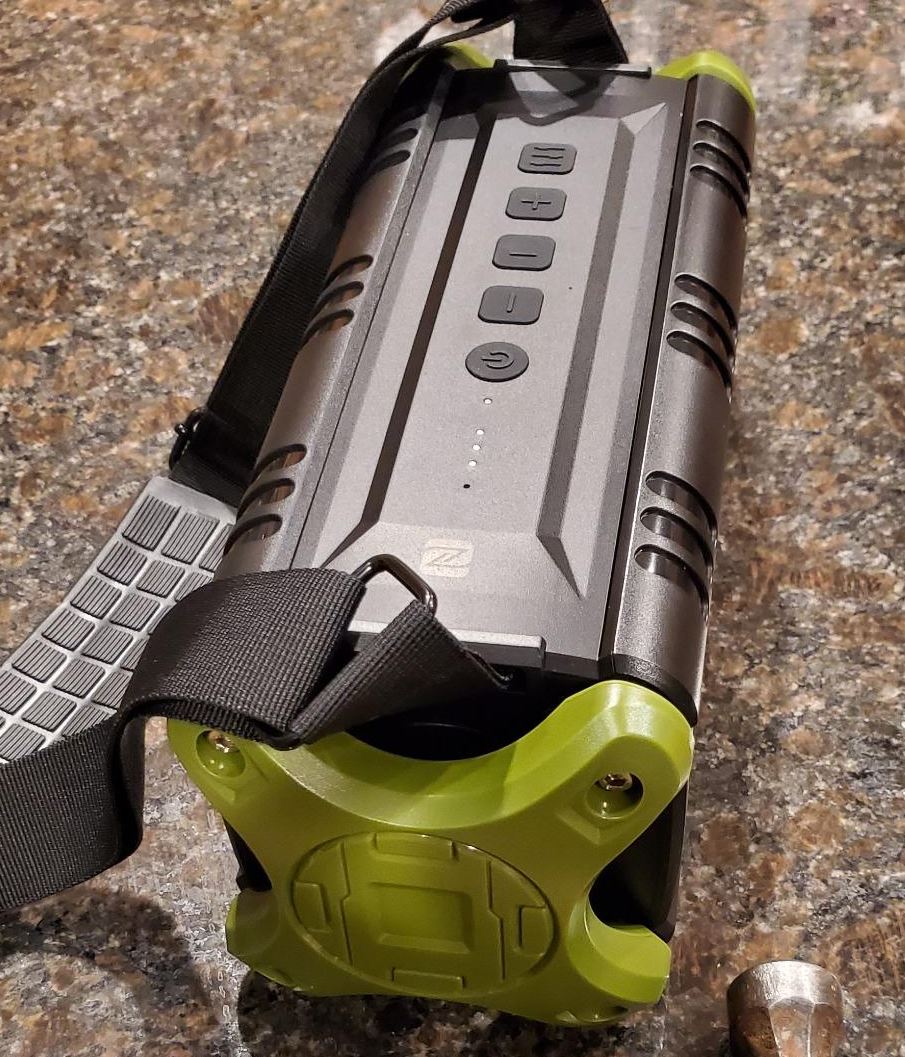 The controls are located on the top of the unit. Rubberized buttons control the power, volume, and play/pause function. All other functions are controlled by your phone or MP3 player. Next to the buttons, there's a row of LED lights that display the current level of the battery charge. The entire case is IPX5 water-resistant, just like the M83. It's just fine for rain or splashing, but you don't want to immerse it in water.
The D8 uses an older, Bluetooth 4.2 protocol for connecting to your device. This isn't quite as stable as the 5.0 protocol. However, it does offer a significantly longer range. You can connect to the D8 from up to 100 feet away, which is pretty impressive for any Bluetooth device. Walk around your yard during a barbecue, and your phone won't suddenly disconnect from the speaker. In addition, the D8 also has a 3.5mm aux input. In a pinch, you can continue to use it even after the internal battery has died.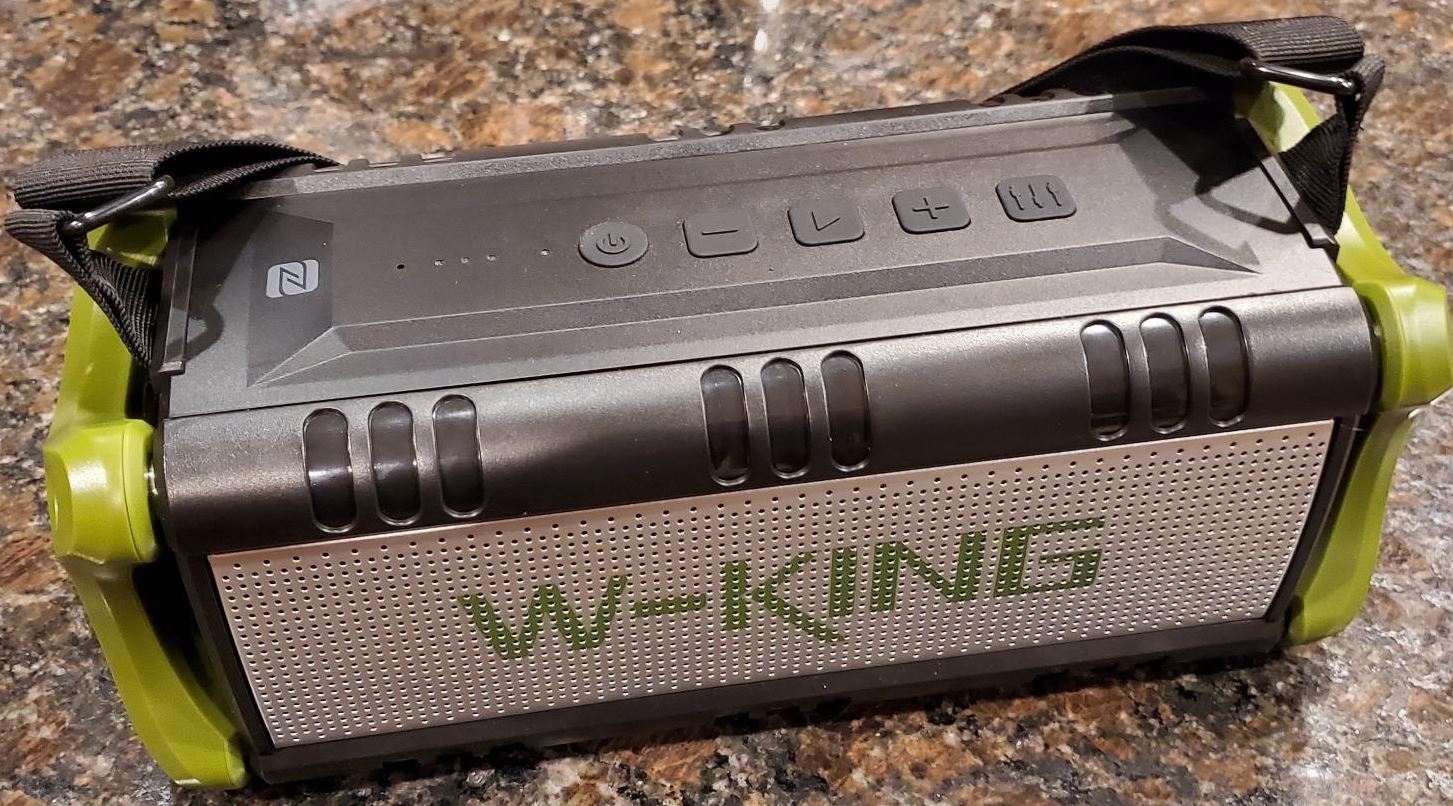 Battery Life & Sound Quality
The W-KING D8's internal battery provides 24 hours of playtime, as rated by the manufacturer. In practice, at full volume, this works out to about 18 hours of actual performance. As always, this may vary based on volume and bitrate. It charges via Micro USB in about 2 hours, although there's no Micro USB cable included in the kit. Like the M83, the D8 also doubles as a power bank, so you can use it to charge your phone. Keep in mind, though, that this will shorten your battery life.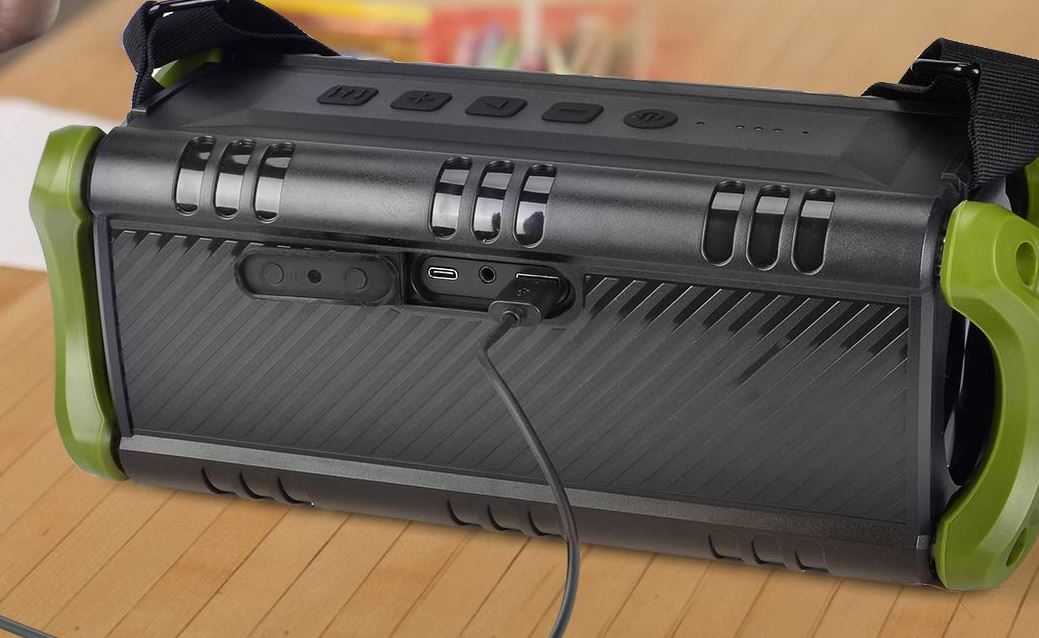 The D8's speakers have a total of 50 watts of power. 2 full-range drivers provide the bulk of the sound, while a pair of small tweeters enhance the highs. There are also 2 passive subwoofers, which add a little extra punch to the bass. The sound quality is clear across the full spectrum, without any muddiness in the middle. Performance is particularly good when listening to dance music, where you'll notice the extra punch from the passive subwoofers.
Like the M83, the D8 speakers can also be paired together for more stereo separation. Turn on both speakers, double-press the power buttons on both, and you're good to go. To return to single-speaker mode, all you have to do is turn off the secondary speaker. The D8 also supports hands-free calling. When your phone is connected via Bluetooth, all phone calls will automatically be routed through the speaker.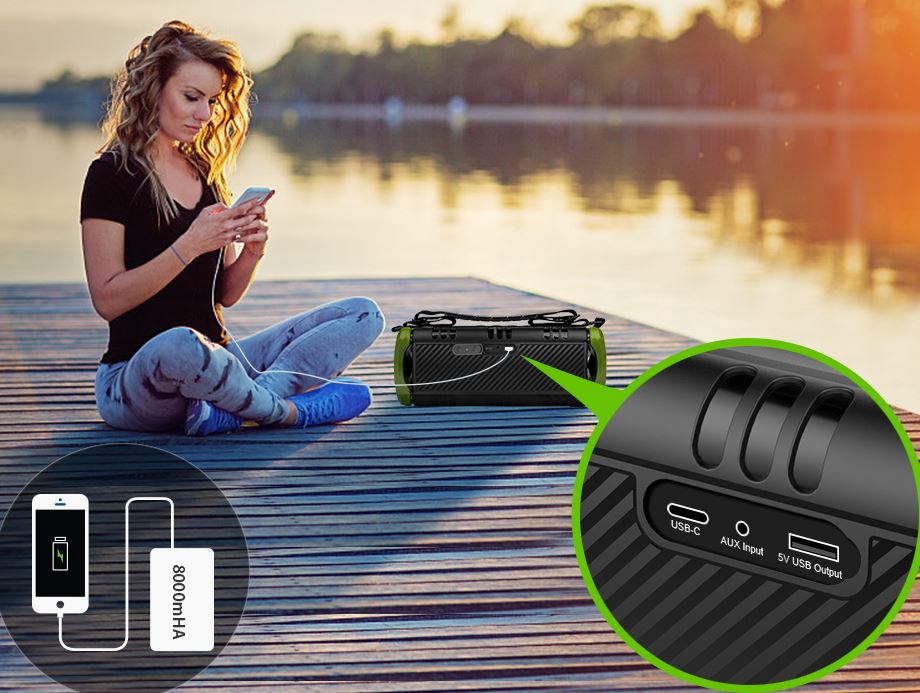 If you want similar power, but you're not a big fan of the D8's weight, take a look at the Nyne Boost . It provides excellent audio performance, but there's no power bank function for charging your devices.
Final Verdict
So, which one of these speakers is the best? First, let's acknowledge the obvious: the sound quality is pretty much the same. They have the same wattage, as well as the same type of speakers. Both of them offer excellent quality across the full spectrum. Take your pick. Your ears will be happy either way.
Similarly, they're both similar in terms of durability and water-resistance. Both of them are rated for splash-resistance, and both can take a serious beating. We wish more manufacturers would build speakers that are this rugged and durable.
All of that being said, the Bugani M83 has one significant advantage: battery life. It's rated for 40 hours, which is impressive enough to merit a round of applause. Meanwhile, the W-KING D8 is only rated for 24 hours. Is that terrible? No. It's actually pretty respectable. That said, the M83 has a significant advantage in this regard. On the other hand, the D8 has a more stylish appearance. You really can't go wrong with either one.