In the past few years, there's been an explosion of wireless earbuds around the world. In large part, this is due to true wireless stereo technology, which allows for better sound quality. Before true wireless, earbuds were either wired, or they were simply cheap toys. Now, wireless earbuds provide the same sound quality, without encumbering you with a wire.
That said, not all wireless earbuds are created equal. As you might expect, there are significant differences in quality of construction as well as sound. And, in today's crowded market, it's easy for a few duds to slip in under the radar. Thankfully, there are some manufacturers that are known for good quality. One of these is Mpow.
Today, we'll be looking at two of Mpow's latest offerings: the Flame Pro, and the M9. Both of these earbuds have a lot to offer, and we think either pair would be a solid choice. But there are important differences that need to be considered. After all, not every pair of earbuds is right for every user. With that in mind, let's compare the two, and see how they stack up.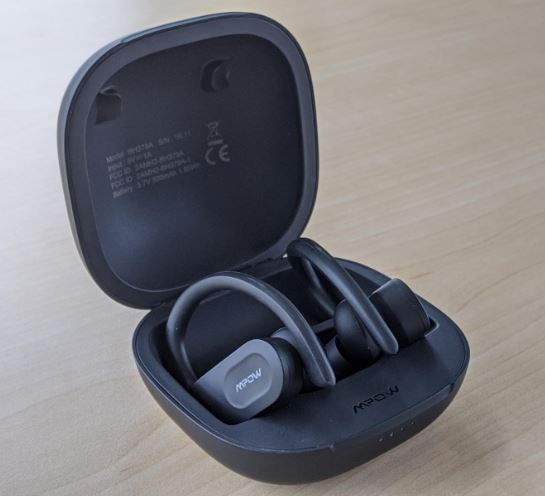 Mpow Flame Pro
Mpow's Flame Pro earbuds are designed with security first and foremost in mind. Instead of simply sitting in your ears, they feature rubberized ear hooks that wrap over the tops of your ears. These ear hooks are fully adjustable, which allows for a truly customized fit. In addition, there are 4 different sets of silicone ear tips included in the kit. If you're not comfortable with the fit, simply swap out the ear tips or adjust the hooks as you see fit. They're constructed from ABS plastic, with large side panels that provide plenty of space for buttons.
The buttons on the Flame Pro have a soft touch, which means even a light tap will set them off. They can be used to play or pause music, answer or end phone calls, skip tracks, and adjust the volume. A double tap will also activate Siri or Google Assistant, allowing for a full array of voice controls. One feature we really appreciated was the automatic play/pause function. Each earbud has a built-in gyroscope, which senses when you take it out. When either earbud is removed, your music will automatically pause. It will automatically restart when the earbud is reinserted. This is a great feature when you're in line at a store, or if someone suddenly starts talking to you.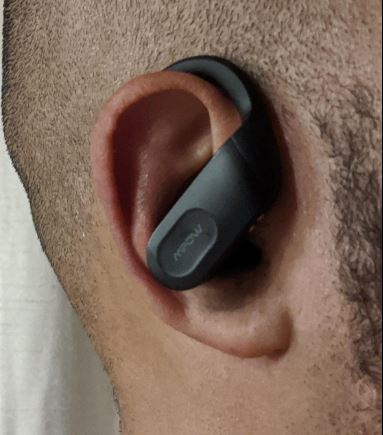 The Flame Pro charging case is flat and wide, measuring 4.1 x 4 x 3 inches. This is hardly pocket-sized, but it is lightweight, tipping the scales at only 4.2 ounces. As a result, you can throw it in your backpack or laptop bag for easy transport. The case has a clamshell design, with a secure, spring-loaded lid. On the front, you'll find a row of 4 LED lights which indicate the battery's current charge state. The USB Type-C charging port is located on the back, allowing for discreet, easy charging. Both the case and the earbuds are IPX7 water-resistant. This is one of the highest IP ratings available, and it means the Flame Pro can withstand full submersion. Take these earbuds in the shower, or even wear them swimming if you want to. They'll be just fine.
These earbuds include an LDS satellite antenna, which allows for an exceptionally clear, lag-free connection. They connect via Bluetooth 5.0, ensuring plenty of stability. The total range is 33 feet, enough to walk around the room, if not around the house.
One disadvantage of any earbud is that they can be easy to lose. If you're concerned about losing your earbuds, consider a pair with a connecting neck strap. One excellent choice is the Mpow Flame 2, which we've already reviewed.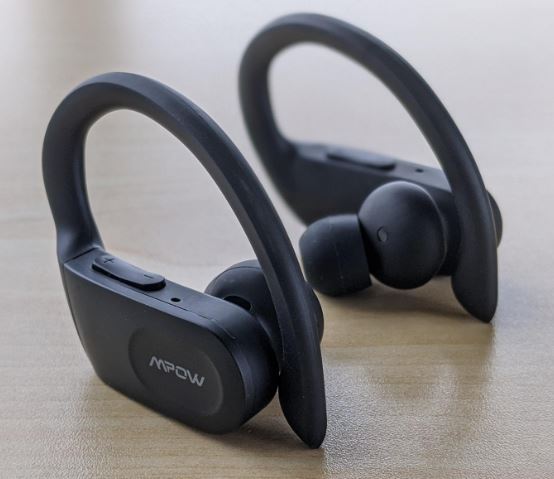 Battery & Sound Quality
The Mpow Flame Pro earbuds' batteries are rated for 8 hours of continuous playback. This is a manufacturer rating, based on playback at 50 percent volume. In practice, you can expect about 6 hours at full volume, which is still not bad at all. In addition, the charge case holds enough juice for 3 full recharges. This provides a total of 32 hours of rated battery life, or about 24 hours in real-world terms. That's enough for a few weeks' worth of commutes, as well as workouts and general use. The case charges via USB Type-C, and a charge cable is included in the kit. It can also recharge wirelessly, with any standard Qi charger.
Sound quality is also excellent, across all parts of the spectrum. The bass is punchy, the highs shimmer, and the mids are clear. As a result, Flame Pro earbuds are well-suited for any genre of music, as well as podcasts or audiobooks. We should point out that the bass isn't as powerful as you'd get from full-fledged headphones. However, with small earbud drivers, that's to be expected. The Flame Pro also supports Qualcomm's aptX audio codec, which allows for exceptionally low latency. As a result, these earbuds are well suited for gaming and watching movies, as well as listening to music.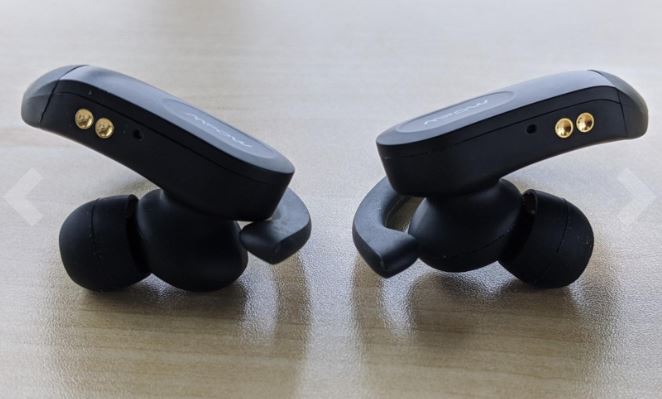 In addition to excellent music quality, the Flame Pro earbuds are a great choice for hands-free phone calls. They use CVC 8.0 noise cancellation, which makes your voice come through clearly to the person on the other end. 4 microphones, 2 on each earbud, make this possible. Whether you're driving in heavy traffic or walking through a crowded train terminal, you'll be easy to hear. These earbuds also support mono mode, although it's limited to the right earbud. If you want to maintain situational awareness, just use the right earbud and hands-free calling will still work. That said, you'll be missing half of your buttons.
Of course, Flame Pro earbuds are fairly large, and not everybody wants an over-the-ear design. If you're looking for comparable Mpow quality but don't like the size, consider the Mpow T3. They fit neatly into your ears, and don't have any extraneous obtrusions.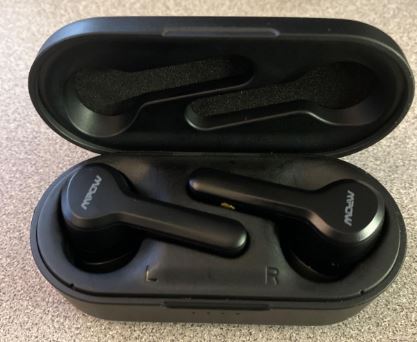 Mpow M9
Mpow's M9 earbuds have a compact, AirPod-style design, complete with extensions that hang down. This design became popular from the moment that Apple first released the AirPods, and it works well. However, it relies on a secure fit to keep the earbuds from falling out. To assist with this, the M9 includes 3 sets of extra ear tips, so you can adjust the fit as needed. The backs of the earbuds have small LED lights, which illuminate when they're inserted properly in the charging case. They also have soft touch buttons for all the controls, which are very comfortable to operate. The controls allow for answering and ending calls, playing and pausing music, skipping tracks, and adjusting volume. You can also use them to open Siri or Google Assistant.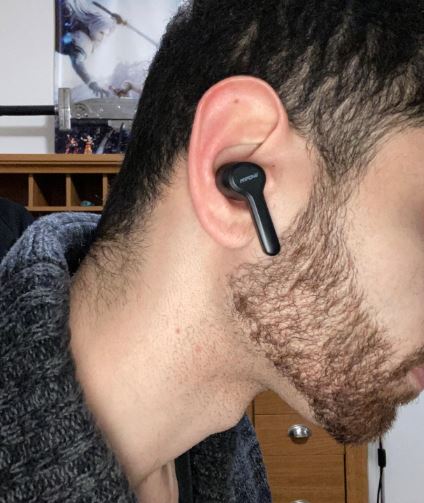 The charging case is constructed from black ABS plastic, and has a clamshell design with a magnetic closure. This ensures that it won't easily pop open when you don't want it to. It measures 3.11 inches wide, 1.38 inches deep, and 1 inch tall, and tips the scales at 3.52 ounces. As a result, it's easy to slip into your pocket, so you can carry it wherever you like. The earbuds and the case are both IPX7-rated for water resistance. This means they can withstand full submersion, so you'll never need to worry about water. Wear them in the rain, during a sweaty workout, or even take them in the shower if you like.
M9 earbuds utilize the latest Bluetooth 5.0 protocol. This ensures a stable connection, with minimal latency and zero dropped calls. The range of the signal is 33 feet. You'll have a bit of mobility if you want to leave your phone on the charger while you listen.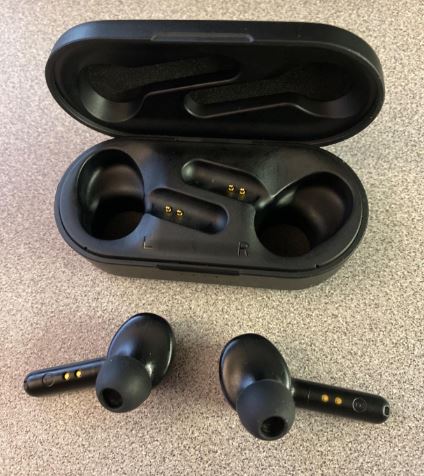 Battery & Sound Quality
The M9 earbuds' batteries offer 5 hours of playback on a charge. Adjusting for the fact that this is a manufacturer rating, you can count on about 3 ½ to 4 hours. However, the case holds enough of a charge to recharge them a full 5 times. Provided you don't mind carrying the case around, you'll have plenty of battery life. The batteries are also long-lasting, providing an impressive 200 hours of standby time. If you haven't used them in a couple weeks, you don't need to worry about them running dead. In addition, a full recharge only takes 2 hours. So, in practice, you can charge them while you sleep and never need to worry about battery life.
The sound quality is excellent, with plenty of response across the full spectrum. The bass is good enough for dance music, the highs are great for strings and synths, and the mids are clear. This allows for plenty of detail when listening to audiobooks. There's no active noise cancellation, but that's to be expected in most pairs of earbuds.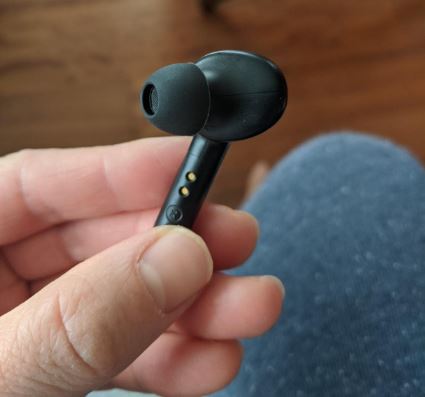 The M9 also supports mono mode on both the left and the right earbud. If you're using your earbuds for hands-free calling, you can effectively double your battery life. Best of all, they're specifically designed for this, so you won't have any issues re-pairing in stereo mode. You can use mono when you're driving, then switch to stereo for complete immersion.
Final Verdict
In the final analysis, the Flame Pro and the M9 are remarkably similar. To begin with, the sound quality is about the same. Either way, you're getting excellent bass response for a pair of earbuds, far better than average. The bass particularly shines when you're listening to dance music; you'll get plenty of punch.
That said, there are a couple of important differences. To begin with the Flame Pro has a secure, over-the-ear design that makes them difficult to lose. Meanwhile, the M9 has an in-ear design that's more compact. This makes the M9 more comfortable, while the Flame Pro is better suited for intense physical activity. On the other hand, the M9 allows for mono mode on both earbuds. If you frequently use your buds for hands-free calling, you'll appreciate this feature. That said, the Flame Pro offers superior call quality, thanks to the CVC 8.0 noise reduction.
Meet Derek, "TechGuru," a 34-year-old technology enthusiast with a deep passion for tech innovations. With extensive experience, he specializes in gaming hardware and software, and has expertise in gadgets, custom PCs, and audio.
Besides writing about tech and reviewing new products, Derek enjoys traveling, hiking, and photography. Committed to keeping up with the latest industry trends, he aims to guide readers in making informed tech decisions.