So, you want to buy a new set of earbuds? There are plenty of choices to choose from. But not all of them are worth your money. Some offer excellent performance, while others, frankly, aren't worth the cost of the plastic shells. But how do you know the difference? The easiest way is to simply choose a reliable manufacturer, and Mpow is one of the best. They have a long track record of producing well-engineered audio equipment.
Today we'll be comparing two of their latest offerings, the M20 and the M30. As you might expect, these earbuds have a lot in common, since they're part of the same series. But there are some important differences between the two. Let's check out all of their features, and see how they stack up!
Note: At no extra cost to you, we may earn a commission for purchases using our links. Learn more.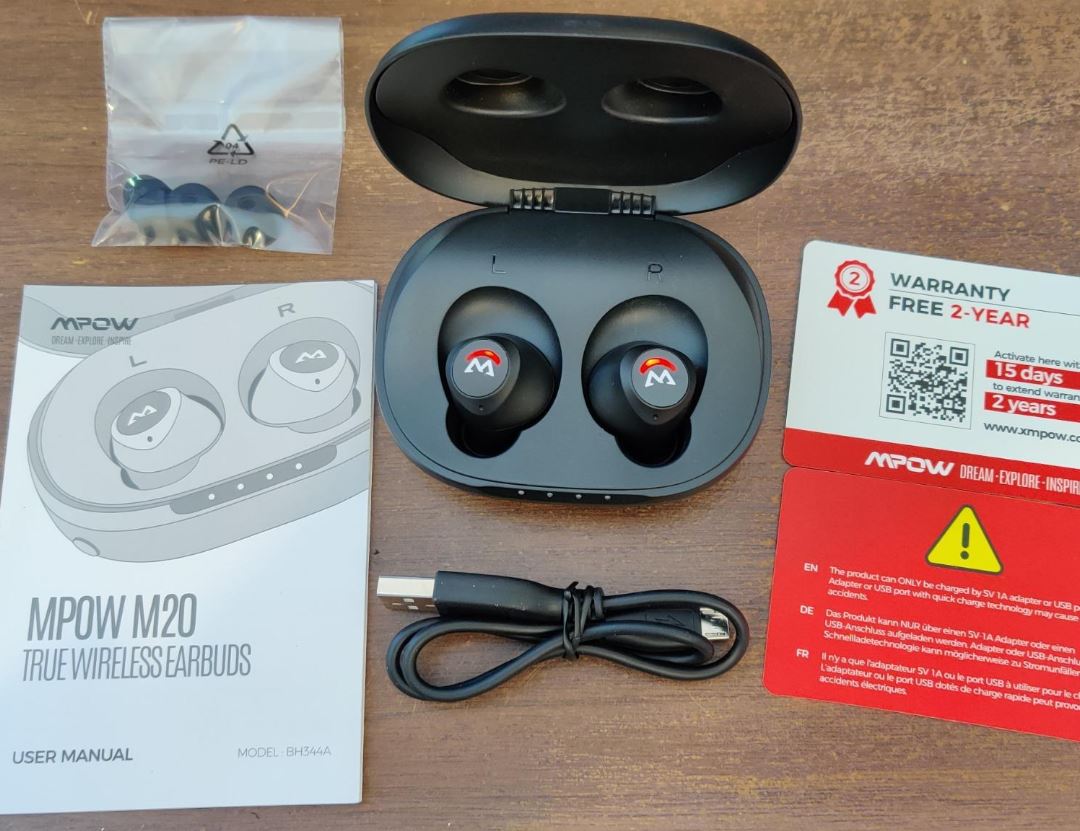 Mpow M20 Wireless Earbuds
The Mpow M20 Wireless Earbuds are constructed from glossy black ABS plastic. They have an attractive, teardrop-shaped profile that sits comfortably in your ear. The ear tips extend out from one side of the teardrop, and are designed to provide a tight seal. When properly fitted, they will sit firmly in your ear canal, and provide protection from extraneous noise. To help with this, Mpow provides three different sizes of silicone ear tips. If they don't fit right when you first take them out of the box, try swapping out the tips. Once you've gotten the right fit, the M20 buds are very comfortable to wear.
The backs of the earbuds have a white Mpow logo in the center. This logo isn't just for show. The center of the bud backs actually function as touch control buttons. Because they have a soft touch design, pressing them won't cause any discomfort. You barely need to brush them with your finger to operate them. They're also IPX7-rated for water resistance. This is the second-highest water resistance rating available. It means they can stand up to a stream or jet of water, but they're not submersible. Still, they're more than good enough to wear in the shower.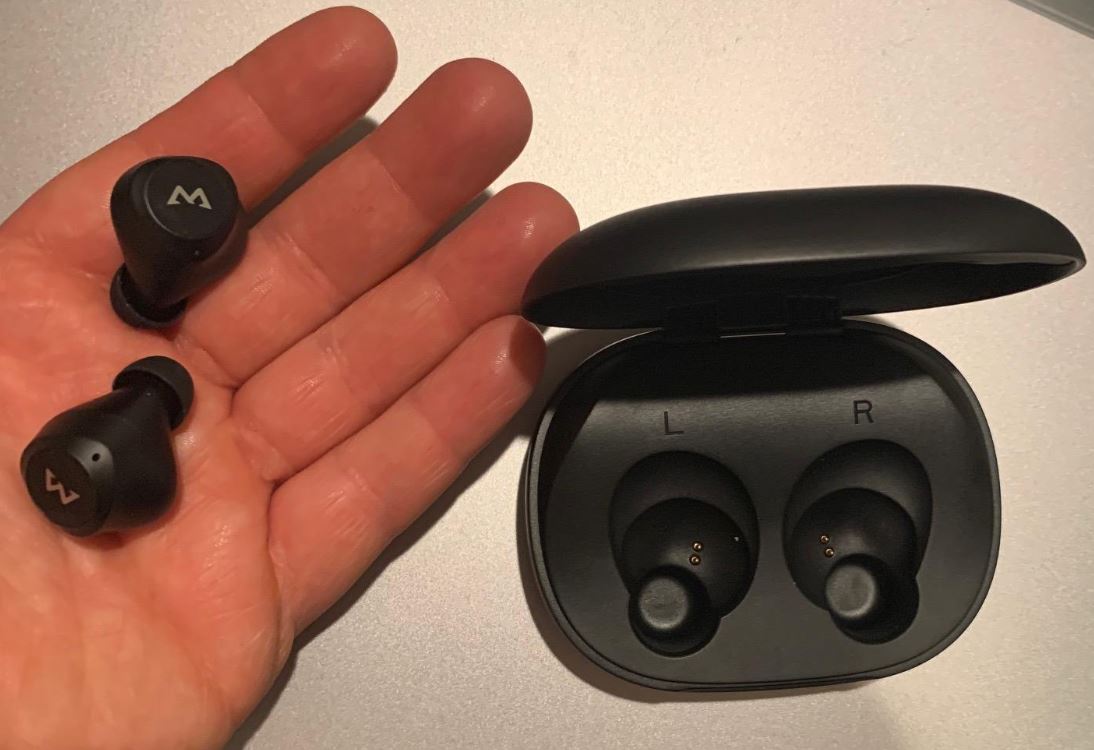 The charging case measures 4.8 inches in width, 4.4 inches in depth, and 1.6 inches in thickness. This makes it a bit large for carrying in most pockets. However, it's still compact and light enough to carry easily in a purse or a backpack. It has a clamshell-style design, with a spring-loaded lid that's easy to secure. The finish is smooth and glossy, and matches the earbuds perfectly. And the rounded corners also evoke the same aesthetic as the smooth lines on the earbuds. On the front of the case, just under the lid, there's a row of four white LED lights. These lights let you know the current status of the battery.
If you like the design of the M20, but you want an even more secure fit, Mpow has plenty of offerings. For example, the Mpow T3 True Wireless Earbuds are an excellent choice for style and fit. That said, they offer significantly less battery life than the M20.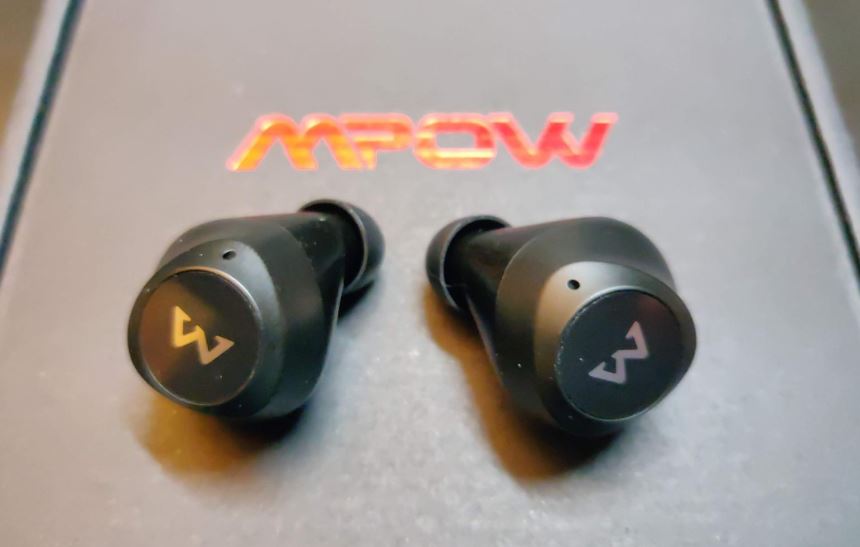 Battery and Connectivity
The Mpow M20 earbuds have a battery life of six hours. This is about average for a pair of wireless earbuds. It's also based on manufacturer tests, which are typically performed at 50 to 80 percent volume. If you prefer your music at max volume, you might get slightly less battery life. Battery life can also vary based on other factors. It depends on bitrate, and even ambient temperature. The charging case provides a significant amount of battery backup. All in all, you can get up to 100 total hours of battery life. That's nearly unheard-of in the world of wireless earbuds.
All of this battery life will not go to waste, even if you don't need 100 hours. The reason is that the charging case doubles as a 2,600mAh power bank. As power banks go, this isn't terribly impressive. It's enough to charge your iPhone X to about 80 percent, or your Samsung Galaxy S8 to about 70 percent. There are plenty of dedicated power banks on the market that offer much more capacity. But it's nice to have the option if you need an emergency power supply.
The M20 earbuds utilize the latest Bluetooth 5.0 protocol. This is an upgraded version of the older 4.2 protocol, and offers significantly better performance. It has a range of 33 feet, so you can roam around a bit while you're listening. It also offers reduced lag. This means the M20 buds are perfectly suitable for watching movies and videos. Not only that, but you can listen to high bitrate audio. The M20 buds can also be paired individually. This means you can use them for hands-free calling while you're driving. You'll also double your battery life that way; not that it's necessary with the M20's already impressive capacity.
Sound Quality
So, how does the sound quality of the M20 earbuds compare to the competition? These are Mpow earbuds, so you can expect performance in line with Mpow's other newer offerings. The mid and high frequencies are crisp and clear, with plenty of shimmer at the high end. And the bass is powerful and punchy, more so than most wireless earbuds. In addition, the M20 buds support the aptX low-latency audio profile. With aptX, you get minimal latency, even when you're listening to high-bitrate audio.
Call quality is also on par with the best earbuds on the market. You'll be able to hear the other person just fine, providing they have good mics. On their end, they shouldn't have any issues at all. The M20 earbuds use CVC 8.0 noise cancelling. This brings your voice to the forefront, while filtering out ancillary noise.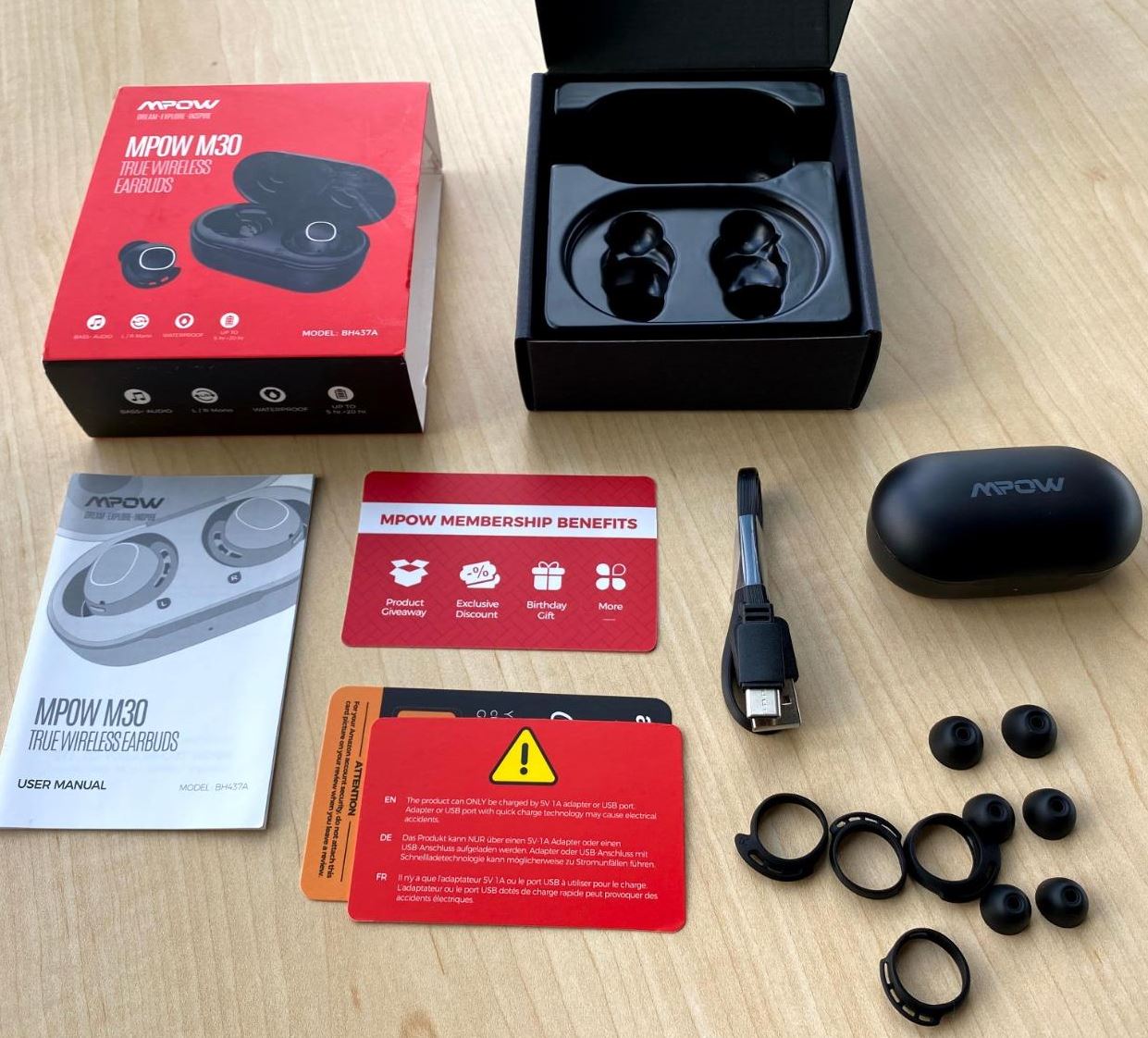 Mpow M30 Wireless Earbuds
The M20 Wireless Earbuds are built primarily for music lovers. The Mpow M30 Wireless Earbuds, on the other hand, are built for workout enthusiasts. They're designed to provide as secure a fit as possible, with two different retention methods. First, you get three sets of silicone ear tips. As with most ear tips, these are designed both for retention and to block out outside noise. Second, they have small ear fins which are designed to provide even more retention. These ear fins come in two different sizes, so you can find the ideal fit for your ears.
All of this provides excellent retention. You don't have to worry about your earbuds falling out while you're running or jumping. But suppose you want to go a step further? In that case, check out our review of the Mpow Flame 2. These earbuds have an over-the-ear fit, as well as a neck strap for added security. That said, the battery life is limited to 10 hours, with no charging case.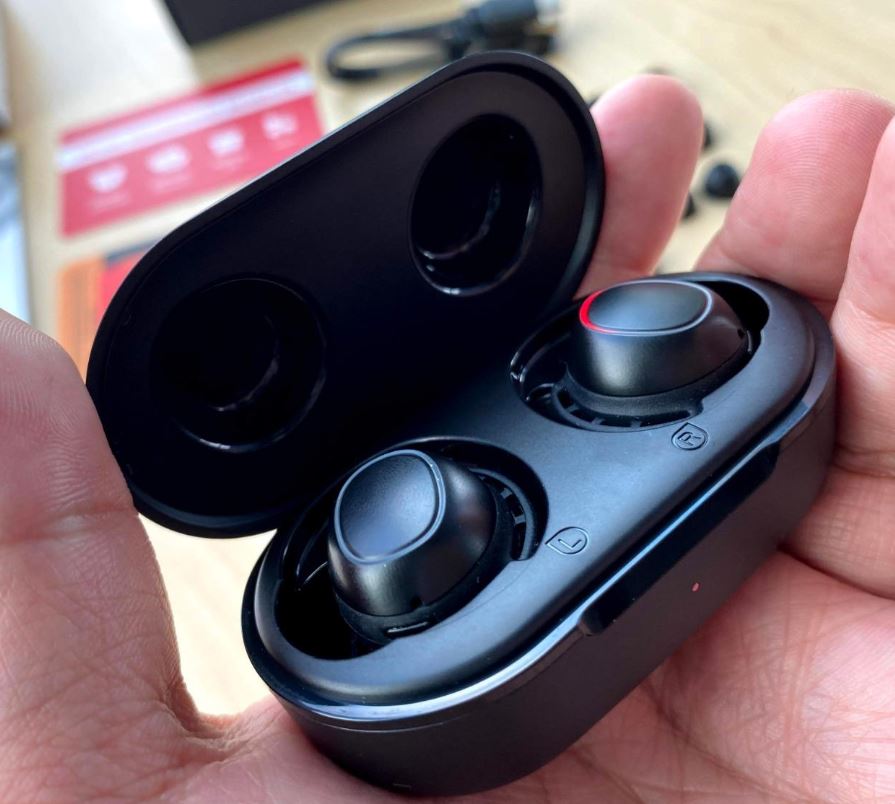 The outer shell of the M30 has an attractive matte finish, with soft touch controls similar to the M20. It's IPX7-rated for water resistance, so it will stand up to most moisture. It also has an outer nano-coating. This coating causes sweat and moisture to bead up and roll off, so moisture is no problem at all.
The M30 comes with a charging case, which measures 4.3 inches wide, 3.9 inches deep, and 1.5 inches thick. It's a bit large to carry in your pocket, but it's not too big or heavy for a bag. With a glossy, charcoal finish, it's easy on the eyes. The spring-loaded lid is easy to open, but still stays shut when you close it. On the front, you'll see a single blue LED. This doesn't function as a battery meter. It simply lets you know when the earbuds are charging or the charger is plugged in. The entire kit is protected by a 2-year warranty, so manufacturer defects are simply not a concern.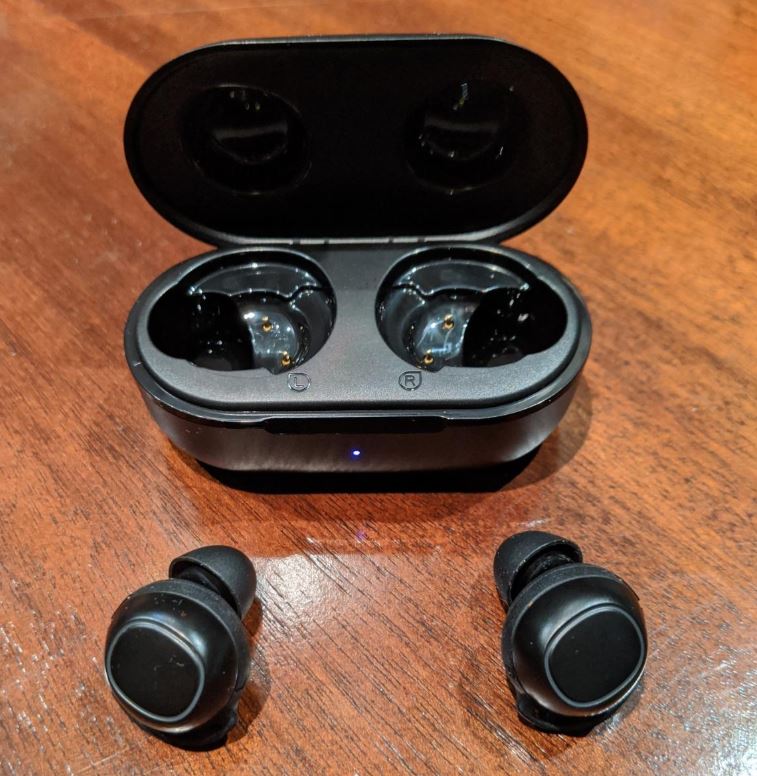 Battery and Connectivity
The M30's battery holds enough charge to provide five hours of playtime. This isn't impressive, but it's still good enough to get the job done. More disappointing is the fact that the case only provides about 20 hours of additional charge. You're not going to get a whole weekend's worth of use. That said, this isn't what the M30 is designed for. It's designed for workouts, and five hours should be more than enough for that purpose. In addition, the case itself charges relatively quickly. Even when totally drained, it will fully charge by about 90 minutes via USB Type-C.
Like the M20, the M30 uses the Bluetooth 5.0 protocol. You won't have any issues with lag, dropped calls, or limited bitrates. The buds can also be paired individually. If you're looking for hands-free calling, you can easily use a single bud.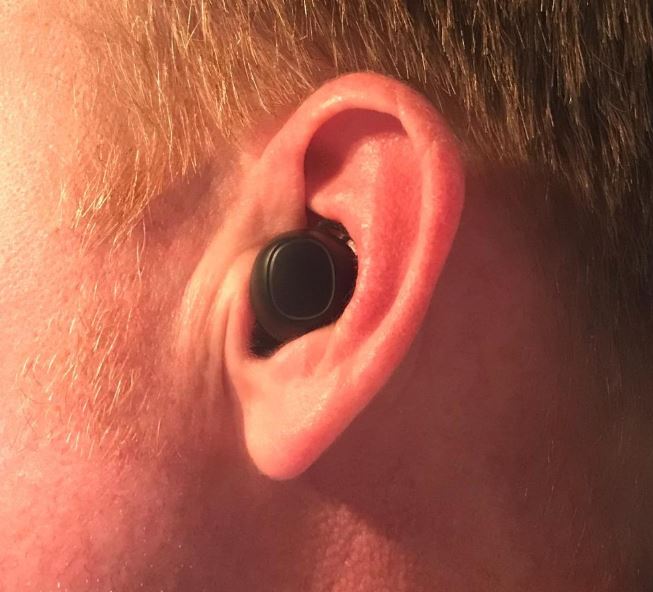 Sound Quality
When it comes to music quality, the M30 earbuds offer identical performance to the M20. They're part of the same series, and they have the same drivers and internal parts. Suffice it to say that you'll get excellent audio quality. Call quality, on the other hand, is not quite as good. The M30 buds do not have CVC noise cancellation. As a result, if you're in a loud environment, the other person might have a hard time hearing you.
Final Verdict
When comparing these two earbuds, it's important to keep in mind that they're built for different purposes. First, let's acknowledge what they have in common. The audio quality is identical. This didn't happen by accident. It's because they're part of the same series. But there are still notable differences between the two.
To begin with, the Mpow M20 Wireless Earbuds are designed primarily for listening to music. They have a comfortable fit, so you can enjoy your music in a peaceful, relaxing environment. And if you're on the road, you'll be able to take advantage of their exceptionally powerful charging case. Not only that, but they're a great choice for hands-free calling. The CVC 8.0 noise cancelling will ensure a noise-free connection.
The Mpow M30 Wireless Earbuds, on the other hand, are purpose-built for workouts. The small ear fins make them almost impossible to lose by accident. The nano-coated finish is also a nice touch, particularly if you're sweating heavily. The battery life is a bit disappointing, but that's not a major concern. If you're using the buds for your daily workout, you should have plenty of time to maintain a charge.
Please consider sharing:
Note: At no extra cost to you, we may earn a commission for purchases using our links. Learn more.