It's safe to say that we rely on electronics more today than we ever have. It's also safe to say that as time goes on, we're going to rely even more on our electronics. This has led to a proliferation of portable power banks, to help you extend your battery life. With newer technology like Quick Charge 3.0 and PD, you can charge almost any device very quickly. But not all devices can charge via USB. Some laptops and most drones, for example, still rely on AC power. If you want to charge one of these devices, you're going to need a power bank with an AC plug.
Today, we'll be reviewing the RAVPower 30000mAh Portable AC Charger (Model: RP-PB055 Power Bank). This power bank has a large capacity, as well as several charging ports. And it features a 3-prong AC outlet, so you can charge a lot of nontraditional devices. But what else does it have to offer? And is it worth your money, or should you look elsewhere? We'll take a look at all the features, and see how it stacks up to the competition. We'll also consider what you can actually do with 30,000mAh, as well as the safety features involved. Let's get started!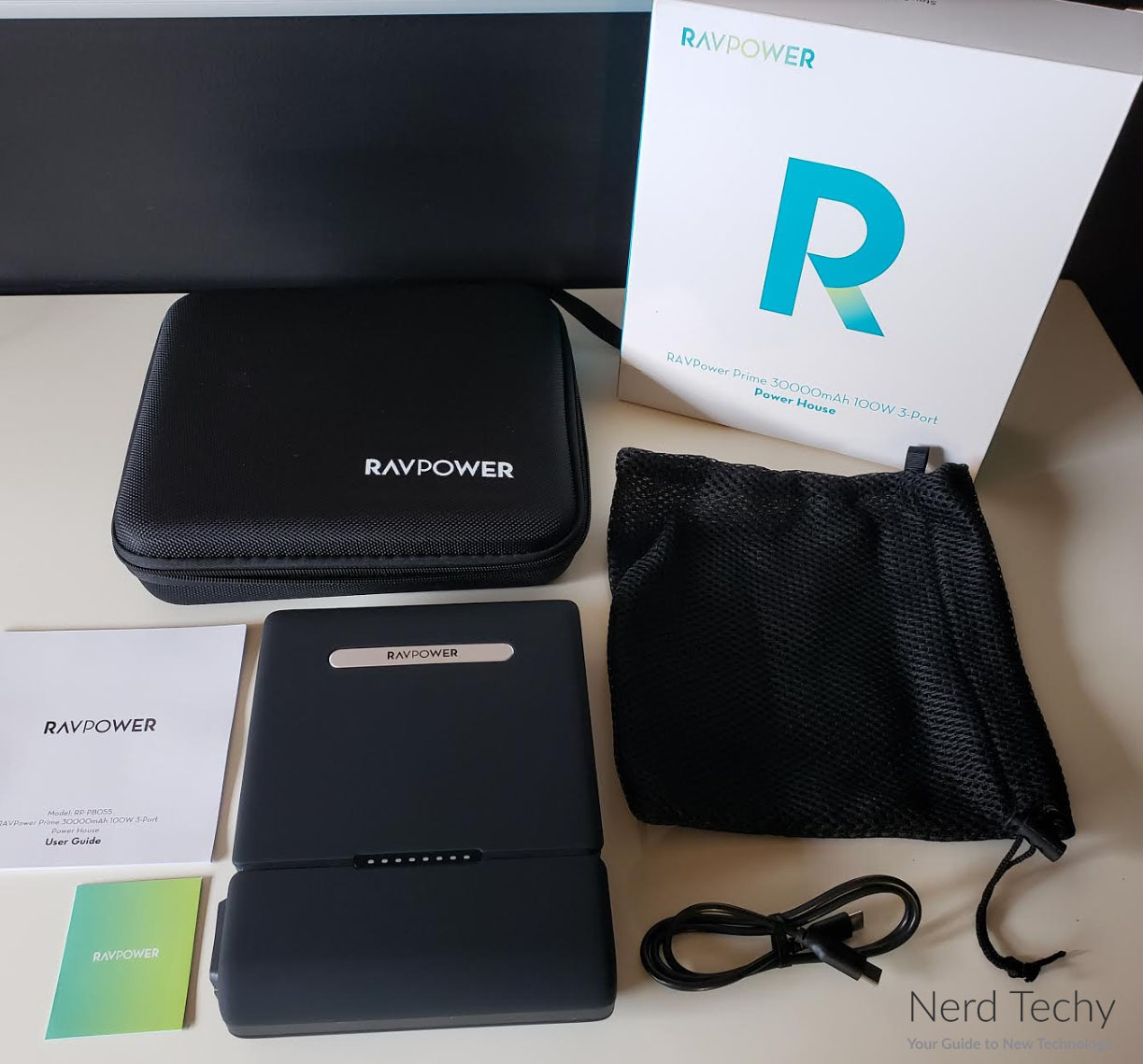 Overall Design
The first thing you'll notice about the RAVPower 30000mAh Portable AC Charger is that it's relatively large. It measures 6.7 inches wide, 5.43 inches deep, and 1.38 inches thick. It's also relatively heavy, tipping the scales at 2.21 pounds. In other words, this is not exactly a pocket-sized power bank. That said, it's not ridiculously large; you can easily carry it in a laptop bag. And the size and weight are just side effects of the large, powerful battery. There's only so small a 30,000mAh battery can get.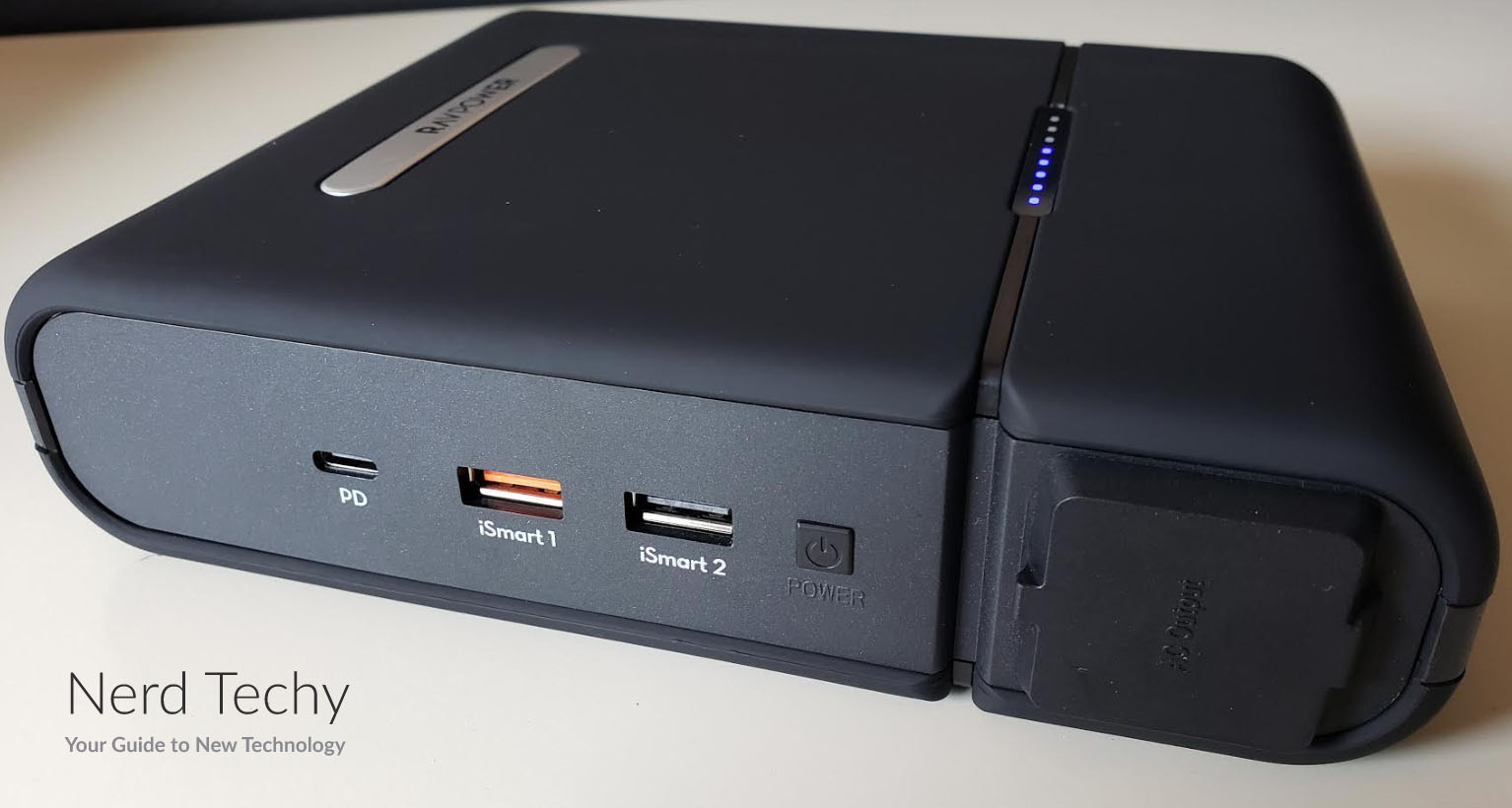 The case itself is constructed from glossy black ABS plastic. It has a curved profile, without any sharp corners to damage your other gear. On the top, there's a silver plaque with a black RAVPower logo emblazoned on it. There's also a row of eight bright blue LEDs that indicate the power level. These LEDs are generally turned off to save battery life. However, they illuminate when the power bank is in use. The LEDs are located in a recessed groove that wraps around the entire case. This groove separates the USB charger portion of the device from the AC charger portion.
One of the RAVPower 30000mAh Portable AC Charger's features is that it's exceptionally safe to use. It has a built in fan, in the back right side of the unit behind the AC port. This fan sucks air through the unit, from vents in the left side to vents in the right side. This fan automatically kicks in when the battery temperature reaches a temperature of 122 degrees Fahrenheit. When the temperature drops back down, the fan will automatically shut off. This is an excellent safety feature, but it does make a whirring noise while it's in operation.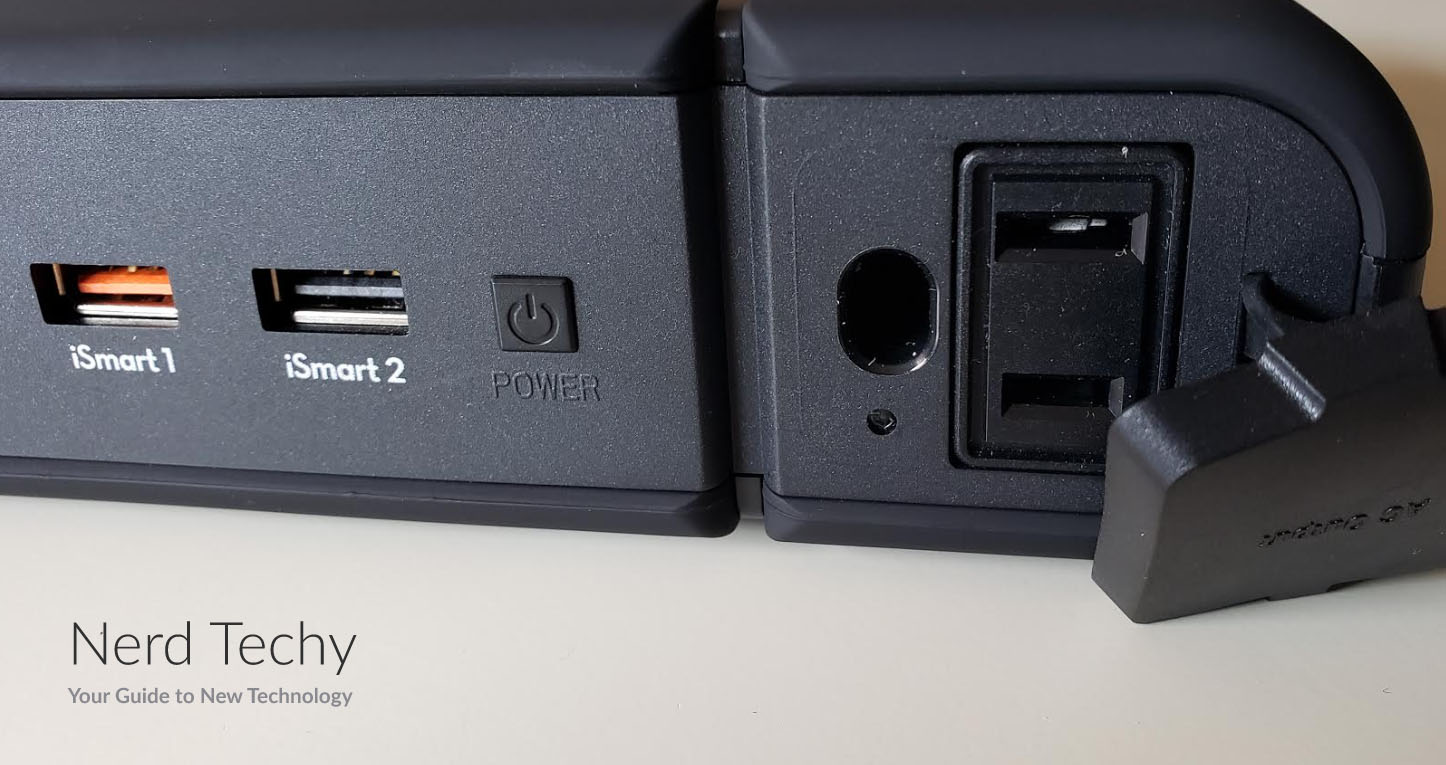 All of the charging ports are located on the front of the power bank for easy access. On the left, there's a PD-capable USB Type-C port for charging your laptop or PD-capable smartphone. Next, there's a Quick Charge 3.0 USB Type-A port for charging your smartphone. There's also a secondary, standard USB Type-A port for charging your other devices. Finally, there's a three-prong AC outlet with a spring-loaded cover that keeps out dust and debris. Between the USB ports and the AC outlet is a power button. This is used to power on the device, as well as to switch between USB and AC charging.
The RAVPower 30000mAh Portable AC Charger also comes with a couple of accessories that make it more functional. First off, there's a 24-inch USB Type-C charging cable. Secondly, there's a sturdy travel pouch. It's not entirely crush-proof, but it's well-padded and easily zippers open and shut. Finally, you get RAVPower's 18-month manufacturer's warranty, to protect you from any defects.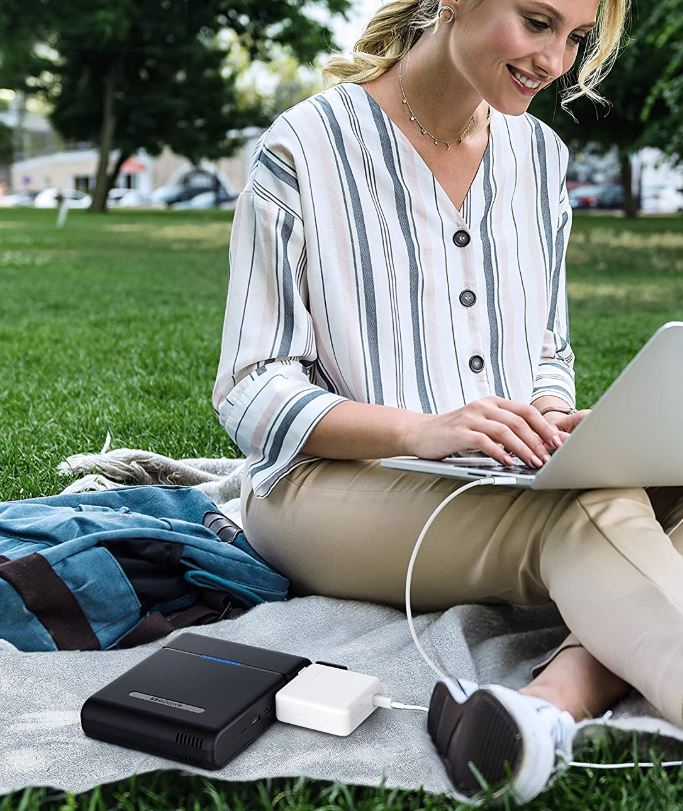 Battery Performance and Capacity
As its name implies, the RAVPower Model RP-PB055 has a capacity of 30,000mAh. This is sufficient to charge just about any electronic device on the planet. You can charge an iPhone X ten times, or a Samsung Galaxy S8 eight times. You can recharge a Nintendo Switch six times, or a MacBook Pro 16 a little more than three times. You can even fully charge a MacBook Air once, which is unusual for a portable power bank. As you can see, this is an impressive level of capacity. But suppose you want even more? In that case, check out our review of the Crave PowerPack 2. It has a capacity of 50,000mAh, which is absolutely insane. Keep in mind, though, that it's also fairly big and bulky.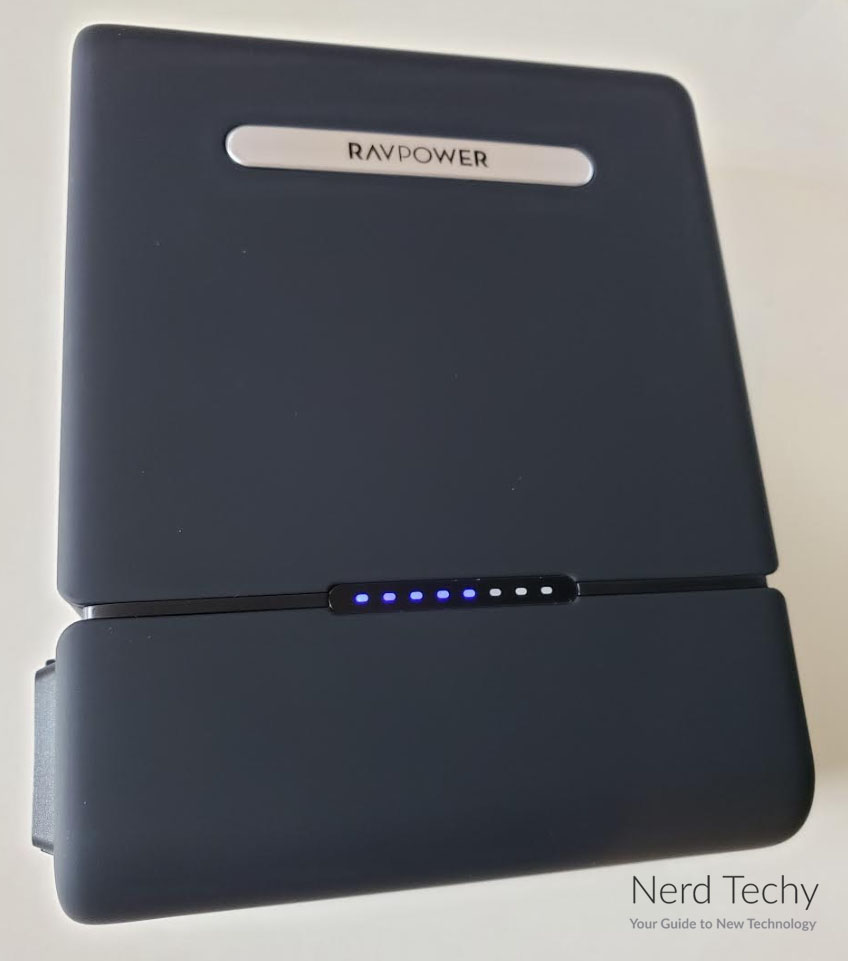 When it comes to travel, this RAVPower power bank is a bit of a mixed bag. On the one hand, while it's not pocket-sized, it's not excessively big. You can carry it in a backpack or a laptop bag without causing any issues. That said, its massive capacity comes with a downside. At 150 watt-hours, it's 50 percent more powerful than the TSA's 100 watt-hour limit for carry-on luggage. If you need a flight-worthy power bank, RAVPower does have some offerings. For example, the RAVPower Model RP-PB172 has a respectable 20,000mAh capacity, and only 74 watt hours. It also has several USB ports in different flavors, albeit no AC plug.
As we've already mentioned, the RAVPower 30000mAh Portable AC Charger has excellent thermal protection. But it's also safe from a variety of other types of damage. It has overcurrent and over-voltage protection. These ensure that if it receives an excessive amount of power, the internal circuitry won't get damaged. It also has over-discharge protection, which prevents you from draining the battery to the point that it's permanently dead. Finally, it has short-circuit protection. Not only does this keep your power bank safe, it also protects any devices that are connected to it.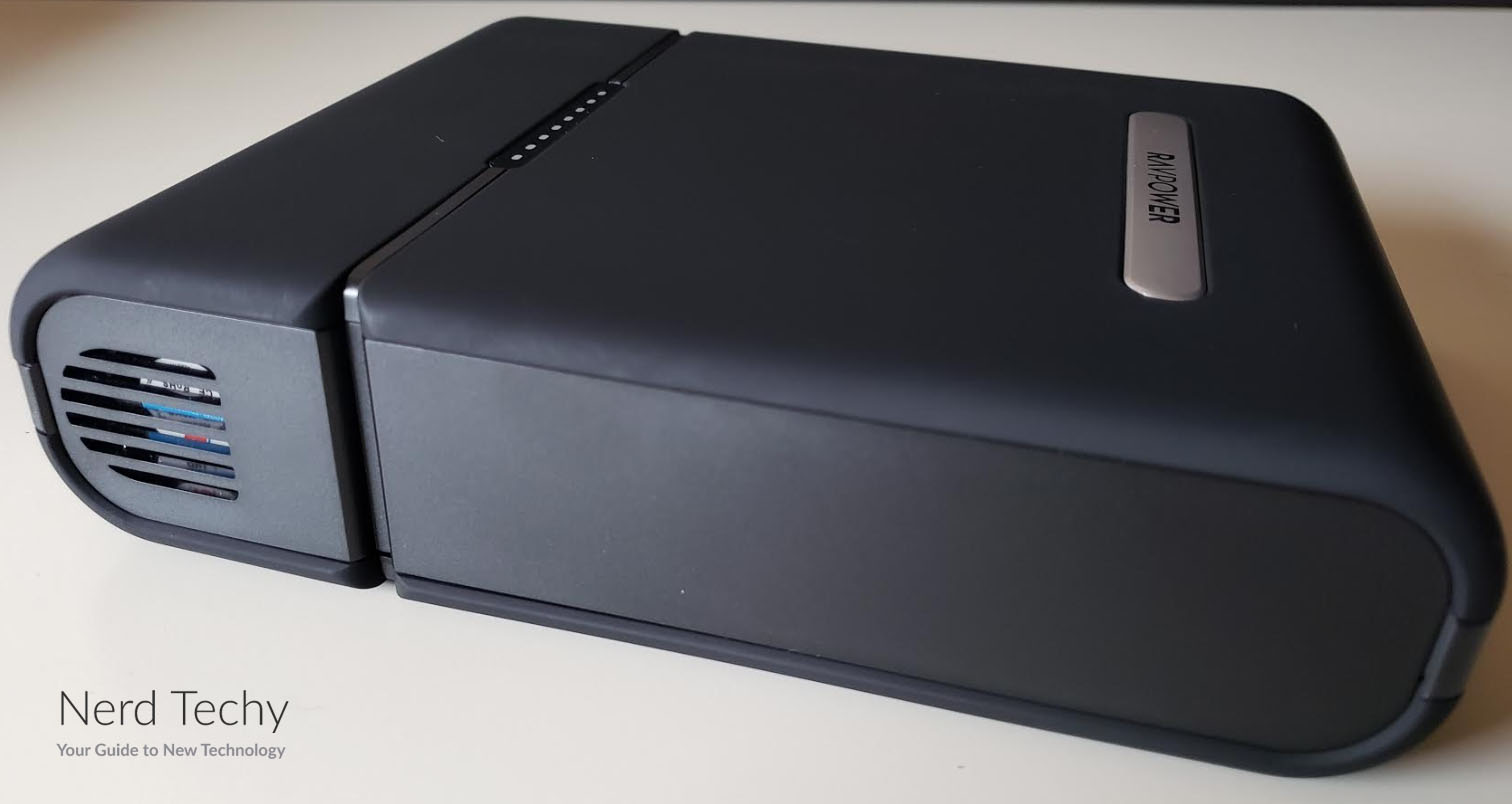 How fast the RAVPower 30000mAh Portable AC Charger will recharge depends on the power supply. The standard option is simply to use a 45-watt or higher PD charger. When charged in this fashion, the power bank will recharge in only 3 hours. Unfortunately, there's no AC charger included in the kit. Fortunately, RAVPower already makes one, the RAVPower 90W 2-Port USB-C Wall Charger. This wall charger can supply up to 90 watts, so you can quickly charge any PD-capable device. Alternatively, you could just use a normal USB Type-C charger. In this case, the battery will take about 11 ½ hours to fully charge.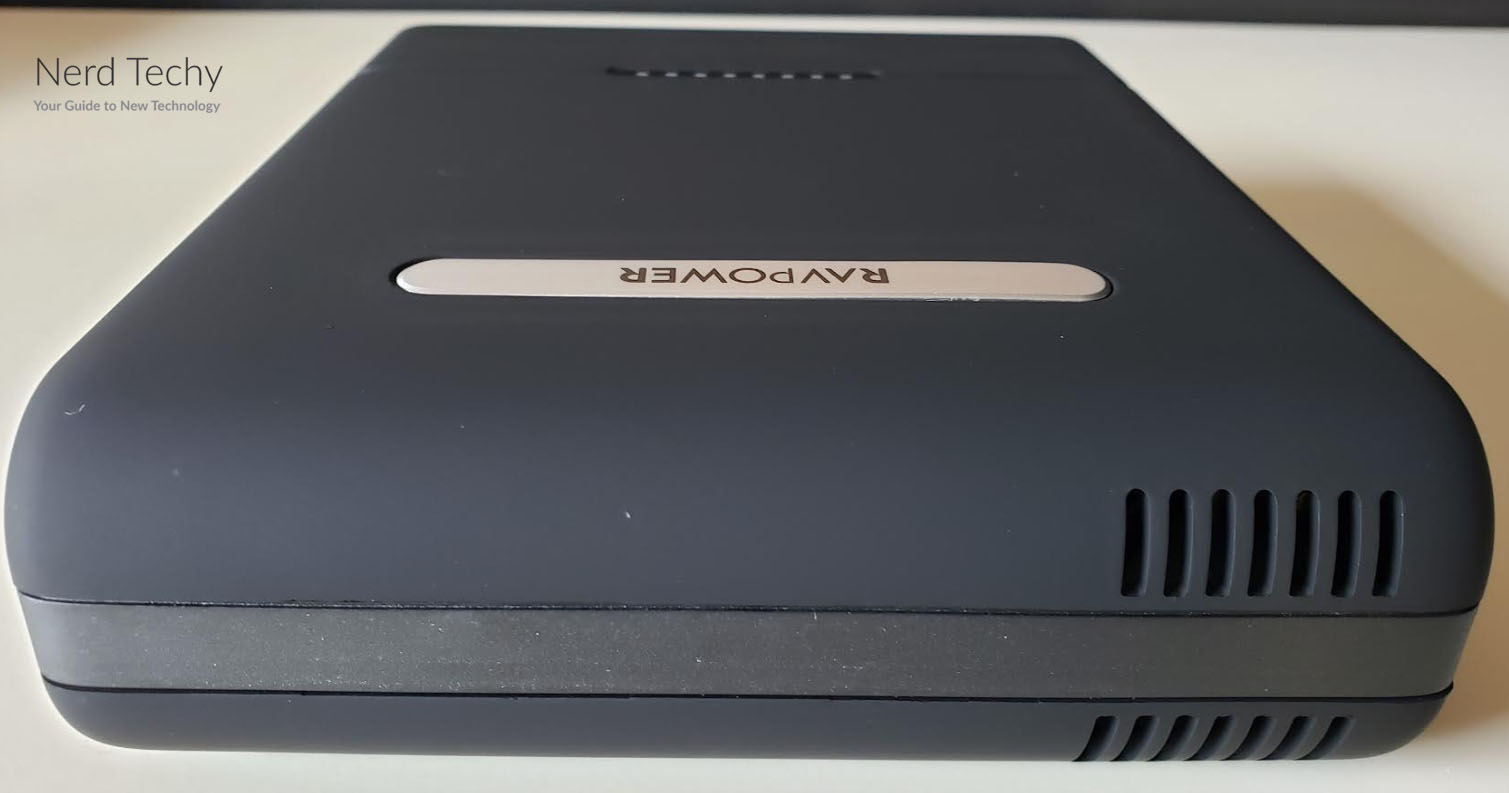 Compatibility
The RAVPower 30000mAh Portable AC Charger can charge a wide variety of devices. To begin with, the PD port outputs a total of 60 watts. At this rate, it's capable of charging any laptop on the market while it's still in use. It can fully charge a MacBook Pro 16 in four hours. You just won't get that kind of performance from most portable power banks.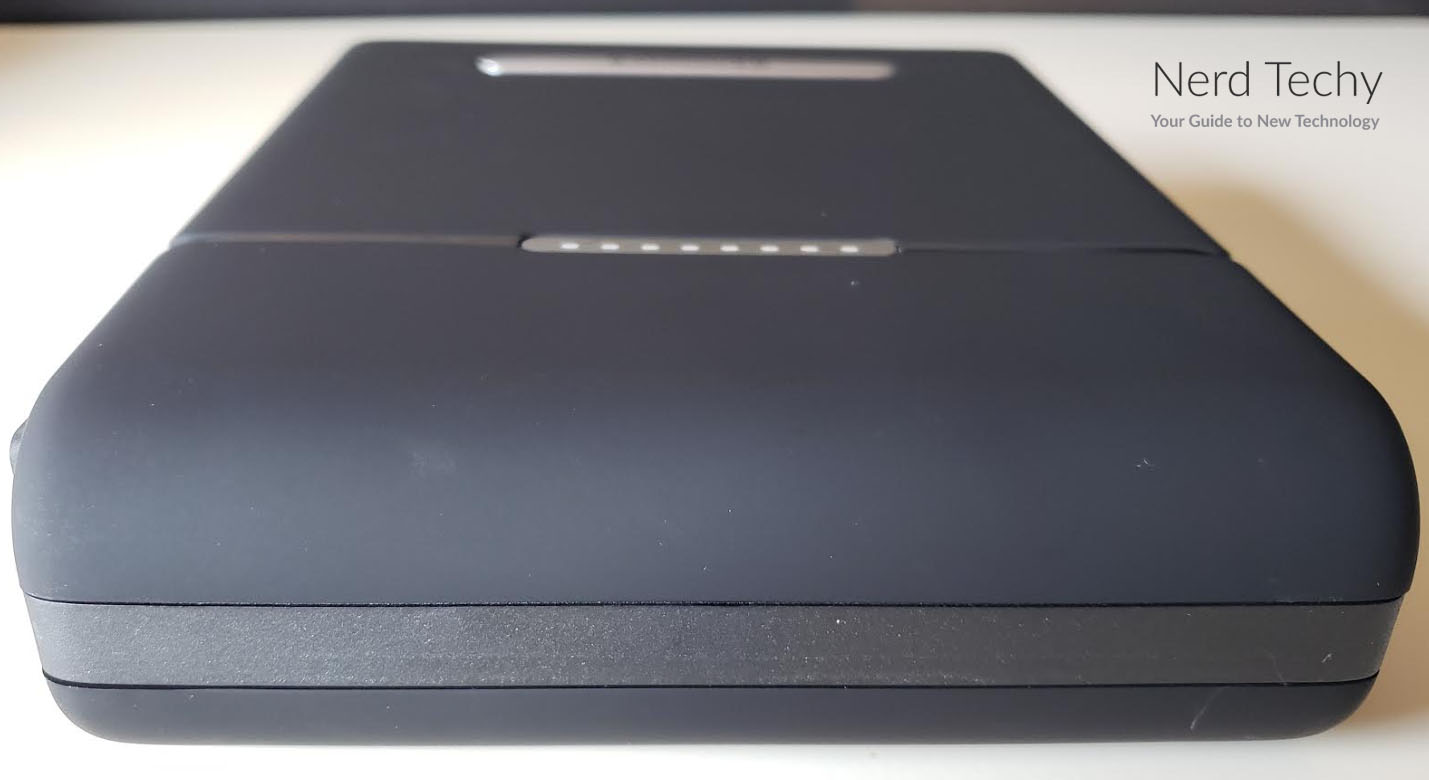 Next, let's look at the two USB Type-A ports. Both of them use RAVPower's iSmart technology. This technology adjusts the current for a device's specific needs. Not all smartphones will charge equally well from default voltage and amperage. An iSmart charger will use exactly the right current, ensuring that you get the best possible battery life.
The left-hand USB 3.0 port supports Quick Charge 3.0, with a max current of 18 watts. This is the standard for most Quick Charge smartphones. You can fully charge your iPhone X or Samsung Galaxy S8 in less than an hour. The second USB Type-A port simply delivers a standard Type-A current. However, it still uses RAVPower's iSmart technology. The left port has an orange tab, which makes it easy to identify the Quick Charge port. On the other hand, we would have liked to see a high-visibility tab in the standard port as well. When you're using the standard port, you'll have to figure out how to orient your plug.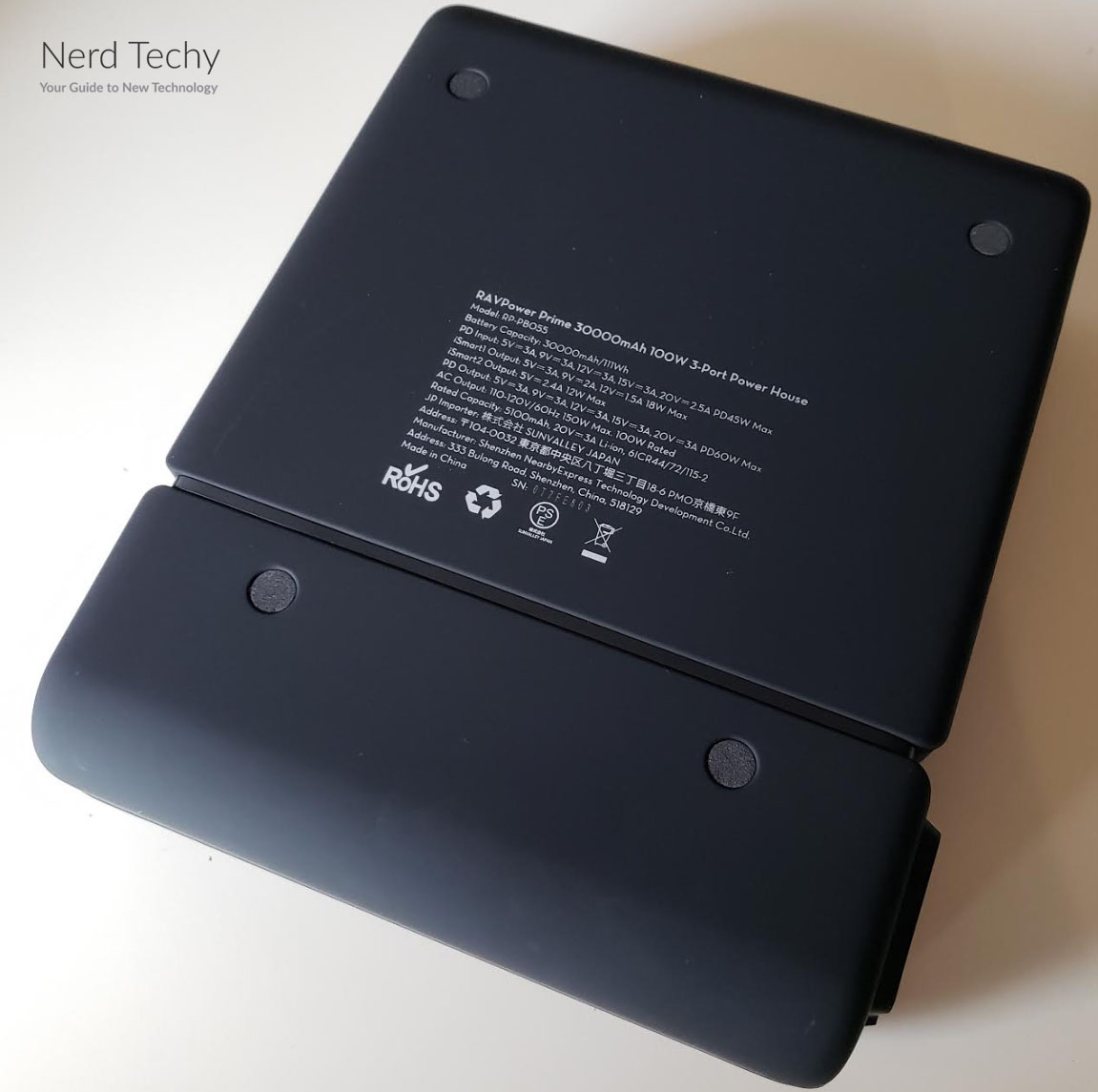 Finally, let's talk about the AC outlet. It draws a full 100 watts, so you can't use it while you're using a USB charger. You need to press and hold the power button for 8 seconds. At this point, a small green LED will light up next to the AC outlet, alerting you that it's active. Keep in mind that 100 watts is well shy of the 1,800 watts you'll get from a wall outlet. The power bank isn't designed for running appliances. It's designed for charging devices like drones and old-school laptops that don't support USB charging.
The RAVPower 30000mAh Portable AC Charger supports pass-through charging. This means you can charge the internal battery at the same time as you charge your devices. This only works for USB Type-A charging. When the AC adapter is in use, you won't be able to charge the internal battery simultaneously.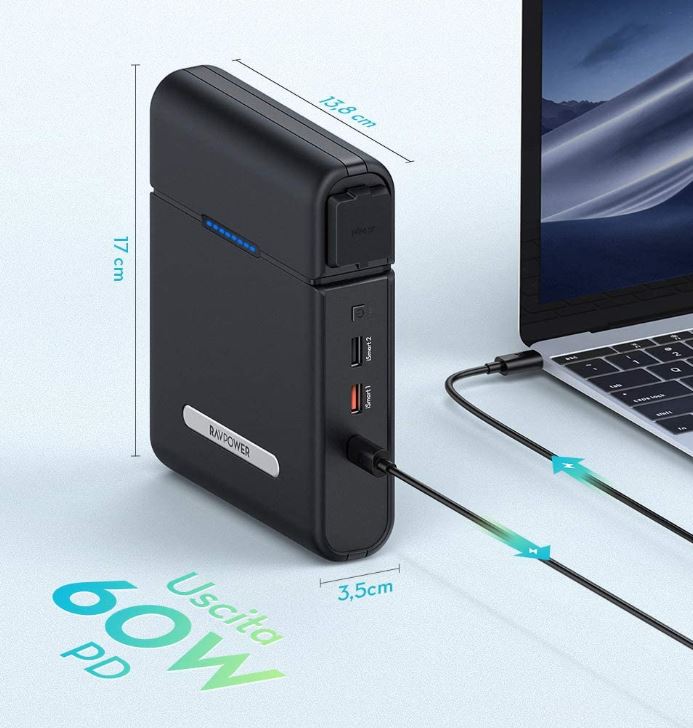 Final Verdict
At the end of the day, the RAVPower 30000mAh Portable AC Charger (Model: RP-PB055 Power Bank) has a lot to offer. The most outstanding feature, obviously, is the ability to charge a device that requires AC power. This means you can charge drones and older laptops that don't accept USB power. In this regard, it's significantly more versatile than most portable power banks.
But the AC plug is only the most obvious feature. How about all the safety you get? Not only do you get a full array of electronic protection, you also get excellent thermal protection. To be fair, this RAVPower power bank does have its flaws. Mainly, you can't take it on an airplane. But with that exception, there are too many good features to pass it up. We also appreciated just how quickly it can charge. You don't expect a 30,000mAh battery to charge in three hours, but this one does. Throw in a sturdy design and a nifty travel case, and you've got yourself a solid power bank package.