If you're looking for a workout-worthy pair of headphones, it's difficult to find good quality at a reasonable price. This is especially true for wireless earbuds, since adding Bluetooth receivers automatically bumps up the cost my several dollars a pair.
Back in 2016, Mpow developed the Flame earbuds, which quickly became the top-selling wireless earbud on the internet. It maintained that spat for nearly three years, until it was finally eclipsed by this year's Flame 2.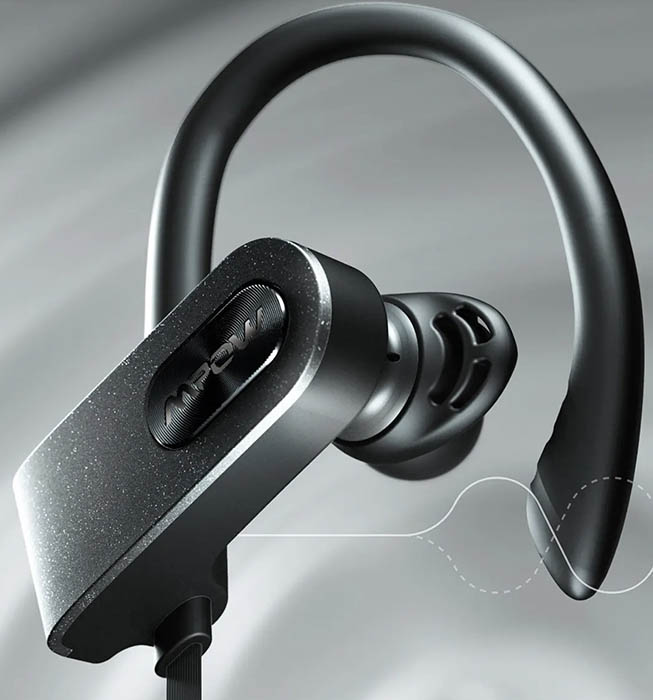 The original Flame earbuds offered a sturdy design, with an IPX7 water-resistant certification, which means it's sweat and rain-resistant, although it doesn't do well if it's totally submerged. More than that, it also offered a trio of ear tip sets, so it would fit comfortably in virtually any ear. Not willing to rest on their laurels, the Mpow added some additional features to the Flame 2, including extended battery life, improved bass response, and an upgraded Bluetooth 5.0 connection that's faster and more reliable than the original Flame's Bluetooth 4.1 adapters. And like its predecessor, the Flame 2 is very reasonably priced.
We've put the Flame 2 to the test, to evaluate all its features. We'll be looking at comfort and fit, as well as the battery life, the sound quality, the durability of construction, and the reliability of the Bluetooth connection. We'll also be keeping in mind that these are inexpensive earbuds, and that you inevitably get what you pay for.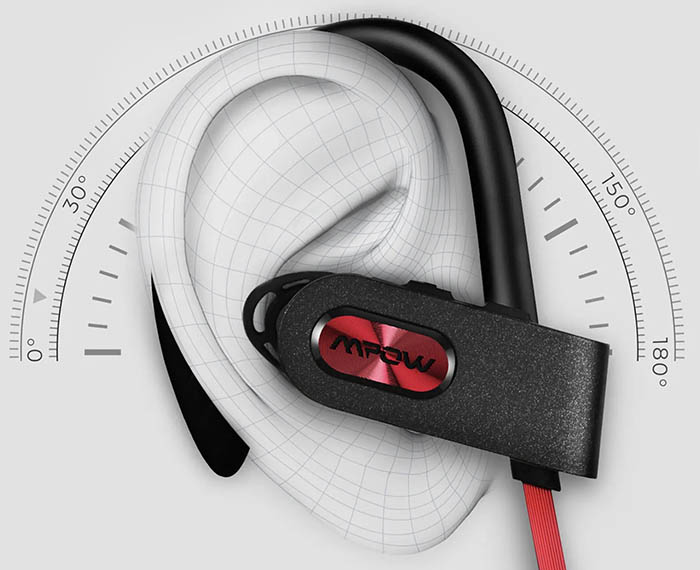 In case you hadn't picked up on this by know, the Flame 2 is a pair of in-ear earbuds, not headphones. If you want a beefier over-the-ear set of headphones for gaming, check out our review of the Corsair HS headset series. These headsets offer a variety of features, but they're designed primarily for gamers, with active noise cancelling and a responsive, flexible microphone. The microphone is also removable, so you won't have to deal with the extra bulk if you're just trying to use the earphones. You'll pay a bit more for the HS series than you will for the Flame 2, but that's just the cost of a beefier pair of earphones.
That said, the Flame 2 has a lot to offer during your workout, or even just for everyday listening. And it's reasonably priced enough that you won't be kicking yourself if you accidentally lose one.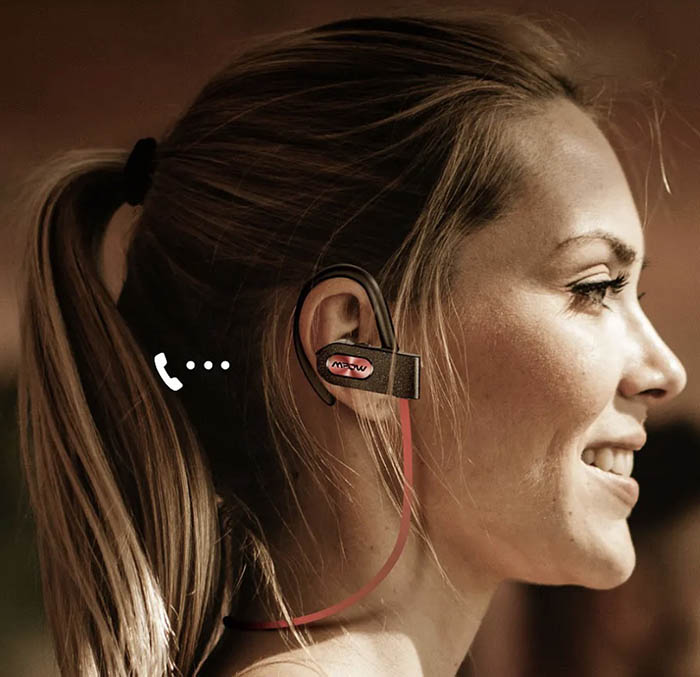 What's in the Box?
Before we take a closer look at the exact features you'll find on the Flame 2, it's important to remember that wireless earbuds are part of a larger package. So, what else do they come with? Here's a quick look at what you'll find when you open the box:
Two wireless earbuds
Three sets of different sized ear wings
Three sets of different sized silicone ear tips
One set of memory foam ear tips
A padded EVA plastic carrying case
A plastic cable clip
A plastic cable length adjuster
A Micro USB charging cable
An owners manual
As you can see, there's a lot of value packed into this little package. The cable clip is especially convenient, since it helps you keep the wire attached to your back collar, instead of flapping around uncomfortably throughout your workout.

Design and Construction
The next thing you'll notice after you open the box is that the Flame 2 looks like a good quality pair of earbuds. The ear wings and frames are exceptionally sturdy, and don't look flimsy like you'd expect from the frames on an inexpensive pair of earbuds. The standard version is flat black, but there's also a two-tone red and black version available that looks very sharp.
The cable itself has a flat, tangle-free profile, which makes it easy to take in and out of the case, since you won't have to untie a bunch of knots every time you want to use your earbuds. Because the cable is long enough to accommodate very large heads, many people will find that there's a little bit of slack in the back. If you want to take this slack out, the cable length adjuster has got you covered.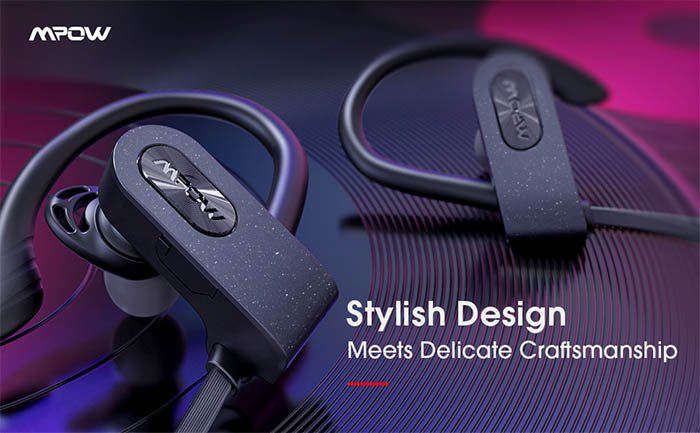 The Flame 2 is pitched at a 25-degree angle, which gives enough freedom if your ears stick out wider than most, but which still have a low enough profile if your ears lay relatively fast. It also has a trio of ear wings that you can swap out to wrap around different sized ears. Similarly, the ear tips also come in three sizes, so you can mix and match until you find a fit that's perfect for your needs.
The controls on these earbuds are located on the top of the right earpiece. The volume and forward/back buttons are towards the front, while the power and play/pause buttons are positioned towards the back, behind the Mpow logo. This keeps the controls sleek and low-profile, so the appearance of your earbuds stay clean and clear. The USB charging port is located on the bottom of the right earpiece, and remains covered by a discreet rubber plug when it's not in use.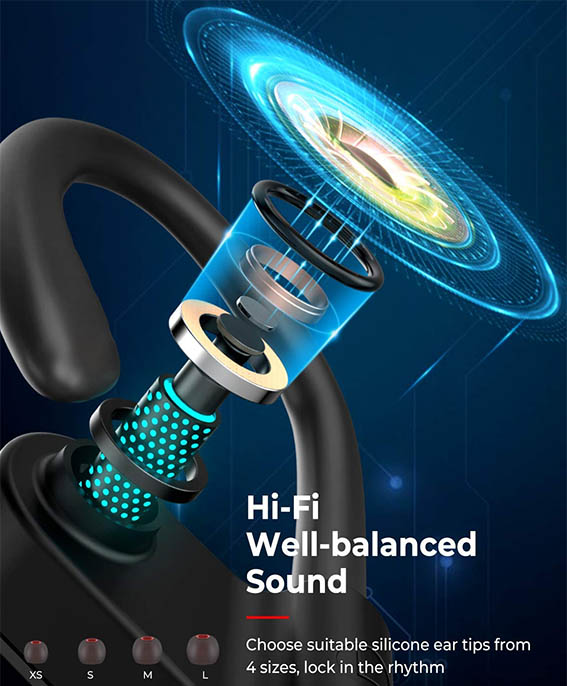 Flame 2 earbuds are IPX7-rated for water resistance. The manufacturer throws around fancy terms like "nano-coating" – translation, silicon waterproofing spray – but essentially what this means is that you're looking at a pair of earbuds that are sweat proof and rain proof, but not for full immersion. That said, exactly how often do you decide to go swimming with your earbuds in? Under any normal, everyday circumstances, including heavy, sweaty workouts, you're going to be just fine.
Mpow advertises the Flame 2's battery life at 12 hours, but that's a generous interpretation of the facts. Sure, you can get a full 12 hours, if you're listening to low-bitrate audio at low volume. But if you're at medium to high volume and you're streaming music, you can expect these batteries to drain in about 7 to 8 hours. That's about standard for a wireless earbud battery, but it's significantly less than advertised, and it's something you should be aware of.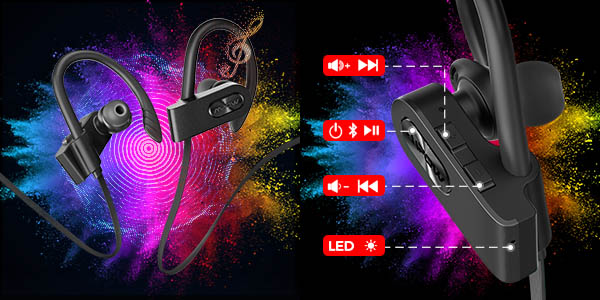 Compatibility and Connectivity
In terms of connectivity, technology has never been easier than the current Bluetooth 5.0 profile. To pair the Flame 2 with your phone or MP3 player, simply turn your device's Bluetooth setting on and power up your headphones. You should see your Mpow Flame 2 in your device's menu. Select it, and you'll be connected in less than a second.
Another thing we like about this new protocol is that it allows for longer range. The Flame 2 will remain connected from as far away as 33 feet. While walls will reduce this range considerably, you won't have to worry about leaving your phone on the table while you walk to the next room to grab a drink of water. Your tunes will keep on playing, without any issues.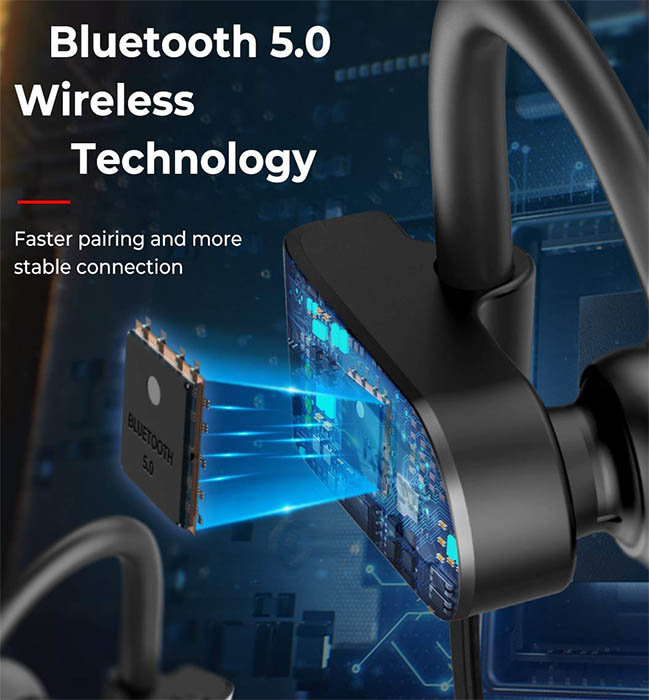 Sound Quality
For quality, full-spectrum sound, it's tough to find a good choice among inexpensive earbuds. It's difficult to produce deep, booming bass without a dedicated subwoofer, never mind with only a tiny pair of diaphragms.
That said, considering the size of the Flame 2, the sound quality is pretty impressive. Mids and highs both come out clean and clear. This is particularly evident if you're listening to rap, hip-hop, or any genre that relies heavily on vocals. It's also a great choice for instrumental music and movies, where high-end sound is far more important than bass. That said, the bass is fairly understated, and if you crank the bass up too high, it will muddy up the mids and cause rattle that distorts the highs. Keep the bass level, though, and you'll experience smooth, quality sound across the spectrum.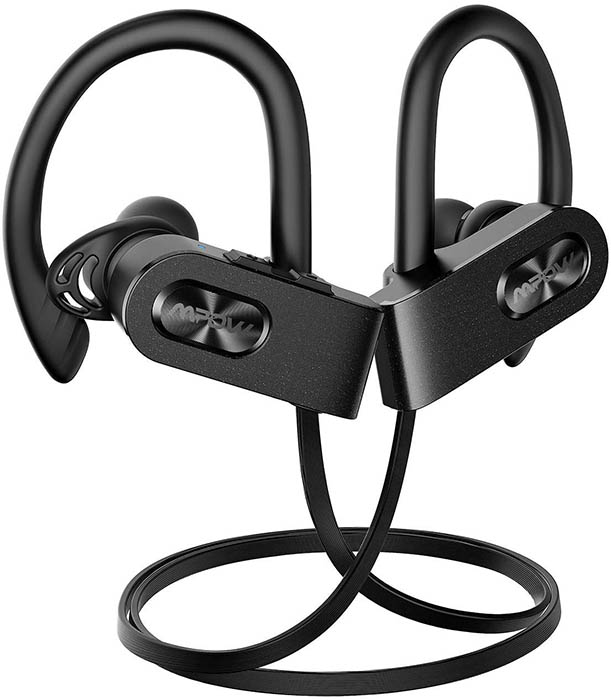 The Flame 2 doesn't have any active noise cancelling feature, but they're really not necessary. The silicone ear tips provide a secure seal – provided you've got the proper fit – so you won't experience a ton of outside interference to begin with, except from very loud noises.
For phone calls, connectivity is easy, and the controls are easy to operate. The volume buttons remain the same, and you can perform most functions without any controls at all, thanks to the voice-activated calling feature. The microphone leaves a lot to be desired, though. It sounds cheap and scratchy, and the person on the other end of the call will definitely know you're using a headset. That said, the microphone does feature CVC 6.0 technology, which is an algorithm that clears up background noise during phone calls. So while quality may be an issue, you won't have any problems with clarity because you're walking through a crowded airport terminal or shopping mall.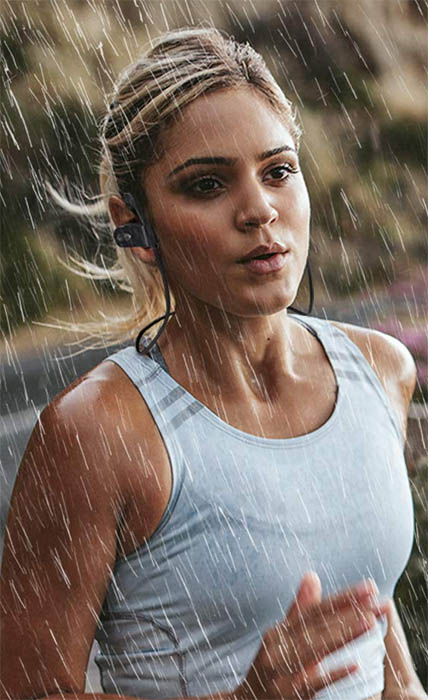 If you're looking for a pair of wireless earbuds that's optimized for making phone calls, the AUKEY T10 is a great choice. These buds offer near-zero latency, which allows for excellent call quality, as well as a seamless listening experience while you're watching movies or videos. They're also easy to recharge, with a Qi wireless recharger that will supply you with juice as long as you're within about six feet of the nearest power outlet.
Alternatively, if you're willing to pay a few extra dollars for better bass, consider SoundPEATS TruePods. These earbuds are engineered with an ultra-thin cellulose diaphragm, which flexes more readily than a traditional diaphragm. This allows for improved bass, without losing clarity in the mid and high range. Not only that, but TruePods' charging base doubles as a backup battery, providing more than 20 hours of total play time.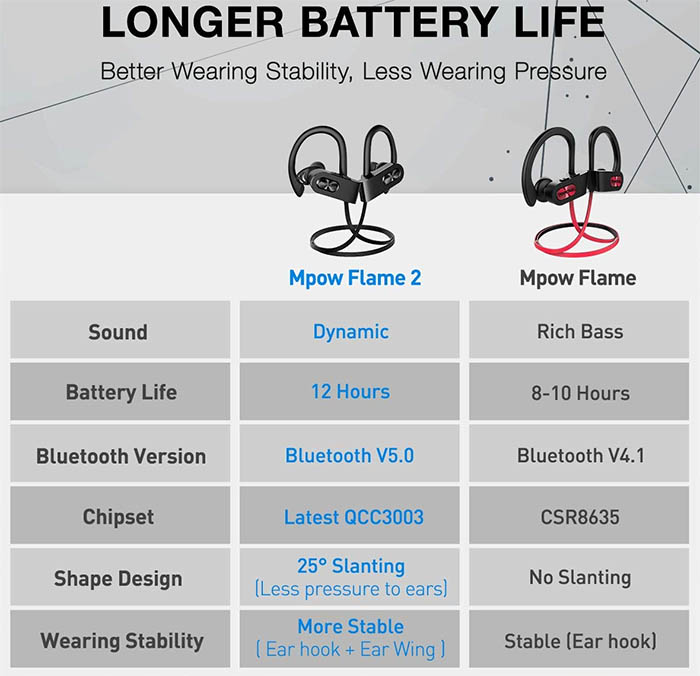 Final Verdict
In the end analysis, the Mpow Flame 2 is a fantastic value for the price. The 7-hour battery life is not impressive, but it's also not bad. It's solidly in the middle of the road. The same goes for sound quality, which actually is impressive, since we fully expect inexpensive earbuds to sound like an old transistor radio inside a tin can. In fact, you'll get very clear playback considering what you pay.
All Mpow headphones and earbuds come with a forty-five day no-questions-asked return period, as well as an 18-month warranty on parts and manufacturing. Once again, that's a great value considering the price, and the fact that Mpow is willing to put their money where their mouth is tells us they have faith in their product. In that case, so do we.