Sweating. We all do it. Some more than others. Some people maintain a mere sheen, even during the most extreme of workouts. Us? We're more of the waterfall variety. Niagara aint' got nothing on us! While we're over at the treadmill slowly creating our own version of the Dead Sea, Jimmy Muscleman is over at the free weights, as dry as a stiff Merlot. You might be saying to yourself, "Sweating isn't that big of a deal! It's just liquid." Have you ever worked up a heavy sweat? Have you ever had perspiration drip into your eyeballs? That stuff stings!
Not only can sweat be embarrassing, but the massive amount of moisture can wreak havoc on your electronics. Workout gadgets aren't cheap, especially if you want quality products. If we wanted to cause liquid damage, we'd take our gadgets in the pool with us. At least that would provide us with some form of fun.
Now, there are plenty of waterproof and water-resistant workout products on the market, but more often than not, the really good ones are way more expensive than a standard pair of gym-ready earbuds. High cost doesn't necessarily result in high quality, and low cost doesn't always mean crap. When electronic manufacturers focus on creating a waterproof product, sometimes other elements of their design tend to suffer. For example, the sound quality might become tinny, or the earbuds might be uncomfortable. Finding a product which combines comfort, quality and waterproof certification at a decent price is nearly impossible. We say 'nearly' because the product we are reviewing in this article is about as close as you're going to get to a well-rounded, low-budget pair of earbuds.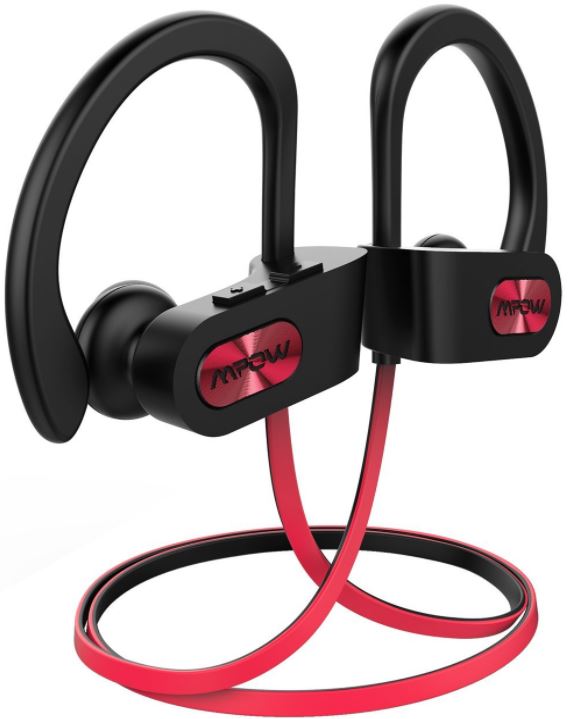 First Impressions
Anyone who has ever browsed through Amazon's headphones category has surely heard of Mpow. Their portable audio gadgets are often among the best-selling products in their respective categories. The Mpow Flame Waterproof Bluetooth headphones have been the highest selling pair of headphones on Amazon for quite a while now. The big question is, are they as good as everyone is making them out to be? It's hard to tell simply by reading user reviews. Amazon reviews have become less and less credible over the years because of paid reviewers and free products. People are much more apt to leave a positive review if they didn't have to spend any money on the product they're reviewing.
You deserve an honest review, don't you think? Let's take a more thorough look at the Mpow Flame headphones.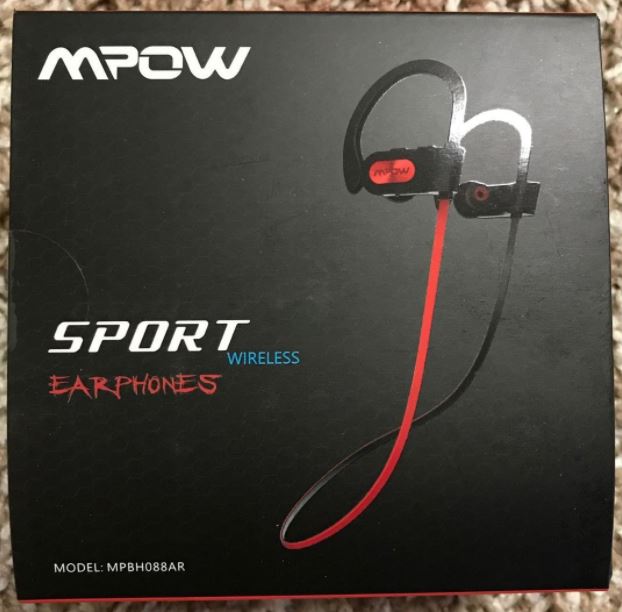 What's in The Box?
The best part of any review is the unboxing. It's all downhill from here, guys. Sorry. The headphones are shipped in a sleek, black box. The packing materials appear to be high-quality. Sometimes with budget headphones you get some pretty shoddy packaging. That's luckily not the case here. Included in the box are the headphones themselves (this wouldn't be much of a review without them), three pairs of regular ear tips (small, medium and large), 1 pair of memory foam ear tips (this is a nice touch, and an unexpected one, at that), a cord clip for keeping the wiring out of your way, an EVA carrying case, a user manual, and a charging cable. Each item was securely packaged.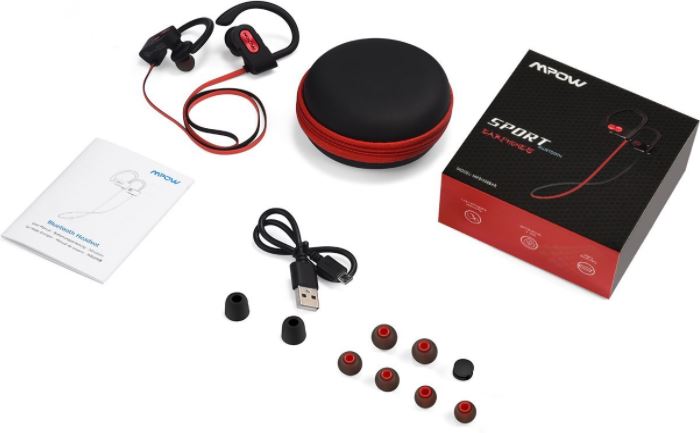 Comfort and Fit
Next, we wanted to test out the Flame's comfort level, because even if the sound quality it out of this world, we won't be able to bear the anguish very long if the headphones don't fit us right. The ear loops are a silicone material which, while on the harder side because they lack cushioning, do not hurt our ears or feel like they are poking into our skulls. We have pretty sensitive ears and tend to stay away from earbuds which have hard ear loops, but the ergonomically curved design of the ear loops fit our ears well.
The Flame comes with three different sizes of regular, rubbery ear tips—small, medium and large. They don't call us Dumbo for nothing, which is why we stuck with the large sized tips. Also included were a single pair of memory foam ear tips. The foam tips are phenomenal if you're looking for a snug fit. We find that a snug earbud fit doesn't merely prevent the earbuds from falling off your head, but they actually help produce better audio quality. When earbuds create a seal, the bass levels become contained, resulting in a bass sound that you can actually feel in your brain. We found both styles of ear tips to be very comfortable, but we tended to prefer the memory foam tips, just because we really enjoy that closed off seal that they create.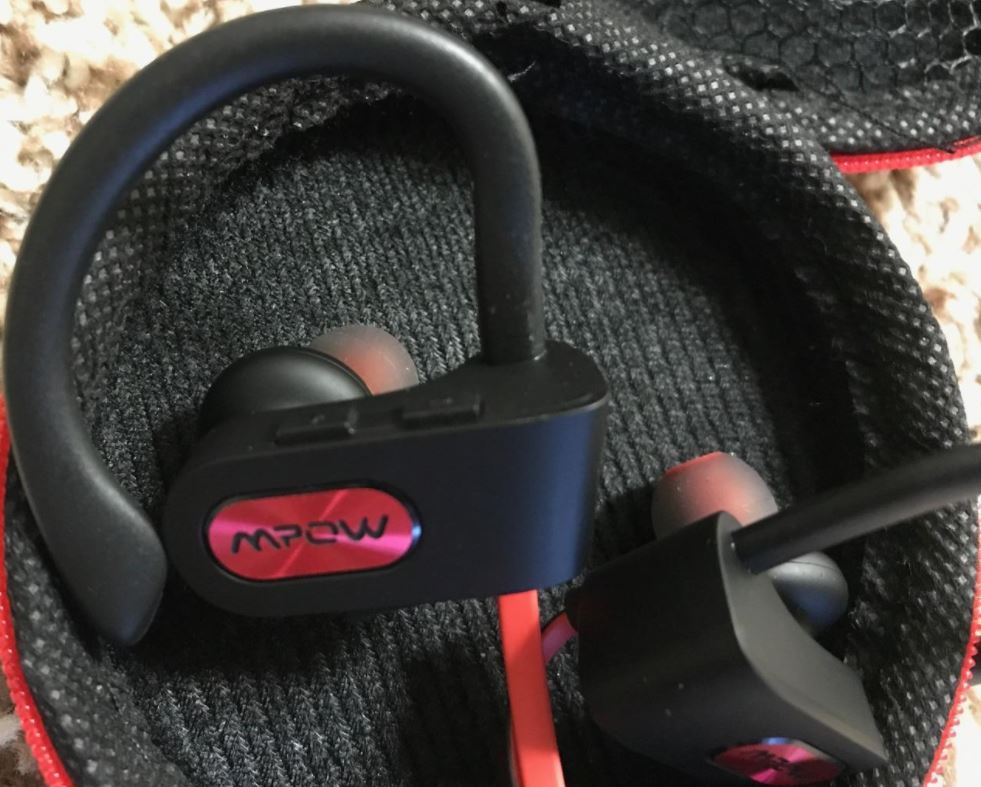 Waterproof
The Mpow Flame headphones are IPX7 waterproof certified, which means that they should still function even after being submerged in three feet of water or less. If you didn't think we were reckless enough to dip our Flame's into a bathtub for a submersion test, then you were so, so sadly mistaken. As promised, the headphones still worked perfectly, even after taking a quick dunk in the ole watering hole. Color us encouraged. These bad boys might just be able to withstand the fire hose of our cardio-induced sweaty ear holes. We used the Mpow Flame at the gym for a week straight to see how well they endured the hazardous waste pile which we call our bodies. The good news is, they still work like a charm. The bad news is… they still work like a charm, which means no reason to skip the gym. Why have you forsaken us, Mpow?
Battery Life
Mpow claims that the Flame earbuds have a battery life of 7 to 9 hours of active listening time. Much like any pair of wireless headphones, listening to them at higher volumes can significantly affect their lifespan. When we're working out, we typically listen to our tunes at about 75% volume, unless there is some jerk making too much noise, in which case we bump the volume up a bit. At 75% volume, the Flame headphones lasted for around 8 hours of playtime, which is right on target with Mpow's numbers. Since we're only planning on using the Flame buds for working out, one charge will probably last us about a year. The Flames only take about an hour and a half to fully charge, so an overnight charge is enough to charge them about 4 times over.
Sound Quality
We can sometimes be unfairly picky about sound quality. We wouldn't go as far as calling ourselves audiophiles or sound snobs (sometimes they are mutually exclusive), we do tend to get frustrated fairly quickly if the sound quality isn't knocking us out of our boots (yeah, we wear boots to the gym. What's it to you?). The Mpow Flame buds use a tuned driver, CSR chip and Bluetooth 4.1 technology to deliver deep bass, snappy highs and rich mids. We hate the tinny sound of most cheap headphones. Muddy and tinny sound is almost as grating as that terrible chalkboard scratching sound. We'd prefer to listen to no music over tinny music. We were truly impressed with the clarity and balance that Mpow has managed to fit inside such an affordable package. They aren't Bose, but they're really not that far off.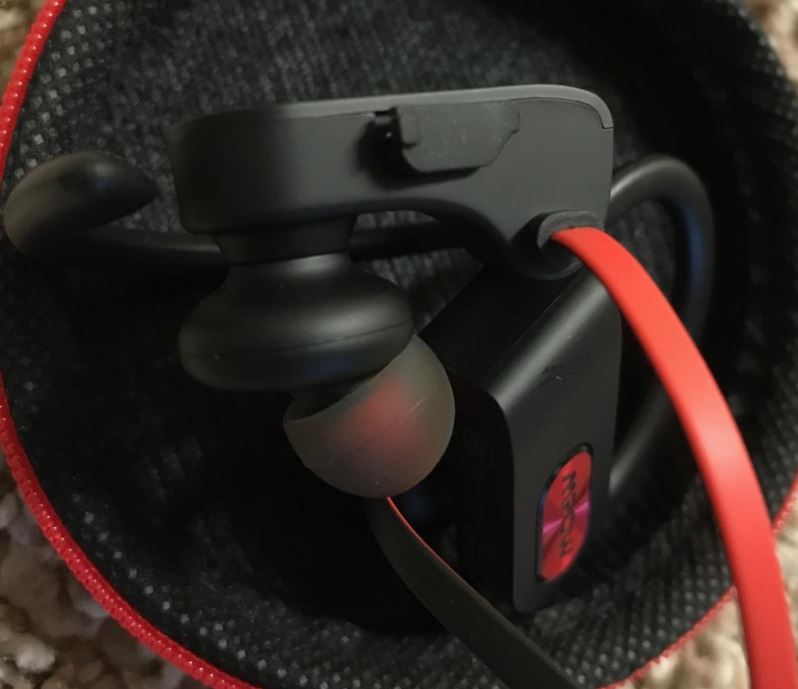 Bluetooth Connectivity
The Mpow Flame's are Bluetooth 4.1 compatible which means they'll connect to most of your wireless devices. The one thing you'll want to keep in mind is that they will not be fully compatible with your Internet of Things devices, most of which feature to Bluetooth 4.2 connectivity. This doesn't mean that you won't be able to use the headphones at all for IoT devices, but it does mean the connection won't be as secure, which is pretty important when you're dealing with your home's infrastructure.
With that said, the Flame headphones have a Bluetooth range of around 10 m, or 33 ft. Since many of you will be primarily using these at the gym, Bluetooth range shouldn't be an issues. The only time we noticed any connection issues was when we were on the very edge of the 33 foot range, or if we were separated by a floor. Even then, the connection wasn't broken, but there were some short breaks.
Call Quality
If you're going to be using these headphones with a smartphone, then you're probably wondering how the call quality holds up. When we're at the gym, we like to call everyone in our contact list, just so we can tell them we're at the gym. "Oh, me? You know… just at the gym. Because I'm so fit and all. Anyway, you down for Burger King later?" The Flame features cVc 6.0 noise canceling technology, which helps block any ambient or background noise from transferring through your mic. This makes it much easier for your call recipient to hear you clearly.
The noise cancelling might make it a little harder for the other caller to hear the free weights which you insist on clanking in the background, just to really hit home with that whole gym thing, though the picture of you flexing in front of a bunch of gym equipment that you sent en masse to your entire contact list was probably proof enough.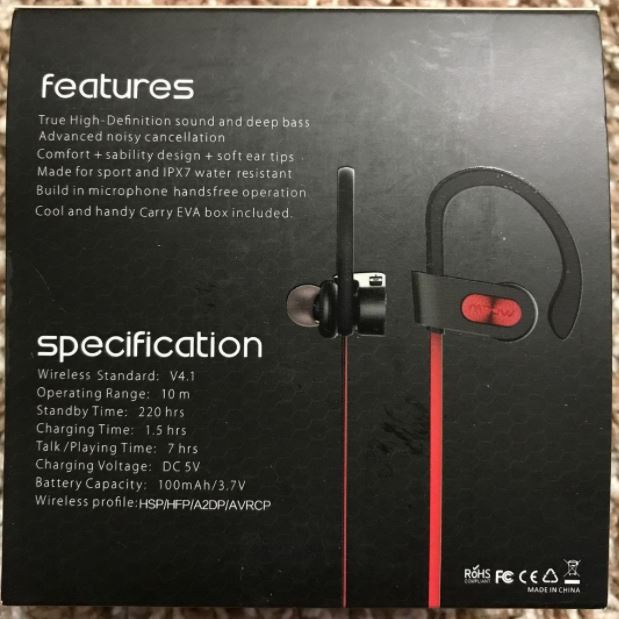 Final Thoughts
So, do the Mpow Flame headphones live up to the hype? Are they worth ranking at the top of the Amazon charts? When you take into consideration their overall high quality at a budget price point, the verdict is a no-brainer. The Flame earbuds have rightfully reigned supreme and have earned their spot on the upper echelon of sporty headphones. The Flames' sound quality is comparable to headphones that cost three times as much, yet still lack some of the features of the Mpow device. When you consider that you're not only getting earbuds with great sound, but you're getting a pair of buds that are IPX7 certified, and feature a relatively lengthy battery life, the Mpow Flames are an absolute steal.
Treat your ears to something nice. They do so much for us on a daily basis. They listen to our mother-in-laws, and they endure Imagine Dragons on the grocery store PA system. What other horrors must our ears be faced with before they are given something nice for once. The Mpow Flame headphones are the perfect way to show your ears that you still care about them, even after all of these years.