Every pair of headphones has some type of emphasis in the way it's been designed. Some are focused on being inexpensive, while others are focused on creating a smooth wireless experience. Choosing headphones isn't about finding a pair that's better than all the others, it's about matching your needs and expectations with the kind of features that will help you the most.
If you're mostly using your headphones to make and receive calls, then you're going to care about different features than people who are listening to music at the gym. And the most important feature you'll care about is noise cancellation. But unless you're willing to wear a full sized headset, it can be difficult to find call-oriented headphones. Difficult, but not impossible.
Jabra Elite 45 and Elite 65
The Elite 45e and 65e are Jabra's latest generation of wireless earbuds. Like all earbuds, they've been made with a specific purpose in mind. In the case of the Elite series, that purpose is creating crystal clear calls within the space of wireless in-ear headphones. Relative to Jabra's previous generation, the 45e and 65e have an extended battery life, and manage to achieve stable wireless connectivity without falling prey to a bulky design.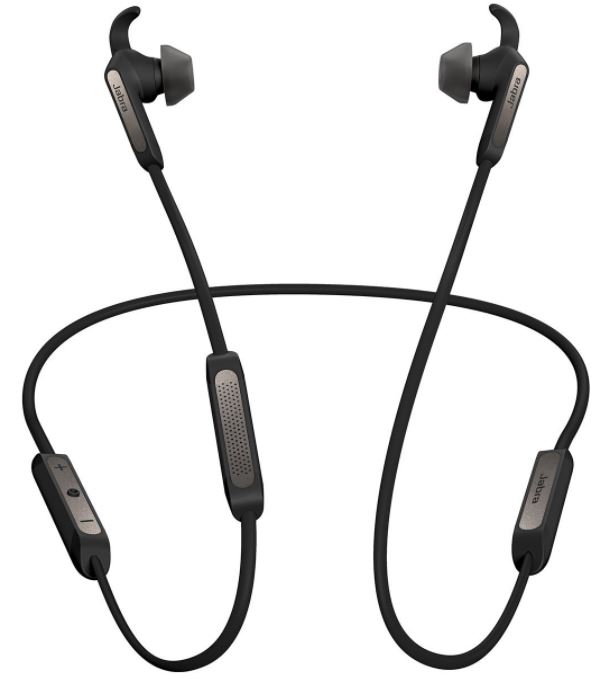 Build & Design
The physical build of the 45e varies slightly from the 65e. The 45e is essentially one long wire with an earbud on each end — the same standard around-the-neck design you'll see used by many brands. But it's not just any wire; the 45e uses a flexible memory wire that allows it to retain its shape as it contours to the curvature of your neck. That way, it wearing the 45e doesn't feel like you've got a loose wire flapping against the back of your head.
The design of the 65e is similar, but it replaces the center of the connecting wire with plastic casing. That casing makes the 65e slightly bigger, but doesn't take away from comfort, and doesn't add much additional weight. What the larger design does add is battery life and durability, making it one of the more substantial differences compared to the 45e.
Both the 45e and 65e use a closed dynamic design, which is ideal for helping you block out sound from your environment, and great for ensuring your calls remain private. Both have an in-ear design that pairs sound isolation with portability, and both are protected against water and dust thanks to an IP54 rating.
Technically speaking, IP54 is the lowest water protection rating. It indicates these headphones are ready to hold up to a splash, but not a hose. Rain or sweat shouldn't be a concern, but you wouldn't want to wear them in the shower, or take them for a dip in a pool.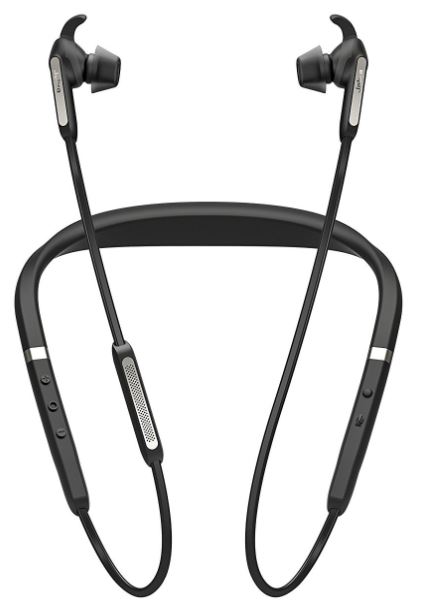 Noise Cancellation & Call Clarity
From an engineering perspective, there are dozens of ways to achieve noise cancelling. One of the most effective methods involves using multiple microphones spread evenly across your device. Having the sound input of multiple mics allows an audio device to take advantage of spatial diversity within those sound signals, and temporal differences as between sounds as they strike each microphone. The resulting noise cancellation is something that can only be achieved through the use of multiple mics.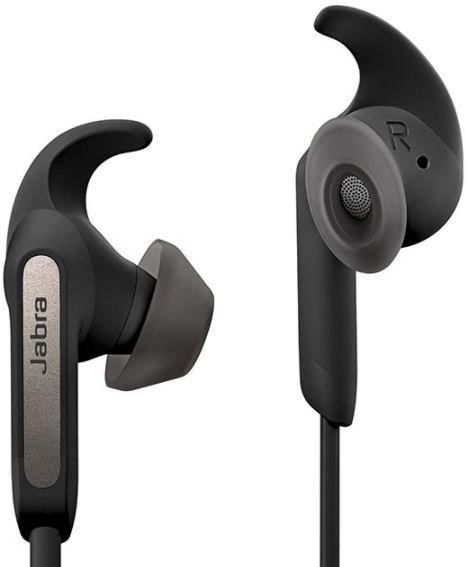 Jabra Elite 65e uses 3-microphone call technology to create extremely effective noise blocking, which helps guarantee call clarity to a degree that's hard to find outside of a pilot's cockpit. Multiple microphone solutions are generally only found on higher end electronics because adding additional mics invariably bumps up the price of the equipment. By using three headphones, it's fair to say the 65e are business grade headphones.
The Jabra Elite 45e uses the same multiple microphone technology used in the 65e, ensuring you get strong active noise cancellation either way. But the 45e uses only two microphones. The resulting noise cancellation is still far better than anything you can expect from headphones using a single mic, but it isn't quite as effective as a 3-mic setup. Whether or not you'll experience a difference between the two depends on the degree of call clarity you're trying to achieve, and the amount of noise you're surrounded by at the time.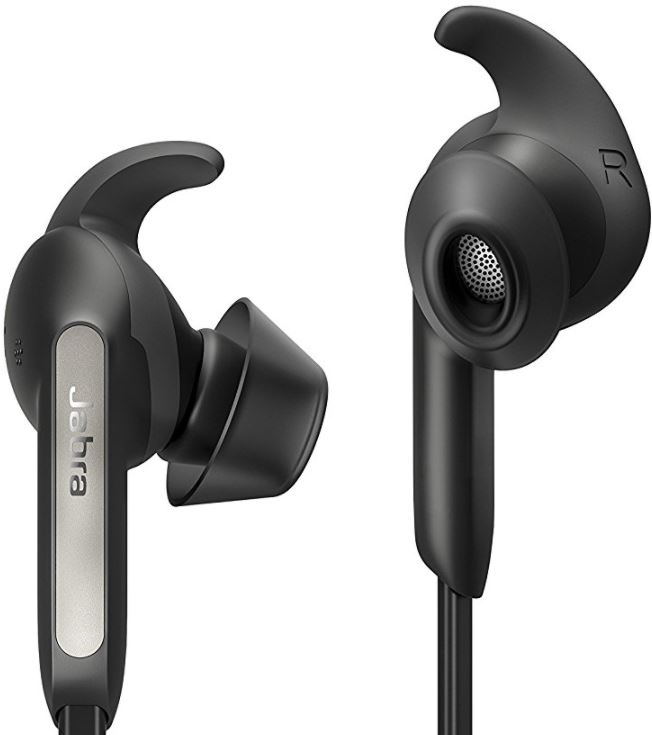 Battery Life
The one downside of active noise cancellation is that it consumes a considerable amount of battery life. With noise cancellation toggled off, the 65e boasts up to 13 hours of continuous playtime. That number drops closer to 8 hours when you turn on noise cancellation. Balanced against a two-hour charge time, the 65e is unquestionably ready to take on a full day of regular use.
By contrast, the 45e provides 8 hours of continuous use from one charge. With noise cancellation activated, that number drops closer to 5 hours. But you can charge an hour's worth of battery in only 15 minutes, so the 45e's relatively small battery doesn't have a hard time keeping up with regular use. The battery isn't quite as powerful as the one found in the 65e, but it should be enough to handle more moderate use.
But one thing to keep in mind about these battery estimates is manufacturers usually base them on placing the volume around 50%. If you're turning your sound up far beyond that, then you're going to see rapid drops in battery outcomes.
For headphones oriented around music, that might be a serious concern. But the Elite 45e and 65e are call-oriented headphones. For making calls, you'll probably spend very little time with your volume cranked up, and you probably won't be doing continuous playback for hours on end. In other words, this is a rare case where Jabra's battery estimates are accurate without being misleading.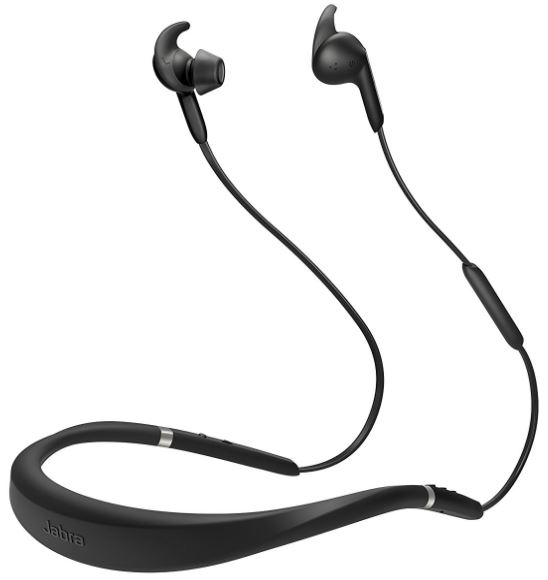 Software Support
Through Jabra's music app, both the 45e and 65e be personalized with the use of a digital equalizer. Being able to toggle frequency levels allows you to adapt the soundstage of the Jabra's Elite headphones to better match your unique preferences. Their app is where you can fine-tune the noise cancellation feature as well.
Unfortunately, there aren't any preconfigured noise cancellation profiles you can choose between, but it is possible to manually adjust the amount of ambient noise that's permitted. Increasing the amount of ambient noise that's allowed can help you keep in touch with your surroundings, which may be important if you're working at the office, or you're if trying to stay safe around traffic.
Finally, it's worth knowing that Jabra's app is where you can keep tabs on the remaining battery power left in your headphones, configure vocal assistant settings, and toggle through call preferences. And for a device so heavily focused on voice and call quality, it shouldn't be a surprise that Jabra included one-touch access for Apple, Google, and Amazon's voice assistants.
Sound Quality
The 45e and 65e are designed first and foremost to provide call clarity. As far as music is concerned, both the 45e and 65e provide a soundstage that's stunningly average for their price range. Like nearly all pairs of in-ear headphones, bass frequencies on the 46e and 65e aren't well represented. But through the equalizer in the Jabra app, you can mitigate that weakness by adding some boost to the bass.
Another thing worth pointing out is the mid-tones, which are the tones most present within human voices. Being call-oriented, these headphones have strikingly strong mid-tones, which makes them just as great for calls as they are for watching TV or listening to a podcast. Anywhere voices are involved, you'll be amazed at the kind of clarity you can achieve with well represented mid-tones.
Other Considerations
One drawback of going wireless is that all battery powered devices have a finite lifespan. After three years of consistent use, you'll probably want to replace most of your battery powered devices. Jabra's 45e and 65e both come with a 2-year warranty, which covers nearly the entire lifespan of the device. That warranty also covers dust and water damage, so if the IP54 water protection fails you, Jabra won't leave you out to dry.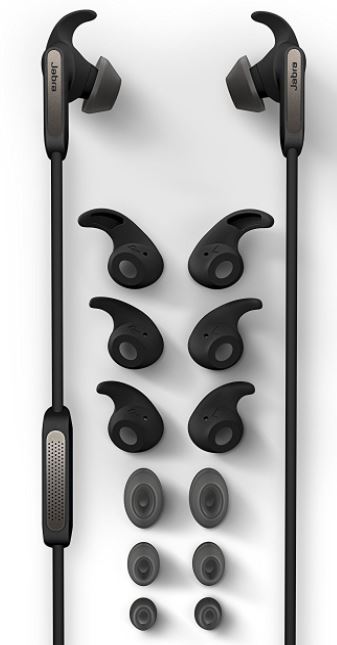 Comparing the 45e and the 65e
The 45e and the 65e have many things in common. For listening to music, they provide essentially the same range of sound quality. They have the same 2-year warranty, water-resistant design, and formidable software support. But there are a handful of important differences between the two.
The first big difference is the battery life. The larger build of the Jabra 65e allows it to host a larger battery. That bigger battery gives the 65e nearly 50% more battery life than the 45e. If you're only using your headphones for a couple of hours each day, then the 45e will suit you well. But if you're someone who's making and taking calls all day long, then the 65e is clearly superior.
The next big difference is in noise cancellation. Both the 45e and 65e provide mic-based noise cancellation that's far better than anything you'll find on a device with a single microphone. But the 65e uses one more mic than the 45e, and that extra mic goes a long way towards improving its noise cancellation abilities.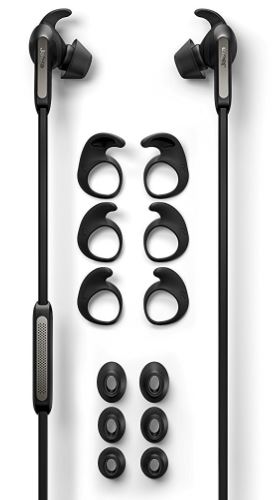 Which Should You Choose?
If you're using your headphones in environments that are only mildly noisy, like shopping at a grocery store, then you're going to be satisfied with the noise cancellation of a 2-microphone setup. For traveling through bustling city streets, busy airports, and other areas buzzing with activity, the stronger noise cancellation features of the Elite 65e will make a world of difference in call clarity.
But in achieving its comparably powerful battery and noise cancellation features, the 65e ended up nearly twice as expensive as its counterpart. If you can make-do with the shorter battery life and 2-microphone configuration of the Elite 45e, then you have no reason to spend extra for the 65e. But if you need longer battery life paired with some of the best noise cancellation on the market, then the 65e is a no-brainer.