Over the past few years, gaming branded gear has been absolutely slathered with LED lighting, from computer mice to computer RAM. At this point, you'd probably struggle to find more than a couple high-end keyboards that didn't have LEDs stuffed under their keycaps.
One of the last peripherals to escape this treatment has been computer speakers, but Logitech's G560 is one big step towards changing that forever. If you're a fan of the increasingly popular LED aesthetic that's been showing up on high-end gear, then you'll love what Logitech has done with the G560. And if you could care less about the aesthetic of LEDs, you'll probably still be impressed by the kind of added functionality Logitech managed to squeeze out of a couple extra lights.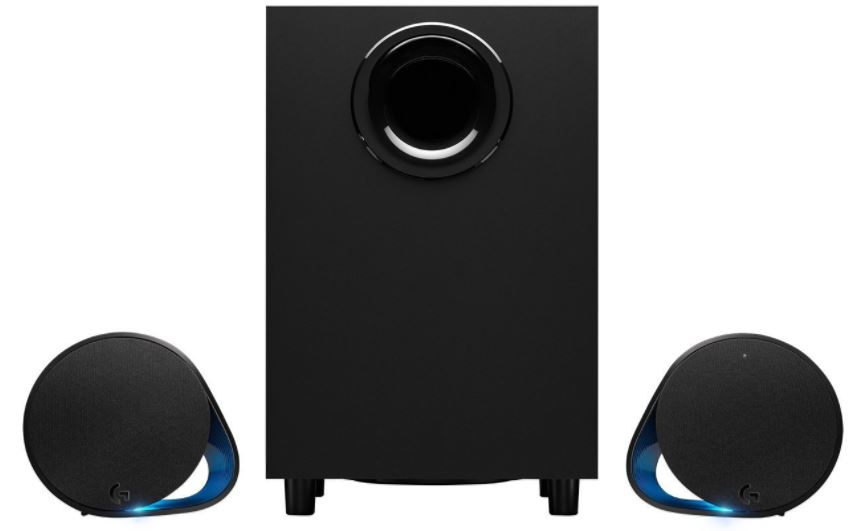 Logitech G560 LIGHTSYNC PC Gaming Speakers
The G560 is a 2.1 channel stereo system, meaning it's composed of one subwoofer and two satellite speakers. Relative to a 2.0 system, the addition of a subwoofer makes 2.1 systems tend to be slightly bulky. But the G560 is smartly designed to adeptly avoid those kind of problems. From the quality of the sound, to the added functionality you'll get from its features, the G560 is nothing if not surprisingly different.
Build and Design
Each satellite speaker is built with a unique shape that appears to be the combination of a cone and a teardrop. That unique design provides a wide base for the speaker, allowing it to sit stable and sturdy in spite of weighing under 2 pounds each. The second advantage of this design is it allows each speaker to establish separate lighting zones. But before discussing lighting zones, it's important you're properly introduced to the LIGHTSYNC feature that's been so prominently advertised.
If you're a diehard Logitech enthusiast, it's LIGHTSYNC allows you to sync all of your RGB peripherals, including the G560. That syncing effect can then create customized lighting reactions in response to what happens in the games you play. Being healed, taking damage, seeing an explosion – the lighting possibilities are limitless.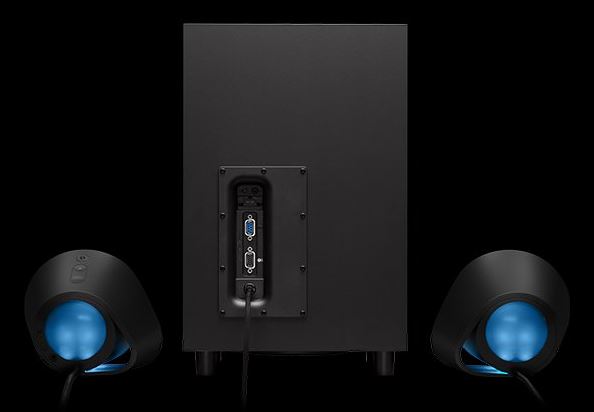 And many big gaming franchises take advantage of this technology as an integral part of their game. That includes some of the most popular games today like, DOTA 2 and Counterstrike: GO. When you're playing a game that doesn't have innate LIGHTSYNC support, you can use a screen sampler tool to assign your speaker's lighting zones to react to specific portions of your screen. For example, you could assign the back left speaker to the top right side of your display, and cause an orange and yellow light to display anytime there's fire on that portion of the screen.
Moving past LIGHTSYNC, you'll want to note the roof of the right speaker. There you'll find three buttons, subtly submerged into the chassis. The first button is programmable through the Logitech software, while the remaining two are an independent volume control for the system. The programmable button has a rough texture allowing you to quickly identify it without having to look, and lets you orient your fingers quickly for raising or lowering the volume. Towards the top of the speaker you'll find a tiny white power indicator light. And on the back, a Bluetooth pairing button, power button, and headphone jack.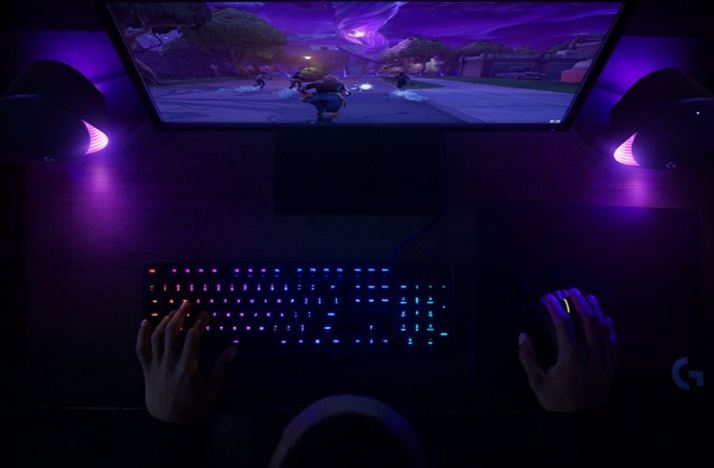 Subwoofer and Setup
Horizontally wide subwoofers are common among stereos that aren't specifically made for computers. That design looks great for entertainment consoles, but it can also be a nightmare to try and stick under your desk. The G560 uses a subwoofer that's tall as opposed to wide, making it ideally suited for sliding under a desk. The subwoofer stands just short of 16 inches tall, and it's the location for all the rest of your hard-wired attachments. That includes the power cable, a USB port, 3.5mm jack, and DB9 connections for each satellite speaker.
Each connection space is clearly color labeled to make it simple to set up your system. If the color labeling isn't enough, the G560 comes with clear visual instructions. Once you're set up, you'll appreciate there are small indentations on the USB port, helping you secure your connections. And beyond power, the only necessary connection is a USB cable, which allows you to take full advantage of your speakers.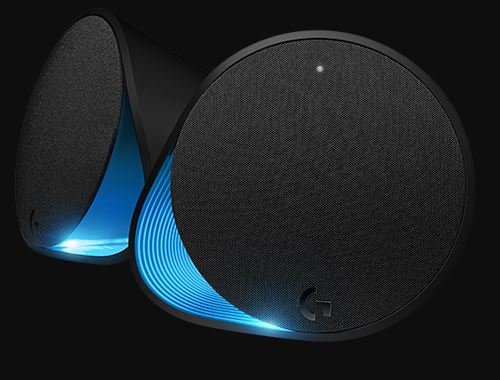 Logitech Software Support
After you've made a USB connection to your computer, you'll want to install Logitech's gaming software. That is the software that will allow you to customize the four lighting zones created by the G560, referring to the front and back of each satellite speaker. Their gaming app is also where you can decide what the included programmable button will do, adjust the EQ of your speakers, and save your customized equalizer profiles. For Windows users, this is also where you can enable or disable DTS:X Ultra virtual sound.
Of course, creating pre-existing profiles can be tedious work. Thankfully, Logitech's software can scan through your computer to see what games you have installed, and then create profiles specifically suited to those games. That means you won't have to spend any time toggling these options if you don't want to, you'll end up with activity-appropriate sound settings either way.
Wireless Connectivity
The G560 can be paired with up to two devices through Bluetooth. Pairing your devices is as simple as momentarily holding the Bluetooth button of backside of the right speaker. But you should note that when you toggle from one device to another, it takes several seconds for the speakers to resume their play. And unfortunately, the Logitech Gaming Software's sound controls don't affect music that comes through a Bluetooth connection, so you won't be able to use the equalizer for your music when you're making a wireless connection.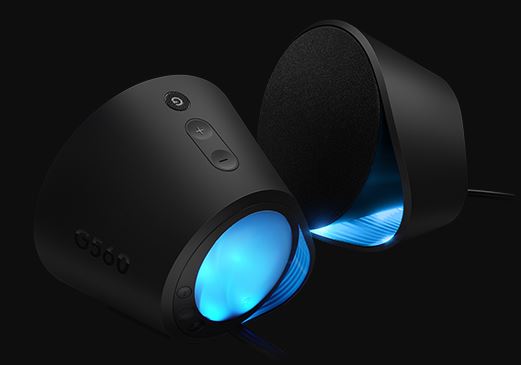 Sound Quality
At the end of the day, the G650 is a pair of speakers, and what matters most is how they sound. Without a discriminating ear, you should be able to notice that high frequencies sound slightly boosted, but remain clean and clear. But for choosing PC speakers, mid-tones are those you really want to emphasize.
The mid-tones are where you'll find most vocal tones, making it the essential range for most forms of multimedia. Suffice to say, G560 has an excellent command over mid-tones. And the sizeable subwoofer doesn't hold back, providing so much bass that some people may find it a bit much. Fortunately, if you're one of those people, you can draw back the bass through the equalizer.
Another thing you need to know is these speakers are loud. Logitech specifically recommends you start with their volume low and gradually increase it. That's because at its peak, this system puts out 240 watts. You won't have a hard time filling even the biggest rooms with rich sound. Many people will likely never use more than half of the available volume.
There's an audio visualizer feature that will change lighting based on the frequencies of the audio that's being played. Volume won't affect light intensity, it's all based on frequencies. The emulated surround sound does an adequate job of creating a deeper soundscape for your ears to explore, but no software can truly recreate surround sound experience. Within the gaming software you can enable or disable the virtual surround sound.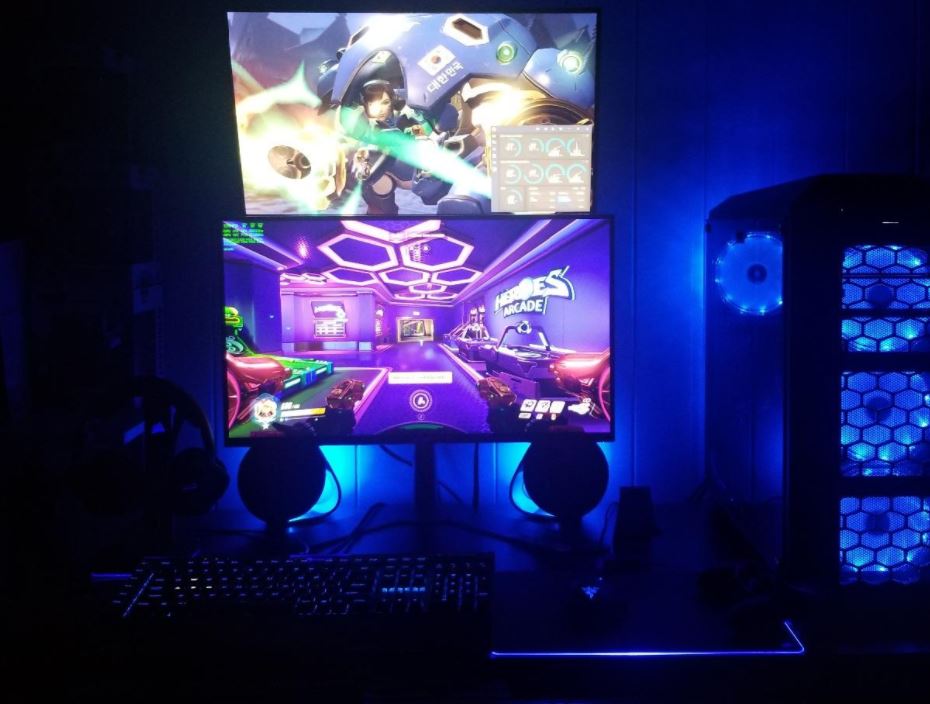 Other Considerations
Support for LIGHTSYNC has begun to extend beyond games. The popular gaming communication platform, Discord, takes full advantage of LIGHTSYNC reactions to notify you of messages and mentions you receive through that app. And Logitech is such a prominent brand among PC peripherals that LIGHTSYNC support is likely to only spread with time.
Another feature you'll find inside Logitech's gaming software is an audio visualizer. If you've ever seen lights dance in response to music, that's what a visualizer does, and that's what the G560 can do if you wish. As far as functionality goes, the light changes aren't particularly distracting. If anything, you may find yourself wanting more responses from the lights. But for that, you'd have to get additional Logitech peripherals.
The G560 includes Logitech's standard 1-year warranty, but speakers are actually a rare case of when you don't need to over-value a warranty. Among all types of computer peripherals, speakers are some of the least likely to break, and the longest lasting. In all likelihood, you're going to end up using the same speakers for five or ten years, which means it's a good idea to invest in quality hardware like the G560.
Drawbacks
If you're looking for things to nitpick, you can find a small handful. The headphone jack is on the backside of the G560's satellite speaker rather than its front. Aesthetically that's a better decision, but if you're plugging a headphone cord in and out of a jack on a regular basis, it's more convenient for the jack to be placed on the front side.
The speaker cables that are attached directly to the device are quite thick. On one hand, that ensures they're strong and durable. On the other hand, thick cables can add to the difficulty of cable management. Anyone running cables through tight spaces will want to take note.
Finally, the G560 are fully compatible for Windows and Mac, but the software-based surround sound features are Windows only. If you're a Mac user and you are intent on having digital surround sound, you could probably find Mac-based software solutions online, but Logitech won't be one of them.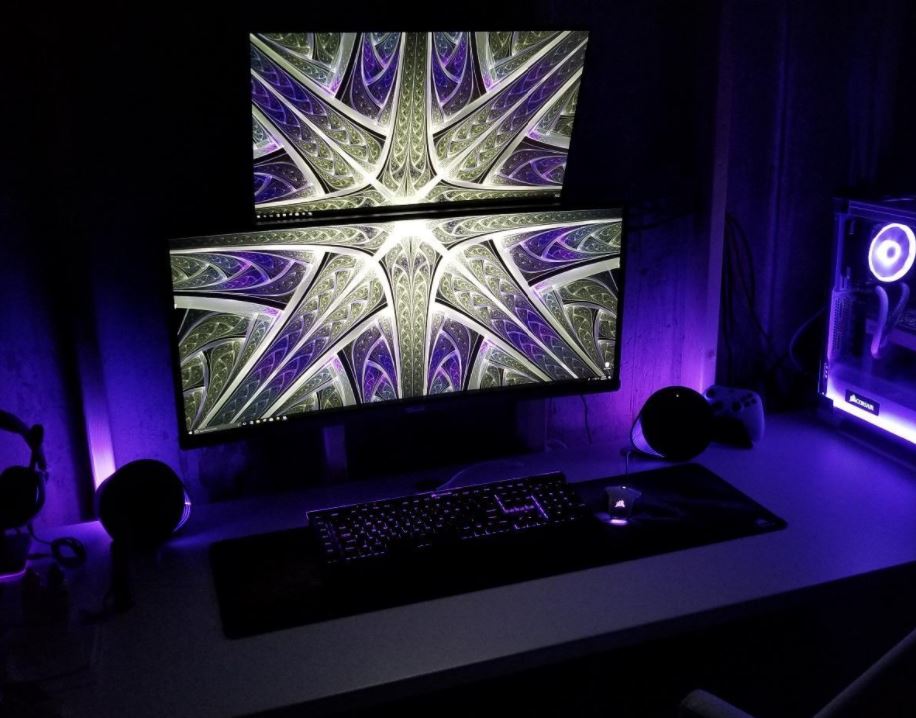 Who Should Choose the Logitech G560 LIGHTSYNC?
If you're already using several LIGHTSYNC products, the G560 is a great addition. It lights up a considerable amount of your wall and desk, delivering on the immersive engagement people want from that feature. Even if it's your first LIGHTSYNC product, the lights are bright and large enough that they can provide a powerful visual effect all on their own. That certainly wouldn't be the case with just one LIGHTSYNC keyboard or LIGHTSYNC mouse, making these speakers a great way to get a set started.
And if you're dead-set on choosing a 2.1 channel system, the G560 is an exceptionally strong choice. The audio quality is proportional to the price range, placing it somewhere above entry-level speakers, but below audiophile sound. You're going to see your computer speakers every time you use your computer, so having an attractive aesthetic isn't a trivial concern, and the G560 has attractiveness in spades. Regardless of your own color preferences, the G560 has a kind of deep customizability that makes them well-suited for almost anyone.
Meet Derek, "TechGuru," a 34-year-old technology enthusiast with a deep passion for tech innovations. With extensive experience, he specializes in gaming hardware and software, and has expertise in gadgets, custom PCs, and audio.
Besides writing about tech and reviewing new products, Derek enjoys traveling, hiking, and photography. Committed to keeping up with the latest industry trends, he aims to guide readers in making informed tech decisions.