The deeper we go into the technological era the more we are demanding of the power grid. It is easy to run out of electrical ports in every room of the house, especially if you have a computer room, home office, or entertainment room. With everyone in the home, from ages 3 and up, owning some kind of electronic device, the need for ports is higher than ever and is rising every day.
The only way to cope with the increased demand for electrical outlets is with power strips. Though as most of us know you have to make sure you are doing so with surge protection capacity in order to both protect your devices and your home. Once you have your power strip, you are faced with the issue that every one of us has had to face, abnormal plug shapes covering more than one outlet. So you try rearranging the plugs to see if you can get use from every outlet and finding out in frustration that it doesn't work.
BESTEK for sure felt that pain because their Power Tower is designed specifically to avoid issues with plugs interfering with each other. Not only that, but they have also added in USB charging ports so you can charge mobile devices without taking up an entire port since the USB takes much less real estate. So lets take a look and see if the BESTEK Power Strip Tower can stand up to the competition.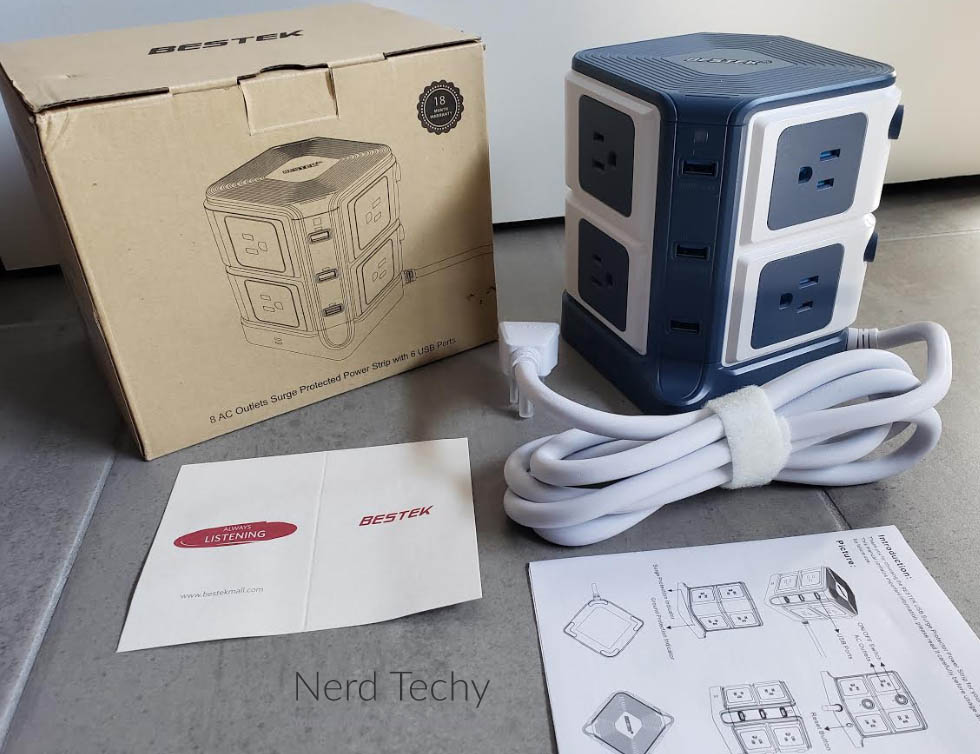 Use the 10% OFF Code: J25DMP2H when ordering the Power Strip Tower on Amazon.com
Design & Functionality
BESTEK describes the style of their Power Strip Tower as being made in the Baroque style with its contrasts and detail. The charging station is under 6 inches tall with what essentially amounts to 8 sides. The four main sides have two electrical outlets each, both facing so if using a three-pronged cable, will have the cable come out to the left. The other four sides are simply the four corners that have been flattened and two of the sides have three USB charging ports. Overall the tower is 4.8 x 4.8 x 5.7 inches and weighs in at 2.1 pounds.
The other two sides are for power as the back side is where the power cable for the tower comes out and the front side has two buttons that control the top and bottom rows respectively. If you press the top button you will power down all the top outlets, and if you press the bottom button you will power down all of the bottom outlets.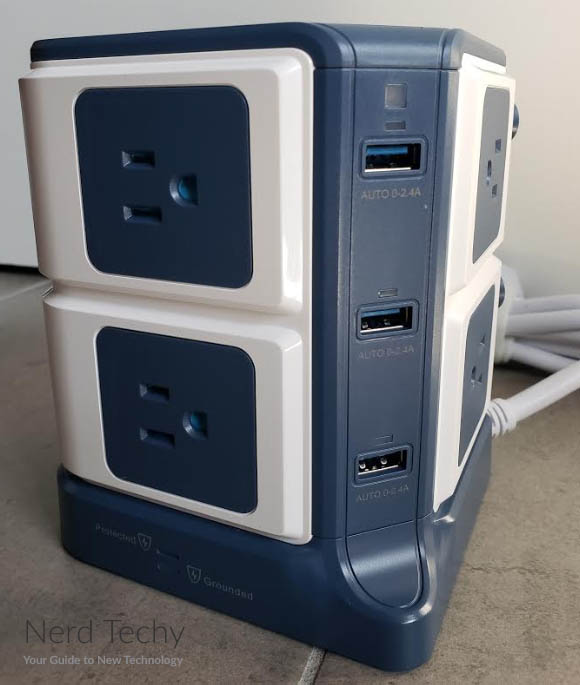 Each USB port also has a paired LED indicator that lights up if the USB port is receiving power. Due to the smart USB ports, the USB will only get power if it detects a device plugged in and not just a cable. The LED ports are also photosensitive so they will adjust to a comfortable brightness at night as to avoid being a hinderance to your sleep. With six USB ports and eight outlets with built in surge protection up to 1500 Joules, there is plenty of real estate to plug in your devices. Each USB port has a max power output of 5V/2.4A which is more than enough for most USB powered devices.
Safety
On top of the surge protection the Power Strip Tower also has short-circuit, overload, and over-current protection. It was designed with UL94 V-0 grade fireproof materials to ensure there are not any hot accidents. For those out there that want the extra comfort of knowing what the UL94 fireproof rating is, here is a bit more details: The UL abbreviation stands for Underwriters Laboratories which is an independent organization in the US that verifies product safety. A UL94 rating goes through both horizontal and vertical burning tests where an open flame is applied in various tests that changes for V0, V1, and V2. A V0 rating is considerably more resistant to fire than products with a V2 rating. So, you can rest easy knowing there has been rigorous testing for that UL94 V-0 fireproof rating.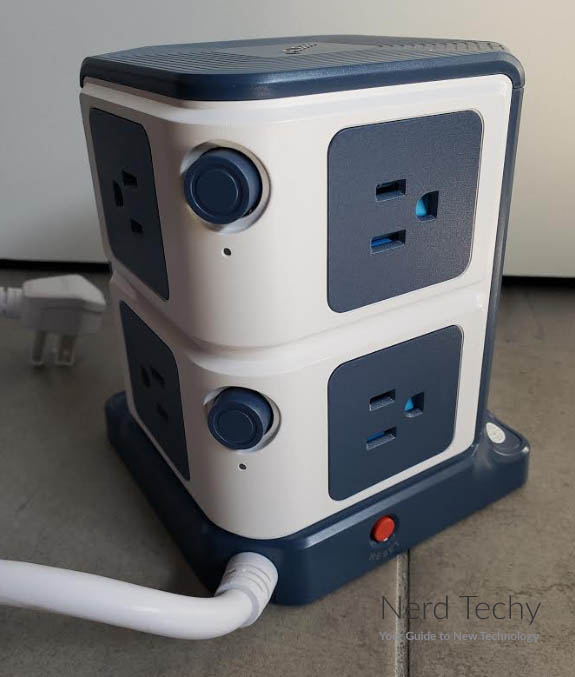 Even beyond the UL94 V-0 fire rating, the BESTEK Power Strip Tower has reset protection, electrostatic protection, went through humidity testing and drop testing. It is also ETL and FCC certified. The ETL certification verifies that all products obtaining certification are in compliance with the North American safety standards.
Options & Explanations
The BESTEK Power Strip Tower comes in a few various options. The base model has all the discussed features and possesses a six-foot power cable. Should you require a longer cable and do not want to employ any extension cables, you can get the twelve-foot model for just a bit more. What is very cool is the third model. The third model comes with all of the features previously discussed, the 6 foot power cable for the tower, but with the added feature of having a wireless charging pad built in.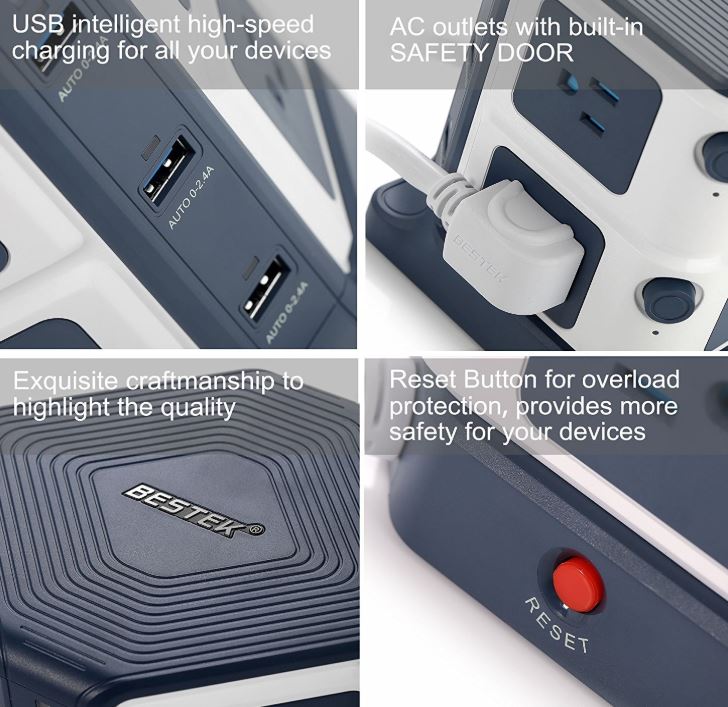 Instead of the top of the tower being unused real estate, the wireless model takes all that space and turns it into a wireless charging pad. The charging pad has an output of 5V/1A and is compatible with all devices that use the Qi wireless charging standard. This feature is particularly convenient if you are like most people that only have a car charger and a bedroom charger. If you have the power strip in some other room you can just throw your phone on top instead of having to go get your charger and then remember to bring it with you when you leave again. The Qi wireless charging also helps when you have guests that want to charge their phone but might not have the same model of phone that uses the same USB charging cable. Now they can just throw their phone on top and charge away making life easier for everyone.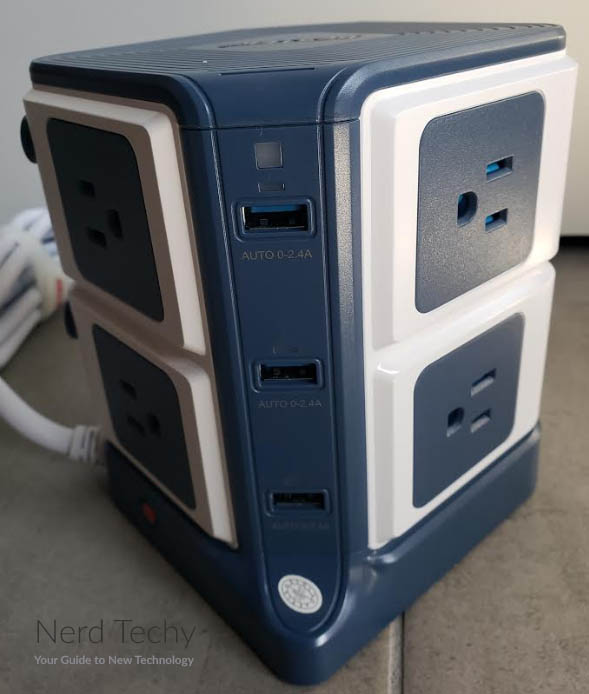 For those of you unfamiliar with Qi wireless charging, most phones now days have built in compatibility. Qi comes from the Chinese word qi that means 'vital power'. The Qi standard uses inductive power transfer that activates when it detects a compatible device. The transmitter coil generates an electromagnetic field that induces a current in the receiver coil. Technically speaking the power is not actually transferred from the wireless charging pad to the charged device. The power from the pad is used to generate the electromagnetic current and then any device with a compatible receiving coil within the range of that electromagnetic current reacts to the current moving electrons into a charged state. One relatively simplistic way to think about this is hydroelectric currents that move a turbine that then generates the power. There is no power transfer from the water to the turbine per se, it is just a reaction of the flow that results in power generation.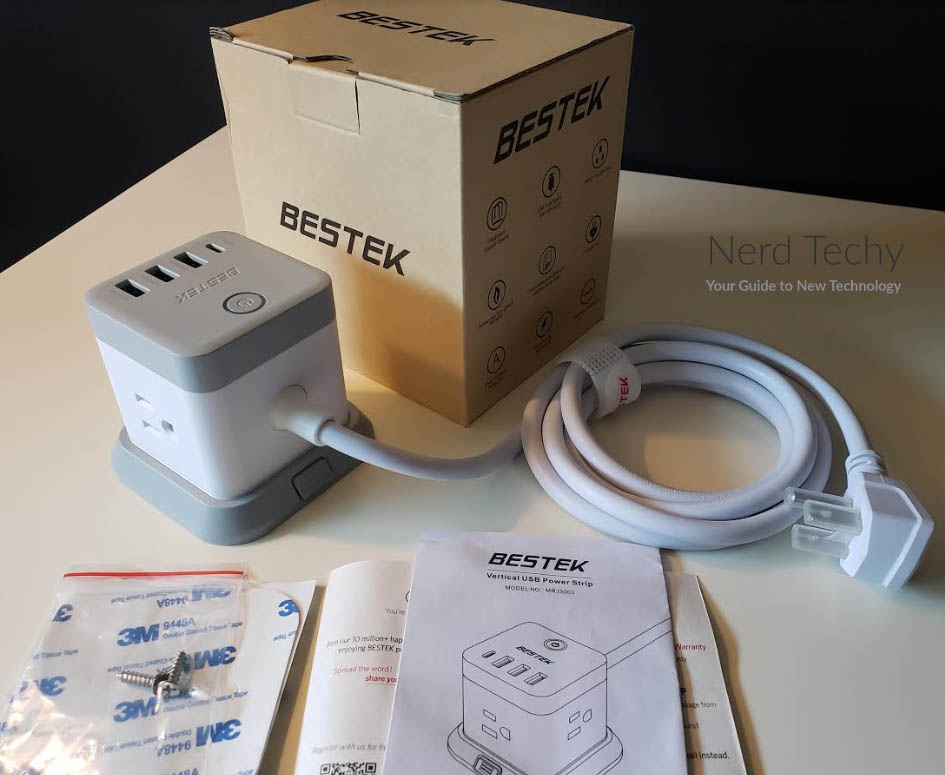 If you are looking for a convenient power extender but don't think you need all the power and options that the power tower comes with, there is a great little BESTEK power strip cube. The mountable power cube has three 3 USB, 1 USB-C, and 3 outlet ports on it and can be easily mounted almost anywhere including the bottom of a table. The cube is much smaller than power tower as it is only 3.4 x 3.1 x 3.1 inches in total. It is a great alternative for someone that wants a much lower profile expansion option.
Use the 10% OFF Code: SX92H8WP when ordering the Power Strip Cube through Amazon.com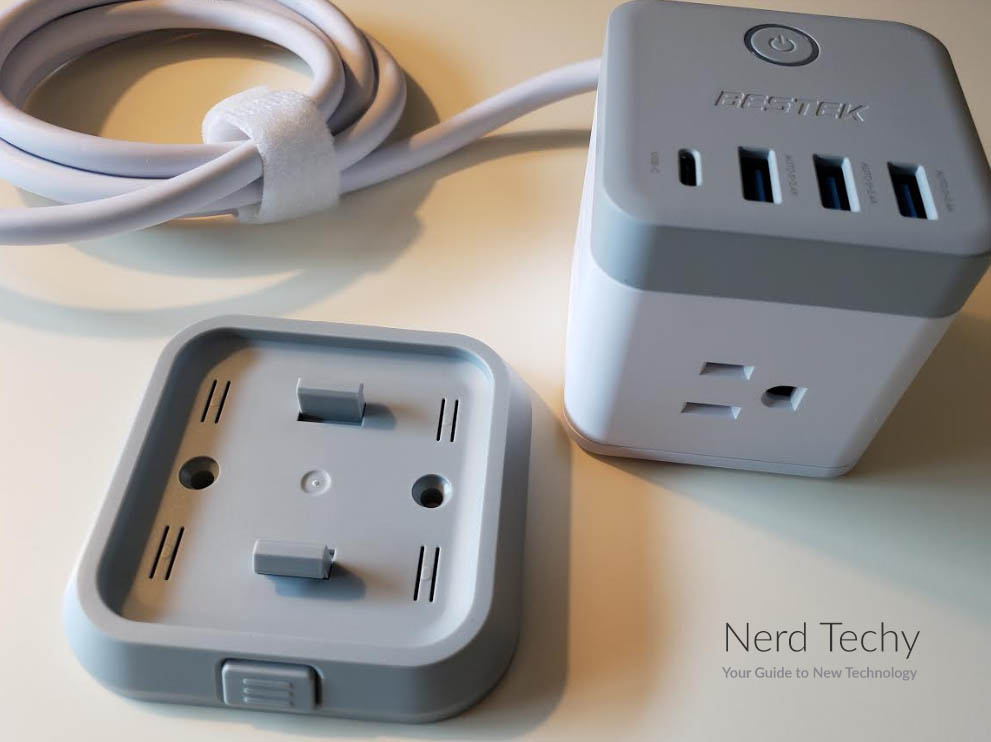 Convenience
The BESTEK Power Strip Tower is very obviously a convenient little surge protector. With it's various USB ports, eight outlets and wireless options having one of these in every single room of the house would be completely understandable. The design results in a lot of saved space and makes it look good in the process. Being able to disable half of the ports at a time paired with good cable management can be incredibly convenient for more advanced users that need that additional power control.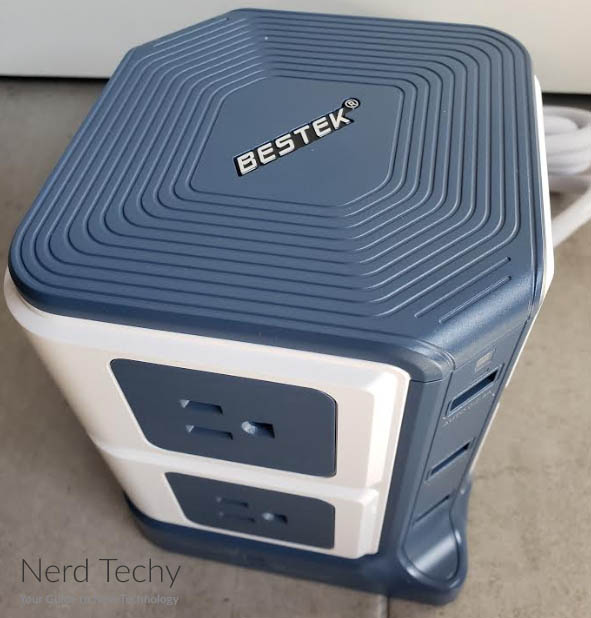 One specific test case was with the power tower placed behind a duel monitor setup on a corner desk. All cables were utilized for the computer setup including both monitors, the desktop, the speakers, the modem and router, and two external Hard drives. This single power strip is used for the entire setup and still has USB ports that can be used for phones. Another great use is in the living room for guests to use when they visit. Whatever use case you end up with, the convenience will be clear, along with the phenomenal build quality.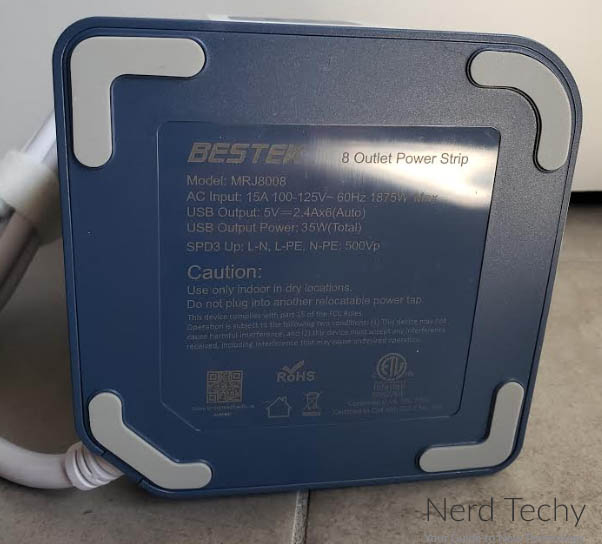 Conclusion
This power outlet has one of the best build qualities that we have seen in any power outlet. When it comes to electricity you do not want to mess around with low quality items because when tragedy strikes it could mean more than the loss of your electrical devices. It is simply not worth buying low quality products that could be the source of a fire. Your home, your possessions and your loved ones are far too important to put at risk. So if there is a product in the world that you should be doubly concerned about quality, it is a power strip. With all of the safety certifications that the BESTEK Power Strip Tower has you know you can put your trust in it. From a 750 degree Celsius temperature resistance to the various certifications and quality build material, they put in the work to prevent any mishaps.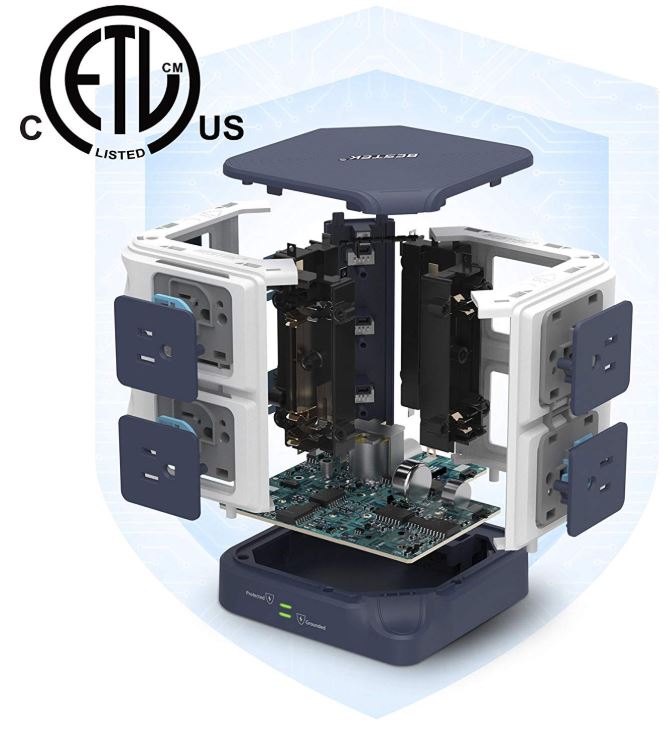 One might think there is not much to say about power strips but that is blatantly incorrect. Electricity is everywhere and managing it safely is more important than ever. Our lives are on our devices and if we fry our phones because we chose poor quality power strips then we have no one to blame but ourselves. When it comes to quality, this power strip is top tier, and along with the excellent build quality and safety rating, they have a 'hassle free' 18 month product warranty that will cover any defects or faulty materials. They also have a 30 day money back guarantee so should you decide the design isn't to your liking (and lets be real here, that is the only reason someone wouldn't like this power strip) you can send it back for a full refund.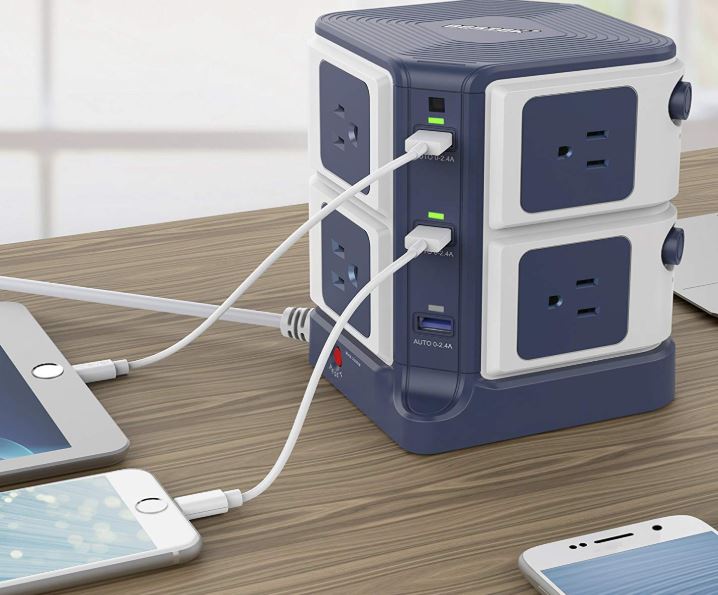 So should you get one? Yes, most definitely. Even if only to test it out for 30 days and send it back, though it is very doubtful you would return this power tower once you have felt the build quality. Here at NerdTechy we are lovers of technology and just how pets deserve the vest quality food and toys, our electronics deserve the best quality, safest electrical surge protectors and it doesn't get much better than the BESTEK 8-outlet Power Strip Tower.