In today's market, you can't be too careful about what kind of wireless earbuds you buy. There's simply a glut of them on the market. And for every good choice, there's a real clunker. If you want to sort out the good from the bad, one easy way is to stick with a manufacturer you trust. One of these manufacturers is Enacfire. We've reviewed several of their earbuds in the past, including the Enacfire F1 and Future Plus. Today, we'll be looking at two of their newer offerings: the Enacfire E60, and the Enacfire G20. Let's see how they compare!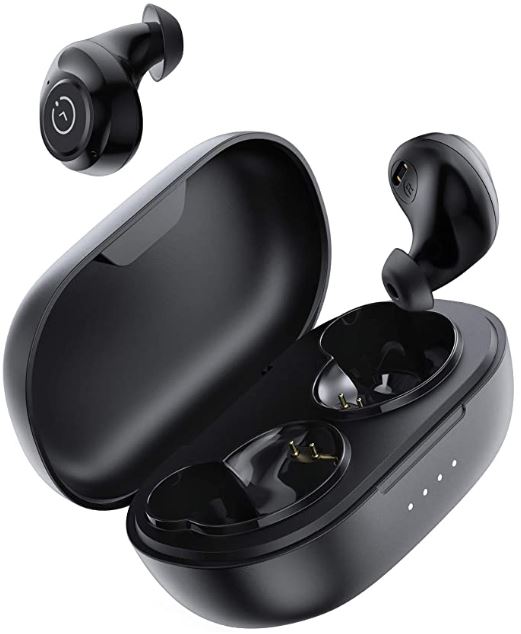 Enacfire E60 Wireless Earbuds
The Enacfire E60 Wireless Earbuds have a small, teardrop-shaped design. They have a smooth, contoured profile, with a glossy black ABS plastic shell. The ear tips extend well out from the buds themselves, and are designed to seat deep in your ear canal. This ensures a secure fit, as well as excellent noise isolation. In the package, you'll receive three sets of extra ear tips. If you want to ensure the best possible fit, swap out for a different set.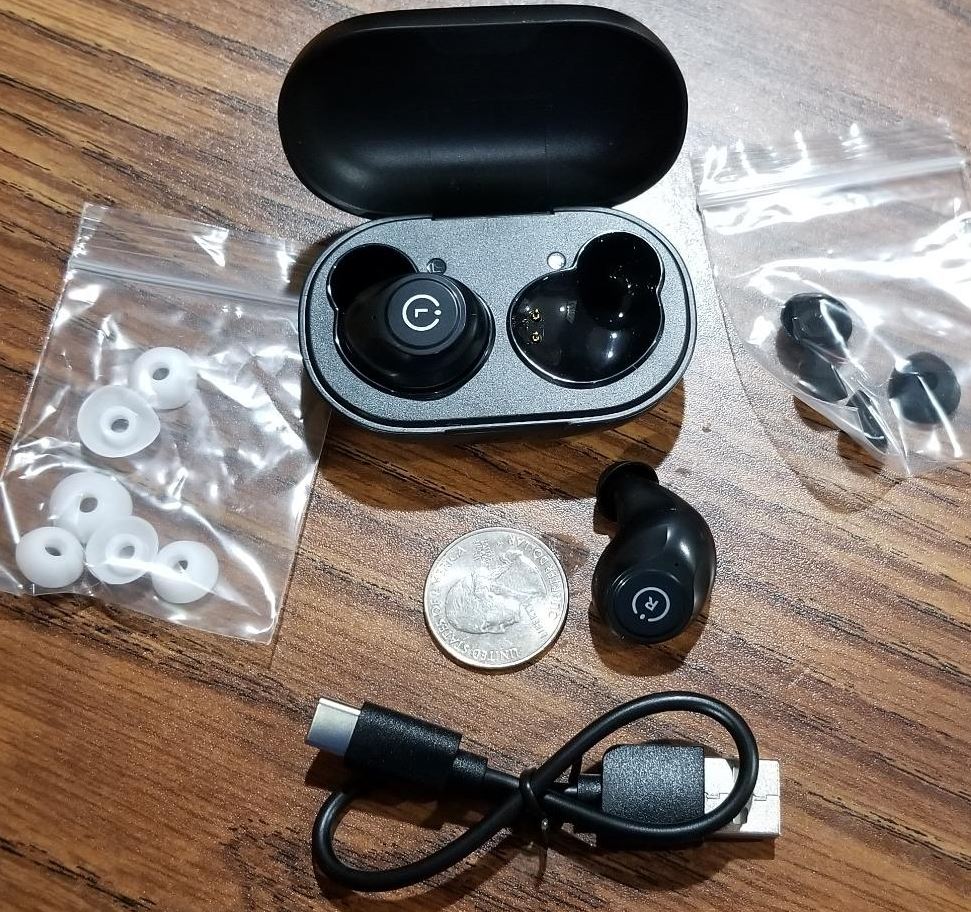 On the back of each earbud, you'll see small "L" and "R" indicators to help you keep track of them. These indicators mark the center of the soft touch buttons, which provide a variety of functions. You can use them to play or pause, skip tracks, answer or end calls, or even activate your voice assistant. The soft touch function ensures that they're comfortable to operate. They're also have a water resistance rating of IPX8. This is the highest rating a product can receive, and means it can withstand full immersion. Intense workouts, foul weather, and even showers are no obstacle to the E60.
The E60's charging case is fairly small. It measures 2.5 inches wide, 1.4 inches deep, and 1 inch thick. This compact profile is pocket-friendly, so you can carry it just about anywhere. And it's lightweight enough that you'll hardly even know you're carrying it. It has a clamshell-style design, with a spring-loaded lid that's easy to operate. Just under the lid, there's a row of four LED lights that indicate the battery status. All of this comes with an 18-month warranty against any manufacturer's defects. There's also a 90-day no-questions-asked return period. If you don't like the E60 for any reason, you can just send it back for a full refund within that time.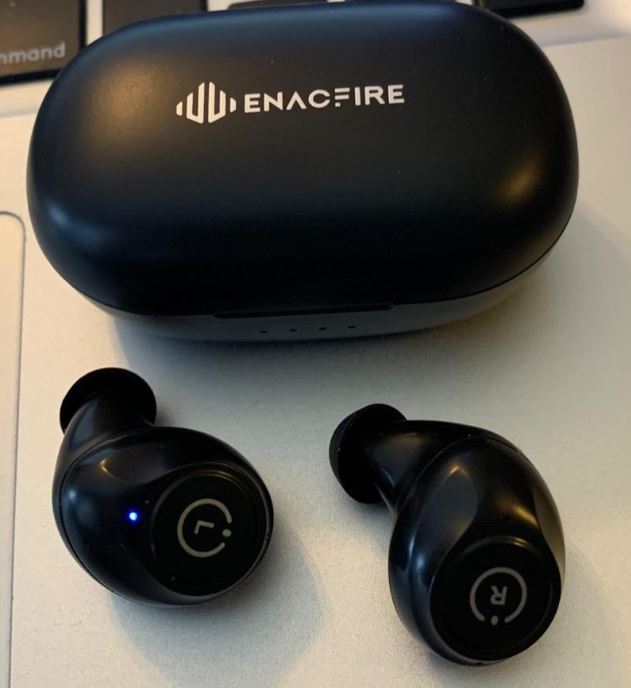 Battery and Connectivity
On a single charge, the Enacfire E60 will provide 8 hours of total playtime. As with most wireless earbuds, this is a manufacturer's rating based on playback at moderate volumes. Your actual performance will vary based on volume, bitrate, and other factors. That said, 8 hours is excellent for wireless earbuds, and good enough for just about anybody. If you need more battery life, the case holds a reserve charge that's good enough for five recharges. Your total battery life comes out to around 48 hours. Not too shabby! The case will recharge in less than two hours via USB Type-C. It also supports Qi charging if you prefer to charge your devices wirelessly.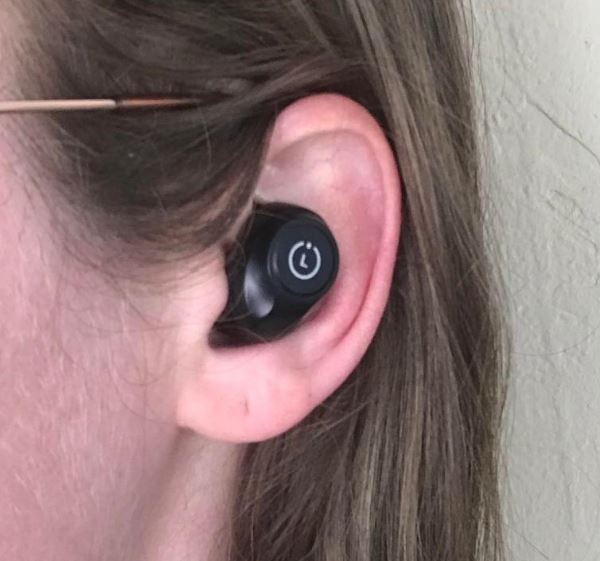 Enacfire is known in part for the quality of their batteries. As such, it should come as no surprise that they offer earbuds with even better performance. For example, the Enacfire E18 provides a total playtime of a whopping 88 hours. However, it does not support Qi charging.
The E60 pairs with your phone via the Bluetooth 5.0 protocol. This is the most recent version of the Bluetooth protocol, and it performs very well. You get significantly less latency and lag, which means you can watch movies or play games without any lag. In addition, you get a much more stable connection. This means no dropped calls, and no stuttering in your connection. Finally, you get a range of 33 feet, so you don't have to feel tethered to your smartphone. E60 earbuds can also be paired individually. This makes hands-free calling easy, particularly when driving. It also means that you can double the battery life by using one earbud at a time.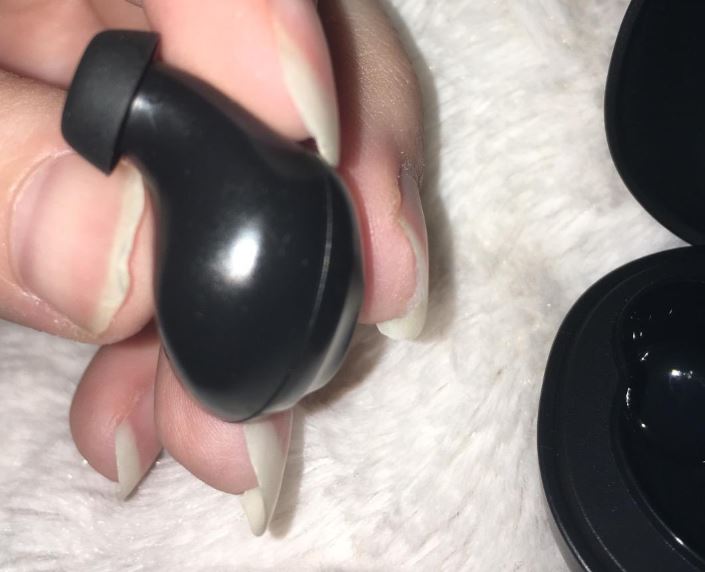 Sound Quality
The E60's audio performance is near the top of its class. It's well-balanced, without any special emphasis placed on high or low tones. As a result, if you have an EQ setting on your phone or MP3 player, it will respond perfectly. The highs are crisp and shimmery, and the lows have plenty of punch. This in itself is unusual for a pair of wireless earbuds. But the soundstage is also excellent. Audiophiles will be able to hear each individual instrument, without crossover or interference. Vocals will be right in the forefront, just where they should be. Whatever genre you prefer, you'll be able to enjoy it with the E60.
Call quality is also very good. You won't have any latency in your conversations. And provided the person on the other end has a good microphone, you'll hear them clearly. In addition, the E60 uses CVC 8.0 noise cancellation. This filters out most background noise, so the other person can hear you clearly.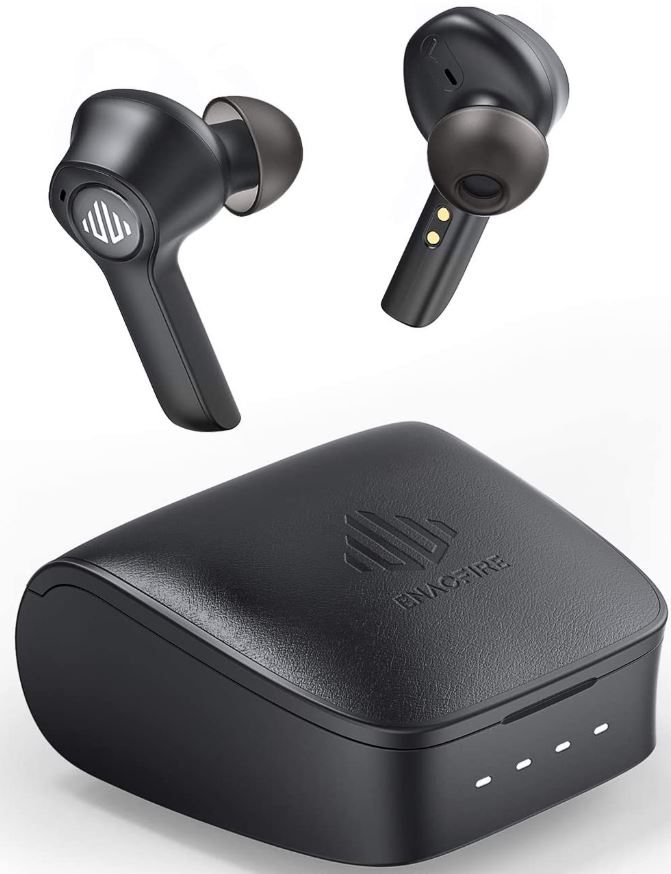 Enacfire G20 Wireless Earbuds
The Enacfire G20 Wireless Earbuds have an AirPod-style design. Instead of sitting deep inside your ears, they have a relatively shallow fit. This makes them a good choice if you have sensitive ear canals. However, it also means that a well-fitted ear tip is very important. If you have a loose fit, the buds will fall out easily. Thankfully, Enacfire includes 3 sets of ear tips in the kit. Just make sure to get a good fit before you go running. The backs of the earbuds have soft touch controls that are easy and comfortable to operate. You can perform just about any function, from skipping tracks to answering and ending phone calls.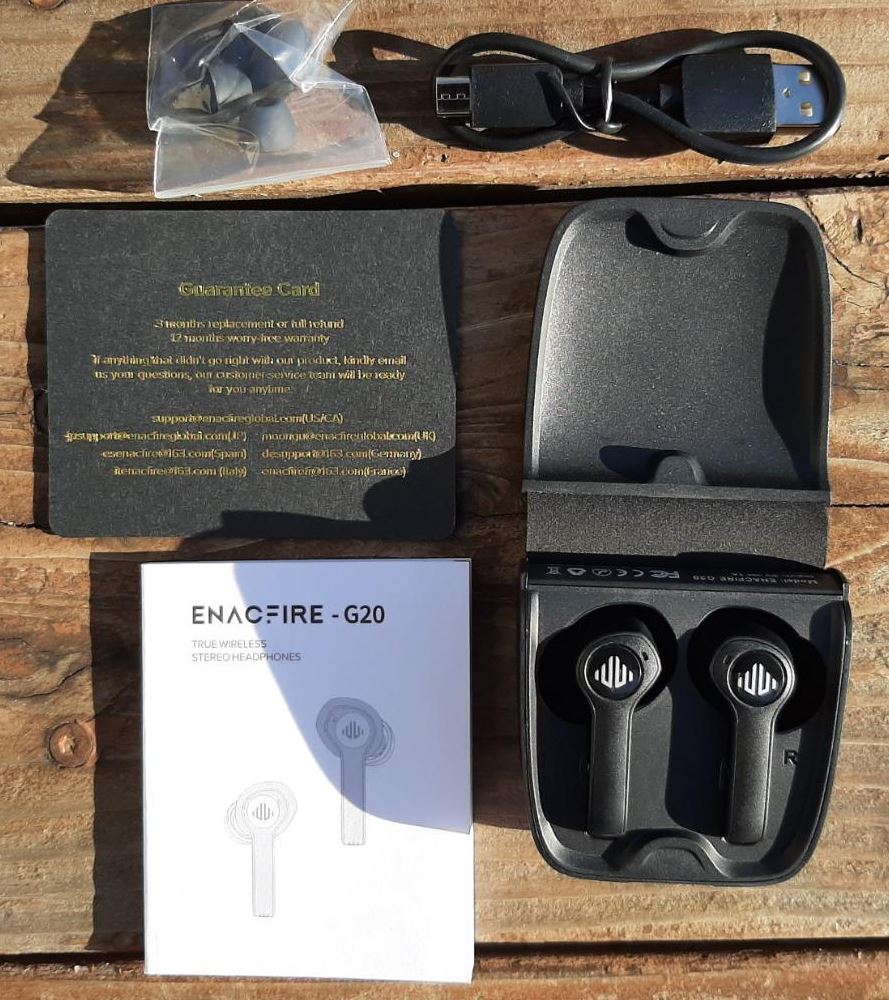 The earbuds have a satin black ABS plastic shell, with long batteries just like AirPods. As a matter of fact, if it weren't for the black finish, a casual observer might confuse them for AirPods. Like the E60 buds, the G20 buds are also IPX8-rated for water-resistance. You can shower with them, and if you happen to drop them in water, they won't be permanently damaged.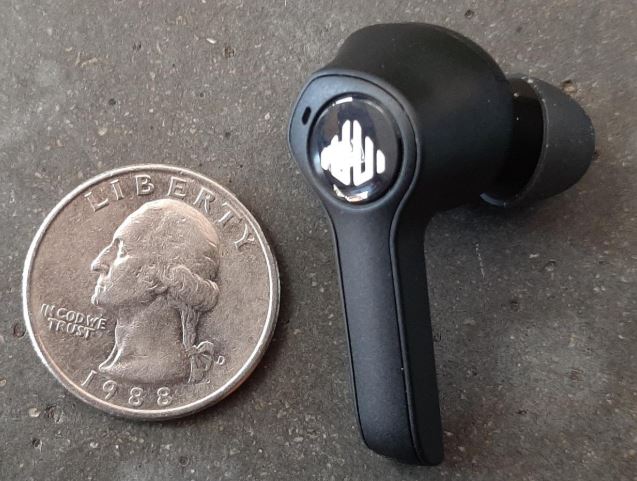 The G20 case has a sloped shape, and the buds lie down horizontally inside. This marks a departure from the AirPod-style design, where buds would drop in vertically. The overall dimensions are 3 inches wide, 3 inches deep, and 1.3 inches in thickness. Because the design is sloped, these dimensions talk about the thickest parts. As a result, the actual size is somewhat smaller than it sounds like. Still, it's not a good choice if you want a pocket-sized design. It's better-suited to carrying in a backpack or a purse.
The case matches the earbuds, with an ABS plastic construction and a clamshell-style design. On the front, there are four LED lights that indicate the total battery charge. Just like the E60, the G20 comes with an 18-month manufacturer's warranty. You also get the same generous 90-day, no-questions-asked return window.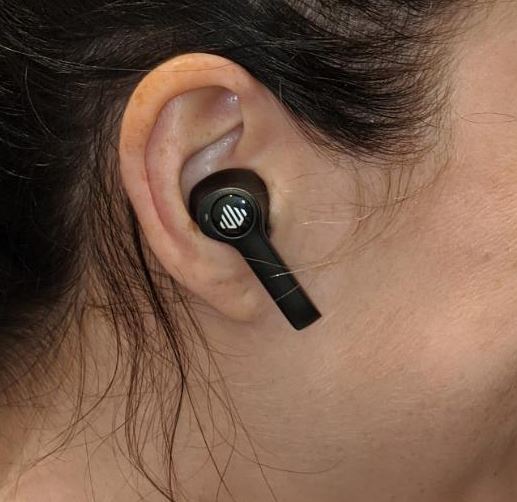 Battery and Connectivity
The G20's earbud batteries are powerful enough to provide 7 hours of playtime at moderate volume. Depending on the actual volume, bitrate, and temperature, you may get different results. Regardless, you're looking at plenty of battery life for most everyday purposes. The case provides an additional 35 hours of battery life. This works out to a total of 42 hours of battery, more than good enough to last through the weekend. If you happen to run out of juice in an emergency, a quick, 10-minute charge will give you a full hour of playtime. The case itself charges in under 2 hours with Micro USB.
Like the E60, the Enacfire G20 uses the Bluetooth 5.0 protocol. Latency, stability, and clarity will not be an issue. That said, you can't pair the G20 earbuds independently. If you want hands-free calling, you'll still need to connect both earbuds.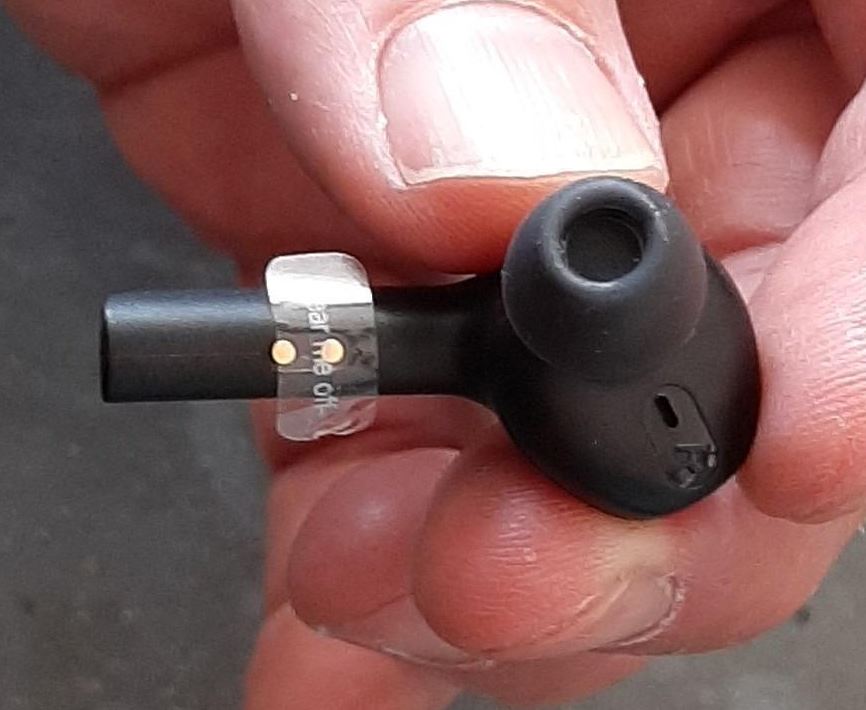 Sound Quality
When it comes to audio quality, the G20 earbuds are comparable to the E60 buds. The EQ is well balanced, with no glaring weaknesses. Any genre of music is going to sound just fine. The sound stage is also extra-wide, with plenty of separation between instruments. Vocals sound particularly smooth and clear, so you can hear lyrics without any interference from other instruments. But in addition to all this, the G20 also utilizes the aptX low-latency protocol. This provides the lowest possible latency on a Bluetooth connection, even Bluetooth 5.0. It even allows for minimal latency at very high bitrates. If you're a true audiophile, you won't have to sacrifice quality just to get wireless convenience.
Call quality on the G20 is more than good enough, even for professional purposes. You get CVC 8.0 noise cancellation, ensuring that background noise won't drown out your voice. On your end, you won't have any issues either. Unless the other person is having mic issues, you'll hear them very clearly.
Final Verdict
As you can see, both have a lot to offer. But what sets them apart? Let's start by looking at the Enacfire E60. It has a teardrop-shaped design, which is well-suited to athletic activities. It also sits deep in your ear canal, ensuring a secure, noise-free fit. The battery life is better than you'll see on most comparable earbuds. The sound quality is also very well engineered. With a wide soundstage and balanced EQ, you'll get excellent performance at a very reasonable price.
The Enacfire G20, meanwhile, is a bit of a different beast. The AirPod-style design isn't as well-suited for athletic activities. However, it has a shallower fit, which means it's comfortable for people with sensitive ear canals. Provided you use the right ear tips, you'll still get good passive noise blocking. The battery life is slightly less than the E60. But when you're talking about 7 hours versus 8 hours, it's not that big of a difference. When it comes to sound quality, the G20 has a slight edge. The aptX low-latency protocol provides a lot of added value. Either way, you're looking at two excellent pairs of earbuds.