Trying to push yourself at the gym? The right music can help you run that extra mile. But finding earbuds that can keep up with you? That can be a bit of a chore. Finding a pair that won't fall apart the first time they get wet isn't so tough these days. But finding a pair that are more than just a good value can actually require some investigation.
ENACFIRE E18 Plus Wireless Earbuds
Different types of earbuds get made for different types of listeners. Sitting in front of the TV at home? That's a pretty different type of activity than running along the side of a highway, or trying to drown out the sound of weightlifters slamming down weighs in the background. For an optimal audio experience, you'd want a different sound profile for each scenario.
The ENACFIRE E18 Plus were mostly made with athleticism in mind. That's not to say they sound bad when you start watching movies. But by looking closely at their design, it's pretty clear what these earbuds were specifically made to do. They're for people who want to stay active, rain or shine. They're for people who expect sweat will inevitably end up on their earbuds. And they're for people who are constantly on the go.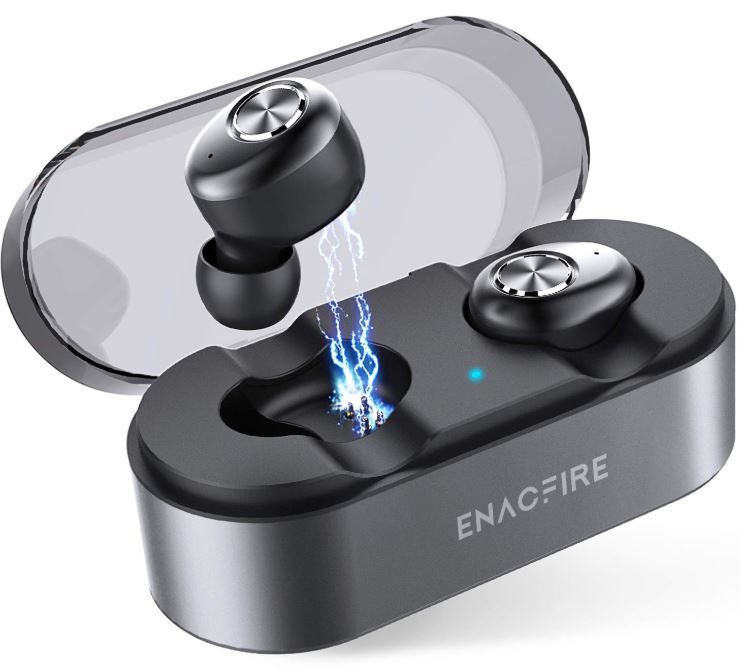 Without ear hooks, earbuds have to rely on tensile strength in order to maintain a firm seal around your ear. With the help of ear hooks, the E18 can be totally stable against your head. They also don't require as much squeezing force inside your ear to help stay in place. Need earbuds to stay fit and snug against your ear, without having to micromanage them? The E18 might be able to help.
The Charging Case
Everybody likes unique stuff. The E18 Plus charging case is at least a little unique. It's measures about 2.56 x 0.98 x 1.97 inches, making it wonderfully small and portable. Though the case is a little bottom heavy, but that's actually a good thing for stability. The battery weight was clearly positioned near the bottom of the case for that reason.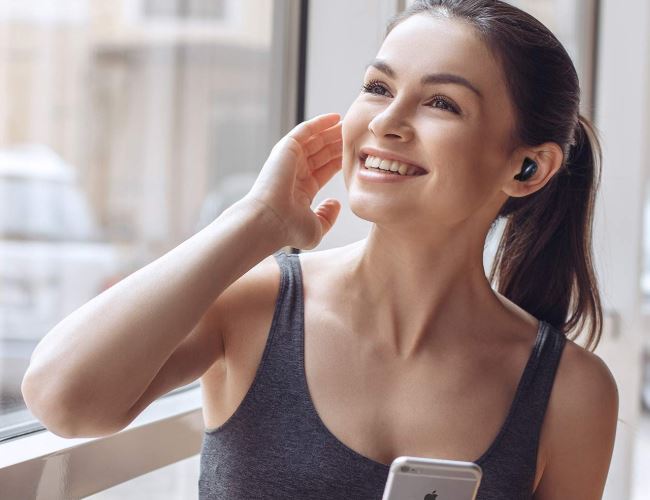 Along the front of the charging case, you'll notice four small white LEDs. These LEDs are probably the least intuitive part of the E18. Two are used to indicate the charging status of the earbuds inside, and then the others are used to indicate the battery status of the case.
Another small complaint. Unfortunately, the topside of the case flops itself open a bit too easily. It would've been nice if they had used some kind of magnetic hinge. The hinge that holds the top together isn't as secure as it should be, and isn't built to last for more than three or four years. In other words, it was probably made to match the lifespan of the battery inside the E18 earbuds.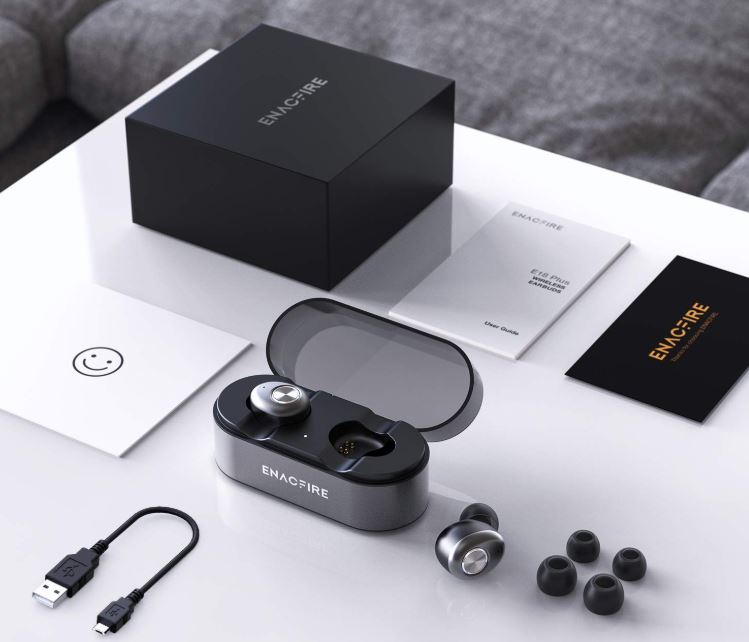 The Earbuds
Speaking of the earbuds, both the case and the earbuds use a pretty ordinary looking gray-and-black design. Not exactly made to help you stand out, but on the other hand, that's exactly what a lot of people are looking to find. The neutral blacks and grays will color coordinate with anything you happen to be wearing, after all.
The only real attempt at giving these earbuds a distinctive style can be found in a metallic silver circle on the outside of each bud. The circle isn't entirely a style decision though because it's used to help highlight the position of the touch button interface.
It's a terrible shame when earbuds like the E18 decide to use analogue buttons, especially when those buttons are crowded into one small space. It's just about impossible to operate those buttons in your ear. Because even if you can actually find the button you want to press, and distinguish it from the other buttons, off-center buttons can cause you to dislocate the earbud anytime you try to interact with them.
Touch buttons are a much smarter design. The touch button is always on-center so interacting with it won't interfere the fit of the earbuds in your ear. Moreover, touch control patterns are usually pretty intuitive.
In this case, you'll find the E18's left earbud controls can be used for rewinding to previous tracks, or lowering the volume. The right earbud controls can be used for skipping forward through tracks, or raising volume. Simple enough, right? It only becomes a little more complex when they start layering on call features. But it never becomes so difficult that you really have to break out the user manual.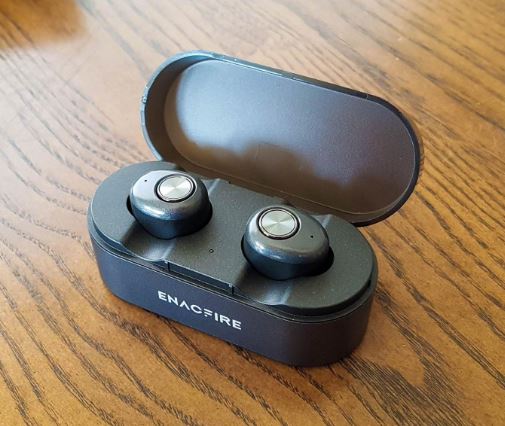 Audio Quality
Earbuds like these tend to do one of two things to develop a soundstage. The first possibility is they try and amplify certain parts of the tonal range. That's useful for helping to give certain types of music genre a boost. The second possibility is creating a more vacant, clarity-oriented soundstage. This choice is typically seen with in-ear monitors, where you need to hear things as they are.
The ENACFIRE E18 Plus mostly belongs to the first category. As mentioned previously, ENACFIRE made these earbuds favoring athleticism. When working out, people typically don't listen to something slow and cerebral, like classical music. People tend to listen to aggressive, upbeat, or high-pace music that helps keep them in the zone. That's more or less what the E18 were designed to do.
They excel in the treble range, and E18 has its bass as boosted as can be. Whether or not you enjoy boosted bass is a matter of taste, but if you do find these earbuds a bit bass-heavy, it's possible to back off the bass using an equalizer. Unfortunately, ENACFIRE doesn't have their own app or equalizer that you can use, so you're left to your own imagination to dig up one of those.
Mid-tones are the bread and butter of any headset because that's where most vocal tones exist. The E18 does a pretty good job of representing those, as well. Though given how much emphasis was put on the bass, the mid-tones feel like they lack energy by contrast. Everything still sounds great, but it's clear these earbuds were not made specifically for listening to podcasts or audio books. They were made rather specifically for music and movies.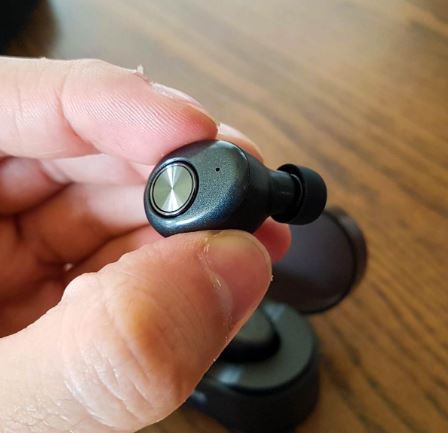 Battery Capacity
The E18 are intended to provide 4 hours from a single charge. Talk time is slightly better, a bit closer to 4.5 hours. That's about average for a pair of wireless earbuds. Whether or not you actually achieve 4-hours depends on your volume levels, among other things. But the 4-hour estimate is realistic unless you're listening at much higher levels of volume, at which point you might expect to get closer to 3-hours.
After you've depleted the earbuds, you can shove them inside the charging case to help get yourself back in motion. Even though the case is quite small, inside they've packed a pretty large 2600mAh battery. That's fairly similar to the kind of battery you'd find inside of many different smartphones. And that larger battery is how these earbuds are capable of delivering a maximum 88 hours of play.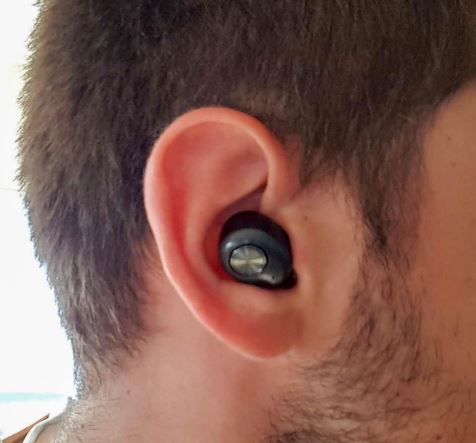 Once again, that 88-hour estimate is pretty generous. When you raise your volume to much higher levels, you'll find the total playtime drop closer to 70hrs. That's still very high, though. It's actually close to twice as high as many similar athletic headsets. If you're looking for a reason these earbuds are closer to the $50 mark than to the $30 mark, that reason is almost entirely a result of the battery.
Wireless Connectivity
Another thing that helps out the battery is the inclusion of Bluetooth 5. Their wireless connectivity is about as simple as any pair of Bluetooth headphones can be. Using the latest version of Bluetooth allows for a more stable connection and fewer problems with transmission losses.
In other words, you don't have to worry about your audio cutting in and out as much. The E18 even get a boost to its transmission distances. Breaking out of the usual 33ft leash that people get attached with, the E18 are capable of extending your signal out towards 60ft. Not bad.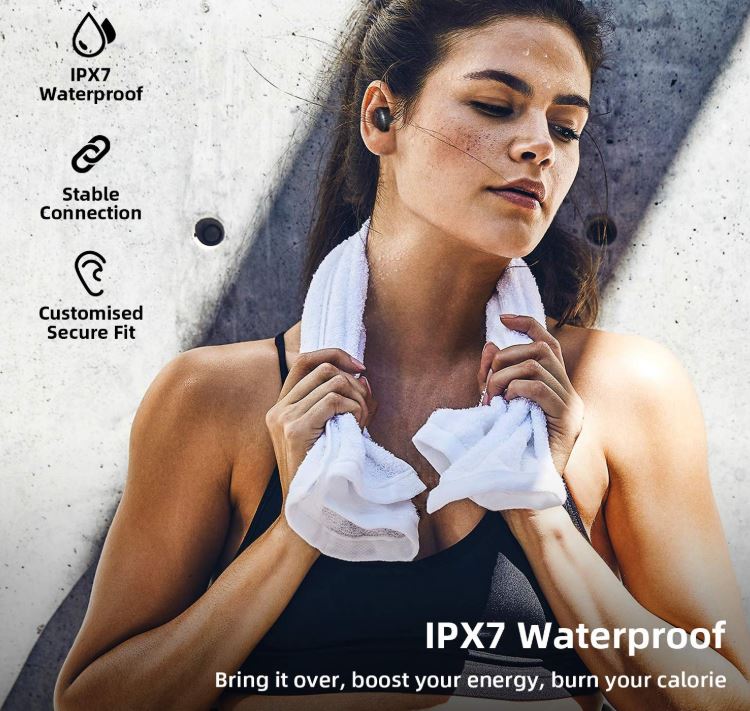 Comfort Concerns
The E18 provide three sizes of ear tips, which is about the usual number you get from a kit in this price range. And three tips are usually all you need to ensure you end up with a pretty solid ergonomic fit. But in order to get that fit, it's actually pretty important that you take the time to try out the separate ear-tip sizes. The size that will work best for you isn't necessarily the size that feels right immediately.
Getting the right size isn't entirely about comfort, either. Because these ear tips were designed in the interests of noise isolation. Being able to squelch environmental noise while listening to your music can be critical to the experience, and it can be critical to keeping the earbuds in your ear during activity. The E18 gives you everything you need to succeed, if you only take the time to use it.
Unfortunately, the E18 doesn't include any memory-foam style ear tips. Those are an increasingly common variant of included tips, especially among athletic headphones without ANC. Because you're relying entirely on the ear tips for noise isolation, after all.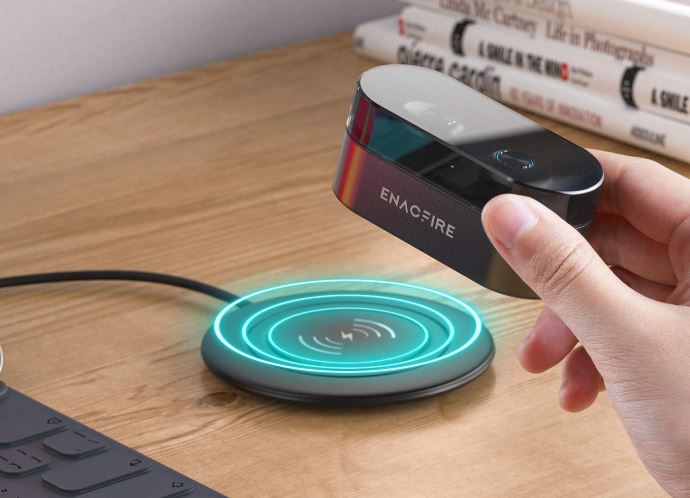 Other Considerations
The ENACFIRE E18 Plus comes with an 18-month warranty. Pretty impressive warranty, but you probably won't have to end up using it. Audio equipment rarely encounters a manufacturer's defects. Enacfire also provide 24/7 tech service. But Bluetooth 5 doesn't exactly require a degree in rocket science to setup. So it's terribly unlikely you'll need to get help.
Who Should Choose ENACFIRE E18 Plus Wireless Earbuds?
The ENACFIRE E18 Plus Wireless Earbuds were made specifically for athleticism. If you're someone who's outside running through the rain, or inside sweating at the gym, then the E18 are probably right up your alley. They're reasonably well designed, reasonably high quality, and do a reasonably good job of sounding as smooth as a CD.
What really helps the E18 stand out is that amazing battery lifespan. Being able to reach upwards of three or four days of playtime? That's hard to complete with. Most headphones in this price range don't aspire to reach those kinds of battery levels. In a sense, they're even a little redundant.