When you're choosing headphones, it's easy to make mistakes. If you're not careful, you might end up with the wrong type of comfort options, or you might end up paying for features you don't care about.
Fortunately, the high-end earphone market has become quite competitive lately. If you know what kind of features you want, it's getting much easier to find equipment uniquely suitable to your needs.
REECHO Bluetooth 5.0 True Wireless Earbuds
REECHO earbuds were made to deliver a handful of specific advantages. Some of them are obvious, and some of them are subtle. For instance, these earbuds deliver a particularly secure fit from the silicone ear-tips, and greater noise isolation than most comparable earbuds. But what you'll find inside of them is almost as important as what you don't find.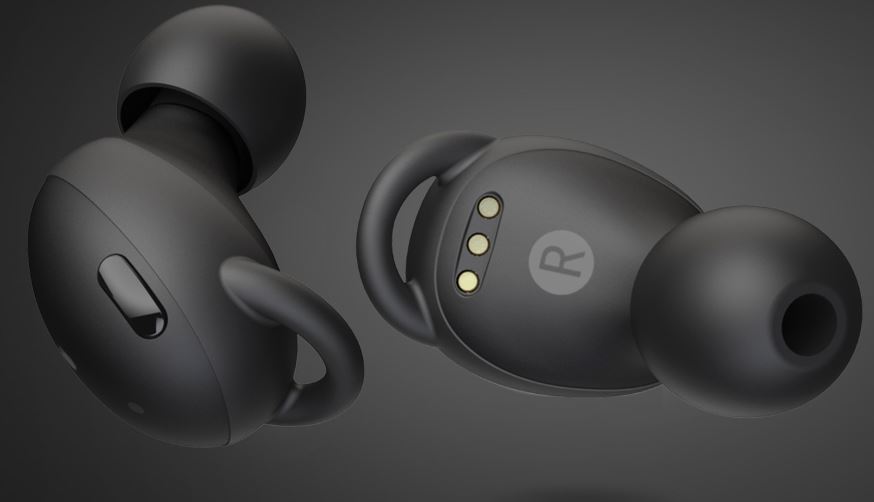 These earbuds aren't loaded with a bunch of superfluous features that only serve to inflate their price tag. Unless you consider comfort unnecessary, or a long battery lifespan not worth having. Because those are really the two features that these earbuds emphasize above all else.
When you're searching for athletic headphones, you might care less about lasting comfort, and you might care less about battery lifespan. But for someone who's going to be using their earbuds throughout the course of an entire day, those kinds of things can be a big deal. And that's what these earbuds were made to deliver.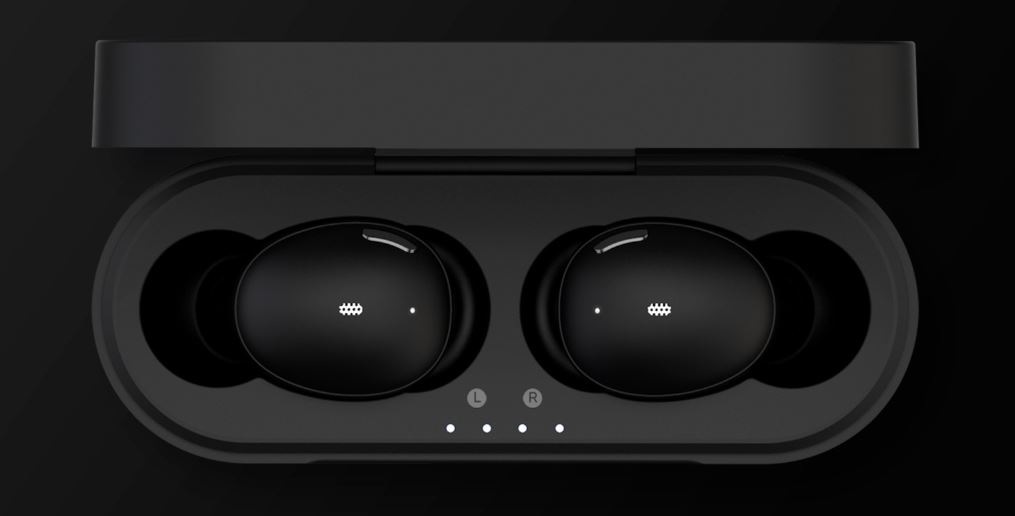 Build & Design
With respect to their physical design, REECHO Bluetooth Earbuds really don't stand out. If you looked up earbuds in the dictionary, there might be a picture of these earbuds waiting for you. Many people will have a tough time telling them apart from almost any other similar pair of earbuds, especially because REECHO didn't cover their work in logos or product branding.
That leaves the body of each earbud looking rather barren, highlighted only by a small microphone and a single analogue button on each bud. The button is slightly raised above the rest of the chassis, allowing you to find its location by touch alone while these earbuds are being worn.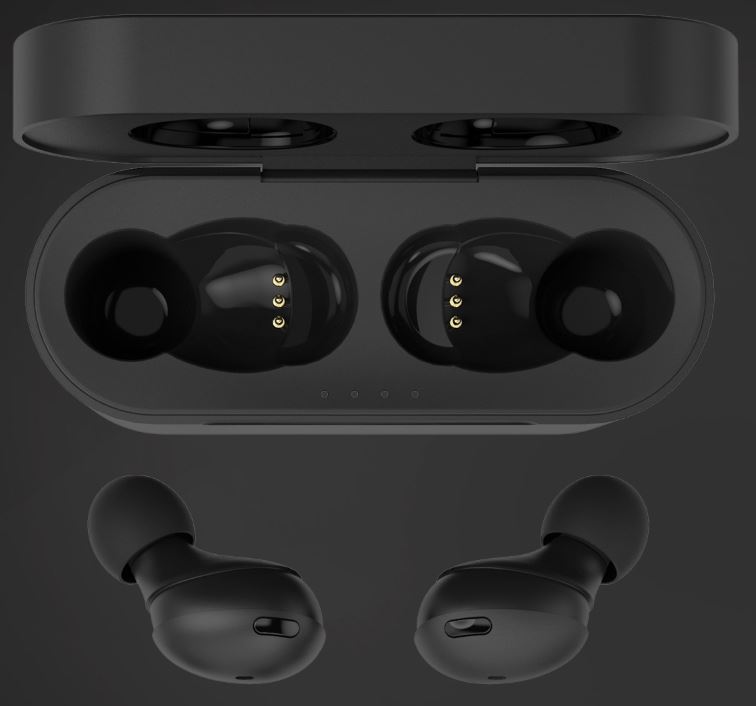 Waterproofing and Color Options
The simplicity of this design also why the different color options for each earbud ends up looking very distinctive. The orange buds aren't simply orange on the chassis of the earbud, but on their silicone ear-tips, and even their charging case. Keeping the same style among all components is something few brands in this price range bother to do.
There are a total of seven options. Among those options you'll find orange, white, red, black, blue, pink, and gray. The only option that doesn't look stunning is black, and that's only because it looks terribly bland and non-descript.
One more thing to keep in mind is these buds are IPX6 waterproof. In the interests of keeping your earbuds protected from rain and sweat, that's more than enough. When it comes to aquatic activities involving submersion, you'd really want something closer to an IPX8 rating. But provided that you don't intend to hop into the pool, REECHO Bluetooth Earbuds won't let you down.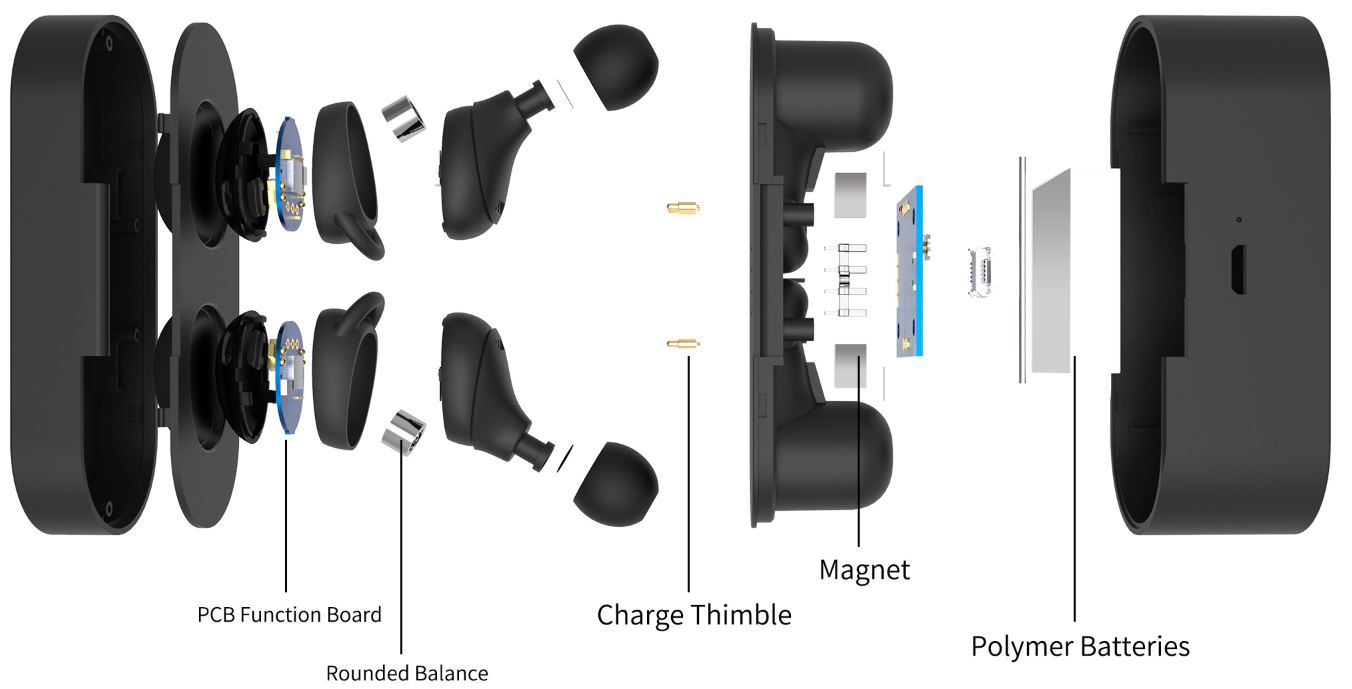 Comfort & Security
The REECHO Bluetooth 5 Earbuds include three sizes of ear-tips and wing-tips. Getting a good fit from Bluetooth earbuds is usually pretty simple when you can choose between at least three sizes.
If you're someone who's had issues finding the right fit in the past, these ear-tips are very unlikely to be an exception to your past experiences. The silicone was colored for each earbud specifically, but they still use standardized ear sizing. The sizing should be familiar to anyone who's used in-ear headphones in the past.
There are also wingtips, which can be attached to help secure the earbuds inside your ear. Having three sizes of wingtips contributes to comfort, especially long-term comfort. But the wingtips are more about security than anything else. Having the right pair helps ensure the earbuds won't wobble out of position, or otherwise need adjustment over the course of a day.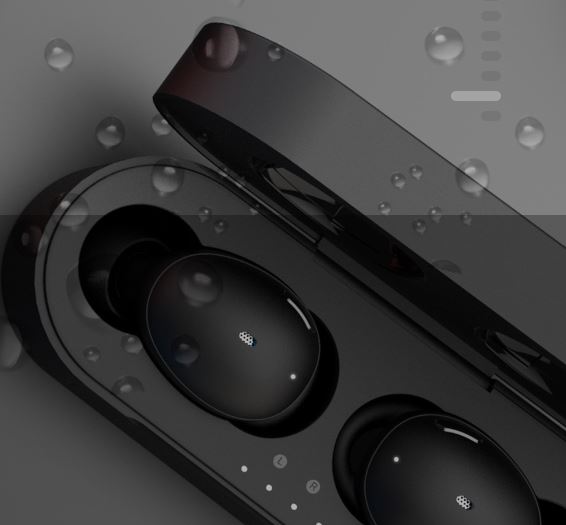 While you probably don't want to use ear-tips that have an imperfect fit, you can actually get away with using the extra wingtips, even the ones that aren't sized perfectly for you. Though once again, there are some clear benefits to taking the time to choose the right size. Being able to select between several wingtip sizes is actually an uncommon feature for earbuds, so it's absolutely worth taking a couple of minutes to find the right pair.
Though these earbuds aren't really marketed as athletic earbuds, there's essentially no reason why they couldn't serve well in athletic circumstances. Between the different sizes of tips and wings you can choose between, and their waterproofing, these earbuds meet or exceed the list of things athletes need from their audio gear. It's likely the only reason why these earbuds aren't described as athletic earbuds is related to REECHO's marketing plan.
Battery Lifespan
Each earbud is capable of storing about six hours of playtime. That's actually about twice as much playtime as promised by many similarly-priced Bluetooth earbuds. Actual playtime results will depend on a huge number of variables, but the six-hour estimate isn't bad.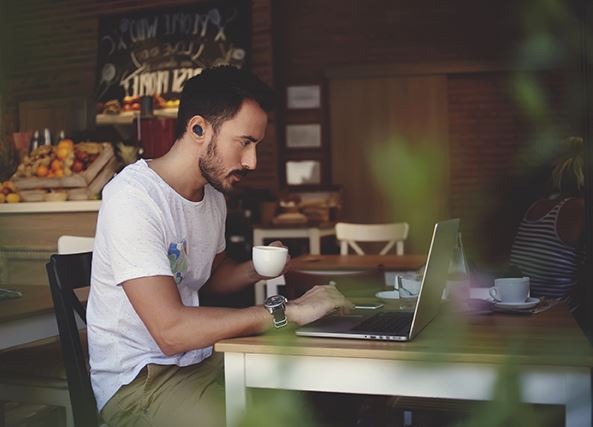 At long as you're not trying to listen to your earbuds at maximum volume while also talking a walk on a snowy day, you should be able to get about six hours per bud. When you're thinking about worst case scenarios for the battery life, you might expect closer to 4.5 hours. Of course, that's just the battery inside each earbud.
After those have been emptied, you're still left with the charge inside the case. With the case included, full charge time works out about 48 hours. Inarguably one of the larger battery capacities of any earbuds in this price range, it's the addition of the charging case that really helps distinguish this equipment.
Moreover, their charging case is hardly any larger than the earbuds themselves. It's about three inches across, which is about enough room for each of the earbuds to sit end-to-end. One of the more compact charging cases out there, to be certain. Aesthetically speaking, the casing is hit or miss, depending on your tastes.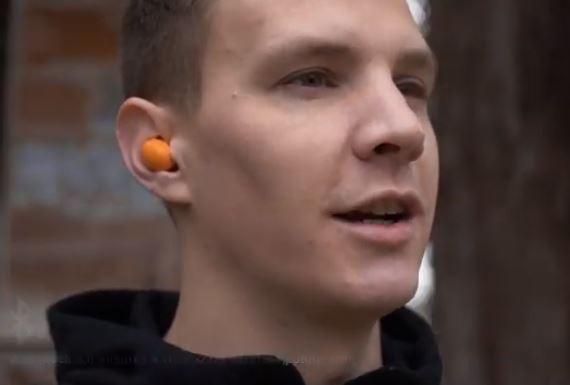 Wireless Connectivity
Bluetooth 5 isn't the kind of feature that people should go out of their way to find. But it is a small improvement over previous iterations of Bluetooth, and in more ways than one. For instance, it allows these REECHO earbuds to support all the common HD audio codecs associated with Bluetooth 5. Moreover, you'll find greater battery efficiency and some pretty smooth auto-pairing features.
Unfortunately, there's still an initial setup process to pair the buds to each other. But after you've undergone that setup process once, they'll remember the pairing, and they shouldn't need to be configured again. More importantly, once synced together, these earbuds are quite good at keeping their sync stable. Though it's possible for the sync to become disrupted, resetting the buds is capable of quickly resolving the problem.
Whether or not you encounter sync issues really depends on if you're stretching the 30-foot connection capacity or not. If you plan on being on the tail end of that 30ft range, then you might need earbuds that are capable of broadcasting closer to 50-feet. For anyone who's not working towards the edge of that radius, sync issues between the earbuds shouldn't become a concern.
Audio Quality
For engineering reasons, earbuds have a tough time creating great audio quality, and that's before you take away the wire connecting them. Using this type of headphone is kind of like placing a soft ceiling on the level of audio quality you can expect.
Consequently, from one pair of earbuds to another, most pairs within this price range will sound strikingly similar. The pairs which don't sound strikingly similar could often be made to sound similar with minimal effort and an equalizer.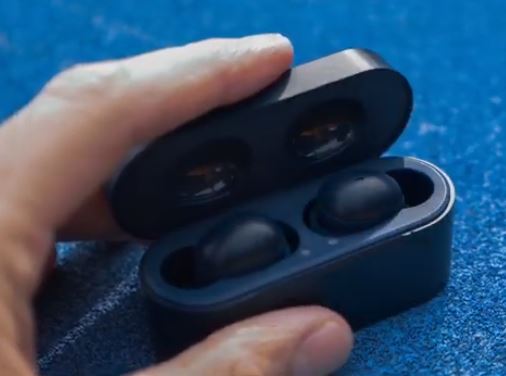 REECHO earbuds are a partial exception. In one way, they actually do break the mold. Because instead of using the kind of ordinary dynamic drivers you'll find in almost every other pair of similar earbuds, REECHO earbuds are built with balanced armature drivers.
It's a technology that's mostly been used by Sony to date, but such drivers are capable of exceeding the kind of ordinary limitations associated with dynamic drivers. Using BA drivers instead of regular audio drivers is kind of like creating a hydrogen powered car. Yeah, the car works differently. But it still essentially does the same thing.
You really only need to ask how it handles, how fast it can accelerate, and so forth. And that's when the REECHO Bluetooth Earbuds have their performance turn back towards sounding average. They provide pretty good 3D surround emulation, certainly better than what you'd get from ordinary stereo sound. But the difference is likely not great enough for most people to really appreciate.
What's the point of using special balanced armature drivers if they're just going to end up sounding so similar to any other pair of earbuds? Well, there are actually some significant differences in power consumption between BA drivers and more common alternatives. And that's no small part of why they're capable of delivering such a ridiculously long battery lifespan.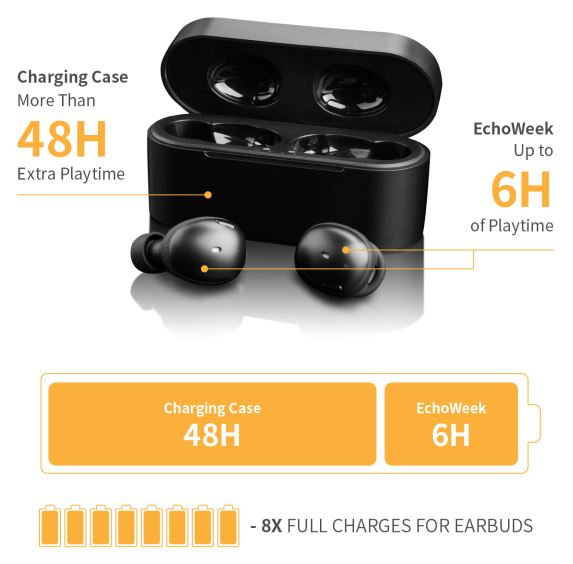 REECHO Bluetooth 5.0 True Wireless Earbuds
REECHO's Bluetooth Earbuds had to make sacrifices to keep their price at this level. It primarily made those sacrifices with respect to microphone quality. In exchange, these earbuds walked away with an incredible battery capacity and slightly superior bass response.
When it comes to comfort, REECHO delivers more than their closest competitors. It's pretty common to be able to choose between three size options for ear-tips. It's not nearly as common to be able to choose between ear-fin sizes, which is critical for in-ear security.
If you're looking for true wireless earbuds with the best battery lifespan you can find, REECHO Bluetooth 5.0 True Wireless Earbuds are probably among the best you can choose. Balanced armature drivers are a cherry on top, but these are really about battery life and comfort options. The cool color options don't hurt, either.