If you're in the market for a new pair of wireless earbuds, there's never been a better time to buy. There are so many choices on the market that you've got plenty to choose from. Today, we'll be looking at two different options. The first is the Vankyo X200, a mid-priced pair of buds that punch above their weight. The second is the iLuv TB100, a more budget-friendly option that still gets the job done. But how do they actually compare, in practice? Let's take a closer look, and see what each one has to offer.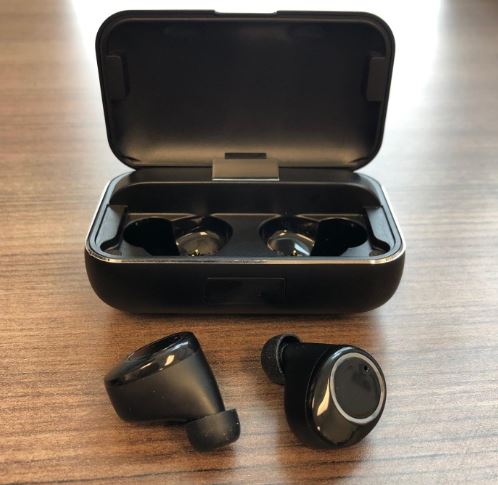 Vankyo X200 Wireless Earbuds
The Vankyo X200 Wireless Earbuds are designed to fit securely into your ear canals. They come with three different sets of ear tips in different sizes. Number one, getting the right size will ensure that the buds don't fall out. Number two, a secure seal will maximize your sound quality. It keeps extraneous noise from leaking through, providing a measure of passive noise protection.
The earbuds themselves have a compact design, and they're lightweight. This means they're comfortable to wear, and don't put a lot of pressure on your ears. They're constructed from a shiny black ABS plastic, with silver circles on the backs. The areas inside these circles serve as soft touch buttons. They can be used to perform a variety of functions. You can play and pause music, skip tracks, answer and end calls, or even activate your voice assistant.
In addition to being comfortable, the X200 buds are also very durable. They come with an IPX8 water-resistance rating, which is the best rating available. Not only are they sweat and rain-resistant, they can even be fully submerged for up to 30 minutes. You can engage in a sweaty workout, or even rock out to your favorite tunes in the shower. Not only that, but Vankyo's earbuds come with a 24-month warranty. If there are any manufacturer's defects, you won't be left holding the bag.
Like most wireless earbuds, the X200 earbuds come with a charging case. This case is slim and compact, and very durable. Instead of ABS plastic, it's constructed from durable anodized aluminum, with a slightly textured finish that's easy to grip. The corners are all rounded, so it won't dig into your leg while you're carrying it in your pocket. But perhaps the best feature is the external LED display. Most earbud cases just use a row of dots to indicate the battery level. The X200's case, on the other hand, has individual meters for each earbud. In-between, there's also a percentage meter for the charging case as a whole. The display will only turn on when the case is plugged in, or when the earbuds are actively charging.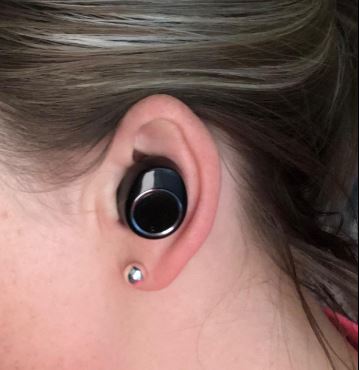 Battery and Connectivity
The X200 earbuds can be used for up to 7 hours on a single charge. As usual, this is a manufacturer rating, based on testing at mid volume. Your actual results will vary based on the volume, bitrate, and even the ambient temperature. That said, 7 hours isn't bad at all for a set of wireless buds. But the charging case is where the X200 really shines. It provides up to 120 additional hours of charge, so you can take it on a trip without needing to plug in. The case charges in about 2 hours via Micro USB.
But the X200 case isn't just a charger for your earbuds. It can also be used to recharge your phone. With 3,500mAh of capacity, it can recharge an iPhone X a little more than one full time. It will also recharge a Samsung Galaxy S8 once. Needless to say, you'll want a more powerful option if you want a dedicated power bank. But the X200 does serve as a convenient backup.
The X200 earbuds utilize the latest Bluetooth protocol, version 5.0. With this connection, you can listen to high-bitrate music with virtually no lag or latency. You'll also have a more stable connection. This means fewer dropped connections, and you won't have to worry about dropped calls. You also get a range of 33 feet, which isn't bad at all.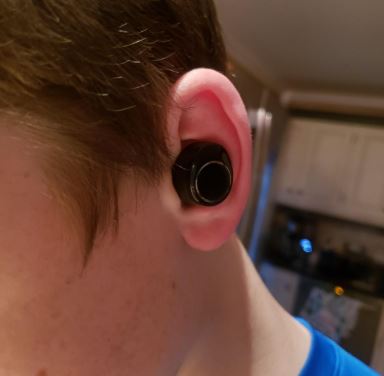 Many wireless earbuds allow you to pair a single bud for use in hands-free calling. Unfortunately, the X200 doesn't allow that, although admittedly battery life isn't an issue here. But if you want to pair a single bud, consider the Strauss & Wagner SW-TW401. The music quality isn't as good, but they're a better choice for hands-free calling.
Sound Quality
The X200 earbuds use an 8mm driver, which is a bit larger than the industry standard 7mm. Because of the larger size, you get excellent clarity, particularly in the bass. Middle and high frequencies are also excellent, so you can enjoy just about any genre of music. There's also a very wide soundstage. What this means is that you'll hear plenty of separation between different frequencies and instruments. Are these earbuds studio-grade? No. But they're a cut above your typical wireless earbuds.
When it comes to call quality, you won't experience any serious issues. Provided the other person has a good mic, you'll be able to hear them just fine. That said, they don't utilize CVC technology. If there's loud background noise on your end, the other person is going to hear it.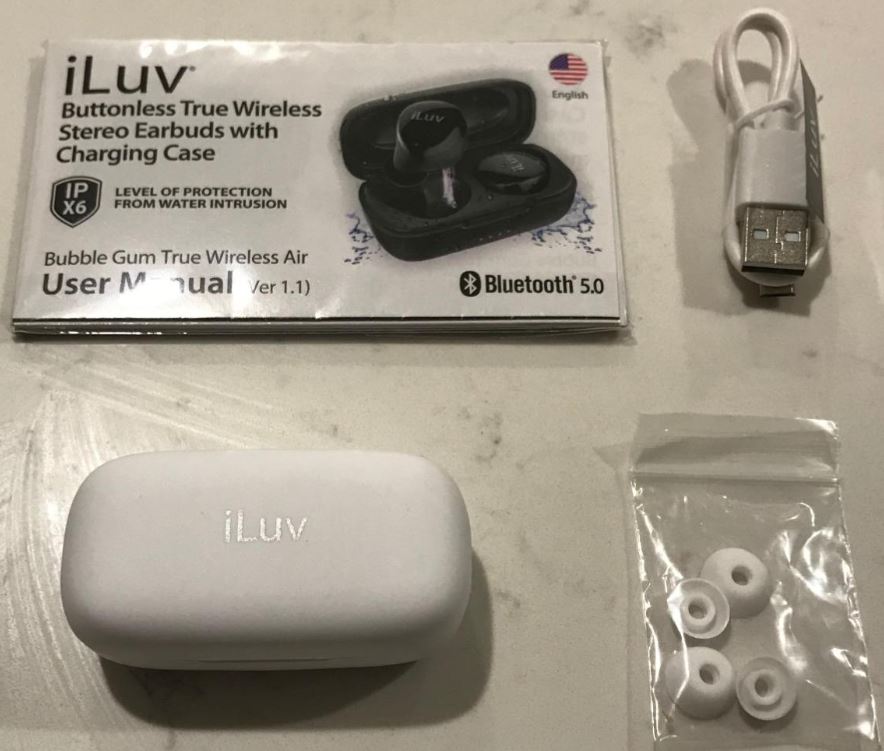 iLuv TB100 Wireless Earbuds
While the Vankyo X200 is a mid-priced package, the iLuv TB100 Wireless Earbuds are a more affordable option. This isn't to say, though, that they're not worth buying. To begin with, they have an attractive, glossy finish. They also fit comfortably, with three different sizes of ear tips to choose from. Much like the X200, it's important to get the right fit. It can make a significant difference in sound quality, and also ensures that the buds won't fall out. They're also available in four different colors: black, white, blue, and rose gold. If you're not a fan of the staid, formal look of traditional black, you've got some options!
The buds are relatively plain, with a white iLuv logo on the back. The backs serve as soft touch buttons, which allows for easy operation. You can control your music, answer and end calls, or activate your voice assistant. And because they're soft touch buttons, they won't hurt your ears when you press them. The iLuv earbuds are also water-resistant, with a rating of IPX6. This doesn't quite rise to the standard of the X200. But it's more than good enough to resist sweat or rain, which is all you really need for most purposes.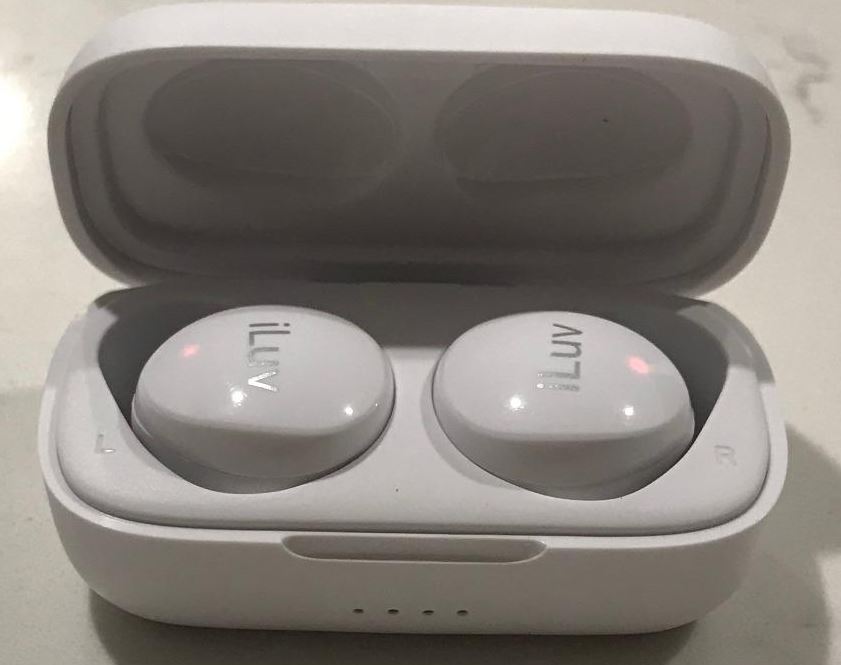 The charging case for the TB100 measures 2.6 inches wide, 1.4 inches deep, and 1.1 inches thick. This makes it compact and easy to carry around in your pocket. It has a spring-loaded lid, which snaps shut securely when you need it to. And there's a small slot underneath that makes it easy to open. On the front, you'll see a row of four red LED lights, which indicate the current state of the battery.
Battery and Connectivity
The TB100 earbuds will get six hours of listening time from a single charge. Overall, this isn't terribly impressive. But it's not bad, either. It's more than enough for most people on most days. In addition, the charging case will provide you with 14 hours of additional battery life. Admittedly, this is all based on manufacturer ratings, and your mileage may vary. If your buds do happen to run dry, you've got options. The case supports quick charging, so you can get 2 hours of listening from a 20-minute charge. The case itself charges via Micro USB, and will fully charge in about 2 hours.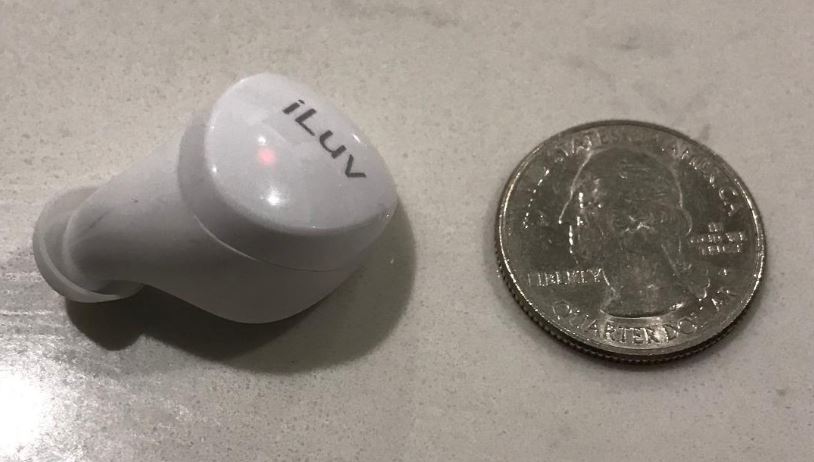 If battery life is important to you, there are plenty of earbuds that offer even longer life. One of these is the TRANYA B530, which offers 42 hours of battery life. That said, you'll spend about twice as much as you would for the TB100.
The TB100 earbuds use a Bluetooth 5.0 connection. This is the same Bluetooth protocol as the X200, and it works the same way. You get a fast, reliable, lag-free connection, and a range of 33 feet. That said, iLuv sweetens the pot by letting you pair each earbud individually. If hands-free calling is important to you, this is a helpful feature. You can effectively double the battery life by using one earbud at a time.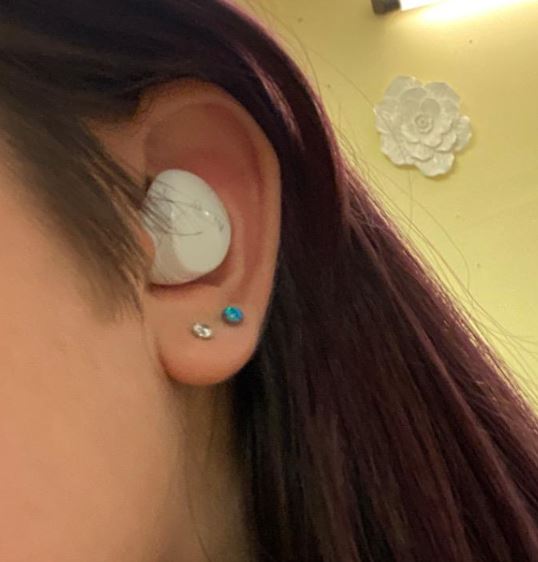 Sound Quality
The overall sound quality of the TB100 earbuds is what we'd call "acceptable". Obviously, you're not going to get a wide soundstage or good bass at this price point. But the middle and high frequencies sound just fine. As a matter of fact, country and classical music sound just fine. But you won't get enough thump to listen to dance music reliably.
Unfortunately, we can't say the same for the call quality. When making calls, you'll be able to hear the other person just fine. But the microphones are terrible. Expect the other person to say "what?" several times during the phone call.
Final Verdict
So, where does all this lead us? Honestly, these two pairs of earbuds aren't really targeting the same audience. The Vankyo X200 Wireless Earbuds are a mid-range pair, priced to be competitive with most Mpow and other similar models. They offer great sound quality for the price. We were particularly impressed with the soundstage, which sounds like the band is actually in the room. Not to mention, they offer good battery life. And the IPX8 water-resistant rating means you can take them just about anywhere. Finally, the LED display is an innovative, attractive touch.
The iLuv TB100 Wireless Earbuds, on the other hand, are a budget-priced option. This isn't a complaint. It's just a fact. They offer reasonable sound quality, better than you'd expect for the price. The battery life is also decent, although the charging case isn't nearly as powerful as the X200's. The only significant downside is the call quality, which is downright awful. That's a shame, too, since the earbuds can be paired individually. The overall construction is attractive, and we liked the fact that there are multiple color options. If you're on a budget, the TB100 is a solid choice.