Wireless earbuds have revolutionized the way we enjoy our music. With True Wireless Stereo, you can get excellent audio quality without any tangling or tethering. However, earbuds have a number of inherent disadvantages based on their size. Simply put, you just can't get great bass from small, 6 to 10mm drivers. For fully immersive sound, you need a set of over-the-ear headphones. With larger drivers, they can provide powerful bass and superior separation between frequencies. They also have enough space for extras, such as active noise cancelling, that you won't typically find in earbuds.
That said, there are a lot of wireless earphones on the market, and many of them aren't the best quality. In today's age of internet advertising, it's easy for fly-by-night companies to market shoddy products. So how do you decide which headphones to spend your hard-earned money on? Well, you let us research them for you! Today, we're going to review the TaoTronics TT-BH085 Active Noise Cancelling Headphones. TaoTronics is a reputable manufacturer, so our expectations were relatively high. Now, we'll tell you what we learned about these headphones. We'll go over the features, the build quality, and how they work. We'll tell you what we liked, as well as what TaoTronics could stand to improve on. Let's dig in!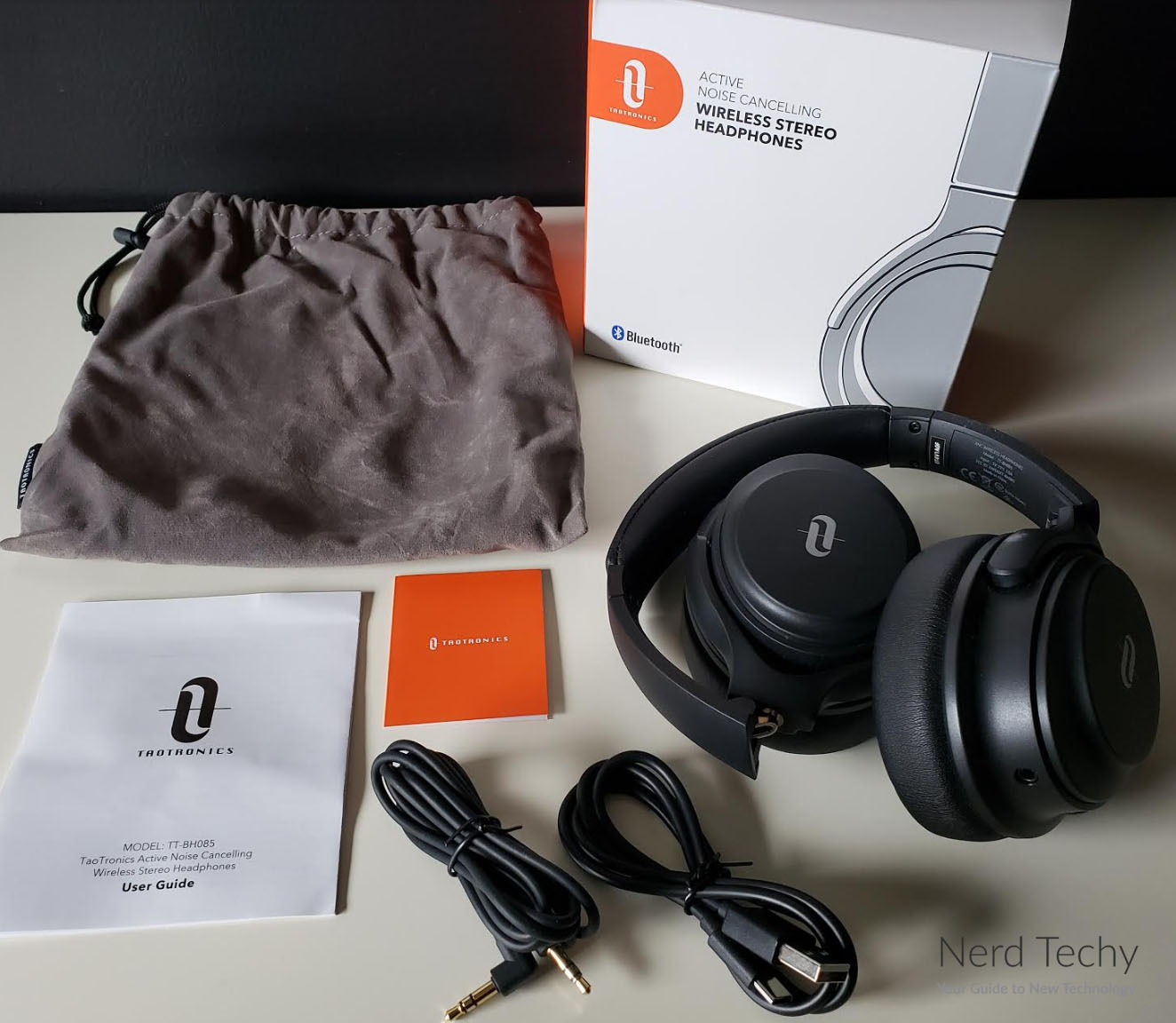 Design & Construction
The TT-BH085 headphones are constructed primarily from a matte black ABS plastic. The ear cups are oval in shape, slightly longer from top to bottom than they are from side to side. This means they'll fit easily over almost anyone's ears. They rotate 90 degrees, which makes them easily adjustable depending on the slope of your temples. The ear pads themselves are constructed from a soft protein memory foam. This is a glossier, less porous variant on ordinary memory foam, so the ear pads won't get sweaty. They conform very well to your face, which ensures a good seal with plenty of comfort.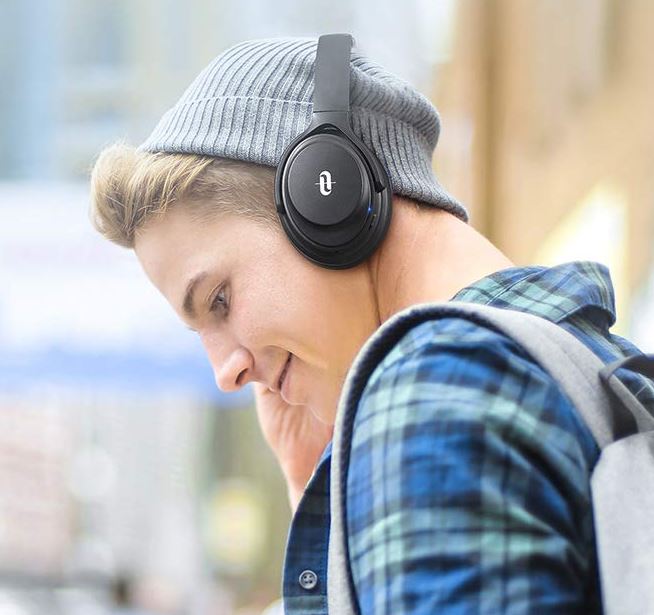 The headband is adjustable, with aluminum inserts that slide easily in and out. This requires a small amount of force, but enough that they won't collapse or fall open while you're wearing them. The inside of the headband is padded, which makes it even more comfortable to wear. The overall weight is 7.8 ounces. That's enough to ensure us that the quality is good, but it's light enough not to weigh down. This is true even during periods of extended listening.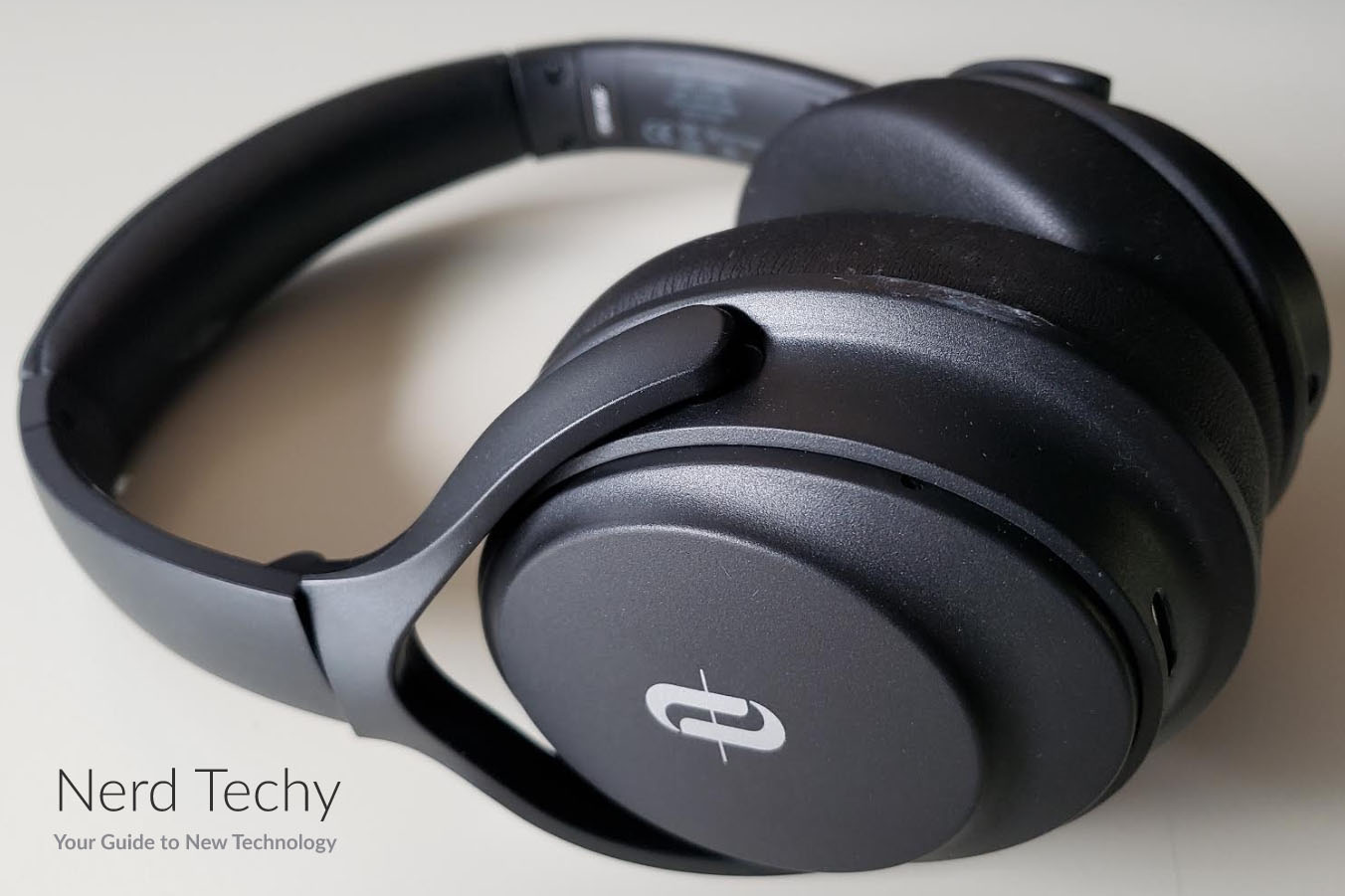 The backs of the ear cups are printed with a grey TaoTronics logo, which is very easy on the eyes. Other than that, the entire surface is a clean, matte black. On the back of the right earbud, you'll find a power button, as well as up and down volume controls. There's also a small USB Type-C charging port. On the back of the left earbud, there's a switch to control the active noise cancelling (ANC) function. Behind that, there's a small 3.5mm audio jack for connecting via a traditional audio cable.
The TT-BH085 headphones are designed to be easy to transport. The ear cups can be rotated and folded so the headphones lie entirely flat. In this configuration, the size is very small, and you can easily slip the headphones into a backpack pocket. There's a small carrying pouch included in the kit, which makes this even easier. However, it's just a cheap soft bag, not a hard case, and it won't protect your headphones from crushing. This was probably our biggest disappointment, since early editions of the TT-BH085 came with a hard case. That said, if you pack smart, this shouldn't be a significant problem.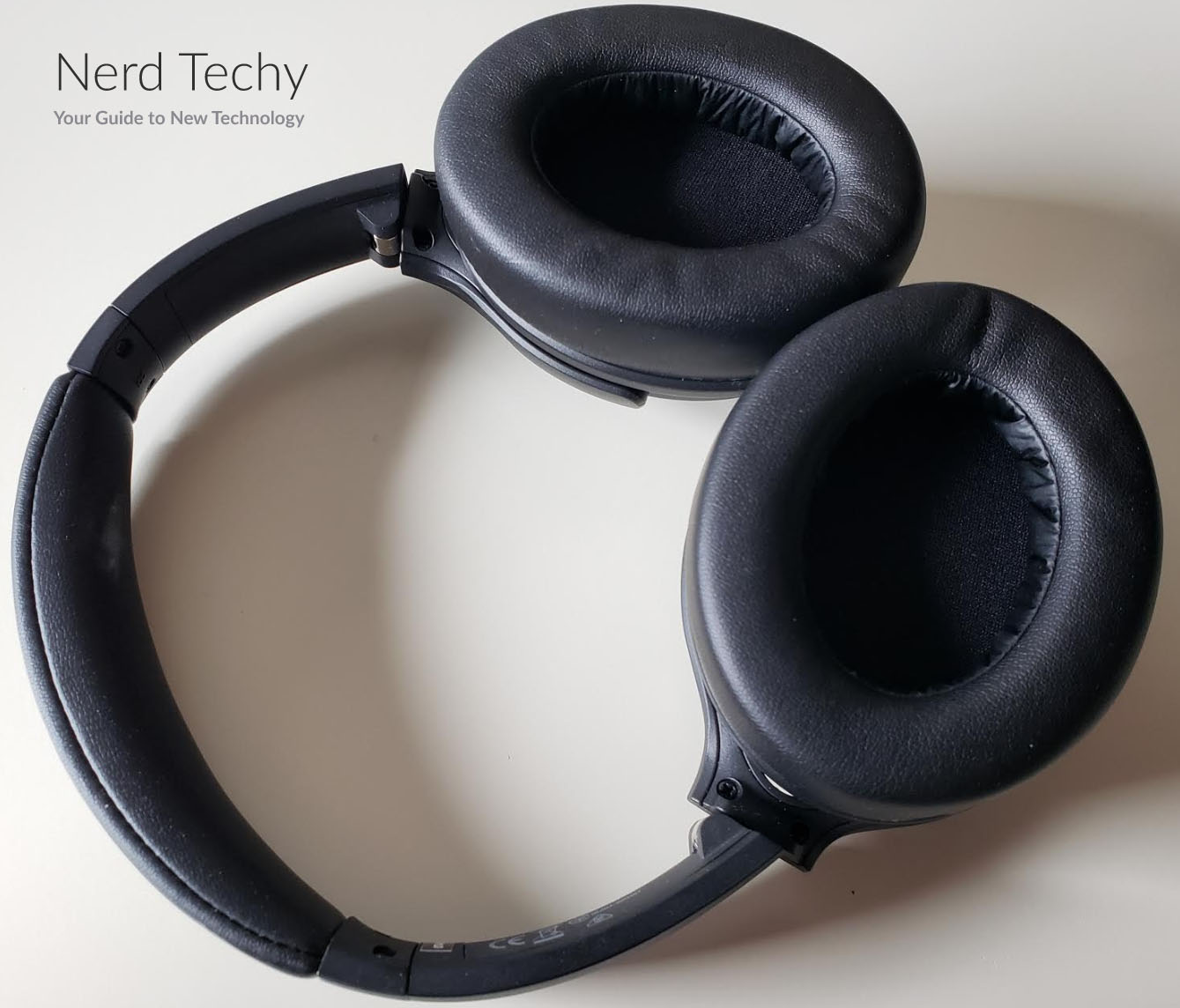 In addition to the headphones themselves, the TT-BH085 comes with a couple of extras. To begin with, there's a small owner's manual, as well as a small warranty card. Make sure to send in this card if you want to take advantage of TaoTronics' 12-month manufacturer's warranty. There's also a USB Type-C cable for charging the battery, and a 3.5mm aux cable for wired use.
All of that being said, headphones have one disadvantage compared to earbuds: they're fairly large. If you need something a little more compact, consider the TaoTronics SoundLiberty 79 earbuds. They don't sound as good as the TT-BH085 headphones, but they come with TaoTronics' quality design.
Battery & Connectivity
Inside the TT-BH085 headphones is a powerful, 750mAh battery. When fully charged, it provides up to 40 hours of playtime. As always in these cases, keep in mind that this is a manufacturer's rating. This means that the headphones were tested at approximately half of total volume. In practice, you can expect to get around 30 to 35 hours, depending on circumstances. High-bitrate audio and cold weather will lower your battery life. Low-bitrate audio like audiobooks or podcasts, along with warm weather, will extend the battery life.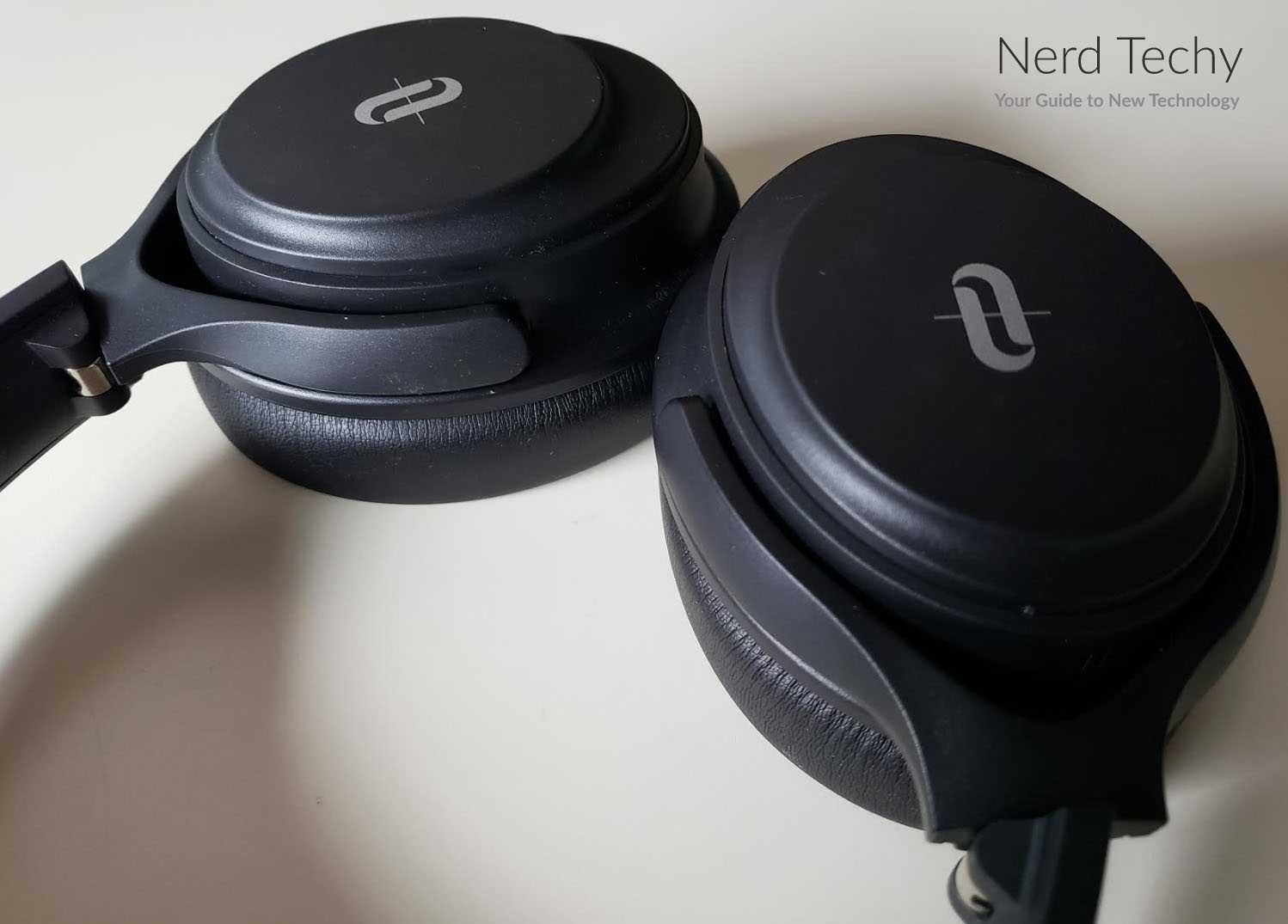 This rating also assumes that your ANC switch is turned off. If it's powered on, you can expect your battery life to drop by as much as half. Still, you're looking at significantly longer battery life than most wireless headphones. The TT-BH085 headphones also support quick charging. When plugged into an outlet that supports quick charging, 5 minutes of charging will get you 2 hours of playback. This is a great feature if you drained your battery completely and need an emergency charge. You can fully charge the battery in about 45 minutes, which isn't bad at all.
The TT-BH085 earbuds use Bluetooth 5.0 technology to pair with your phone or MP3 player. This is a significant upgrade from the earlier Bluetooth 4.2 protocol. It supports faster data transfer rates, which allows you to listen to higher-bitrate audio. It also makes the connection significantly more stable. You don't have to worry about randomly losing your connection or dropping a phone call. It also allows the headphones to automatically pair with your device. Once it's been paired for the first time, it will automatically pair as soon as you press the power button.
You also have the option of connecting to your device with a 3.5mm aux cable. Obviously, this is less than ideal. Presumably, you're looking at these headphones because you want to have a wireless option. However, connecting via 3.5mm aux will not drain your battery. This makes it a solid backup option for listening when your battery has died.
In addition to the TT-BH085, TaoTronics produces a wide variety of quality headphones. One of these is the SoundSurge 46 Hybrid, which we recently reviewed. It has a much slimmer profile than the TT-BH085, but "only" 30 hours of battery life.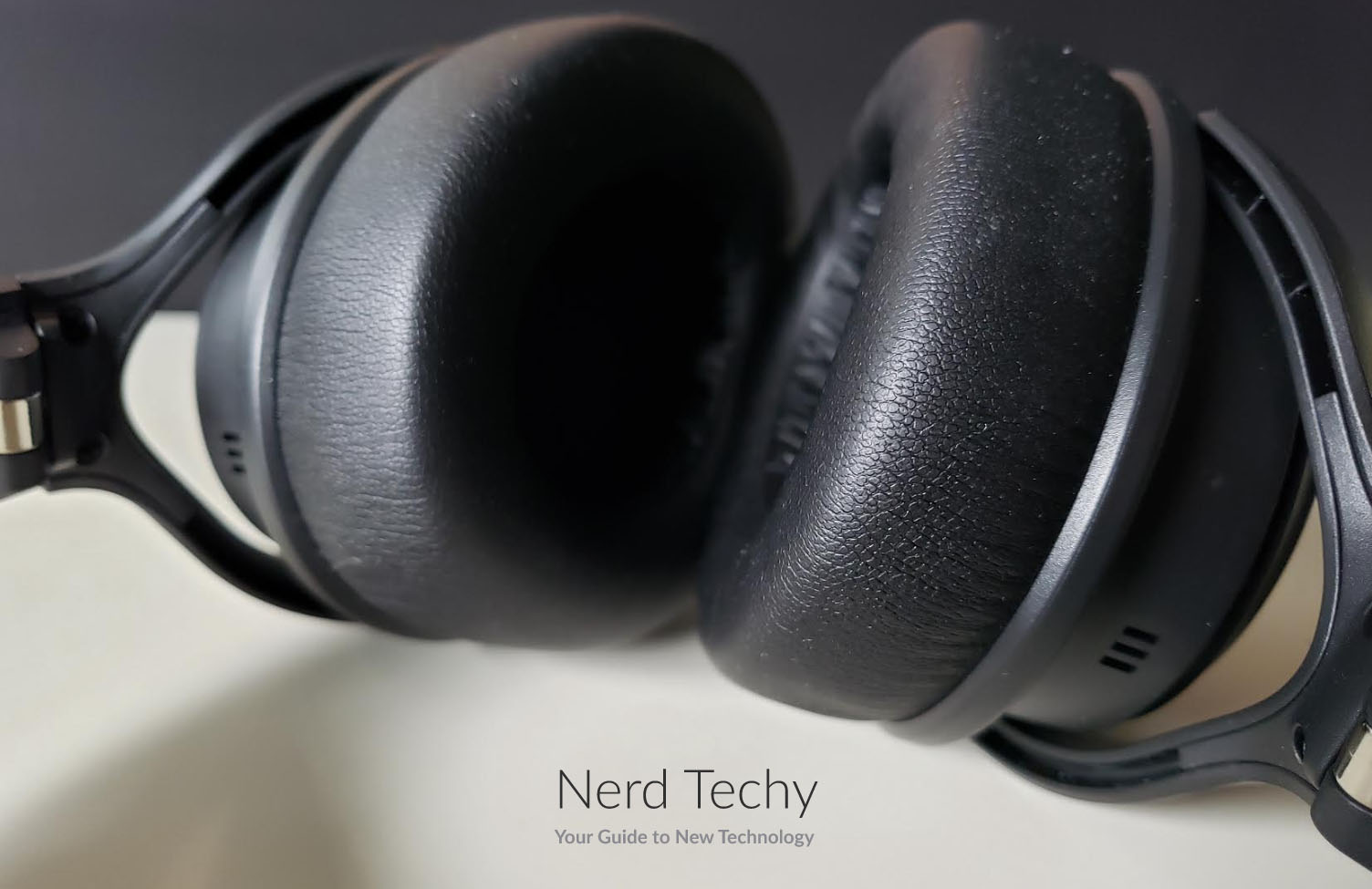 Sound Quality
The TaoTronics TT-BH085 supports the aptX Low Latency codec. This is an advanced codec that has two major advantages over older audio codecs. First, it supports higher bitrates than previous codec standards., so you get richer sound. Secondly, it has significantly less delay in the signal. You won't notice this while listening to music, but it makes a big difference when you're watching videos or movies. Of course, if you're using an older iPod or another older device, it may not support aptX. In that case, the TT-BH085 still has you covered. It supports the older SBC and AAC codecs, which are still relatively good.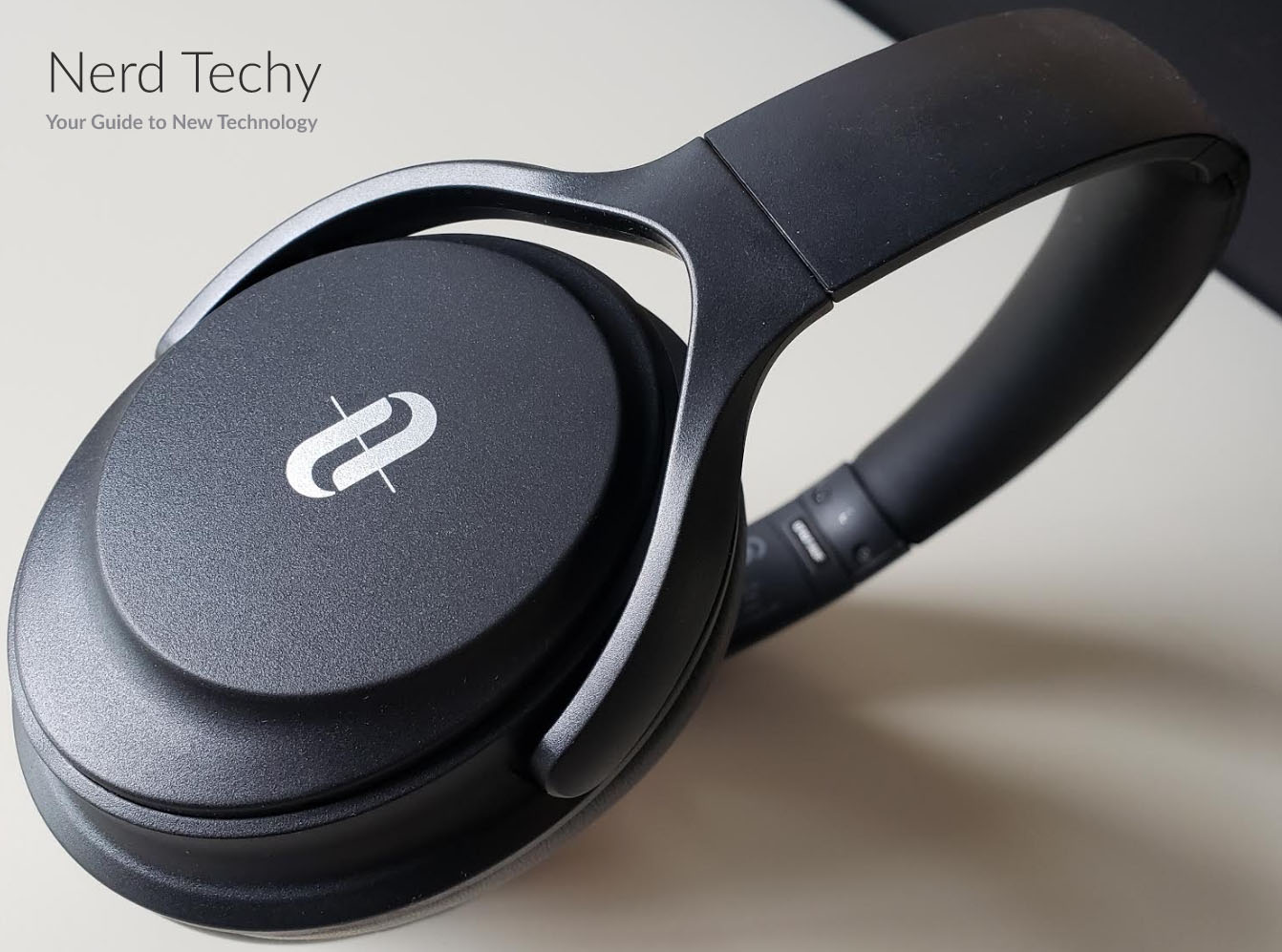 The TT-BH085 headphones are equipped with large, 40mm drivers. These are about 5 times as big as the drivers on typical earbuds. As a result, you can expect significantly better sound quality. That's to be expected with over-the-ear headphones. So, how well do they actually perform? Starting with the higher frequencies, you get plenty of clarity and shimmer. Cymbals, synths, and strings all sound fantastic, so you won't have any issues there. Mids are similarly well-represented. Vocals are front and center, which is how you expect a good vocal track to sound. Vocal-heavy genres like hip-hop are clear and present.
Now let's talk about the bass, which is usually where you'll find problems on mid-priced audio equipment. The good part is that it's just as clear as the mids and the highs, with plenty of separation. You'll be able to hear drums and bass, without any muddiness or crossover with other frequencies. That said, the bass does lack the punch we would have liked to hear. If you're a fan of powerful, driving bass, you might be disappointed. But for most genres, the quality is more than good enough.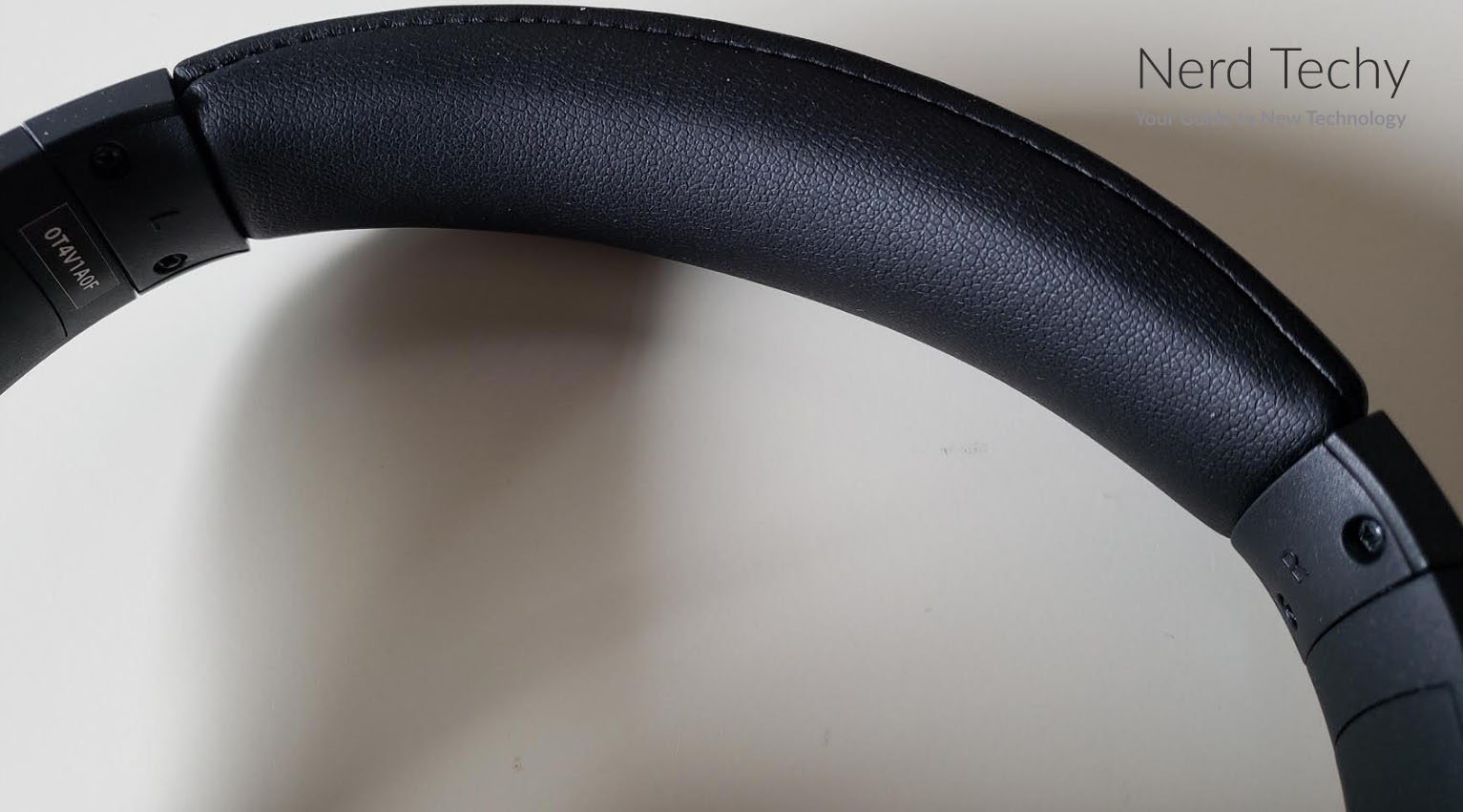 The ANC on the TT-BH085 headphones is better than we expected. It's not quite what you'd expect from a pair of Bose headphones. On the other hand, you're also paying significantly less than you'd pay for Bose. Besides which, it's still quite good. If you're sitting on an airplane, you might not even hear the captain's announcements.
When used for hands-free calling, the TT-BH085 performs very well. Assuming the other person has a good signal, you'll be able to hear them just fine. They'll also hear you very well, thanks to the cVc 8.0 noise cancelling technology. This filters out background noise on your end, so they can focus on your voice.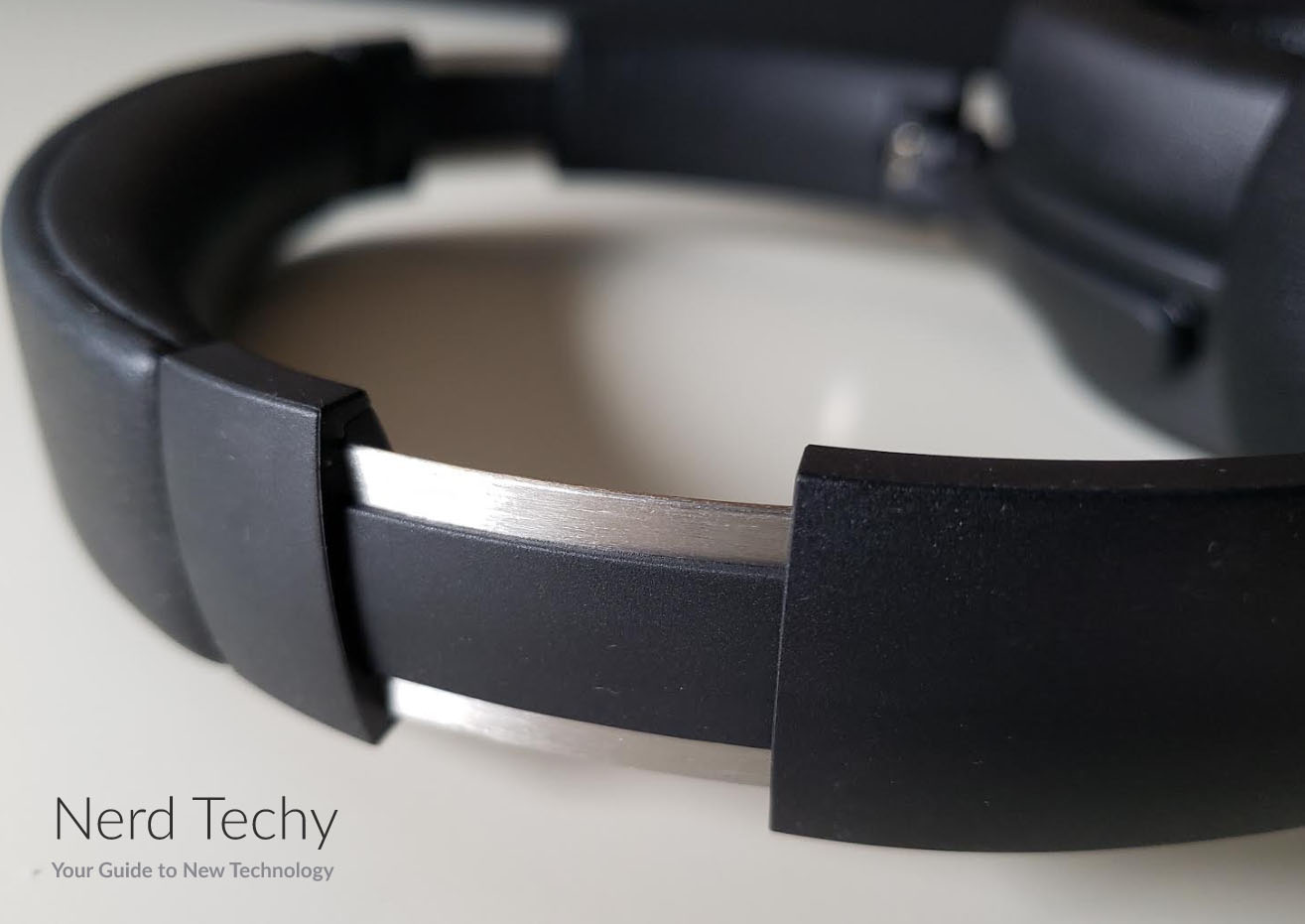 All of this being said, not everybody is an audiophile. If you care more about comfort than you do about sound quality, consider the TaoTronics SoundSurge 60. These headphones have thicker padding for even more comfort, but the sound quality isn't quite as good as the TT-BH085.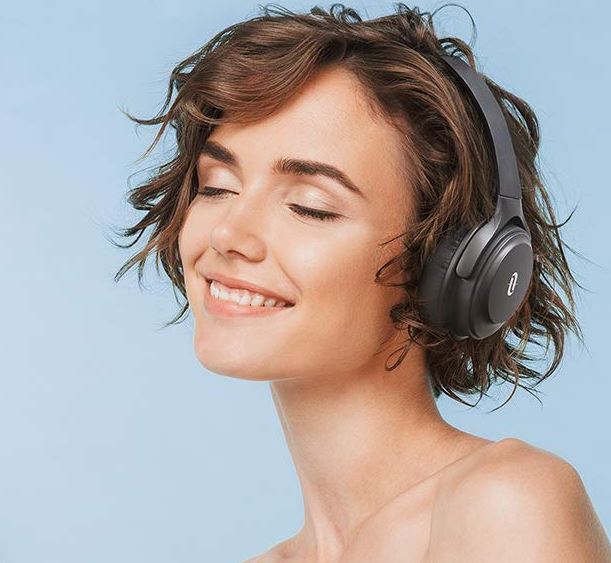 Final Verdict
So, how do the TaoTronics TT-BH085 ANC Headphones compare to other headphones on the market? In our view, they perform quite well. Let's be clear, when our biggest complaint is the carrying case, you know TaoTronics is doing things right. The quality of construction is excellent. The padding is exceptionally soft and comfortable, so you can wear the headphones for a long time. The battery performance is also exceptional. With up to 40 hours of battery life, you can wear your headphones on a weekend trip without running dry. We also appreciated the sound quality. The separation is excellent, much better than you expect from headphones at this price point. All in all, these are a solid buy.