Home flight simulators have been around almost as long as computers. Way back in 1988, you could play the original Jetfighter on your DOS or Amiga PC. The graphics weren't exactly realistic, but they were cutting-edge for the time. And for all of us flight enthusiasts, it was an amazing, fun experience. Nowadays, you can take to the skies in much more advanced, more immersive simulators. But if you want maximum immersion, why would you want to use a mouse and keyboard? It breaks the suspension of disbelief, and reduces the overall realism of the game.
To get a fully immersive experience, you need proper controls. And the best controls will mimic those that are used in actual aircraft. For commercial flight simulators, this means a quadrant controller and a yoke. For fighter simulators, this means a quality joystick. And if you're looking for a quality controller, ThrustMaster manufactures some of the best.
This year, ThrustMaster celebrates their 10th anniversary, so they've been releasing several new products to celebrate. Released just this February 28th, their HOTAS Magnetic Base and F-16C Viper grip are some of the most exciting additions. We got a chance to review both of these controllers, and now we're going to share what we learned. We'll talk about the form, the function, the pros, and the cons. Let's take a closer look!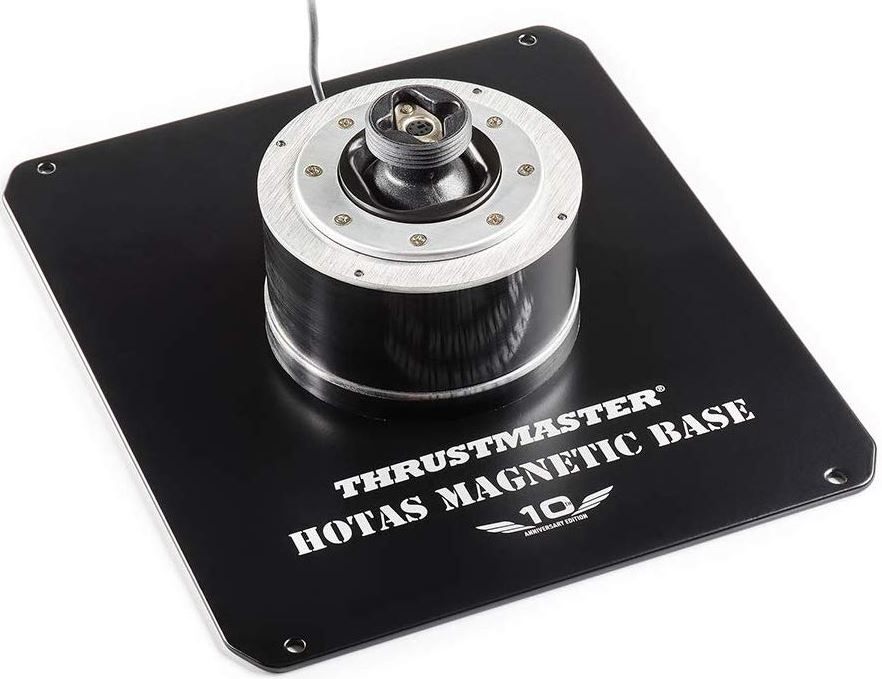 ThrustMaster HOTAS Magnetic Base
The HOTAS Magnetic Base is designed to work as a sturdy platform for your joystick. The base is constructed from glossy black steel, and measures 10.7 inches square. The mount itself is 3.6 inches tall, and looks and feels sturdy. It has a brushed steel top plate and bottom ring, with a black steel band around the center. A slender USB cable extends from the back, allowing it to connect easily to your computer. The overall weight of the unit is 4.52 pounds, so it's sturdy enough to take a beating if need be.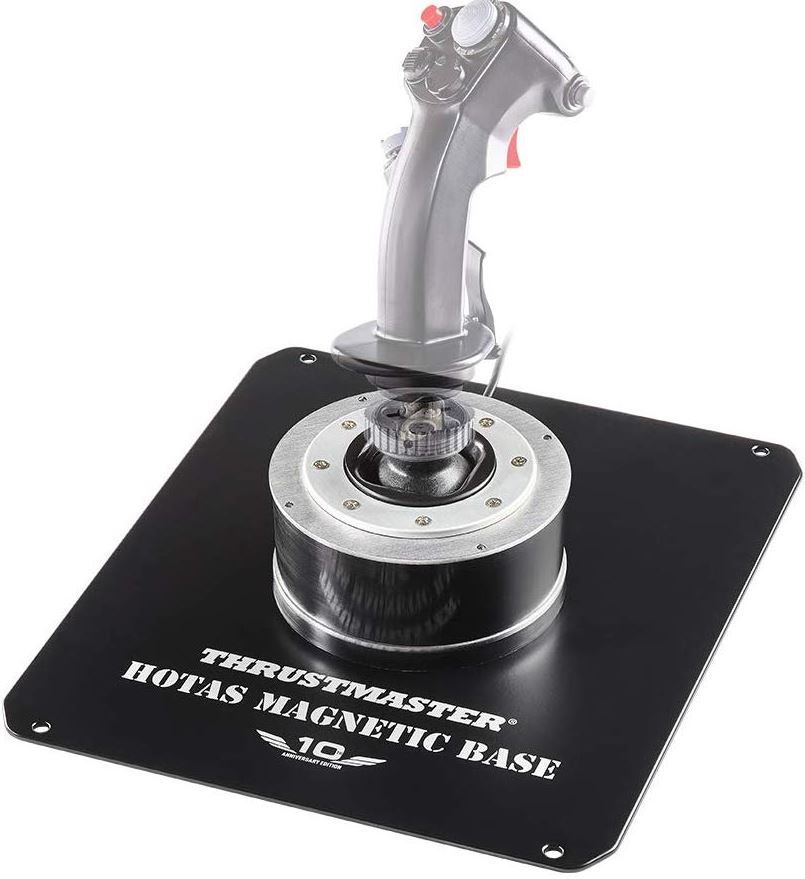 The word "Magnetic" in the base description doesn't refer to the mounting method. It refers to the control system. For mounting, you use 4 screws, which can be pushed through a set of holes on the corners. If you don't fancy drilling into your desk, the weight should keep the controller stable enough. That said, you might want to use a rubber pad or trivet to keep your desk from getting scratched. If you do want to mount the base permanently, the cosmetics aren't bad. It has the ThrustMaster logo emblazoned on top in the white print. It also has a unique 10th-anniversary logo that adds a bit of flair to your gaming rig.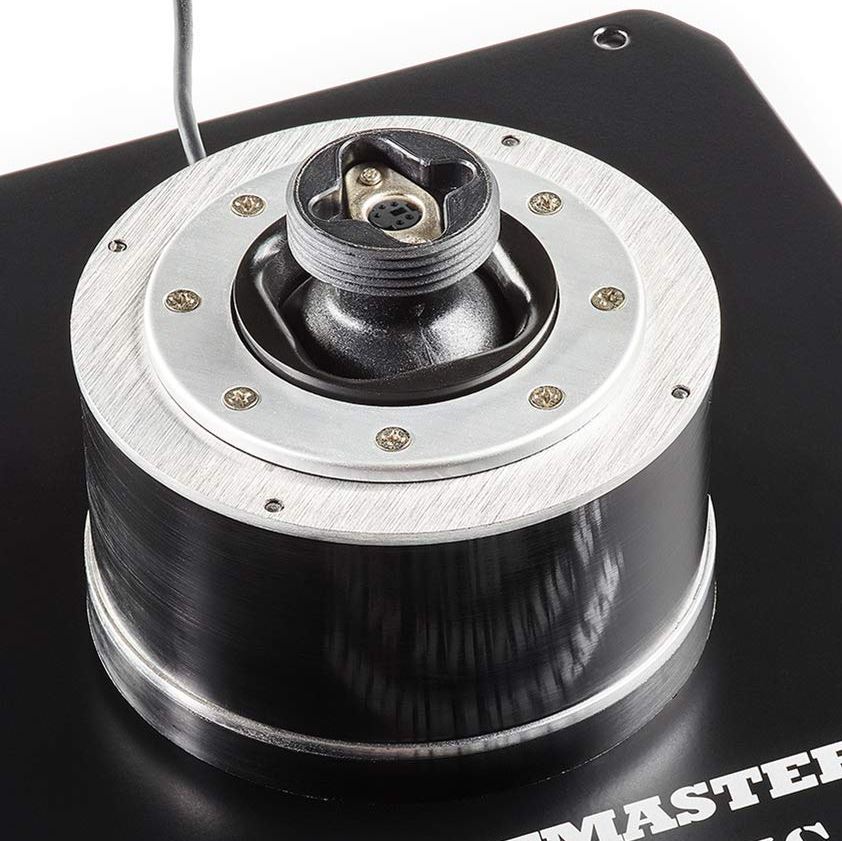 The magnetic sensors in the base use the Hall Effect AccuRate Technology (H.E.A.R.T.) system. This system uses a set of contactless magnets instead of traditional contacts. There are a couple of significant advantages to this system. First off, it lasts significantly longer than a set of ordinary contacts. Because the magnets don't actually touch each other, they won't wear out over time. In addition, the H.E.A.R.T. system is extraordinarily precise. Its 16-bit sensor can distinguish up to 65,536 different positions. This allows for far more precision than you'll get from any kind of physical sensors.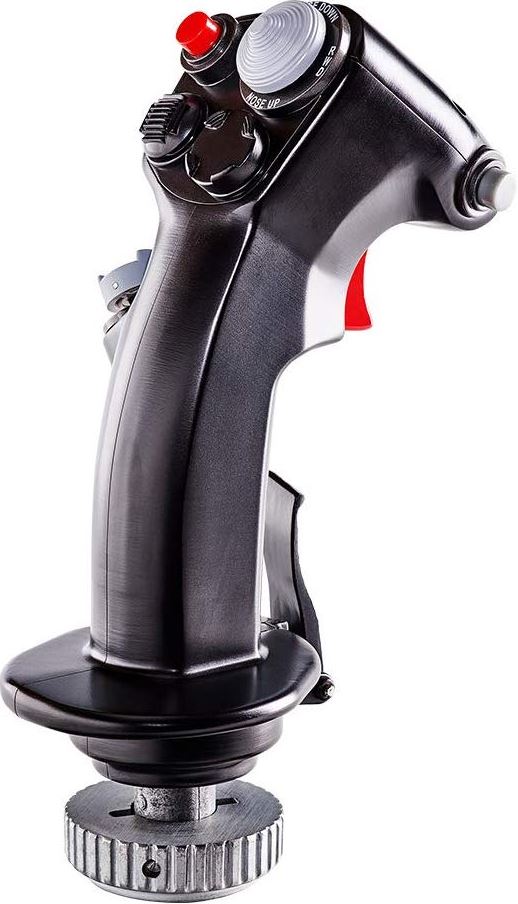 ThrustMaster F-16C Viper Grip
The ThrustMaster F-16C Viper HOTAS Add-On Grip is an exact replica of a real F-16C Viper flight stick. That's not just a marketing claim or an exaggeration. It's officially licensed by the U.S. Air force, so it's a perfect match, right down to the profile and the controls. It measures about 8 inches in height, including the mounting bracket at the bottom. The bracket has a clamp-down design, with a large toggle lever that locks it directly into the base. The overall weight of the grip is 3.16 pounds. When combined with the weight of the base, this gives you a total weight of just under 8 pounds. That's pretty beefy for a joystick controller.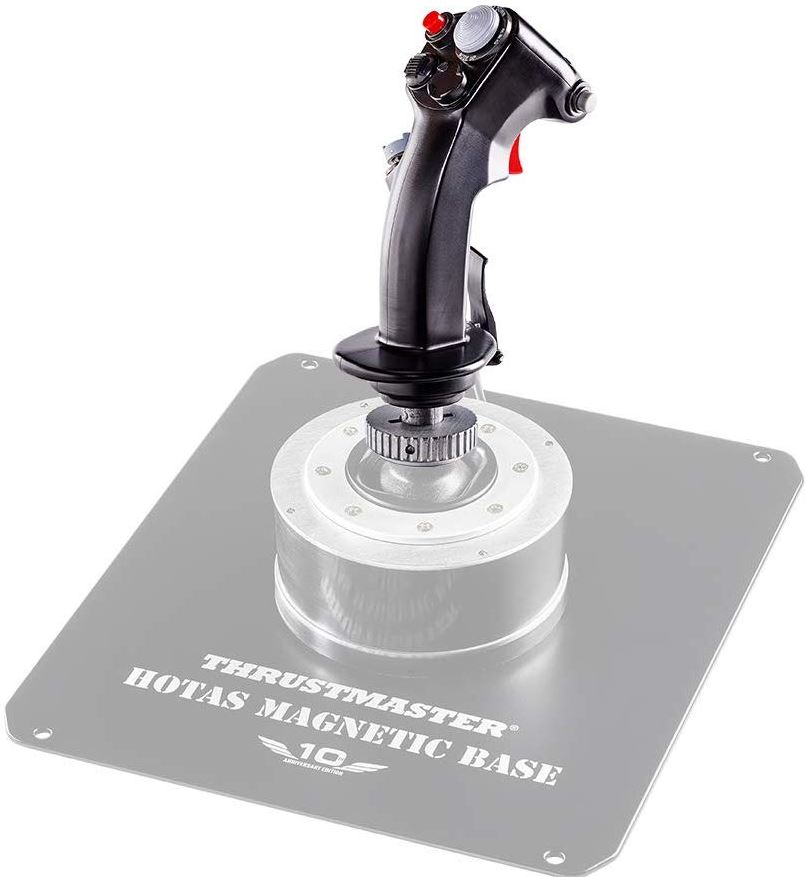 The reason for the weight is that the grip is constructed entirely from metal. With a polished black finish, you could be excused for thinking it's plastic, but it's not. It's as tough and as rugged as the control stick on an actual F-16C. This provides a unique handling sensation that's as close as you'll ever get to the real thing. If you're looking for maximum immersion, look no further than this grip. That said, there's one downside to the metal construction. In an air conditioned room, it can get a little cool. This gets a bit uncomfortable when you first handle the stick. However, it will warm up after a few minutes, so it's not that big of a deal.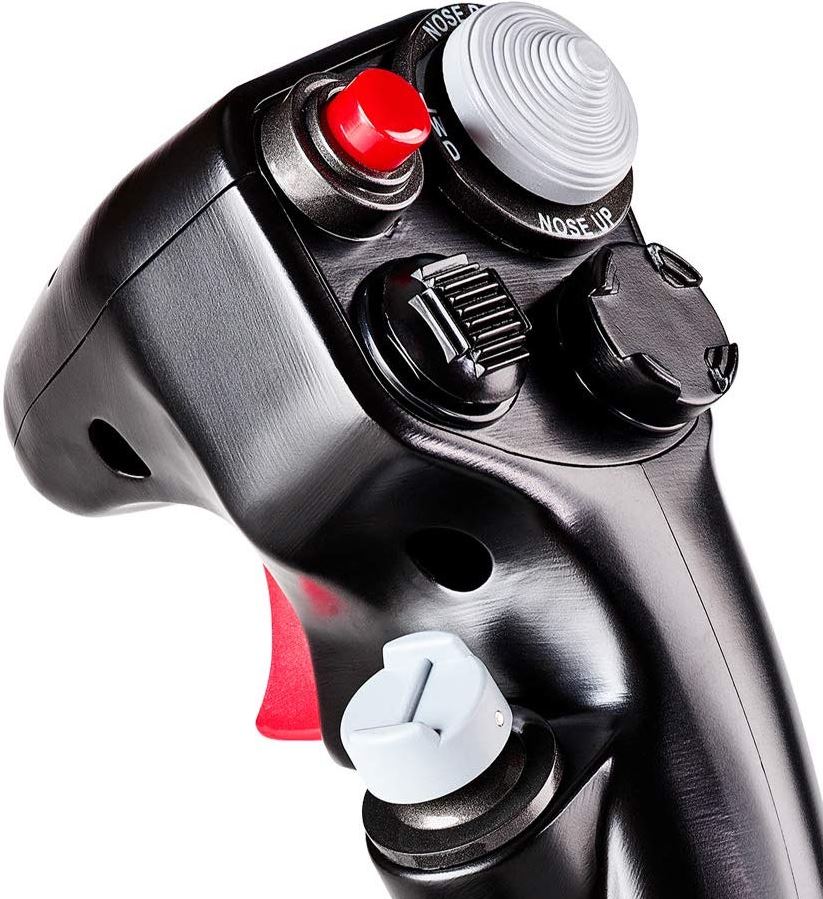 As you might expect from a true replica, the ergonomics of the F-16C Viper Grip are very good. It conforms beautifully for your hand, and allows for very easy operation. There's one caveat here: it's designed for a right-handed user. If you're left-handed, you might find that the ergonomics aren't quite as good as you'd like. This is because one of the thumb controls is located on the left side of the stick.
That said, the buttons and trigger are identical to the ones on the real F-16C flight stick. This includes the pressure required to activate them. Once again, you're looking at an impressively immersive piece of equipment. In addition to the 4-way thumb control on the left, there's a bright red trigger on the front. All the other controls are operated by your thumb. Pitch and attitude controls are operated by a hat switch on the top. Additional controls are also located on the top, with a single grey button on the right. There are 19 controls in total, allowing for an impressive array of options. All in all, operation is very easy, just as you'd expect from a real-world flight switch.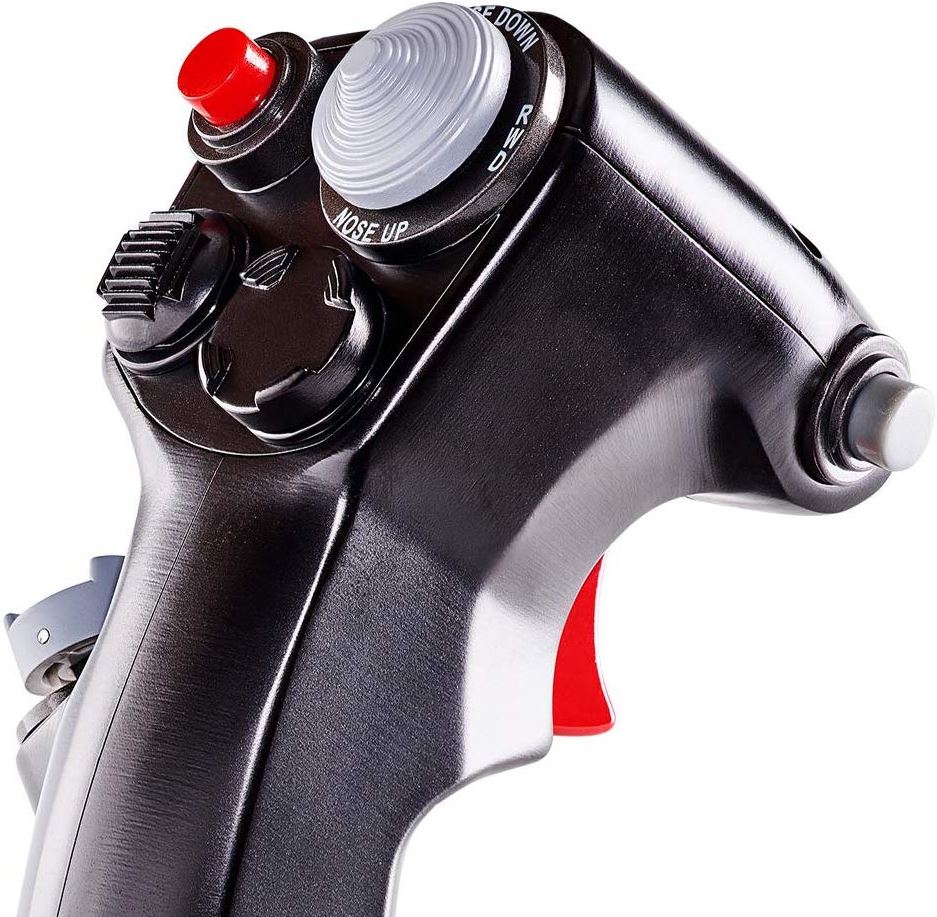 Compatibility & Extras
The nice thing about this base and grip is that they're part of ThrustMaster's HOTAS ecosystem. This means that they're both compatible with any other HOTAS hardware. Let's say you like the HOTAS Magnetic Base, but the F-16C Viper Grip isn't your style. No problem. The base is compatible with other HOTAS grips, including the Cougar, the Warthog, and the F/A-18C Hornet. These are all fantastic replica grips. If you already own one, rest assured that you'll still be able to use it.
Similarly, the grip is also compatible with existing HOTAS bases. If you like your existing base, but you like this grip, keep your base. The F-16C Viper HOTAS Add-On Grip is compatible with the HOTAS Cougar and HOTAS Warthog. The only caveat is that the 19th button is not operational on the HOTAS Cougar base. Depending on your control configurations, this may or may not be an issue.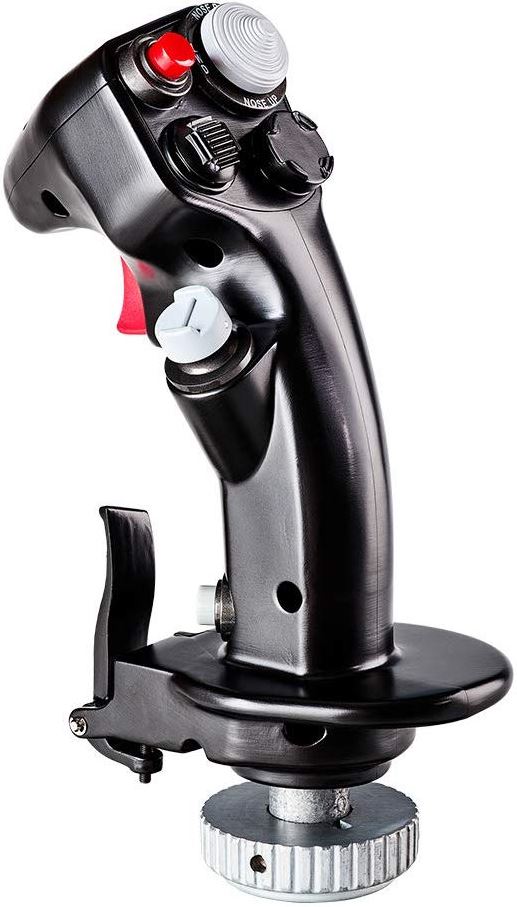 Of course, if you want additional hardware, ThrustMaster has plenty to offer. For example, their ThrustMaster T-LCM Pedals are an excellent pair of controls. And they're fully compatible with the HOTAS line of controls. They also make a variety of other accessories. For example, the ThrustMaster T.Flight US Air Force Edition Gaming Headset is a great way to chat with your buddies.
In addition to being compatible with other ThrustMaster hardware, the HOTAS base and F-16C grip are compatible with most systems. Not only do they support all versions of Windows dating back to Windows XP, they also work with MacOS. It's also compatible with all modern flight simulators. Obviously, it's best suited for combat flight sims. But if you want to use it for a commercial flight simulator, have a go at it!
The HOTAS base and F-16C grip come with the Thrustmaster Advanced pRogramming Graphical EdiTor (T.A.R.G.E.T.). This is a configuration software that can be used for changing a variety of settings. In other words, if you're having trouble with the control scheme, you can adjust it. You can even create different control schemes for different games.
Final Verdict
In general, we're big fans of both of these controllers. Let's start with the HOTAS Magnetic Base. It has durable, rugged construction that should last for years. The most attractive feature is the H.E.A.R.T. sensor system. Not only is this system durable, but it's incredibly sensitive. The 16-bit sensor system provides fantastic, precise control that feels like the real thing. The F-16C Viper HOTAS Add-On Grip is another magnificent piece of engineering. The all-metal construction makes it exceptionally durable. And the true-to-life buttons and trigger provide excellent control.
Even better, both of these parts are compatible with the entire HOTAS family of controllers. This allows you to mix and match parts to create the perfect control scheme for your needs. We also liked the T.A.R.G.E.T. configuration software. The ability to customize your control scheme for different games is icing on the cake.