Whether you play Star Citizen, Elite Dangerous, FSX, War Thunder, World of Tanks, World of Warplanes or any other simulator, chances are you want the most realistic and incredible experience possible. Rather than your standard mouse and keyboard configuration, a joystick can bring a whole new element to your video game that can give you the effect that you're actually flying and maneuvering in the cockpit.
Rather than using a single standard joystick, more gamers are now choosing to invest in a HOTAS joystick. HOTAS, meaning "Hands On Throttle And Stick" give you the best simulation experience since both hands are fully engaged rather than using a single joystick and keyboard combination. With the throttle in one hand, and the joystick on the other, you'll have an extraordinary feel of flight while drastically improving your pilot skills.
Today we're going to cover a few of the the top rated, best HOTAS joysticks for both PC and Playstation 4 console games. We'll go over a few inexpensive options, and also cover some of the more expensive, professional HOTAS joysticks that can exceed a few hundred dollars. No matter if you have a small or large budget, we'll give you several excellent choices.
Thrustmaster Hotas Warthog Joystick
For several years, Thrustmaster has been creating some of the highest quality, most popular joysticks for the simulator market. They're latest and greatest, the Thrustmaster Hotas Warthog Joystick packs all of the latest research and advancements that they've recently developed with the assistance of the simulator community.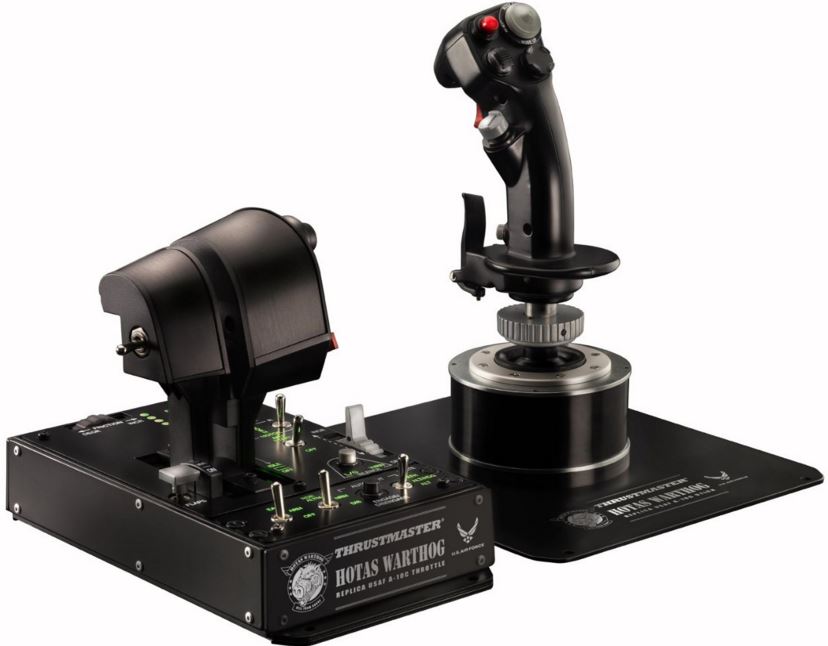 Realistic Controls
Through rigorous trial and error, careful calibration, specific requirements, and expert advice, Thrustmaster really won us over with the Warthog Joystick. As a matter of fact, it's an exact replica of the joystick, dual throttle system and control panel that's used in the United States Air Force A-10C Aircraft. Additionally, the handle and base is completely detachable so you can configure it into an actual cockpit or switch to a different base if desired.
Precise Accuracy
Through intense and constant use, the Thrustmaster Hotas Warthog is designed to hold up well with excellent accuracy at all times. Since they've incorporated the H.E.A.R.T. HallEffect AccuRate Technology magnetic sensor system, it gives the best precision possible without the use of any gimbals or cardan joints. With 16-bit precision, each and every movement can be carefully maneuvered with the best accuracy. Also, the buttons and triggers are all pressure-sensitive to the exact same levels – giving more realism since all aircraft's are built like this.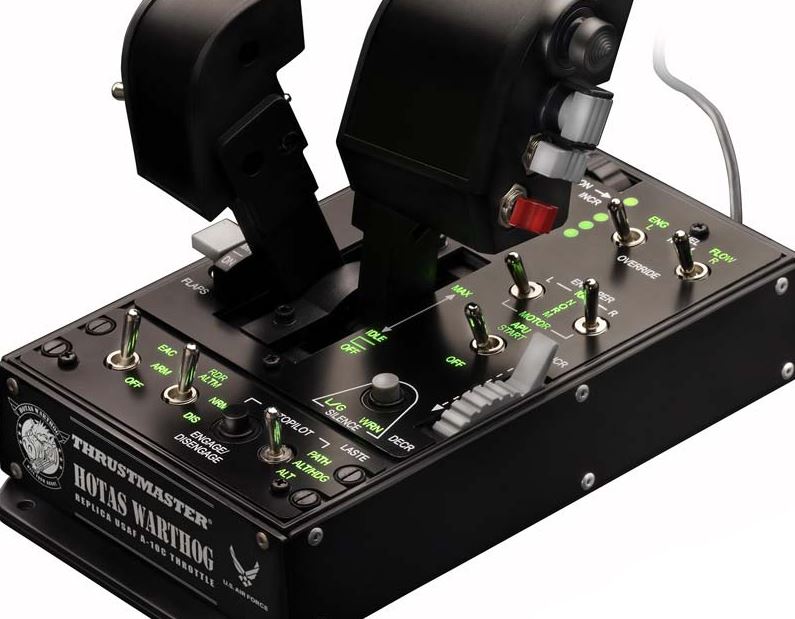 Fully-Programmable
With 19 action buttons and extensive controls located all over the joystick, you can configure your very own settings for the LEDs. The programmable LEDs can give a lifelike experience with all of the realism that you crave.
T.A.R.G.E.T. Software
With the included Thrustmaster Advanced Programming Graphical Editor, users are given the ability to setup different tests and configurations based on their own needs. Whether you want a more or less complex arrangement of controls, this software allows you to work at your own level – basic, advanced, and script. It also includes several presets that are already tailored to specific games and simulators.
Logitech G Saitek X52 Flight Control System
As an excellent option for those who want a realistic experience but don't want to fork over several hundred dollars, the Saitek X52 Flight Control System provides enhanced gameplay with an integrated LCD. Designed specifically to deliver smooth and accurate combat flight simulator action, it's packed with a few notable features that make it a worthy consideration.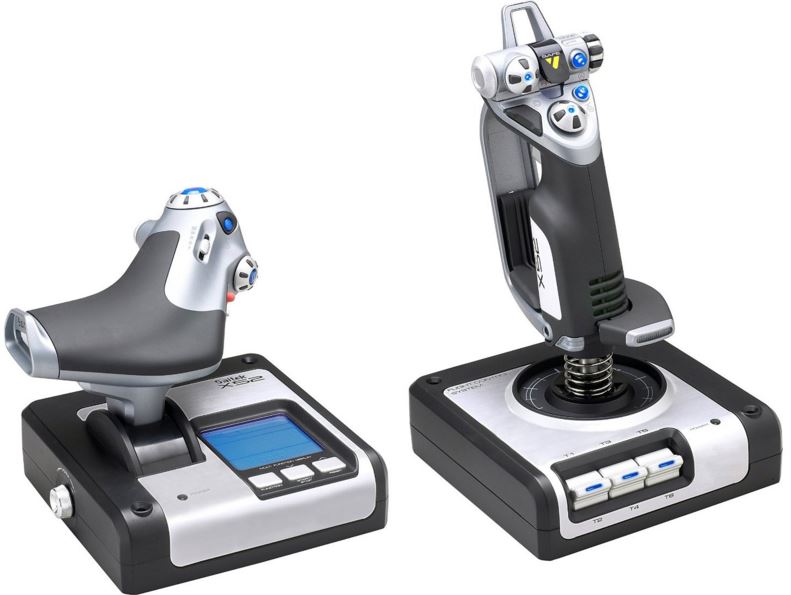 Excellent Control and Feel
Both the throttle and the joystick have a consistent amount of resistance so that all of the controls require the equal amount of pressure. When you adjust your afterburners or let the engine go idle, you'll experience realistic feedback thanks to the built-in detents. On top of this, there's a centering mechanism that precisely brings bag the joystick to the center while you let off on the pivotal movement or pressure. With this no-contact technology, both the X and Y axes deliver a constant spring force so every movement is fluid and carefully crafted when you're in control.
Throttle
From a small dial that's located on the left side of the throttle, you have free will to adjust the resistance to best suit your needs. If the throttle is too sensitive and you'd like to turn up the resistance, simply turn the dial to the left. If it's too rigid, turn the dial back to the right.
Integrated LCD
Located on the left hand throttle is a small but brightly lit LCD screen. Using the included PC software, it gives you the ability to carry out up to 282 different programmable commands on the fly. There's an adjustable backlight if it initially appears too bright, but it gives you a quick glance at critical information and different button configurations that you currently have setup.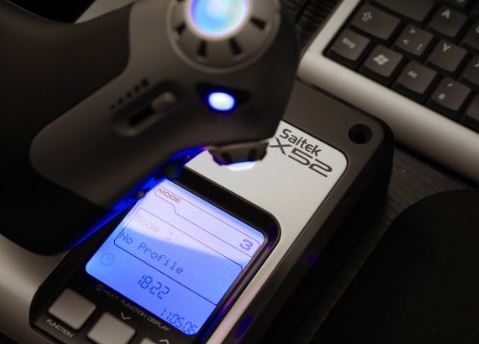 Additionally, the screen can manipulate radio stack information in FSX, Prepar3D, X-Plane, and an assortment of other flight simulators. Best of all, you have the ability to create your own custom profiles so you can easily switch in a different config of settings for different games or simulators.
Illuminated Buttons
Many simulator gamers prefer to play in either dark or dimly lit space that doesn't particularly have the best lighting. Saitek created the X52 with brightly illuminated controls so you have a clear indication as to what you're pressing.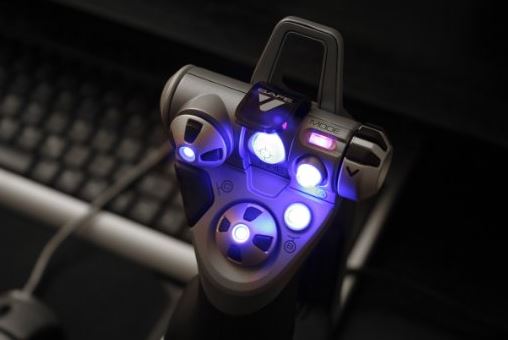 Comfortable
The handle os the Saitek X52 Flight Control System can be adjusted into five different positions to best assist your natural grip style. This enables you to achieve the most ideal comfort for those long gaming sessions that don't always agree with your hands and wrists. From a small mechanism on the joystick, you can adjust and lock the height to your exact preference.
Thrustmaster T-Flight Hotas X Flight Stick
If you're looking for a simple, effective, and inexpensive option, be sure to check out the Thrustmaster T-Flight Hotas X Flight Stick. Designed with simplicity and basic use in mind, it's been a top choice for several years with comfort, accuracy, and affordability all rolled into one package.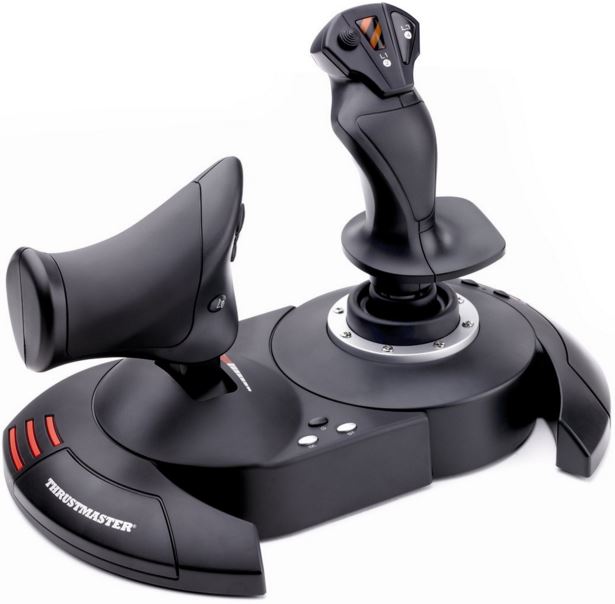 Comfort
Built with a wide hand-rest, it's easy to achieve a proper level of comfort while using it. Comptaible with both PC and PS3, it's fully detachable, realistic in size, and ergonomically friendly to provide lasting comfort for hours of continuous simulation.
Precise Accuracy
Designed with a dual-system aerodynamic control, you can rotate the handle or tilt the lever with a great feel of realism. It uses advanced mapping technology with a "MAPPING" button built-in to instantly switch between different functions. The inner mechanics are surprisingly responsive with a trigger that can be used for braking, rapid fire, and multi-directional panoramic views. Best of all, the resistance is completely adjustable so you can acquire a custom-like feel within seconds that responds perfectly to your movement.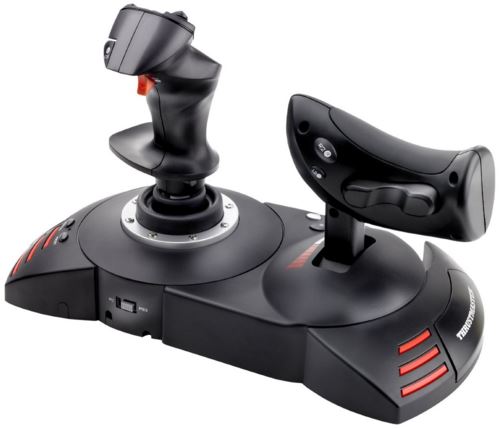 Easy and Simple Programming
Designed for simple use, you won't need any software or special drivers to use the Thrustmaster T-Flight Hotas X Flight Stick. There's a total of 12 buttons and 5 separate axels that can each be programmed to your specific requests. With internal memory, you'll be able to save all of your specific configurations and programming without any additional work. In fact, you can even disconnect the joystick and it'll all be ready next time you plug it in.
Final Thoughts
If you want the best simulator experience, investing in one of these Best HOTAS Joysticks for the year is a smart idea. We've covered a few great options from a wide scale of price points to make the selection process a bit easier and more straightforward. Have you tried any of these, or do you plan on it? We'd love to hear from you – drop us a comment below and give us your feedback!
Was this helpful? Please consider sharing: