If you're into flight simulators, you're probably a bit particular about your controls. For many types of game, a mouse and keyboard are just fine. They're actually ideal for first person shooters, or for games with a lot of menus and shortcuts. But a flight simulator isn't just about being to enter all the right commands; it's about immersion. You don't just want to be able to take off, fly, and land. You want to feel like you're actually in command of an aircraft, not just playing a video game. This requires a more immersive, realistic control scheme, not just a mouse and keyboard.
HOTAS is short for Hands On Throttle and Stick, and it's the type of control scheme used on fighter jets. It only makes sense, then, that you'd want a HOTAS control for your flight simulator. Of course, the exact design varies from plane to plane, so it's tough to get a truly one-to-one equivalency. But you're certainly talking about a more authentic experience than any other control scheme. Regardless, the basic concept is the same. There's a control stick for your right hand, and a throttle slide for your left. Both are covered with buttons and triggers that allow you to control your plane.
Today, we'll be reviewing three of the best HOTAS joysticks for flight and simulator games. Starting off, we'll examine the Thrustmaster T16000M FCS Hotas. This is a high-accuracy magnetic flight stick and throttle wit more than 30 buttons and controls. Next, we'll look at the Logitech X52 Pro Flight Control System. This is a more rugged throttle and stick, with adjustable spring-loaded resistance and a rudder function. Finally, we'll examine the Thrustmaster T-Flight Hotas One. This is a modular HOTAS system with a single USB connection, and compatibility with Xbox Series X/S. Which one is the one you need? We're about to take a deeper dive, and find out!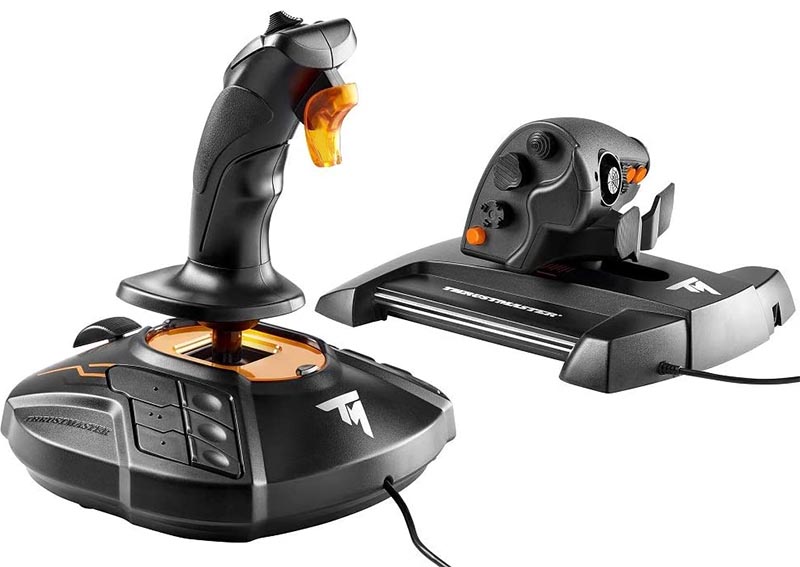 Thrustmaster T16000M FCS Hotas
Thrustmaster is well known for producing high-quality gaming hardware. Along with their flight controls, they're also famous for high-quality racing game controls. The heart of their T16000M FCS Hotas control is the T.16000M flight stick. This joystick is made from durable black plastic, with an orange accent where the base meets the control stick itself. There are an absurd 16 buttons, with six of them on the base and the remainder around the stick. The stick also sports fat rubber padding, which conforms to your hand while you're playing. On the top, there's a hat switch, and there's a bright orange trigger on the front.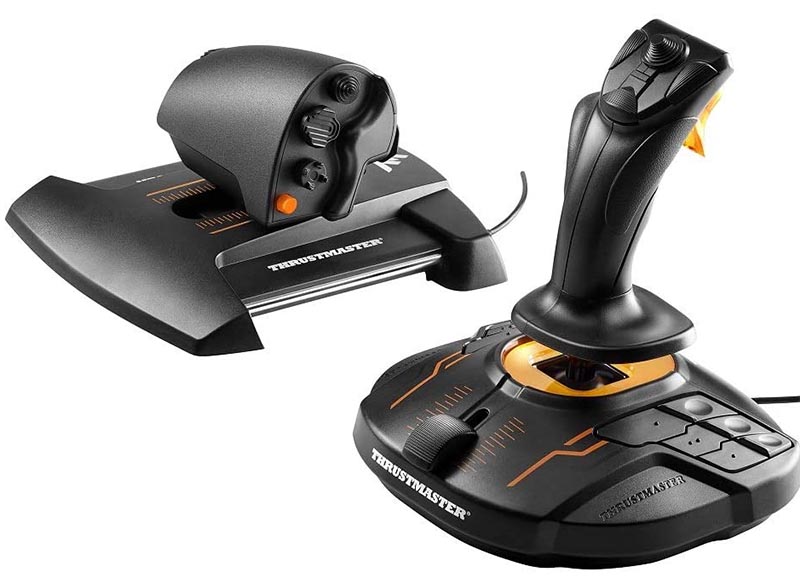 This flight stick utilizes Thrustmaster's HallEffect AccuRate Technology (H.E.A.R.T.). Instead of physical sensors, it utilizes high-sensitivity, zero-contact magnetic sensors. Because there's no contact between the stick and sensors, there's no friction or wear. In total, the joystick can sense 16,000 different positions in either direction. This works out to a total of 256 million positions, which is essentially seamless. This is the next best thing to working an analog control stick.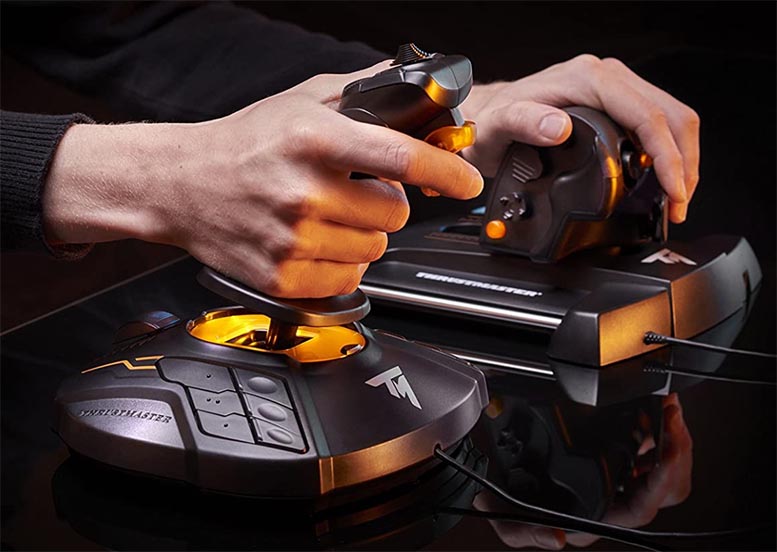 The throttle has a similar plastic construction, with an additional 14 buttons. Two of these "buttons" are actually paddles on the front of the throttle handle, with several more by your thumb. Also located by your thumb is another eight-way hat switch. Between this and the flight stick, you'll have enough controls for even the most complex aircraft.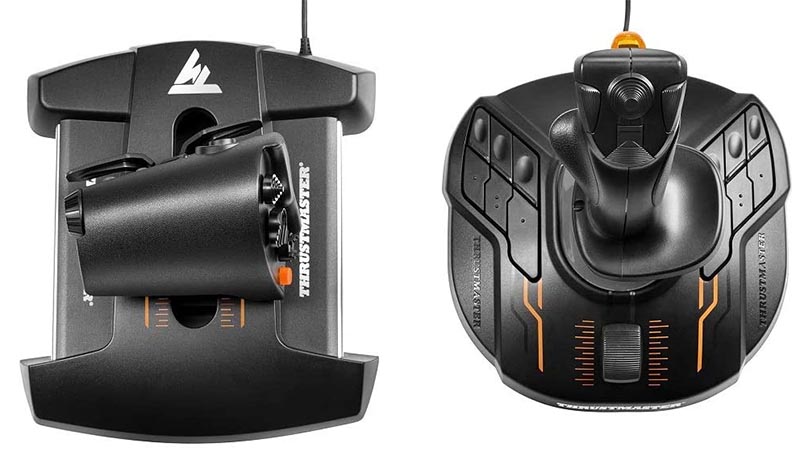 The throttle also has similar accuracy to the flight stick. It uses a sliding rail system that's exceptionally smooth, with even resistance throughout. There are no soft spots, and we didn't notice any slipping or sticking. The 3.2-inch travel distance could stand to be a bit longer, but all in all, it works pretty well.
Connectivity & Configuration
Both the T.16000M flight stick and the throttle connect to your computer via USB. The cords are fairly run of the mill, but they seem to be shielded enough for the task. That said, because there are two cords, you'll need two USB ports free in order to use both parts of the system. Once you plug in, you'll find that both components work natively with Windows 10. There's no need to download any drivers. Fire up Flight Simulator 2020, and you'll be able to start flying right away. On Mac, you'll get more mixed performance. Everything will work, but when you relaunch your game, it might have trouble recognizing your controls. This means you might have to unplug them and plug them back in whenever you fly.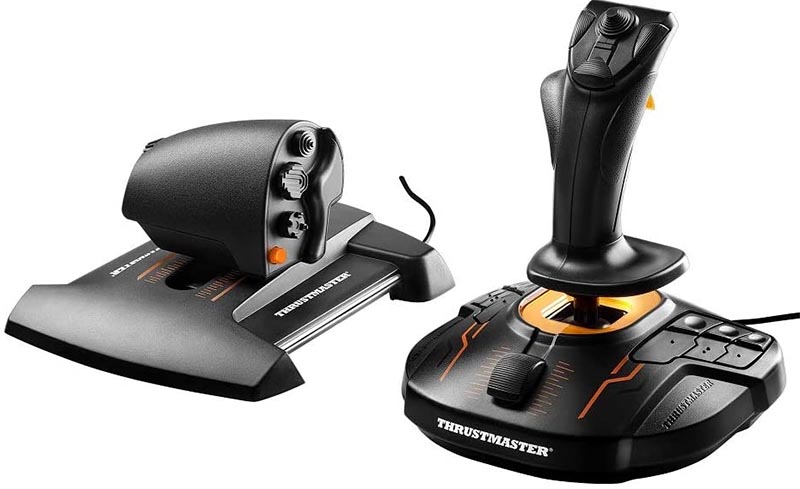 If you want even better control over your gaming experience, you can install Thrustmaster's T.A.R.G.E.T. programming software. T.A.R.G.E.T. is yet another acronym, and stands for Thrustmaster Advanced pRogramming Graphical EdiTor. Without getting too far into the weeds, it allows you to map your own controls outside of games. You can also pre-load profiles for dozens of different flight programs. And if you're using other Thrustmaster controls, you can use the software to make them look like a single device. This allows for better compatibility with a lot of older games. On the downside, the T.A.R.G.E.T. software is only available for PC.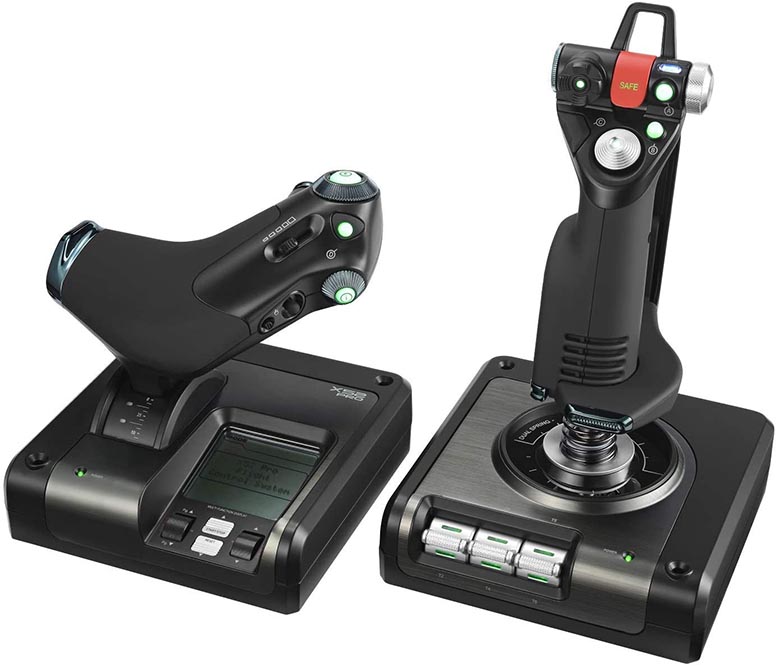 Logitech X52 Pro Flight Control System
Logitech is another manufacturer that needs no introduction. They produce all kinds of PC accessories, such as high-quality gaming mice. But it might come as a surprise to know that they also make HOTAS systems. The Logitech X52 Pro Flight Control System is beefy and rugged, with a sturdy metal base plate beneath the stick. Several knobs and other components are metal instead of plastic, too, which makes the X52 quite durable. The bulk of the housing is still plastic, but it's nice to see metal on the most vulnerable elements.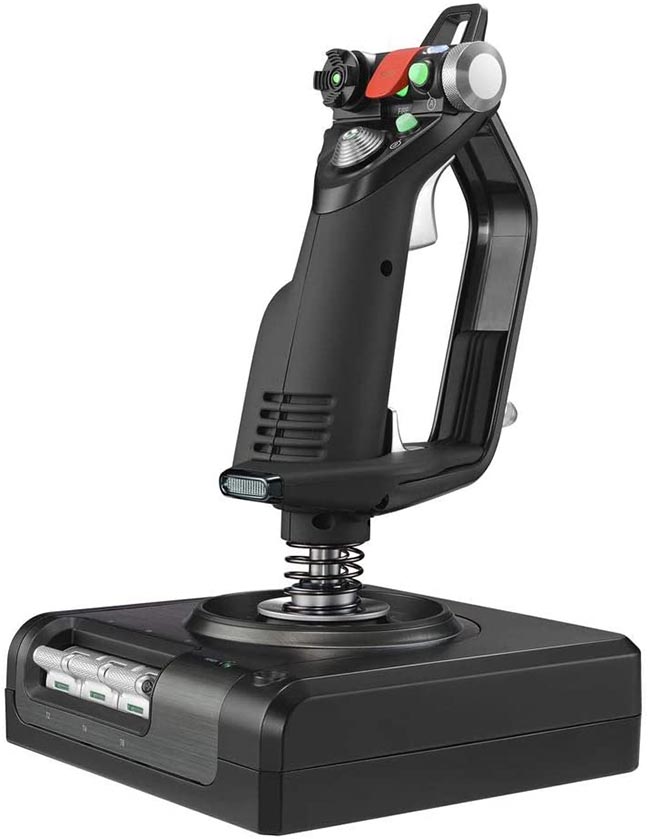 The joystick is spring-loaded, with a tension system that automatically centers it when you let go. The neat thing about this is that both the X- and Y-axis springs are independently housed and attached. In other words, the two springs won't interfere with each other when they're in operation. You'll get smooth, even pressure across both axes, and always get pulled straight to the center. Not only this, but the handle is also adjustable, with five different vertical positions for different seating positions. The padding is thick and comfortable, with all aspects of the design tailored for ideal ergonomics.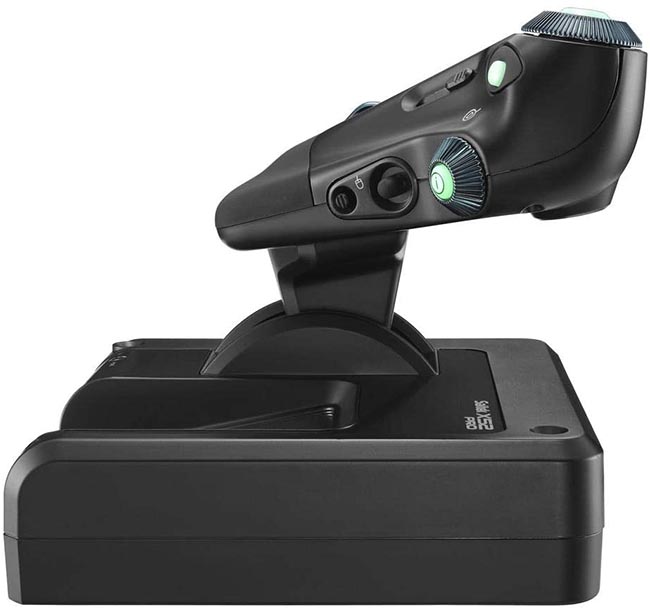 The sensor system is slightly less accurate than the Thrustmaster's. We weren't able to distinguish a difference, since both worked very well. That said, it's still worth noting that the Logitech's system may wear out more over time. Even so, the spring return system feels so natural that we're not complaining too much. Moreover, the X52 offers one control option that the Thrustmaster doesn't: a rudder control. To use the rudder control, you simply twist the joystick left or right as needed. If you don't need this function, there's a locking system to hold the stick in a "front forward" position.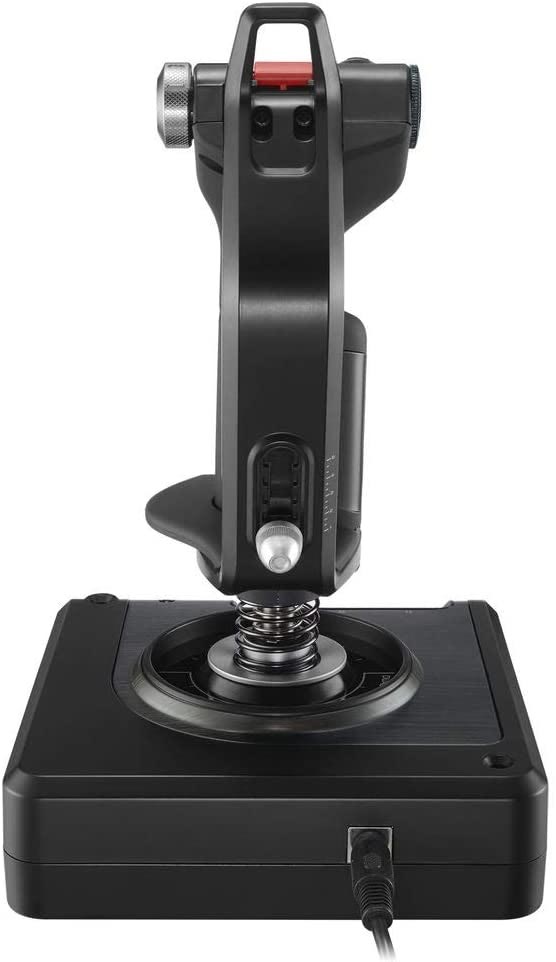 The throttle is sturdy and wide, with a number of buttons and controls, including a hat switch. There are multiple detents, which makes it easy to idle, reverse, and engage afterburners. There's also a metallic tension dial on the side of the housing, which adjusts the resistance. If you prefer a tighter or looser feel, you'll be able to achieve that. What sets this throttle apart, though, is the LCD display. This is designed to work with stack radios in-game. However, if your game doesn't have stack radios, the display can also be used to view controller settings. If that's not enough, the whole throttle is beautifully backlit, so you can easily see all of your buttons.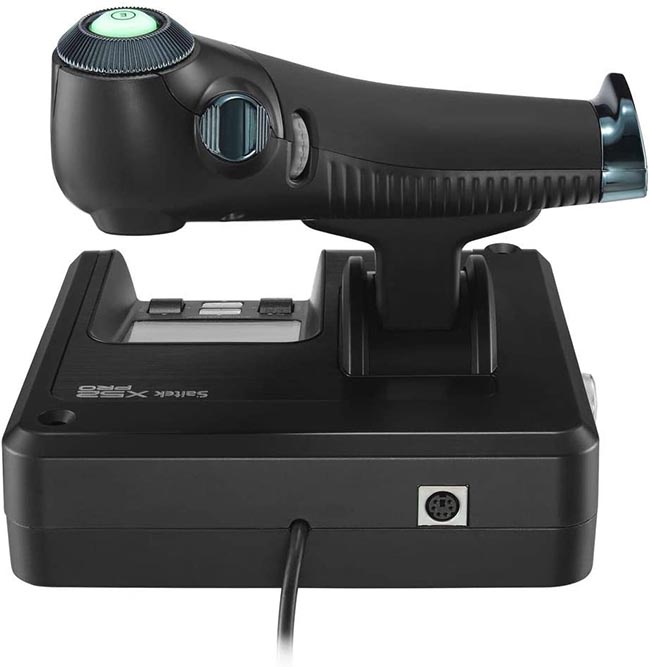 Connectivity & Configuration
The X52 HOTAS system connects to your computer the same way as the Thrustmaster. Each half has its own USB cord, and connects directly to its own separate USB port. The controller is compatible with all versions of Windows starting with Windows 7. This makes it a great choice for older PCs. On the other hand, there's no Mac compatibility whatsoever.
Logitech offers their own software to customize your controls. You can create custom profiles for different games, and even download profiles from online. You can also change the hat switch operation, and even change the LED color and functions. This software is free to download, so there's no reason not to download it and try it out.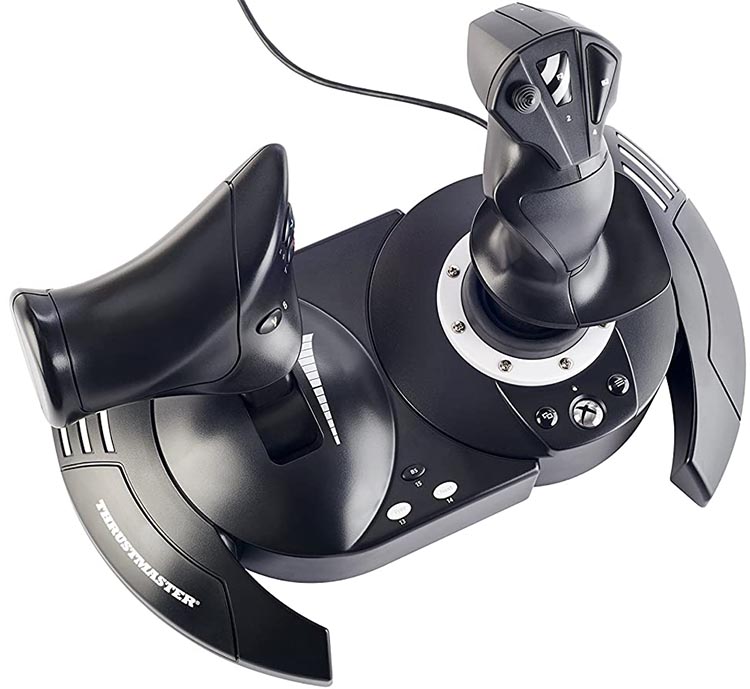 Thrustmaster T-Flight Hotas One
The Thrustmaster T-Flight Hotas One is a black plastic control system that's also modular. The throttle and control stick can be joined together to form a single unit. This has a smaller footprint, and even allows you to hold the controller in your lap. You can also separate the two halves, which gives you the immersive experience you're probably hoping for.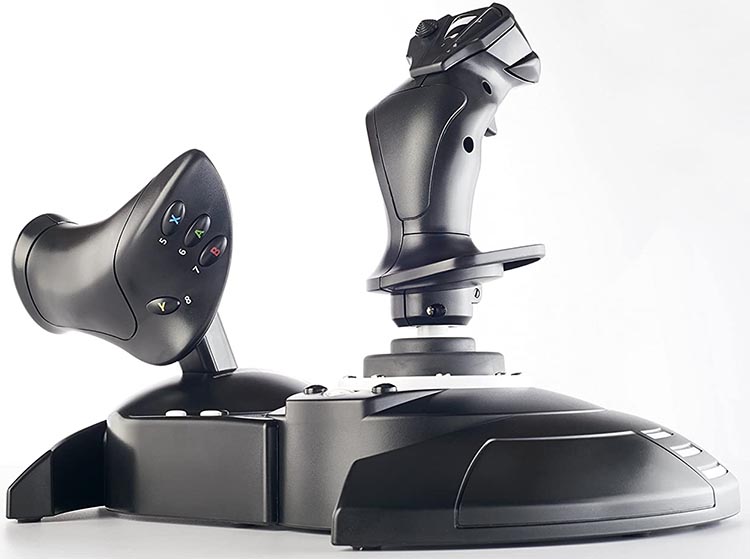 The control stick features six buttons, across the side and top. However, it also functions as a 5-axis stick, much like the Logitech. You can twist the controller to operate the rudder, or lock it in place with the locking switch. If you prefer, there's also a secondary lever which can be used as an alternative rudder control. A hat switch and a compact trigger round out the control scheme on this side. Sensitivity is very good, as you'd expect from any of Thrustmaster's systems. It's magnetic and contact-free, which makes it exceptionally reliable.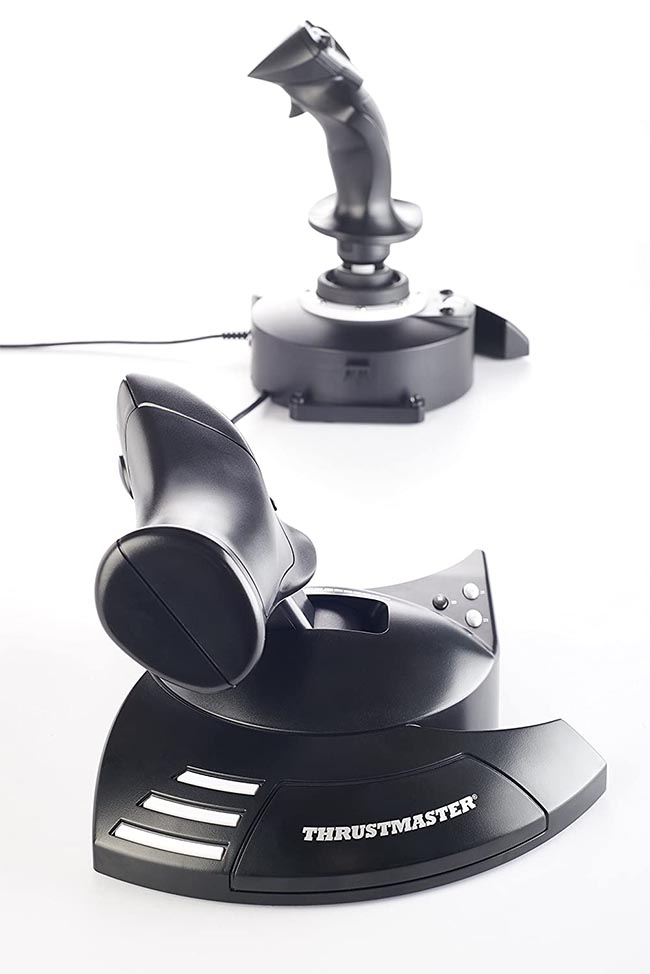 The throttle unit has eight buttons of its own, with eight buttons. These include labeled X, Y, A, and B buttons in the Xbox color scheme. You also get menu navigation buttons, as well as a smooth rate of travel. Additional buttons are located on the front surface, to be operated with your index and middle fingers. It's a comfortable, well-designed throttle that's very easy to operate. All you need is a set of the best rudder pedals to round out your kit.
Connectivity & Configuration
The T-Flight Hotas One requires only a single USB cable to connect to your PC. This cable extends from the joystick. A second, built-in cable connects the joystick to the throttle. When the two are joined, the built-in cable simply reels up. When they're not, you have plenty of reach to spread them out.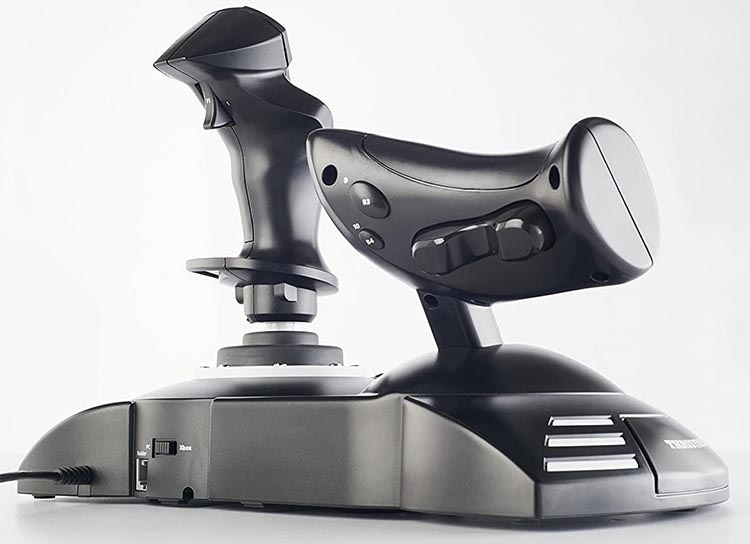 This controller is designed not just for computers, but also for the Xbox Series X/S. This is a huge value, since the new Xbox consoles don't have a lot of advanced controllers of any kind. There's a switch on the front of the housing to select between Xbox and PC. If you plug into your system and the controller doesn't work, check the switch. It won't work on PC when it's set for an Xbox, and vice-versa.
Final Verdict
As you can see, each of these HOTAS controllers has its own unique benefits and drawbacks. Depending on what you're trying to do, any one of them could be your best choice. Let's start with the Thrustmaster T16000M FCS Hotas. It doesn't have the ruggedness of the Logitech, nor is it Xbox-compatible. But what it does offer is insane accuracy, with the magnetic H.E.A.R.T. sensor system. It also has the most buttons, with 30 of them spread across both halves of the controller.
The Logitech X52 Pro Flight Control System is the most rugged of the three, with plenty of metal in its design. It doesn't have as many controls as the T16000M, but the LCD screen is great for games with advanced radios. And while the controls might not be quite as precise, the spring-loaded resistance feels very realistic. Not only that, but you get the benefit of a rudder function, which is essential for some aircraft.
The Thrustmaster T-Flight Hotas One, on the other hand, is your best choice for the Xbox Series X/S. In fact, as far as we're aware, it's currently the only HOTAS controller that's compatible with the newest Xbox. It's also reasonably sensitive. And while you can't customize it as much as the other Thrustmaster, it only has one USB cable. This makes it easier to connect if you're short on USB ports.