When you're feeling sore and tired, there's nothing like a good massage to ease your muscles. But it's not always easy to get out and go to a gym or a massage parlor. Maybe you're on the road. Maybe you worked a late shift at work and everything is closed. Regardless of your reasons, there are times you need a good massage mat. Not only that, but a massage mat lets you get relief while you're in the comfort of your own home. You can put on your favorite streaming series, kick back, and enjoy the experience. This lets you get a massage on your own schedule, even if you're a very busy person.
But not all massage mats are equally worth using. There are a number of factors to consider, and you need to look carefully before you make any decision. If you're not careful, you could easily end up with a massager you're not happy with. For one thing, you need to think about the type of massage. For another, you need to consider the comfort and ergonomics. Portability is also a concern, at least if you plan on traveling with your massage mat. Control is one more thing to think about. How many settings are there, and how can you switch between them? These and other considerations are all part of the equation.
We're about to review the Snailax Memory Foam Full Body Massage Mat. As its name implies, this is a full-length mat that's designed to massage your entire body. It has a vibrating function, as well as a heated back panel. There are 10 different motors, and four independent control zones. It can fold up for portability, and it's filled with soft memory foam padding. The shell is also nice and soft, so it's comfortable to lie on for extended periods. But what else does it bring to the table, and what are the drawbacks? To find out, we'll need to take a much closer look at this massager. Let's get started!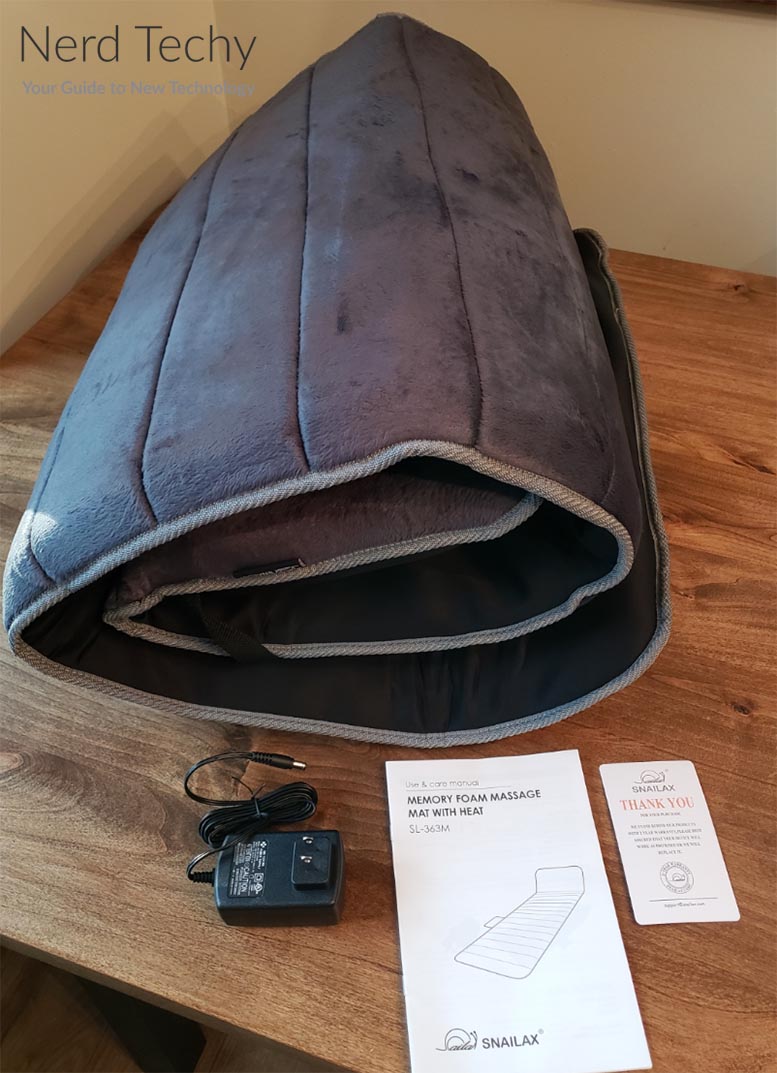 Vibrating Massage Basics
Before we talk about the Snailax massager's design, let's talk about what it's made for. Different massage mats use different techniques, which make them suitable for different things. For example, if you go to a gym, you'll often find massage tables with big rollers inside. These are designed based on Shiatsu massage principles, and are designed to reach deep tissue. However, that type of massage table is also expensive – very expensive. Not only that, but you can't really take them on the road. So you could end up spending a small fortune for a large, difficult-to-move appliance.
This is not a big rolling massager. This is a vibration massager, which means the motors stay in place, and vibrate. Instead of reaching deep tissue directly, vibration massage works a little bit differently. It relaxes muscles near the surface, and promotes blood flow. This in turn promotes healing, and also helps your body to rid itself of toxins. It's also soothing and relaxing, which is not always the case for a more aggressive massage. A shiatsu massage can be almost painful while it's happening, and you feel the benefits afterwards. With a vibrating massager, you'll be so relaxed that you might start nodding off.
Like other massages, a vibrating massage can relieve tension from muscles that won't loosen up. But by applying heat, you can further enhance the effect. That's one reason why many people use a heating pad. But combining heat and massage, you'll get a synergistic effect that enhances both aspects.
Another popular type of massage is percussion massage. This is an entirely different type of massage that's highly targeted. You apply the massager to a specific muscle, and it reaches the deep tissue in that area. You can also use a percussion massage gun on your joints, and for tissues like tendons and ligaments. That said, it's not a full-body experience, and it's typically something you'd do after a workout. A vibrating massage, on the other hand, is suitable for everyday use under any circumstances.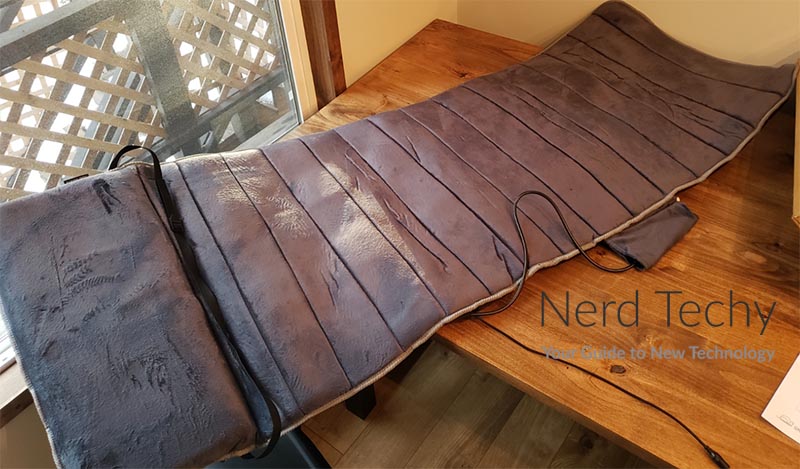 Overall Design
The Snailax Memory Foam Full Body Massage Mat is manufactured with a soft black polyester shell. It's comfortable on bare skin, and it naturally repels water. This makes it easy to keep clean, since spills and sweat are only a minor concern. The shell is stretched over memory foam padding, which is arranged into geometric patterns. There's even a nice oval cushion where your head is supposed to lie. The actual massage motors are built into the padding, and you can barely feel them when they're not vibrating. Around the edges, there's a fat, reinforced hem that's double-stitched for extra security.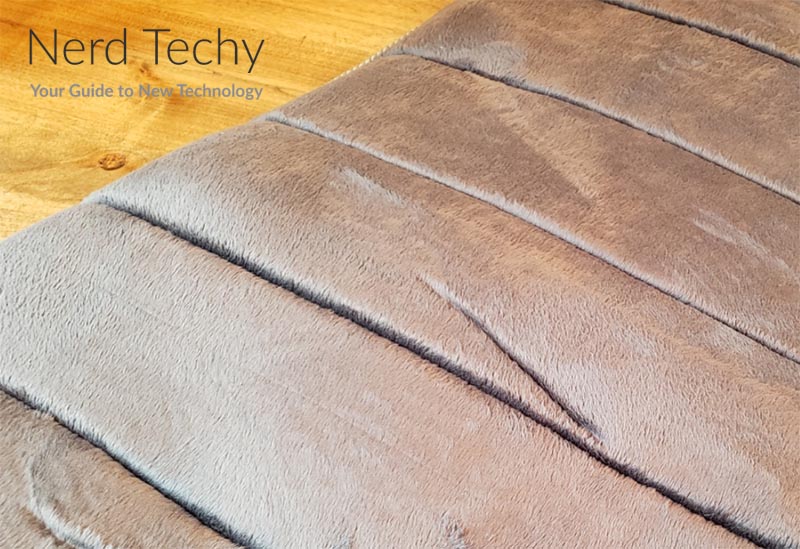 To the right side, there's a little flap, where the controller attachment sits. The controller plugs into the back, and can be removed for portability. It's used to control the 10 vibrating motors, which are arranged in two vertical rows of five motors. The top two are near your shoulders, while the next two pairs work on your upper and lower back. The last four motors are located over your legs. This spreads the massage across your entire body, just as the name implies. That said, the heating function is more localized. The two heating elements are positioned across your back, to relax your back muscles.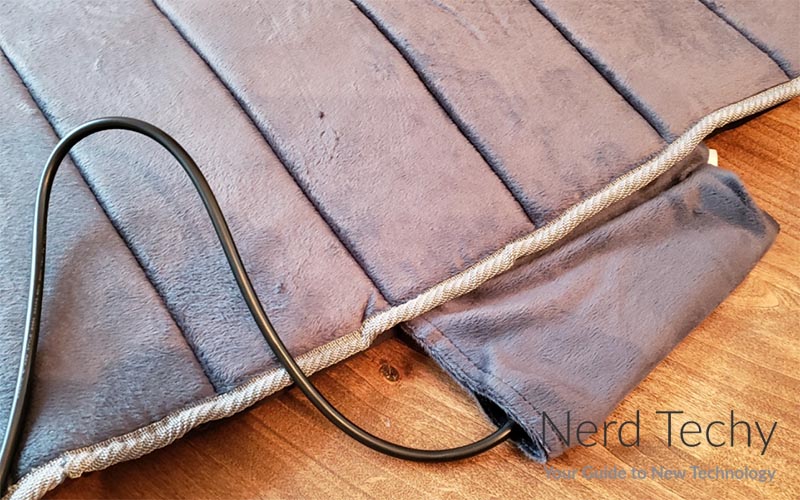 Of course, no full-body massage would be complete without a good foot rub. If you want to pamper your feet, check out the Etekcity Smart Foot Massager. You stick your feet inside, turn it on, and it goes to work. You could even use it at the same time as the Snailax massager!
In terms of size, this massage mat falls in the medium range. It measures 67 inches long and 15 inches wide, which is big enough for most people. If you're on the tall side, your feet will hang off. You might also need to use a pillow, if you want to sit or lie a little higher up. That said, the mat should work just fine for anybody shorter than six feet. Not only that, but it's easy to store and carry away. It can be folded down to 16 x 15 inches, at a thickness of only 7.4 inches. This makes it easy to throw in your trunk when you're going on the road.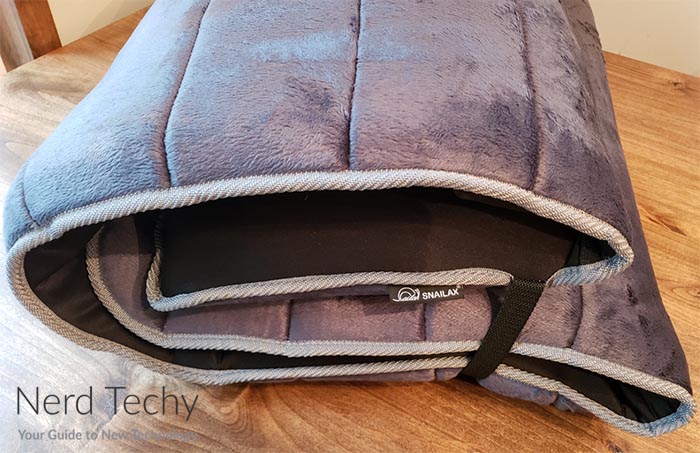 Not only that, but the flexibility gives you the ability to put the mat in different positions. The most obvious way is to lie down on it, but it can just as easily be used on a sofa or chair. There's also an integrated strap system built into the back. As a result, you can easily secure the pad to a chair, so it won't slip down. Other than that, the only thing worth mentioning is the 4-foot power cord. It plugs in near the controller, and has a little block adapter at the tip.
Snailax provides a two-year warranty on their massage mat. There's also a 90-day money back guarantee, as well as a 30-day return window. If you decide you don't like it, you can send it back, no questions asked.
Until December 6th, enjoy 30% discount on the official website for the Snailax Memory Foam Massage Mat
Controls & Operation
So, how do you put the Snailax massager to work? Let's get back to the controller. You'll notice that it's a lot different from a TV remote. The top half has a picture of a person, with the four massage zones lined out. Each zone has an indicator light, which illuminates when that zone is active. To the right of this diagram, there are four buttons, which correspond to the four zones. From top to bottom, these are your shoulder, your back, your lumbar area, and your legs. Using these buttons, you can turn individual zones on and off. This allows you to fully customize your massage session by using any combination of zones.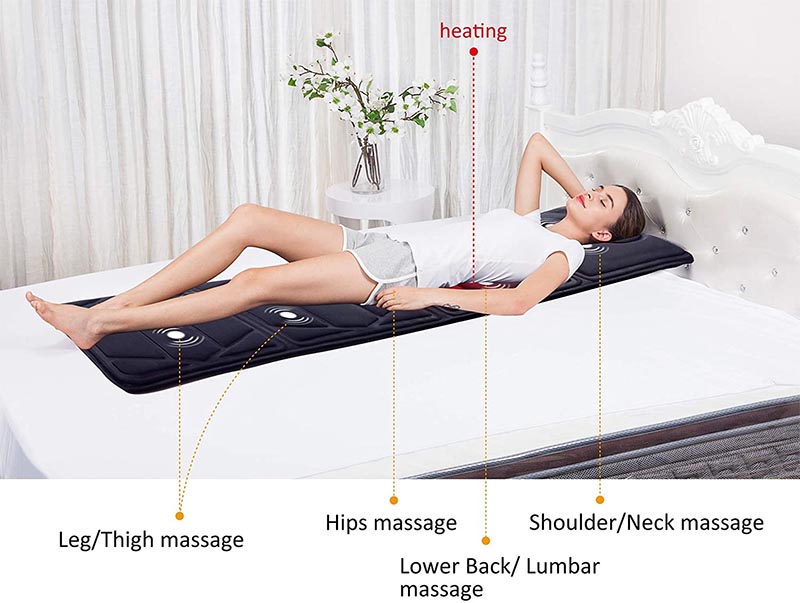 Beneath this part of the controller, you'll see a set of additional indicator lights. The top row of five lights corresponds to the five pre-programmed massage modes. These modes obviously don't encompass every possible massage setting. But they're popular options that you can select quickly and easily. Beneath those lights, there's an additional three lights that indicate the intensity level. The lowest setting is very mild, like a cat purring. The highest is a significantly more intense, powerful vibration. So whether you want stress relief or relief for tense muscles, you'll get what you need.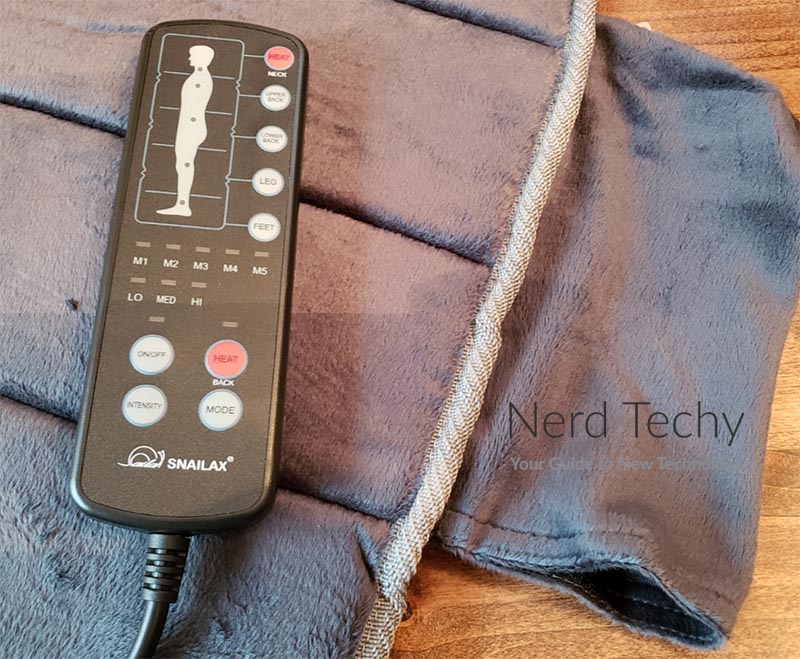 The four remaining buttons are located at the bottom end of the controller. The first is the power button, which should be self-explanatory. The one beneath that is the intensity button. It turns up the vibrating power each time you touch it. When you press it on the highest intensity, you'll go back to the lowest level. The bottom right button is the mode button. Similar to the intensity button, it cycles through the five preset modes.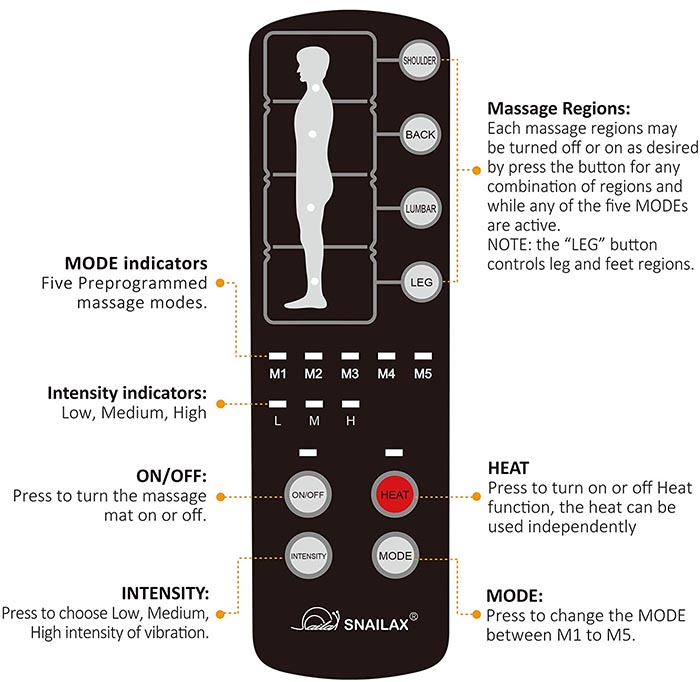 The red top right button is the heat button. This operates the heat function, which works independently from the massager. There's only one heat setting, and this is a simple on/off button. In terms of intensity, it's about the same as the lowest setting on your average heating pad. So don't expect a huge amount of warmth, but it's definitely noticeable. It's also very safe. After 30 minutes, the heating element will automatically shut off to prevent overheating.
Another interesting massage option is red light therapy massage. The IASO Red Light Therapy Massager Device is pocket-sized, and it's designed for targeted pain relief. Then again, it's not a full-body experience.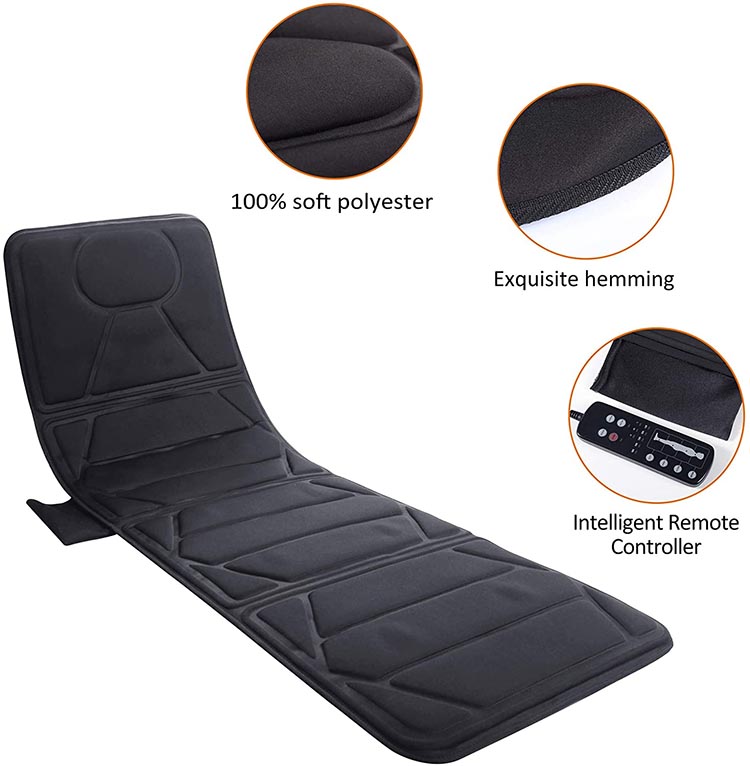 Final Verdict
As you can see, the Snailax Memory Foam Full Body Massage Mat is pretty well-equipped. We have some concerns about the longevity of the motors. But other than that, we were happy with what we saw. We particularly liked the wide variety of massage settings, and the relative ease of use. We were also pleased with the comfort level, which is an essential part of any massage mat.