IASO Red Light Therapy
Pros
Compact and lightweight.
Three massage functions.
Wearable design with adhesives and straps.
Uses two types of lasers for surface and deep penetration.
HSA/HRA/FSA eligible.
Cons
Arm strap is not as secure as it could be.
Technology has done many things to improve our lives, from smartphones to smart thermostats. There's hardly an area of our lives that modern technology hasn't touched. Think about your phone for a second. How many times a day do you pull it out? How many apps do you have open? Are you reading this article on your phone right now? But 20 years ago, the most advanced cell phone technology was an old-school flip phone. And this is only one example of the ways our lives have been changed by smaller semiconductors and other advances.
One important area of our lives is health. In many ways, it's the most important thing, since your health directly impacts what other things you can do. It's no fun being sick, and it's no fun walking around with aches and pains, especially when you don't have to. One way technology has helped with our health is by making medical devices smaller and cheaper. The device we're about to examine, a laser massager, didn't used to be available at home, at least not affordably. But nowadays, you don't have to go to a therapist to experience the benefits of cold laser therapy. You can do it at home, or even on the road.
Today, we're going to review the IASO Cold Laser Massager. This is a small, handheld laser massager that comes with a complete kit. In addition to the device itself, there's also a wrist strap, as well as a collection of adhesive pads. It also functions as a vibrating massager. But how well does it actually function, and what is it capable of doing? To find out, we'll take a close look at how this massager works. We'll start by talking about cold laser massage in general, since many people may not be familiar with it. Next, we'll talk about how the massager is designed, and how the accessories work. Last but not least, we'll look at how effective it is, and how the various functions work. Let's get started!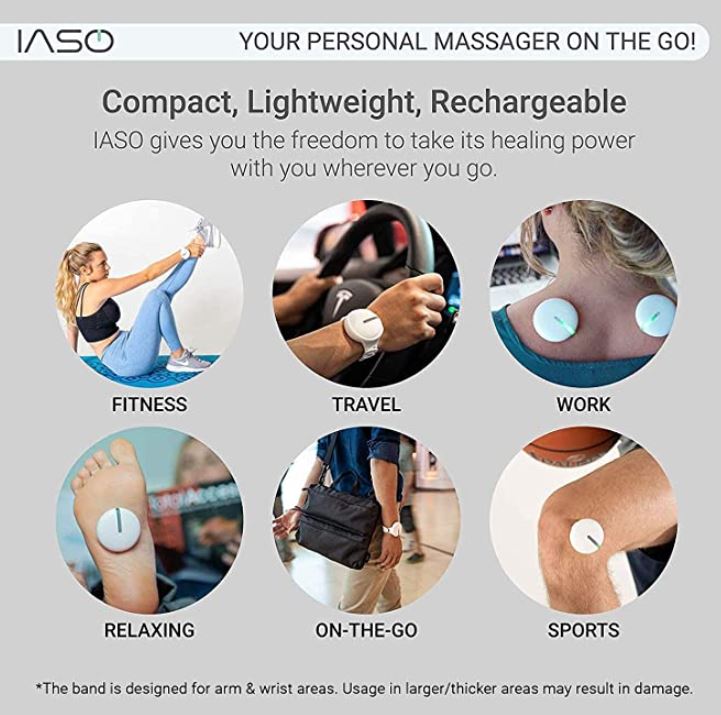 What is Cold Laser Massage?
So, what exactly is cold laser massage? Put simply, it's a type of therapy that uses low-intensity lasers to promote healing. It's not actually cold, in the sense that it doesn't produce a cold sensation. It's called cold therapy because of the low intensity. High-intensity lasers can make your skin feel warm, and might even cause burns when used incorrectly. The two therapies are used for different purposes. For example, hot laser therapy is often used to fight tumors, but cold laser therapy isn't suitable for that.
The main purpose of cold laser therapy is to promote healing. When low-intensity red and near-infrared light enters your skin, it causes a physiological response. The cells actually produce compounds that promote healing. How deep the laser can reach depends on the wavelength of the light. The longer the wavelength, the deeper it will penetrate. Wavelengths between 600 and 700 nanometers (nm) are used to treat superficial tissue. For deeper tissues, wavelengths of 780 to 950nm are ideal.
The nice thing about cold laser therapy is that it's non-invasive. Unlike some other forms of therapy, you simply place the device on your skin, and let it operate. A few minutes later, you're done with the treatment, and you're going about your day. Traditionally, cold laser therapy has only been used by doctors and physical therapists, but it's safe to do at home. The only real obstacle has been the cost of equipment.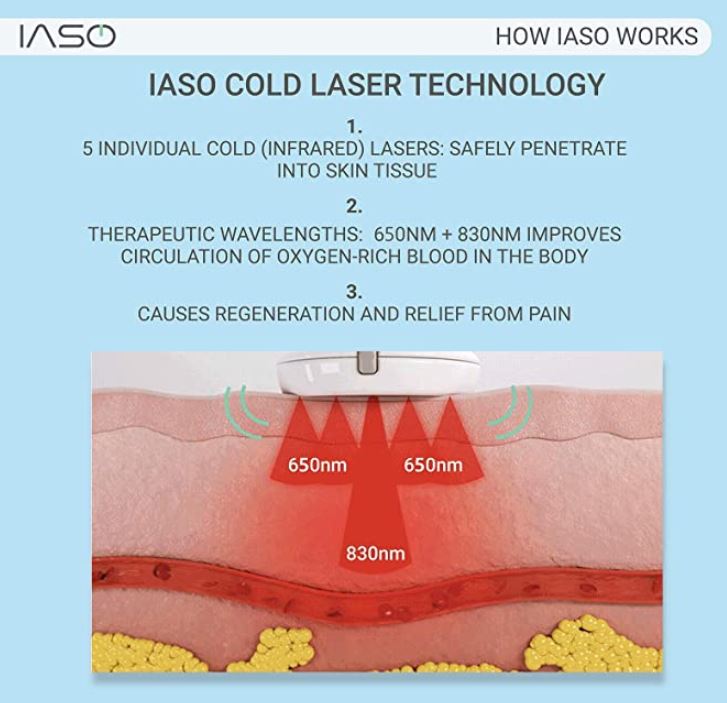 There are a number of different applications for cold laser therapy, but most of them revolve around reducing inflammation. For example, it's also used in physical therapy, for promoting healing from strains and sprains. Doctors use it for carpal tunnel syndrome, since it can relieve swelling inside the wrist. It's used for rheumatoid arthritis, and it even has dental applications. Another popular application is for promoting healthier, younger-looking skin. It's often used in the course of treatment for acne, psoriasis, and even for burns.
Acupuncturists can benefit from cold laser therapy as an alternative for needle-shy patients. The lasers can have a similar effect without the need to physically penetrate the skin.
Cold laser therapy is safe, and is approved by the FDA for these and many other conditions. That said, there are certain times where you shouldn't use a cold laser massager. It should never be used on carcinomas or cancerous lesions, since it can actually make them worse. You should also avoid your eyes and thyroid areas to keep the lasers from causing damage. Finally, pregnant women should not use this therapy, since the effects on unborn babies are unknown.
Finally, cold laser therapy can take time to be effective. Each individual treatment takes just a few minutes, but it takes a while to start seeing real benefits. If you're getting four treatments a week, it can take up to a month before you feel any effects. So if you take one or two treatments and nothing happens, stick with it. You should eventually start to feel the results.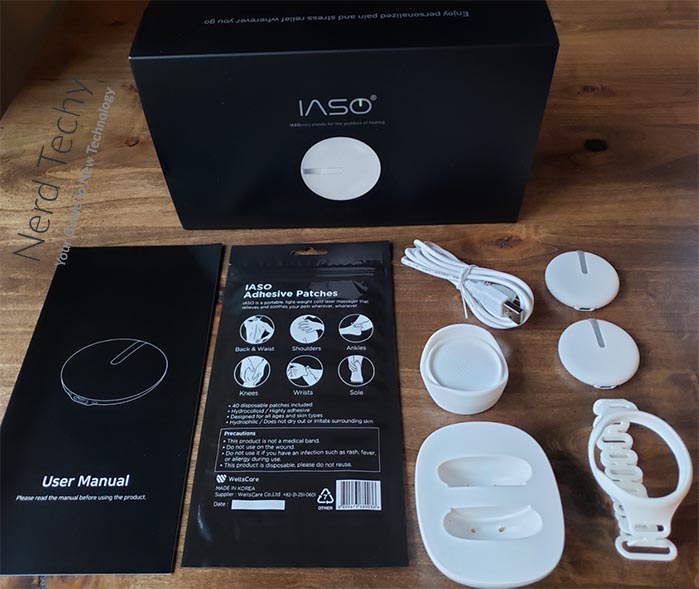 Overall Design
The IASO Cold Laser Massager comes in a two-pack, with a pair of disc-shaped massage units. They're circular, with curved edges that won't cause discomfort on any part of your body. They're small enough to fit in the palm of your hand, and they're lightweight enough to carry anywhere. The housing is made from white ABS plastic, with a lightly-textured finish. They're mostly plain, although there is a silver stripe with a "WellsCora" imprint. This stripe is actually a light bar, which shines green when the device is active.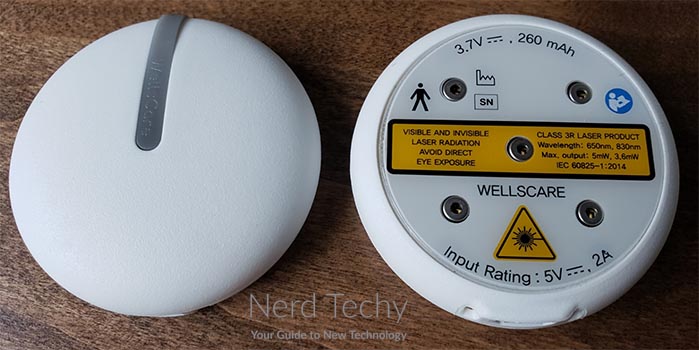 The massagers charge via a charging station, which is molded to fit both of them at a time. There are copper contacts in the charging wells, which align with similar contacts on the massagers themselves. The kit also includes a USB charging cable, which you can plug into any computer or AC power supply.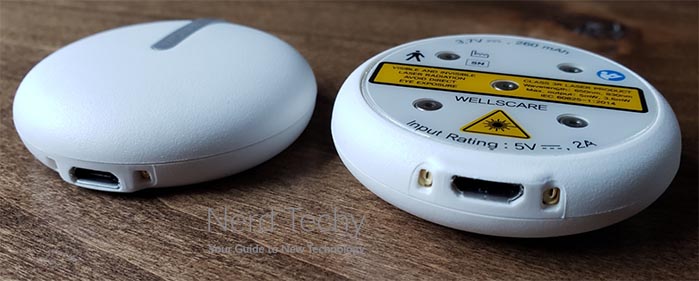 Along with the charger and the massagers, you get a few extra parts to help you get the most from them. First, there are 40 adhesive patches. These can be used to attach the massagers to anywhere on your body you need treatment. Second, there's a stretchy rubber arm band for wrists, arms, and ankles. In theory, this is a great idea. In practice, it doesn't hold the massager as securely as we would have liked. Still, it's a useful feature if you're not moving around too much. Finally, there's a nifty carrying case that holds everything else in the kit. If you want to take it on the road, you can.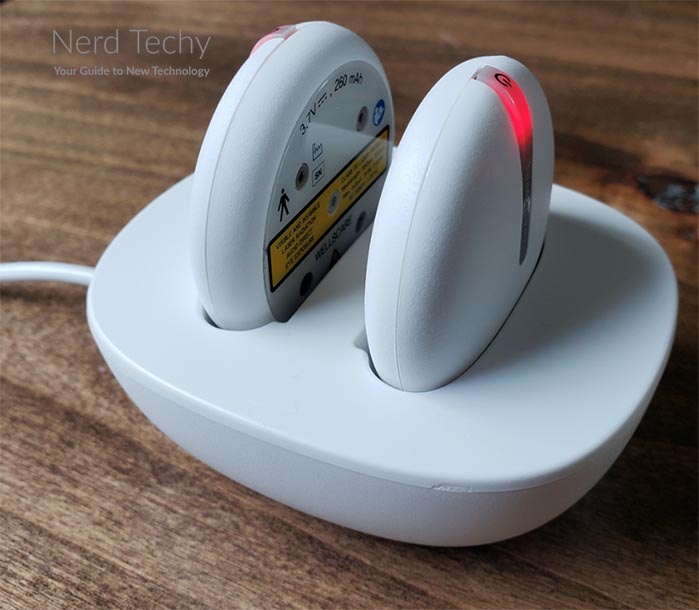 All of this comes protected by a 12-month manufacturer's warranty. That way, if you have any issues with it within the first year of ownership, you can rest assured knowing that it's covered.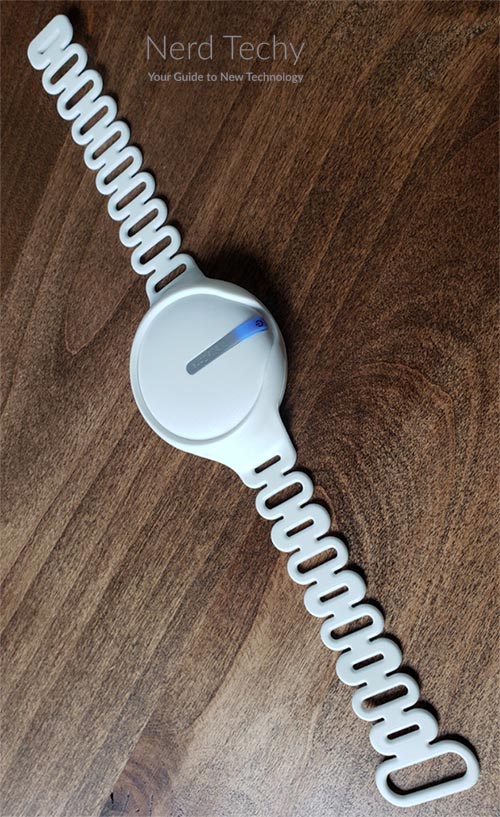 If you're looking more for relaxation than for treating a specific issue, consider a foot massager instead. The Etekcity Smart Foot Massager is a great way to relax at the end of a stressful day. It also helps promote circulation in your feet, although it won't do much for any other part of your body.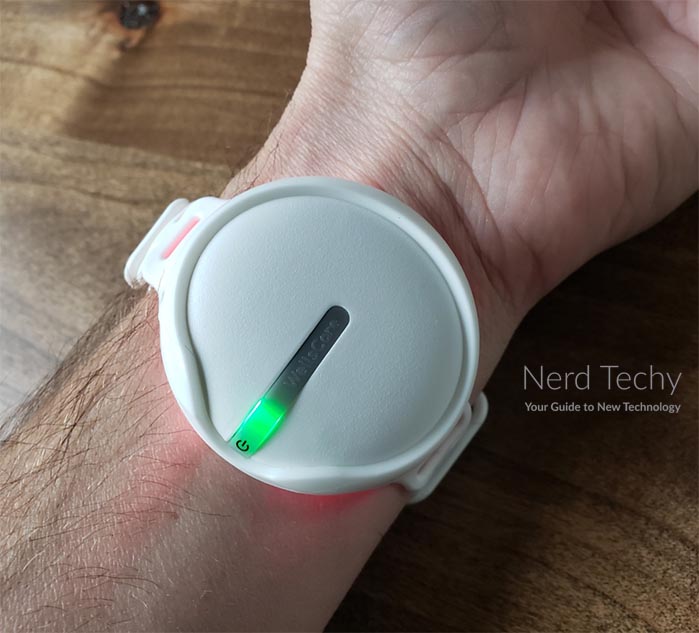 Features and Functions
The IASO Cold Laser Massager combines cold laser therapy with a massage function. However, it's up to you what features you want to use. There are three different modes in total. First, there's an option for using laser therapy only. Second, there's an option for laser therapy and constant vibration. Third, there's an option for laser therapy and a pulsating, rhythmic vibration.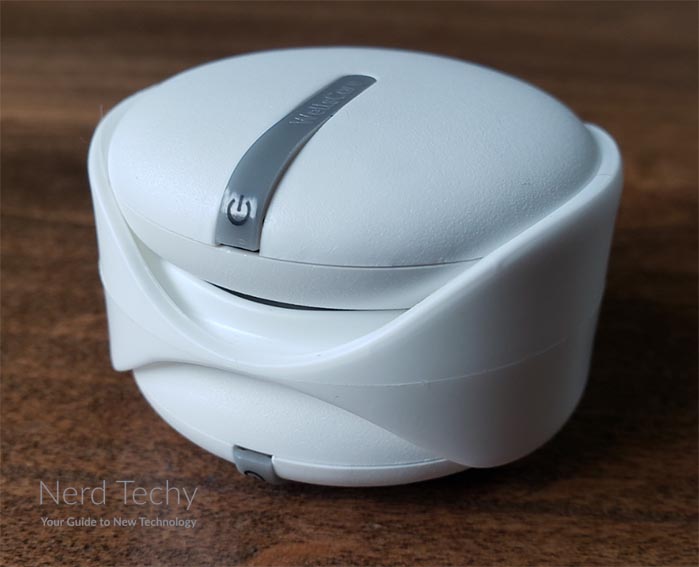 The lasers on the bottom of the housing produce two different types of UV light. The ones on the outside produce laser light in the 650nm bandwidth. This is ideal for treating shallower tissues like your skin. For deeper treatment, such as for a strain or a sprain, you're going to need a higher bandwidth. Thankfully, the bulbs in the middle produce light in the 830nm bandwidth. This is perfect for promoting healing in tissues deep inside your body.
Another way to reach deep tissues is to use a percussion massager, like the Urikar AT1. These devices hammer at your joints and deep muscles, to reach tissues other massagers won't reach. Then again, they don't provide any of the benefits of cold laser therapy.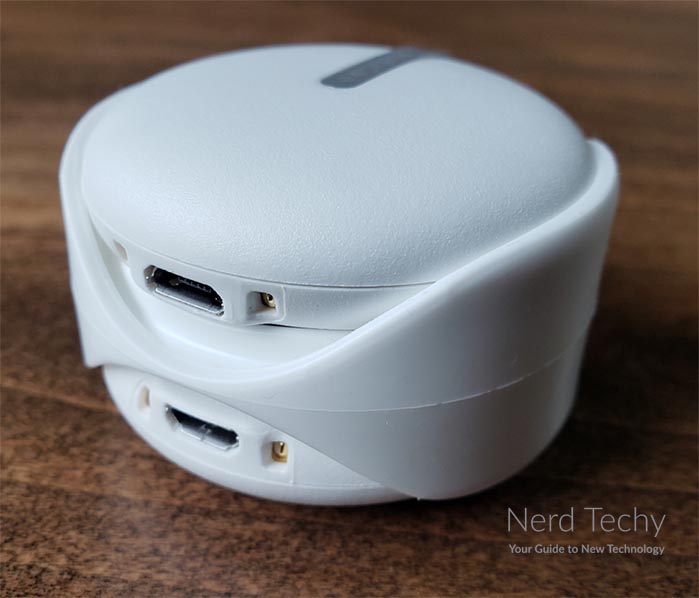 To use the IASO massager, press the power button on the side and hold it for two seconds. The massager will beep, and the light bar will turn blue, indicating that the device is in standby mode. Pressing the power button again will put it into laser-only mode. Pressing it again will turn on the vibrating function. Pressing a third time will change the vibration to a pulse. Another push will put it back in standby mode. To turn it off at any time, just press and hold the power button again for two seconds.
When fully charged, the massagers will be good for several short uses. When the batteries do run out, they will fully recharge in about an hour.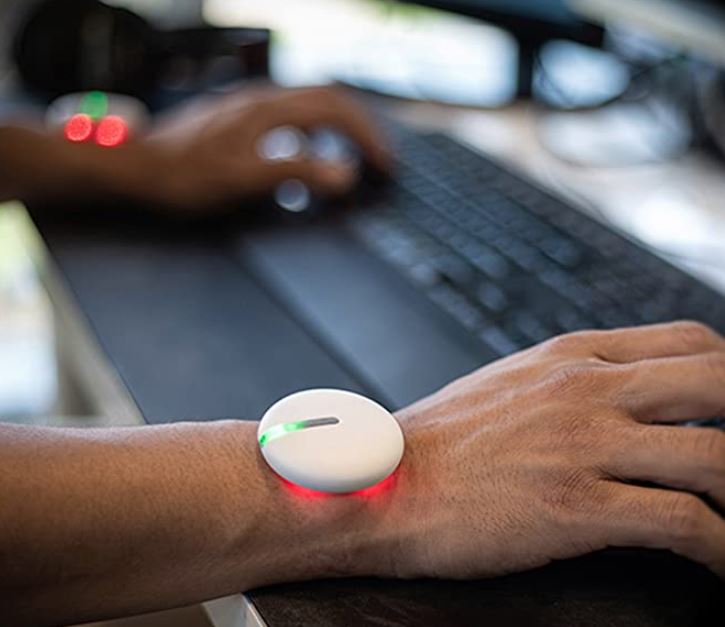 Final Verdict
The IASO Cold Laser Massager is a versatile therapeutic device that's very well-engineered. To begin with, you get the benefit of cold laser therapy. The combination of longer and shorter wavelengths allows you to treat deep and shallow tissue alike. As a result, it can be used for pretty much anything people use cold laser therapy for. Of course, it's not perfect. The strap, while it's a neat idea, isn't as secure as it could have been. We also would have appreciated longer-lasting laser bulbs. That said, there's a lot to like here. The addition of a massage function is a great added touch, and provides additional relief from pain and stiffness. And the easy-to-use controls make it a snap to operate. All in all, it's a well put together device. You can learn more about it on their official website or on Touch Of Modern.
Meet Derek, "TechGuru," a 34-year-old technology enthusiast with a deep passion for tech innovations. With extensive experience, he specializes in gaming hardware and software, and has expertise in gadgets, custom PCs, and audio.
Besides writing about tech and reviewing new products, Derek enjoys traveling, hiking, and photography. Committed to keeping up with the latest industry trends, he aims to guide readers in making informed tech decisions.